Get connected with our daily update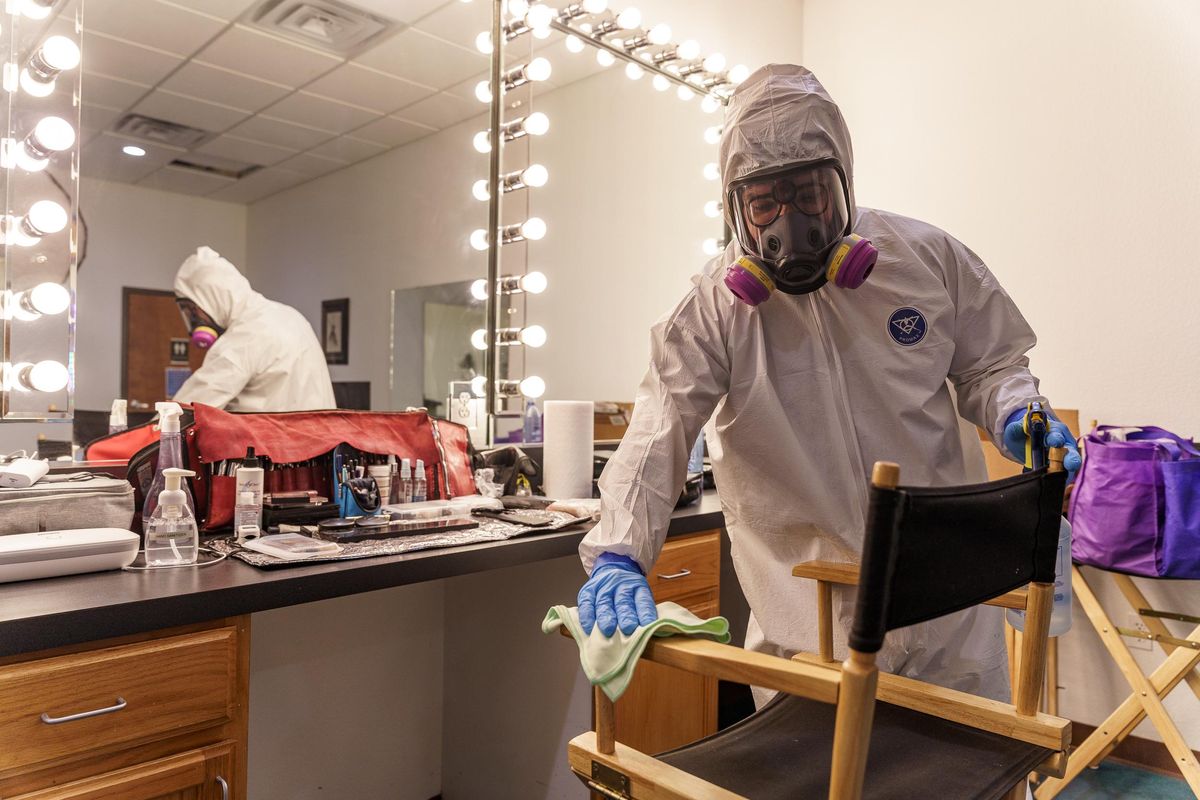 With concerts and festivals suddenly shuttered last spring amid escalating COVID-19 cases, two local companies that provided medical and security for those large-scale events were forced to pivot to other roles to stay afloat.
---
And their efforts have paid off, sustaining employees and helping Austin-area communities stay healthy.
We Are Code 4 Emergency Services, founded in 2015, shifted its pre-pandemic focus from coordinating security at venues such as Euphoria and Houston's Astroworld Festival, to offering COVID-19 safety consultations, testing and vaccinations, including last week's COVID-19 vaccine clinic at Austin ISD's Performing Arts Center.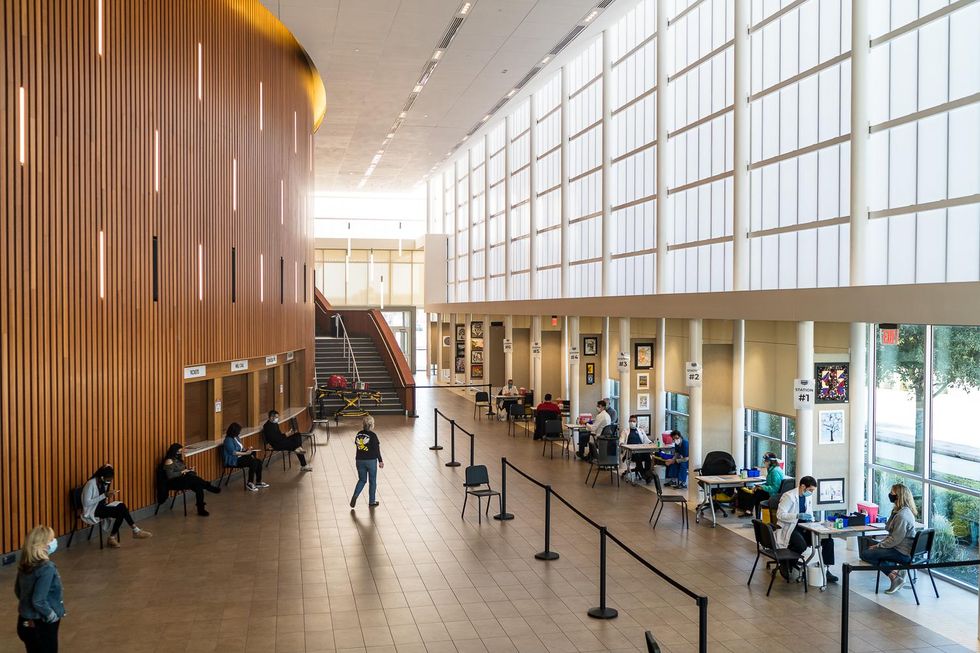 Healthcare workers receive the Moderna COVID-19 vaccine at a vaccination drive administered by Code 4 Emergency Services at the AISD Performing Arts Center in Mueller on Jan. 14. (Jordan Vonderhaar)
The effort was a joint project between Code 4 and the Travis County Medical Society, with the latter looking for a vaccine source to immunize outpatient medical offices that aren't affiliated with a hospital and, therefore, didn't get the serum first, said Leanne Dupay, TCMS director of marketing and communications.

Code 4 "turned out to be the perfect solution" for Dupay's group, handling the vaccine side of the program while TCMS put the word out to its members that the inoculations would be available.
When the pandemic took hold around the country this spring, company President Scott Davidson and his staff brainstormed as to how to keep the business alive with concerts, sports and conferences suddenly halted.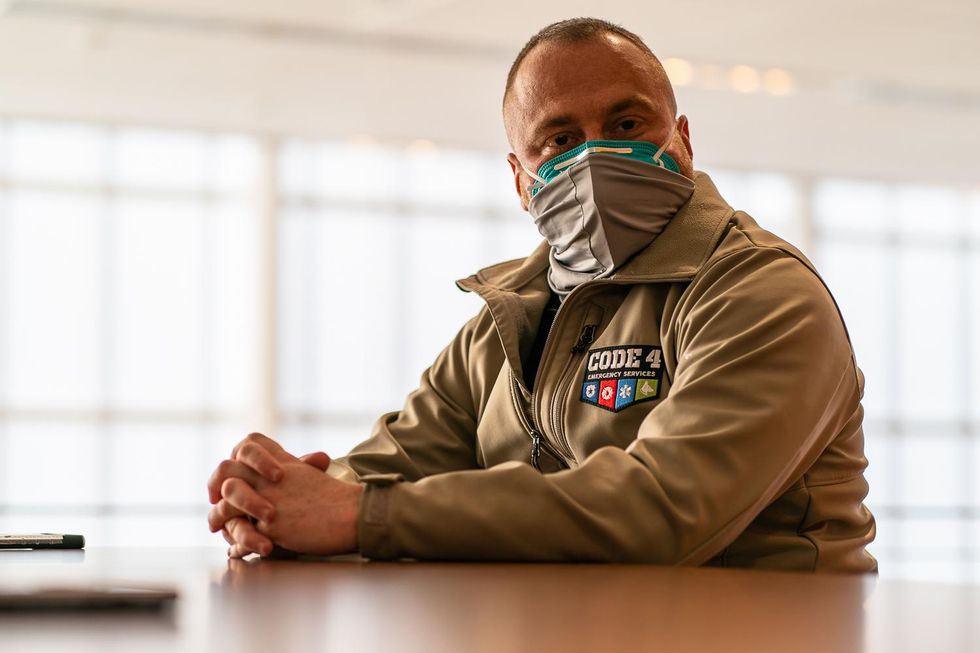 Scott Davidson, president and owner of Code 4 Emergency services, during an interview with Austonia at a Vaccination Event at the AISD Performing Arts center on Jan. 14. (Jordan Vonderhaar)
"We knew that the event and entertainment industry would be the first affected and probably the last to come back online," said Davidson. "It went from what was going to be an incredible year to virtually nothing in the books in terms of what we were accustomed to doing."

With medical resources already in place, Chief Strategy Officer Jonathan Alba said the company first created a biohazard division that enabled existing and new government clients, such as the city of Austin and Travis County, to try to curtail the spread of the virus.

"Our pivot was switching the risk that we were mitigating," Davidson said. "We went from car bombs, active shooters (and) severe weather to mitigating the virus."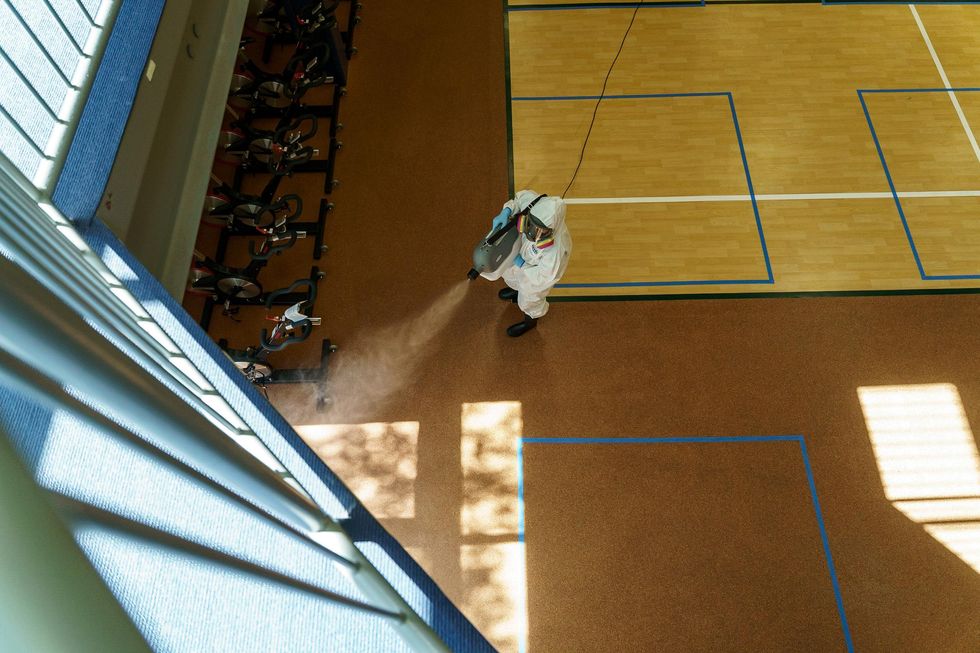 A worker from Code 4 Emergency Services sprays an electrostatic decontaminate on exercise equipment at a YMCA in Oak Hill. (Jordan Vonderhaar)
The organization established a training program referencing new pandemic protocols.
"Most of us, prior to the pandemic, thought we knew how to clean and how to disinfect something," Alba said. "We definitely learned a lot ourselves. As we are doing this work, we're also training every facility we come into on what to do and what not to do."
Headquartered at Austin Studios, Code 4 attracted the business of local film and media companies seeking to address the industry's unique risks on and off production sets.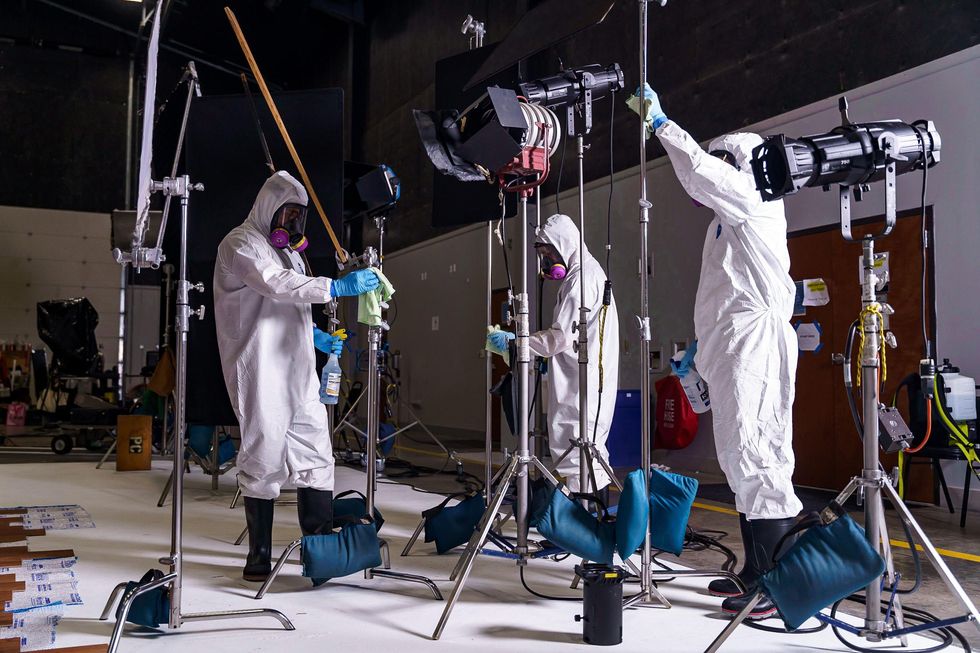 Three workers from Code 4 Emergency Services decontaminate a film set in Bastrop, TX to stop the spread of COVID-19. (Jordan Vonderhaar)
"We got wind, early on, that the film industry was trying to come back," Davidson said, adding the industry has very strong COVID-19 safety guidelines. The partnership "was a natural fit" and Code 4 has consulted on more than 70 productions since March, including Rooster Teeth studio series and advertising shoots for Samsung Group and Jeep automobile maker, he said.

"On these sets, these people are accustomed to working a certain way and, frankly, we have to challenge their tradition constantly—just the way that you would hold a camera and work as a team to capture a shot," Alba said. "We have to tell them, 'you don't work that way anymore.'"
Industry changes ran the gamut from altering craft services to transportation, post-production and voice overs.
"It's really looking at everything they do and basically rearranging it to be done in a way that honors public health and keeps everyone safe, while not shutting down the production," Alba said.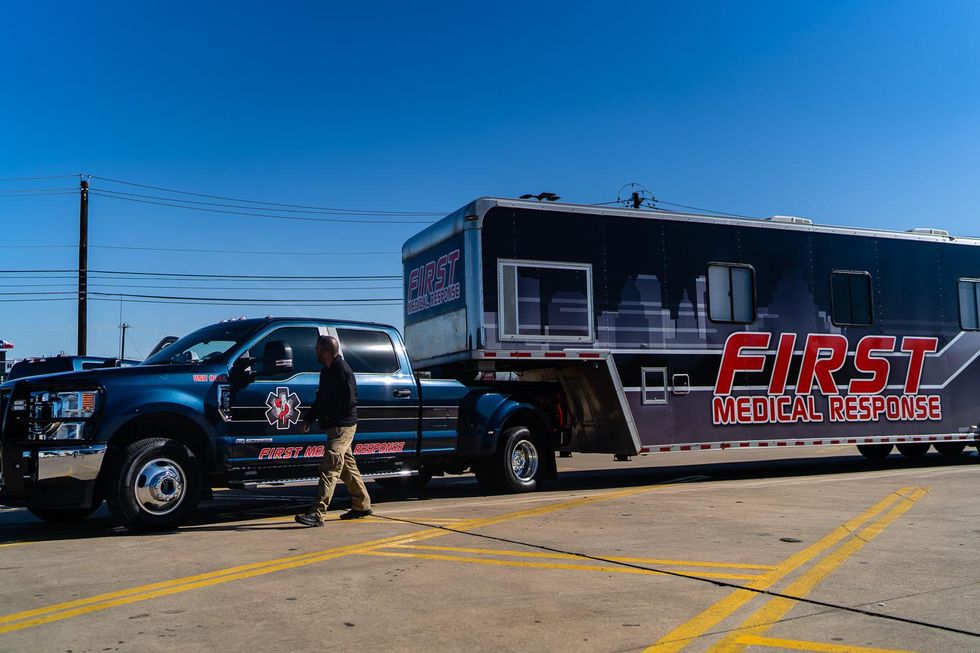 Carlos Cardec, one of the founders of First Medical Response walks around the company trailer on Jan. 15. (Jordan Vonderhaar)
As with Code 4, First Medical Response of Texas focused on medical care for private and public events pre-pandemic, including San Antonio's Fiesta Oyster Bake, Stock Show & Rodeo and Spurs games, company founder Edwin Reyes said. The quarter-century business is based in Dripping Springs but has a San Antonio office as well.

The curtailment of these events at the start of the pandemic forced Reyes to realign his roster of 120 part-time staffers who serve as medical personnel and first responders in their primary jobs. He's been an Austin Emergency Medical Services paramedic for more than 20 years.
Reyes said the change took him and business partner Carlos Cardec by surprise, and the company's event calendar "was gone with the blink of an eye."
"We had some big decisions to make," he said. "Is it time to say 'goodbye' to our hard-earned work of the past 25 years or do we try to figure out other options?"
Eventually, the business partners dove into coronavirus testing and screening by embarking on a new division, one that's been profitable due to the sheer volume of procedures undertaken, Reyes said. By employing a mobile trailer to test employees onsite, he said the practice makes it easier for staffers to receive the test at their place of employment, rather than travel to a testing clinic.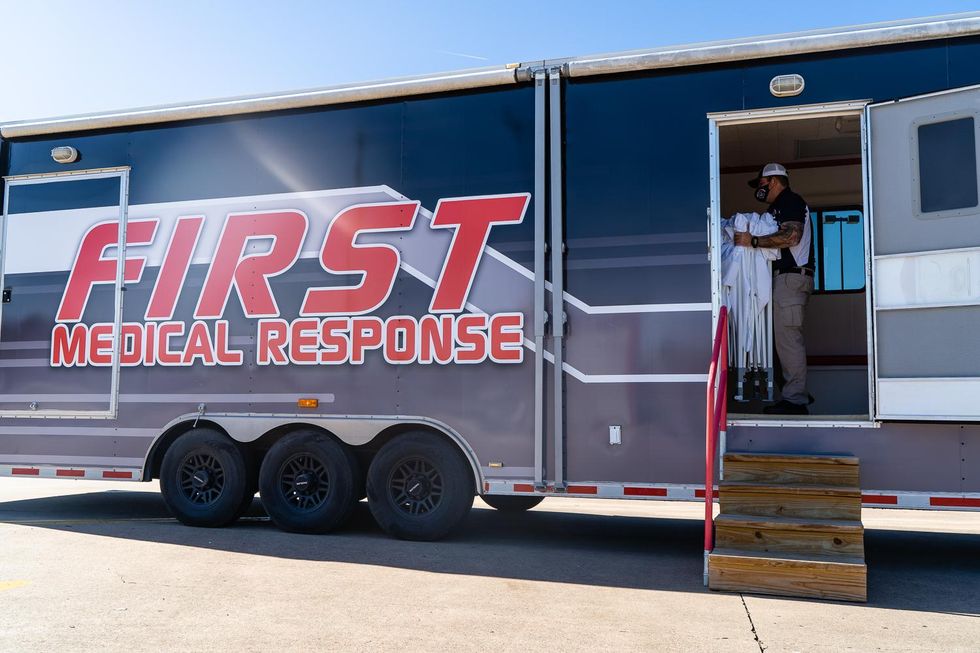 Edwin Reyes in the First Medical Response trailer on Jan. 15. (Jordan Vonderhaar)
The team also began consulting—sharing information with clients on procedures that would mitigate potential hazards, keep their staff safe, and allow their businesses to open back up, Cardec said.

Then came vaccinations. The company became licensed to give the vaccines and, with 1,000 Moderna doses, its staff held its first vaccine clinic on Dec. 30, Reyes said.
First Medical Response gave higher risk staff at Lake Travis ISD their initial round of vaccines, bringing the trailer to Lake Travis High School on Jan. 19. One of those lucky recipients was Kara King, a middle school science teacher and the mayor of Bee Cave, who has suffered from bilateral pulmonary embolisms, or blood clots in both lungs.
"I've always been nervous being around all of the kids every day and having diminished lung capacity," King said. "To get that vaccine yesterday, I feel so much peace now and relief that it's really going to be okay. It really is."
Reyes said the company's mobile clinic could be used to help people who need the vaccine but aren't within striking distance of a hub.

"We want to help out as much as we can but we are limited and controlled by how fast we get the vaccinations and how the state decides to push forward with the program," he said.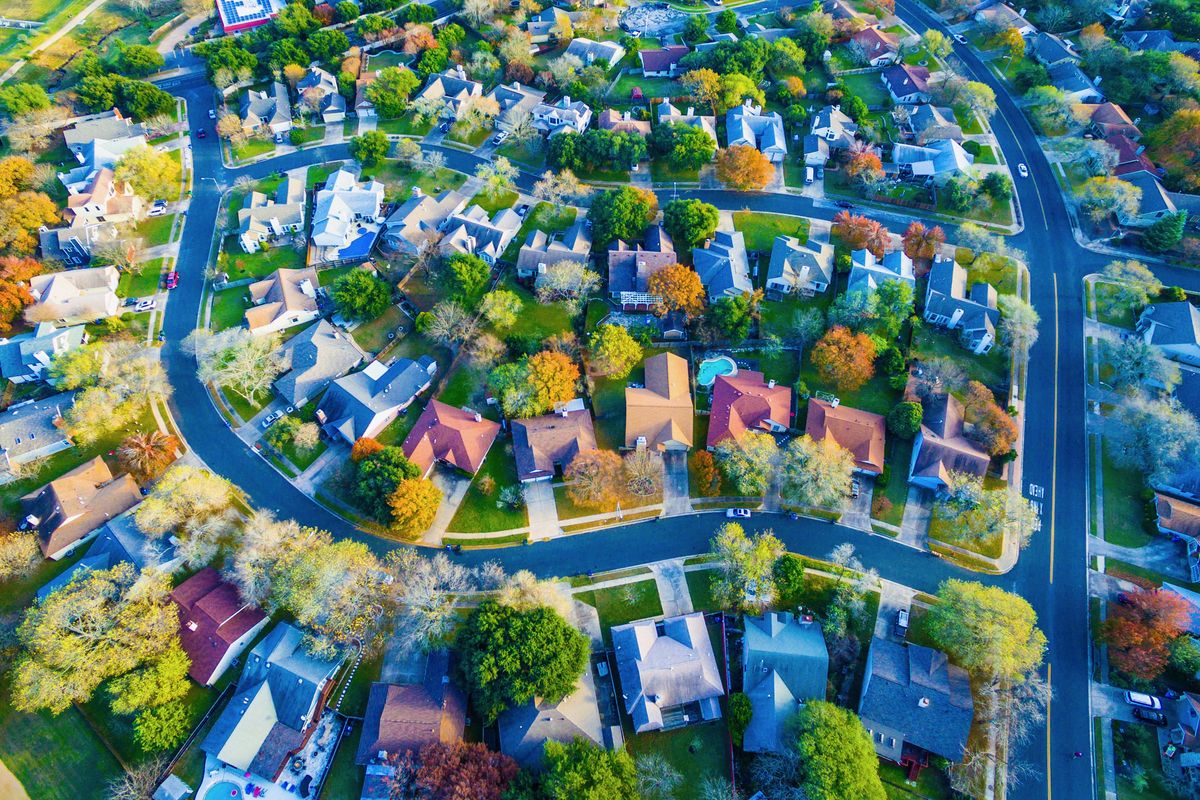 Shutterstock
So you want to buy a house?

To anyone trying to get on the "housing ladder," it's been a discouraging couple of years as prices skyrocketed in a market crowded with buyers bidding against each other for just about any available home.

Things may be calming down, with the Austin Board of REALTORS reporting fewer sales and more available homes this summer.

Mortgage rates have more than doubled in the last year, from around 3% to well over 6% on a 30-year fixed rate loan, getting even more of a bump this week after the Federal Reserve raised bank rates on Wednesday.

So how affordable are homes right now? That, of course, depends on what you want and how much you're able or willing to pay, but here are some rough estimates of what a typical buyer would pay to buy a $650,000 home, which would be considered "mid-price" in today's market.

Mortgage banker Chris Holland (NMLS 211033) of Austin's Sente Mortgage ran some numbers for Austonia to illustrate a typical purchase.


Holland says that while the 30-year fixed rate mortgage is often mentioned in the media, the most popular loan that he's seeing now is a 7/1 adjustable rate mortgage, which has a fixed rate for 7 years and then adjusts every year based on market rates, with a limit on how much it can increase each year. The interest is amortized over a 30-year period. Adjustable Rate Mortgages (ARMs) offer lower rates than fixed rate loans.

Here are the numbers, which are examples. In practice, exact numbers vary with a buyer's credit rating and overall financial situation, and with the rate, which can move up or down at any time.
$650,000 home purchase price
7/1 ARM at 5.875%
5% down payment, equals $32,500
95% financed, equals $617,500
$4,990 payment, including principle and interest (P&I), insurance, and property tax
Typically, a borrower's debt to income ratio needs to be at or below 45%. So for this mortgage, a borrower, or borrowers, would need income of roughly $11,100/month, or $133,200/year. That number could be higher, depending on the buyer's outstanding credit balances on things like credit cards and car loans.
Not included are closing costs, moving costs, maintenance, and any changes a new buyer might want to make to the home.

Holland says he's had a lot of clients approved for loans who were house hunting but have put that on hold, hoping prices come down.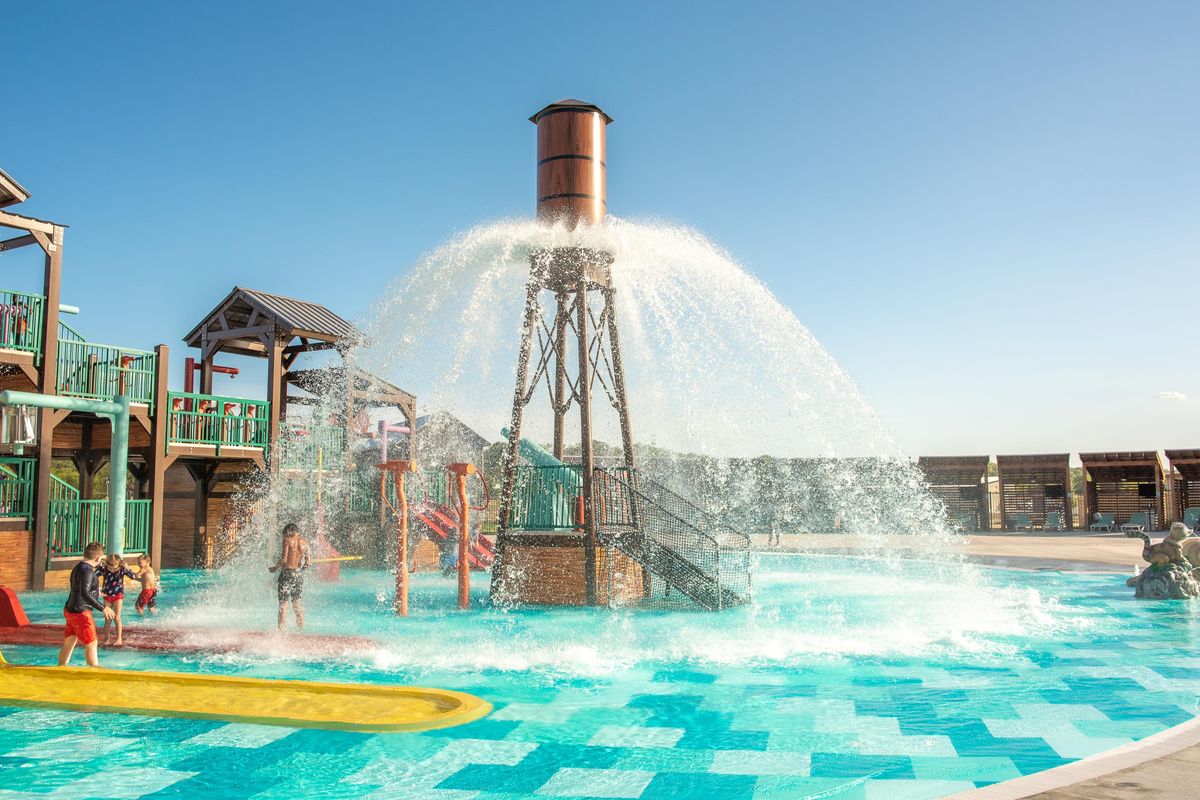 Camp Fimfo Waco
Camp Fimfo Waco, a brand new camping resort, is kicking off football and fall camping season in style! With top-notch amenities, premium accommodations, and 10 weekends of fall fun, there's no better place to have a fall camping getaway, especially if you're a Baylor football fan!
Fall promises to be a one-of-a-kind camping experience. From Sept. 16 to Nov. 24, weekends will be packed with fall-themed activities, including special Halloween weekends in October. Campers can enjoy activities like fall crafts, campground trick-or-treating, costume contests, site decorating, outdoor movie nights, and more!