Never miss a story
Sign up for our free daily morning email...
...and afternoon text update
Get connected with our daily update
One by one, millionaires and tech giants—and all their employees—have made Austin home. In fact, in 2020, Austin topped LinkedIn's list of cities that gained the most newcomers.
So, what's all the fuss about Austin from West Coast tech stars?
---
In short, it's friendly business climate, low taxes and workforce, says Texas Gov. Greg Abbott when he welcomed software giant Oracle to the state. But it's more than that, as Austonia found out by talking with multiple techies who've moved to Austin.
For business reasons or not, the trend of moving to Austin has moved electric vehicle manufacturer Tesla and possibly richest man Elon Musk, DropBox CEO Drew Houston, hardware producer Hewlett Packard Enterprises, and venture capital firm 8VC, among others, in 2020 alone.
Between business and lifestyle, techies have found there's no place like Austin.
Business-friendly culture
Years ago, local techie Frank Coppersmith predicted tech would eventually flee the Bay Area.
Coppersmith was a factory production manager for a San Jose, California technology company focused on the semiconductor manufacturing supply chain. Prompted by the semiconductor sector's move outside of the area, he followed suit, landing in Round Rock in 2005. He now is the CEO of software development company, Smarter Reality, located in the Domain.
"As much as I liked California, it was clear that the direction of the way the industry was moving and the way California was moving, that there would just be more opportunity elsewhere," Coppersmith said.
Austin's relationship with tech can be traced back to the 1950s, when Austin sought to become a technology town in an effort to replace the city's reliance on oil jobs. IBM relocated its Selectric typewriter facility to Austin in 1963, followed by Texas Instruments in 1967 and Motorola in 1974, and the city eventually grew its own giant in 1984, Dell Computers. Like a ripple effect, big names have attracted more names to follow, with some of the biggest arriving in 2020.

Austin Technology Council CEO Amber Gunst says the state's "business-friendly" culture is an attractive draw, not just due to the lack of a state income tax but for how its local and state governments foster the growth and expansion of new and existing companies.
"That's not the case in California, especially in the Bay Area," Gunst said.
According to Gunst, the pandemic has exacerbated the migration of tech companies into Austin, with Bay Area and East Coast employers permitting staff to work anywhere. Gunst's group is a resource for new transplants, helping tech workers transition through the organization's job board and member connections, she said.
"That's the one difficulty that we face right now," she said. "Without being able to physically come together, we do have people who feel a bit isolated when they first move here and try to meet new people."
Living in paradise
California-native Adam Prishtina was prompted to move to Austin by the quality of life Central Texas offers. The Athena Health tech executive was living with his wife and one-year-old son in a 1,200-square-foot apartment in the heart of San Francisco in 2015.
"We said, 'this is crazy,'" Prishtina said. "We should look at an opportunity to be able to live in a house with a front yard and a back yard, to just have room for the family to grow and expand."
His Circle C neighborhood reminds him of Los Gatos, a wealthy Northern California suburb Prishtina couldn't have easily afforded, with his current 3,600-square-foot home he estimated to be priced upwards of $3 million there instead of the $500,000 he paid.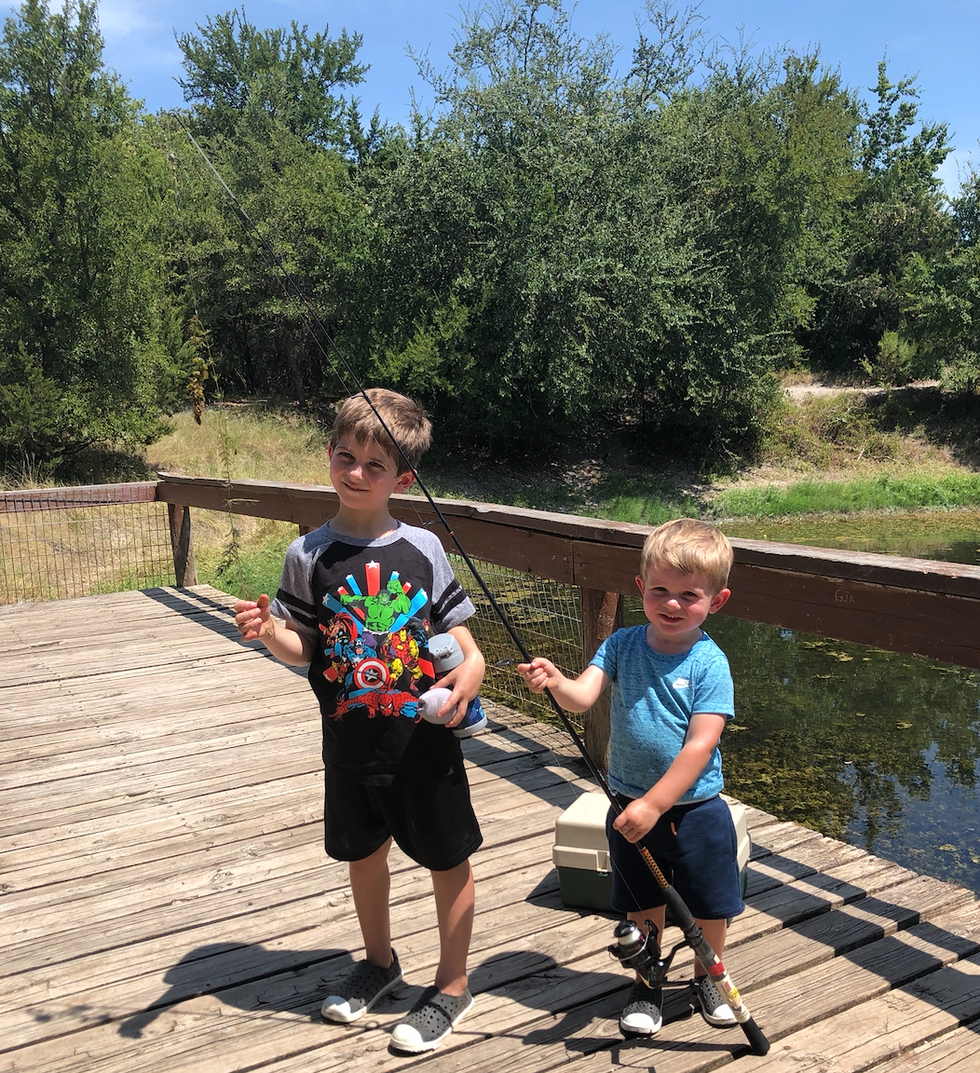 Tech exec Adam Prishtina's young sons enjoy fishing on a sunny day in Austin's Circle C neighborhood. The San Francisco-native moved to the area in 2015, prompted by a better quality of life. (Adam Prishtina)
And the same goes for technical writer Joyce Fee, who thinks of Central Texas life as "paradise."

Fee worked in the technology field for about 25 years when she considered moving, prompted by worsening traffic, skyrocketing cost of living and deterioration of public schools.
After a visit to Austin, she and her partner looked for houses in the area online, seeking privacy, a pool and a five-minute walk to the lake. With some trepidation, they chose the Hill Country.
"We were afraid because we are a gay couple and we thought, 'Oh, man, are we going to go to Texas and get murdered or something like that,'" she said. "I remember those first few months, the neighbors were so warm and welcoming, (asking), 'How y'all doing.'"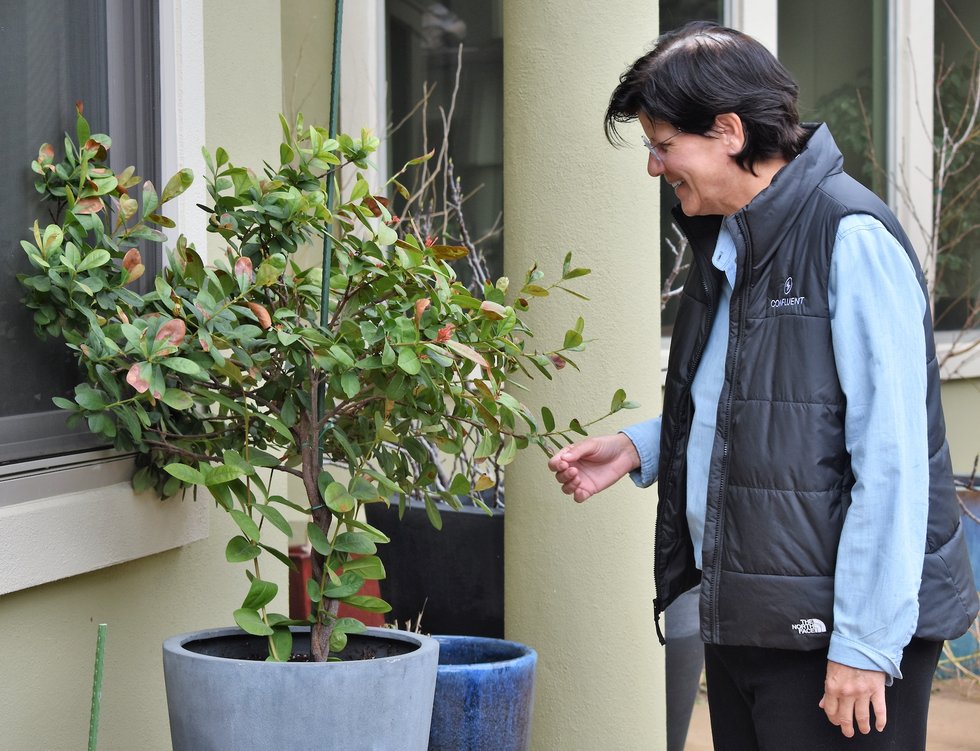 For California-transplant Joyce Fee, Central Texas is "paradise," given its lower cost of living and quality of life. (Leslee Bassman)
Transitioning

Both Prishtina and Fee said they've encountered local folks who weren't inclined to roll out the welcome mat for the former West Coast residents. Chastised for raising city property taxes, pricing out longtime residents from their homes, Prishtina suggested West Coast transplants make themselves more approachable.
"If they get to know you, then that's going to reduce the stereotypes native Austinites have about Californians who move here," Prishtina said.
Lakeway resident Malur Narayan, who works for an Austin-based global consulting firm, offers advice to California techies who might encounter differences in the cuisine, culture and politics of their adopted state.
"The key advice (to newcomers) is to adapt because Texas is not California," Narayan said. "Take the best of what you have and offer it here."
With a taste of MLS play under their belts, Austin FC is entering the second half of a scoreless inaugural match.
The club has been given some generous breaks from No. 2 LAFC, who had one or both of their star DPs out for the half. While forward Diego Rossi is out for the entire match due to a hamstring injury, Carlos Vela was accidentally pulled too soon on what turned out to be a miscommunication.
"He gave us the sign that he needed to come off," LAFC Head Coach Bob Bradley said on broadcast. "I can't say more than maybe it's my fault."
The two breaks aside, Austin FC has been holding their own against the match favorites. In the signature style of Head Coach Josh Wolff, the team has been quick and intense, nearly connecting on several fast breaks. ATXFC has also kept about equal possession with LAFC, although their shot attempts haven't been quite as nervewracking as the home team.
LAFC has given goalkeeper Brad Stuver some scares with 11 shot attempts, four of them on goal. By contrast, Austin FC has had five shots on goal.
LA has pulled some dramatics and slowly gained more possession throughout the half, but ATXFC's defense isn't as shaky as it seemed in preseason. Jhohan Romana has pulled his weight in getting the ball out of goal, and defensive midfielder Alex Ring has shown the qualities that make him captain as he leads his teammates through their first ever match.
Will Austin FC win against the odds? It's tough to tell, but Austonia will keep you updated!
It's matchday! Austin FC—Austin's first major league sport team—kicks off its debut season in Los Angeles today after years in the making. We know how much this means to our beloved city and are taking you along with us as we journey to LA!
Austin FC writer Claire Partain and I are excited to bring you game-day coverage straight from the City of Angels. Check back here for updates, and visit our socials: @austonianews for the latest.
5 p.m: Kickoff!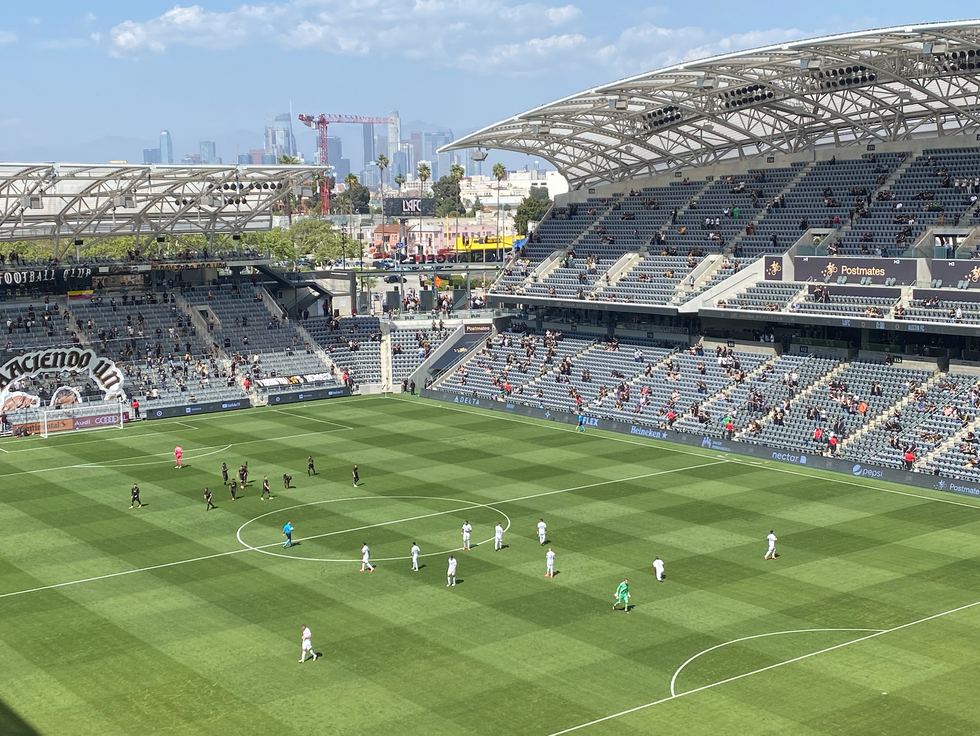 It's finally here! Claire will be updating Austonia's Twitter account live. And we'll post her game recap after the game. Best of luck Verdes!
4:40 p.m: Excitement radiates back home
Watch parties are in plenty supply back home. Austonia's Laura Figi visited Circle Brewing Co. and found a crowd of excited supporters.
4:20 p.m: Austin FC supporters are in the stadium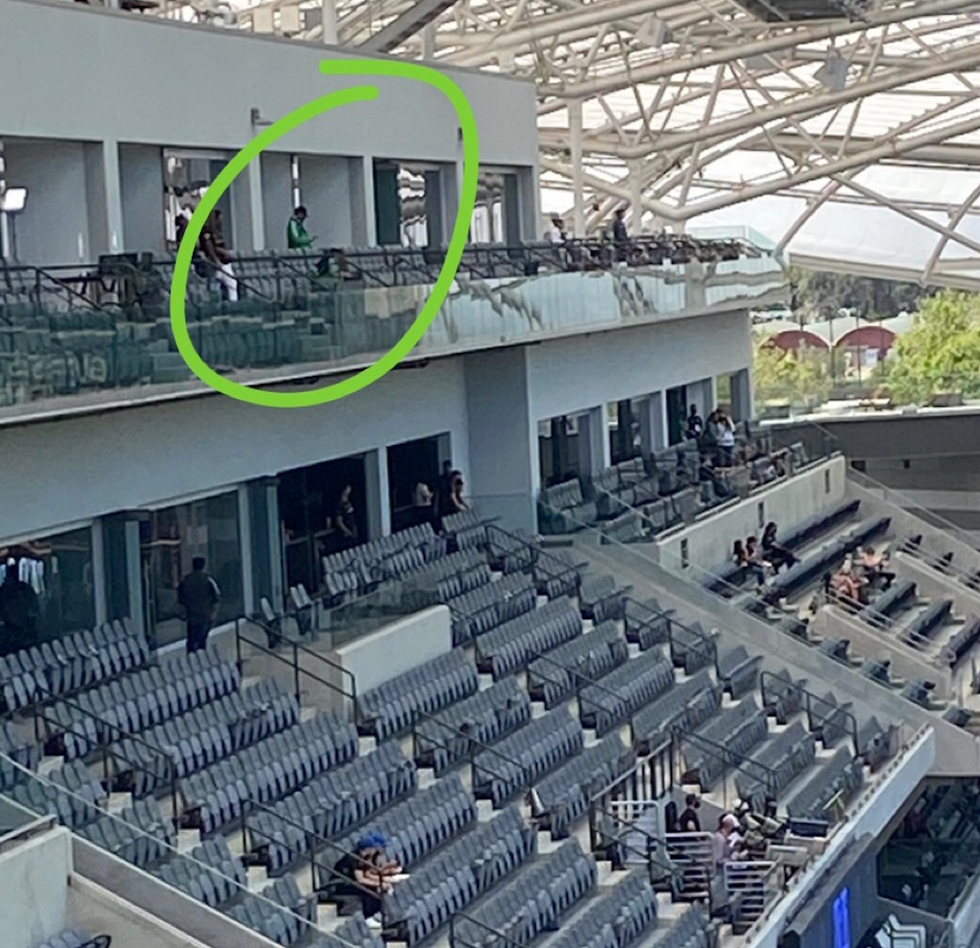 Although the Banc of California Stadium is hosting the match at limited capacity, we see some green in the stands ahead of kickoff. Just moments away from the Austin FC's debut!
~3:20 p.m: Austin FC's team bus enters the stadium grounds
With a warm welcome from Los Verdes, Austin FC players were welcomed into the Banc of California Stadium.
~1 p.m: Los Verdes in LA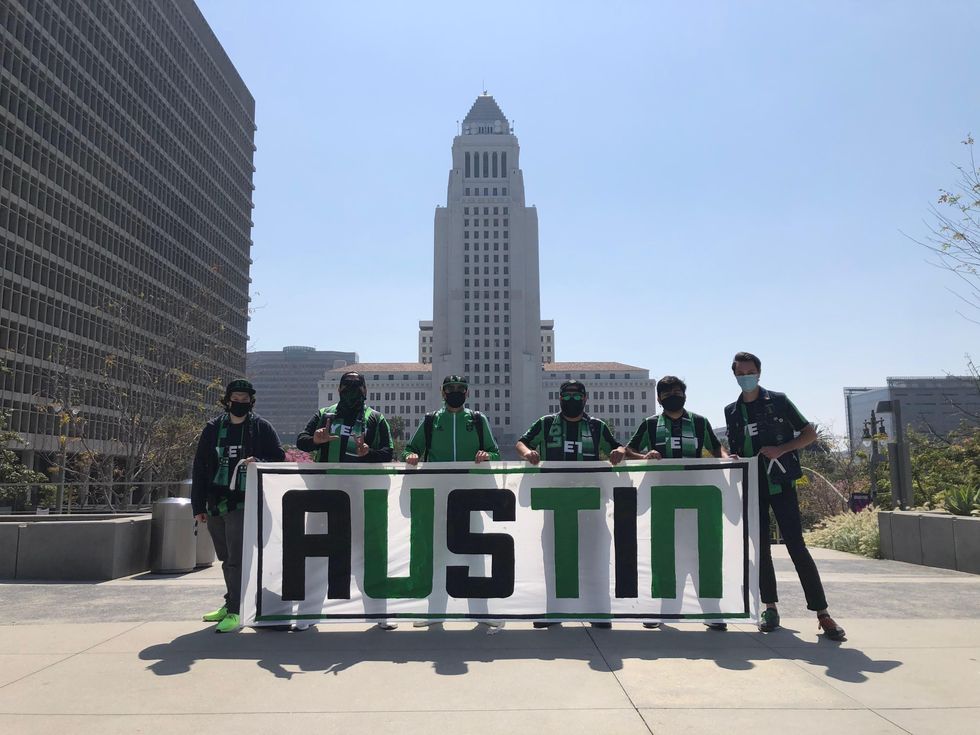 (Rigo Rodriguez/Los Verdes)
Austin FC supporters are making their presence known in LA, including the Los Verdes group.
Los Verdes members started having match-day fun around the area this morning with brunch. We'll be joining them about an hour before the game outside the stadium to share some of their excitement. We'll post immediately to Austonia's Instagram.
11:45 a.m: We landed!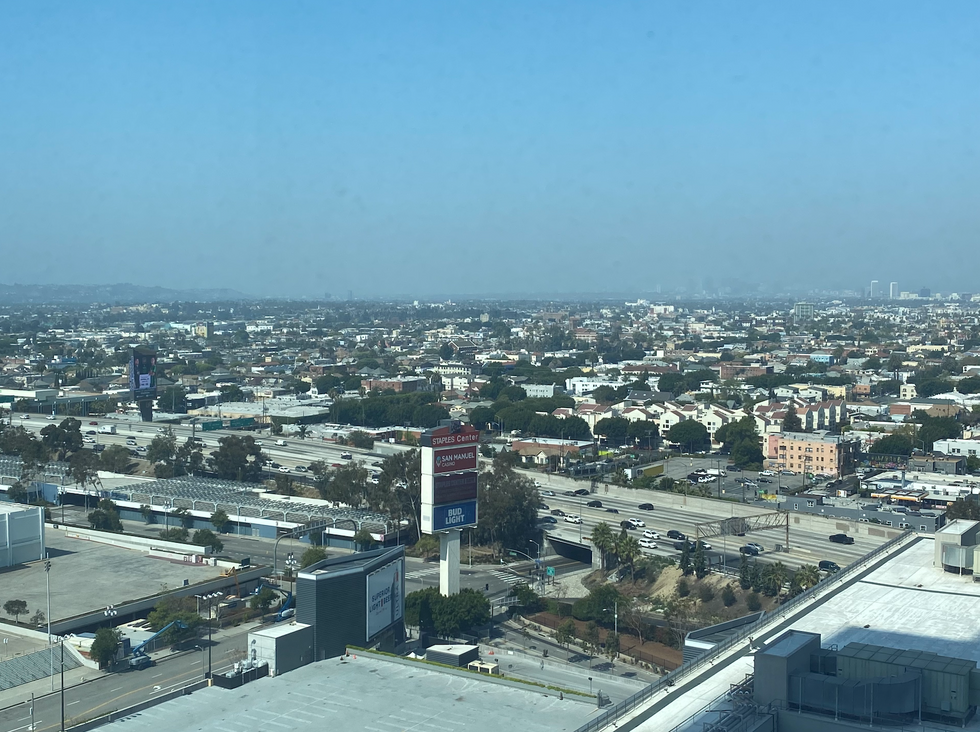 View from hotel room where we're staying; the stadium digital sign can be seen in the right corner. (Sonia Garcia/Austonia)
Switching over to pacific time, we're here and it's almost like no time went by. It's 9:45 a.m. here.
We've been in contact with Los Verdes, an Austin FC supporter group, who is also here in LA counting down to kickoff.
8:20 a.m: LA bound
Like many of you, we've been looking forward to this moment for, let's just say, a very long time. Today, we woke up bright and early, headed to Austin-Bergstrom International Airport and hopped on a flight to LA.
A gloomy day in Austin with a very quiet airport, we're headed to sunny skies in California.
As we wait for the game to start at 4:30 p.m., check out Claire's preview of the game with a predicted lineup and timeline of the long journey to get here.