Austonia AM
100% Austin news, info, and entertainment, straight to your inbox at 6 a.m. every morning.
In five minutes, you're fully informed and ready to start another great day in our city.
Get connected with our daily update
The California exodus has made headlines for several years now, and even more recently, with thousands of West Coasters seeking tax relief, less-expensive real estate and a simpler lifestyle in Texas' capital city.
However, a California man's scathing review of Austin, which was published in Business Insider on Wednesday, reveals that some are less than satisfied with their move.
---
In Brett Alder's piece, the sales executive cites "punitive, militaristic" public schools, "oppressive" heat, "reptilian brain terrible" Austin drivers, and a "monoculture" as some of the reasons he moved from California to Texas—and back again.
The one similarity? Alder said that the only thing Austin had in common with California was the one he tried to escape: a high cost of living.
Alder wrote his op-ed as a warning to Californians like himself who had visited the city but found it wasn't the right fit.
"I had visited Austin several times, and everyone was super cool," Alder told Austonia. "I attended great restaurants in Austin, I experienced generally good weather, so I guess I was surprised at some the things I didn't expect before going there."
In the op-ed, Alder admits that he upgraded his home in the move, doubling his square-footage and adding in a pool for relatively the same price. However, cheap housing was unable to mitigate sky-high living expenses. With a $400 monthly power fee, Alder said his family was still "uncomfortable" and that San Diego's water charges were "cheaper during a drought... from two states away."
Despite coming from sunny California, Adler also complained about Austin's heat and humidity.
And the "annoying cold." While Austin's rain makes the "greenery look great," Adler said it did not make up for allergies, mosquitoes and quickly spoiling food.
To add to the heat problem, Alder said that lack of public land made the bunch feel even more "cramped and cooped up." Even Enchanted Rock was not immune to the family's distaste and was dubbed "Disenchanted Rock" after a weekend misadventure. Travel was also a no-go, as getting "anywhere interesting" involved flying expenses or several hours of driving.
Finally, Alder's general dislike of the people and culture was enough to drive the family back to the Golden State. Although he ran into Matthew McConaughey at a flag football game and met some "very wonderful, friendly people," many others he was less impressed with. Alder found service to be worse than anywhere he's been and said even the "car washes were lame."
Austin's general culture, according to Alder, was a "monoculture that doesn't even seem to be aware of its own blandness." Older, native Texans tended to fit seemingly negative stereotypes, and networking by "attending the local high school football game with the guys" was not his cup of tea. He disapproved of the area's public schooling as well and compared the school his three children attended to a "micro-managed military academy."
The post was actually posted to a medium blog by Alder in 2016 as a way of venting about his complaints and giving Californians advice.
Five years later, the piece was tweeted out and later picked up by Business Insider. Texans across the state were up in arms about the op-ed, with Austin Instagram account 365thingsaustin posting, "Headline should read: Culturally Unaware Douchebag Doesn't Make Friends in Austin, Blames City."
Alder said in his interview with us, he actually has enjoyed some of the jabs Texans have given him.

"A lot of people have blown me up in very clever, witty fashion, which I greatly appreciate," Alder said.
Alder said that the post was more of a reminder to himself to not move back to Austin than a diss at the city itself and that he would have included the positives if he knew it would get traction.
"I never knew that that piece was going to blow up, that it would be read by people all over Texas," Alder said. "I didn't include the positive stuff, like how our neighbors left us brownies or invited us to New Year's parties, or things like that."
Although Alder was ultimately against the Californian Texodus, many Californians have stated that the opposite is true.
Austonia spoke with multiple newer Austinites this month that said they really enjoyed their new way of life in Austin. California native Adam Prishtina said he was surprised at the upgrade in the quality of life his family was able to afford upon moving to Austin.
"We said, 'this is crazy,'" Prishtina said. "We should look at an opportunity to be able to live in a house with a front yard and a back yard, to just have room for the family to grow and expand."
Technical writer Joyce Fee said that her new Austin neighbors were both friendly and accepting to her and her partner.
"We were afraid because we are a gay couple and we thought, 'Oh, man, are we going to go to Texas and get murdered or something like that,'" Fee said. "I remember those first few months, the neighbors were so warm and welcoming, (asking), 'How y'all doing.'"
In hindsight, Adler said he understands some criticisms he is receiving and that ultimately his personal values may have gotten in the way of the best experience.
"Some of the criticism I'm getting is that, 'How could Californians have not known this about Texas before you moved here,' and that's totally legitimate criticism," Alder said. "I think Texans understand their state and the advantages of their state much better than Californians do. I think that's a big part of it, and I think another part of it was a lack of fit."
Whether Alder's experience truly was shaped by Austin's flaws or was just not the best match, the Californian's views on Texas' capital city are certainly not universal.
After a long, long year without live music, Austin has waited patiently for a return that has finally come. Festivals are planning returns and even venues that adhered strictly to safety protocols during the pandemic are feeling safe enough to gather again in person.
Starting in just a few short days, you can finally enjoy what makes Austin, well, Austin again. Here are a few of the live shows to look forward to.
Remember to jump on those tickets–Austinites have been missing their live music!
We asked you what you wanted and you told us. More newsletter!
Austonia launched its new and improved newsletter today. You can expect:
100% Austin news, info and entertainment
Sent straight to your inbox at 6 a.m. every morning
In 5 minutes or less, you're fully informed and ready for a great day
Sign up here:
For Marco Silvestrini, gelato takes him back to his childhood when he and neighborhood kids in a small Italian town would end their day at the local gelato shop. It was part of what made some of the best memories for him.
He's since been offering that same experience for the past seven years with his artisanal gelato shop, Dolce Neve, in Austin, alongside his sister and her husband.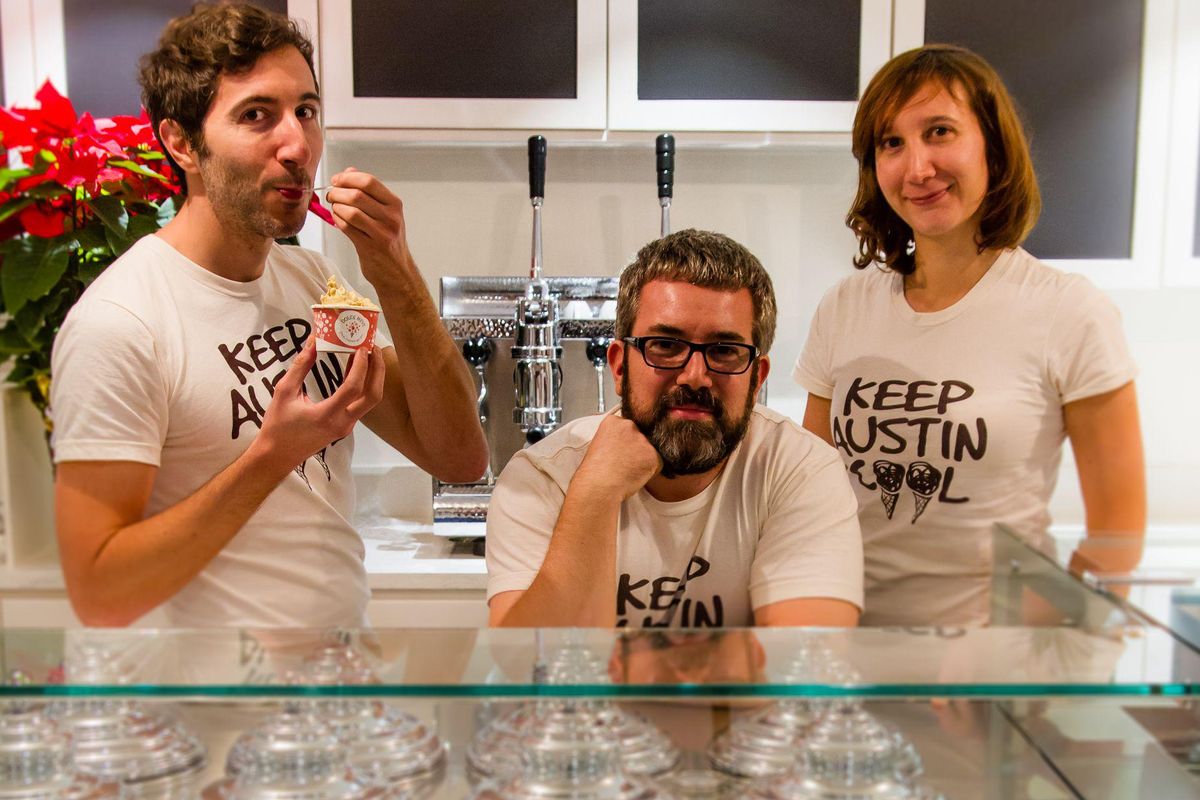 Leo Ferrarese, Marco and Franscesa Silvestrini run Dolce Neve. (Dolce Neve)
While gelato always played a big role in Silvestrini's life, it wasn't in his plans to take on a business with his favorite treat. After a few years in New York working as a management consultant, he felt he was missing out on something. "I decided to take a step back and started thinking, what could... I do to make society better and happier, even just for a moment," Silvestrini said.
He thought back to his childhood and the role gelato played in it and wanted to offer the same experience to Americans.
Once he had the product idea down, it came down to location. Growing up among farmers in a small community in Central Italy, Silvestrini knew he wanted a slower pace of living than New York, so he asked around. The answer he got: "Austin." The only thing he knew about what would become his future home was it had a Formula 1 track.
But after visiting once, he felt a great sense of community he didn't feel in The Empire State. "I felt it was not just a good place for a concept like mine, but also a good place to live because at the end of the day, you cannot just think about your business," he said.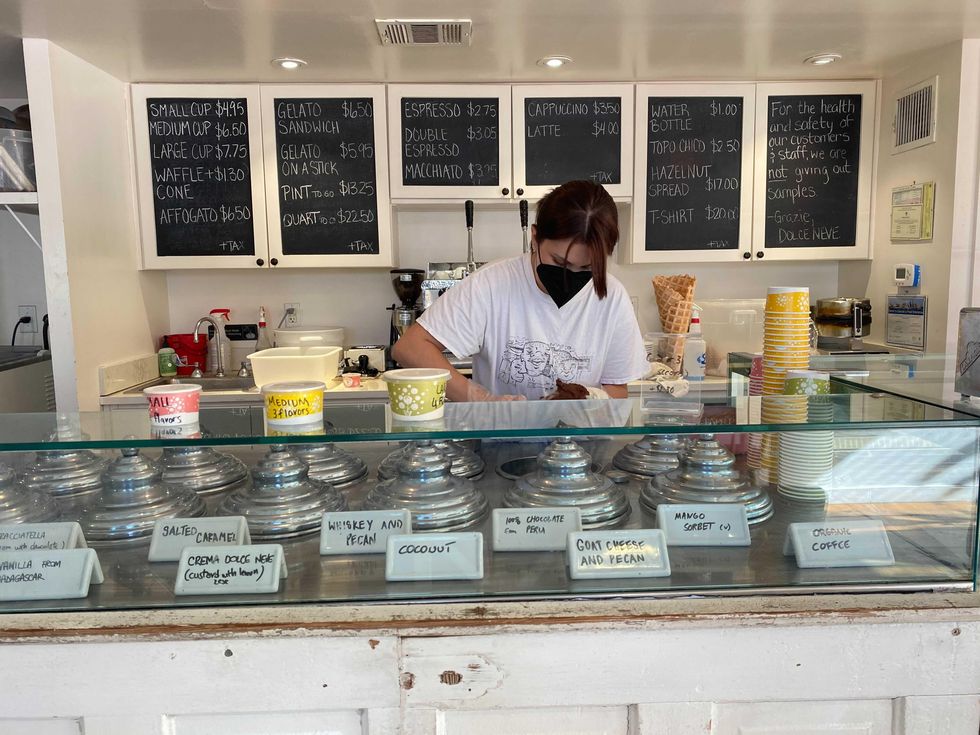 "Dolce Neve" translates to "sweet snow." The shops offers 12-18 flavors at a time. (Dolce Neve)
Similarly, his sister Francesca Silvestrini was experiencing the same feelings while studying for her Ph.D. in Ohio before teaming up with Silvestrini. She went back to Italy to be properly trained in making gelato while Silvestrini focused on the business plan. They brought Leo Ferrarese, her husband, onboard and opened their first shop on South First Street in January 2014. The rest is history.
On the menu, you'll find various traditional and innovative flavors that rotate out. Some of the staples include chocolate, 100% vanilla from Madagascar and salted caramel. Other rotating or seasonal flavors include whiskey and pecan, organic cantaloupe sorbet, goat cheese and pecan, almond custard and tiramisu. They've created over 300 flavors together in the span of the business.
So what's next for the shop? Lately, Silvestrini has been thinking a lot about that. With two locations in Austin, one in Houston—he's just not sure if expanding more is the right move. Maintaining a quality product and good service is of utmost importance that he's not willing to sacrifice.
"In order to be happy, it's not about making money, it's about being an integral part of the community," Silvestrini said. "There have been so many cases in which I think what I did today really made a difference in somebody's life."