Austonia AM
100% Austin news, info, and entertainment, straight to your inbox at 6 a.m. every morning.
In five minutes, you're fully informed and ready to start another great day in our city.
Get connected with our daily update
The California exodus has made headlines for several years now, and even more recently, with thousands of West Coasters seeking tax relief, less-expensive real estate and a simpler lifestyle in Texas' capital city.
However, a California man's scathing review of Austin, which was published in Business Insider on Wednesday, reveals that some are less than satisfied with their move.
---
In Brett Alder's piece, the sales executive cites "punitive, militaristic" public schools, "oppressive" heat, "reptilian brain terrible" Austin drivers, and a "monoculture" as some of the reasons he moved from California to Texas—and back again.
The one similarity? Alder said that the only thing Austin had in common with California was the one he tried to escape: a high cost of living.
Alder wrote his op-ed as a warning to Californians like himself who had visited the city but found it wasn't the right fit.
"I had visited Austin several times, and everyone was super cool," Alder told Austonia. "I attended great restaurants in Austin, I experienced generally good weather, so I guess I was surprised at some the things I didn't expect before going there."
In the op-ed, Alder admits that he upgraded his home in the move, doubling his square-footage and adding in a pool for relatively the same price. However, cheap housing was unable to mitigate sky-high living expenses. With a $400 monthly power fee, Alder said his family was still "uncomfortable" and that San Diego's water charges were "cheaper during a drought... from two states away."
Despite coming from sunny California, Adler also complained about Austin's heat and humidity.
And the "annoying cold." While Austin's rain makes the "greenery look great," Adler said it did not make up for allergies, mosquitoes and quickly spoiling food.
To add to the heat problem, Alder said that lack of public land made the bunch feel even more "cramped and cooped up." Even Enchanted Rock was not immune to the family's distaste and was dubbed "Disenchanted Rock" after a weekend misadventure. Travel was also a no-go, as getting "anywhere interesting" involved flying expenses or several hours of driving.
Finally, Alder's general dislike of the people and culture was enough to drive the family back to the Golden State. Although he ran into Matthew McConaughey at a flag football game and met some "very wonderful, friendly people," many others he was less impressed with. Alder found service to be worse than anywhere he's been and said even the "car washes were lame."
Austin's general culture, according to Alder, was a "monoculture that doesn't even seem to be aware of its own blandness." Older, native Texans tended to fit seemingly negative stereotypes, and networking by "attending the local high school football game with the guys" was not his cup of tea. He disapproved of the area's public schooling as well and compared the school his three children attended to a "micro-managed military academy."
The post was actually posted to a medium blog by Alder in 2016 as a way of venting about his complaints and giving Californians advice.
Five years later, the piece was tweeted out and later picked up by Business Insider. Texans across the state were up in arms about the op-ed, with Austin Instagram account 365thingsaustin posting, "Headline should read: Culturally Unaware Douchebag Doesn't Make Friends in Austin, Blames City."
Alder said in his interview with us, he actually has enjoyed some of the jabs Texans have given him.

"A lot of people have blown me up in very clever, witty fashion, which I greatly appreciate," Alder said.
Alder said that the post was more of a reminder to himself to not move back to Austin than a diss at the city itself and that he would have included the positives if he knew it would get traction.
"I never knew that that piece was going to blow up, that it would be read by people all over Texas," Alder said. "I didn't include the positive stuff, like how our neighbors left us brownies or invited us to New Year's parties, or things like that."
Although Alder was ultimately against the Californian Texodus, many Californians have stated that the opposite is true.
Austonia spoke with multiple newer Austinites this month that said they really enjoyed their new way of life in Austin. California native Adam Prishtina said he was surprised at the upgrade in the quality of life his family was able to afford upon moving to Austin.
"We said, 'this is crazy,'" Prishtina said. "We should look at an opportunity to be able to live in a house with a front yard and a back yard, to just have room for the family to grow and expand."
Technical writer Joyce Fee said that her new Austin neighbors were both friendly and accepting to her and her partner.
"We were afraid because we are a gay couple and we thought, 'Oh, man, are we going to go to Texas and get murdered or something like that,'" Fee said. "I remember those first few months, the neighbors were so warm and welcoming, (asking), 'How y'all doing.'"
In hindsight, Adler said he understands some criticisms he is receiving and that ultimately his personal values may have gotten in the way of the best experience.
"Some of the criticism I'm getting is that, 'How could Californians have not known this about Texas before you moved here,' and that's totally legitimate criticism," Alder said. "I think Texans understand their state and the advantages of their state much better than Californians do. I think that's a big part of it, and I think another part of it was a lack of fit."
Whether Alder's experience truly was shaped by Austin's flaws or was just not the best match, the Californian's views on Texas' capital city are certainly not universal.
After Austin voters passed Proposition B, reinstating a ban on public camping, City Council directed staff to look into possible sanctioned campsites where homeless residents could live legally. Now two members are asking to shelve discussion on the controversial topic.
Staff presented dozens of possible sanctioned campsites across each fo the 10 council districts in late May, following the election. But members mostly pushed back on the proposed locations, citing cost, wildfire risk and lack of transparency as concerns.
With updated criteria, staff recommended two sites—one in District 1 and the other in District 8—for further review last week. After being briefed on the options during Tuesday's work session, Mayor Pro Tem Natasha Harper-Madison, who represents District 1, and Council Member Paige Ellis, who represents District 8, issued a joint statement proposing "a pause" on further discussion of temporary sanctioned encampments.
"We are not convinced that these sites would be a cost-effective solution, but rather a band-aid tactic when we need to be supporting the long-term strategy to get folks off the street permanent," they said. "It is our responsibility to look at the situation holistically and objectively, and to spend out city's limited resources on solutions we know can work."
Homeless Strategy Officer Dianna Grey noted that the two locations were imperfect and would require a lot of time and money to outfit as sanctioned campsites during the briefing.
City staff and homeless experts have previously raised concerns about sanctioned encampments, saying they are expensive to maintain, challenging to manage and hard to close, even when intended to to be temporary.
In 2019, staff declined to make recommendations for such sites despite being directed by council to do so, citing 2018 guidance from the U.S. Interagency Council on Homelessness. "Neither authorized encampments nor parking areas provide housing for people experiencing homelessness," staff wrote in a memo. "Rather, each option detracts from the staff resources assigned to addressing this moral imperative."

But with Prop B being enforced and too few shelter beds and affordable units for the estimate unsheltered homeless population in Austin, the city is facing the same predicament that prompted District 9 Council Member Kathie Tovo to pursue possible sanctioned campsites in the first place: "When individuals in encampments ask where they should go, we need to have places to suggest," she said at a May 6 council meeting.
Don't lose your mask just yet—the Centers for Disease Control and Prevention announced it is now recommending masks in areas that are surging as cases rise nationwide and the Delta variant looms.
The CDC announced Tuesday that even fully vaccinated individuals should mask up indoors if their community is experiencing substantial transmission—defined as areas with more than 50 cases per 100,000 people. Travis County is sitting at an average of 94.59 cases per 100,000 over the past seven days, falling into the highest risk category, according to the CDC.
#DeltaVariant surging in U.S. New data show Delta much more contagious than previous versions of #COVID19. Unvaccinated people: get vaccinated & mask until you do. Everyone in areas of substantial/high transmission should wear a mask, even if vaccinated. https://t.co/tt49zOEC8N
— CDC (@CDCgov) July 27, 2021
After two COVID-19 recommendation stage jumps in the last two weeks, from Stage 2 to Stage 4, Austin-area cases are the highest they have been since February. The seven-day average for cases is on an upward trend, reaching 226 on Tuesday.
The CDC is also recommending that all students K-12 wear masks indoors, regardless of vaccination status. A May executive order by Gov. Greg Abbott prohibits schools from requiring masks, regardless of vaccination status. Austin ISD is "strongly" encouraging students to wear masks.
Although vaccinated individuals are still protected against the most severe symptoms of the variant, infections are spreading rapidly and now make up 83% of confirmed cases in the U.S. At least a dozen cases of the delta variant have been confirmed in the Austin area, though there are likely more since testing for it is limited.
CDC Director Dr. Rochelle Walensky said that hospital admissions are "almost exclusively" coming from people who are unvaccinated but those who are vaccinated can still catch and spread the virus.
"Unlike the alpha variant that we had back in May, where we didn't believe that if you were vaccinated you could transmit further, this is different now with the Delta variant," Walensky said. "That leads us to believe that the breakthrough infections, rare that they are, have the potential to pool and transmit at the same with the same capacity as an unvaccinated person."
Research suggests those who become infected carry 1,000 times more of the virus than other variants and could stay contagious for longer.
The announcement comes on the heels of the Biden administration ramping up cautionary measures in the face of the Delta variant. Just last week, the CDC said it had no plans to change its May guidance of vaccinated not having to wear masks unless there was a significant change in the data. Officials met on Sunday night to review new evidence,
according to reports.

The Moody Center, a $338 million, 530,000-square-foot multipurpose arena at the University of Texas at Austin, celebrated its topping out on Tuesday.
With the final beam placed, the arena's steel-frame structural phase—which involved more than 5.3 million pounds of steel—is complete.

"This past year has been full of unprecedented events, not to mention weather challenges, and yet the women and men working on this project continue to deliver," Moody Center General Manager and Senior Vice President Jeff Nickler said in a press release.
To celebrate the topping out Oak View Group, the development and investment firm behind the Moody Center will affix a tree to the final beam in keeping with the time-honored tradition.

The practice dates back to ancient Scandinavian religious rites, which involved placing a tree atop new buildings to appease tree-dwelling spirits displaced during the construction process, according to the International Association of Bridge, Structural and Ornamental Ironworkers in Washington D.C.
After the steel-frame structure phase, the development will move on to enclosing and finishing the interior of the Moody Center.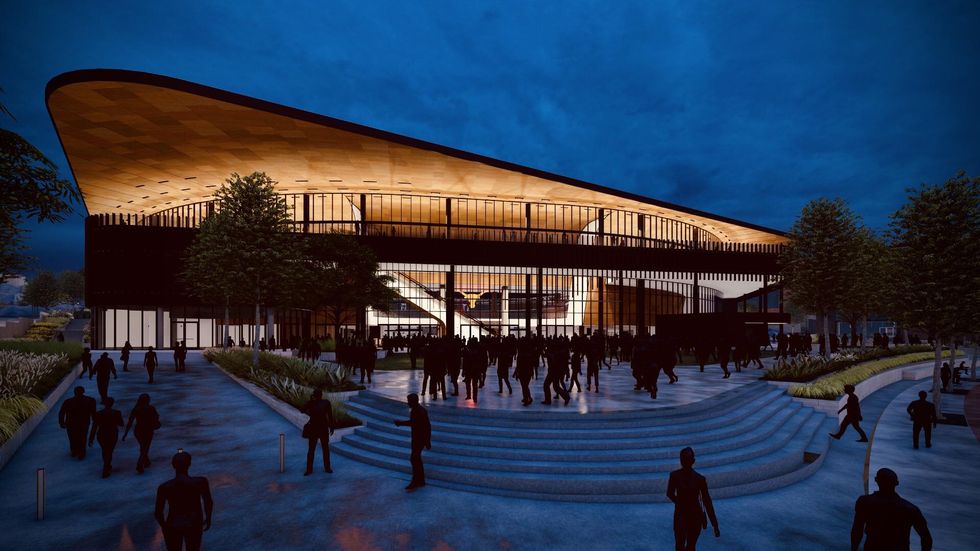 Rendering of the Moody Center. (Moody Center)
The arena is set to open next April and already has some major acts scheduled for its inaugural year, including The Weeknd, Justin Bieber, John Mayer and The Killers. It will replace the 43-year-old Frank C. Erwin Jr. Center and serve as the home of UT's men's and women's basketball games, among other sports and community events.