Get connected with our daily update
If you've lived in Austin long enough to get stuck in rush-hour traffic on MoPac, you're probably familiar with Camp Mabry.
---
Named after Adjutant General of Texas Woodford H. Mabry, the military installation was established in 1892—in what was then a rural area—as a training facility for the Texas Volunteer Guard. The original site, which comprised roughly 90 acres, expanded to 400 acres by 1911 as a result of government land purchases and various land gifts. It now functions as the headquarters of the Texas Military Department, Texas Military Forces and Texas Military Forces Museum.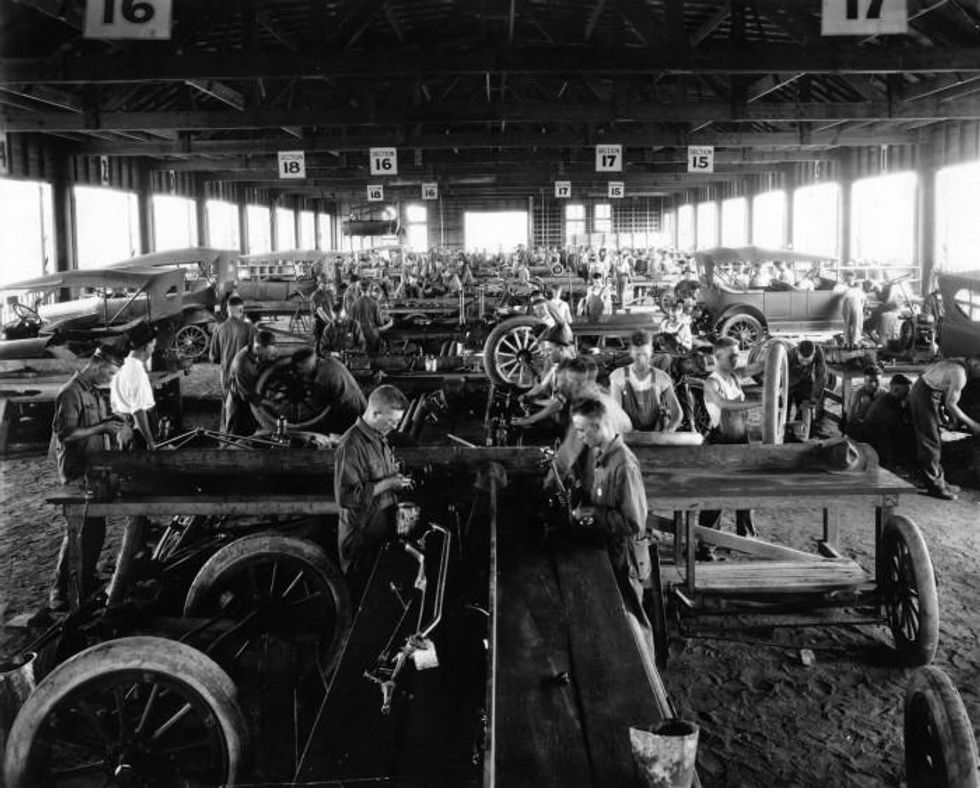 Soldiers build military vehicles at Camp Mabry during an unknown year, anywhere from 1877-1939. (Austin Public Library/Austin History Center)
These days, Camp Mabry also serves to confuse commuters who are stuck in bumper-to-bumper traffic, gazing forlornly out their car windows and wondering, "What is that place even used for?" Indeed, such a large plot of sparsely populated land situated directly off the highway feels like a relic from a bygone era when compared to the rest of Austin, which is becoming more tightly packed with office buildings and high-rise apartments every day.
It's a stark contrast that raises a worthwhile, yet hypothetical question: What would it take for the state to sell Camp Mabry, and could the development of that land help mitigate Austin's housing crisis?
Developing Mabry would take State and City cooperation that's in short supply. Because Camp Mabry is state-owned, it would need to be authorized for sale by the state legislature or deemed "under-utilized" by the Texas General Land Office and approved by the governor. Circumstances it does not meet today.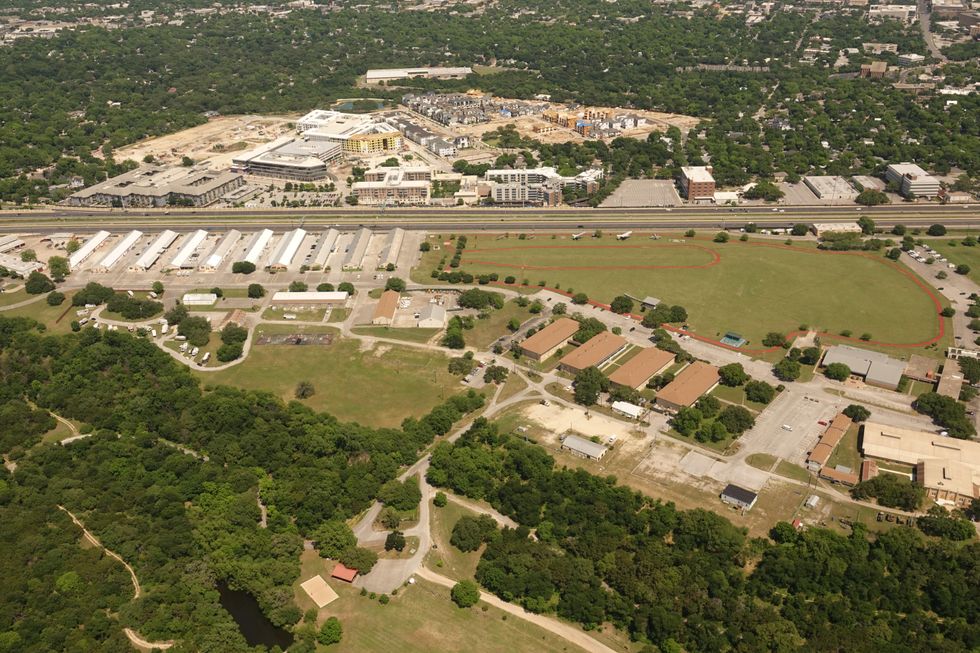 Aerial shot of Camp Mabry. (Austonia)
Nevertheless, if the state were to ever sell Camp Mabry, its development would raise two fundamental questions, according to Steve Drenner, founder of Texas land use law firm Drenner Group, P.C.
1. Would the state sell the land outright or ground lease it, allowing a tenant to develop it for a period of time before turning it over to the owner at the end of the lease?
Drenner thinks the state would likely opt to ground lease it so it would retain the right to redevelop that land to achieve maximum density as Austin continues to grow and evolve. He cites the Central Market at 40th and North Lamar as an example of an effective ground lease.
"You could argue that whatever the time period is left—30-40 years—that if Austin keeps growing, that it would have a different highest and best use. Maybe taller office buildings combined with multi-family, much higher, denser development. And in that case, the state would have the opportunity to profit from the new circumstances that the market would drive to make that a denser project."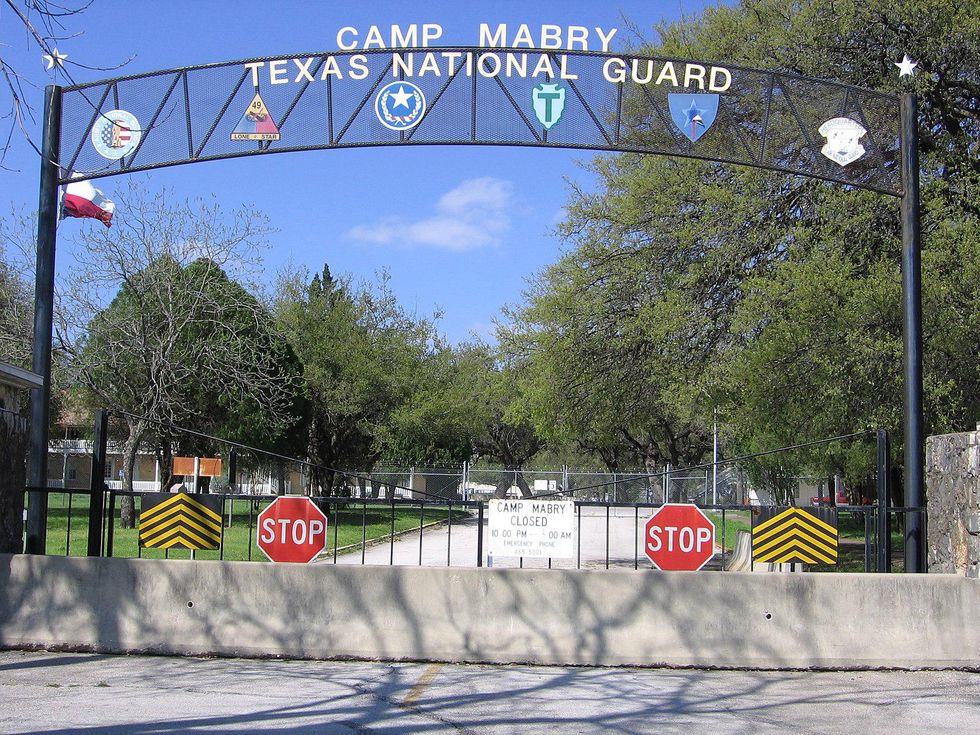 The Camp Mabry sign in 2005. (David E Hollingsworth/CC)
2. How would the city of Austin determine the land usage?
It could go one of two ways, explains Drenner.
"They might say, 'Well, we'll let it go through a zoning process.' They also might say, 'Well, it'll go through a special board of review that is (made) up of a combination of state and local officials, and that's the group that determines the land use.'"
If the former, the zoning process is ultimately "a discretionary decision by the City Council," which means that an applicant cannot receive zoning approval simply by following a set of instructions.
For an example of how the zoning process might go with Camp Mabry, one can look to the Grove at Shoal Creek, a master development off 45th Street and Bull Creek Road that was built on land that formerly belonged to the Texas Department of Transportation. The previously undesignated land was rezoned as a Planned Unit Development, which is not subject to conventional zoning requirements. Instead, PUDs work with the local government to create developments that preserve the environment, promote innovative design and provide ample public facilities, along with a mixture of single- and multi-family housing. The Grove also "carries a 10% affordability requirement" that "yielded 92 affordable rental units and 46 affordable homeowner units," according to nonprofit design organization CoAct.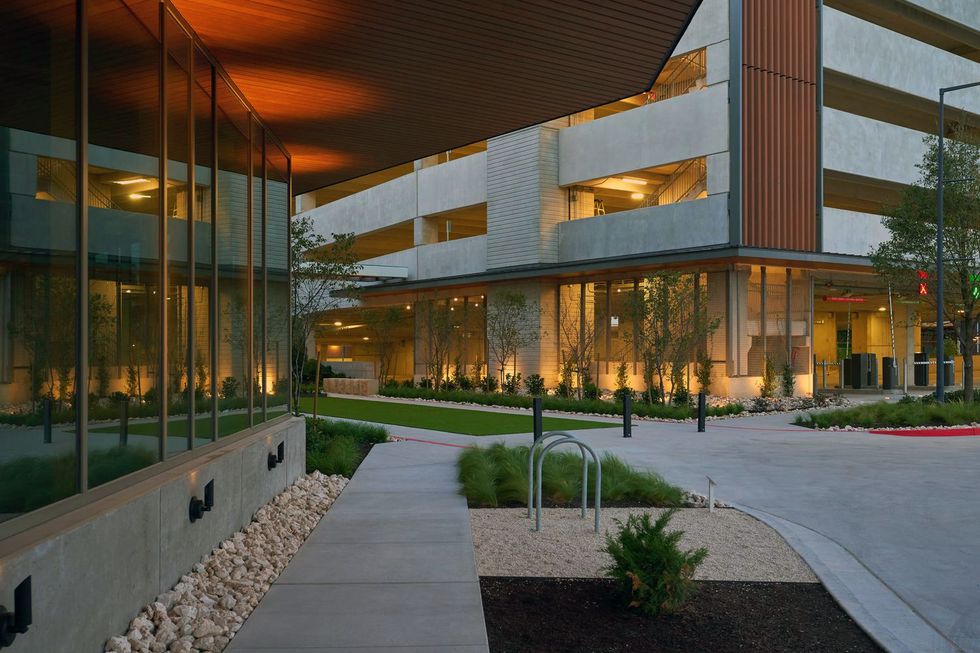 The Grove at Shoal Creek, a new development, was built on land formerly owned by TxDot. (Justin Wallace)
Surely, the prospect of developing a 400-acre plot of land adjoining 35th and MoPac is enough to make even the most successful commercial developers in Austin misty-eyed.
With Austin's median home sales price ballooning to an all-time high of $550,562 in April, a 31.7% year-over-year increase, and the average monthly rent in the Greater Austin area exceeding pre-pandemic levels at $1,335 that same month, to call that land desirable in today's market would be an understatement.
"Can you imagine: hundreds of acres, literally dead in the middle of probably some of the most valuable real estate in Texas?" said Tim Hendricks, senior vice president and managing director of real estate investment firm Cousins Properties. "It's enough land to create a true midtown Austin."
Hendricks says the expanse comprising Camp Mabry is comparable to the Domain in size, and the land would probably be allocated similarly if it were ever developed—2 million square feet of retail, 3 or 4 million square feet of high-rise residential, and 3 million square feet of office.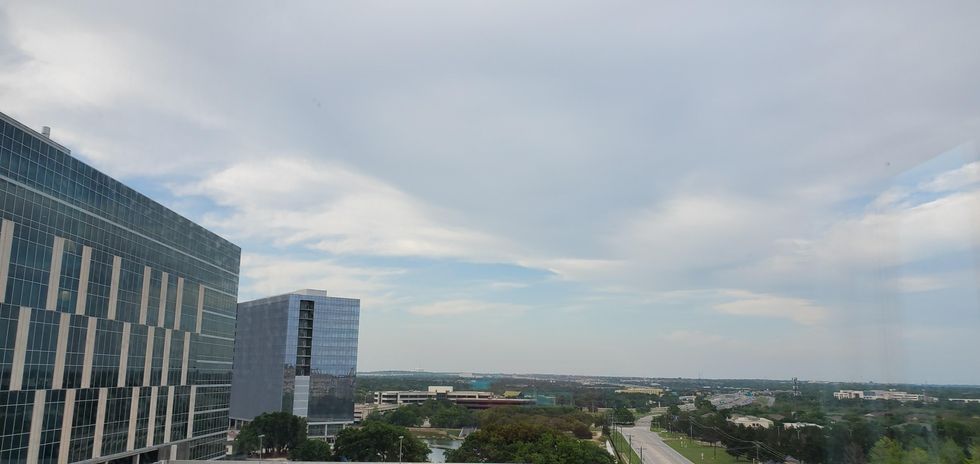 The Domain could be the type of development Camp Mabry's land mirrors if ground leased. (Shutterstock)
While the prospect of a mixed-use residential and retail mecca in central Austin might appeal to locals who are tired of trekking to the Domain, Hendricks predicts it would face pushback from people who live in the neighborhoods adjacent to Camp Mabry—particularly a mature, high-income neighbor like Tarrytown, whose quaint, locally-owned businesses and single-family homes lend to a much slower pace of life than the hustle and bustle that a sprawling, mixed-use development would invite.
"They're not going to want the density," Hendricks says. "With density comes congestion." He adds that even if the people of Austin wanted the Camp Mabry land to be developed into single-family homes, "the economic drivers would tell you that it should be much more dense than that."
If the state ever sold or leased the Camp Mabry land out for development, Austinites could expect some knock-down, drag-out City Council debates over how the land should be used.
For now, the prospect of developing Camp Mabry remains either a pipe dream for local developers or an affront to certain Austinites' way of life.
Officials are asking certain residents in Bastrop State Park to evacuate as crews work to put out a "very active fire" that is currently 0% contained.
The Texas A&M Forest Service has responded to help local fire departments with the Rolling Pines Fire at 100 Park Road 1A, which is consuming 300 acres. Residents of Pine Hill Drive, Pine Tree Loop, Linda Lane and Lisa Lane are being asked to evacuate.
Aviation resources have been called to assist.

According to the Bastrop County Office of Emergency Management, the wildfire sparked during a prescribed burn that took place today, despite wildfire warnings. Park Road 1C from Harmon Road to Park Road 1A had been closed for the prescribed burn.
The blaze is in the same location as the Bastrop Complex Fire of 2011, which burned for 55 days, killing two people, destroying 34,000 acres and around 1,700 homes and buildings. The fire, which started in 2011, became the most destructive wildfire in Texas at the time.
A hotbed for fires, the Hidden Pines Fire started at the same location in 2015, destroying 4,600 acres and 64 structures.
Some road closures have been put in place at State Highway 21 South Shore Lake Bastrop and East State Highway 21.
This is a developing story and will be updated as information becomes available.
After months of record-setting periods for Austin real estate, the Austin Board of Realtors announced Tuesday that the metro's housing market accounted for over $23 billion of economic activity in 2021, making it the biggest year yet for both home sales and median home prices in the metro.
The Austin-Round Rock MSA saw 41,316 homes sold in 2021, 2.5% more than a record-setting 2020. Median home prices skyrocketed as well, rising 30.8% from 2020 to $450,000. The housing market also saw unprecedented impact on Austin's economy, with sales dollar volume jumping to over $23.38 billion, and more homes hit the market in 2021 than any previous year, increasing by 5.9% to 46,449 total homes listed.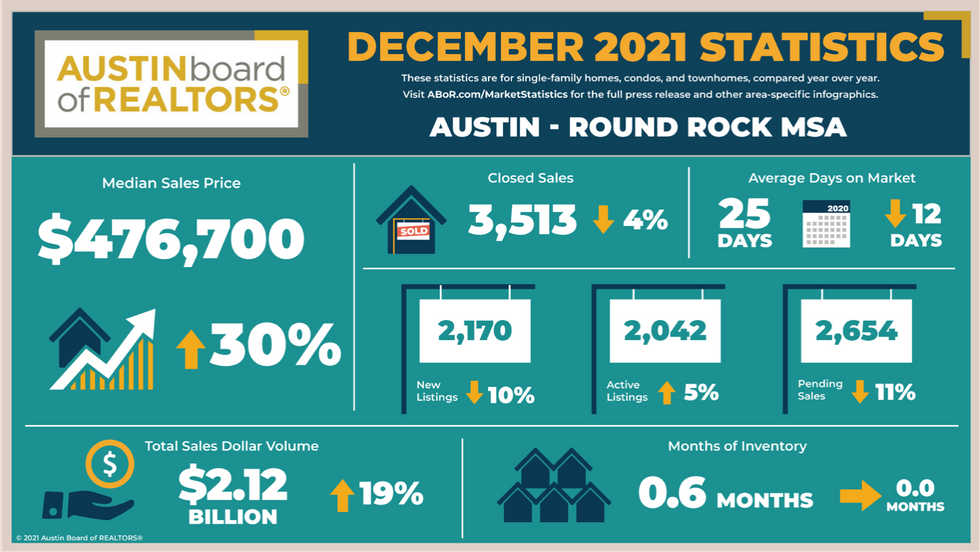 (Austin Board of Realtors)
As many recent Austin homebuyers have experienced firsthand, Austin Board of Realtors 2022 President Cord Shiflet said 2021 was the most "exciting, complicated, fast-paced and record-setting housing market" in Austin's history.
Shiflet dubbed the market as "complicated" for a reason—Austin became a case study on supply and demand in 2021, with demand far outpacing the number of active listings, which dropped by 48.2% to 2,348 homes in 2021.
The metro ended the year with 0.6 months of inventory, a far cry from a "healthy" six-month supply, and houses were snatched at breakneck speeds, spending 25 fewer days on the market when compared to 2020. The average home was on the market for 20 days.
But low inventory is more due to high demand than a stagnant homebuilding market, Mark Sprague, Independence Title's state director of information capital, said in the report.
"In 2021, the record number of homes sold were demand-driven transactions and that demand was influenced greatly by companies continuing to target the region for job creation and expansion," Sprague said. "Even though more homes are being built, listed and sold than ever before, our region is still nowhere close to having a comfortable amount of supply to meet the demand, which is why home prices continue to rise steadily."
Over 23,000 jobs have been promised by companies across the metro as of December 2021, breaking the 2020 record, according to Opportunity Austin, the economic development arm of the Greater Austin Chamber of Commerce. With an influx of major factories and offices, including Tesla's Giga Texas, Samsung's Taylor plant and a planned 33-floor Facebook office, Sprague said the region's booming market paired with a struggling inventory and supply chain issues could be a double-edged sword in 2022.
"In short, 2022 will see a robust market for home sales and property values, but the region must do more to address inventory, " Sprague said.
Shiflet recommended that potential homebuyers make a decision ahead of predicted increases in interest rates and home prices and said that he hopes local politicians will continue to prioritize affordable housing in the election year.
Still, Shiflet said a record-breaking housing market reflects Austin's growing reputation as a hub for talent, tech jobs and a good quality of life.
"With all the new jobs across the region from exciting companies like Tesla and Samsung, Austin was put on the world's stage and captured the hearts and attention of so many," Shiflet said. "We are lucky to call Austin our home when it has so much to offer from a great quality of life to a wonderful destination for innovation and opportunity."