Get connected with our daily update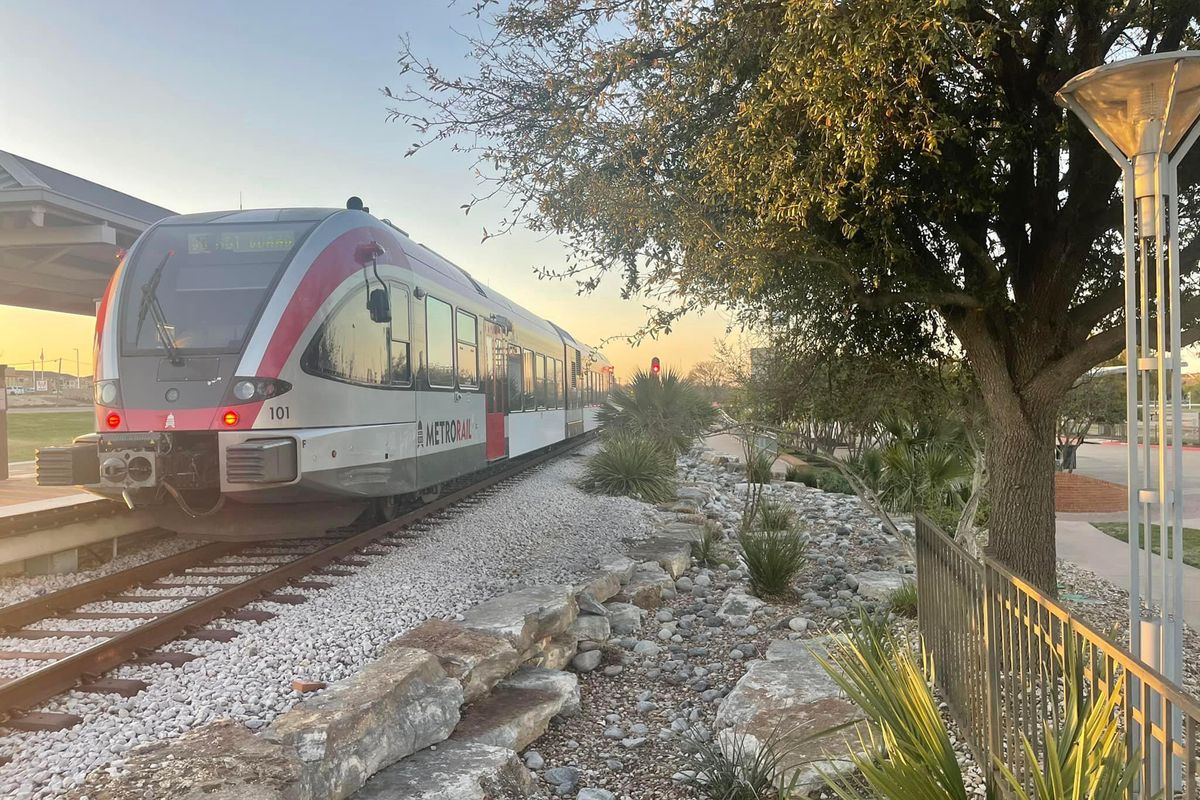 James Larsen's routine and that of other Leander residents who ride the train into Austin could soon change. With early voting for the May 7 election underway, voters will decide whether to remain a member city of Capital Metro.
---
Living in southwest Austin years ago, a commute to his downtown Austin job wasn't a problem for Larsen. But with a wife, four kids, a dog and a cat, a larger house became ideal. But it was too expensive for the family and they made the move to Leander. It was good for the wallet but would require a two-hour commute downtown by car.
"My wife said, 'hey, there's a train.' I was skeptical, but she loaded up the kids and the dog in the van and from downtown, she raced me—I took the train," he said. Larsen won in their test to see who got to the Leander station first.
Now, he takes the train regularly, saying it allows him to connect to the WiFi on the ride and relax.
But others in Leander aren't as keen on a Cap Metro partnership. Plastering signs around the city saying "Stop wasting taxes on CapMetro," some are pushing to leave due to the 1% sales tax the transportation authority collects for providing service. It comes out to $10 million annually and is expected to grow with the population.
"That's hardly anything for access to a 32-mile commuter rail that connects us to Project Connect," Larsen said.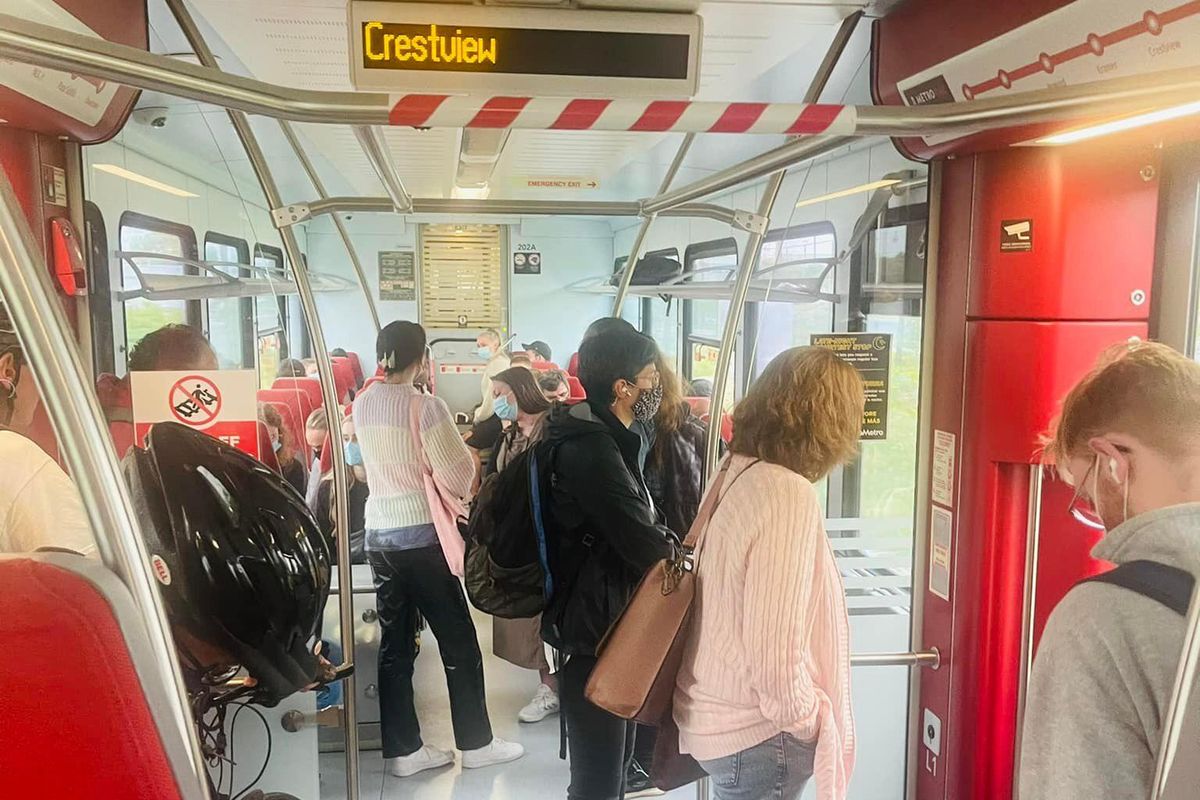 (Keep Leander Connected)
Project Connect, a $7.1 billion transit system expansion voters approved in November 2020, is underway with designs being explored, like the Blue Line light rail that has a path from the airport to downtown.
Larsen noted the future convenience of that, especially when family visits. "They'll be able to take a train from the Austin airport to Leander one day," Larsen said.
Larsen says that efforts to carry on with business as usual with Cap Metro are with the rest of the community in mind, noting that seniors, students, and people with disabilities rely on public transit. He also says people from Burnet and even Georgetown come to Leander to use the train and that they could be shredded of a way into the Greater Austin area.
Leander's CapMetro partnership has existed since 1985 when voters there and other cities like Manor and Jonestown voted to join. There's also a team designated for regional partnerships and regional expansion via contract service with other cities in Central Texas.
Now, CapMetro anticipates that "Project Connect will benefit thousands of Central Texans, not just those who live or work in Austin."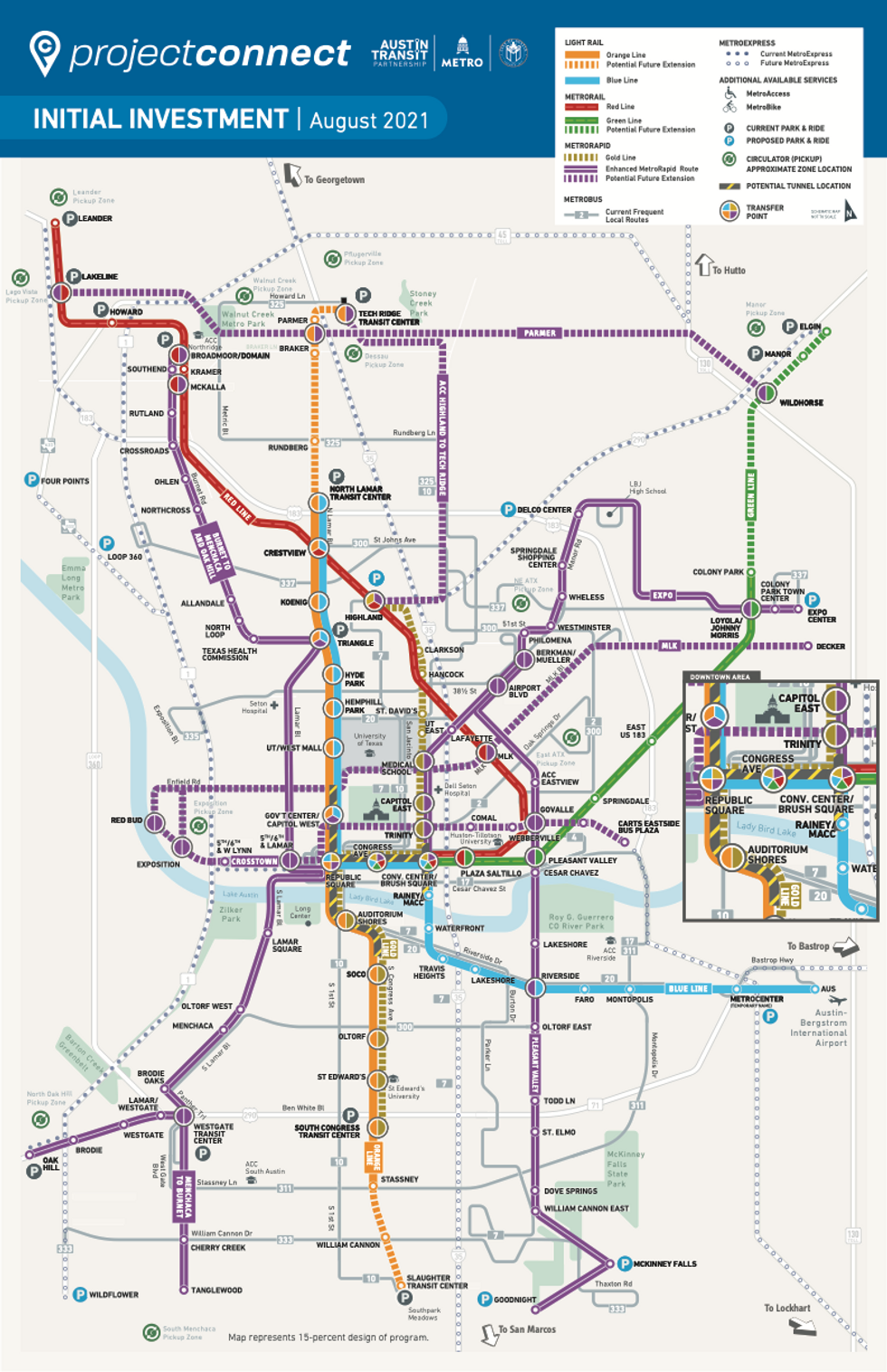 Even if Leander leaves, Project Connect is expected to reach other areas outside the city. The proposed Green Line will run along Capital Metro's existing freight line between downtown Austin to Colony Park, with future extensions to Manor and Elgin.
"Improvements would include developing transit stations along the corridor that will provide great places to connect the community to efficient, reliable transit," Tawaun Cole, CapMetro Communication and Public Information Officer said in an email to Austonia.
With company relocations and expansions to Central Texas, Larsen also wonders how cutting ties with CapMetro could affect Leander economically.
"It might send a signal that Leander is not open to business, that we're being a little bit illogical here," Larsen said.
A backup plan is already in place. In March, city council members signed a resolution laying out how the additional 1% general revenue sales tax would be used. It involves creating a dedicated economic development fund, providing public transportation services and expanding city infrastructure.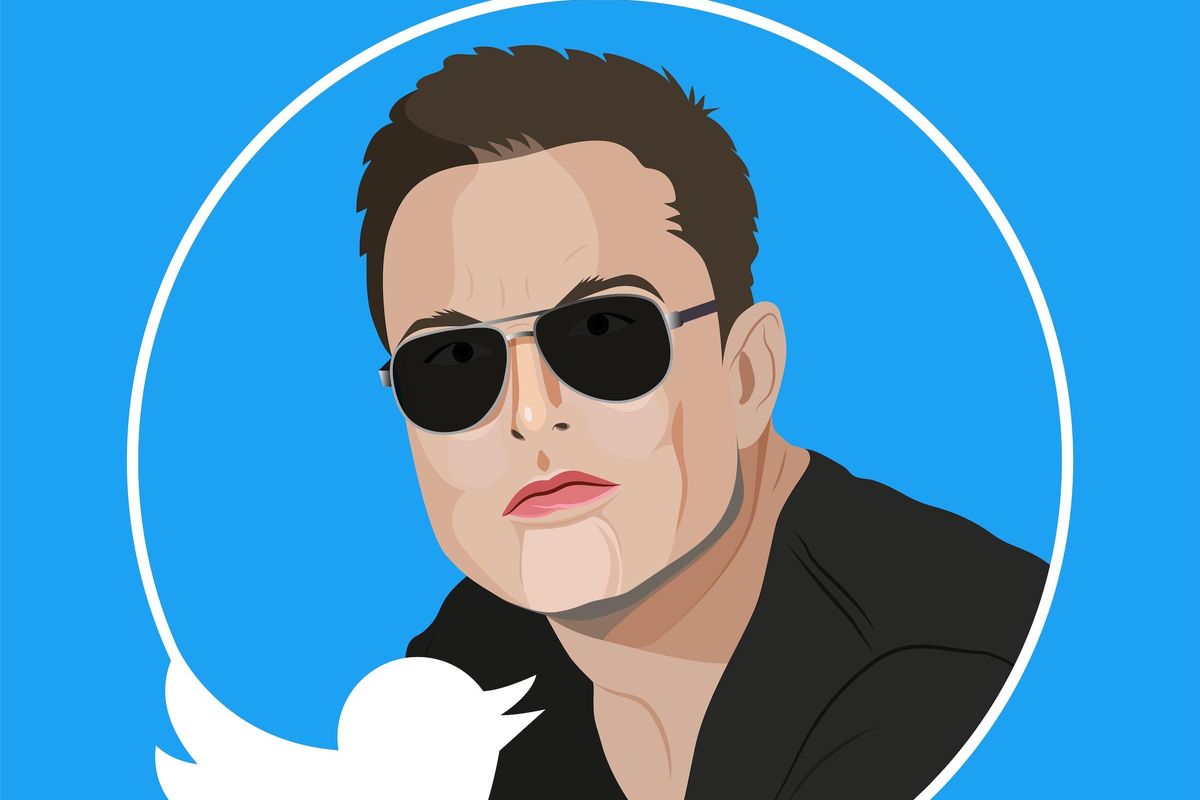 Shutterstock
Elon Musk has proposed once again to buy Twitter for $54.20 a share.
The news that Musk is offering to carry on with the $44 billion buyout was first reported by Bloomberg. Now, a filing with the Securities and Exchange Commission shows Musk made the proposal in a letter to the tech giant on Monday.
The New York Stock Exchange temporarily halted trading in Twitter stock twice Tuesday, first because of a big price move and the second time for a news event, presumably the announcement of Musk's renewed offer.
While the per share offer price on this latest proposal remains the same as the original offer, it's unclear if Musk has made other term changes or if Twitter would reject it. According to other reports, a deal could be reached this week.
The stock closed at $52.00/share Tuesday, indicating market uncertainty around the $54.20 offer.
After Musk informed Twitter of plans to terminate the original agreement in July, Twitter sued. A trial has been expected in Delaware Chancery Court on Oct. 17.
With the proposition of a buyout on the table again, it revives the question of whether Musk might move Twitter from San Francisco to Central Texas.
He's done so with some of his other companies. Tesla's headquarters in southeast Travis County had its grand opening earlier this year and tunneling business The Boring Company moved to Pflugerville. At least two other Musk companies, SpaceX and Neuralink, have a Central Texas presence without being headquartered here.
Technology journalist Nilay Patel this afternoon voiced concerns that owning Twitter and Tesla together could be problematic for Musk, as his Tesla manufacturing facilities in Germany and China are both in countries that have disputes with Twitter over content moderation and censorship.
Telsa shares fell after the Twitter news became public, before rallying to close up, at $249.44.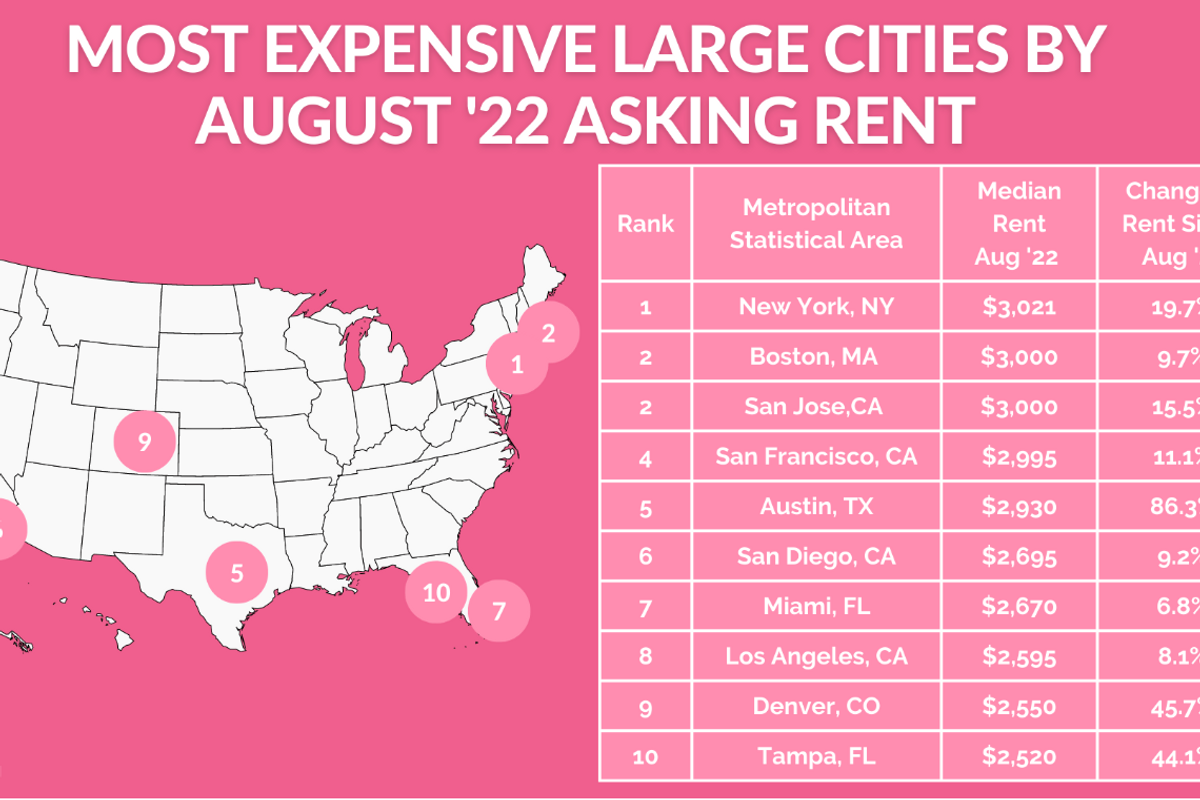 Dwellsy
While searching for a place to live, Austin renters will face monthly rates of nearly $3,000, a recent guide from rental marketplace Dwellsy shows.
The median rent in August this year was $2,930, a more than 86% increase since August 2021. That's $820 more than the nationwide median asking rent in August and puts Austin just below the Bay Area, Boston and New York for large cities with the most expensive asking rent.
"Within this group, Austin, TX stands out for the highest increases in asking rent, which has nearly doubled since this time last year," the study notes.
Outside of those large cities, however, others are seeing even higher rent spikes. Metro areas that ranked above Austin in one-year increases include those like Kansas City, MO with a 112% change in rent since last August and Tucson, AZ with a 124% change.
The data reflects large apartment communities, single-family homes and 2-6 unit buildings.