Get connected with our daily update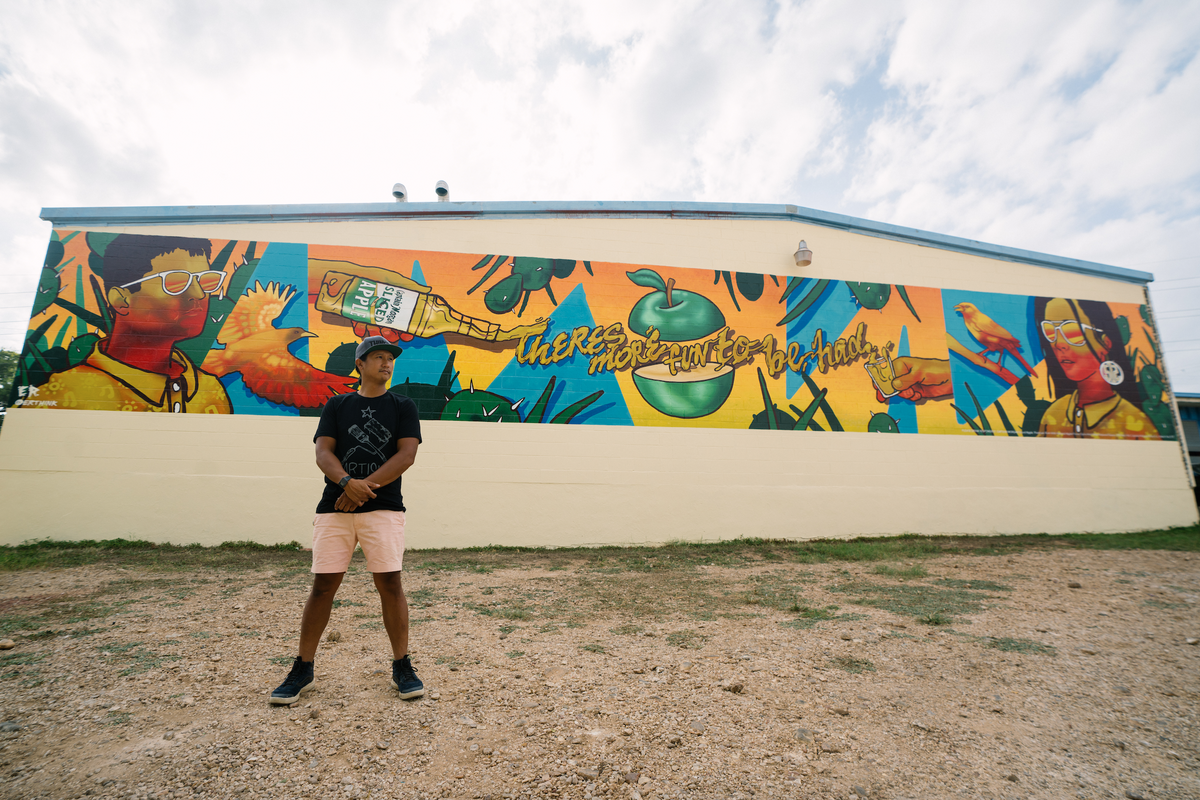 (Captain Morgan)
The intersection of Manor and Chestnut recently introduced some seasonal apple flavor to its walls.
---
Efren Rebugio, an Austin-based artist, leaned on influences from the city to paint a mural in collaboration with Captain Morgan for its new sliced apple spiced rum.
The mural, located at 2301 Manor Road, pictures a stream of rum flowing from a bottle to a shot glass that slices through a green apple and reads, "There's more fun to be had."
Rebugio said he "wanted to portray the wonderful people of Austin" with this mural. Beyond the people, he featured cacti and grackles, both found in abundance throughout Austin.

In late August, Captain Morgan chose five artists from five different cities to celebrate their communities.
They used a simple internet search to single out Rebugio as one of the most talented artists in Austin, and subsequently contacted him to see if he would serve as the art director for its planned mural.
"(Rebugio's) murals rarely feature a single straightforward subject, something that's especially evident in the mural he created for Captain Morgan. Something new catches your eye every time you look at it," said Sam Salameh, a Captain Morgan representative.
Rebugio accepted the opportunity and took a little over a month to complete the planning and painting.
"I was super excited to work with Captain Morgan. They really wanted to showcase a spirit of community," Rebugio said.
Rebugio's work has appeared across the country in places like California, Tennessee and Florida, as well as internationally in Toronto and Costa Rica.
Like many across the world, the pandemic has severely impacted the artist's work.
Rebugio likes to incorporate a live component into his art by painting in front of an audience. He has done six live painting shows during SXSW and five during Austin City Limits Music Festival. He had plans to produce more art during SXSW 2020 prior to its cancellation.
"It has definitely been a challenge this year," Rebugio said.
He has stayed busy by focusing on his studio, doing freelance graphic design work and learning how to make electronic dance music.
He has also managed to recreate the environment of a live show in his backyard, partnering with DJs to host backyard jam sessions. During the sessions, a DJ plays music while he paints.
"I'm just rolling with the punches, being positive and staying safe," Rebugio said.
The mural joins a recent wave of fresh paint on East Austin's walls, including the new mural honoring the late
Supreme Court Justice Ruth Bader Ginsburg
.
More on murals: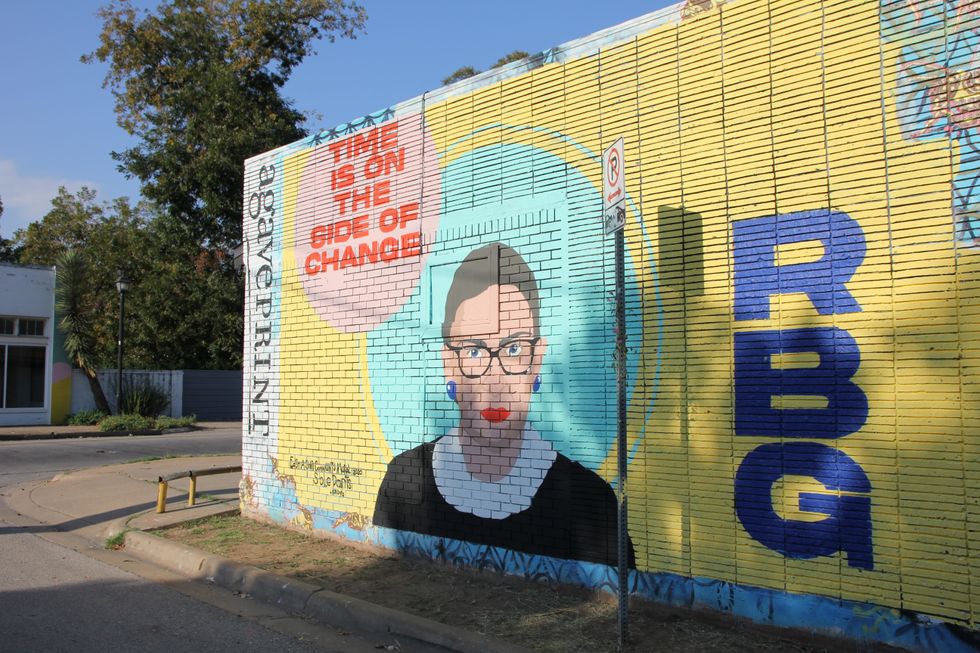 East Austin gains new Ruth Bader Ginsburg mural with community help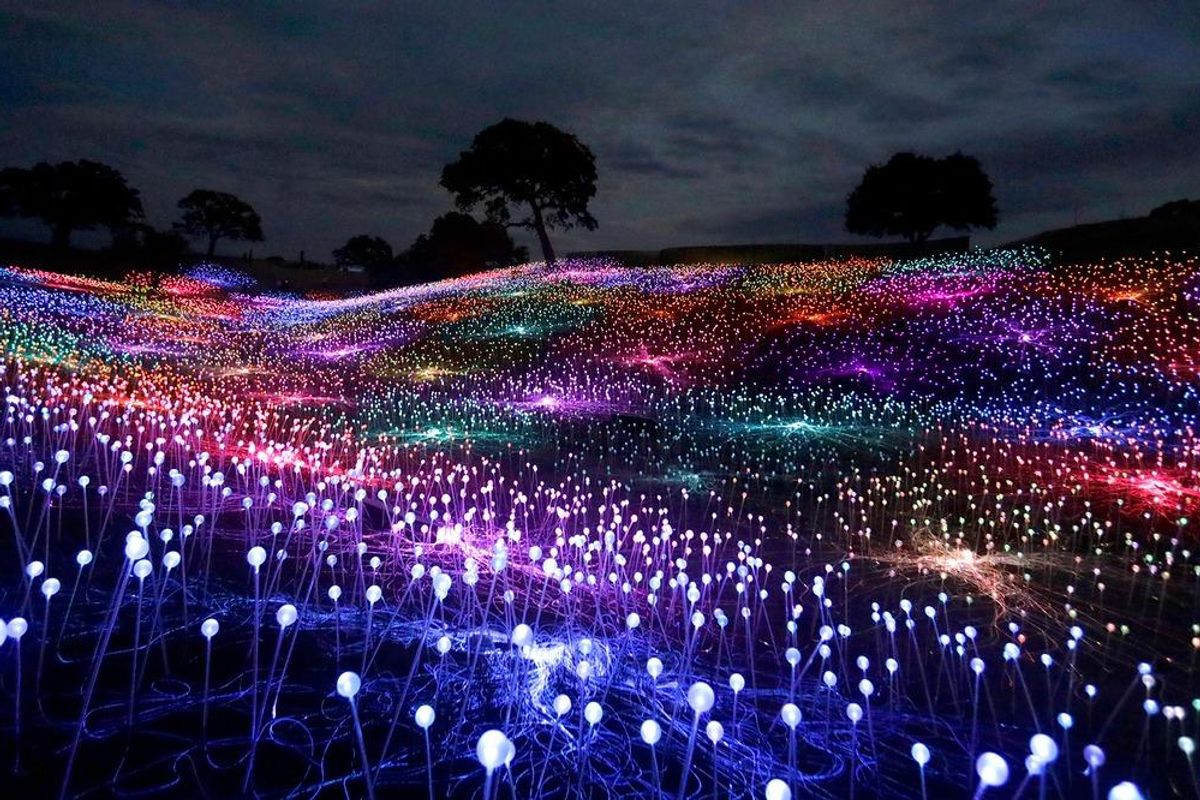 🗓 All weekend
🛍️
City-wide Vintage Sale
Bring your biggest bags and negotiation chops to the city's biggest yearly vintage popup at Palmer Events Center. Since 1977, it's been a go-to for recyclers, bargain hunters, vintage store owners and more. An all-weekend pass is $8.

Saturday 8:30 a.m.-5 p.m., Sunday 11 a.m.-5 p.m.| 📍Palmer Events Center, 900 Barton Springs Rd
Starting this weekend, Austin's Wildflower Center is teaming up with British artist Bruce Munro for a 16-acre display of 28,000 solar-powered lights, representing the "intersection of art, technology and nature."

Thursday-Sunday, 6:15 p.m.-9:30 p.m.| 📍Lady Bird Johnson Wildflower Center, 4801 La Crosse Ave

🎸 Eastside Kings Festival
Two days, 40 bands. The Eastside Kings Festival is dedicated to preserving the cultural heritage of African American blues, jazz and gospel and will do so in style with a full-blown festival in East Austin. Wristbands are $25 per day.

8 p.m.-12 p.m. Friday, 4 p.m.-9:30 p.m. Saturday and Sunday | 📍 12th and Chicon

🗓 Friday

🥟 Centroamericanto Fest
Grab a bite of El Salvadoran food, watch Central American films and stroll through vendor booths at the 14th annual fest. Musical guests include Sara Curruchich from Guatemala, Luis Pastor from Nicaragua and Mauricio Callejas from El Salvador.

Film Fest- 7 p.m. Friday, Music Fest- 5:30 p.m. Saturday | 📍 Mexican-American Cultural Center, 600 River St

🗓 Saturday

🏈 Texas vs. Alabama game and tailgate
Watch the Longhorns take on their toughest opponent yet in a home game against No.1 Alabama Saturday. If you're an early bird, be sure to check out the tailgate before the game.

11 a.m. | 📍 Darrell K Royal-Texas Memorial Stadium, 2100 San Jacinto Blvd

⚽ Austin FC watch party
For those who want a double-dip on sports this Saturday—Austin FC supporters' group Austin Anthem, will host a watch party filled with brews, bites and more at Ctelis Brewing.

7 p.m. | 📍 Celis Brewing, 10001 Metric Blvd

🗓 Sunday

🌶️ Austin Chronicle Hot Sauce Festival
Test your taste buds at the Austin Chronicle's 32nd annual Hot Sauce Festival. Featuring hot sauce samplers from 18 commercial bottlers, food trucks, live music from TC Superstar and more. Proceeds go to the Central Texas Food Bank.

7 p.m. | 📍 The Far Out Lounge, 8504 S Congress Ave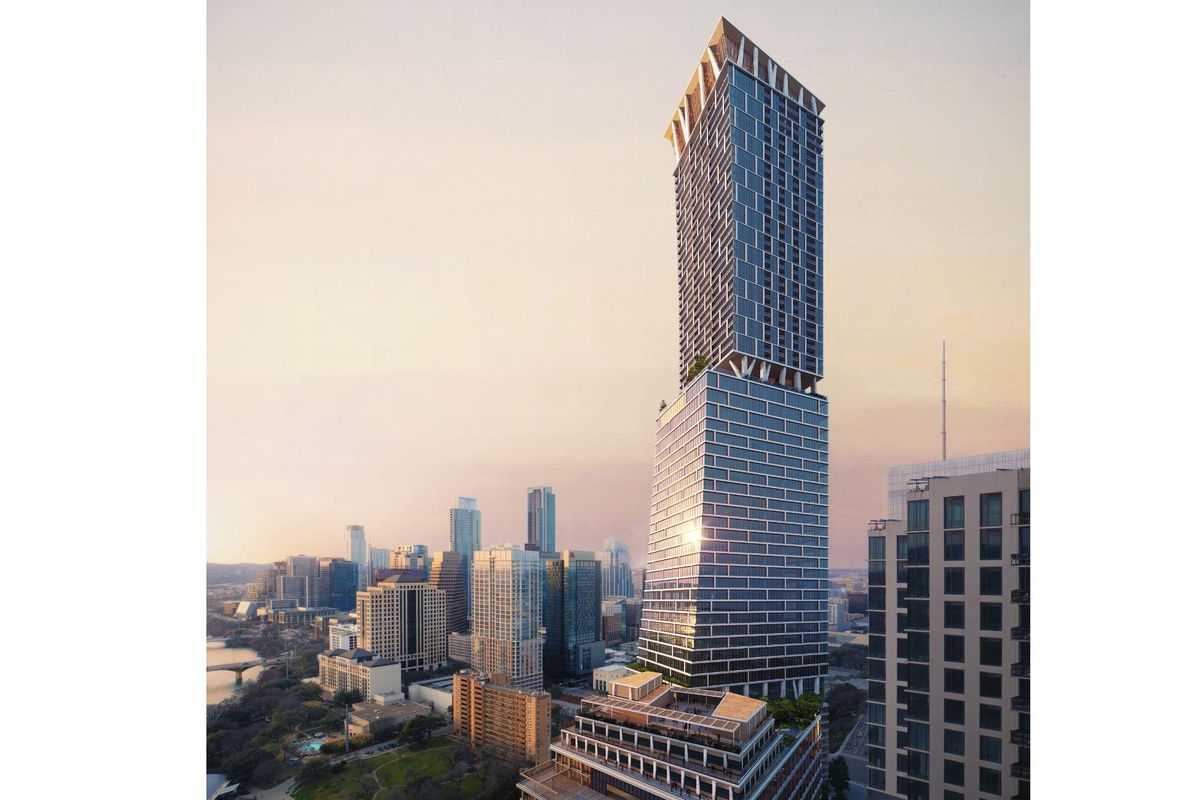 Standing at 1,022 feet near the intersection of Waller Creek and Lady Bird Lake, a mixed-use high rise called Waterline is set to open in late 2026.
The 74-story building will be more than 300 feet taller than the Independent, Austin's tallest, and 20 feet taller than the state's current champ, the JPMorgan Chase Tower in downtown Houston.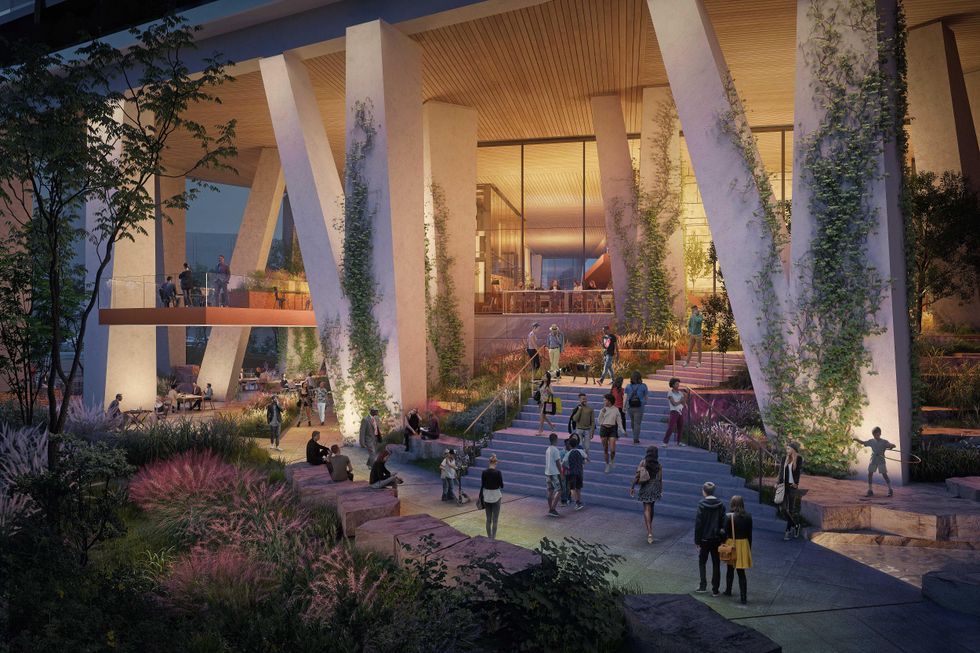 Features:
3.3 acres at 98 Red River St.
A 251 room hotel, Hotel Austin
352 luxury apartment homes
700,000 square feet of office space
The developers, Lincoln Property Company and Kairoi Residential, said Waterline will serve as a new gateway from the Central Business District to the Rainey Street district.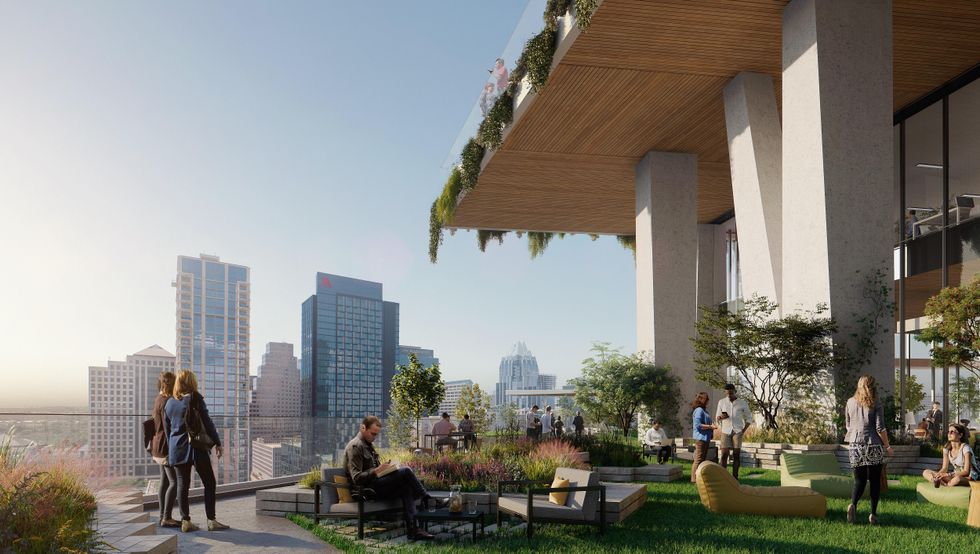 "Waterline marks a new milestone for downtown not only because of its height but also because of the positive impact this project will have on improving connectivity, enhancing public amenities, and attracting more people to this beautiful area of downtown," Seth Johnston of Lincoln said.
A Canadian pension fund manager is the project's primary owner.