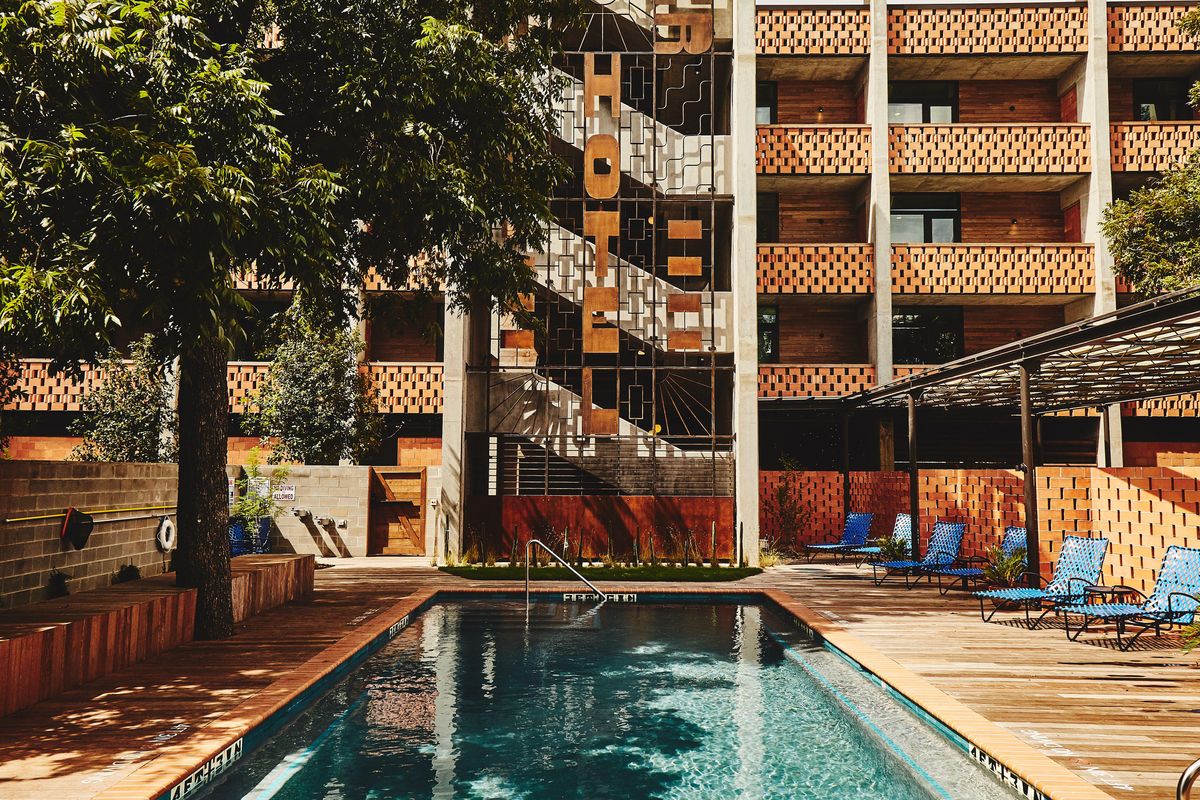 Sometimes the real gems are in our own backyard.
Take, for instance, Austin's Carpenter Hotel. The latest addition to Austin-based Bunkhouse Group, this hotel is nestled in an old pecan grove on the edge of Zilker Park in South Austin—an easy stroll to Lady Bird Lake and the draw of downtown.
---
The hospitality company behind Hotel Magdalena and Hotel Saint Cecilia has taken reigns of the historic property that former Ace Hotel group co-owner Jack Barron made into a hotel in 2018.
This 93-room getaway spot nurtures strong ties to Texas' past. The hotel lobby, cafe and restaurant were constructed in the former Carpenters Local 1266 Union Hall, built in 1948. And traces of the bygone era remain in the vintage stadium speakers retrofitted to play music at the front desk or the Biergarten furniture scattered around the property.
The hotel shows off airy walkways and a bright, naturally lit interior. Other than some minor small design updates throughout the property, Bunkhouse says it plans on keeping the property's character and spirit intact. It also plans on adding "new cultural programming and retail offerings."
All rooms come with their own terrace, and visitors can drift away the summer days by the hotel's pool, expansive lawn and pavilion. An in-house cafe serves coffee, kolaches and tacos, and an on-site restaurant, Carpenter's Hall, fashions itself in the same retro feel as its hotel counterpart—serving, as the website puts it, "New Eyes on Old Texas" cuisine.
"Our end goal for Carpenter Hotel is to achieve the totality of the experience that creates a neighborhood anchor: live music, the arts, activism, retail, culinary, one-of-a-kind events, deep community engagement," Amar Lalvani, CEO of Standard Hotels and Bunkhouse Group, said.