Get connected with our daily update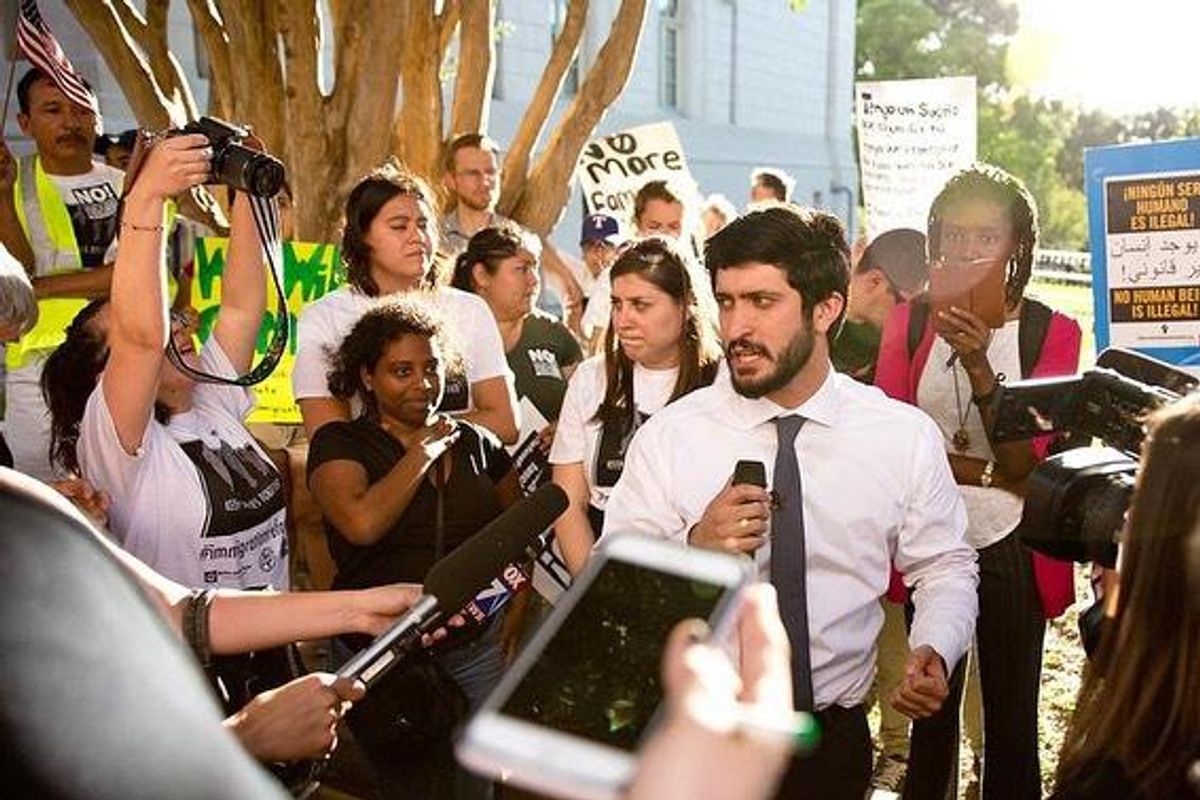 Gregorio "Greg" Casar, Austin's City Council member with the most celebrity status—and maybe the most sway in city affairs—will no longer be hanging his hat in City Hall come Monday.
---
Casar, who announced his bid for U.S. Congress representing Texas' District 35 in November, had his three-term tenure come to a slippery end as Council met for his final meeting in icy conditions Thursday. He'll have his last official day Monday before devoting all of his time to the campaign trail.
His new campaign amassed more than $100,000 in its first 72 hours and now has big-name endorsements like Rep. Alexandria Ocasio-Cortez and Sen. Elizabeth Warren in its repertoire. But it wasn't so long ago that Casar was an outsider at City Hall.
A decade ago, Casar first walked into City Hall, representing the Workers Defense Project in front of council for a soon-to-be-passed bill requiring rest areas at construction sites. At 25, Casar became the youngest-ever Council member in 2014, was reelected twice, and earned a reputation as the voice of City Council—for better or for worse, depending on who you ask.
He'll leave the post to mixed reviews. But Casar's outspoken progressive activism has further cemented Austin as the most liberal stronghold in Texas politics, earning him both praise and ire from community members and state and federal politicians.
With City Council, Casar continued to champion his previous efforts on workers' rights, helping to implement paid-sick-days laws that passed in Austin, San Antonio and Dallas but was thwarted by state governments. Arguably the most progressive Austin politician to date, Casar helped clear the backlog of sexual assault evidence kits within the Austin Police Department, fought for affordable housing and immigration policies and worked to decriminalize certain nonviolent crimes.
Casar became the face of many movements, including pushing for police budget cuts and reallocations during the Black Lives Matter protests in 2020. He found a strong opponent to his policy in Save Austin Now's Matt Mackowiak, who successfully dismantled Casar's 2019 reversal of the city's homeless camping ban in May 2021. Casar, who would represent the opposing side to SAN, won the battle against Mackowiak's proposal for increasing police staffing in November 2021.
His supporters admired his outspoken political strategy as much as his detractors viewed it with contempt; enemies, including Mackowiak, often criticized Mayor Steve Adler for following Casar's whims too closely. Highly-publicized spats with state government, often with the help of Adler, drew both positive and negative publicity to the city's policies.
But even when his relentless pursuits lose out, or opponents label his policies divisive, Casar has been undeterred, and his work has gotten the attention of Democratic politicians including governor hopeful Beto O'Rourke.
His work likely won't be lost anytime soon: at least some of Casar's policies should bleed into the tenure of Jose "Chito" Vela, a Democratic immigration and criminal defense attorney who will take Casar's seat after a January Special Election.
Meanwhile, Casar will take his ever-growing following to San Antonio on Saturday, Feb. 12 alongside Ocasio-Cortez and fellow Congressional candidate Jessica Cisneros as the campaign race continues ahead of the primaries in March.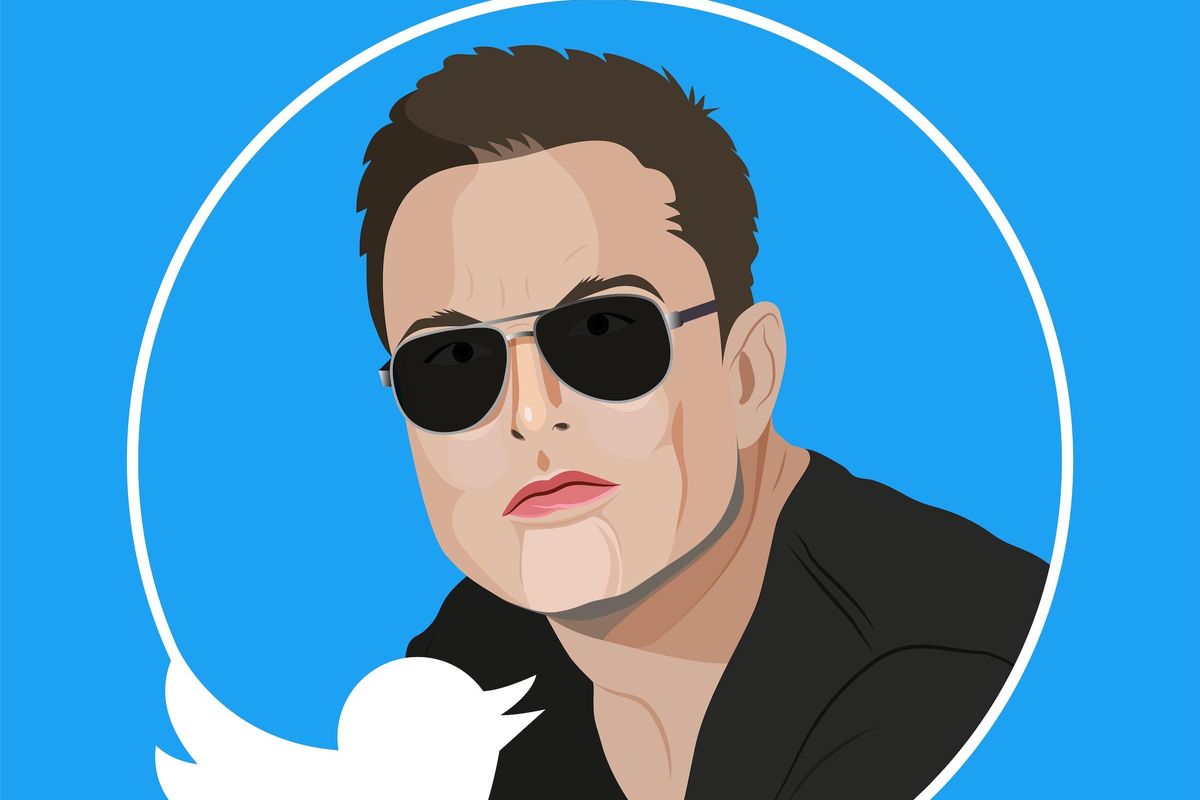 Shutterstock
Elon Musk has proposed once again to buy Twitter for $54.20 a share.
The news that Musk is offering to carry on with the $44 billion buyout was first reported by Bloomberg. Now, a filing with the Securities and Exchange Commission shows Musk made the proposal in a letter to the tech giant on Monday.
The New York Stock Exchange temporarily halted trading in Twitter stock twice Tuesday, first because of a big price move and the second time for a news event, presumably the announcement of Musk's renewed offer.
While the per share offer price on this latest proposal remains the same as the original offer, it's unclear if Musk has made other term changes or if Twitter would reject it. According to other reports, a deal could be reached this week.
The stock closed at $52.00/share Tuesday, indicating market uncertainty around the $54.20 offer.
After Musk informed Twitter of plans to terminate the original agreement in July, Twitter sued. A trial has been expected in Delaware Chancery Court on Oct. 17.
With the proposition of a buyout on the table again, it revives the question of whether Musk might move Twitter from San Francisco to Central Texas.
He's done so with some of his other companies. Tesla's headquarters in southeast Travis County had its grand opening earlier this year and tunneling business The Boring Company moved to Pflugerville. At least two other Musk companies, SpaceX and Neuralink, have a Central Texas presence without being headquartered here.
Technology journalist Nilay Patel this afternoon voiced concerns that owning Twitter and Tesla together could be problematic for Musk, as his Tesla manufacturing facilities in Germany and China are both in countries that have disputes with Twitter over content moderation and censorship.
Telsa shares fell after the Twitter news became public, before rallying to close up, at $249.44.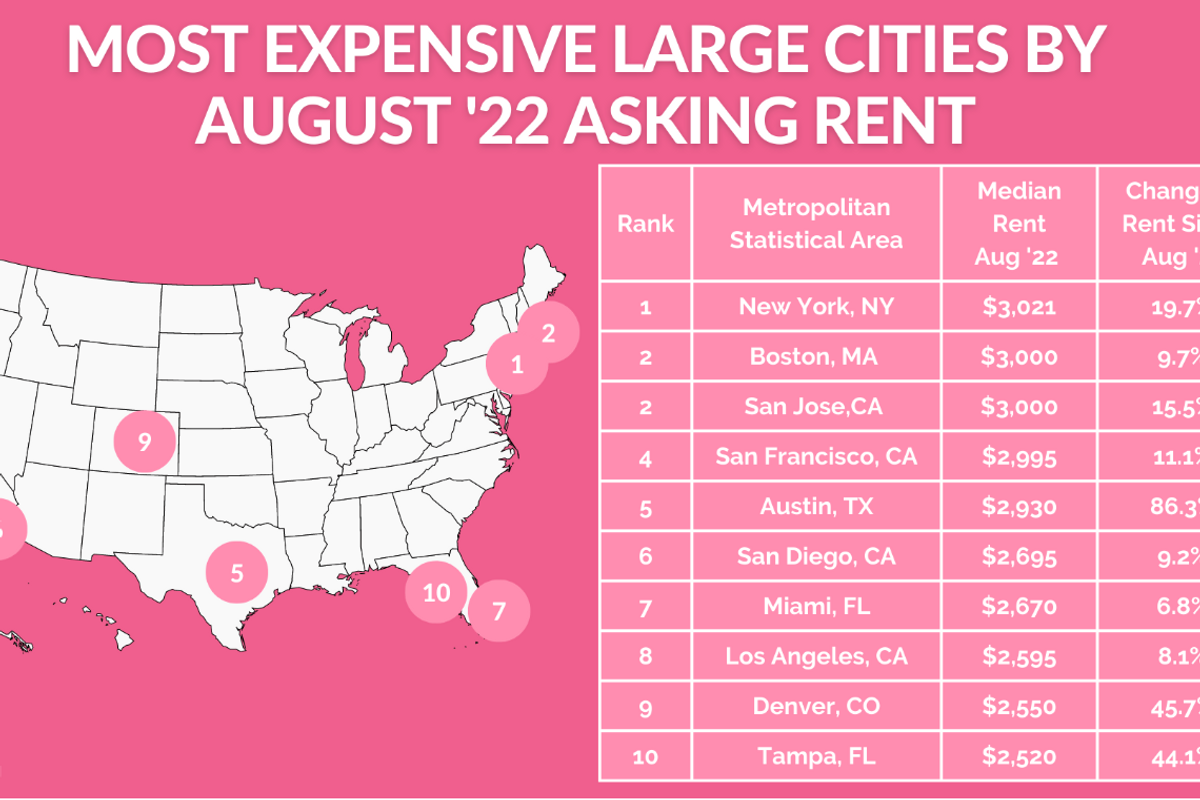 Dwellsy
While searching for a place to live, Austin renters will face monthly rates of nearly $3,000, a recent guide from rental marketplace Dwellsy shows.
The median rent in August this year was $2,930, a more than 86% increase since August 2021. That's $820 more than the nationwide median asking rent in August and puts Austin just below the Bay Area, Boston and New York for large cities with the most expensive asking rent.
"Within this group, Austin, TX stands out for the highest increases in asking rent, which has nearly doubled since this time last year," the study notes.
Outside of those large cities, however, others are seeing even higher rent spikes. Metro areas that ranked above Austin in one-year increases include those like Kansas City, MO with a 112% change in rent since last August and Tucson, AZ with a 124% change.
The data reflects large apartment communities, single-family homes and 2-6 unit buildings.