Never miss a story
Sign up for our free daily morning email...
...and afternoon text update
Get connected with our daily update
(Strollers/CC)
In a time when COVID-19 is spreading fast, a simple cough or sneeze at the grocery store could land you some dirty looks. If you've been feeling a little more under the weather recently, you're not alone.
---
Austin is reporting some of the highest cedar pollen counts of the last decade. Pollen counts reached 29,745 grains per cubic meter of air, KXAN reported, the third-highest count since daily records began 25 years ago.

On an average day, cedar counts would range from 100-500 grains per cubic meter of air. Cedar pollen counts haven't been this high since the mid-90s, at 32,000 grains per cubic meter.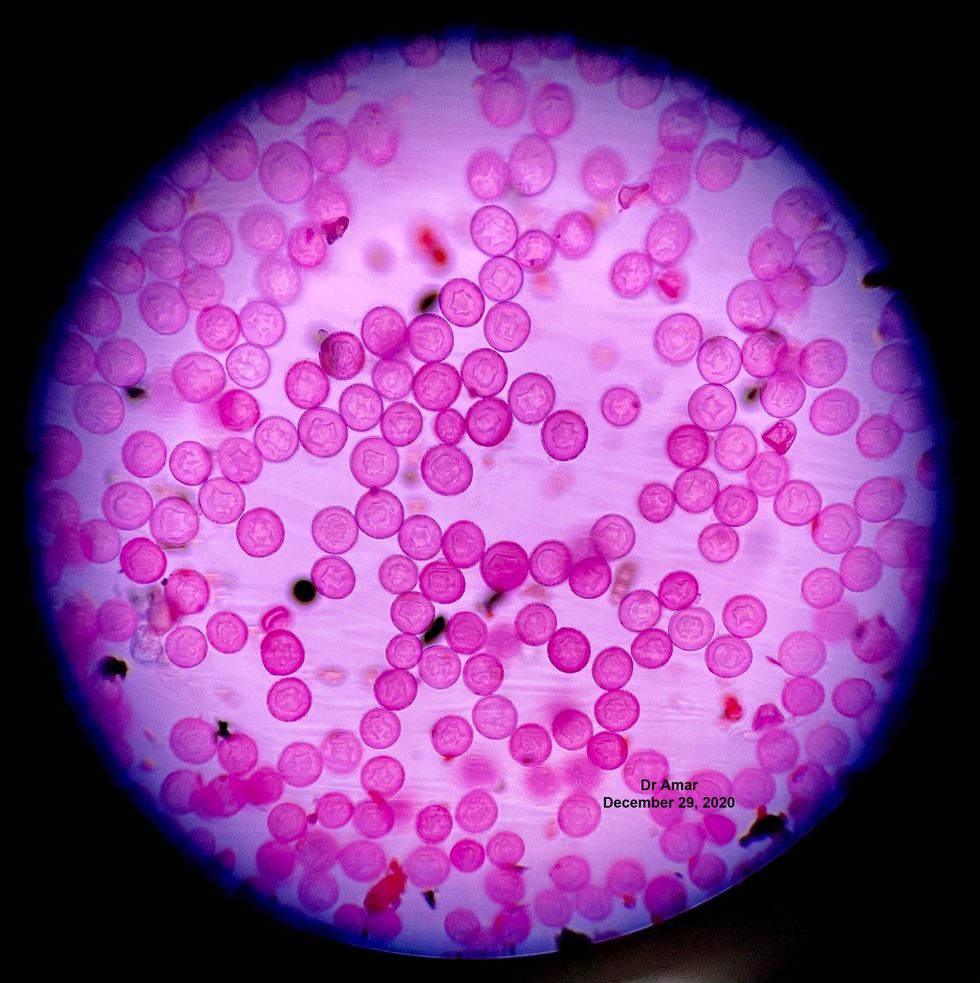 The pink dots are pollen grains under a microscope.(Sheila M. Amar, M.D.)
Cedar fever has been soaring since last weekend, so buckle up. Cedar fever is a seasonal allergy caused when people inhale the pollen from mountain cedars, drought-resistant evergreen trees common in Central Texas. Allergies tend to be most severe in December, January and February.
Unfortunately, there seems to be some overlap between cedar fever and COVID-19. If you have itchy, watery eyes and frequent sneezing, you may have nothing to worry about.

Overlapping symptoms include a cough, fatigue, runny nose, sore throat and headaches. If you're experiencing those plus some COVID-19 symptoms, high fever, chills, body aches, loss of taste and smell, nausea, vomiting or diarrhea, a test might be in order.
Austinite Ruth Belmonte said cedar fever has made her miserable this year.
"My nose constantly runs, (and I get) a pounding headache which eventually turns into a migraine," Belmonte said. "I've taken meds and nothing helps. I wear masks constantly, which have to be removed 24/7 because I have to blow my nose."
Austinites are certainly suffering, much like every year.
my purely cedar pollen-based portfolio is performing very well! 📈 https://t.co/C5YnD8Us4Y

— eric@home (@eric@home)1609260439.0
Cedar pollen arrived in Austin in force today--almost as powerful a deterrent to leaving home as the coronavirus. 😨

— David Waldron (@David Waldron)1609027819.0
The good news is, wearing a mask can actually help mitigate allergy symptoms because most of the pollen will stick to the outside of the mask, with the added benefit of protecting against the spread of COVID-19 and the seasonal flu.
Another benefit of masks: they reduce amount of cedar pollen that enters my airways. #WearAMask

— danielle @ 🏡 + 😷 (@danielle @ 🏡 + 😷)1609188295.0
Ideally, allergy sufferers should limit their time outside, make use of a neti pot, eat some local honey, pop some over-the-counter allergy pills and maybe invest in a HEPA filter for home.

More on cedar fever: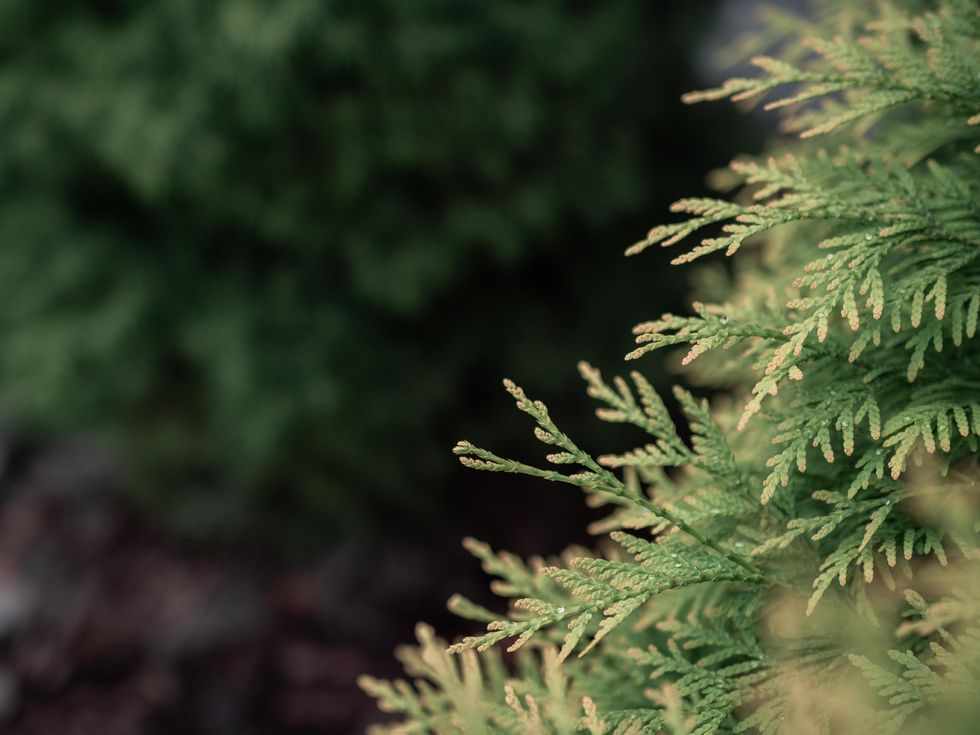 Fever pitch: When the pandemic and cedar fever season collide in Central Texas
(Austin Police Department/Twitter)
Austin police lifted the shelter in place order after searching the area around 9600 block of Great Hills Trail near the Arboretum for a 41-year-old man named Stephen Broderick, who they believe is responsible for shooting and ultimately killing three people in Northwest Austin
As of 5 p.m., the suspect is still at large and considered to be armed and dangerous, though police do not believe he is actively targeting anyone else. During a press briefing at 4:45 on Sunday, APD Interim police Chief Joseph Chacon said they are switching the search from the immediate area to a fugitive search as they have exhausted all the leads they currently have.
Chacon confirmed during the briefing that Broderick was a former Travis County Sheriff's Office deputy. Chacon said they will remain on the scene for "several hours" and there were 75 FBI agents on the scene as of the briefing.
Police believe the victims, who have been identified as two Hispanic women and one Black man, knew their assailant. Chacon said a child was involved but is now safely in police custody. Broderick was described as 5 foot, 7 inches with a medium build and was last seen wearing a gray hoodie, sunglasses and a baseball cap.
"We're very sorry that obviously that this has happened and we continue to try and locate this individual, we are transitioning from a search in this area to a fugitive search and those efforts will continue until this person is located," Chacon said. "I don't want anyone to think that we're packing up and going home. We're going to continue to look for this individual because he continues to pose a threat to this community."
At a 2:30 p.m. press briefing, Chacon said APD responded to a "shoot, stab, hot shot" call on Great Hills Trail and Rain Creek Parkway at 11:46 a.m. to find the three victims with gunshot wounds. APD was joined by the Austin Fire Department. ATCEMS, the local chapter of the FBI, the U.S. Marshals, Department of Public Safety, and the Round Rock Police Department for support.
Though Austin Travis-County EMS originally reported it as an active shooter situation, police now believe the incident was an isolated domestic event.
"This is still an ongoing and active investigation and we do not have this individual in custody yet," Chacon said during the first press briefing. "We would ask if you have your neighbors, phone numbers, call or text them check on them and make sure that they're okay. We are concerned that he might possibly take a hostage and be himself sheltered somewhere waiting for us to leave."
Three helicopters and SWAT teams were sent to the area, as well as 18 ATCEMS response assets. According to Austin Police, the incident occurred at an apartment complex near Great Hills Trail and Rain Creek Parkway.

APD announced at 1:02 p.m. that Loop 360 will be shut down in both directions from Spicewood Springs to 183 due to the incident. The roads will remain closed until law enforcement is able to wrap up the crime scene and units demobilize.
This is a developing story.

(Hard Rock Stadium)
Formula 1 is returning to Florida for the first time since 1959, announcing that the brand-new Miami Grand Prix will join the calendar in 2022 and Austin will no longer be the only F1 race in the U.S.
Held at the Hard Rock Stadium complex in Miami Gardens, this will be the first race in the Sunshine State in 62 years. With a new track setup, F1 will loop the stadium, home of the NFL's Miami Dolphins.
The new 3.36 mile circuit has 19 corners, three straights and potential for three DRS zones, with expected top speeds of 198 mph.

Now with two races in the U.S., F1 President Stefano Domenicali said they will avoid having back-to-back events by keeping the Miami Grand Prix separate from the U.S. Grand Prix, which is held at Austin's Circuit of the Americas.
The date of the race has yet to be confirmed, though Domenicali said he expects the first race in a 10-year deal to take place in the second quarter of 2022. Austin's race will take place on Oct. 24 this year.
"The USA is a key growth market for us, and we are greatly encouraged by our growing reach in the U.S. which will be further supported by this exciting second race," Domenicali said.
Miami will mark the 11th race location in the U.S. since the Championship began in 1950: Circuit of The Americas in Austin; Dallas, Texas; Indianapolis, Indiana; Sebring, Florida; Riverside, California; Watkins Glen, New York; Long Beach, California; Las Vegas, Nevada; Detroit, Michigan and Phoenix, Arizona. COTA was first opened in 2012.
Domenicali said F1 will be working with the FIA and the Hard Rock Stadium to leave a lasting impact on the community: discounted tickets for residents, a program to support local businesses and a STEM education program through F1 in schools.