Get connected with our daily update
The dreaded "Cedar Fever" is here just in time for the holidays and is overstaying its welcome—expect to be sneezing through February.
---
According to Texas Children's Specialty Care Austin allergy and immunology specialist Dr. Alison Humphrey, tree allergies are slated to take over from here until halfway through 2022. Cedar season began in late November and will last until Valentine's Day when oak allergies take its place.
Allergies are caused by local plants, trees, grasses and weeds that depend on wind to pollinate themselves—the wind carries the particles over long distances, which are extremely fine and easy to breathe in, attach to clothing and make you sneeze. Perhaps the most experienced in Austin is from cedar trees.
Go here to check the local allergy forcast.
How to treat it
The number one item to grab on your next grocery store run is a daily nasal steroid, like Flonase or Rhinocort. You might also want to change clothes and clean your pets after spending time outside. If you're still struggling while using the steroid, add an over-the-counter antihistamine to the mix.
"If you're doing those things, especially that nasal steroid, you're using it every single day and still not getting better, then definitely go see your allergist," Humphrey said.
Is it allergies or COVID?
The symptoms of cedar allergies can feel very similar to COVID if you have a predisposition to extreme allergies or you're new in town. Since most seasonal allergies come from plants native to Central Texas, newbies are likely to develop symptoms within a few years of relocating to Austin.
"One of the top questions we ask when we're meeting new patients is, 'how long have you lived here?'" Humphrey said. "People may come and just have a worsening of the allergies they already have or they move here and develop allergies to... mountain cedar here in Central Texas."
Thankfully, there are ways to tell the two apart from each other without having to get tested.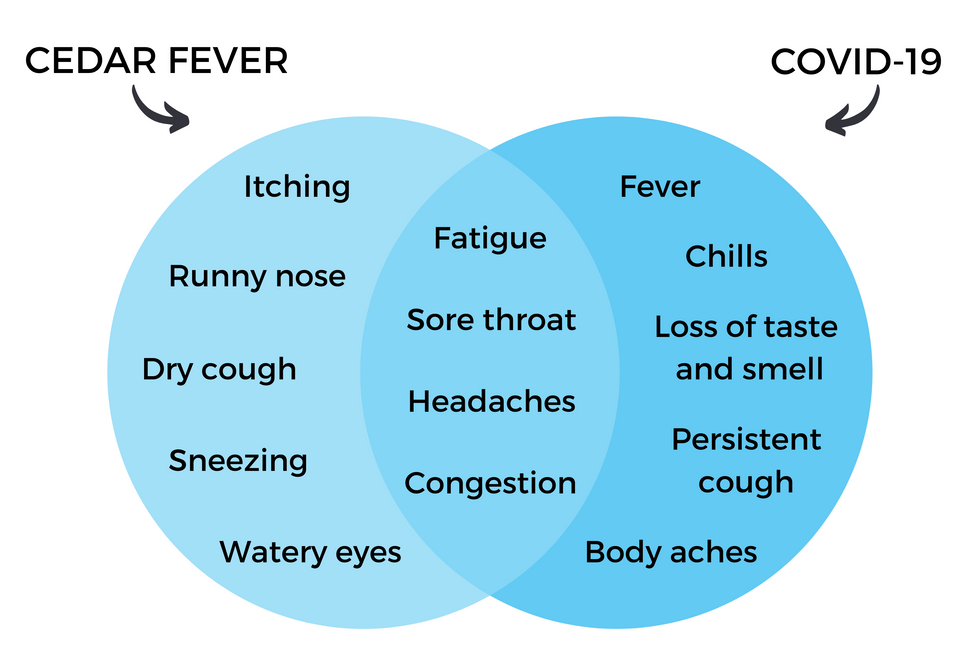 (Laura Figi/Austonia)
There is a lot of overlap between the two illnesses but your signal to make an appointment with the doctor is a fever, which is a hallmark COVID symptom. If you're itchy anywhere, it's an allergic reaction, as itching is almost always a sign of allergen sensitivity.
You may find yourself struggling with allergies year-round—this is normal given Austin's pleasant weather fostering allergens in all four seasons. Cedar will rage on until February, followed by oak until May, June is often a slight reprieve from sneezing but ragweed takes over from July-October. There are also some year-long allergens, like grass and mold.

"Some people will find that it gets better through different stages of their life. Other times we tend to see it wane over time as people get older, into their senior and elderly years," Humphrey said. "Otherwise, once you have those allergies, to a certain local allergen they tend to persist to some degree, it might just be that some years are worse than others."
Capital Metro has been awarded $750,000 from the Federal Transit Administration to go toward Project Connect's Orange Line, documents show.
The FTA announced the funding round on Thursday, which dispersed $11 million across 12 states and 20 projects. The money is meant to connect communities to affordable transit and housing through the FTA Pilot Program for Transit-Oriented Development planning.
CapMetro said the funds will go toward projects at eight stations spanning 6.5 miles on the South end of the Orange Line, which has a total of 22 stations. The full project stretches across the 20 miles from Southpark Meadows to Tech Ridge.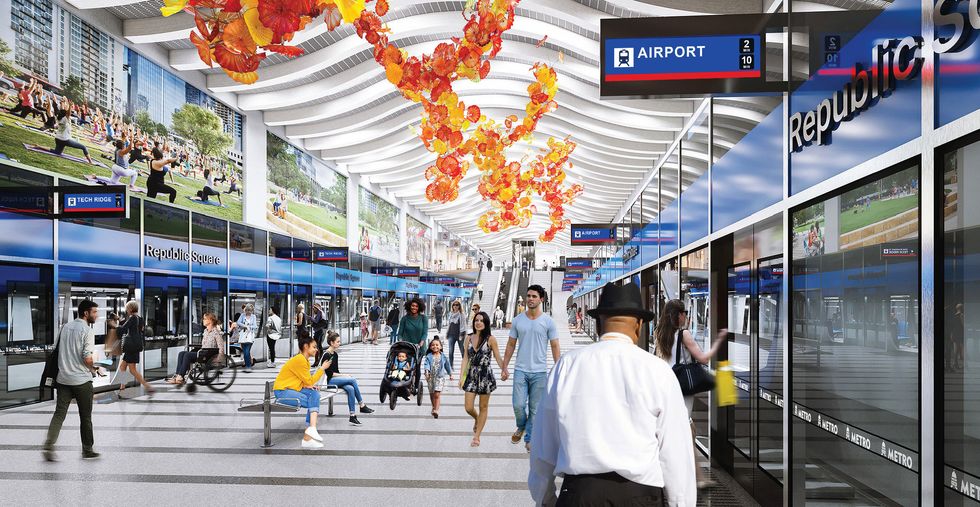 Republic Square station is along the Orange Line. (Project Connect rendering)
Once it's complete, which officials estimate will be in 2028, the Orange Line will reach the following stations:
Tech Ridge (Park & Ride)
North Lamar International District
Crestview
The Triangle
UT campus
Republic Square
Auditorium Shores
South Congress
Southpark Meadows (Park & Ride)
A $500 million mixed-use development spanning 1,400 acres is coming to Southeast Austin, near Tesla's headquarters at Giga Texas.
Plans for the development by Houston-based real estate firm Hines include 2,500 houses along with multi-family and townhomes, and commercial land. Hines is partnering with Trez Capital, Sumitomo Forestry and Texas-based Caravel Ventures.
The development, which is known as Mirador, will be located off the 130 Toll and Highway 71, which the developers say provides easy access to the Circuit of the Americas Formula 1 racetrack and other Austin attractions like restaurants, parks and live music venues.
Hines also boasts amenities like a 60-acre lake, over 600 acres of greenbelt, community parks, trails and a swimming pool.
"As Austin continues to grow into the tech epicenter of Texas, coupled with a supply-constrained market, the demand for new housing is at its highest," Dustin Davidson, managing director at Hines, said. "Mirador will be critical in providing more options for Austin's growing population and we are excited to work alongside our partners given they each provide a unique and valued perspective in single-family development."
The local housing market has been hot in recent years, with home sales accelerating earlier in the pandemic. In July 2021, the Austin metro area hit its pricing peak at $478,000. As Austonia previously reported, the area has been expected to see the Tesla effect, with the new workforce driving up demand for housing and other services.
The single-family houses are expected to be developed over the course of six years, in phases. Construction on the homes is expected to start this year and home sales will begin in 2023.