Get connected with our daily update
Austin gem, University of Texas professor and celebrity Matthew McConaughey looked the part of a Texas politician sitting in front of an American flag when he took to social media to discuss the winter storm that had ransacked his home state.
---
McConaughey, a native Texan and Austin homeowner, announced that with all the damage and repair work in store, he and wife Camila are working on a virtual benefit put on by their just keep livin Foundation to help the state get back on its feet. They are also posting daily updates on their social media on resources available.
"While most of the power is, thankfully, being restored, the busted water lines from hospitals to so many homes has left so many Texans without the bare necessities they need to survive," McConaughey said in the video.
The Austinite is just one of several native Texas celebrities and influencers who have reached out or donated to the Lone Star State.
Beyonce and sister Solange are working with organizations in their hometown of Houston to bring relief to residents. Beyonce, as part of her BeyGood Foundation, has teamed up with The Bread of Life Disaster Relief Assistance Fund's Houston branch. The fund is providing up to $1,000 in one-time assistance to Texas residents in need, but the first round of applications are already closed due to high demand.
Meanwhile, Solange has partnered with Mutual Aid Houston to provide assistance to homes after the devastating freeze.
Longhorns football alumnus Michael Huff has swept aid across the state, first paying for thousands of tacos as well as hundreds of BBQ plates and chicken sandwiches while most Austinites could only hope for warm food. He later sent the same amenities to residents of Dallas, Fort Worth and Houston.
East Texas native and country music star Kacey Musgraves took a topical spin on helping the community with a commemorative jab at U.S. Sen. Ted Cruz, who left the state for a Cancun vacation. T-shirts with the phrase "Cruzin' for a Bruzin'" selling on her website will benefit causes including the American Cross of Central and South Texas, Casa Marianella and Feed the People Dallas.
And close to home Austin food blogger Jane Ko partnered with Austin FC and local Austin restaurants, helping thousands of hot meals be delivered around the city with the more than $90,000 she raised to go toward relief efforts. Additonally, Austin musicians Willie Nelson and Jackie Venson retweeted resources and help to their audiences.
U.S. Rep. Alexandra Ocasio-Cortez proved that you don't have to live in the Lone Star State to send help, while advocating for better living conditions and instructing Texans on basic steps to help ensure FEMA aid. And in the same fashion, model and influencer Chrissy Teigen asked followers for their expertise, retweeting helpful information to a large global following.
Texas still has a long way to go in terms of recovery but one thing is always certain: Texans are in it together.
The Texas French Bread Bakery, located on 2900 Rio Grande Street, has been completely destroyed after a fire erupted on Monday night.
The Austin Fire Department responded to the fire just before 11 p.m., where they arrived to see flames coming from the roof of the bakery. Firefighters fought the fire for about an hour before the roof collapsed.
While no one was injured in the fire, firefighters say the historic building was completely totaled.
AFD determined that the fire was accidental and caused by mechanical failure. AFD said the damages amounted to $1.6 million total: $1.1 million in structural damage and $500,000 in damage to the contents of the bakery.

This year, Texas French Bread will celebrate 40 years of business. Before the bakery occupied the building, it was the Rome Inn, a music venue that hosted 1970s artists like Stevie Ray Vaughan.
Austin's first major league team is ready to extend its reach with a new collaborative sports complex The Pitch, an Austin FC destination packed with local food, beverages and Verde fervor is set to open in Northeast Austin in February.
The Pitch, a collaboration between Austin FC and Karlin Real Estate, among other entities, will be located in the 50-acre Parmer Pond District, which already hosts the club's practice facility St. David's Performance Center.
Dubbed a "true destination" for both soccer fans and the community, The Pitch will consist of multilevel shipping containers designed by Mark Odom Studio that will carve out into a 1,200-seat stadium complete with a soccer pitch made of turf, food and beverage options and a five-acre "Parmer Pond" featuring jogging trails.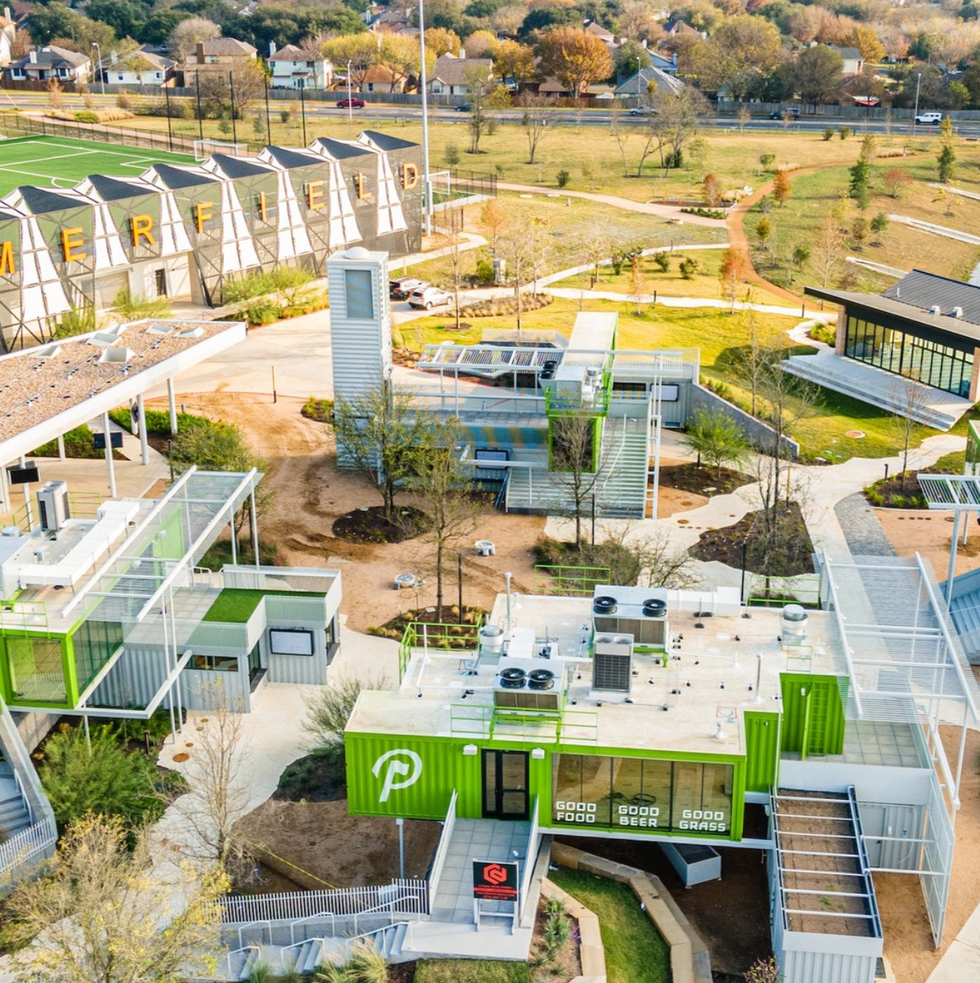 Made from multilevel shipping containers, The Pitch will include food and a 1,200-seat soccer pitch made from artificial turf. (The Pitch)
"The launch of Karlin's new food and entertainment experience will greatly enhance the Parmer development while perfectly complimenting St. David's Performance Center," Austin FC founder Anthony Precourt said. "The Pitch... will offer a strong variety of food options and gathering spaces for guests who will utilize St. David's Performance Center and Parmer Field for a variety of events."
The Pitch project lead Dave Greeley, who helped come up with the concept, is a former president of Austin FC parent company, Two Oak Ventures.
"The vision behind The Pitch at the Parmer Pond District is to be a first-of-its-kind sports, dining and entertainment destination," said Dave Greeley, The Pitch project lead and Team Orbis president. "This will be an unmatched experience for Parmer Austin tenants, Austin FC and club supporters, and the community."
With its proximity to the practice center, the venture hopes to contribute to the growing "soccer city" of Austin during Austin FC matches and youth games with the Austin FC Academy hosted at the St. David's Performance Center.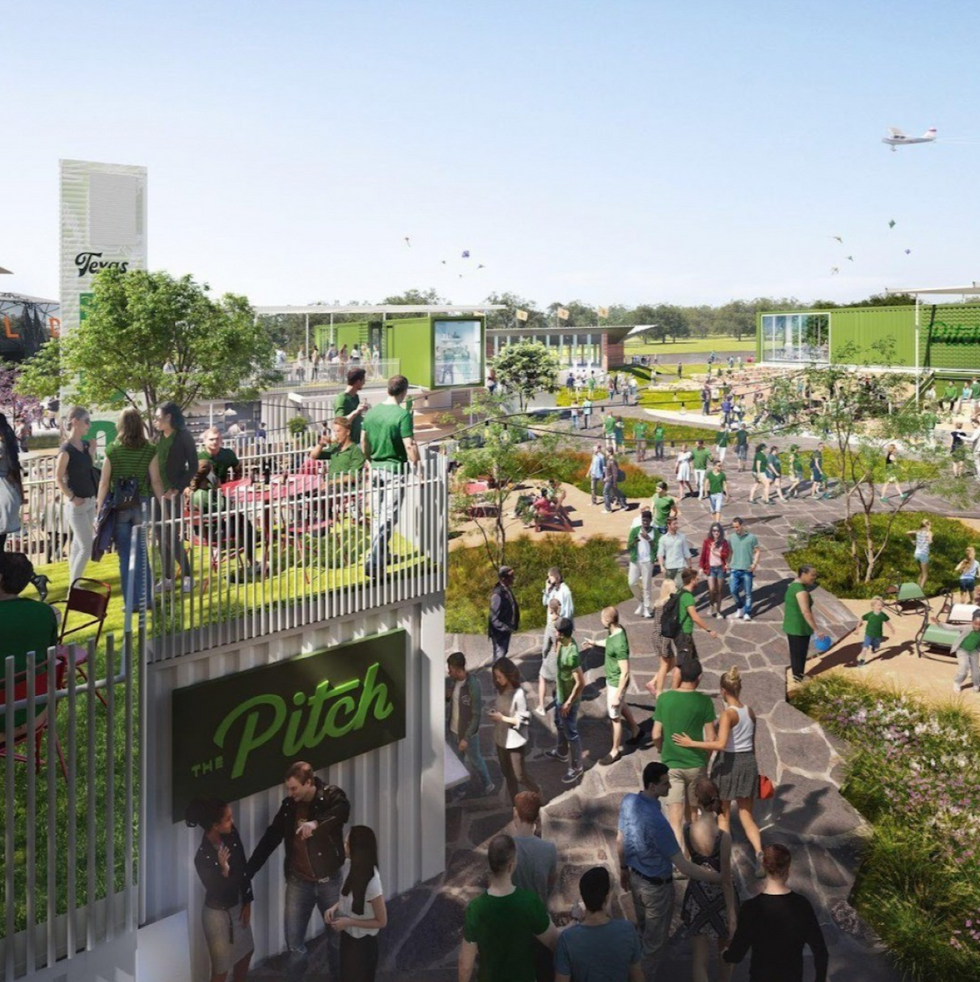 The Pitch hopes to converge both community and club interests with Austin FC. (The Pitch)
In addition to the soccer pitch, stadium and pond, The Pitch will provide a foody experience made by the creative team behind Austin staples like Fareground and Easy Tiger. The complex will offer local bites including:
Ranger Burger, which offers beers and burgers made from highly-coveted Wagyu beef direct from Ranger Cattle in East Austin
Ga Roti, which merges flavors from Northern Vietnam with the culinary techniques of France to create a unique rotisserie chicken joint
Taco Flats, a local taco chain serving Mexico City-style tacos, micheladas and more
Sand Bar, which fulfills its namesake with beauty cocktails, local beers and a sand volleyball court
Coffee Club, a coffee shop and bakery
Corner Kick Bar, the soccer-focused main bar of The Pitch complete with "tunes, TVs and (a) beer garden"
The Pitch will squeeze between St. David's Performance Center and Parmer Pond alongside the southern edge of Parmer Austin, a Karlin Real Estate venture that will eventually include multifamily housing, corporate office space and an aerospace and defense center.