Get connected with our daily update
(Stock photo)
Every 10 years, the federal government is constitutionally required to count every person living in the country, regardless of origin or immigration status. The results of the census will determine how much federal funding is directed to Austin over the next decade as well as the upcoming redistricting process and the allocation of new state and federal representatives.
The last day to complete the 2020 census is Sept. 30. Austinites can complete the census online here, by calling 844-330-2020 or by mailing the questionnaire sent to their household.
The Oakwood Cemetery is said to have souls roaming around. (Steven Joyner/Austonia)
As Halloween makes us second guess if that cold spot was a ghost or simply the cool front, keep your guard up because there are supposed haunted grounds in the city.

Austin is largely free of widespread hauntings but that doesn't mean it doesn't have its fair share of phantoms if you know where to look. Here are some of Austin's most haunted burial grounds.
Oakwood Cemetery
Originally called the city cemetery, Oakwood Cemetery is Austin's oldest burial ground and has been standing since the 1850s. Though record-keeping isn't as robust from its early days, with over 40 acres of land and more than 25,000 people buried, Oakwood Cemetery is said to be the permanent home to some well-known Texans: U.S. Marshall and Texas Ranger John Barclay Armstrong who passed in 1913, Alamo survivor Susanna Dickinson who passed on in 1883, radio personality John Henry Faulk who was buried in 1990.
Oakwood Cemetery is also known for its fair share of hauntings—note that not all who lie there are resting in marked graves and some of the early marked graves, like 1897's "Little Brother" gravestone, are haunting in and of themselves.
So, why should you stay away from Oakwood Cemetery at night? You might run into the ghost of the first of the Servant Girl Annihilator's victims, 17-year-old Eula Phillips, who was murdered by her then-husband with an axe. Philips is said to wander the grounds lamenting her violent death with tears. Dickinson, who died at the age of 68, may also appear to you and is said to be the most visual of specters that roam the grounds.
Oakwood Cemetery is known for graverobbing—rumor has it that university professors used to steal bodies from unmarked graves to use as cadavers for their students—so you might encounter the souls who are still roaming the cemetery, looking for their bodies.
Shoal Creek Indian Massacre Site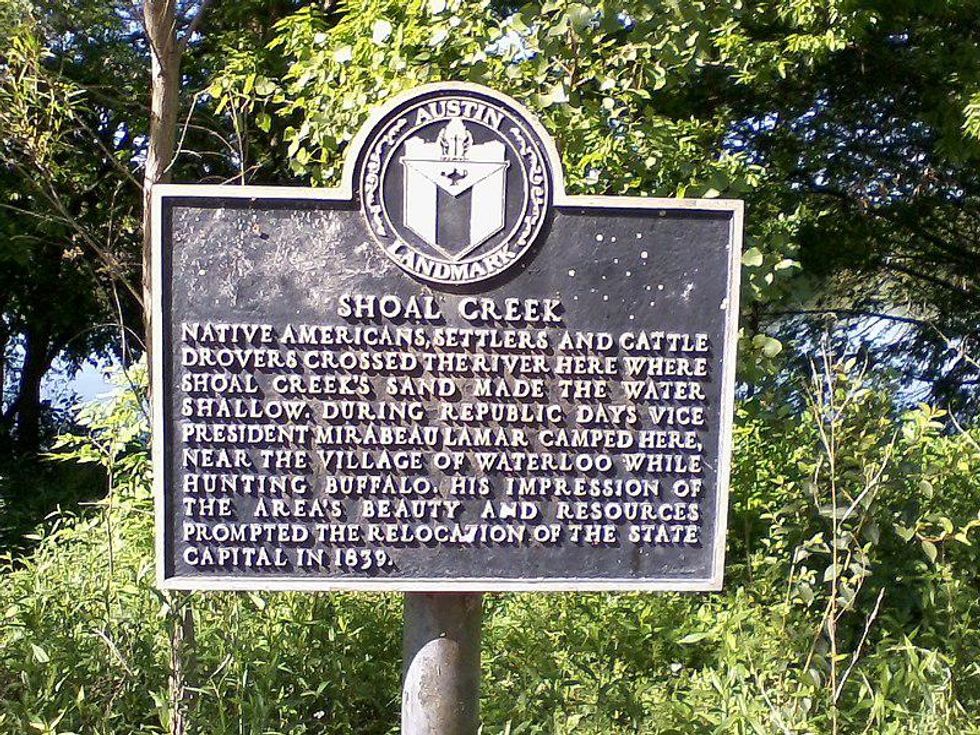 The historical marker is located at 24th Street at Shoal Creek. (austinghosts.com)
Shoal Creek, like nearly all of the United States, can be traced back thousands of years to 9,000 B.C. with Native American arrowheads. Settlers would camp along the mouth of the creek, including famous residents like the second president of the Republic of Texas Mirabeau Lamar, where it is said they engaged in a turf war with the Native Americans who resided right nearby. Those who weren't killed by Comanche warriors were killed by cholera and were buried along the creek. It is said that a mass grave, filled with victims of yellow fever, cholera and unexplained violence, lies beneath the creek.
Of the hauntings most commonly seen at Shoal Creek, watch out for cold spots in the middle of summer, vanishing orbs of light called "Marfa Lights," vanishing apparitions, unexplainable noises at night, sudden sickness and nightmares after visiting.
The Austin State Hospital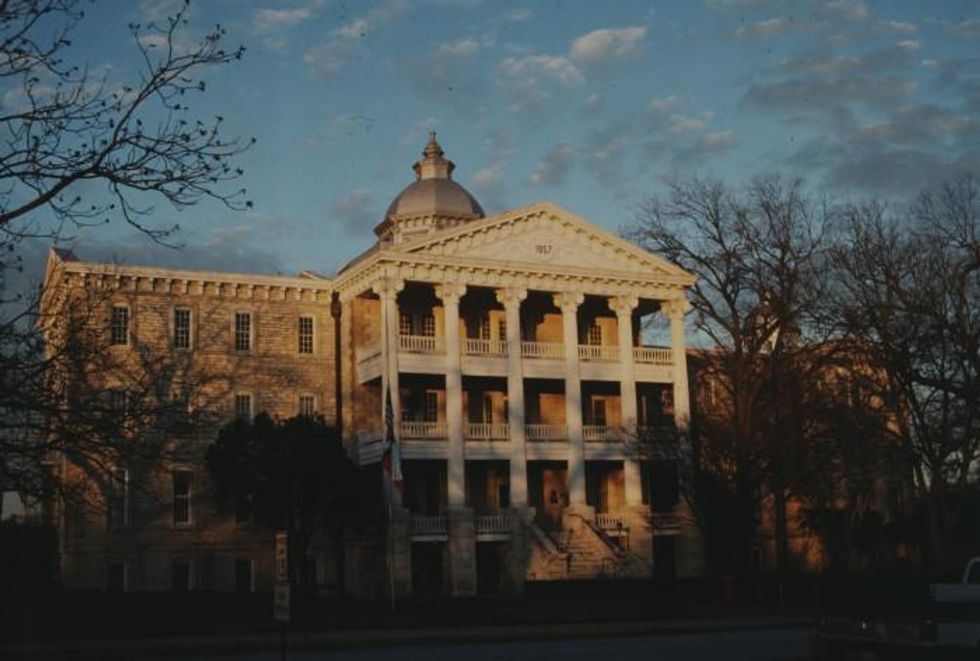 The Austin State Hospital is still operating. (Texas Historical Commission National Register Collection and the Portal to Texas History)
When the Austin State Hospital took in its first patients in 1861, it was meant to be a beacon of hope for the mentally ill to recover from the stressors of everyday life. On any given day, the hospital would treat and allegedly sometimes experiment on anywhere from 200-4,000 patients and after an unfortunate death, bodies that were not claimed were buried in the cemetery out back behind the hospital. When the cemetery inevitably filled up, bodies were exhumed and transferred to a burial ground just over two miles away. Though they say all the bodies were transferred, legend tells that some have been left on the still-operating hospital's grounds just six feet below.
The Austin State School and State School Farm Colony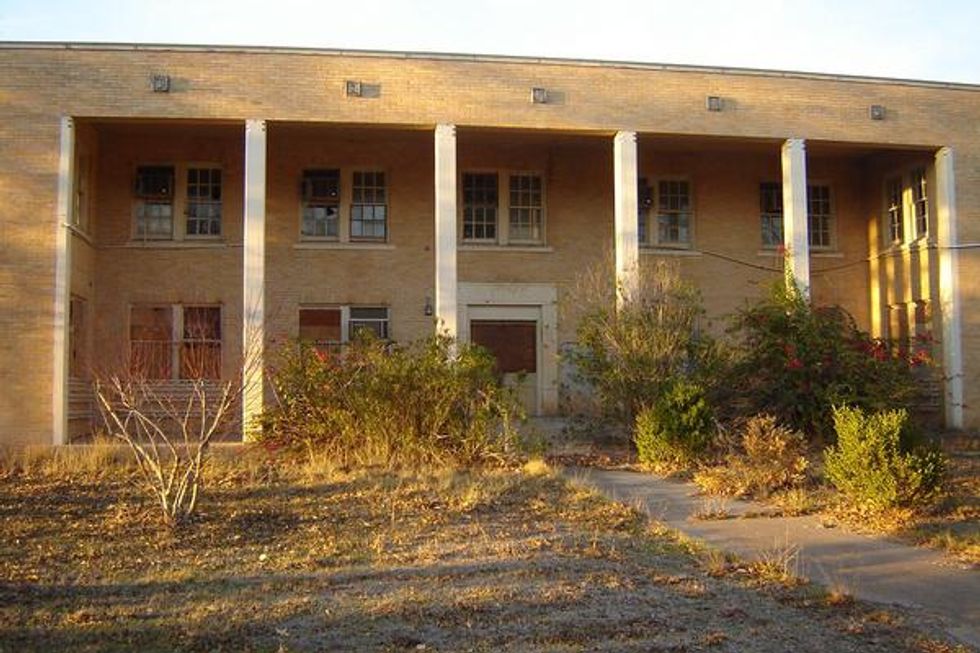 The Austin State School is now closed, many of its 68 buildings abandoned. (Andreanna Moya Photography/CC)
These two gender-segregated facilities were originally intended for mentally-troubled juvenile offenders, many of whom never left the grounds. On the school's 436 acres, 1,800 students were housed across 68 buildings and the campus also held farmland, a swimming pool and a cemetery. Children who were not claimed were buried on-site, where about 3,000 students are buried. The school was sued in the 1960s after changing its name to the Travis State School for inadequate living conditions and closed in the late 90s. Many buildings have been taken over by charter schools but some remain empty to this day.
Tucker Cemetery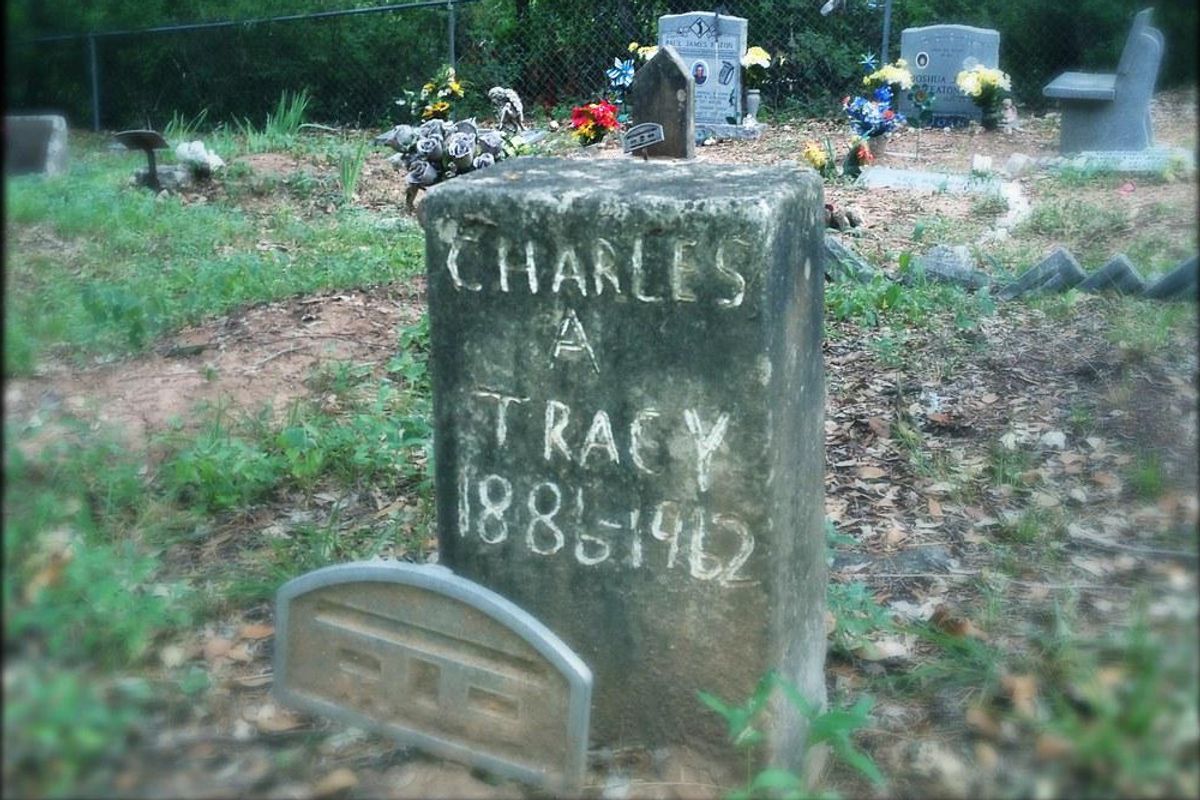 Tucker Cemetery's unique sight is its dozens of hand-written tombstones. (kissingtoast/CC)
Just outside the Barton Creek Greenbelt, Tucker Cemetery doesn't have many stories of haunts to its name other than anecdotes of car locks popping open on their own. However, what makes this cemetery freaky is its collection of tiny, hand-scrawled tombstones.
Keep Austin spoOoOoOoky!
Enjoying Austonia? Signup for our newsletter to get daily Austin news, straight to your morning inbox!
Coming off of the heels of the biggest Formula 1 race to date, Circuit of the Americas now has plans to create luxury "car condos" for racecar enthusiasts right by the track.
Located on the racetrack's storied "Turn 11," COTA will create around 178 car condos on a 22-acre plot in a partnership with real estate firm Lincoln Property Company. Presale reservations for the units began Wednesday, and the project hopes to break ground by late spring of 2022.
The 340,000 square foot space will include a 7,000-square foot amenity center with a pool, a clubhouse, a conference center, outdoor barbecue grills and more.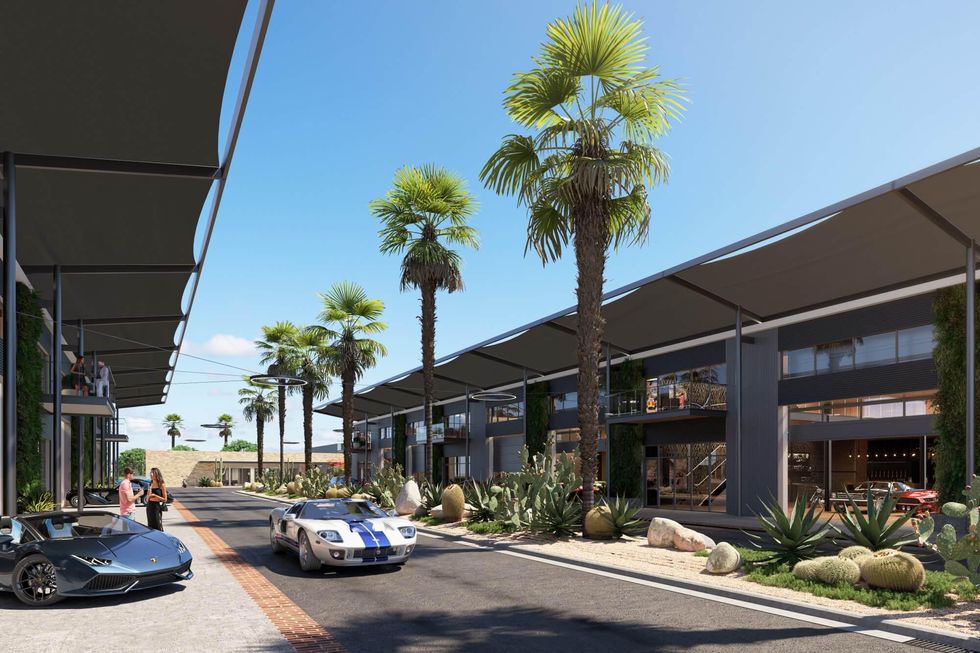 The luxurious car condos will be located alongside COTA's famed Turn 11. (Lincoln Property Company)
Customers can trick out their space, which can range from 1,300 square feet to 6,000+, however they'd like. In other projects, Lincoln Property's JR Gideon has seen car condo owners add in mechanic shops, basketball hoops, bars, music studios and more.
"They're really for storing luxury cars just as much as hosting," Gideon said. "You can do pretty much anything in there besides live."
Think of the ultimate man cave, though that word's not quite appropriate—according to Gideon, some female clients have also booked reservations for the project.

"I think predominately, our demographic is going to be men, yes, but we've already had a few ladies reserve units, which is awesome," Gideon said.
Along with having a trackside space, Gideon said that owning a condo has other perks, including 20% off COTA events. Most importantly, however, these car enthusiasts want to see their cars on the track, something the team is already planning for.
"If you're going to have your nice cars at the track, you want to know if you're going to be able to get them on there," Gideon said. "Right now I'm planning for two full track weekends for owners to be able to get their cars out on the track."
Marketing for the project has just begun, and almost every client so far has been from Texas and/or the Austin area. But Gideon and team expect plenty of interest from national customers as well as some international buyers as the only F1 racetrack in the States with trackside car condos.
There could be a hitch in the plan, however. COTA's 10-year contract for F1 expired last weekend, and no new deal has been finalized yet. But COTA chair Bobby Epstein feels confident in renewing a contract, especially after the sports' biggest weekend to date. Gideon and Lincoln's Seth Johnston aren't involved in contract talks but say that plenty of attractions exist at COTA outside of the U.S. Grand Prix.
And with newfound American interest in F1—Gideon, like many others, partially credits Netflix's "Drive To Survive" series—the crew is confident that there will be more projects like this to come in the future.
"With (Drive To Survive) coming out in the last couple of years and so many people watching the past race, I think there's certainly a lot of momentum around Circuit of the Americas and this project as well as other future developments at COTA," Gideon said.
Enjoying Austonia? Signup for our newsletter to get daily Austin news, straight to your morning inbox!
First, he dabbled in tequila. Now, he's on to beer.
Tesla will soon launch its own beer, CEO Elon Musk announced earlier this month from Germany at the Gigafactory Berlin-Brandenburg County Fair. Musk showed photos of the futuristic, not-at-all-traditional bottle with the T symbol and its name, "Gigabier," in blue lettering across the side of the bottle.