Get connected with our daily update
Austin is one of those cities filled with fun activities for anyone and everyone—even if you're on a budget. Whether you're looking for some fun drinking or you want to spend a day in nature, Austin has you covered with some bizarre and other tranquil entertainment options for the best day ever.
Here are 9 activities under $10 you should try in Austin.
---
Instead, it was a former sleepy suburb tucked away in the nearby Hill Country. Leander, Texas, situated just north of fellow northwest Austin suburb Cedar Park, had the highest growth rate in the nation for two years in a row, swelling from just 26,000 residents in 2010 to nearly 60,000 in the latest U.S. Census.
Some may start to scratch their heads at those who choose to move to the lesser-known suburb when "boomtown" Austin is just around the corner. But while the Texas capital has priced or crowded out many prospective buyers and renters, Leander offers relatively cheaper real estate alongside a small-town feel.
The result has been explosive growth—something Thrive realtor and former Leander City Council Member Shanan Shepard has seen firsthand.
"I'm very well aware of what (growth) felt like all the way back to probably 2012," Shepherd said. "The city has wanted to grow, (and) over time, there's been a strong effort by the city to encourage development here."
Once a town of fewer than 10,000, Leander now boasts two of the fastest-growing residential neighborhoods in the Austin metro, and its county, Williamson County, saw 32.3% growth in home sales in February (Austin, meanwhile, saw home sales increase 2.5%). Swaths of new businesses and developments, including a $715 million, mixed-use shopping and dining "town center" development, have planted roots in the hilly countryside, and a new Cap Metro rail line is in the works to help bring commuters into Austin's city hub.

Shepherd, who formerly worked on the city's Economic Development Committee, said this is no accident.
"(It's) wanted to see development, wanted restaurants and retail and just commercial opportunities for two reasons: to diversify the tax base so that all of the tax burden didn't fall on homeowners... (and) for people to live here, to go to dinner or go shop and get your car washed," Shepherd said. "There's a higher education level generally and more disposable income in households, so all those things make it attractive for commercial development."
Leander's not alone: Austin suburbs from Round Rock to Buda have been eyed as some of the fastest-growing suburbs in recent years, thanks in part to rising Austin prices, new tech jobs and the desire for quieter lives amid the pandemic. But Shepherd said a few things still set Leander atop the list.
"I don't know that it's exclusive anymore," Shepherd said. "It used to be, and a lot of it was just affordability that it's pretty. There are a lot of trees and rolling hills and some of those other areas don't have as much of that. So it was a combination of those things, and 183 makes it an easy commute into Austin."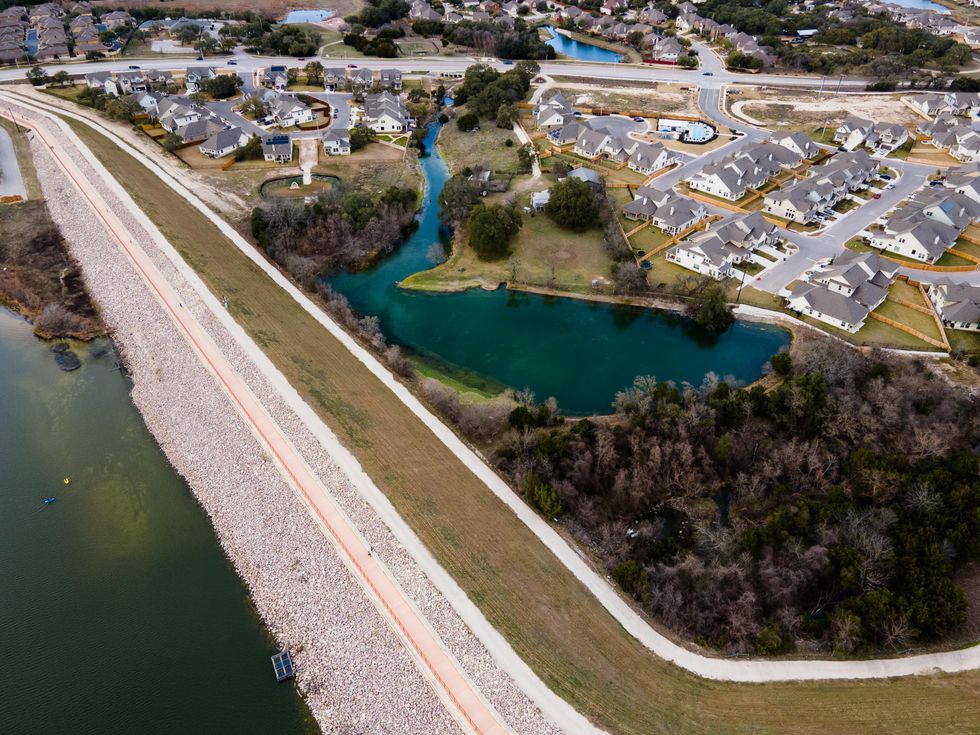 But even those far north Austin suburbs aren't immune to Austin's new housing prices. Williamson County's median home price is inching up to Travis County's at $479,000 in February, up 32.7% from the year before.
That's reflected in Shepherd's customer base, which increasingly includes investors and may indicate a new kind of growth coming to the area.
"We don't see a whole lot of young buyers anymore because, frankly, they've been priced out," Shepherd said. "Most of the people here are actually investors. There's a lot of people looking to invest here because of the growth."
Doors for the grand opening of Tesla's $1.1 billion gigafactory in southeast Travis County open at 4 p.m. Thursday, and up to 15,000 could attend. The invite-only event known as Cyber Rodeo will feature food, drinks, entertainment and possibly fireworks.
Tesla has said people may not transfer, sell or buy tickets. And you have to leave the kids and fancy cameras at home, as the event is for adults only and Tesla won't allow drones or professional recording equipment inside. While some are willing to pay $500 to be someone's plus one, here are a few we know who have been invited or have traveled to Austin in the hopes of going: