Get connected with our daily update
(Flickr)
Austin's own Chris Bosh has made the jump from basketball to music officially producing his first single "I Want It All" with Bastrop artist Deezie Brown.
---
Bosh, a two-time NBA champion, was forced to retire from his basketball career in 2016 after having a blood clot issue known as pulmonary embolism. After his career's abrupt ending, many fans wondered what the 32-year-old champion would do with all his spare time.

In an interview with Sports Illustrated in 2019, Bosh told Rohan Nadkarni about his music aspirations.
"I'm an aspiring record producer," Bosh said. "I've made many friends, I've had a lot of conversations, I've had some great moments making music with people, learning about music. Putting records together, working with artists, that has brought me a lot of joy. And I'm glad that I'm in a place where I can really, really put myself into that and learn the craft. It's been four years now. I'm getting better and more savvy in the space. I'm super happy that I have music. That was another thing, when I asked myself, what am I going to do? I had a guitar in my hand, and the next thing you know I was producing music."
Bosh and young artiest Deezie Brown first met in 2018 when Bosh was given a tip from a local Austin radio station about Brown's talent. For the past two years, Bosh has been working with Brown to help develop a unique sound.
The song, which was released before Game 2 of the NBA Finals on Sunday, was a tribute to late basketball legend Kobe Bryant. The single is on all streaming platforms now.
I Want It All -- Produced By Chris Bosh Ft. Deezie Brown youtu.be

More on Chris Bosh: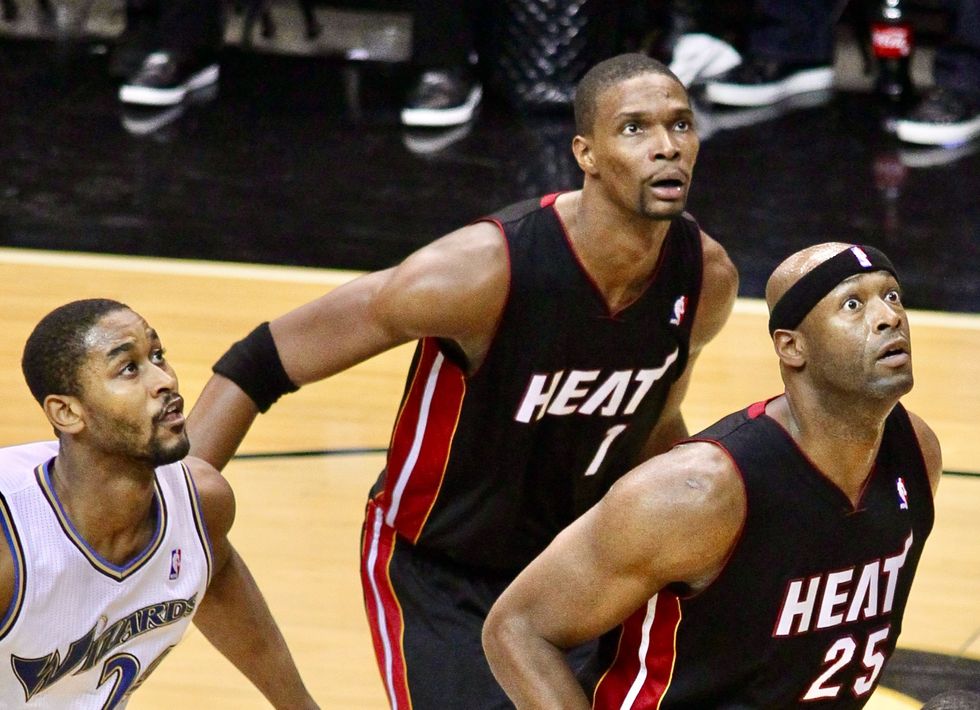 College athletes get a win with Election Day off every year, effort led by local NBA champ Chris Bosh
After their first two-win week and a two-week hiatus, Austin FC is back at home against Minnesota United as they attempt to up their home win streak to three on Saturday.
The team kicks off at 8 p.m. against the Loons in their first matchup since a 2-0 loss in June, but they're 1-1 against the club after beating Minnesota in May for their first-ever shutout.
Austin maintains a last-place spot in the West but has seen a bit of a late comeback with two wins in their last three matches. Austin's Cecilia Dominguez, who scored a brace for the team in their last match against Real Salt Lake, will look to keep that momentum as the team works for another victory. Meanwhile, the seventh-place Loons will work to keep that last spot in playoff contention as the season nears its end.
Follow along here for updates on the biggest plays of the match.
An Austin-based program manager for Apple Maps and one of two leaders for the #AppleToo activist movement said she has been fired after a suspension.
According to the New York Times, Janneke Parrish said she was put on suspension for several days while the company investigated her activities before she was fired by a human resources employee via phone call on Thursday.
Parrish was under investigation for allegedly leaking a recording of an Apple staff meeting to the media, which she said she didn't do.
The report said the company told Parrish, who is 30, that she was being fired for having deleted files off her company-issued phone and computer before handing them in for examination. Parrish said the files she deleted contained her personal and financial information.
Among the files she deleted were the Robinhood app, which she said was to keep Apple from seeing "how much money I lost investing in GameStop," the Pokemon Go app and screenshots of programming bugs she was fixing.
Parrish said she believes Apple was retaliating against her efforts in organizing #AppleToo, a group of employees working to expose the company's "culture of secrecy" that has been "faced disproportionately by our Black, Indigenous, and other colleagues from minoritized racial, gender and historically marginalized groups of people."
Parrish had been publishing weekly accounts of workplace problems that had been shared anonymously with her from other employees, though she did not verify employment on all of them. The accounts she received were in the hundreds, so Parrish said she was hopeful her termination would lead to some justice within the company.
Employees at tech giants have been more outspoken than usual in recent months—with former Facebook data scientist Frances Haugen speaking out against her former employer—and Parrish said the company's desire to keep under wraps has eroded trust by discouraging employees to come forward with issues like harassment or wage disparity.
Apple spokesman Josh Rosenstock commented on the matter: "We are and have always been deeply committed to creating and maintaining a positive and inclusive workplace. We take all concerns seriously and we thoroughly investigate whenever a concern is raised and, out of respect for the privacy of any individuals involved, we do not discuss specific employee matters."
Additionally, the email detailing her termination, which was obtained by the New York Times, said Apple had determined that Parrish "engaged in conduct in violation of Apple policies including, but not limited to, interfering with an investigation by deleting files on your company provided equipment after being specifically instructed not to do so."