Never miss a story
Sign up for our free daily morning email...
...and afternoon text update
Get connected with our daily update
(Hyde Park Baptist Church)
Since turning to Zoom church services, Isabel Sheldon's preferred place of worship is no longer where she wishes to hear the word of God. She says she would love to meet fellow worshipers for an in-person church service but understands that it's not easy during a global pandemic.
---
"I lost interest in joining Zoom for meetings," Sheldon says.
Sheldon, a retired Austin teacher, sought out other options and turned to the Pentecostal church where her nephew is the pastor, which offers in-person services.
"The service was uplifting," she says. At the entrance, Church goers selected one of three ribbons: green for "you can hug," red for "do not touch" and yellow for "you have to stay six feet away from me."
From masked congregations enjoying world-class gospel via Zoom to socially distanced in-person events, Austin churches are taking measures to keep this year's Christmas celebrations from becoming a super-spreader occasion.
On Dec. 15, Travis County Judge Andy Brown and Austin Mayor Steve Adler sent a letter to Austin's faith community leaders, imploring them to support the city's efforts to slow the spread of COVID-19 by hosting virtual worship services and enforcing social distancing and masking guidelines.
But judging from the prophylactic measures taken by parishes and pulpits alike, Austin churches were already committed to containing contagions while spreading the word.
The Diocese of Austin, made up of 127 parishes over 25 counties in Central Texas, plans to offer Mass both in person and over live stream on Christmas, following the protocols to mitigate the spread of COVID-19, said Shelley Metcalf, editor of the Austin Diocese's monthly newspaper the Catholic Spirit.
A Dec. 16 statement from the Diocese of Austin brings attention to the church's efforts to follow safety protocols for Mass: "We hold to our belief in the sanctity of human life, which calls us to remain vigilant in our care for one another through these proven protocols." It continued: "The Church will diligently follow these protocols for the sake of all God's people and the common good of our community."
When Austin churches began to reopen in May, they were keenly aware that they could do so only by following guidelines, which included socially distanced seating and leaving every other row empty. Per state order, places of worship are not subject to the county order that limits gatherings to 10 people.
Hyde Park Baptist Church modified its annual Christmas concert program to maintain safety amid COVID-19. One of the biggest changes was only seating 500 people, of its Worship Center's 2,000-person capacity.
"Since our orchestra and choir have not practiced together since March, we did not have our usual Christmas presentation," says Becky Shipp, assistant to the senior pastor. Instead, the church brought in special guest soloist Wintley Phipps, a superstar gospel talent who has performed for U.S. presidents, to sing in its Christmas presentation earlier this month.
To follow safety protocols, Shipp says the church's traditional Christmas Eve service will be held in two services instead of one, so fewer people will be at each service.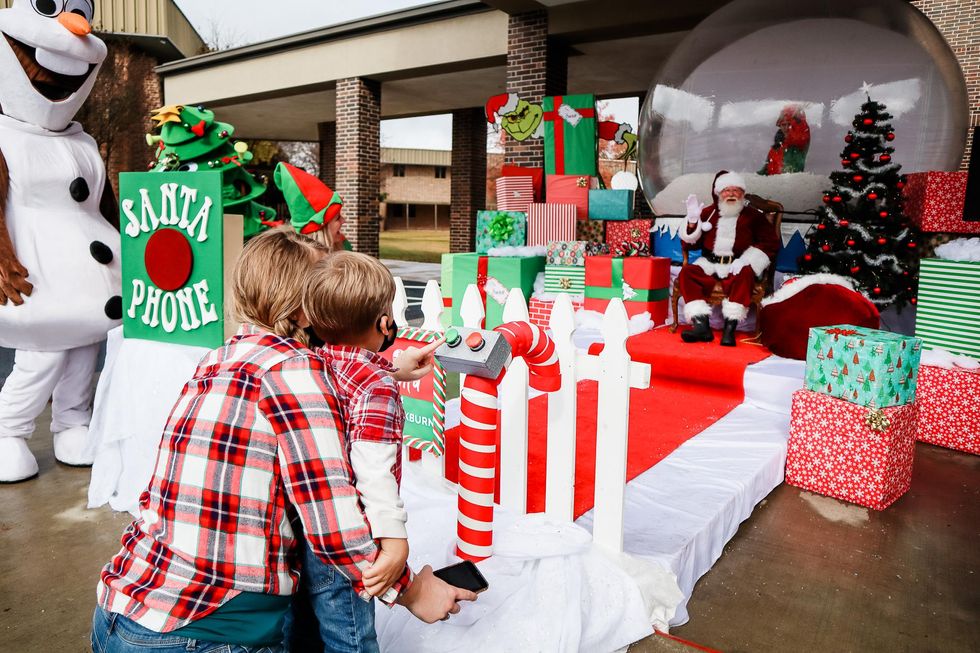 Drive-thru Santa event at Bannockburn Church. (Bannockburn Church)
Finding creative ways to figure out Christmas gatherings has been the rule this yule. For instance, Bannockburn Church offered a "Drive Thru Santa" family picture event at their South Austin campus on Dec. 19.

"We had over 150 cars drive by. The kids were so excited to wave to Santa Claus and speak to him through a 'Santa Phone,' and parents were grateful to snap a family picture," says Stephanie Robinson, the church's communications director.
Life Tabernacle Austin, which typically holds 300 people, is only allowing 100 people in the building currently. The church is making the most of Zoom and Facebook.
Bishop Frank Balboa says the new norm is live streaming, and the youth are the ones to pick up the reigns and help the pastors out.
"I am not reaching out to just two hundred of our membership—we are reaching out to families and friends and it's amazing, you know, something like this can really turn into a blessing," he said. "People are connecting from different parts of the world."
The change toward a more pixelated worship service has been difficult, but it's a blessing in disguise, Balboa added.
"Even though it's a difficult time ... we're moving (toward better) ... the church is not closed."
First score made by LAFC. (Sonia Garcia/Austonia)
Austin FC couldn't find the stamina to fight off a 2-0 loss against LAFC for their inaugural match on Saturday.
The match, which saw No. 21 Austin FC go head-to-head with No. 2 LAFC in Los Angeles, was broadcast nationally on FOX and FOX Deportes.
Eleven players took the stage as Austin FC players for the first time, with five starters making their MLS debut. "Ringleader" Alex Ring took the captain's armband and wore it well. The defensive midfielder could be seen leading his teammates through their first ever match, but it wasn't enough to stage an Austin takeover in LA.
As Austin FC took the stage for their first-ever match, they appeared more experienced than their track record. The club held LAFC to a scoreless first half, keeping about equal possession of the ball.
In the signature style of Head Coach Josh Wolff, the team played with quickness and intensity, nearly connecting on several fast breaks.
The club was given some generous breaks from No. 2 LAFC, who had one or both of their star DPs out for the half. While forward Diego Rossi is out for the entire match due to a hamstring injury, Carlos Vela was accidentally pulled too soon on what turned out to be a miscommunication.
"He gave us the sign that he needed to come off," LAFC Head Coach Bob Bradley said on broadcast. "I can't say more than maybe it's my fault."
LA pulled some dramatics and slowly gained more possession throughout the half, but ATXFC's defense wasn't initially as shaky as it seemed in preseason. Jhohan Romana has pulled his weight in getting the ball out of goal, and a 34-year old Matt Besler held his own in center back.
As the second half commenced, however, it became clear that LAFC had the advantage over Austin's first major league team.
Goalkeeper Brad Stuver had his work cut out for him, fending off 24 shot attempts, 11 of which were on goal.
LAFC finally connected in the 61st minute of play as Corey Baird shot one into the bottom right corner. The team capitalized off their momentum and put one past Stuver a second time, drawing roars of approval from the LAFC crowd.
While some last-minute attempts from Jon Gallagher and others were made, Austin FC didn't have the endurance to bring a tie. After seven additional minutes of stoppage time, the club lost their first match 2-0.
It's matchday! Austin FC—Austin's first major league sport team—kicks off its debut season in Los Angeles today after years in the making. We know how much this means to our beloved city and are taking you along with us as we journey to LA!
Austin FC writer Claire Partain and I are excited to bring you game-day coverage straight from the City of Angels. Check back here for updates, and visit our socials: @austonianews for the latest.
5 p.m: Kickoff!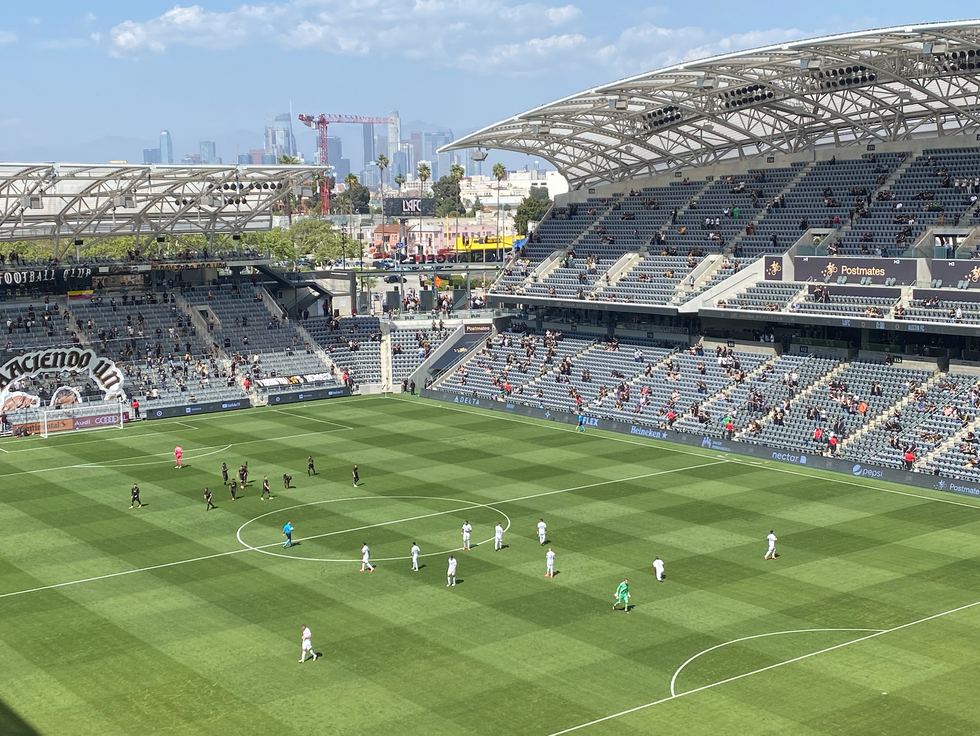 It's finally here! Claire will be updating Austonia's Twitter account live. And we'll post her game recap after the game. Best of luck Verdes!
4:40 p.m: Excitement radiates back home
Watch parties are in plenty supply back home. Austonia's Laura Figi visited Circle Brewing Co. and found a crowd of excited supporters.
4:20 p.m: Austin FC supporters are in the stadium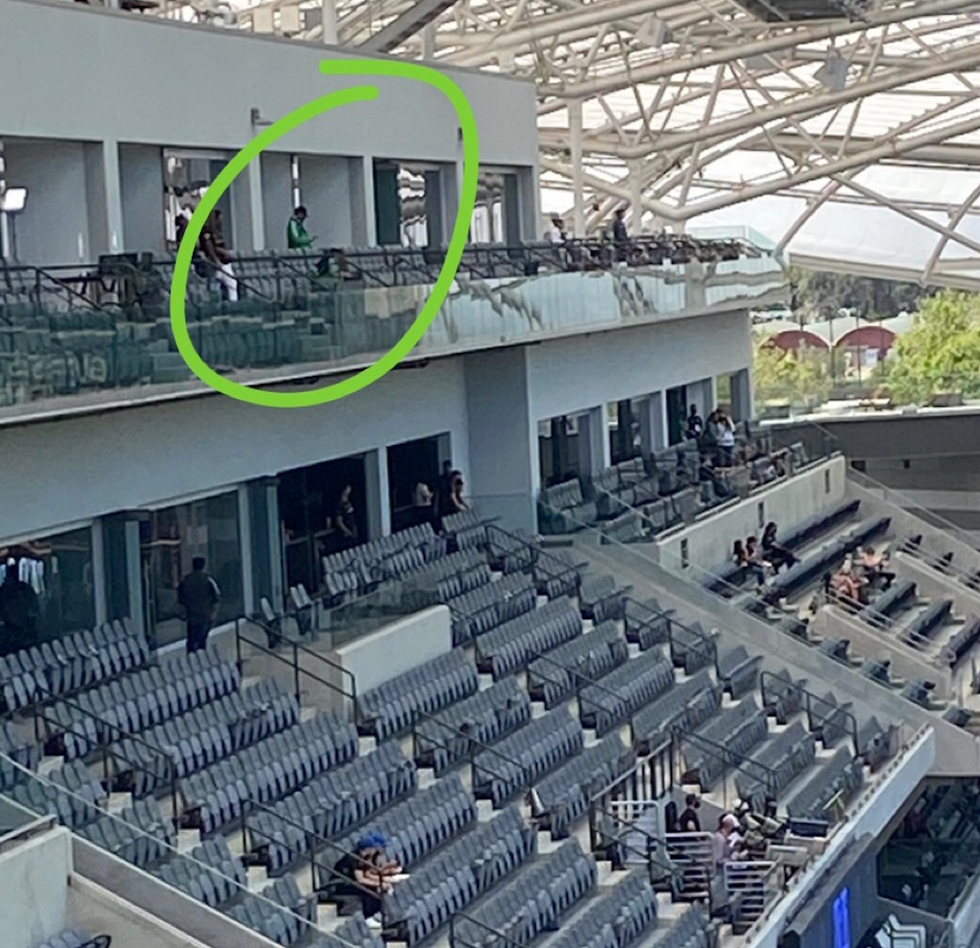 Although the Banc of California Stadium is hosting the match at limited capacity, we see some green in the stands ahead of kickoff. Just moments away from the Austin FC's debut!
~3:20 p.m: Austin FC's team bus enters the stadium grounds
With a warm welcome from Los Verdes, Austin FC players were welcomed into the Banc of California Stadium.
~1 p.m: Los Verdes in LA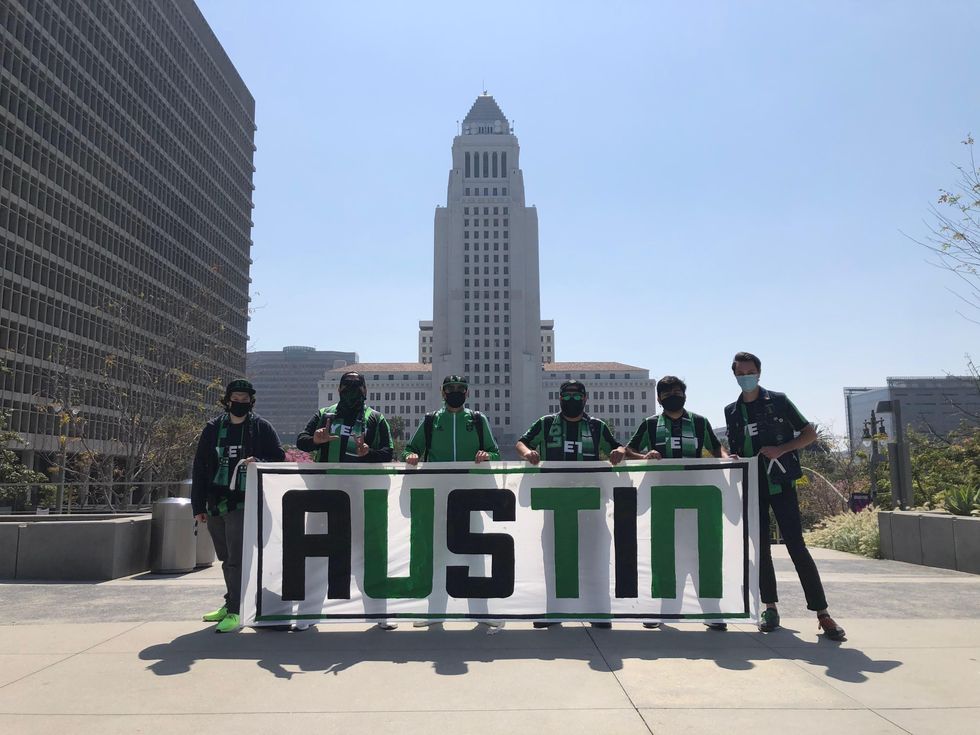 (Rigo Rodriguez/Los Verdes)
Austin FC supporters are making their presence known in LA, including the Los Verdes group.
Los Verdes members started having match-day fun around the area this morning with brunch. We'll be joining them about an hour before the game outside the stadium to share some of their excitement. We'll post immediately to Austonia's Instagram.
11:45 a.m: We landed!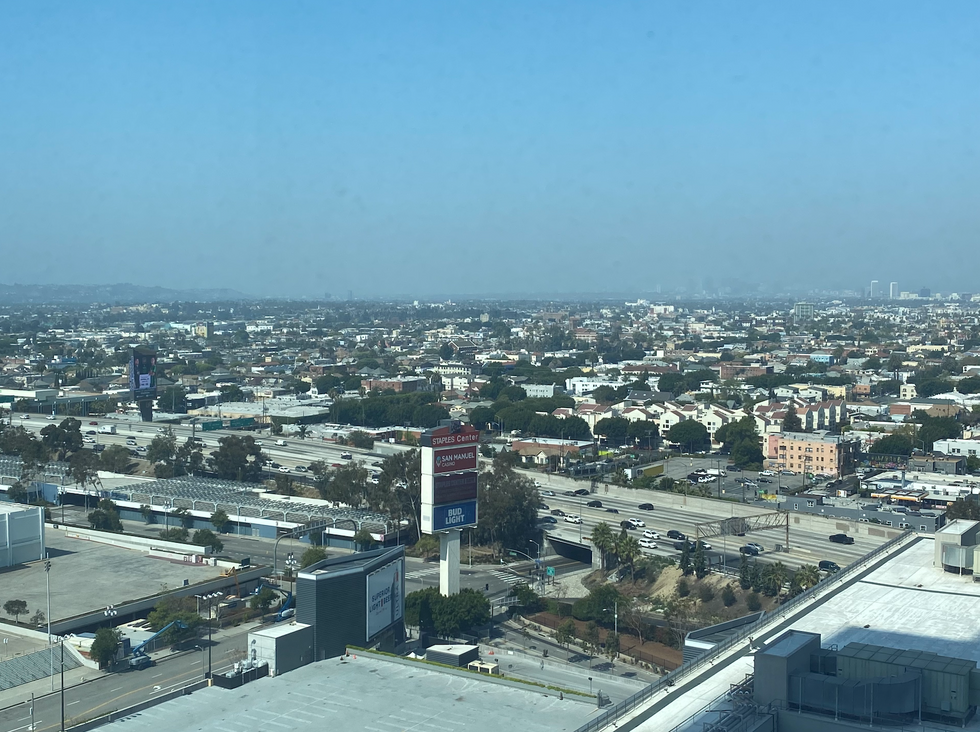 View from hotel room where we're staying; the stadium digital sign can be seen in the right corner. (Sonia Garcia/Austonia)
Switching over to pacific time, we're here and it's almost like no time went by. It's 9:45 a.m. here.
We've been in contact with Los Verdes, an Austin FC supporter group, who is also here in LA counting down to kickoff.
8:20 a.m: LA bound
Like many of you, we've been looking forward to this moment for, let's just say, a very long time. Today, we woke up bright and early, headed to Austin-Bergstrom International Airport and hopped on a flight to LA.
A gloomy day in Austin with a very quiet airport, we're headed to sunny skies in California.
As we wait for the game to start at 4:30 p.m., check out Claire's preview of the game with a predicted lineup and timeline of the long journey to get here.