Get connected with our daily update
Chupie the Lykoi cat isn't as feral as he may look—unless, of course, it comes to getting his paws on some precious baguettes.
---
The unusual kitty has recently gone viral on social media, garnering over 30 million views on TikTok and cheering up cat fans globally during the difficulties of the pandemic.
But according to owner and Austin resident Michelle, who asked not to disclose her full name for privacy reasons, this wasn't what she expected at all when she first made Chupie's Instagram and TikTok in January.
Chupie's claim to fame—aside from his overwhelming cuteness and love for all foods (except salsa and carrots)—is his unique genetics. Lykoi cats, named after the Greek word for "wolves" and often aptly dubbed "wolf cats," are the result of a mutation originally found in feral cat populations that have since become a pedigree cat breed.
He's gotten plenty of love—and plenty of bullying—for his wolf-like appearance. Michelle has been told he looks like anything from the weasel of "Suicide Squad" to Clint Eastwood as a cat.
"I think that a lot of people think that he looks like an ugly cat because he looks mangy," Michelle said. "But that's kind of what makes him special."
But Chupie doesn't have the disposition of a werewolf. In fact, the friendly cat can be seen kayaking, hiking and lounging around locales around Austin, from historic bar Nickel City to his favorite spot at South Austin's Little Darlin'.
He's almost always well-behaved, too—that is, until food enters the picture.
Just a few days after making his Internet debut, Chupie first went viral for viciously gripping onto a bag of H-E-B buns. The post gained 1.3 million views.
Since then, similar videos of Chupie gripping baguettes, treats and other goodies have gained up to 11 million views apiece.
Michelle and her husband have beencreating content nearly every weekend and are now busier than ever. Still, it's been a rewarding, if unexpected, life change, especially as she hears from fans worldwide who view Chupie as a bright spot in their life.
Michelle said that she's received countless positive messages from fans, many of whom struggled during the pandemic.
"I joke that he's a 'meowtivational speaker' because I really think that we sometimes live in really dark places, especially during COVID," Michelle said. "So if we can give them even a little part of their day, even if it's 10 seconds where they feel joy, then it's worth it."
That popularity has translated into real life. Chupie is celebrated by fans and newcomers alike nearly everywhere he goes. In an interview with Austonia, Chupie was almost immediately greeted by a fascinated stranger who was quick to scratch his head and take pictures, something Michelle said is a normal occurrence.
"Everybody knows him when I go places now," Michelle said. "People are like, 'Oh my God, is that Chupie? Can I feed him the crust of my pizza?'"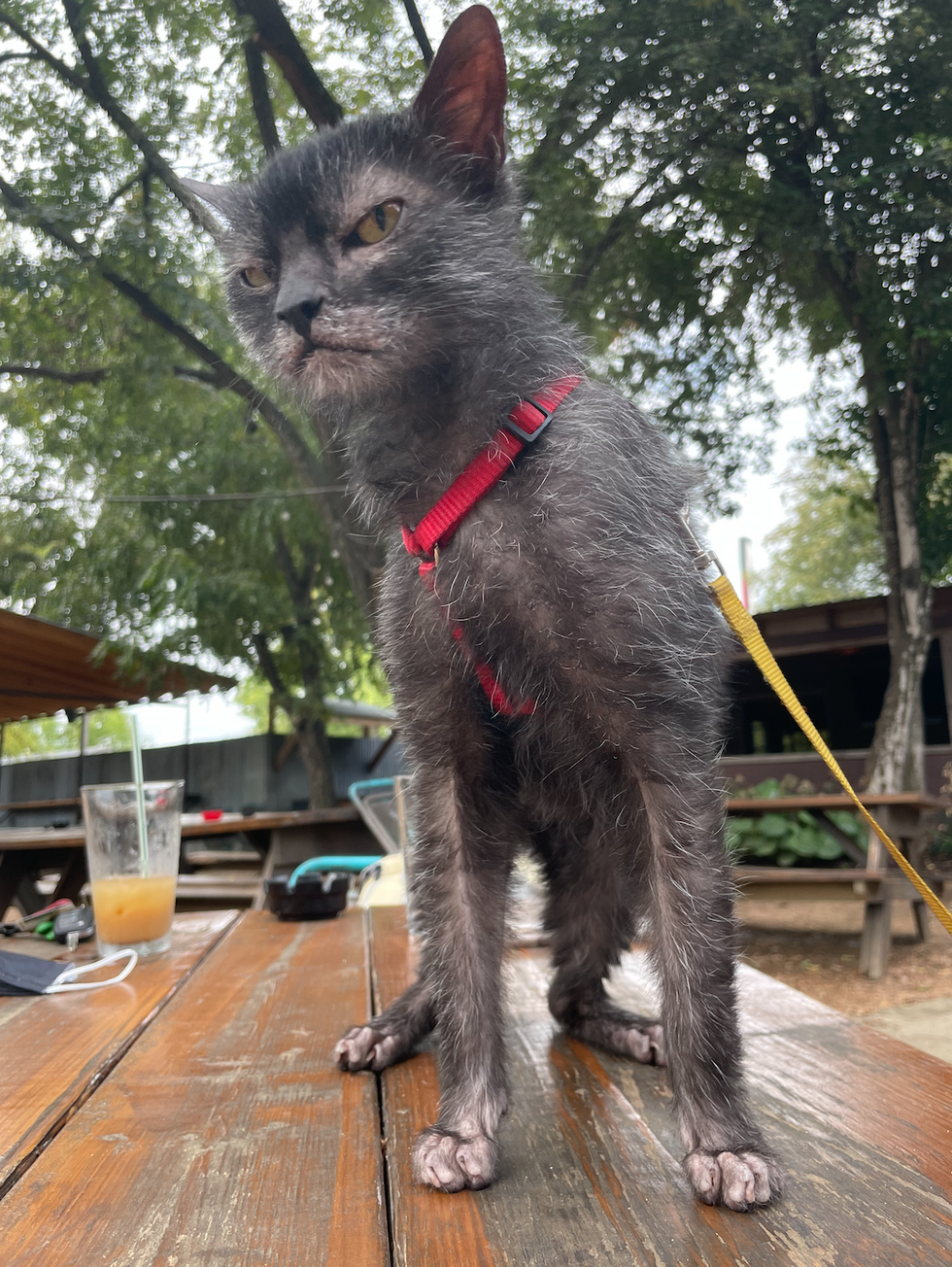 Chupie before getting a treat. (Claire Partain/Austonia)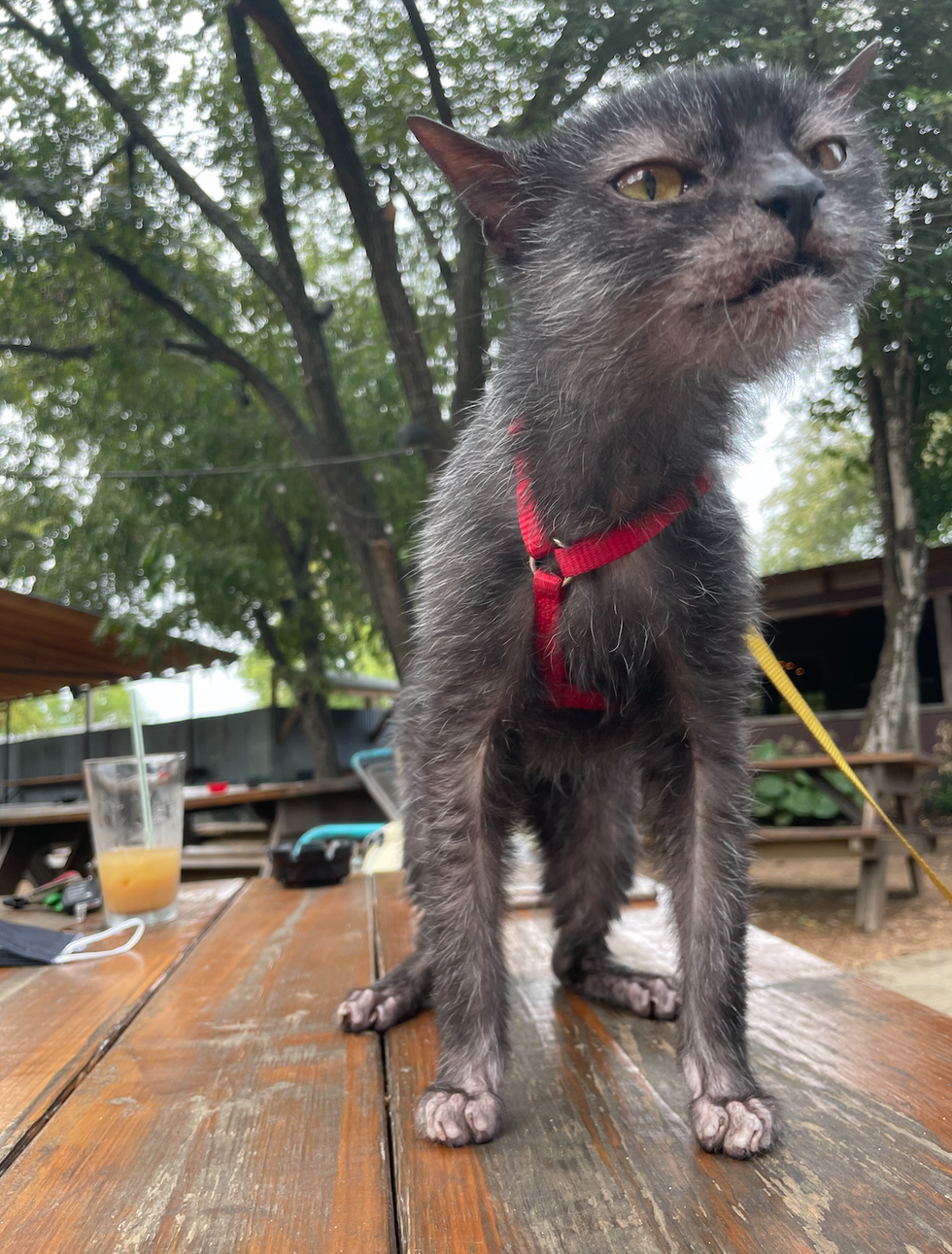 Chupie after he gets a treat. (Claire Partain/Austonia)
"He's living better than me probably," Michelle joked. "We live our lives well together. But I've never done so many things in one weekend until I started making these videos."
So what's next for Chupie? Michelle hopes one day she can take her kitty on global adventures where he can meet fans. For now, she's busy making Chupie merch, sending out care packages and is looking forward to taking her pet to animal events like the POP Cats festival on Saturday.
"This has gone way further than I ever imagined, and it's about Chupie, but it's also about the 'I don't give a meow' attitude," Michelle said. "I think people need to take life less seriously, so it's nice to be an outlet for that."
Capital Metro has been awarded $750,000 from the Federal Transit Administration to go toward Project Connect's Orange Line, documents show.
The FTA announced the funding round on Thursday, which dispersed $11 million across 12 states and 20 projects. The money is meant to connect communities to affordable transit and housing through the FTA Pilot Program for Transit-Oriented Development planning.
CapMetro said the funds will go toward projects at eight stations spanning 6.5 miles on the South end of the Orange Line, which has a total of 22 stations. The full project stretches across the 20 miles from Southpark Meadows to Tech Ridge.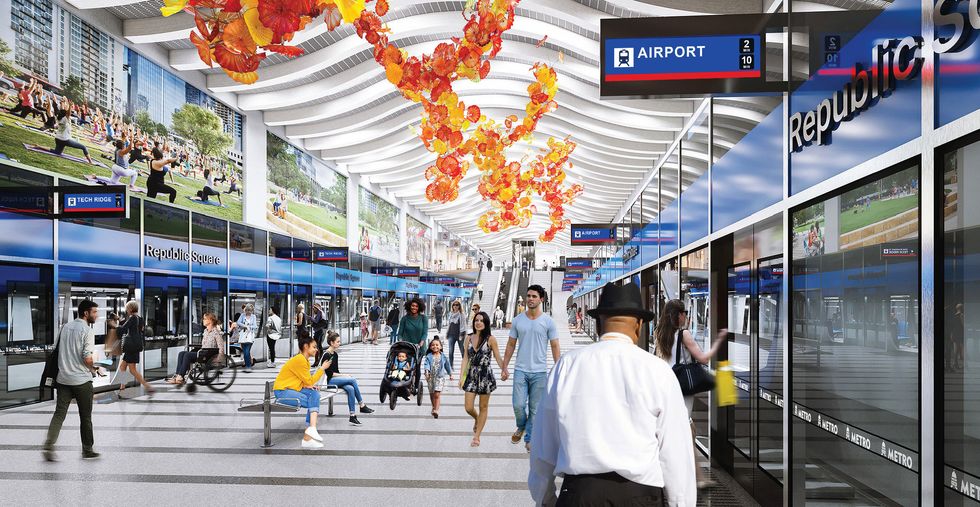 Republic Square station is along the Orange Line. (Project Connect rendering)
Once it's complete, which officials estimate will be in 2028, the Orange Line will reach the following stations:
Tech Ridge (Park & Ride)
North Lamar International District
Crestview
The Triangle
UT campus
Republic Square
Auditorium Shores
South Congress
Southpark Meadows (Park & Ride)
A $500 million mixed-use development spanning 1,400 acres is coming to Southeast Austin, near Tesla's headquarters at Giga Texas.
Plans for the development by Houston-based real estate firm Hines include 2,500 houses along with multi-family and townhomes, and commercial land. Hines is partnering with Trez Capital, Sumitomo Forestry and Texas-based Caravel Ventures.
The development, which is known as Mirador, will be located off the 130 Toll and Highway 71, which the developers say provides easy access to the Circuit of the Americas Formula 1 racetrack and other Austin attractions like restaurants, parks and live music venues.
Hines also boasts amenities like a 60-acre lake, over 600 acres of greenbelt, community parks, trails and a swimming pool.
"As Austin continues to grow into the tech epicenter of Texas, coupled with a supply-constrained market, the demand for new housing is at its highest," Dustin Davidson, managing director at Hines, said. "Mirador will be critical in providing more options for Austin's growing population and we are excited to work alongside our partners given they each provide a unique and valued perspective in single-family development."
The local housing market has been hot in recent years, with home sales accelerating earlier in the pandemic. In July 2021, the Austin metro area hit its pricing peak at $478,000. As Austonia previously reported, the area has been expected to see the Tesla effect, with the new workforce driving up demand for housing and other services.
The single-family houses are expected to be developed over the course of six years, in phases. Construction on the homes is expected to start this year and home sales will begin in 2023.