Get connected with our daily update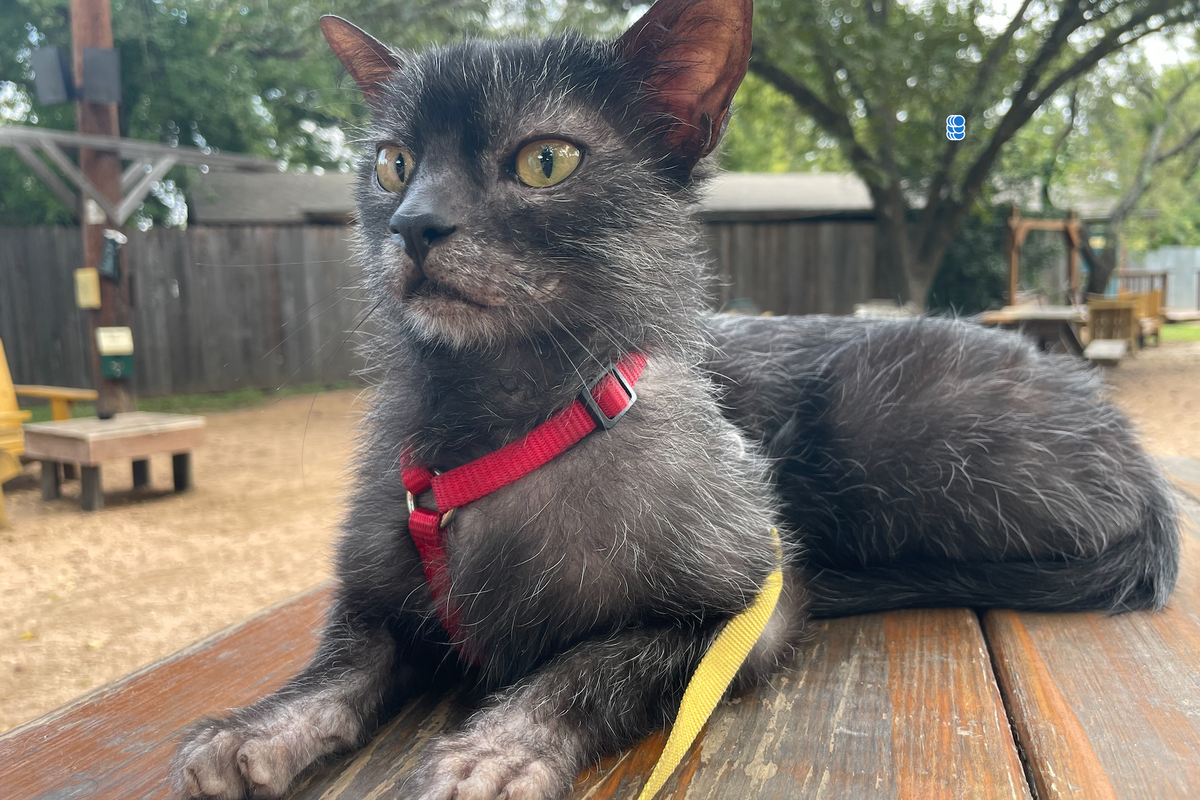 Chupie the Lykoi cat isn't as feral as he may look—unless, of course, it comes to getting his paws on some precious baguettes.
---
The unusual kitty has recently gone viral on social media, garnering over 30 million views on TikTok and cheering up cat fans globally during the difficulties of the pandemic.
But according to owner and Austin resident Michelle, who asked not to disclose her full name for privacy reasons, this wasn't what she expected at all when she first made Chupie's Instagram and TikTok in January.
Chupie's claim to fame—aside from his overwhelming cuteness and love for all foods (except salsa and carrots)—is his unique genetics. Lykoi cats, named after the Greek word for "wolves" and often aptly dubbed "wolf cats," are the result of a mutation originally found in feral cat populations that have since become a pedigree cat breed.
He's gotten plenty of love—and plenty of bullying—for his wolf-like appearance. Michelle has been told he looks like anything from the weasel of "Suicide Squad" to Clint Eastwood as a cat.
"I think that a lot of people think that he looks like an ugly cat because he looks mangy," Michelle said. "But that's kind of what makes him special."
But Chupie doesn't have the disposition of a werewolf. In fact, the friendly cat can be seen kayaking, hiking and lounging around locales around Austin, from historic bar Nickel City to his favorite spot at South Austin's Little Darlin'.
He's almost always well-behaved, too—that is, until food enters the picture.
Just a few days after making his Internet debut, Chupie first went viral for viciously gripping onto a bag of H-E-B buns. The post gained 1.3 million views.
Since then, similar videos of Chupie gripping baguettes, treats and other goodies have gained up to 11 million views apiece.
Michelle and her husband have beencreating content nearly every weekend and are now busier than ever. Still, it's been a rewarding, if unexpected, life change, especially as she hears from fans worldwide who view Chupie as a bright spot in their life.
Michelle said that she's received countless positive messages from fans, many of whom struggled during the pandemic.
"I joke that he's a 'meowtivational speaker' because I really think that we sometimes live in really dark places, especially during COVID," Michelle said. "So if we can give them even a little part of their day, even if it's 10 seconds where they feel joy, then it's worth it."
That popularity has translated into real life. Chupie is celebrated by fans and newcomers alike nearly everywhere he goes. In an interview with Austonia, Chupie was almost immediately greeted by a fascinated stranger who was quick to scratch his head and take pictures, something Michelle said is a normal occurrence.
"Everybody knows him when I go places now," Michelle said. "People are like, 'Oh my God, is that Chupie? Can I feed him the crust of my pizza?'"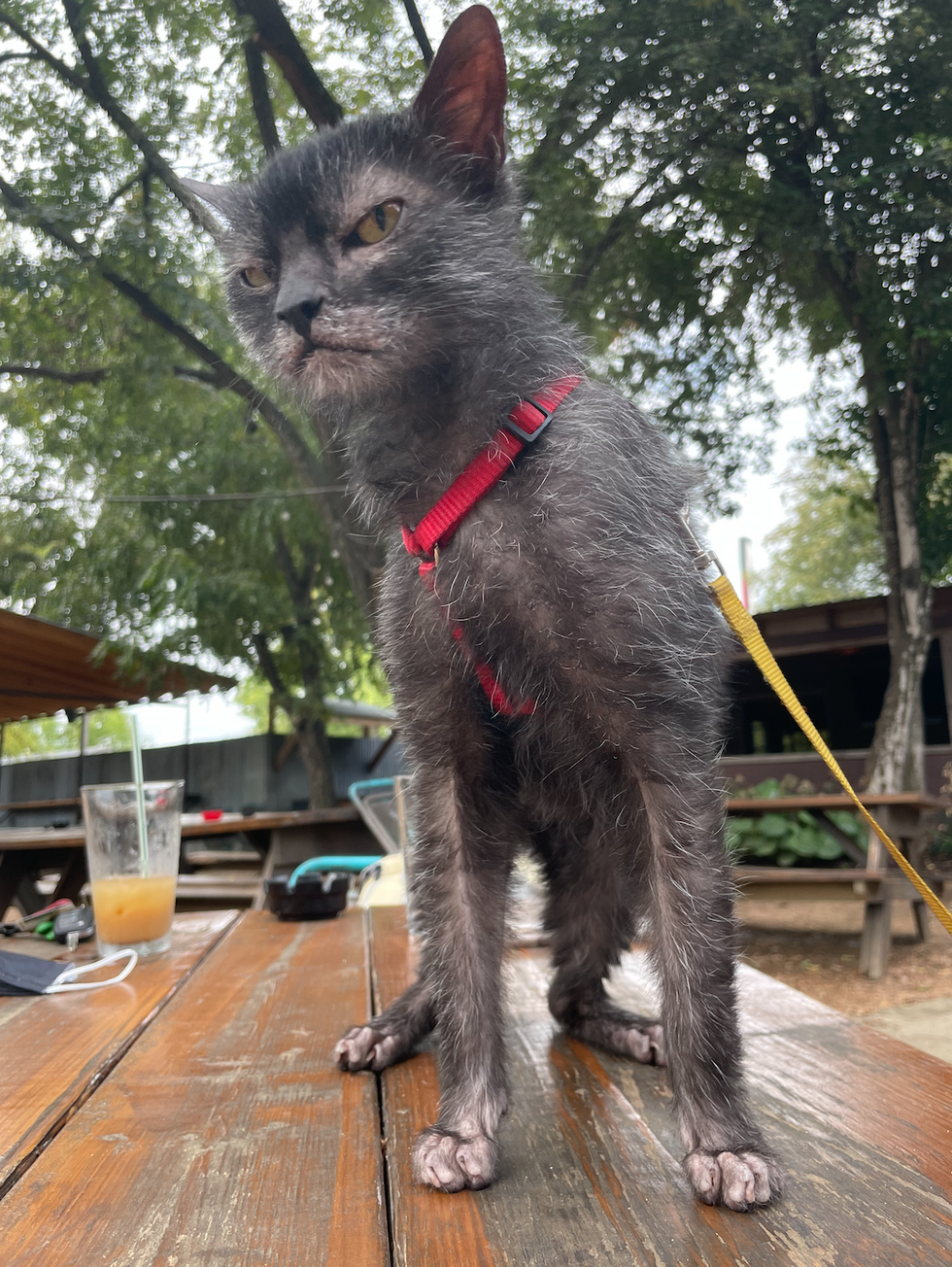 Chupie before getting a treat. (Claire Partain/Austonia)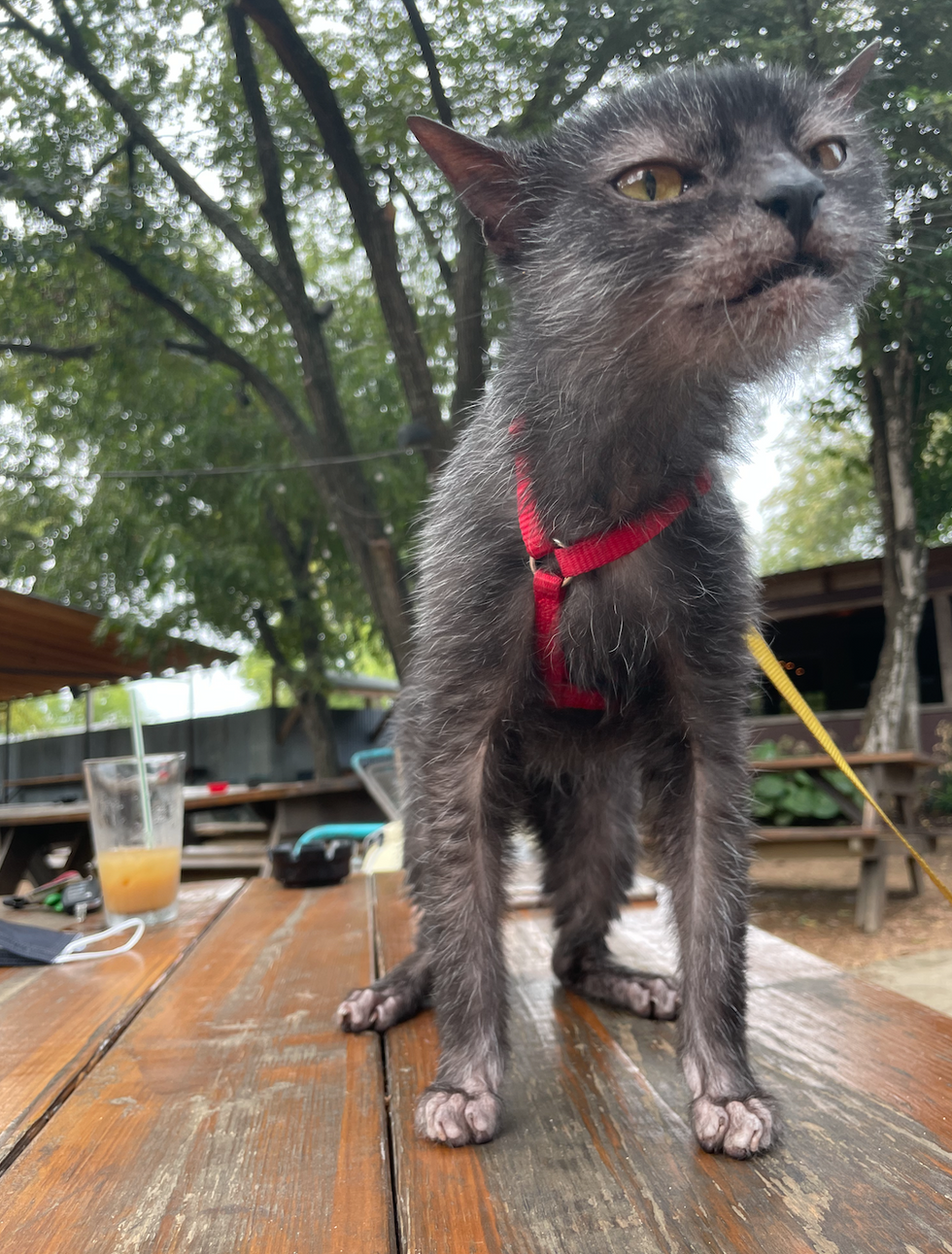 Chupie after he gets a treat. (Claire Partain/Austonia)
"He's living better than me probably," Michelle joked. "We live our lives well together. But I've never done so many things in one weekend until I started making these videos."
So what's next for Chupie? Michelle hopes one day she can take her kitty on global adventures where he can meet fans. For now, she's busy making Chupie merch, sending out care packages and is looking forward to taking her pet to animal events like the POP Cats festival on Saturday.
"This has gone way further than I ever imagined, and it's about Chupie, but it's also about the 'I don't give a meow' attitude," Michelle said. "I think people need to take life less seriously, so it's nice to be an outlet for that."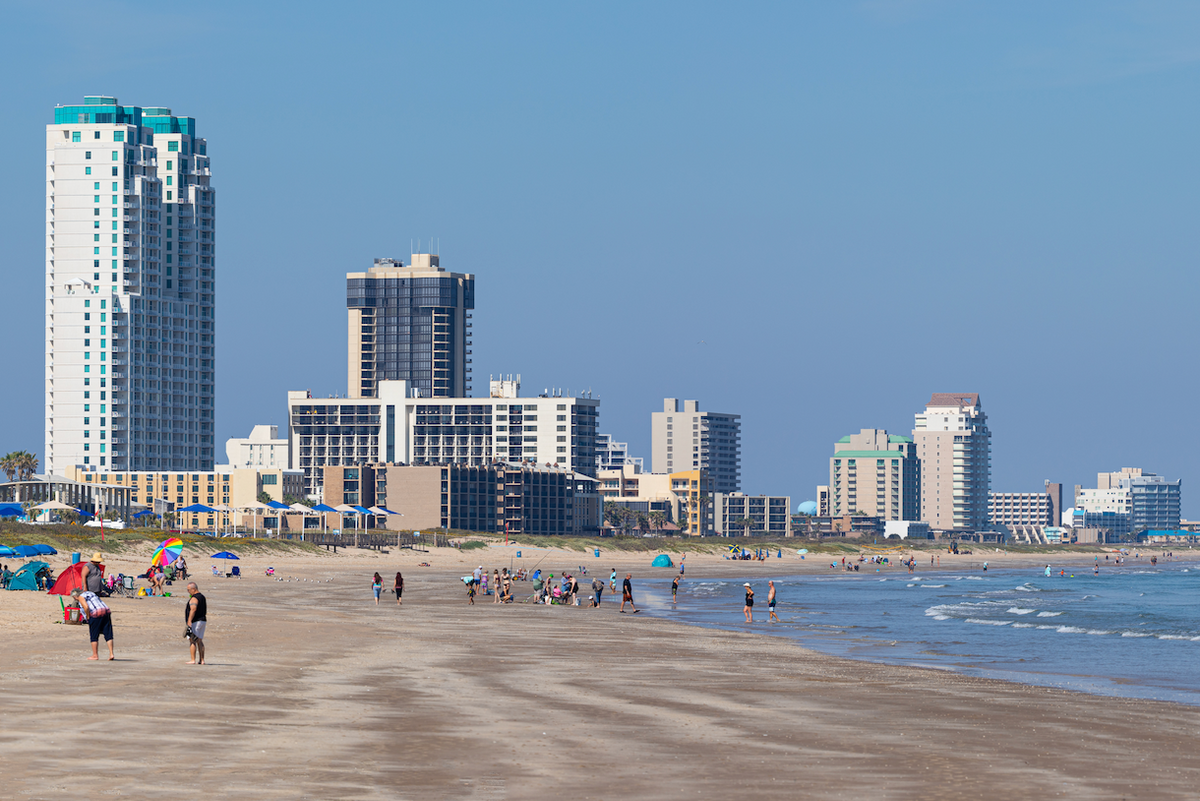 With soft sand, plenty of beach bars and the best ceviche, there's arguably only one beach worth going to in Texas—South Padre Island.
You might know this beach as a college student's spring break hotspot, but really, it's the Rio Grande Valley's most secret gem. From someone who has been going to "the island" every year since before I could walk, here's a guide to the best SPI has to offer.
Weather
First thing's first, don't underestimate how hot South Texas is. Be ready with plenty of sunscreen. If you thought Austin was hot, you're in for a treat as high humidity will make the Valley feel scorching. Luckily, the water offers some reprieve from the sun's rays—still, be sure to bring sunscreen and a hat.
Getting there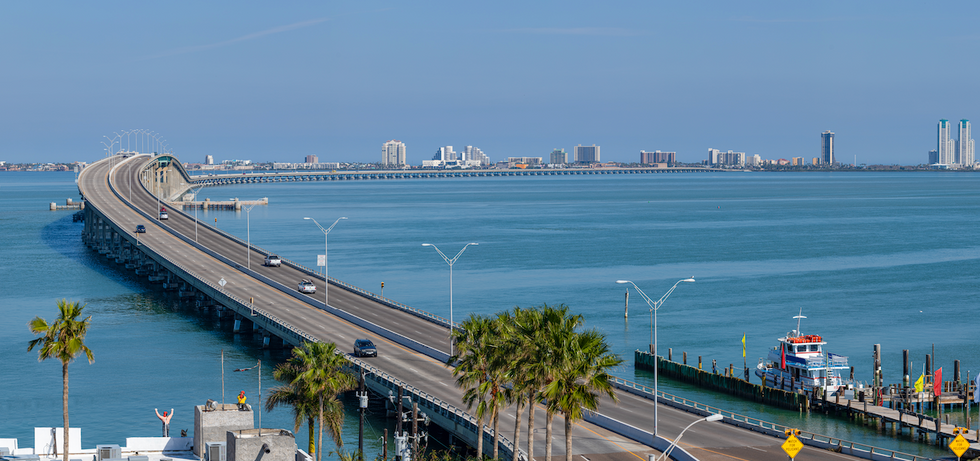 Driving in: From Austin, you can expect almost a six hour drive. Your navigation will take you either around San Antonio (which is a plus for most people) or through San Antonio, funneling to U.S. 77 until you reach Valley grounds in Harlingen.
From there, it might be smarter to take the toll roads, which border the Port of Brownsville and will save you going through small towns like Los Fresnos that can get backed up with traffic.
But if you do decide to hightail it through Los Fresnos, be wary of how fast you are going and the speed limit. Cops are especially on the prowl in those areas, catching out of towners unfamiliar with the speed limit changes.
Still, no matter which route you take, you'll go through Port Isabel before crossing the 2-mile bridge to South Padre. During peak times, such as early afternoon, expect to sit in traffic. Better times to travel are in the early morning.
Flying in: For the people that read a six-hour drive with wide eyes, there is a nearby airport in Brownville, a 40-minute drive from SPI, as well as the Valley International Airport in Harlingen, a 1-hour drive away. Be ready to spend $250-$400 a person.
Sights and sounds
Getting to the RGV, you'll be welcomed with palm trees well before you've made it to the beach. And just before crossing the bridge from Port Isabel to South Padre, you'll see a sign that may be blinking, indicating to watch out for pelicans.
As you drive over that bridge, your passengers will want to get their phones out and take the classic video of the the water, boats and parasailers in the bay. It's the best way to let everyone know you're on vacation!
And don't forget to roll down your window to take in the salty smell of the gulf of Mexico.
Lodging
Resorts: For beach access and the fun amenities that come with that, places like The Pearl, The Palm and The Saphire are where you'll get a resort-style feel.
Affordable: You can still find a Holiday Inn, Ramada and La Quinta along the beach bars.
Airbnb is always an option where you can rent out condos, but you'll want to make sure to book in advance as options may be limited in peak summer.
The beach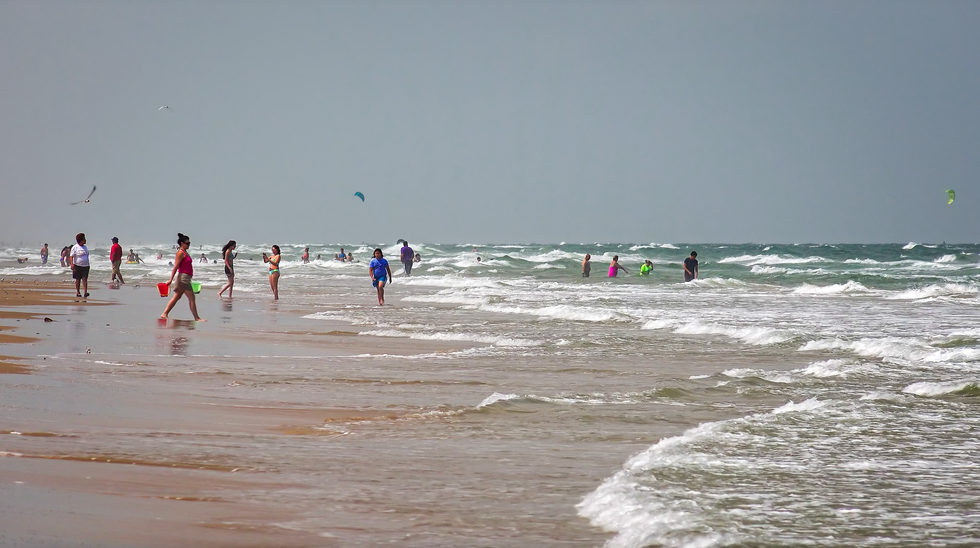 There are at least 25 access points to the beach, which is on the east edge of the island. Some you can only get to if you're a hotel guest. Here are the most popular ways to reach the sand.
Walking to the beach: Between the bars and hotels, you'll find free access points where you get to just park and walk right onto the beach. You're likely to still find umbrellas and chairs you can rent out.
Beach bar access: Some of the most popular places for beach entry are those that come with a nearby bar. But don't worry, all ages are welcome. You'll want to check these bars' social media pages in the evenings if you're looking for live music.
Where you're almost certain to not struggle for parking is one of the hottest spots on the beach: Clayton's Beach Bar and Grill. At Clayton's, you're able to get your drink on, get a bite to eat and have access to the beach and volleyball courts.
A smaller, but just as cool alternative is Wanna Wanna Beach Bar and Grill. With the same amenities as Clayton's, you can't go to Wanna Wanna without trying a turbo, a pina colada with a rum floater—you can get these just about anywhere on the beach, but they just taste better beachside.
*Tip: If you're not trying to take your own chairs and umbrella, don't worry, you'll see umbrellas and chairs set up on a first-come, first-serve basis, where you'll pay about $35 to use the umbrella and two chairs for the day. And don't worry about paying before, just sit down and a beach worker will come collect your cash.
Driving on the beach: If you want to try your four-wheel drive on the sand, you can! Access points #5 and #6 allow you to pay a small fee to take your vehicle out there. Click here to see how you might prepare your vehicle for the sand. If you choose to go with this option, you'll want to make sure to pack appropriately as there are no rentals or bars nearby.

More fun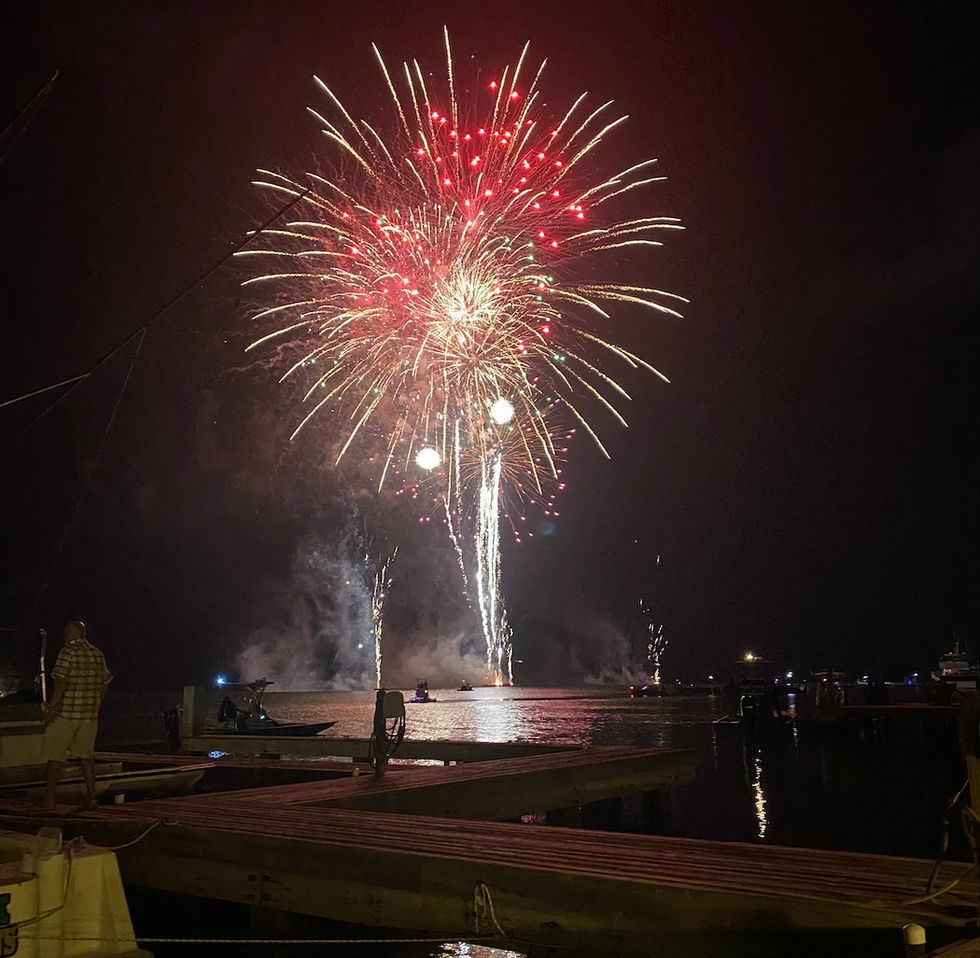 If you're trying to make the most of your South Padre getaway, we have you covered with things for the whole family as well as the nightlife scene.
Watch the fireworks: Catch a fireworks display at the island all summer long. Catch them displayed on the bay in front of Louie's Backyard on Tuesdays and near Clayton Beach Bar on Fridays and Saturdays.
Beach Park and Isla Grande: The former Schlitterbahn is now a beach park that opened in 2021. The 25-acre waterpark has water slides, a zipline and beach access. (Day passes are $38.99 for children and $10 more for adults)
Sea Turtle, Inc.: Learn about sea turtles and sea life conservation at the largest state-of-the-art sea turtle hospital. You'll be able to get up close and personal with the turtles! ($4 for children, $10 for adults)
Gravity Park: For the adrenaline junkies, this park has the tallest reverse bungee in the world ($25), a skycoaster ($25), go-karts ($15-$20), mini-golf ($8-10), a 60-foot ferris wheel ($8), and a climbing wall ($8).
Sandcastle exhibit: Right next to Gravity Park is a small sandcastle exhibit that is free and about a 5-minute walk to see all the exhibits made entirely from sand by professionals. (Free w/ donations accepted)
Get in on the water sports: A couple of rental places like Coconut Jacks SPI offer jet skis for rental as well as equipment for parasailing.
Rent a pontoon boat: Tritoon Charters allows you to rent a pontoon boat for the day perfect for the whole family. The charter offers private snorkeling, shell hunting, up close dolphin and turtle encounters, tubing and sight seeing.
Party like a local: Escape the beachside and head to the west edge of the island for live music and dancing. Tourists love to flood Louie's Backyard, but there are other bars along the bay worth going to such as Longboard, Laguna Bobs and Tequila Sunset.
Food
You can't leave the island before eating ceviche and fried shrimp. And you can't go wrong by eating at the already mentioned beach bars and bay bars. But here are some other notable places to visit:
Breakfast: Yummies Bistro and Grapevine Cafe are both places to get your breakfast tacos in the morning.
Lunch: Cafe on the Beach are good midday options to catch a quick bite without sacrificing quality.
Dinner: F&B is about as upscale as it gets if you can snag a reservation—Elon Musk has been spotted here. They also offer Sunday brunch.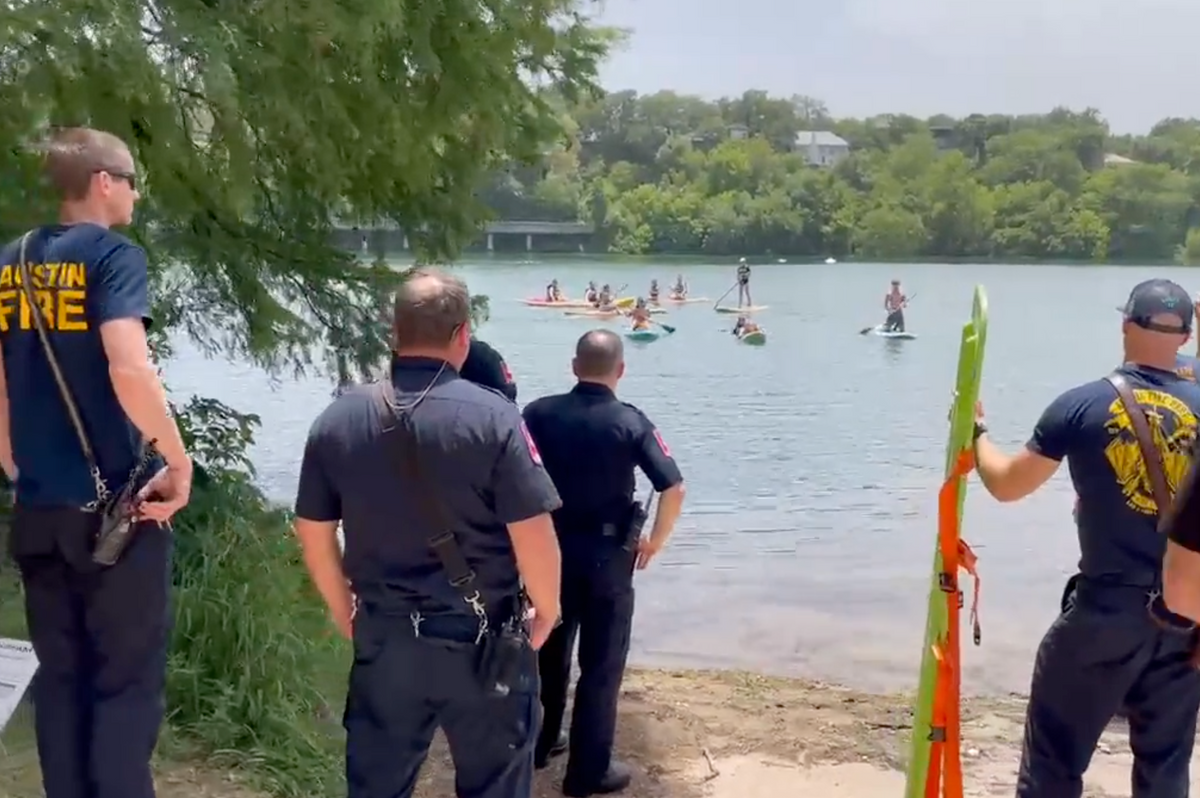 The pilot of a small plane is now in the hospital after crashing into Lady Bird Lake Thursday afternoon.
The plane, which was being operated by a Texas Parks and Wildlife Game Warden, only had the pilot in it when it crashed just west of I-35 in the lake around 2 p.m. Nearby paddleboarders are seen taking the unidentified pilot to Austin-Travis County EMS in a video.
The pilot was then transported to Dell Seton Medical Center with potentially serious injuries.
Texas Parks and Wildlife said the plane, a 2009 Cessna T206, was on a test flight after routine maintenance when the pilot reported mechanical issues and then crashed.
As of Thursday afternoon, it is not known when the plane will be removed from Lady Bird Lake.