Get connected with our daily update
(Pexels)
About 50,000 Austin-area users have already downloaded Citizen, a smartphone app that reports real-time police and emergency medical threats. Austin is already one of Citizen's most popular cities since the company soft-launched here late last year.
---
"It's one of our top markets after cities like New York City, Los Angeles and Chicago," Citizen spokesperson Lily Gordon told Austonia via email.

The app relies on hired analysts and user-generated content to track every 911 call and public safety dispatch in the city. Users receive alerts about nearby incidents directly on their cell phone lock screen, and reports are updated live with additional details as well as audio and video recordings as they become available.
While there are numerous services similar to Citizen, including the city-built Austin PD smartphone app, Citizen claims to be the most popular since its launch in 2017. In total, the app has been downloaded by 5 million people across 20-plus metropolitan areas.
Citizen has already live reported several notable events in Austin. In addition to daily local COVID-19 updates, the app served as an information resource during downtown social unrest in late May and June.
More recently, Citizen dominated coverage during two September news events: when five boats sank during a pro-Donald Trump boat parade rally on Lake Travis (Sept. 4) and again when two construction cranes collided, injuring 22 workers in the Mueller neighborhood (Sept. 16). During both news events, the smartphone app scooped some local news outlets with live breaking news updates from analysts and Citizen users.
"We were proud that we were able to provide real-time updates on this major story to more than 30,000 Austinites and be a resource for local news outlets," Gordon said via email. "As a real-time safety app, this example points to how we are in a unique position to provide up-to-the-minute updates about developing public safety incidents."
As part of its "official" Austin debut in April, the company hired freelance help to increase activity on the platform. Austin native Brian Smith, who runs @txmobilenews on Twitter as a freelance videographer, helped Citizen cover breaking news events in Austin as part of its "Street Team Program." He posted videos of public safety threats directly to the app, getting paid for each scene he documented.
The street team disbanded after the first month because of COVID-19 health concerns. Smith did similar stringer work while living in New York City. But Austin doesn't have as many breaking news stringers—think Jake Gyllenhaal's character in "Nightcrawler"—as the larger news markets.
"I'm kind of the only one who does the videos for the television networks," said Smith, who works as head of sales for a technology startup during the day. "This market just doesn't support it."
Even though Smith is no longer paid by Citizen for his side hustle, he still uses the app to find breaking news events to cover for the highest bidder. He even posts the occasional video clip from a news event as long as it doesn't compete with his freelance work.
From his experience, the app has proven reliable and accurate, and it's only improving.
"I do believe the people behind Citizen are committed to doing the best they can to put the best information out there to inform the public," Smith said.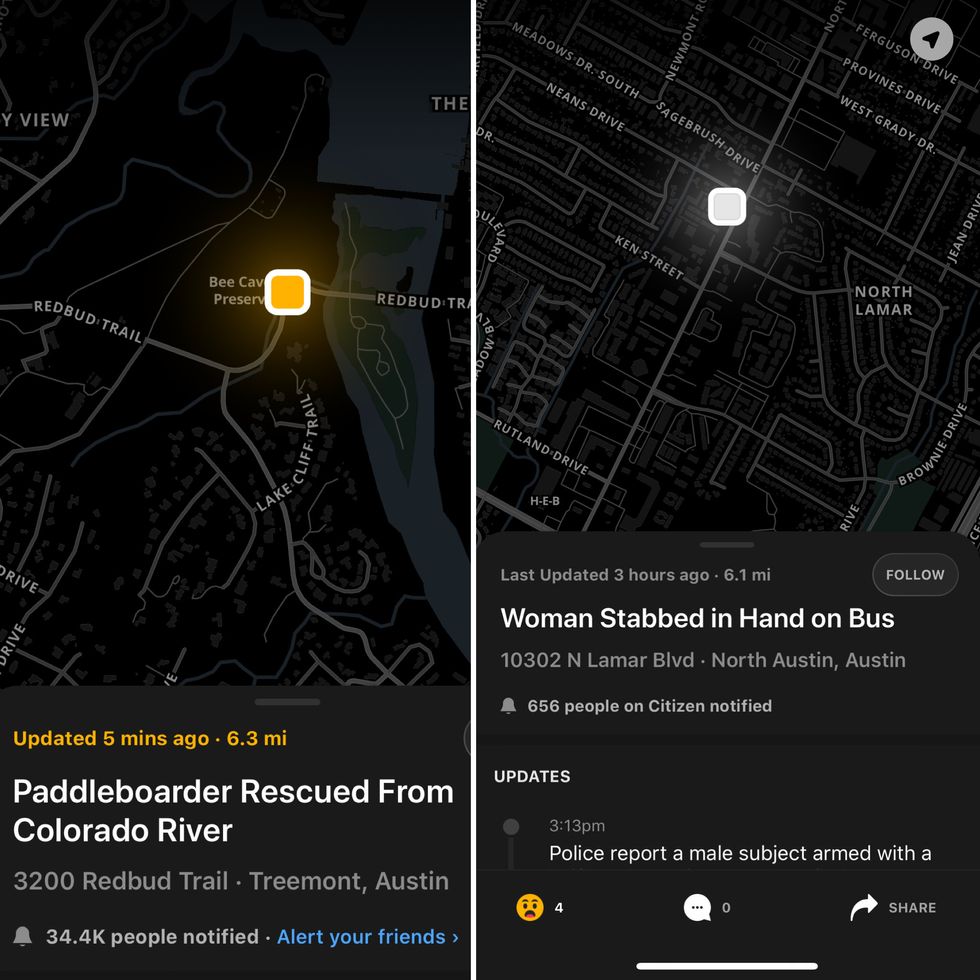 Public safety alerts are blasted to Citizen users each time a 911 call is documented. Users can customize the extent they receive alerts.Citizen app
Many users on Citizen promote news from the app on other social platforms, including Westlake resident Dennis Lastor, who posts the occasional breaking alert to Twitter. The city has become less safe since he moved here 21 years ago, he said, and Citizen helps document the extent of the issue.

"I wanted to see what kind of crime was going on and what kind of increase might be going on, and Citizen app was the only direct source showing the reality of what kind of crime was going on," said Lastor, who downloaded the app about three months ago.
Lastor, an engineer, says Citizen provides data that shows a rising crime trend as well as bizarre anecdotes about public safety risks in Austin. For example, there have been reports of multiple people chased by a machete-wielding man in one neighborhood, he said, and more than a dozen 7-Eleven convenience stores have recently been robbed.
According to the latest crime report from the Austin police chief, crimes against persons and property crime are down so far this year. Lastor acknowledges the app has the potential to confirm his own bias, so he also relies on other news sources to balance out Citizen.
Lastor and Smith also both reject any comparison to Nextdoor—another hyperlocal reporting service—which is sometimes ridiculed for its unsubstantiated "suspicious person" posts. In fact, Lastor just deleted his Nextdoor account.
"(Citizen) can be hypervigilant, so you may think it's World War III when it's just an average day, but the upside beats the downside," Lastor said.
The Texas French Bread Bakery, located on 2900 Rio Grande Street, has been completely destroyed after a fire erupted on Monday night.
The Austin Fire Department responded to the fire just before 11 p.m., where they arrived to see flames coming from the roof of the bakery. Firefighters fought the fire for about an hour before the roof collapsed.
While no one was injured in the fire, firefighters say the historic building was completely totaled.
AFD determined that the fire was accidental and caused by mechanical failure. AFD said the damages amounted to $1.6 million total: $1.1 million in structural damage and $500,000 in damage to the contents of the bakery.

This year, Texas French Bread will celebrate 40 years of business. Before the bakery occupied the building, it was the Rome Inn, a music venue that hosted 1970s artists like Stevie Ray Vaughan.
Austin's first major league team is ready to extend its reach with a new collaborative sports complex The Pitch, an Austin FC destination packed with local food, beverages and Verde fervor is set to open in Northeast Austin in February.
The Pitch, a collaboration between Austin FC and Karlin Real Estate, among other entities, will be located in the 50-acre Parmer Pond District, which already hosts the club's practice facility St. David's Performance Center.
Dubbed a "true destination" for both soccer fans and the community, The Pitch will consist of multilevel shipping containers designed by Mark Odom Studio that will carve out into a 1,200-seat stadium complete with a soccer pitch made of turf, food and beverage options and a five-acre "Parmer Pond" featuring jogging trails.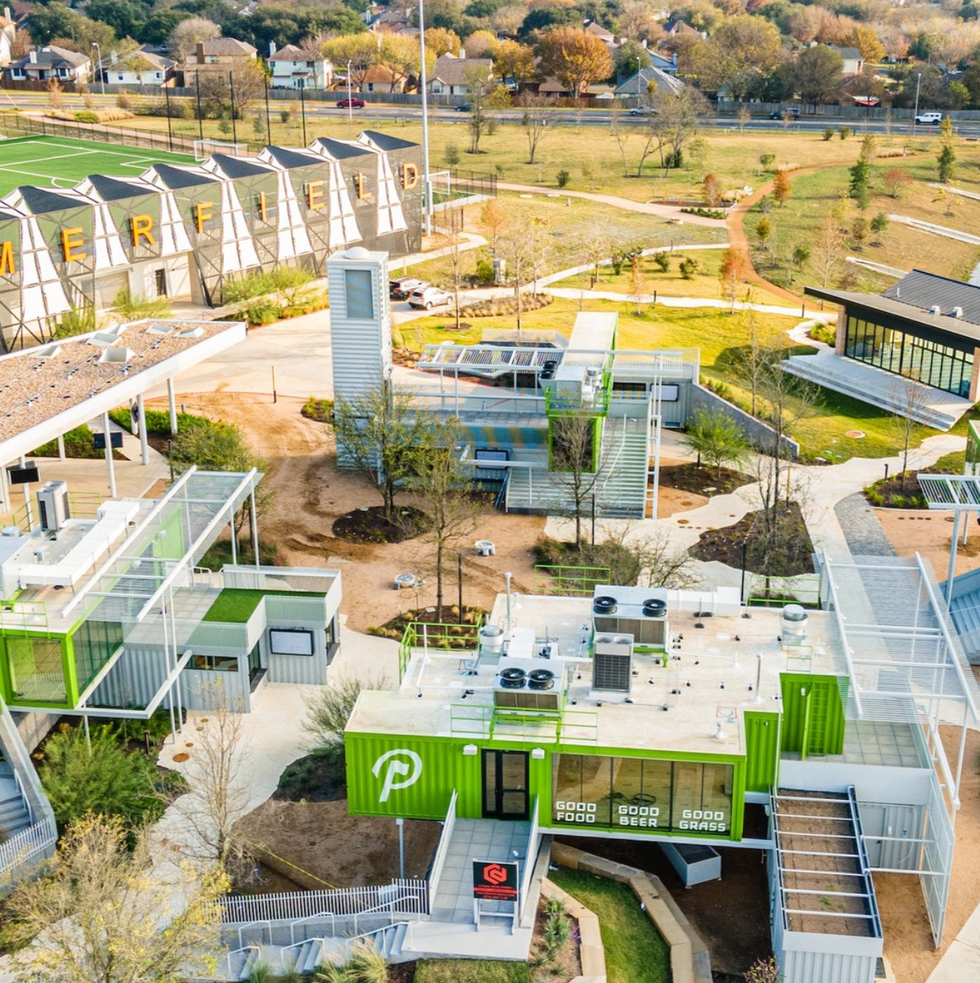 Made from multilevel shipping containers, The Pitch will include food and a 1,200-seat soccer pitch made from artificial turf. (The Pitch)
"The launch of Karlin's new food and entertainment experience will greatly enhance the Parmer development while perfectly complimenting St. David's Performance Center," Austin FC founder Anthony Precourt said. "The Pitch... will offer a strong variety of food options and gathering spaces for guests who will utilize St. David's Performance Center and Parmer Field for a variety of events."
The Pitch project lead Dave Greeley, who helped come up with the concept, is a former president of Austin FC parent company, Two Oak Ventures.
"The vision behind The Pitch at the Parmer Pond District is to be a first-of-its-kind sports, dining and entertainment destination," said Dave Greeley, The Pitch project lead and Team Orbis president. "This will be an unmatched experience for Parmer Austin tenants, Austin FC and club supporters, and the community."
With its proximity to the practice center, the venture hopes to contribute to the growing "soccer city" of Austin during Austin FC matches and youth games with the Austin FC Academy hosted at the St. David's Performance Center.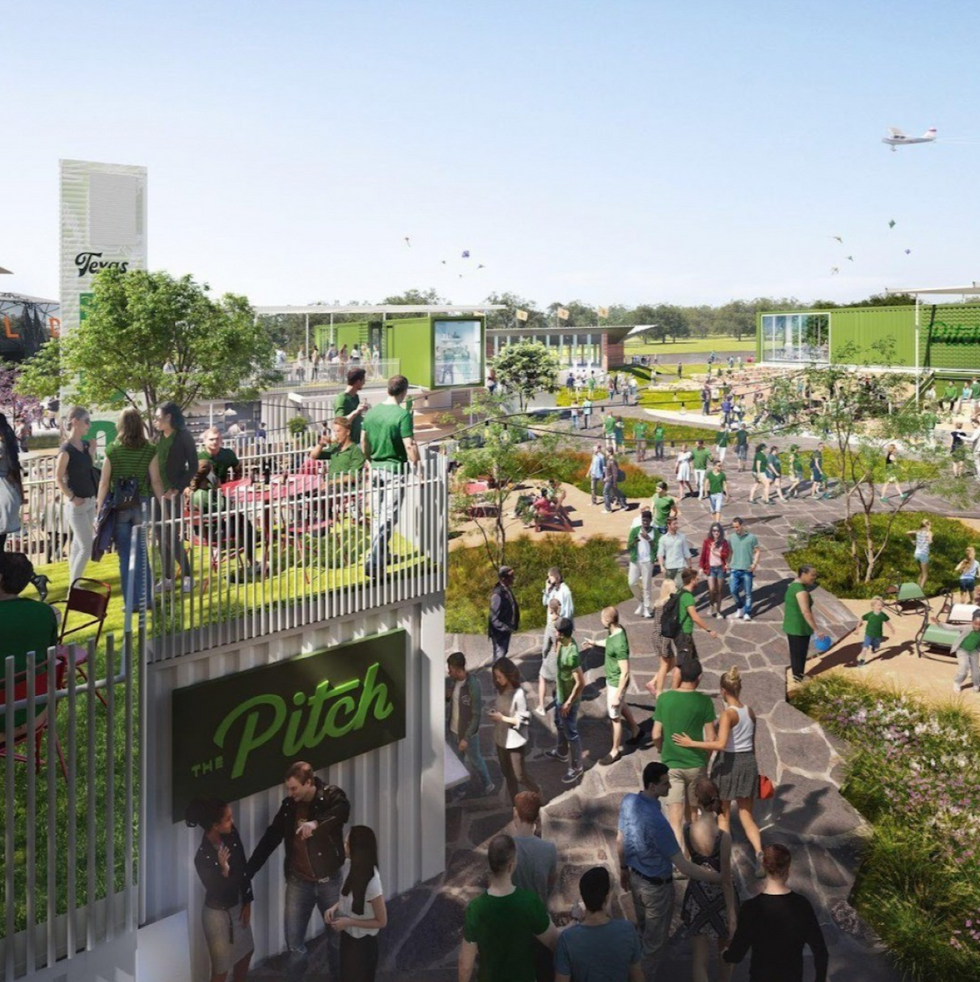 The Pitch hopes to converge both community and club interests with Austin FC. (The Pitch)
In addition to the soccer pitch, stadium and pond, The Pitch will provide a foody experience made by the creative team behind Austin staples like Fareground and Easy Tiger. The complex will offer local bites including:
Ranger Burger, which offers beers and burgers made from highly-coveted Wagyu beef direct from Ranger Cattle in East Austin
Ga Roti, which merges flavors from Northern Vietnam with the culinary techniques of France to create a unique rotisserie chicken joint
Taco Flats, a local taco chain serving Mexico City-style tacos, micheladas and more
Sand Bar, which fulfills its namesake with beauty cocktails, local beers and a sand volleyball court
Coffee Club, a coffee shop and bakery
Corner Kick Bar, the soccer-focused main bar of The Pitch complete with "tunes, TVs and (a) beer garden"
The Pitch will squeeze between St. David's Performance Center and Parmer Pond alongside the southern edge of Parmer Austin, a Karlin Real Estate venture that will eventually include multifamily housing, corporate office space and an aerospace and defense center.