Get connected with our daily update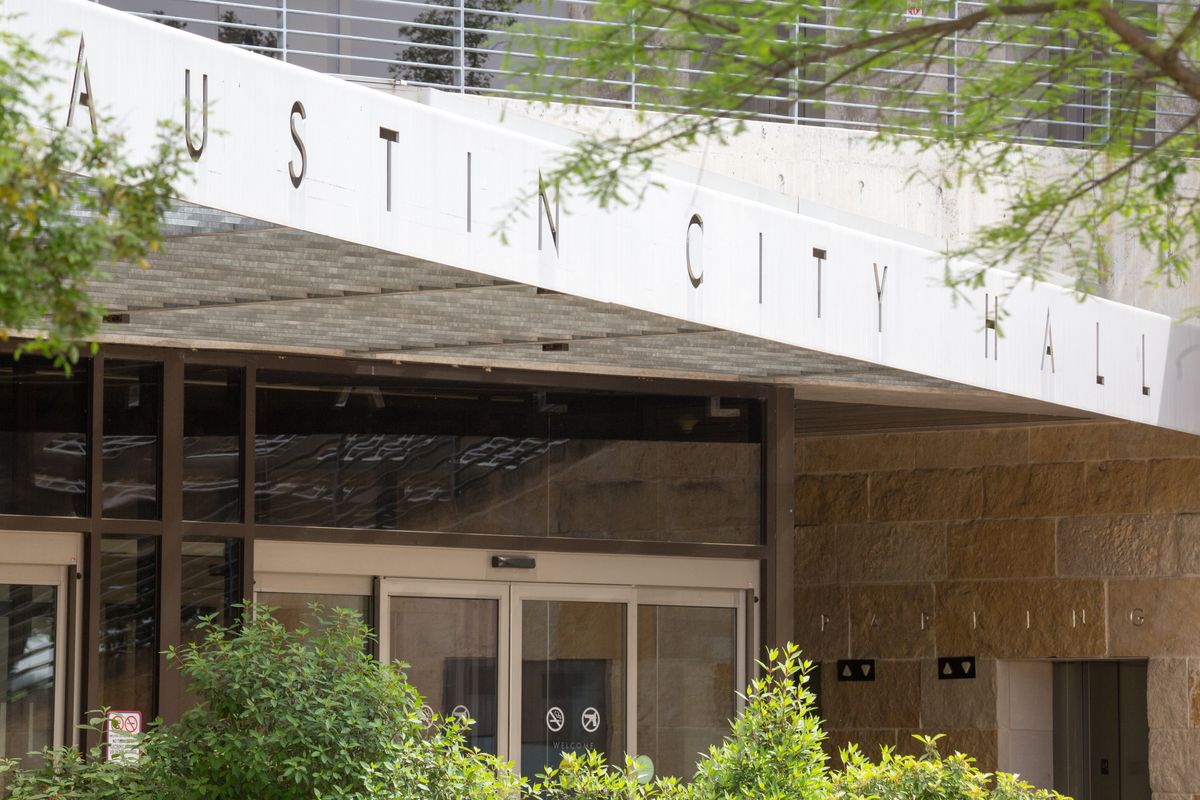 Austin City Council is expected to answer several lingering questions Thursday: Will the city take the next step in a proposed Austin Convention Center expansion effort? Will a South Austin neighborhood annexation be called off? And are budget changes coming to the city's code department?
---
As of Monday, there are 68 items on the agenda, including 52 items up for unanimous consent. Council will hold a virtual work session at 9 a.m. Tuesday before its scheduled meeting at 10 a.m. Thursday, both of which can be followed live online.
The legacy of Supreme Court Justice Ruth Bader Ginsberg will also be recognized as part of a resolution expected to be approved unanimously by council members. City Council members discussed plans to honor Ginsberg on the city message board. A copy of the resolution can be found here.
Ginsberg, an associate justice since 1993 until her death Sept. 18, became an inspirational figure and an icon for her gender equity efforts. Her death sparked an ongoing Supreme Court confirmation battle at the U.S. Senate, with hearings starting this week to confirm candidate Amy Coney Barrett.
Here is a rundown of other notable items on Thursday's agenda. Let us know below what issues you plan to follow.
#3: Convention Center expansion update
This agenda item would allocate $6.3 million for city officials to negotiate land sales with property owners at downtown blocks #16 and #32 adjacent to Austin Convention Center. The proposed expansion project would add event space west of the existing facility where Fogo de Chão, MAX's Wine Dive, Vince Young Steakhouse and several other businesses are located.
#13-#18: Shady Hollow MUD fire protection/canceled annexation
Several agenda items attempt to authorize the latest agreement between the city and Shady Hollow Municipal Utility District (MUD) in South Austin. The MUD would no longer be annexed by Austin, under the proposal, in exchange for ownership of the existing fire station and water/wastewater system as well as compensation for fire services.
For more details about the proposal, the city recently released a memo outlining the actions being considered Thursday.
#19-#20: $7M in proposed land conservation purchases in Hays County
Two agenda items authorize the city to negotiate and execute $7.01 million in combined land sales on 560 acres of land across two Hays County properties to create conservation easements. The Nature Conservancy of Texas would manage the real estate transaction based on its conservation expertise, based on council agenda items up for approval Thursday.
Both properties are located in the Barton Springs Recharge Zone. The city would purchase the land using money from the voter-approved 2018 open space bond.
"The acquisition will prevent non-point source pollution from potential development entering the acquirer and impacting downstream aquatic resources," city documents read. See maps of the proposed conservation easements here and here.
#22-#23: Vision plans for Walter E. Long Park and John Treviño Jr. Metropolitan Park
Proposed vision plans for two major Austin green spaces will be introduced to council members Thursday.
When it was developed in the 1960s, early plans for Walter E. Long Metropolitan Park in East Austin called for a golf course. But a revised vision plan based on recent residential feedback is expected to be presented to council members Thursday.
Additionally, council members will consider a vision plan for John Treviño Jr. Metropolitan Park, an undeveloped 330-acre park just south of Walter E. Long Park in East Austin. The park is a former ranch purchased by the city in 2003.
#50: Propose budgetary changes to code department by Nov. 20
Several council members co-sponsored a resolution asking city staff to consider budget and fee changes to the Austin Code Department in an attempt to "reimagine public safety."
The draft resolution calls on a proposal to return to council by Nov. 20 with budget plans that can be enacted by March 2021 based on public safety recommendations set out in recent city audits.
Those changes essentially attempt to decrease service calls taken by Austin Police Department and move those duties to code enforcers.
#66: 508 Kemp Street rezoning
The final readings are expected on a Montopolis neighborhood zoning case that requests a change at 508 Kemp St. from family residence zoning to townhouse/condominium residence zoning.
This case is interesting because city staff recommended not to approve the rezoning request, but the Planning Commission did so in June. The neighborhood responded with a valid petition opposing the rezoning requests, with nearly a third of adjacent property owners' support.
Furthermore, the Montopolis Neighborhood Planning Contact Team voted to oppose the rezoning request. This contact team's recommendation typically carries weight with City Council members when considering rezoning cases within designated neighborhood planning areas.
The first reading passed council 7-2, with Council Members Alison Alter and Kathie Tovo voting against, and Council Members Leslie Pool and Ann Kitchen abstained. The council agreed unanimously to a neighborhood request to postpone the case at its Oct. 1 meeting.
More on city council: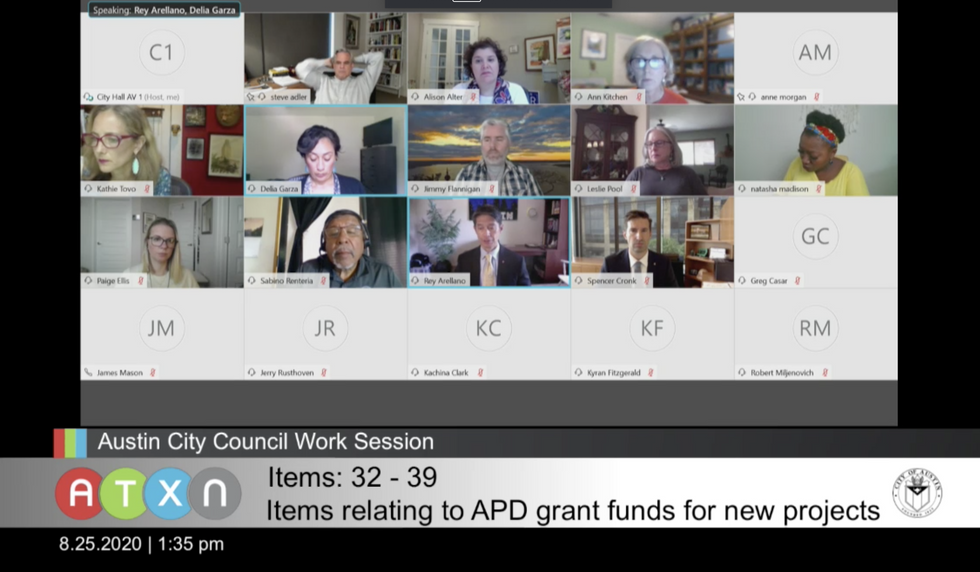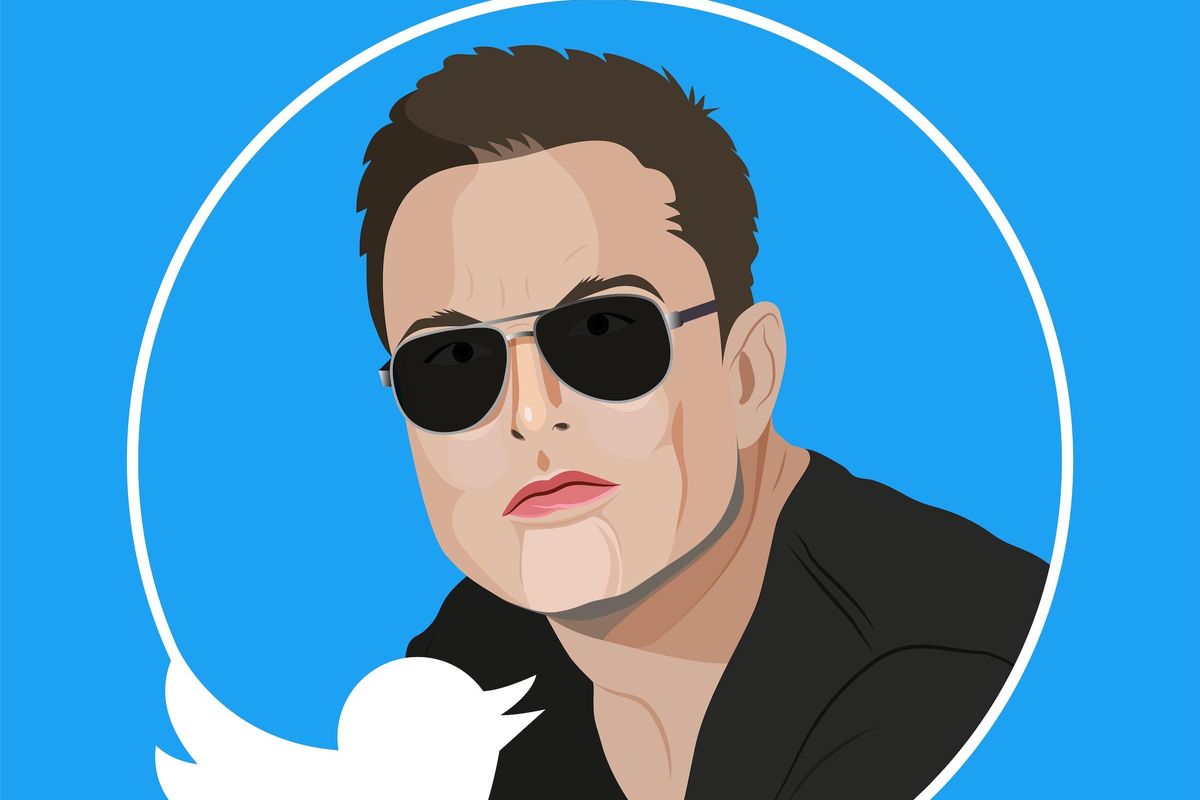 Shutterstock
Elon Musk has proposed once again to buy Twitter for $54.20 a share.
The news that Musk is offering to carry on with the $44 billion buyout was first reported by Bloomberg. Now, a filing with the Securities and Exchange Commission shows Musk made the proposal in a letter to the tech giant on Monday.
The New York Stock Exchange temporarily halted trading in Twitter stock twice Tuesday, first because of a big price move and the second time for a news event, presumably the announcement of Musk's renewed offer.
While the per share offer price on this latest proposal remains the same as the original offer, it's unclear if Musk has made other term changes or if Twitter would reject it. According to other reports, a deal could be reached this week.
The stock closed at $52.00/share Tuesday, indicating market uncertainty around the $54.20 offer.
After Musk informed Twitter of plans to terminate the original agreement in July, Twitter sued. A trial has been expected in Delaware Chancery Court on Oct. 17.
With the proposition of a buyout on the table again, it revives the question of whether Musk might move Twitter from San Francisco to Central Texas.
He's done so with some of his other companies. Tesla's headquarters in southeast Travis County had its grand opening earlier this year and tunneling business The Boring Company moved to Pflugerville. At least two other Musk companies, SpaceX and Neuralink, have a Central Texas presence without being headquartered here.
Technology journalist Nilay Patel this afternoon voiced concerns that owning Twitter and Tesla together could be problematic for Musk, as his Tesla manufacturing facilities in Germany and China are both in countries that have disputes with Twitter over content moderation and censorship.
Telsa shares fell after the Twitter news became public, before rallying to close up, at $249.44.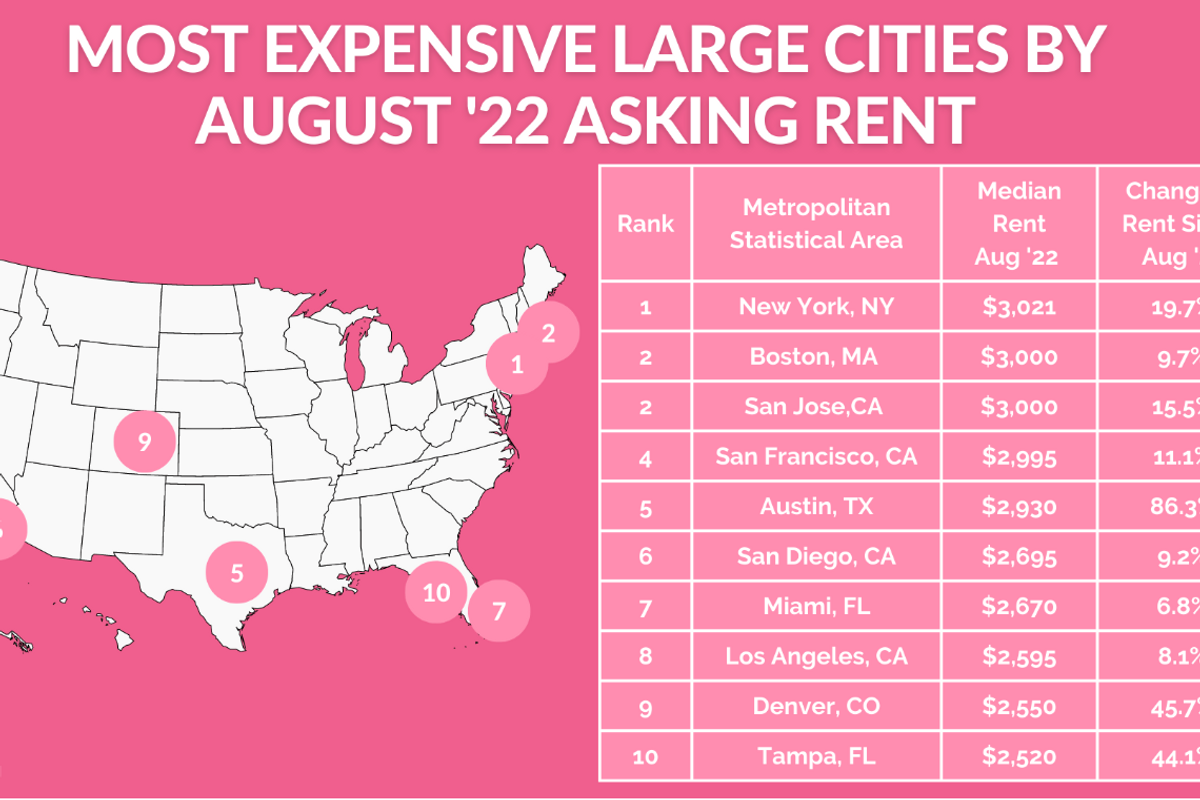 Dwellsy
While searching for a place to live, Austin renters will face monthly rates of nearly $3,000, a recent guide from rental marketplace Dwellsy shows.
The median rent in August this year was $2,930, a more than 86% increase since August 2021. That's $820 more than the nationwide median asking rent in August and puts Austin just below the Bay Area, Boston and New York for large cities with the most expensive asking rent.
"Within this group, Austin, TX stands out for the highest increases in asking rent, which has nearly doubled since this time last year," the study notes.
Outside of those large cities, however, others are seeing even higher rent spikes. Metro areas that ranked above Austin in one-year increases include those like Kansas City, MO with a 112% change in rent since last August and Tucson, AZ with a 124% change.
The data reflects large apartment communities, single-family homes and 2-6 unit buildings.