Austonia AM
100% Austin news, info, and entertainment, straight to your inbox at 6 a.m. every morning.
In five minutes, you're fully informed and ready to start another great day in our city.
Get connected with our daily update
As of Friday, 28,717 doses have been administered by the city of Austin, but with a constrained vaccine supply, the city is asking people in group 1B, who are not 65 years or older, to give up their place in line.
"We would really appreciate that those 65 and under please consider allowing a person that is 65 years and older to take your spot," Austin Public Health Direct Hayden-Howard said, in an effort to protect the most vulnerable population.

---
Currently, no proof of having a preexisting condition is required to get the vaccine.
While 1B consists of the elderly community, as well as those with preexisting conditions, APH shifted its focus to the elderly community last week. And now, officials are asking Austin residents to do the same.
Although hospitalization rates are flattening, Austin city officials say the current amount of distributed vaccines is not enough on its own to bring down case rates to a more manageable level. Travis County is still seeing over 600 new cases a day.

There has been some confusion that vaccine distribution means social distancing rules can be relaxed. However, Hayden-Howard said it is vital to stay home, wear masks and prevent transmission to friends and family in order to keep case rates down.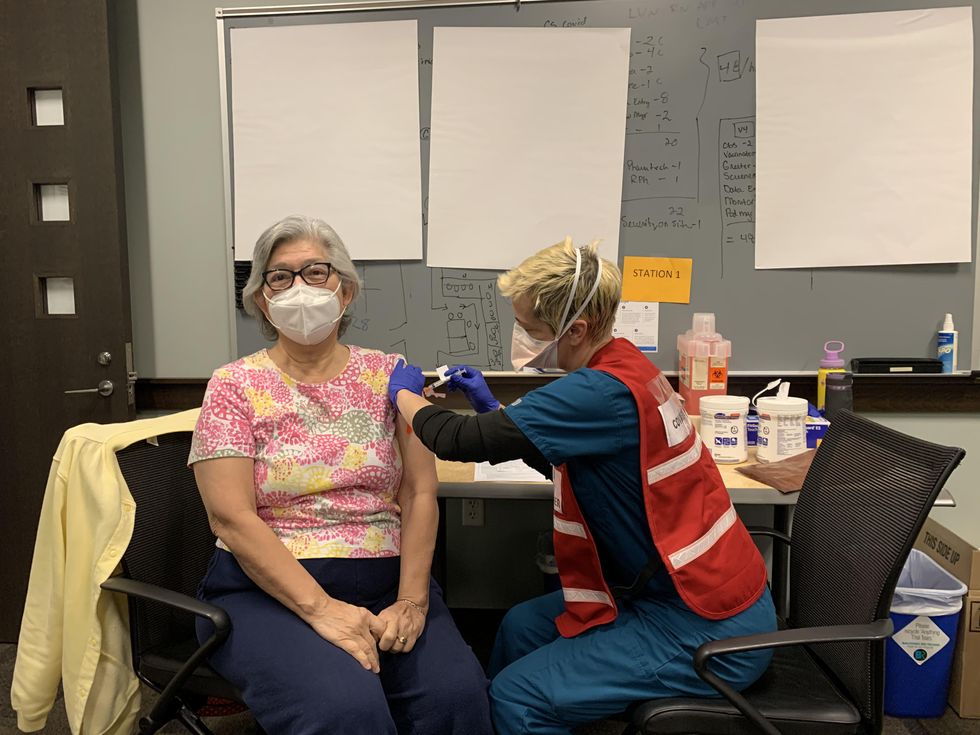 An Austin ISD teacher recieves the COVID-19 vaccine this month. (Ascension Seton)
Among those vaccinated this week included 900 teachers and 11,100 pre-registered people who qualified for phase 1B.
Among those left out of Phase 1B include children 16 and under, regardless of preexisting conditions. Although case rates in middle and high schools are high, Austin-Travis County interim health authority Dr. Mark Escott said that the majority of these cases are not being transmitted in classrooms but in extracurricular activities and that minors are at a much lower risk of complications due to COVID-19.

"The data still supports that infection rates in middle and high schools are higher, (but) I want to be clear, the spread is not happening in the classroom space," Escott said. "The spread is happening in extracurricular activities. The data that we have in hand right now is that this disease tends to be mild in young people, so we don't have the same level of concern as we do with older adults."
This week, the city also began administering second doses to the 1,300 people who received their first dose in mid-December.
The city has continued to administer the Pfizer and Moderna vaccines, which require two doses spread three or four weeks apart, but Johnson & Johnson's single-dose vaccine is set to present its data from clinical trials to the FDA in February. The vaccine has appeared to be more effective and easier to distribute in early trials.
Escott said that the vaccine would be groundbreaking for the Austin area.
"The fact that it is a single dose makes it easier to distribute (and) it makes it logistically possible to get it out to smaller areas in the community," Escott said. "It makes it feasible for every clinic, every pharmacy to have supplies so that folks can go to the place where they normally get their vaccinations to obtain this."
In order to make resources more accessible to users, a series of updates have been made to both the Texas Health and Human Services website and the austintexas.gov website, although officials warn that glitches may still occur. Austin Public Health has said they will also contact those who have taken the first vaccine dose to ensure the second dose is administered to them. Both websites include a map of available providers in the state and county.
Hayden-Howard said that as the system continues to be updated, a number of services will be more easily available to users.
"As the system is updated, folks will go in notice that they can easily access if they want a test, if they want a vaccine, if they are looking for test results, or if they are looking to get their second dose of the vaccine," Hayden-Howard said. "They will clearly be able to see where to click on that information."
Nearly two decades after her debut with the University of Texas and 17 years after her first Olympic gold, softball icon Cat Osterman stepped off the Olympic pitcher's mound for the last time with a silver medal to take back home.
Osterman, a three-time Olympian who has been called the "Michael Jordan of softball," will officially retire from the international realm at 38 after a decorated career that included Olympic golds, years of retirement and plenty of adversity—from a worldwide pandemic to dashed gold-medal dreams.
Osterman and her crew left Tokyo on a bittersweet note on Tuesday with a silver medal in hand.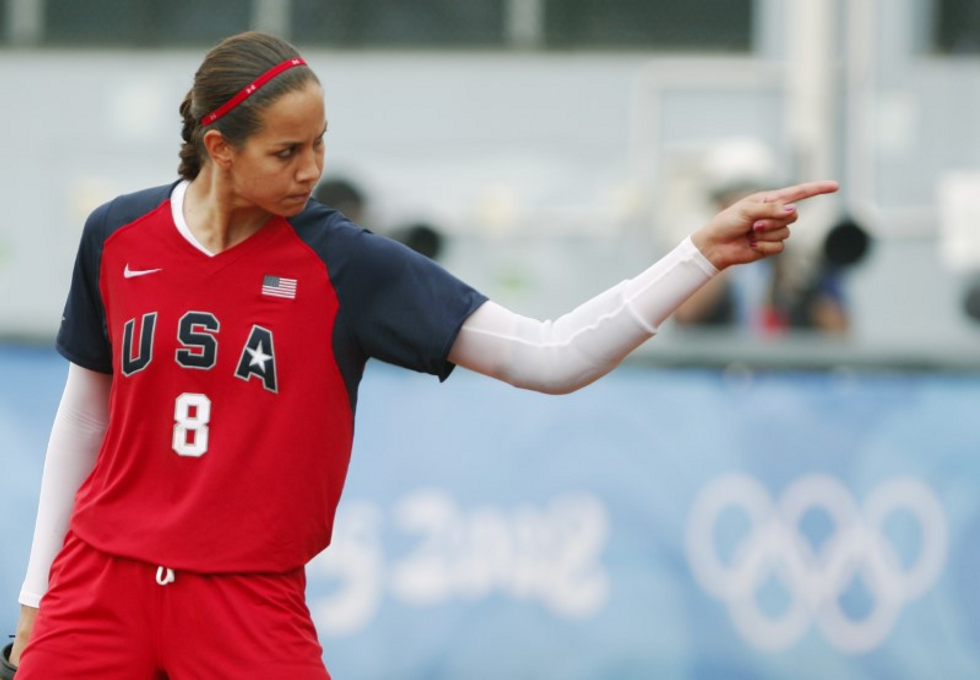 Osterman with Team USA in 2008. (Antoni Majewski/Twitter)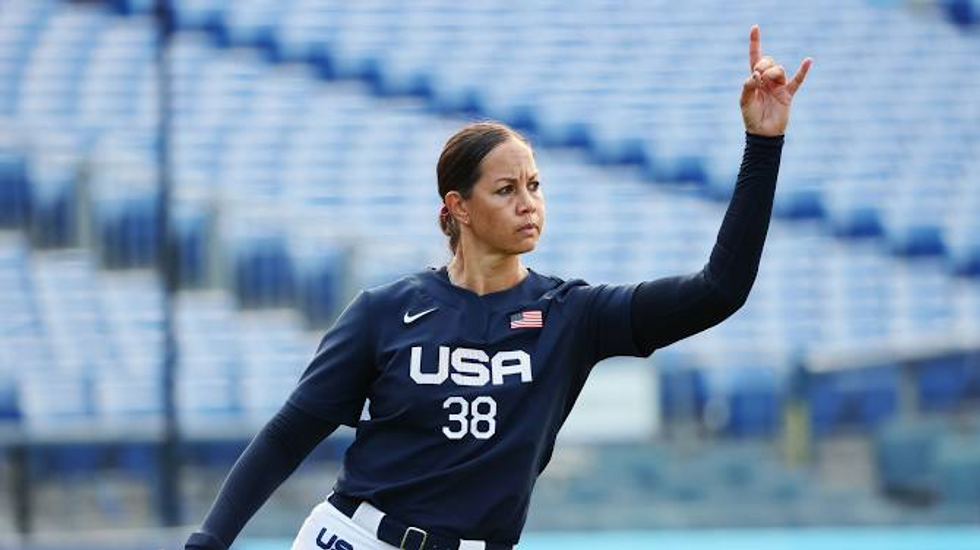 Osterman in the final in 2021. (Antoni Majewski/Twitter)
After a year of sparse in-person training and over a decadelong hiatus, Team USA and Osterman flew to the finals. In five games, the team beat Italy (2-0), Canada (1-0), Mexico (2-0), Australia (2-1), and Japan (2-1).
Deja vu struck in the final match. On one side, Osterman and fellow 2008 Olympic teammate Monica Abbott took the mound; on the other was the 39-year-old Yukiko Ueno, a familiar foe who helped the team beat Team USA last go-round.
"Just like 13 years ago," Ueno said in a press conference, "we were facing each other in the final."
Ueno, who had lost hopes at gold to Osterman in '04, outpitched her longtime opponent with six scoreless innings as Team USA was held to just three hits. The same team that squandered their gold-medal hopes 13 years before had done it once again.
"There's a little bit of disappointment in not bringing home the gold since that's the eye on the prize when you go over there and you know you have a shot at it," Osterman told Austonia. "But more than anything, I'm very proud of the way our team handled everything that was part of this journey and not just the six games."

It's that very loss at the 2008 Olympics that partially motivated Osterman to get back on the mound. She officially put down the glove in 2015 after six seasons with the USSSA Pride, took time with family and began coaching at Texas State University.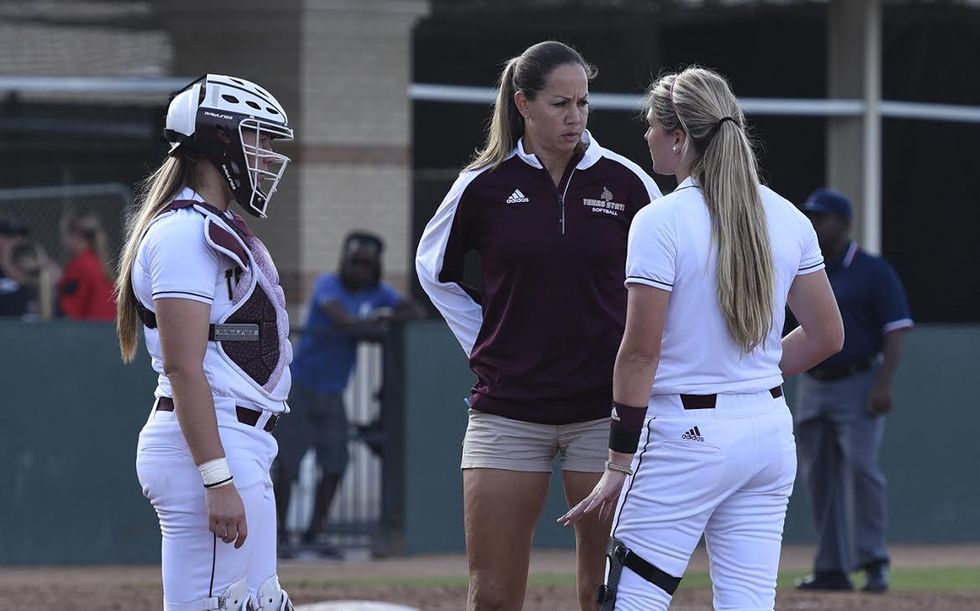 Osterman helped ace Randi Rupp to greatness while a coach at Texas State University. (Active Voice Health/Twitter)
She thought her Olympic endeavors were well over—until talks of reinstating softball into the Games reentered the conversation.
"It wasn't until 2016 or 2017, that it ever crossed my mind to possibly put the USA uniform on again," Osterman said. "After the World Championships in 2010, I walked away, and I thought that my career on the international stage was done. So this was a pleasant kind of new opportunity."
Three years after facing any competition, Osterman was on the field once more with world-class athletes. Some, like Osterman and Abbott, had been playing together long enough to form a formidable "Fire and Ice" duo on the mound. Others had just graduated college.

Osterman said playing with a younger generation of athletes was one of the most rewarding aspects of this year's Games.
"It can be very different when you have 24- and 38-year-olds on the same field," Osterman said. "The adversity put us in some challenging positions and we came through with flying colors. And this group will forever be special just because what we had to go through is so different."
While on the mound, Osterman's job was to give the team a calm start. Off of the field, she felt her role had much of the same effect: she knew that new Olympic feeling, and she served as a deep breath to her first-time teammates.
"There's no words to explain how nervous and excited you get knowing that the whole world can be watching," Osterman. "I think using those emotions and figuring out how to get all our butterflies lined up and going in the right direction, so that way we were all moving together, was kind of my role outside of pitching."
We've heard her retire once before, but this time Osterman said she's gone for good—even from coaching. After her final time with Team USA on Sept. 27, she plans on returning to Austin, where she'll look to work for a nonprofit.
A gold and two silvers will have to do for one of the most decorated athletes in U.S. softball history.
"To be able to say you're a three-time Olympic medalist is a pretty special deal, right?" Osterman. "I played for a long time. But those are the pinnacle, in my mind, and kind of what elicits the dream to keep playing."
Austin is already the Live Music Capital of the World and a major tech hub, but is Tinseltown the next stop for ATX?
Two major Hollywood film studios, HBO and Netflix, have reportedly signed separate short-term leases in Central Texas for parts of this year, ahead of upcoming projects in Central Texas.
According to a report by Austin Business Journal, HBO leased about 110,000 square feet for a year in Kyle Crossing, 1980 Kohlers Crossing in Kyle, about 20 minutes South of Austin. Netflix has leased 20,000 square feet in East Austin, 2008 Alexander Ave, for between 12-18 months.
HBO will film a true-crime series in Lockhart and use the leased space for storage. Netflix will use its space for production but has yet to reveal more details of the shoot.
It is unclear how many people will be stationed at each location—no Austin jobs were posted by the companies as of Monday.
This isn't Austin's first experience in the glamorous world of film; around 400 Central Texans were hired for the AMC production of "Fear of the Walking Dead;" and the CW's "Walker," a reboot of Walker, Texas Ranger, hired Austin actors.
Additionally, Hollywood film production company Line 204 Studios announced in June plans to plant a 546-acre film studio and movie-making facility in Bastrop.
Hospitals are facing a "significant" increase in admissions of pregnant women due to COVID-19 complications, Austin-Travis County health officials say, revealing what could be a long-term side effect of the virus.
Austin-Travis County Health Authority Dr. Desmar Walkes met with three maternal medicine specialists on Monday morning to warn of yet another COVID-19 Delta variant concern: severe cases of the disease affecting unvaccinated mothers-to-be.
The doctors said unvaccinated pregnant women face an increased risk of preterm births, long-term effects, preeclampsia, ICU stays, stillbirths, being put on life support and even death if they are unvaccinated.
"We are really concerned that we are not getting that population of folks to hear this message of the safety of vaccines, so today we're assembled, one and all to say, wear a mask and please get vaccinated," Walkes said. "Vaccinations are the way to prevent severe disease and hospitalizations and death."
Medical Director of Maternal Fetal Medicine at St. David's Women's Center of Texas Dr. Kimberly DeStefano said 95% of pregnant women admitted with COVID-19 are unvaccinated, stressing that all pregnant and lactating women should get the vaccine not only to protect themselves but to protect their babies from infection, which can be passed through breastmilk or birth.
"We know that the earlier in pregnancy you are vaccinated, the more antibodies are present at the time of birth for the infant," DeStefano said. "This is something that's very important, both during the pregnancy and postpartum."
Catching COVID-19 while pregnant can cause adverse effects on the baby, particularly because it increases the risk of preterm births. Baylor Scott & White Maternal Obstetrics Chief of Maternal Medicine Dr. Jessica Ehrig, said that preterm births are one of the "biggest impacts" on childhood development.
"We know that (preterm births) can have long-term effects depending on how early a baby's born," Ehrig said. "It increases the risk for long term respiratory issues, for blindness sometimes (and) for neurologic development delays."
Since mid-July, COVID-19 hospitalizations have been on a steep rise that sent the city back to recommending Stage 4 guidelines. As the seven-day rolling average of hospitalizations surpassed 50 admissions, Stage 5 guidelines could be on the horizon. The city reported 54 new admissions and 546 total new cases on Friday.
Delta is more contagious than chickenpox, Walkes said, and even vaccinated individuals can catch and spread the virus without symptoms. The group of doctors asked everyone, especially pregnant women, to mask while in public as local hospitals pass the Stage 5 threshold.