Get connected with our daily update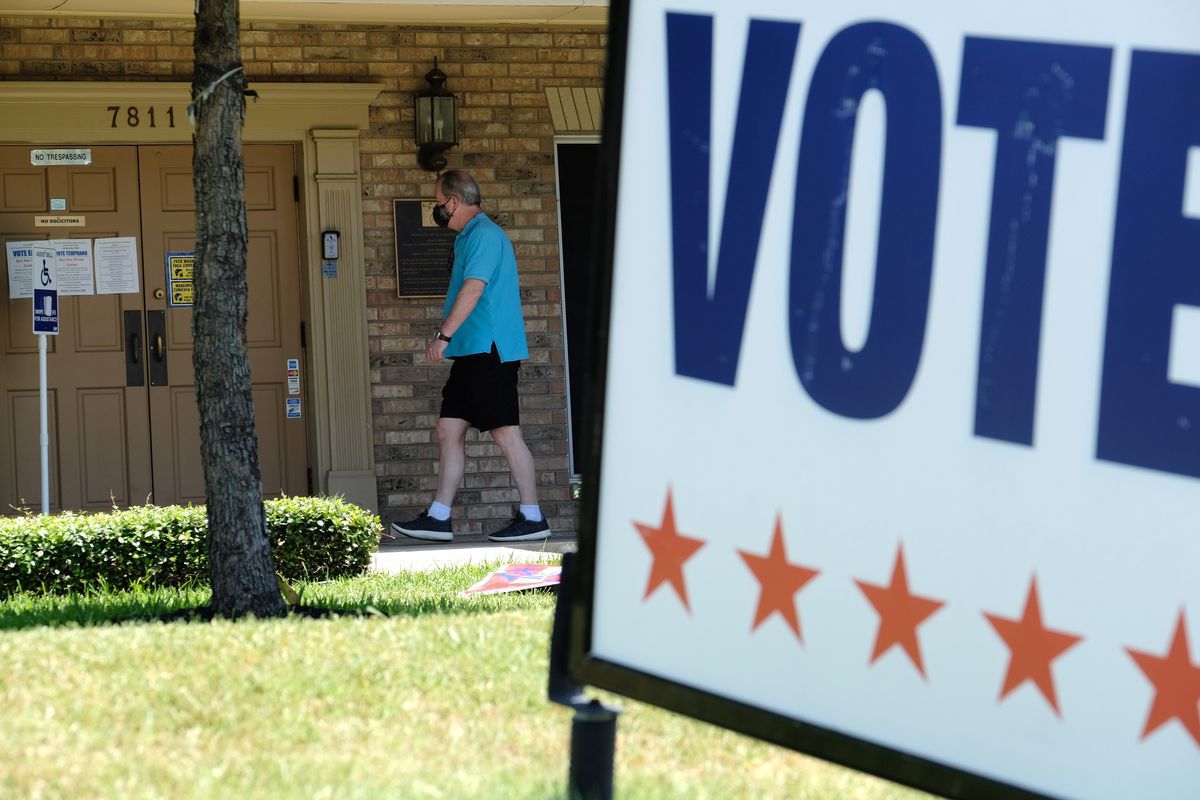 (Charlie L. Harper III)
From high turnout to staffing concerns, from the importance of mail-in voting to safety at the polls, Travis County Clerk Dana DeBeauvoir and other observers view last week's rescheduled primary runoff and special election as a tip-of-the-iceberg dry run for a new Election Day normal.
"July definitely taught us some lessons that we are going to really put to use before the November election," said DeBeauvoir.
---
Here are five things, in no particular order, that election officials and watchdogs say they learned during the most recent election.

1. Turnout will be HIGH
The July 14 election happened under circumstances that should have turned off many voters: triple-digit heat, fear of a contagious virus and a short ballot. It was also in July, which never has elections. But voters were not deterred. Typical primary runoff turnout is about 5%, DeBeauvoir said.
Last Tuesday, turnout topped 21%.
The numbers can be attributed to not only increased interest in current events and politics, but also an expensive get-out-the-vote effort and hotly contested local races that captured the public's interest in policing and criminal justice in the wake of police brutality protests, said Antonio Gutierrez of Common Cause Texas, which tracks elections.
"Down-ballot races don't usually drive turnout as much as the top of the ticket, but in this case, people had the rare opportunity to weigh in on an open state Senate seat, plus everything happening in the criminal justice realm really put the county [attorney] and district attorney races in the spotlight in a way you don't normally see," Gutierrez said.
Much of that enthusiasm is expected to translate to November, when the race between President Donald Trump and Democrat Joe Biden is forecast to have record voter engagement.
That rings true even in red-state Texas, where some recent polling shows Biden competitive with the Republican incumbent and where, for the first time in recent history, the presidential election might be a real competition.
2. We'll need more poll workers
In the days leading up to the election, some 25 workers backed out, DeBeauvoir said. On Election Day, another six or eight didn't show up.
The county had several employees on standby to handle last-minute no-shows, and poll hours weren't affected. But they'll be looking to hire more employees to staff the 200 Election Day polling sites and 35 early voting locations for the November contests to avoid empty chairs and shut-down voting sites.
The average age of a Travis County election worker is somewhere around 70, DeBeauvoir said—a demographic particularly vulnerable to COVID-19—but more young people are getting interested in working the polls.
Extra staffers this year would be needed to make sure people are social distancing in line and count people coming in the doors so that there aren't too many people inside at once, she said.
She estimated her office would budget an additional $500,000 for extra staff and personal protection equipment.
3. Polling places will be a problem
One big challenge that lies ahead, DeBeauvoir said, is going to be nailing down—and keeping—some 200 polling sites for Nov. 3.
Last week, there were 100 polling sites open on Election Day for the much smaller runoff, and—like workers—getting and keeping those was a battle, DeBeauvoir said.
"I'm a little worried about being able to find places in the middle of a pandemic," DeBeauvoir said. "It was difficult to get 100 places to say 'yes' and then stick with 'yes.' Some called back and said, 'No, we changed our mind, we're too frightened.' And I have sympathy for them, but it doesn't help me bring the election to voters."
Sites will have to be larger than they normally are to accommodate social distancing and keep the lines manageable, she said.
Grocery stores were off the list for early voting sites during the July election due to social distancing, and will likely not be willing participants in November either, she said.
A sizable chunk of polling sites traditionally are in schools, and with classes potentially back in session by then, the schools likely will not be willing to accommodate the influx of voters during the pandemic—nor should they, DeBeauvoir said.
"That's a real problem," she said. "With the loss of all of the facilities ... it's going to be hard to find enough locations that are convenient to voters, both on Election Day and for early voting. It's going to be a real challenge."
4. We'll need to update behind-the-scenes staff for mail-in voting
In addition to adding poll workers, DeBeauvoir said she'll be doing some restructuring behind the scenes as well.
Every election, the Early Voting Ballot Board is in charge of overseeing early votes and certifying signatures and mail-in ballots.

But even though DeBeauvoir hired three times the usual number of workers—more than 50 in total—to sift through applications and verify signatures, that won't be enough to handle the volume of mail-in requests and increased turnout for the November election, she said.
"We're going to have five times as many" mail-in ballots and requests, DeBeauvoir said.
For the next election, she'll hire more people and restructure some of the behind-the-scenes labor, schedule them in shifts, and generally beef up the operations.
Some structural changes could become permanent if voters pressure their lawmakers to expand mail-in balloting to everyone, as some states have done, Gutierrez said. So far, efforts to expand the eligibility for mail-in voting have been unsuccessful.
Part of the extra $1 million spent in this last election went toward handling the influx with new envelope-stuffing machines that helped get mail-in ballots out to voters and high-speed scanners to deal with the volume, she said. Those were one-time expenses that won't need to be made again for this November.
5. PPE was worth the money
A large chunk of the extra $1 million in election expenses went toward personal protection equipment, and voters used it dutifully, DeBeauvoir said. The county will employ the same strategy on a larger scale in November, and start stockpiling supplies now in case there's a shortage later this year.
Not only were voters and poll workers using the equipment, she said, but almost every voter wore a mask. People also used the sanitizer and the finger cots and popsicle sticks were popular ways to minimize contact with the machines, she said.
"Voters understood intuitively how to use them, so that worked really well, and we're going to continue that," she said. "In other words, we know now how voters respond to ways to keep the polling place safe, and I think it's working really well."
Want to read more stories like this one? Start every day with a quick look at what's happening in Austin. Sign up for Austonia.com's free daily morning email.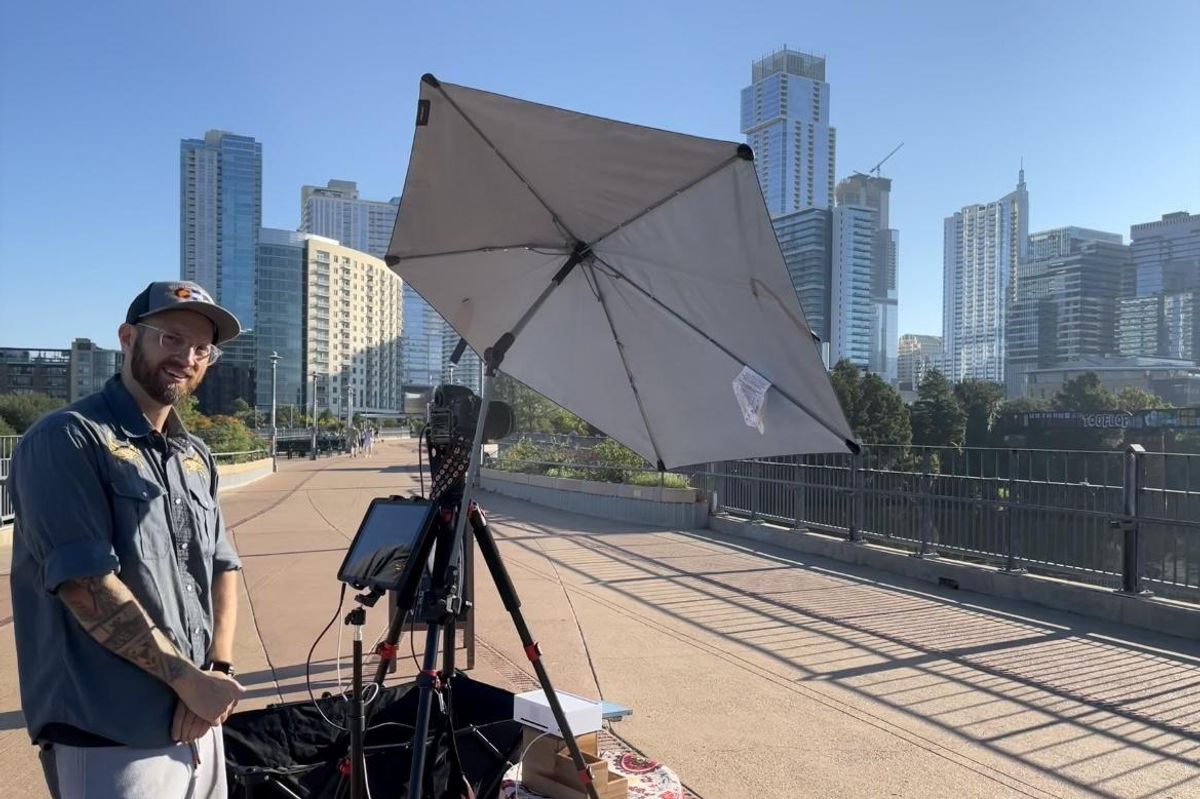 Nicklaus Pereksta says he loves photographing enthusiastic people, and it's why his latest gig offering pictures to people out on Lady Bird Lake's hike and bike trail is going smoothly. He sets up his gear on the Pfluger pedestrian bridge and puts out a sign: Photos, $10.
"Overwhelmingly, this has been a really positive experience," Pereksta said. "I get excited when I wake up in the morning and I can't wait to go to work."
Bikers and joggers are excited about it too. On the pedestrian bridge leading to downtown Thursday morning, a man on an e-bike rode up and posed, wanting more photos.
"I posted the last pictures on Instagram and people loved it. They asked, 'where is this guy?'" the biker told Pereksta. Bashfully, Pereksta, who also photographs landscapes and at weddings and other events, said he was happy to hear that.
Pereksta started these photos about a month ago, after the strenuous runs required in his valet job started causing pain in his legs. And though he has a passion for photography, he wasn't so sure when he started working independently if it would work out.
He felt uncertain about the demand for it and was also worried about having lots of expensive equipment out in the open.
"Then like the first day was nothing but high praise and people are like, this is so awesome. This is great. I've never seen anything like this before. I was like, Wow, this was really good, like positive turnout. So I got encouraged."
Now, he wants to expand and is thinking of contacting the Mueller Farmers Market about how to become a vendor. Still, he'll carry a connection to photographing on the bridge since the word bridge is related to his last name.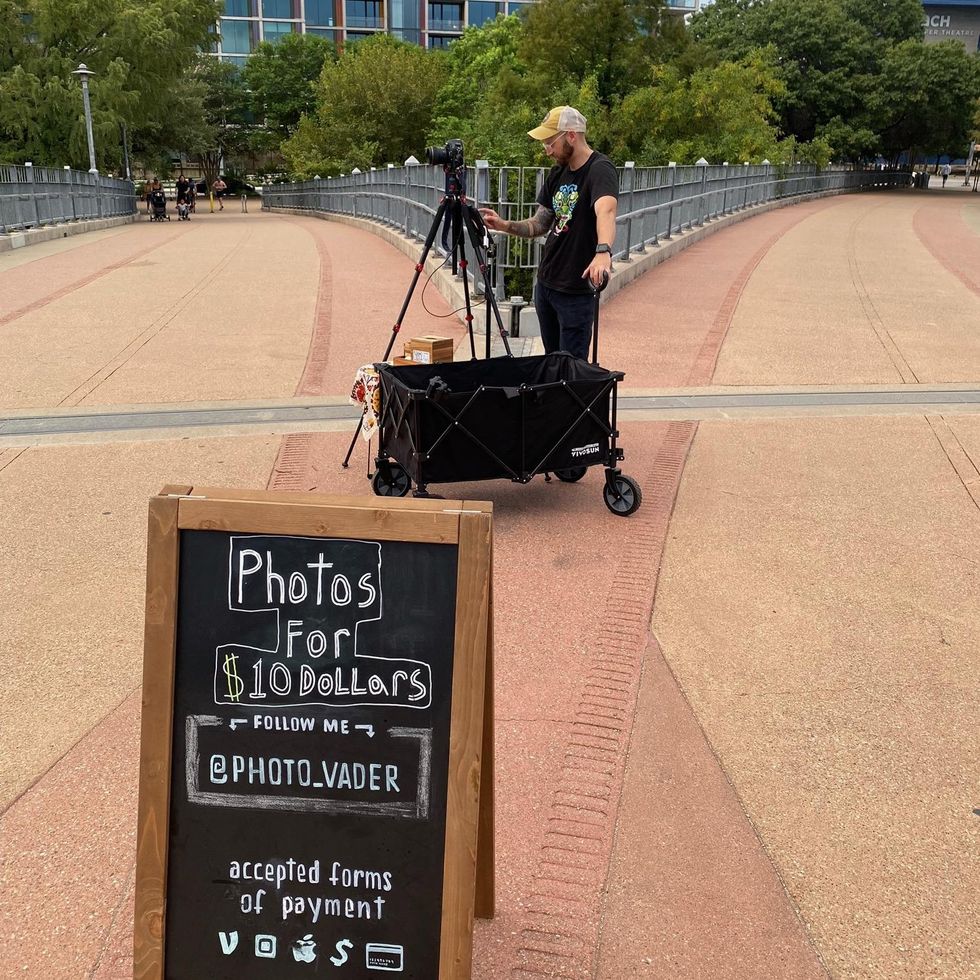 (Dewey C.)
"It's a name my great, great, great grandfather came up with when he was marrying somebody. It's actually quite a romantic name. It means a joining of two bridges," Pereksta said. "So, I thought it was ironic that I'm set up on a bridge. I'm kind of representing my last name right now."
Austonia talked to Pereksta about life in Austin, where he's lived for eight years after living in Boston doing band photography.
What was your first experience with Austin?
I came here to visit some friends and they took me to Barbarella. So we went to Barbarella and I was like, 'wow, this place is great.' And then the restaurants and the food and going to Barton Springs. I was like, 'this is amazing.' Because there's nothing like that in Boston. If you want to go to a natural spring, you got to go to New Hampshire. There's no pools in the city at all. So there's lots of swimming out here.
What do you like best about Austin?
You go to any little quiet bar and there's a band playing that should be like onstage for a sold out show. Yeah, they're playing to 10 people, right? Like, one of the best bands ever and they're playing for 10 people, right? And just little magic moments like that are pretty fun. You just run into little random weird things.
What do you think makes Austin different from other places?
There's no fall.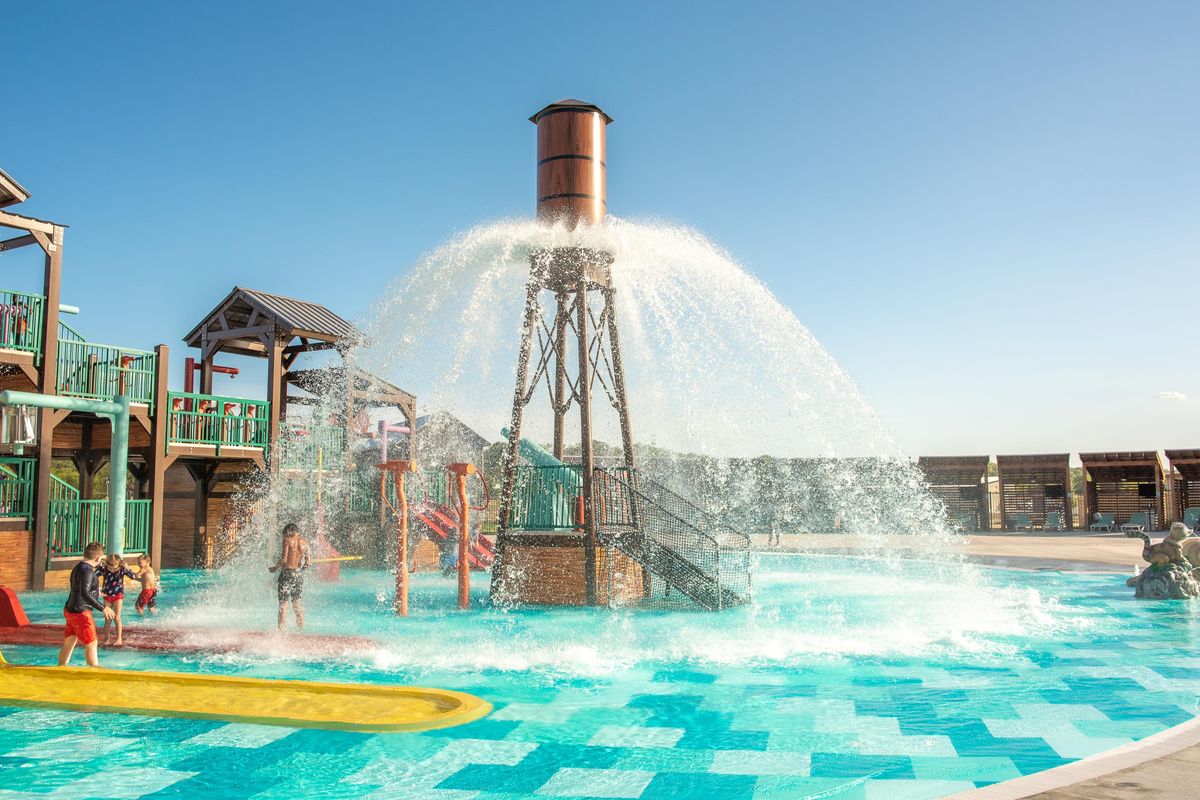 Camp Fimfo Waco
Camp Fimfo Waco, a brand new camping resort, is kicking off football and fall camping season in style! With top-notch amenities, premium accommodations, and 10 weekends of fall fun, there's no better place to have a fall camping getaway, especially if you're a Baylor football fan!
Fall promises to be a one-of-a-kind camping experience. From Sept. 16 to Nov. 24, weekends will be packed with fall-themed activities, including special Halloween weekends in October. Campers can enjoy activities like fall crafts, campground trick-or-treating, costume contests, site decorating, outdoor movie nights, and more!