Get connected with our daily update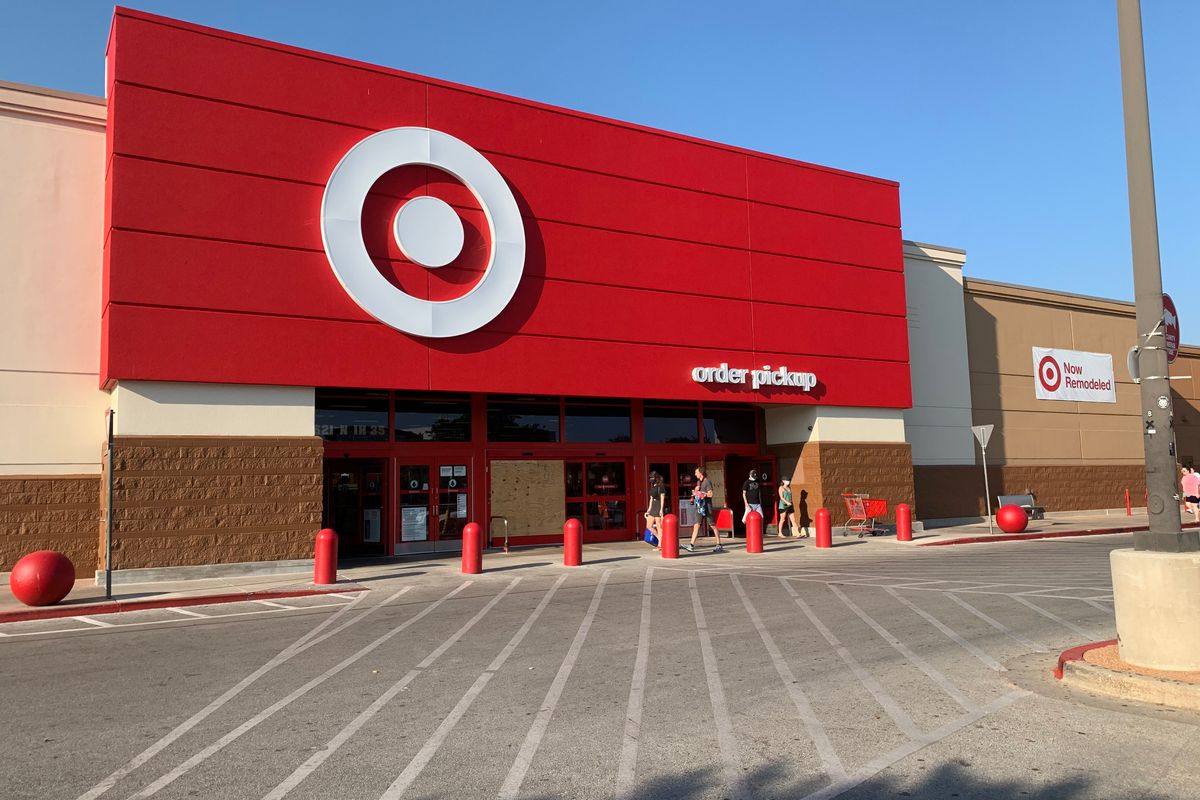 (Emma Freer/Austonia)
The three Austin residents arrested in connection with looting, burglary and property damage at the Capital Plaza Target off I-35 near Hwy. 290 are members of the anti-gentrification group Defend Our Hoodz, according to Austin Police Department investigators.
---
The press release sent by the Travis County District Attorney's office after the arrests on Friday identified the trio as "known members" of a local antifa, or anti-fascist, group.
A spokesperson for the DA's office confirmed the APD investigator's conclusions in an email to Austonia.
"The looting at Target was promoted via the Mike Ramos Brigade Facebook page on a live video feed," per APD. "There is crossover between [Defend Our Hoodz] and Mike Ramos Brigade but the 3 arrests are in DOH."
Outraging video of Brad Ayala, the 16 year old targeted and shot in the head by @Austin_Police with a rubber bullet… https://t.co/sGaMq1SGu0

— Defend Our Hoodz - Austin (@Defend Our Hoodz - Austin) 1591110941.0
Both Defend Our Hoodz and the Mike Ramos Brigade frequently describe police officers as "pigs" on social media; their activities are covered by the WordPress sites Incendiary News Service and Tribune of the People, respectively, which share at least one writer.
We interrupted APD's publicity stunt taking a knee and 8 minutes of silence today. These pigs don't deserve any sil… https://t.co/f1BX6UVVfu

— Mike Ramos Brigade (@Mike Ramos Brigade) 1591475877.0
Brenda Ramos, whose son Mike was shot and killed by an APD officer on April 24, said the brigade is not associated with her family at a protest organized by the Austin Justice Coalition yesterday.
APD estimates around 20 to 30 people participated in the looting, which took place on May 31 following a protest in downtown Austin. The damage and stolen merchandise is valued at more than $20,000.
As part of an ongoing investigation by APD, the DA's office and the FBI, APD arrested three suspects on June 5.
Lisa Hogan, 27, was arrested on charges of riot and burglary, both of which are state jail felonies. She is suspected of live streaming the looting on Facebook and encouraging others to join in. Her bonds are set at $25,000 each.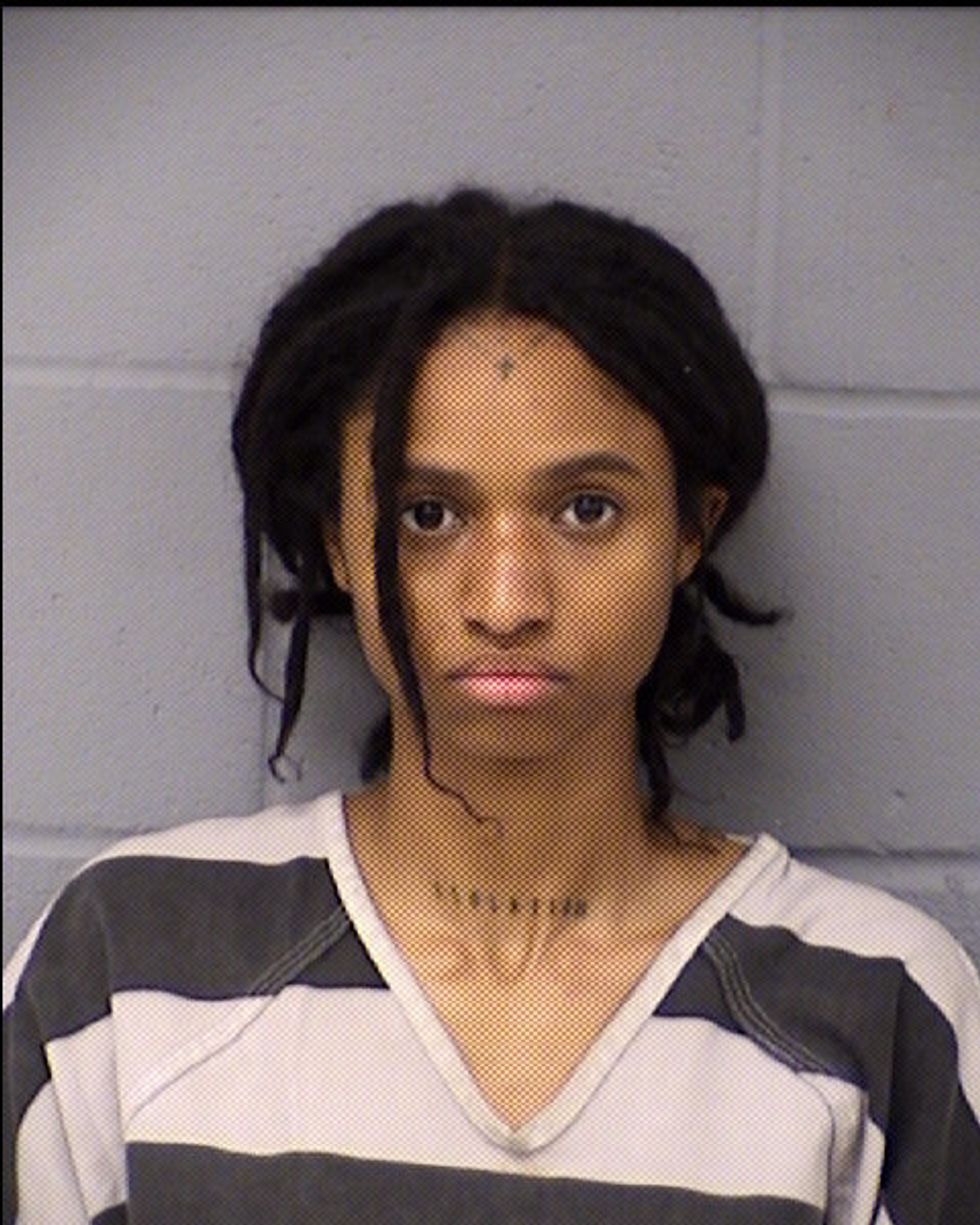 (Austin Police Department)
Samuel Miller, 22, was arrested on charges of criminal mischief and burglary, both of which are state jail felonies. He is also accused of destroying surveillance cameras outside the store. His bonds are set at $25,000 each.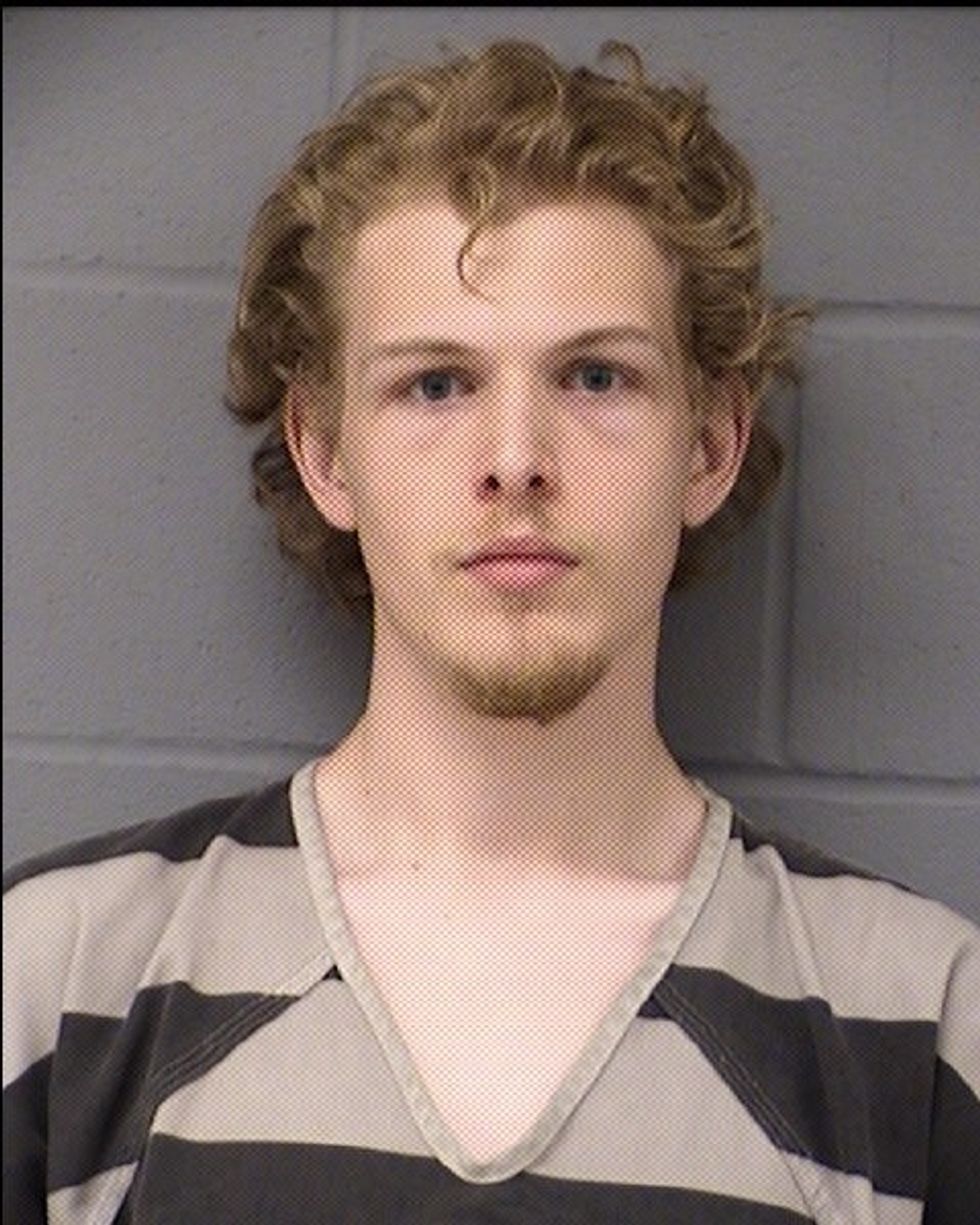 (Austin Police Department)
Skye Elder, 23, was arrested for burglary, and bond is set at $25,000.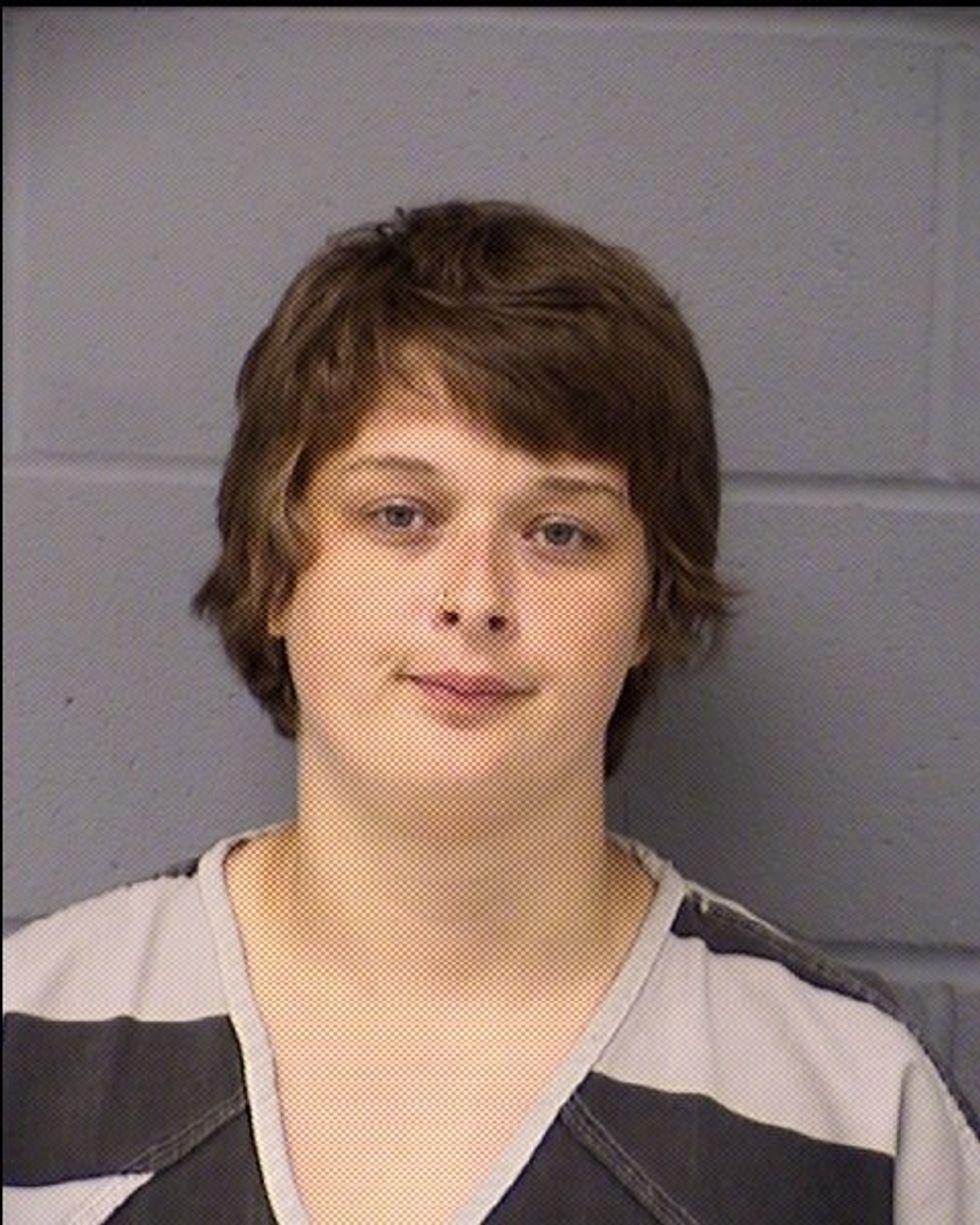 (Austin Police Department)
The Mike Ramos Brigade has hosted at least two protests outside of APD headquarters in the wake of George Floyd's death. After one on May 30 ended with police violence and vandalism, the Austin Justice Coalition announced it would cancel a march it had planned for May 31.

"The safety of black lives is always our main concern and we cannot in our right mind send people out in the current climate," the local criminal justice reform organization posted to Instagram hours before the event was scheduled to begin.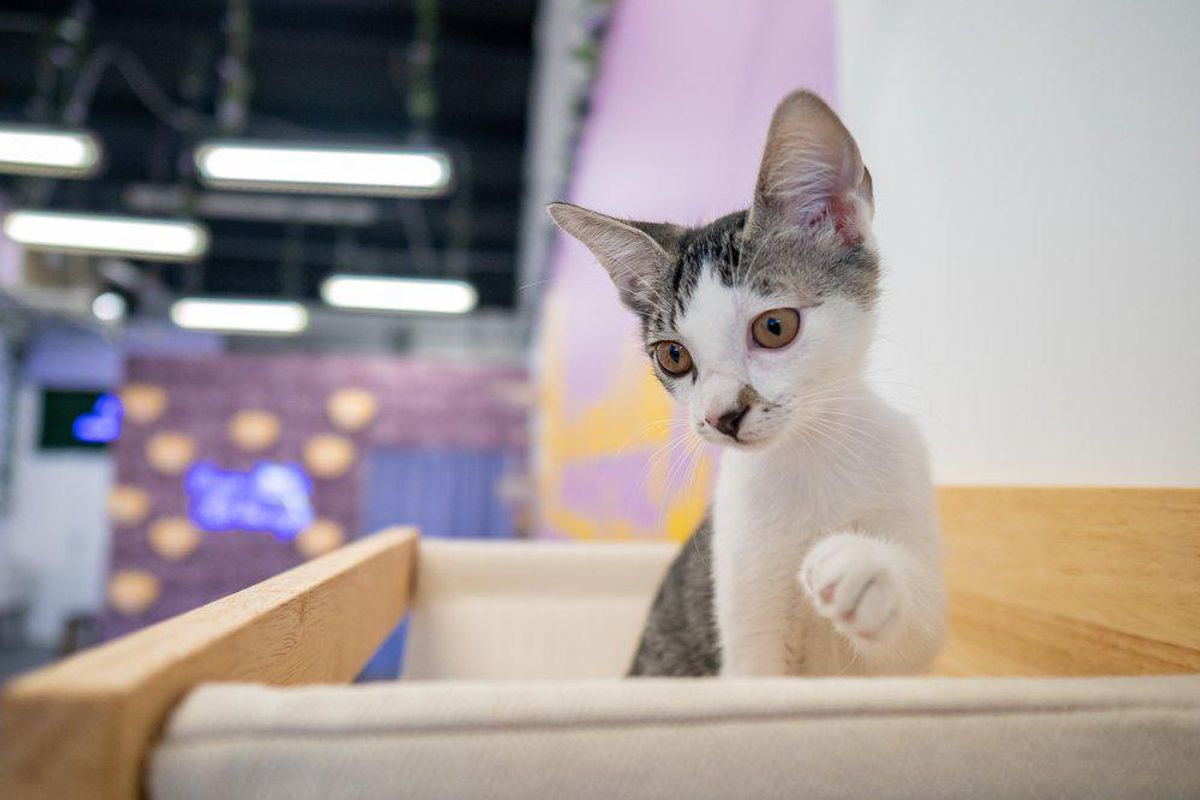 There's a new way to find your future furry best friend in town.
Purrfecto Cat Lounge, 2300 S. Lamar Blvd., is bringing the cat cafe back to Austin with adoptable kitties and coffee starting on Wednesday.
The cafe partners with next door coffee shop Irie Bean to supply the coffee and two Texas cat rescues, the Sunshine Fund and the Fuzzy Texan Animal Rescue, to supply the meows.
Visitors book a reservation for either 30 minutes or 70 minutes and spend time getting to know the cats over themed coffee—those interested in adopting one can fill out applications on site. Purrfecto said four cats from its preview weekend have already been adopted out.
The cafe will also host cat-themed events like cat yoga, painting with cats, BYOB happy hours and private events. Purrfecto will also offer memberships for those who want to frequent but a 30-minute visit starts at $15.
Knock on wood—real estate professionals are saying Austin's housing market showing signs of stabilizing as local inventory hit two months for the first time since 2019.
Austin Board of Realtors CEO Emily Chenevert said after two years of pandemic-fueled prices, "we're inching our way toward something that feels more normal," during the 2022 Central Texas Housing Summit—which brought industry professionals and economists together—on Tuesday.
Still, housing is one of Austin's biggest fallbacks despite a diverse local economy, growing infrastructure investments, multiple nearby universities and a healthy job market. Stable housing falls in tandem with affordability, Austin Chamber of Commerce President and CEO Laura Huffman said.
"So what could bring that all down? Affordability—the No. 1 issue in Austin," Huffman said.
So what does the housing market look like as of June?
Listings are up, sales are down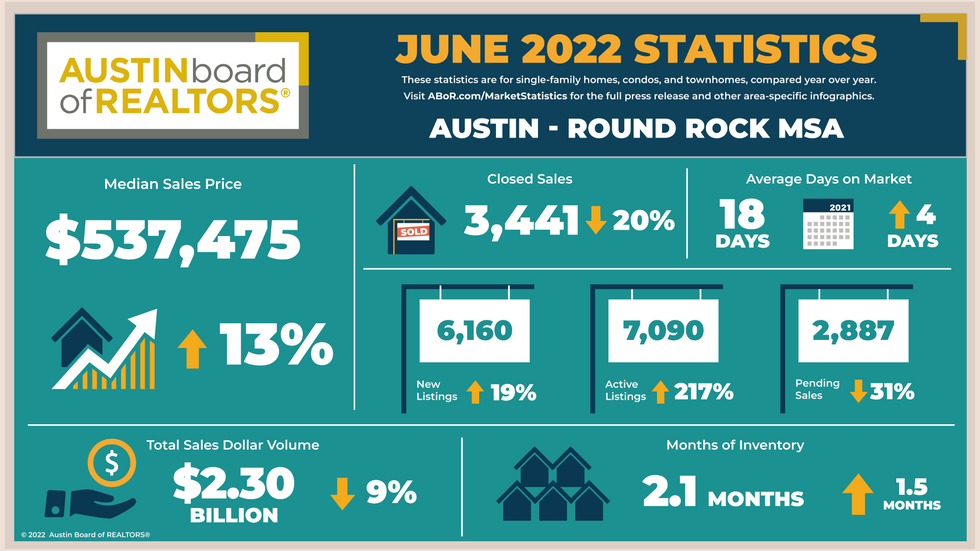 As of June, closed sales are down 20% and pending sales are down 31% but active listings are up 217% and they're staying on the market for about 18 days. The median sales price is still over $500,000 and housing demand is still high but ABoR President Cord Shiflet said it is good news to see the market stabilize.
"The trajectory of our market over the last two years was unsustainable and it was in no way going to last," Shiflet said. "The Austin market is by no means balanced and it still favors sellers, but buyers have more bargaining power now than at any point since before the pandemic."
Realtor.com senior economist George Ratiu said it will take some time for the market to reach healthy levels after such a "feverish frenzy," adding that prices aren't crashing, they're going back to where they were before Austin hit an anomaly period.
"To me, this is good news. When you look at the city proper, you see the same trends, prices are a little bit higher but sales are moderating," Ratiu said. "That's simply a reaction to this period of transition and let's not forget, things don't change overnight.
Development is particularly expensive in Austin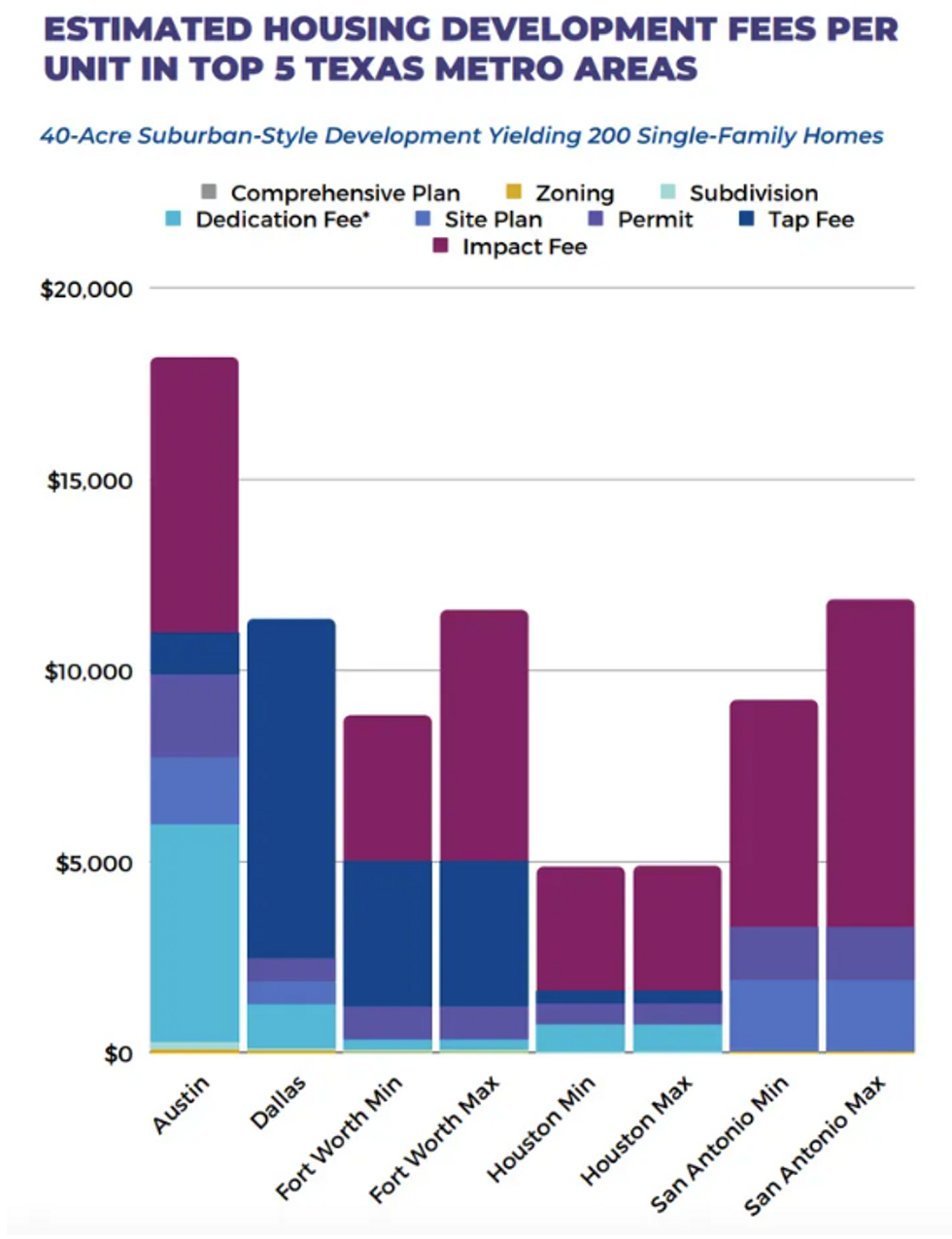 (ABoR)
A report released by ABoR and the Texas A&M University Real Estate Research Center showed Austin's per-unit fees on new development are 187% higher than Dallas, Houston, Fort Worth and San Antonio.
What that means is development is about 168.8% more expensive per infill unit and 80%, or $8,000, per suburban unit in Austin-Round Rock metropolitan area. Those high fees not only slow production, but they also get passed on to the customer.
David Glenn, senior director of government relations for the Homebuilders Association of Greater Austin, said researchers from the study weren't able to verify what each fee went toward.
"We know that with the National Association of Homebuilders Price Index, for every $1,000 they add to the price of the home, you're pricing out 791 families in the Austin MSA," Glenn said. "For suburban developments, 9% of that earner's income goes toward fees, for an infill project 20% just goes to fees. That's not land, that's not labor, that's not materials."
Unflipping the market
Shiflet said the fix to right-sizing development fees and restrictive zoning laws, another major problem in the development sphere, is to vote for candidates who will support expanding housing.
"However it is that you're involved in our housing market, you've got to care about housing and having these conversations is so important for us," Shiflet said. "We've got an important election coming up in November and I can assure you that our 20,000 Austin Board of Realtors members are going to really be looking at candidates and really be looking at who puts housing first."