Get connected with our daily update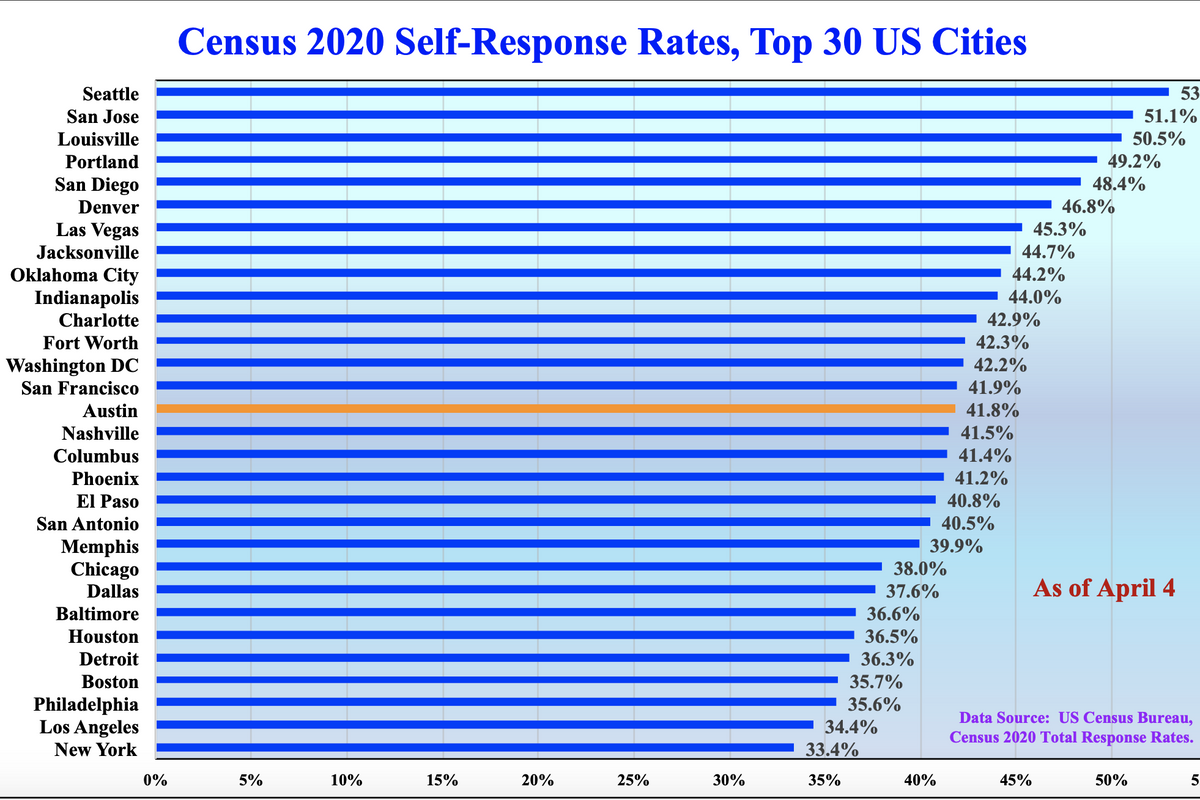 U.S. Census Bureau
Response data from the U.S. Census Bureau shows that, among the 30 largest cities in the U.S., Austin ranks 15th when it comes to Census 2020 self-response rates.
---
As of April 4, 41.8% of Austin residents had been counted, according to data from the U.S. Bureau passed along by Ryan Robinson, Austin's demographer. At the top of the list is Seattle, where 53% of residents have responded.
Nationally, 46.2% of households had responded, according to an April 8 press release.
Because billions of dollars in federal funds are distributed based on population counts, the census bureau estimates that for every person not counted, a community stands to lose about $1,500 annually—or $15,000 in the decade before the next count is conducted.
This year's census is the first to allow residents to respond online and by phone in addition to mailing in a form.
The coronavirus pandemic has all but halted the census bureau's ground game, which initially called for nearly half a million part-time workers to follow up with non-respondents.
Between March 22 and March 28, 40,514 temporary workers were paid for census-related work, according to an April 7 press release.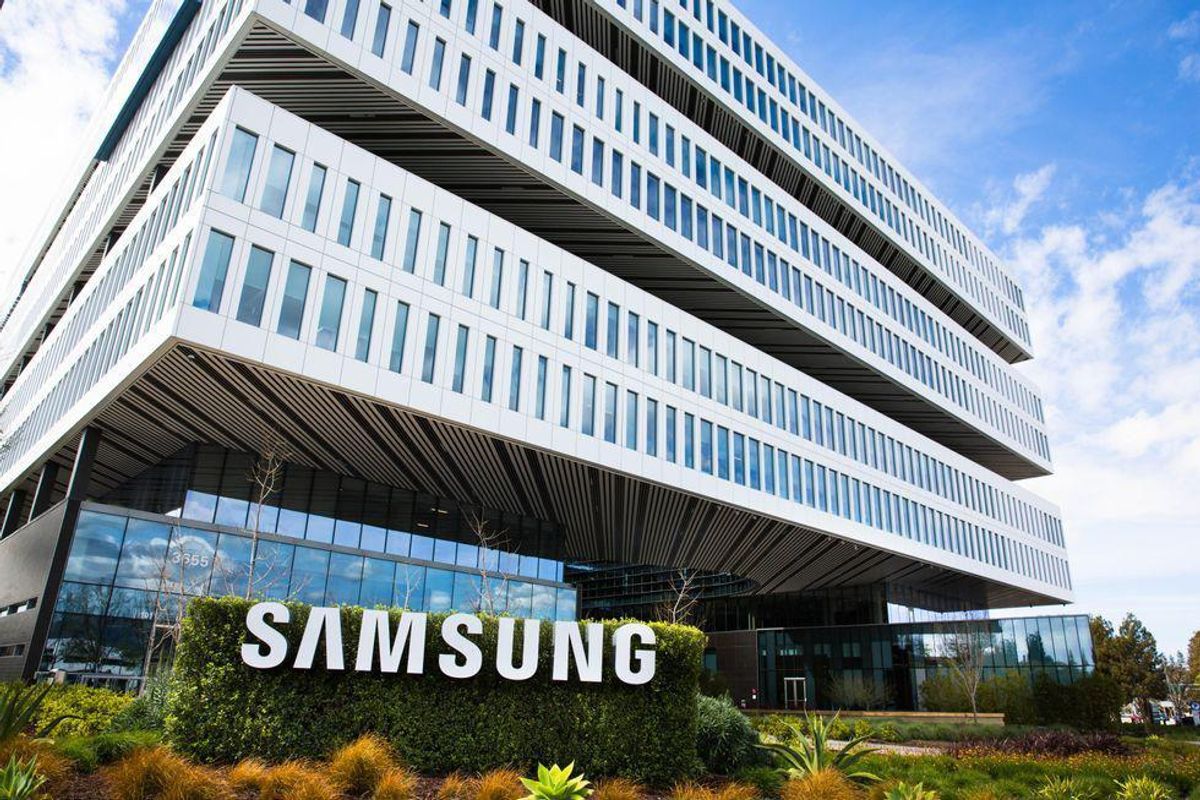 Samsung might soon be making more moves in the Austin metro.
The tech giant, which made waves as it announced plans to build a $17 billion chip plant in Taylor in late 2021, might be looking to expand in the Northeast Austin area, according to an Austin Business Journal report.
ABJ said the South Korean company is seeking more tax breaks from nearby Taylor and Manor school districts. The company filed documents requesting Chapter 313 incentives related to the breaks Saturday, and ABJ said each district will review the requests separately on Tuesday.
"While we do not have specific plans to build at this time, the Chapter 313 application process is part of our long-term planning to evaluate the viability of potentially building additional fabrication plants in the U.S.," Samsung Austin Semiconductor LLC.'s director of communications, Michele Glaze, told the ABJ.
But Samsung has made headlines for more than just the $17 billion plant: In early 2022, the company caught heat for two separate spills of millions of gallons of wastewater into tributaries near its semiconductor plant.
While no expansion is promised, ABJ speculates that expansions could occur at the 1,200 acre planned Taylor factory or near the chipmaking factory on Austin's East Parmer Lane. Both expansions could bring even more revenue and job opportunities to Samsung's Texas home.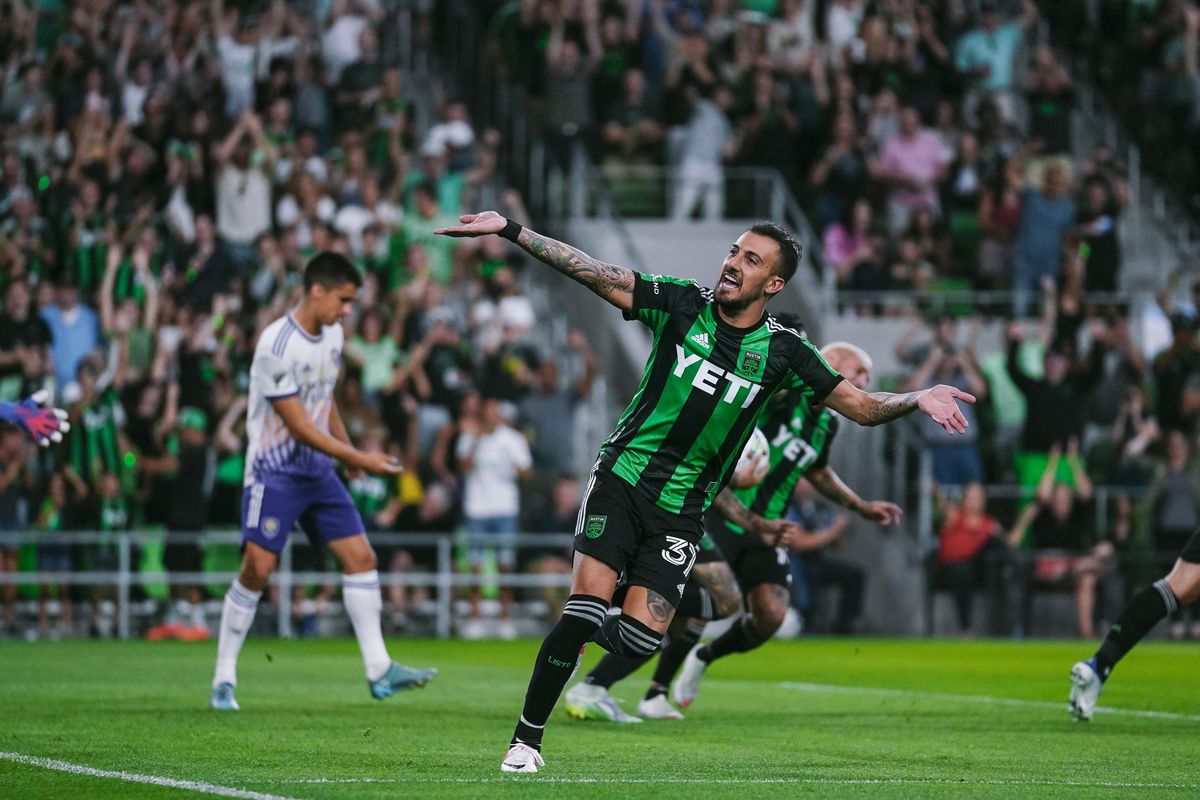 A first minute error gave Austin FC an early setback, but with the help of two red cards and two second-half goals, the Verde and Black still forced a last-minute tie in a messy home battle against Orlando City SC Sunday night.
With the 2-2 draw, Austin dropped from No. 1 in the MLS West conference but still earned a point in the standings thanks to a penalty kick goal from Sebastian Driussi and a breakthrough shot from striker Moussa Djitte, who scored his first goal with the club in the final minute of play.
Here are the top three takeaways from the match: