Get connected with our daily update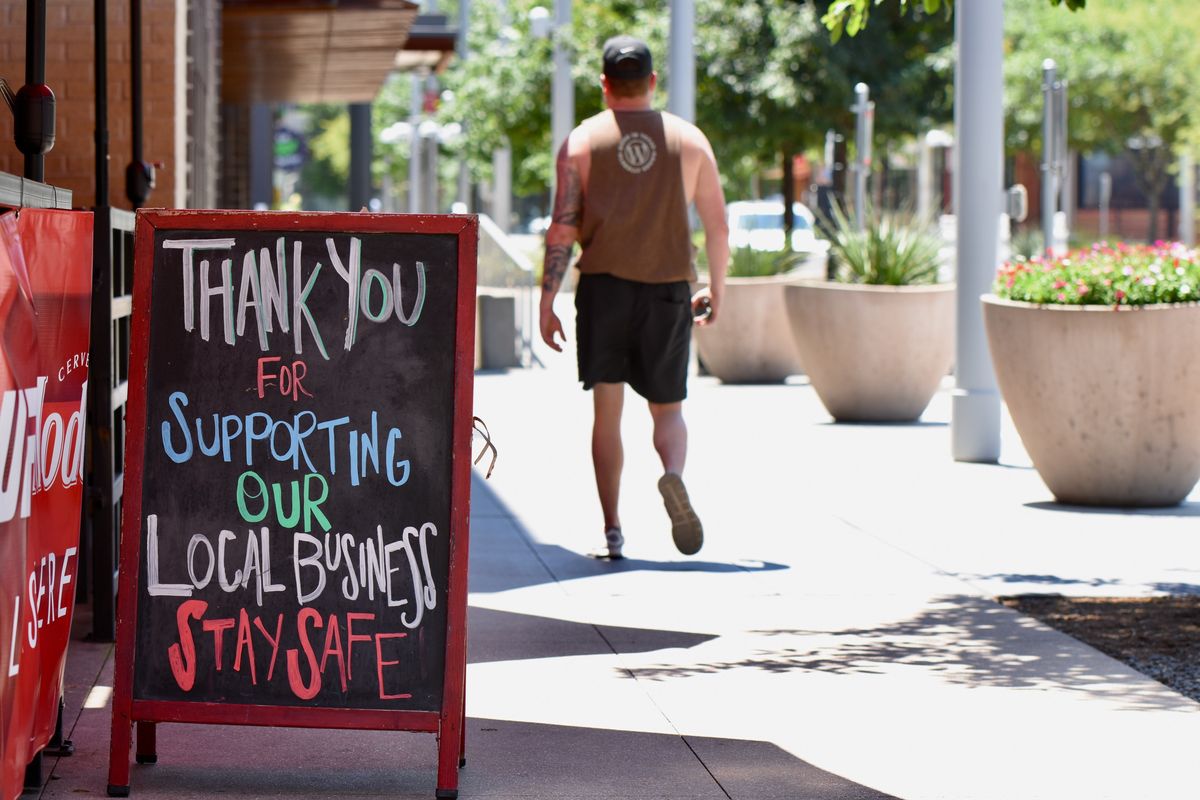 (Karen Brooks Harper/Austonia)
Software engineer and Austin resident Steve Donie was laid off from his midsized startup in April, one of 123,900 people in the area who lost his job that month.
---
Two months later, he's still unemployed and still collecting benefits, searching for a job that remotely matches his 25 years of experience—at something close to his previous salary.
New unemployment claims in Travis County were down nearly 75%—to 3,041—in the first week of June compared to late March, after the coronavirus pandemic shut down businesses and caused some 14,585 people to file for unemployment in a single week.

The trend tracks with national claims, which are down by nearly 70% in new applications for unemployment benefits. The week that Donie was laid off, he and about 10,480 other people filed for unemployment.
Those numbers mean that job losses for the Austin area have slowed, but what they don't reflect is the number of people still looking for work.
"I've never been unemployed for this long," Donie, 53, said.
National numbers show an increase in jobs in May, a trend that is likely to be mirrored in Texas, one of the first states to reopen that month—and among the most aggressive to do so.
The May unemployment rates for Texas will be released Friday.
Those who work with job seekers and, mostly these days, the suddenly unemployed, say they have seen a dip in the number of people asking them for help to find work.

"We went into overdrive in answering calls pretty much around the clock when COVID hit back in March, and we were seeing between 2,000 and 2,500 calls a day at the height of the layoffs," said Tamara Atkinson, CEO of Workforce Solutions Capital Area, which provides job training and other services to local residents.
Now, she said, it's 500 to 600 a day. Before the coronavirus lead to the lockdown in mid-March, Atkinson said, the agency was averaging 150 calls per week. That was when 59 straight months of job growth had unemployment rates in Austin hovering mostly under 3%.
In April, Austin's jobless rate shot up to over 12%—tracking with state trends.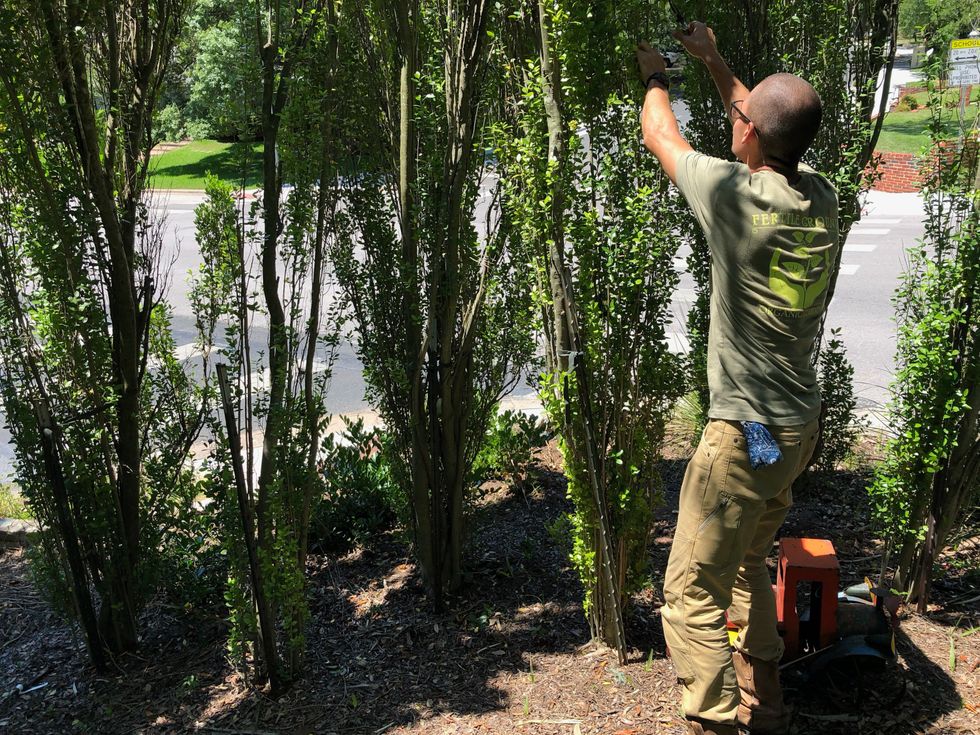 Employees at Fertile Ground are back to work. (Fertile Ground)
Those numbers will include the employees at Fertile Ground, a local landscape company co-owned by Donie's wife, Julie Donie, who had to lay off all but one worker (including herself) in March but rehired nearly all of them in May.
Only their maintenance and gardening services were considered essential. One full-timer was allowed to plant some vegetable gardens while they waited for permission to reopen. It was impossible to find personal protective gear for her employees at the time, she said.
"Then when construction work became essential, and all our competitors were still working," she said, "our clients were like, 'Hey, when are you coming back?'"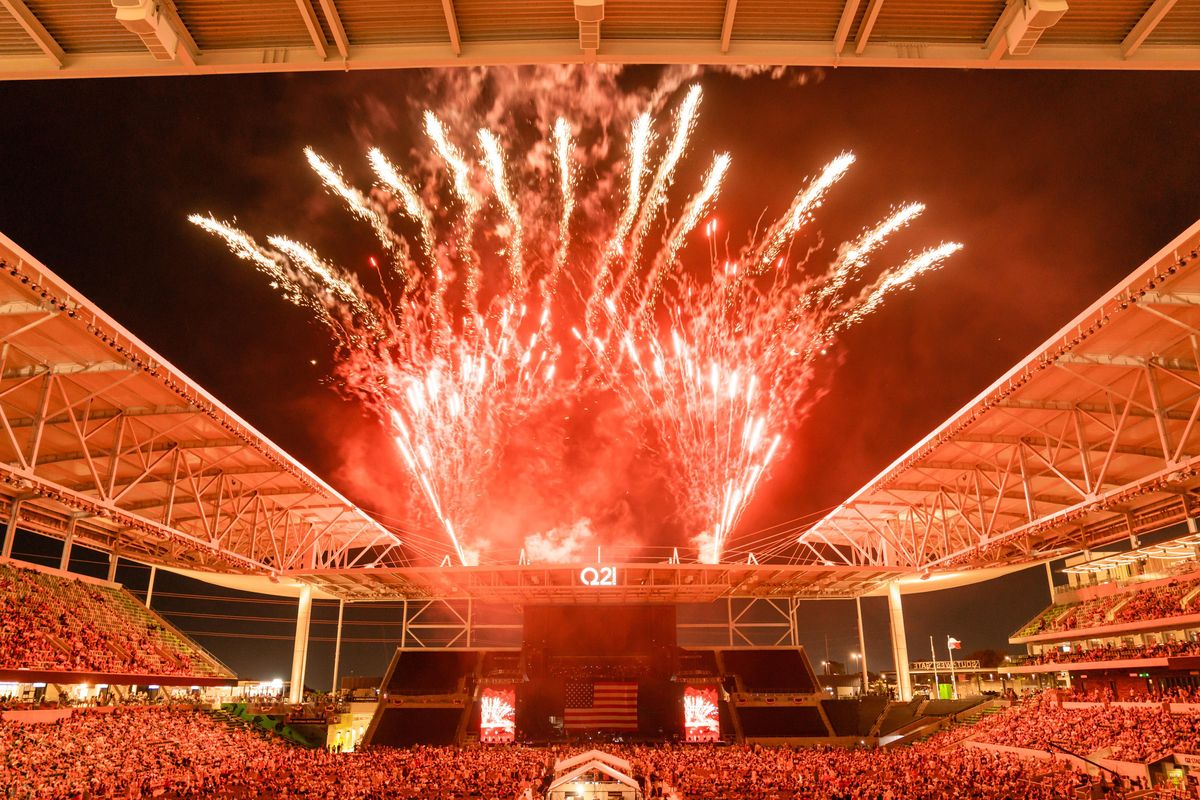 Q2 Stadium swapped its Verde for red, white and blue as country music legend Willie Nelson returned for his first in-person Fourth of July Picnic since 2019 on Monday.
The music fest included fireworks, fun merch and acts from country greats including Charley Crockett, Midland, Brothers Osborne, Allison Russell, Tyler Childers, Jason Isbell and Austin's own Asleep at the Wheel. And while Q2 will have some kinks to straighten before it becomes a concert-hosting regular, Nelson's unifying spirit kept things cool during the 12-hour outdoor event.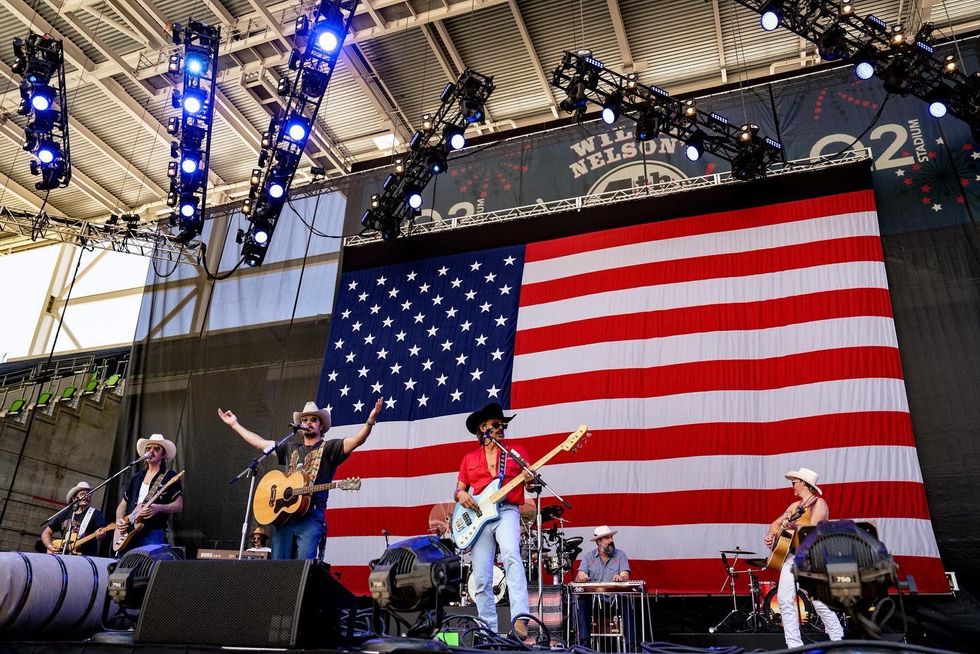 Midland performs at Willie Nelson's Fourth of July Picnic. (Q2 Stadium/Twitter)
Doors opened at 11 a.m., and Asleep at the Wheel was on the stage by 12 p.m.—though as one Reddit post pointed out, there weren't many people there to see them play.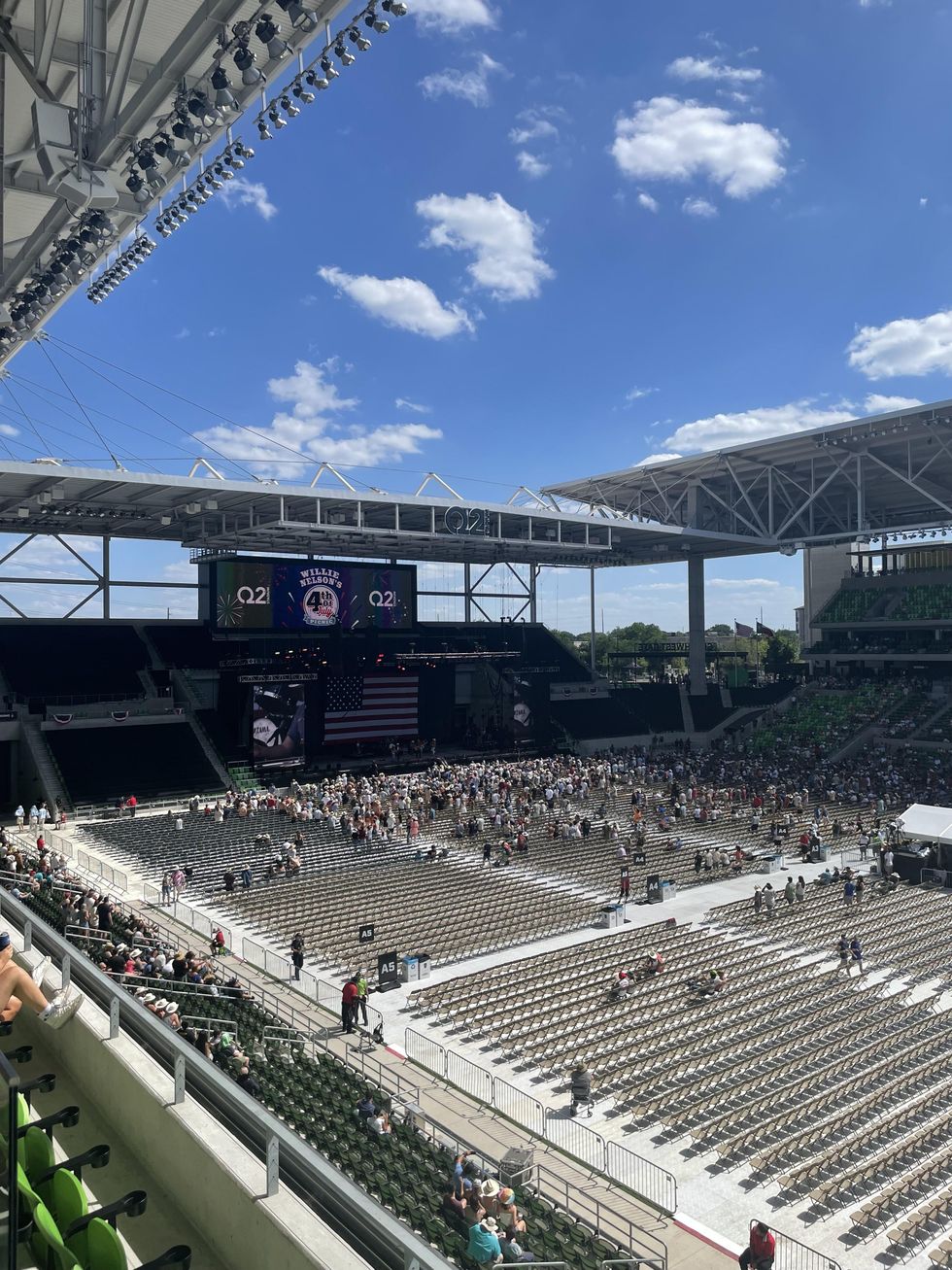 Q2 Stadium stayed sparsely populated for the first half of the day. (Claire Partain/Austonia)
Per Q2 Stadium policy, attendees weren't allowed to re-enter the venue after leaving, so anyone who wanted to watch both an afternoon and Nelson's big performance were stuck at the venue for hours straight. That opened up the perfect opportunity for customers to snatch up snacks, water and beers, which emptied wallets even faster than at Austin FC games. Nothing says "the end is nigh" like $15 beers.
An open-air, 20,500 seat venue, Q2 Stadium sometimes struggled to carry sound clearly, and between-song banter was often limited to an incomprehensible garble. Still, Tyler Childers' commanding growls came through, Alison Russells' multi-instrument ensemble shone and Nelson's strums on his trusty guitar, Trigger, were front and center by the end of the night.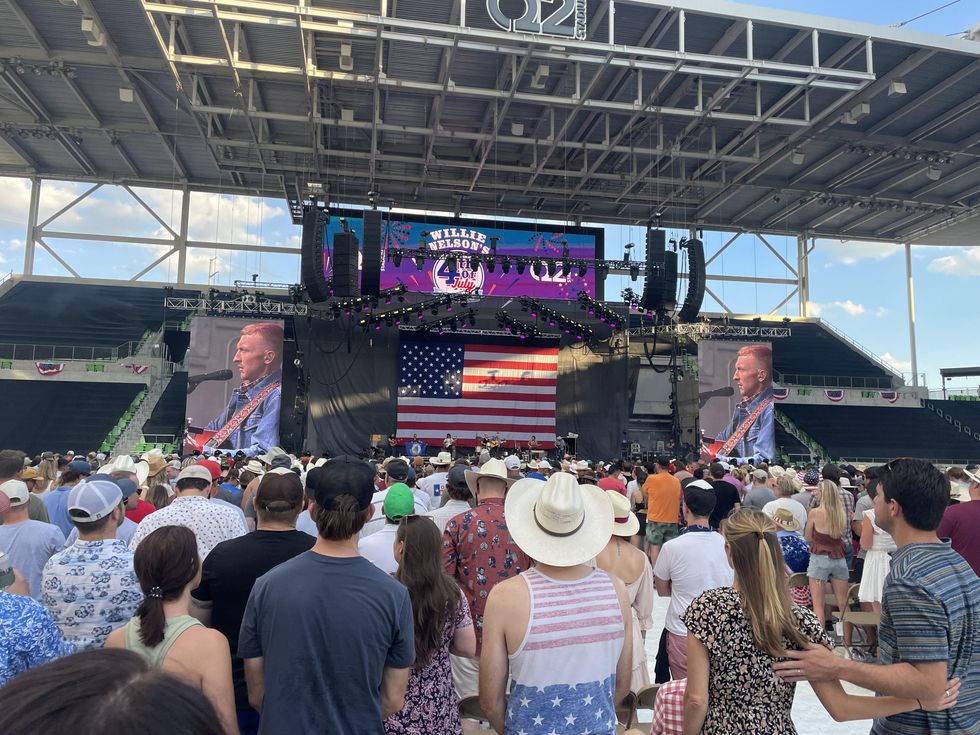 Fans found it hard to look away from Tyler Childers' enrapturing performance. (Jakob Rodriguez)
The July 4th picnic, which was most recently held at Circuit of the Americas from 2015-2019, benefitted from Q2's more central location, and the large venue offered plenty of room for attendees to mull about.
As the sun mercifully dipped below the horizon, the music paused for a 15-minute fireworks show.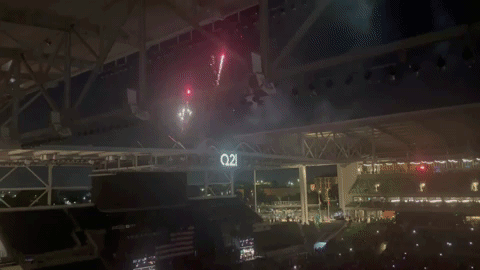 But the July 4th staples weren't the main event. At 89, Nelson didn't disappoint, sitting calmly as he performed alongside his family members and even gubernatorial candidate Beto O'Rourke, who made a surprise appearance midway through the show.
At times wistful, joyful or both, Nelson took the crowd through hits from "On the Road Again" to "Always on My Mind."
And as each favorite was played, all of the heat and stress of the day were encompassed by Nelson's voice, his storytelling and more as Austinites new and old gathered for the decades-old tradition.
As summer temperatures continue to increase, so does Austin's "Party Island"—a hundreds-strong army of kayakers and paddle boarders who gather each weekend in the middle of Lady Bird Lake.

Born from the pandemic, the swarm of paddleboarding partiers has continued to grow each summer and can be seen from the nearby Lamar Boulevard Bridge. And while "Party Island" certainly lives up to one half of its name, it's not actually an island at all: instead, it's located at a shallow sandbar near Lou Neff Point.
With beers, burgers from portable grills and even DJ turntables in hand, more friends and strangers continue to beat the heat in new ways at the distinct Austin hangout.
Video by Steven Joyner