Get connected with our daily update
(Emma Freer/Austonia)
Thousands of people gathered at Huston-Tillotson University on Sunday afternoon for a rally against police violence organized by the Austin Justice Coalition. The event ended with a march to the Texas State Capitol.
---
Compared to other protests taking place in the past nine days, the crowd on Sunday was significantly larger and saw hardly any police presence. Austin Mayor Steve Adler also attended.
The event followed an AJC demonstration that was canceled last weekend due to concerns about police violence and vandalism.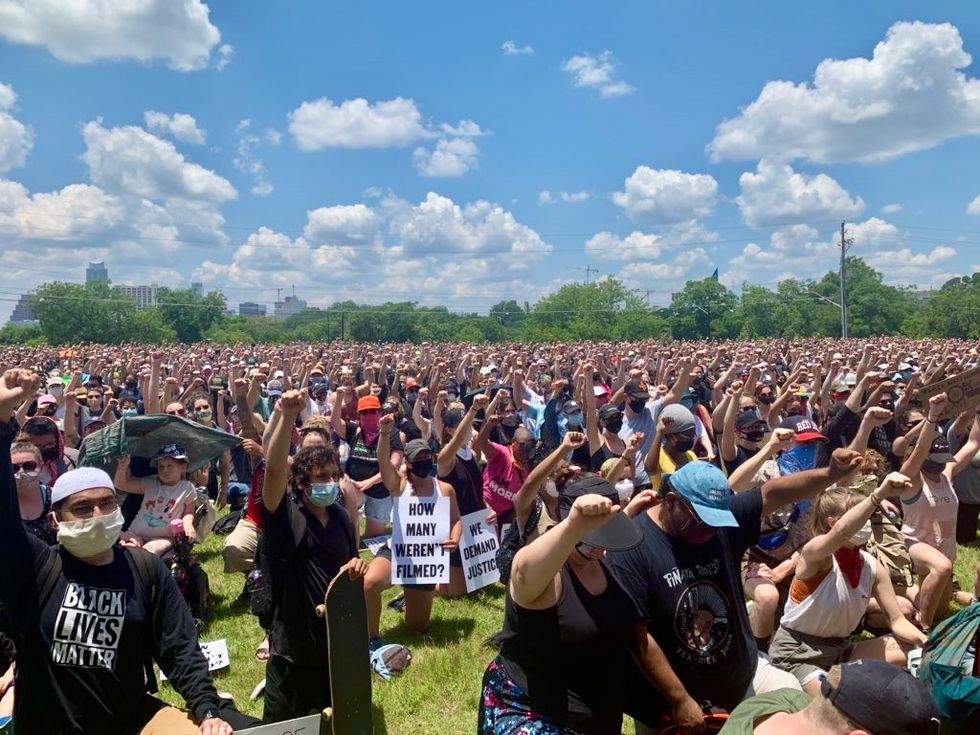 Mayor Steve Adler was among the kneeling protesters.
(Emma Freer/Austonia)
Protestors—nearly all of whom wore masks—gathered Sunday on the historically black university campus to hear from AJC Executive Director Chas Moore, Huston-Tillotson President Colette Pierce Burnette and Brenda Ramos, whose son Mike was killed by an Austin Police Department officer in late April, among others.
Moore started the rally by asking black protestors to join him on a hill, under the shade, overlooking a field. White protestors were asked to make room for them by gathering below, under the hot sun, where he said black people have spent the last 400 years.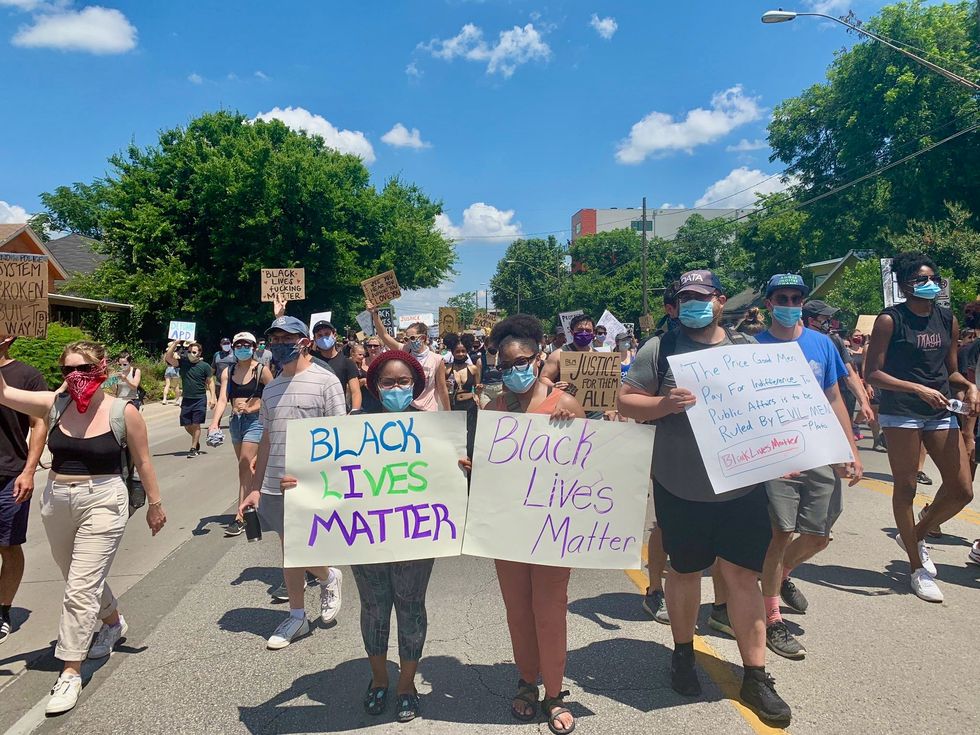 (Austonia/Emma Freer)
Pierce Burnette then spoke to the crowd, saying that Huston-Tillotson's campus symbolizes "a tale of two cities." Although it is Austin's oldest institute of higher learning, it has been "treated like a stepchild," she said.
The university co-hosted the event, and Pierce Burnette urged protestors to continue making noise. "Be part of a movement, not just this moment," she said.
Ramos called on APD Chief Brian Manley to resign and said her priority is passing a new law in her son's name that would require the department to release evidence, such as body- and dash-cam footage, to victims' families and more immediate consequences for those officers involved. "No one should live through this," she said in tears.
Ramos also said her family is not associated with the Mike Ramos Brigade, a group of unidentified individuals who have hosted previous protests outside of APD's headquarters.
Moore called to defund APD, in addition to other policy reforms. "We can't fix a police department that was designed to catch runaway slaves," he said, alluding to law enforcement's origins. "It's operating the way it's supposed to."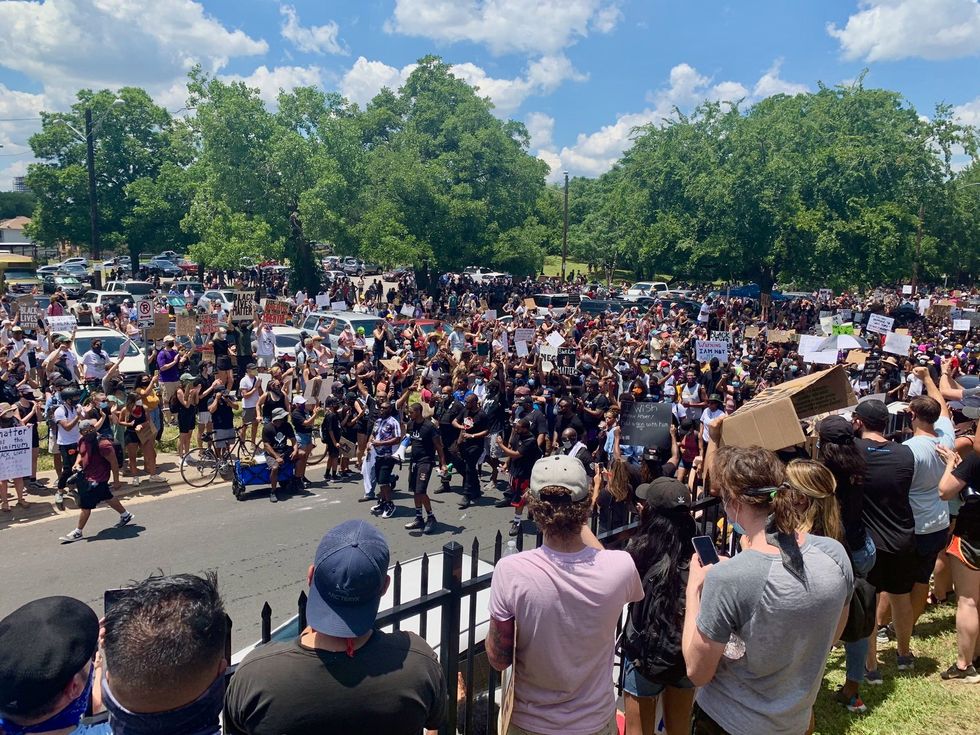 (Emma Freer/Austonia)
In addition to calling for policy changes, Moore also asked white protestors to do more than circulate hashtags and make signs. "Black women, I love you," he said. "White people, I love you too, but you've got to do better."
At the start of the march, Moore asked white protestors to make room for black protestors at the front and to surround them in a show of solidarity.
So many people were waiting to join the march on Chalmers Avenue, outside Huston-Tillotson's gates, that the organizers had to wait for the street to clear before they could start for the Capitol, 1.5 miles away.
Volunteers handed out water bottles, snacks, hand sanitizer and sunscreen. Some protestors stopped for shade or water in the 96-degree heat. Truck drivers on I-35 periodically honked their horns to show their support.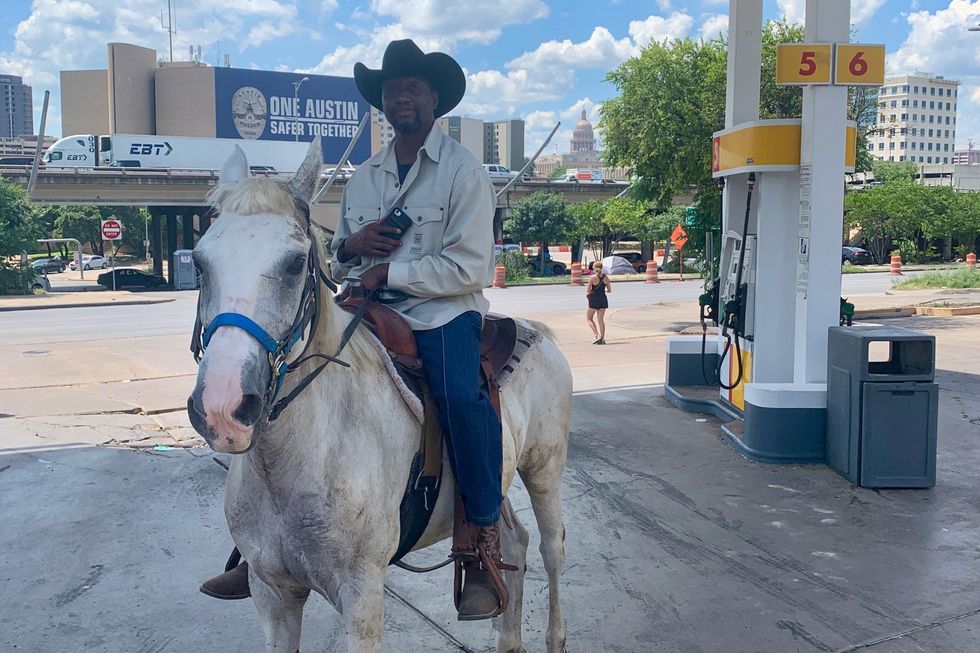 (Emma Freer/Austonia)
A group of black men on horses joined the march, riding through the streets and eventually through a path cleared by protestors in front of the Capitol. One wore a "Black Lives Matter" t-shirt, another one emblazoned with the American flag.
Corey, who declined to give his last name, and his horse Snowball were part of the group, which took a break in the shade at the Shell station on East Seventh Street at I-35. "We all got together and came out here to support," he said.
While the Capitol gates were closed and police guarded the grounds, protestors gathered in the street out front before peacefully dispersing.
Terry Black's Barbecue is journeying outside of the smoked meats sphere and into the hospitality sector, announcing plans to open "Friday Mountain," a resort-style vineyard near Driftwood.
According to a report from the Austin Business Journal, Friday Mountain will be located on 64 acres at 150 Concord Circle, featuring a boutique hotel with 22 rooms, a 14-acre vineyard and a 20,000-square-foot underground wine facility, a spa, event space, all-day café and high-end restaurant. Construction is poised to start in the next month.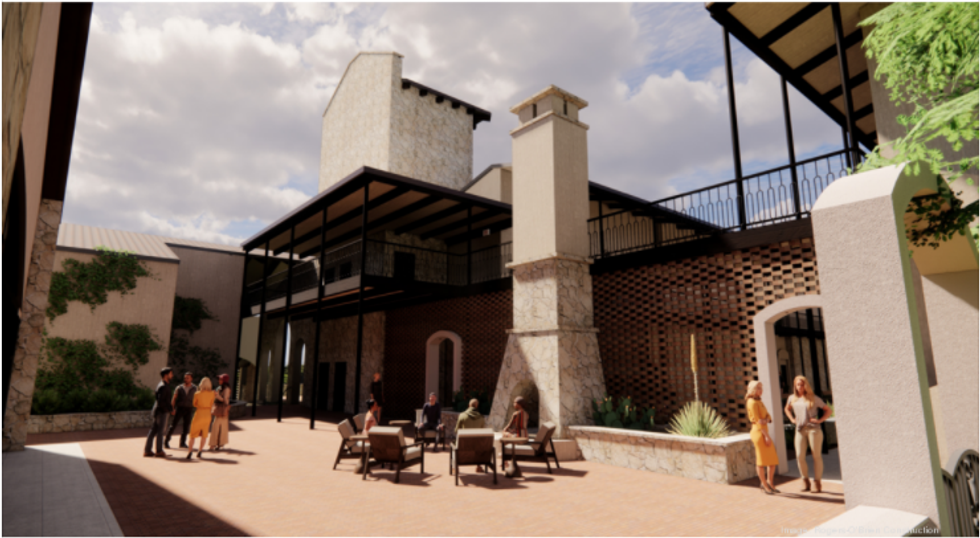 The courtyard outside of the event space will echo Hill Country architecture. (Rogers-O'Brien Construction)
Co-owner Mark Black said he expects construction to last about 10 months, hoping for opening early next year, and would hire around 140 employees: 60 full-time and 80 part-time.
The new project has long been in the works for the restaurateurs—including Mark's twin brother Mike and sister Christina—who come from the same lineage as those behind Lockhart's Black's BBQ but separated the business due to a falling out within the family.
Friday Mountain was originally planned to be a wedding venue but issues arising about noise, traffic and environmental concerns led the Dripping Springs City Council to ask for updated plans.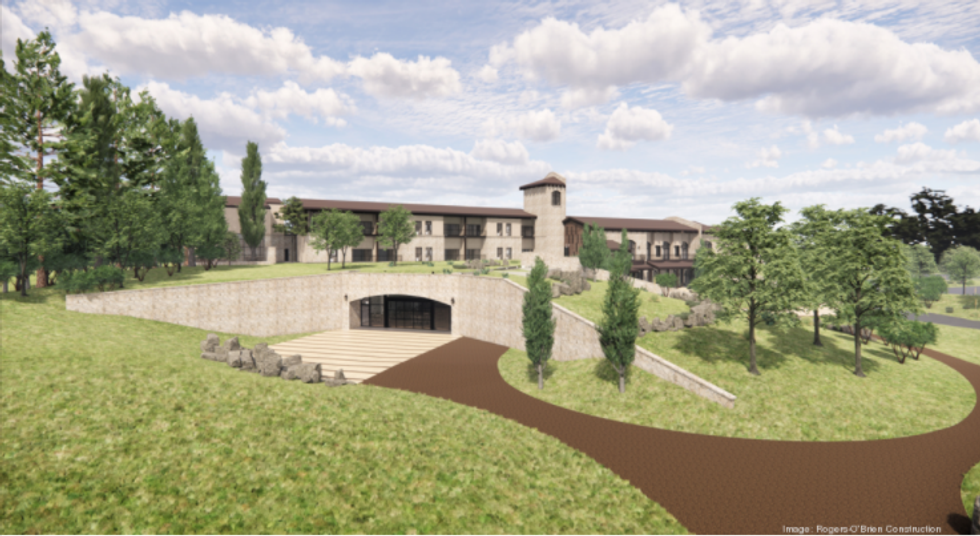 A rendering of the entrance to the planned underground wine cave. (Rogers-O'Brien Construction)
In the new plans, which have since been submitted, Black said he heard the neighborhood's concerns and is focusing on working with the right contractors to avoid issues. Black said he knows not everyone will be on board with the venue but that it will provide a little something for everyone.
To bring the concept to life, Black is partnering with engineers at Kimley-Horn and Associates Inc., architects at Lawrence Group, and Rogers-O'Brien Construction Co. Ltd. as the general contractor.
As for the vineyard, Black has partnered with Salt Lick Cellars to have wine aged and ready to drink wine upon opening and will hand off wine making operations to enthusiast Phil Price.
According to a Texas Department of Licensing and Regulation filing, the project will cost an estimated $20 million to be completed in January 2023.
From Your Site Articles
Related Articles Around the Web
The Texas French Bread Bakery, located on 2900 Rio Grande Street, has been completely destroyed after a fire erupted on Monday night.
The Austin Fire Department responded to the fire just before 11 p.m., where they arrived to see flames coming from the roof of the bakery. Firefighters fought the fire for about an hour before the roof collapsed.
While no one was injured in the fire, firefighters say the historic building was completely totaled.
AFD determined that the fire was accidental and caused by mechanical failure. AFD said the damages amounted to $1.6 million total: $1.1 million in structural damage and $500,000 in damage to the contents of the bakery.

This year, Texas French Bread will celebrate 40 years of business. Before the bakery occupied the building, it was the Rome Inn, a music venue that hosted 1970s artists like Stevie Ray Vaughan.