Get connected with our daily update
(Emma Freer/Austonia)
Thousands of people gathered at Huston-Tillotson University on Sunday afternoon for a rally against police violence organized by the Austin Justice Coalition. The event ended with a march to the Texas State Capitol.
---
Compared to other protests taking place in the past nine days, the crowd on Sunday was significantly larger and saw hardly any police presence. Austin Mayor Steve Adler also attended.
The event followed an AJC demonstration that was canceled last weekend due to concerns about police violence and vandalism.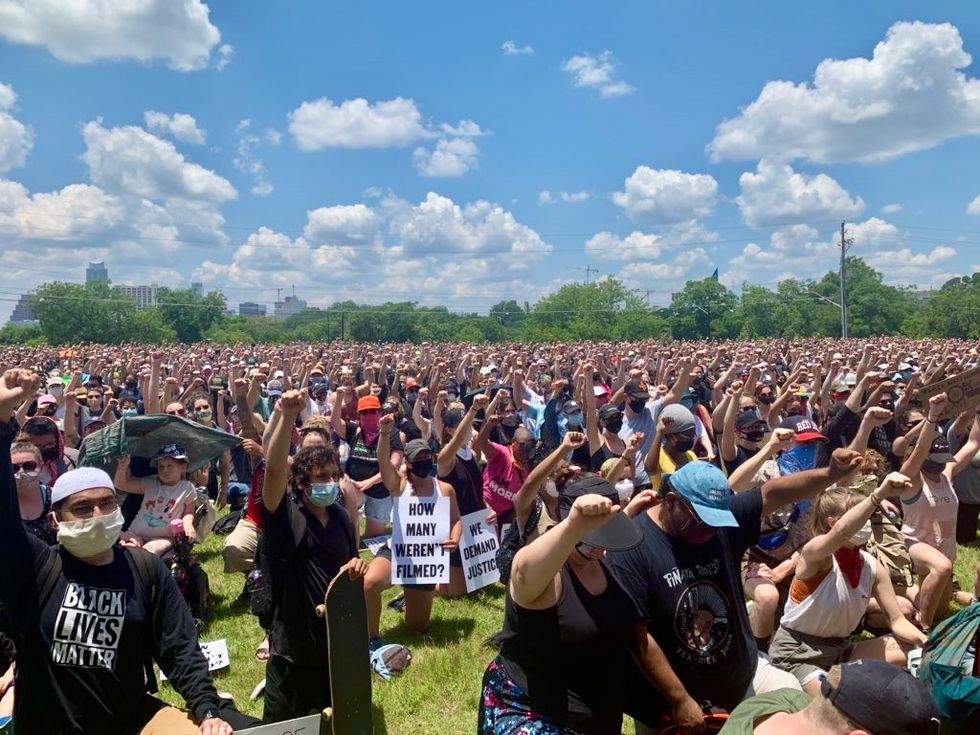 Mayor Steve Adler was among the kneeling protesters.
(Emma Freer/Austonia)
Protestors—nearly all of whom wore masks—gathered Sunday on the historically black university campus to hear from AJC Executive Director Chas Moore, Huston-Tillotson President Colette Pierce Burnette and Brenda Ramos, whose son Mike was killed by an Austin Police Department officer in late April, among others.
Moore started the rally by asking black protestors to join him on a hill, under the shade, overlooking a field. White protestors were asked to make room for them by gathering below, under the hot sun, where he said black people have spent the last 400 years.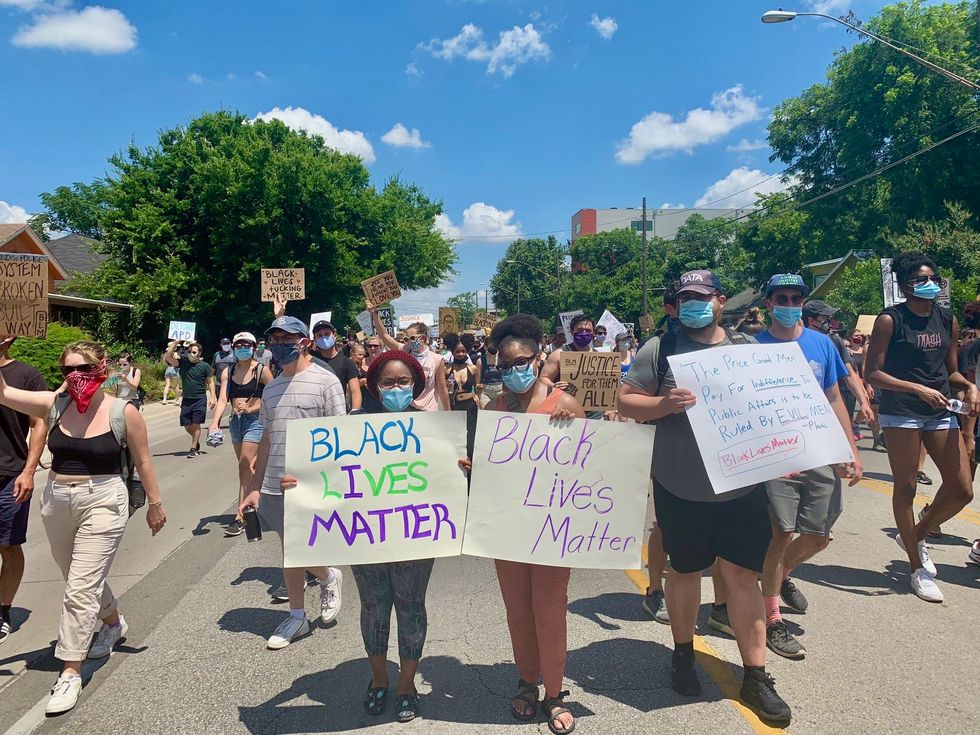 (Austonia/Emma Freer)
Pierce Burnette then spoke to the crowd, saying that Huston-Tillotson's campus symbolizes "a tale of two cities." Although it is Austin's oldest institute of higher learning, it has been "treated like a stepchild," she said.
The university co-hosted the event, and Pierce Burnette urged protestors to continue making noise. "Be part of a movement, not just this moment," she said.
Ramos called on APD Chief Brian Manley to resign and said her priority is passing a new law in her son's name that would require the department to release evidence, such as body- and dash-cam footage, to victims' families and more immediate consequences for those officers involved. "No one should live through this," she said in tears.
Ramos also said her family is not associated with the Mike Ramos Brigade, a group of unidentified individuals who have hosted previous protests outside of APD's headquarters.
Moore called to defund APD, in addition to other policy reforms. "We can't fix a police department that was designed to catch runaway slaves," he said, alluding to law enforcement's origins. "It's operating the way it's supposed to."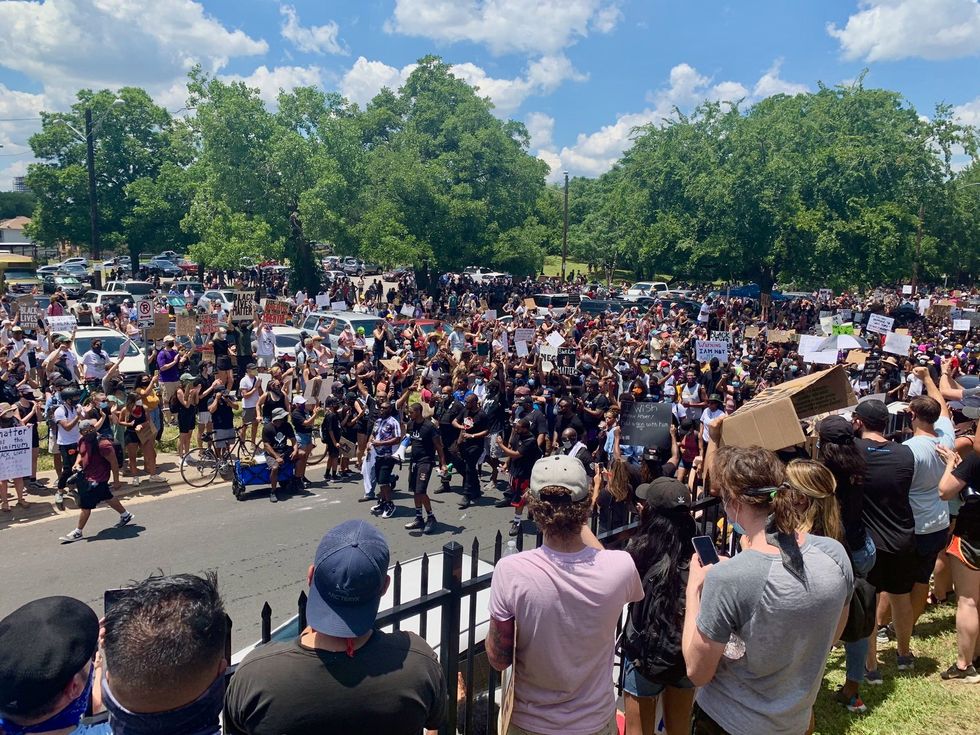 (Emma Freer/Austonia)
In addition to calling for policy changes, Moore also asked white protestors to do more than circulate hashtags and make signs. "Black women, I love you," he said. "White people, I love you too, but you've got to do better."
At the start of the march, Moore asked white protestors to make room for black protestors at the front and to surround them in a show of solidarity.
So many people were waiting to join the march on Chalmers Avenue, outside Huston-Tillotson's gates, that the organizers had to wait for the street to clear before they could start for the Capitol, 1.5 miles away.
Volunteers handed out water bottles, snacks, hand sanitizer and sunscreen. Some protestors stopped for shade or water in the 96-degree heat. Truck drivers on I-35 periodically honked their horns to show their support.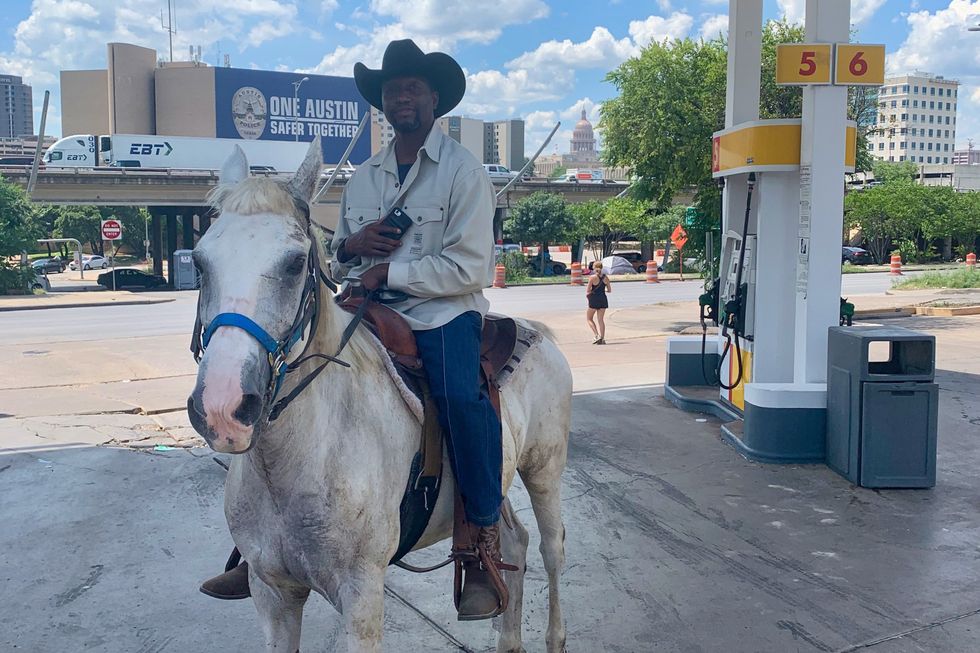 (Emma Freer/Austonia)
A group of black men on horses joined the march, riding through the streets and eventually through a path cleared by protestors in front of the Capitol. One wore a "Black Lives Matter" t-shirt, another one emblazoned with the American flag.
Corey, who declined to give his last name, and his horse Snowball were part of the group, which took a break in the shade at the Shell station on East Seventh Street at I-35. "We all got together and came out here to support," he said.
While the Capitol gates were closed and police guarded the grounds, protestors gathered in the street out front before peacefully dispersing.
(Clint Broden)
Daniel Perry, the active-duty Army sergeant who says he shot Black Lives Matter protester Garrett Foster in self-defense, was driving for Uber when he accidentally encountered the demonstration on the night Foster was killed, his attorney said Monday.
Perry, who is stationed in Killeen and only allowed to travel 100 miles from base, was not in Austin that night to attend the demonstration, attorney Clint Broden said, but because it "was the closest location that had significant ridesharing customers."
Broden also shared a redacted version of Perry's bank statement that shows two deposits from Uber that he said correlated to runs in Austin that night. Perry has been ordered to remain on base since the shooting, Broden said.
"We hope this puts to rest the allegations that Sgt. Perry traveled to Austin for any nefarious purpose," he said.
Some, including Foster's mother, have pointed to Perry's since-deleted Twitter account as evidence that he disagreed with BLM protesters and showed up at the rally to cause trouble.
The release was accompanied by six photos showing what the attorney described as the damage inflicted on Perry's car by protesters, including a bullet hole.
After Perry shot Foster, who was carrying an AK-47 and whom Perry claims was raising his rifle "in a direct threat to [his] life," another person in the crowd shot at Perry's vehicle, according to police. That person has not been publicly identified. Like Perry, he or she had a concealed carry license and was questioned and then released by the Austin Police Department.
Protesters arrested

On Saturday, in the wake of Foster's death and the release of Perry's name the day before, protesters and law enforcement clashed in demonstrations near downtown. Austin police on Monday released the names of 40 people arrested at the protests. The most common charge was obstruction of a highway.
Perry's attorney shared photos that he says show damage inflicted by protesters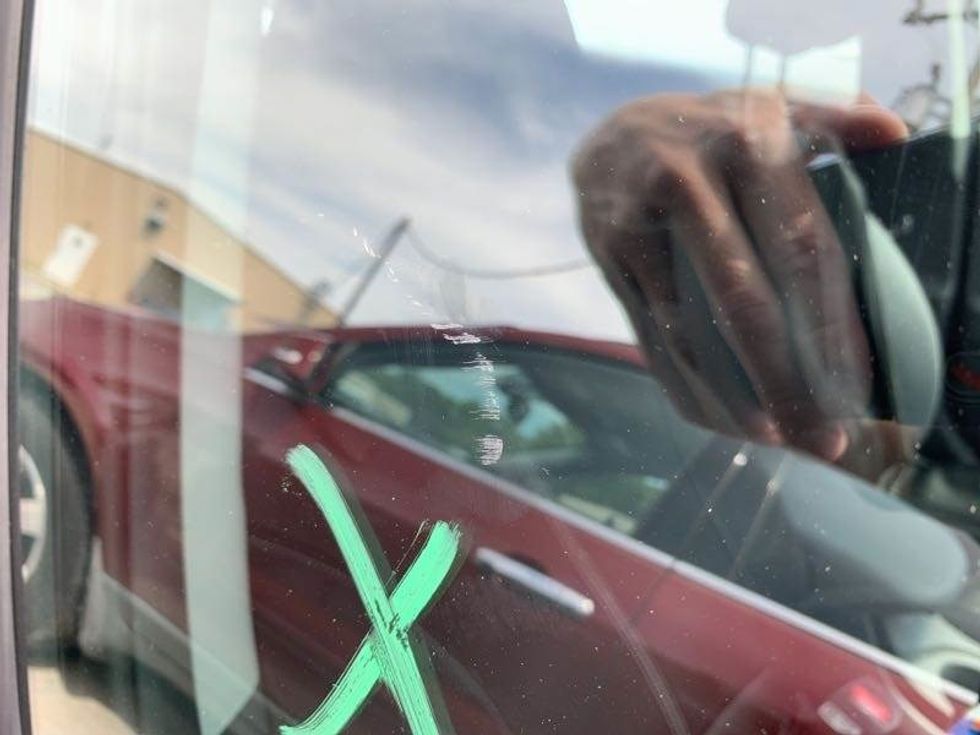 Perry's lawyer claims this photo shows where the vehicle was scraped with a brick.
(Clint Broden)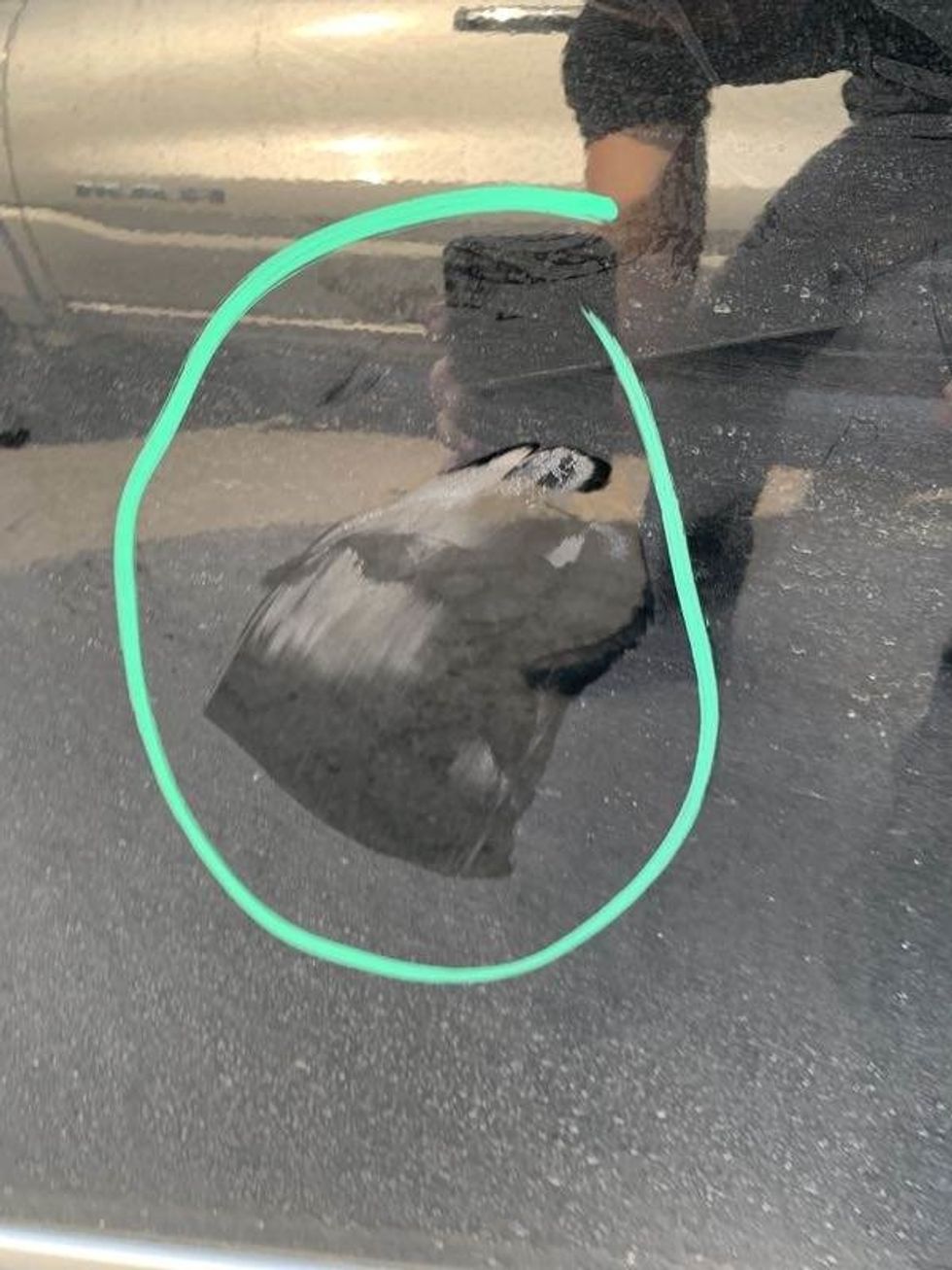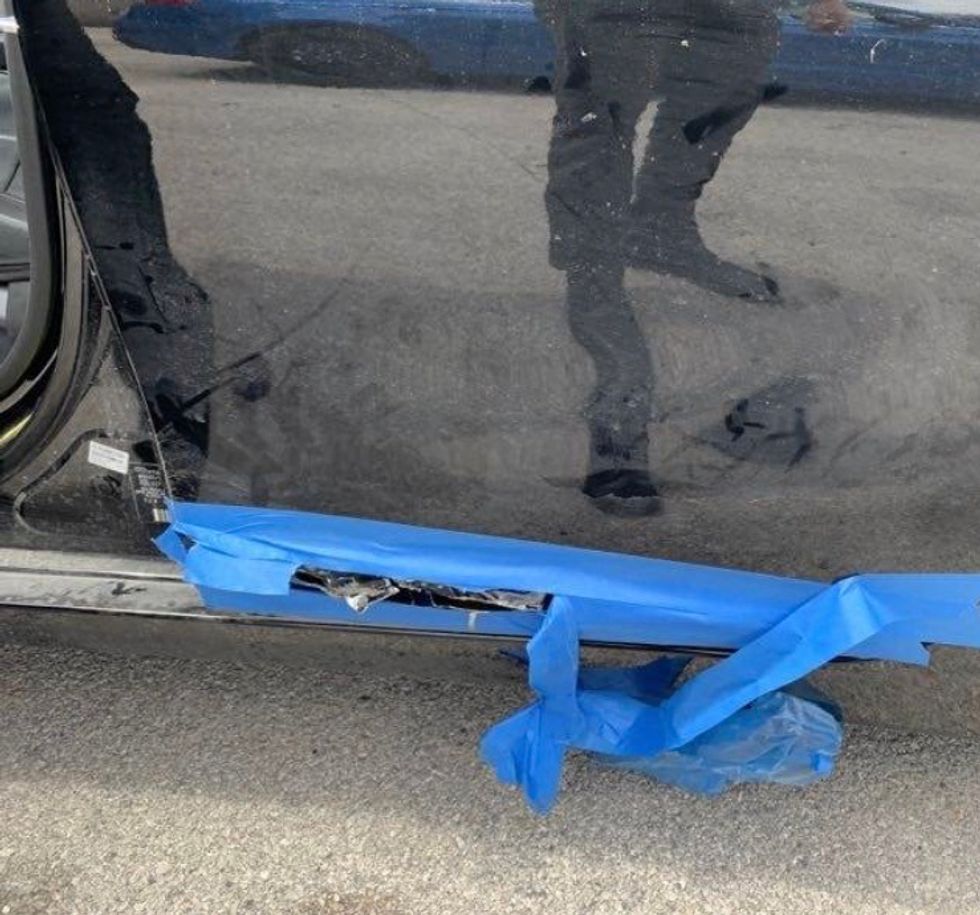 This photo, the lawyer says, depicts bullet holes.
(Clint Broden)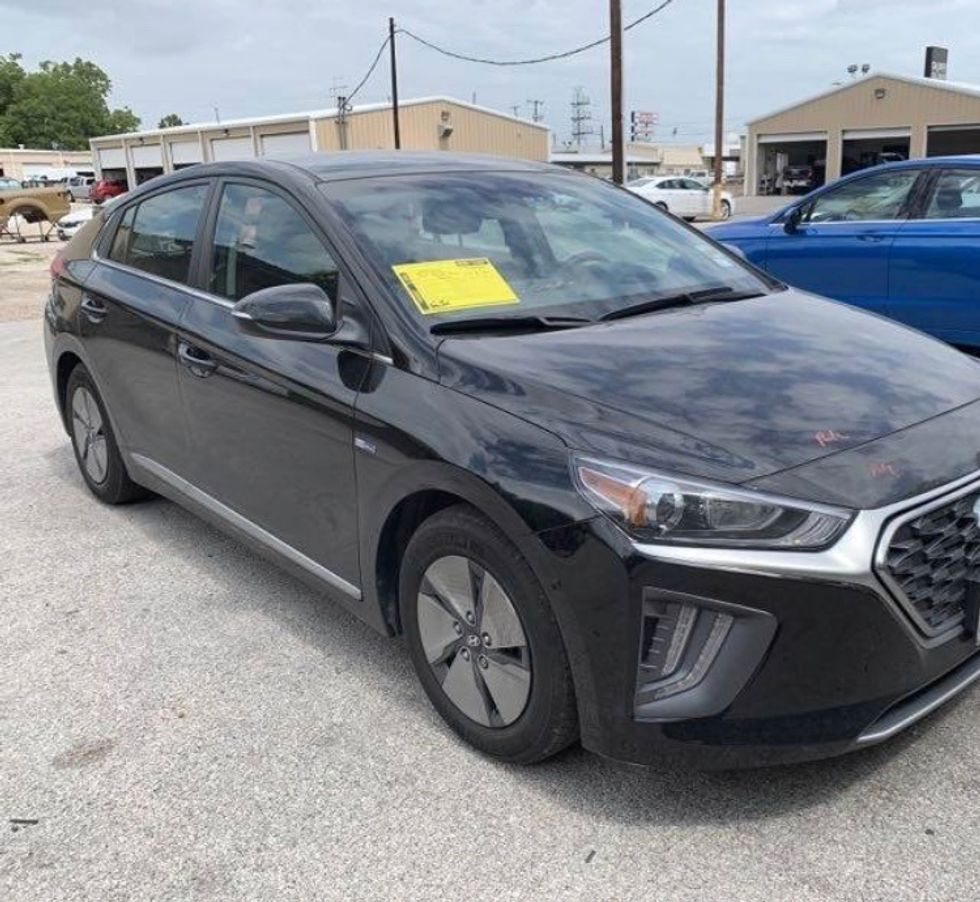 Perry's lawyer claims this photo shows hood damage "identified by auto body shop as a result of banging."
(Clint Broden)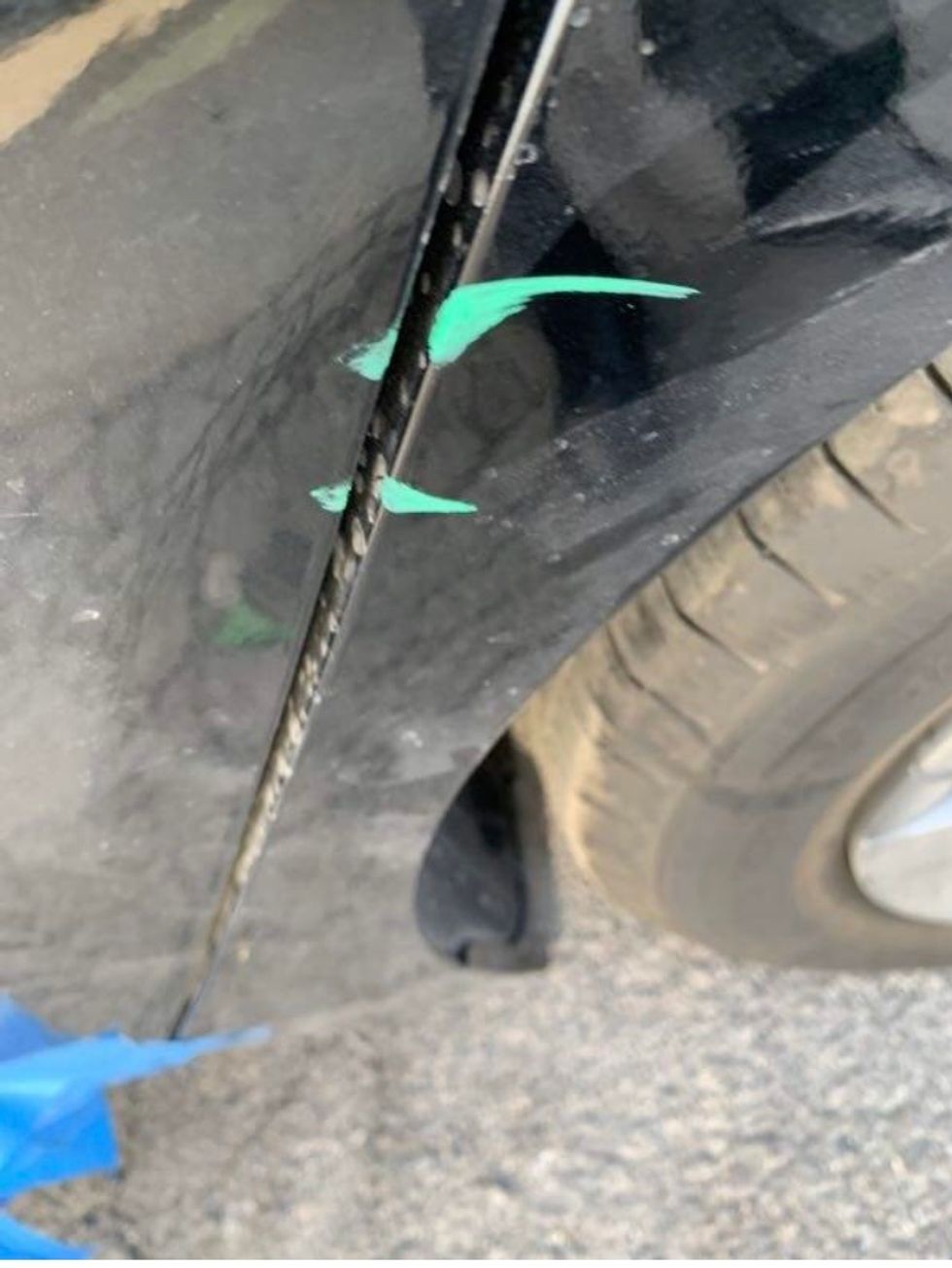 This photo, the attorney claims, shows a misaligned door where people hit the vehicle.
(Clint Broden)
Follow Austonia on Instagram to keep up with what's happening in your city.
Our Instagram page allows you to stay up to date with all things Austin, from coronavirus updates to local personalities. Join our Instagram family to see the faces, events and news that make up the city.
(Apple)
Former Longhorn and NFL star Emmanuel Acho stars in the two-part premiere of "The Oprah Conversation," which hit screens on Apple TV+ over the weekend.
<p>Acho is a natural fit to kick off the new show by Oprah Winfrey. The two are partnering to <a href="https://austonia.com/media/uncomfortable-conversations" target="_blank">publish a book based off his wildly popular social-media series</a>, "Uncomfortable Conversations with a Black Man."</p>In the show's first installment, Winfrey and Acho answer questions by white and Latino guests about race and what it means to be Black in America.<p>"He's answering uncomfortable questions about racism in America and the best ways to keep the conversation going with your family and friends," reads a statement on the show's social media.</p><div class="rm-shortcode" data-rm-shortcode-id="b731717d9d6127f784b0c98ace3bba1a"><div class="fb-video" data-allowfullscreen="true" data-href="https://www.facebook.com/video.php?v=2661048164154842"></div></div><p><br/></p><p>"The Oprah Conversation" is Winfrey's newest series on Apple TV+, following "Oprah Talks COVID-19" and "Oprah's Book Club."</p><p>In future episodes, the show will continue to explore timely topics with leaders from across the globe. <a href="https://tv.apple.com/us/episode/uncomfortable-conversations-with-a-black-man-part-1/umc.cmc.18mbwbiobbhzpxceuzvijsln8?showId=umc.cmc.49yt85r7ow6904u0177r694qy" target="_blank">Watch it here.</a></p>