Get connected with our daily update
(Emma Freer/Austonia)
Thousands of people gathered at Huston-Tillotson University on Sunday afternoon for a rally against police violence organized by the Austin Justice Coalition. The event ended with a march to the Texas State Capitol.
---
Compared to other protests taking place in the past nine days, the crowd on Sunday was significantly larger and saw hardly any police presence. Austin Mayor Steve Adler also attended.
The event followed an AJC demonstration that was canceled last weekend due to concerns about police violence and vandalism.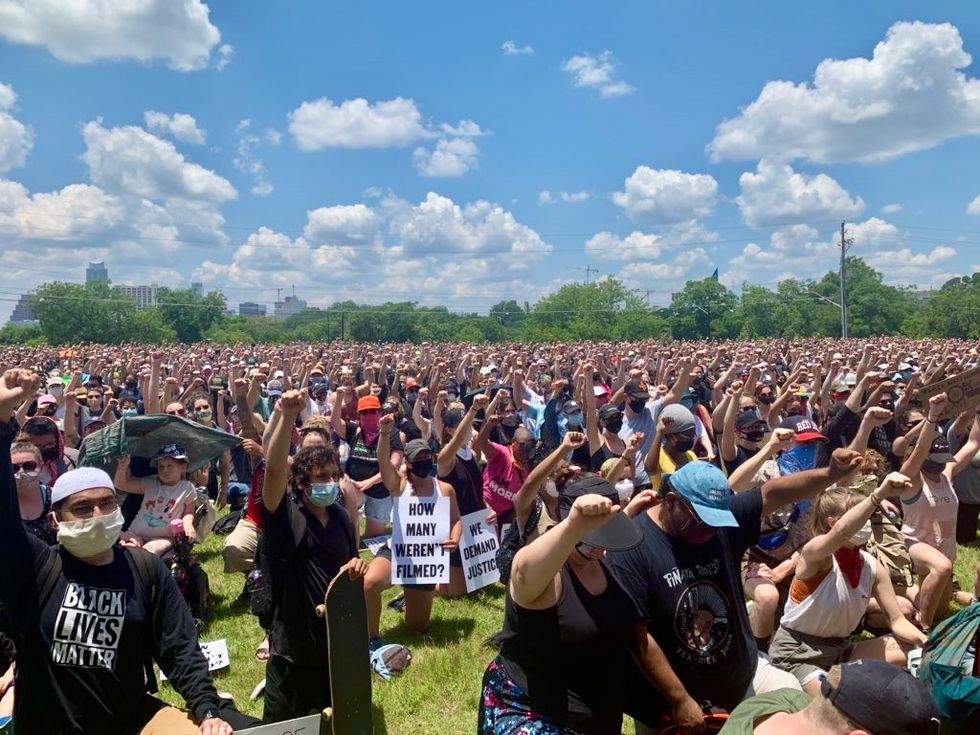 Mayor Steve Adler was among the kneeling protesters.
(Emma Freer/Austonia)
Protestors—nearly all of whom wore masks—gathered Sunday on the historically black university campus to hear from AJC Executive Director Chas Moore, Huston-Tillotson President Colette Pierce Burnette and Brenda Ramos, whose son Mike was killed by an Austin Police Department officer in late April, among others.
Moore started the rally by asking black protestors to join him on a hill, under the shade, overlooking a field. White protestors were asked to make room for them by gathering below, under the hot sun, where he said black people have spent the last 400 years.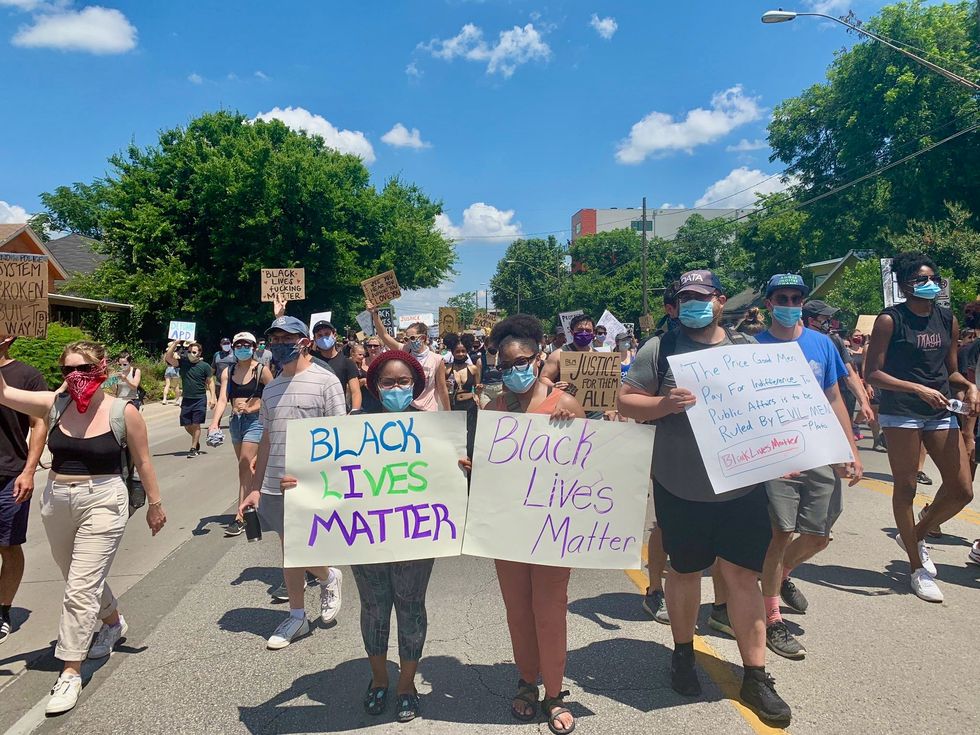 (Austonia/Emma Freer)
Pierce Burnette then spoke to the crowd, saying that Huston-Tillotson's campus symbolizes "a tale of two cities." Although it is Austin's oldest institute of higher learning, it has been "treated like a stepchild," she said.
The university co-hosted the event, and Pierce Burnette urged protestors to continue making noise. "Be part of a movement, not just this moment," she said.
Ramos called on APD Chief Brian Manley to resign and said her priority is passing a new law in her son's name that would require the department to release evidence, such as body- and dash-cam footage, to victims' families and more immediate consequences for those officers involved. "No one should live through this," she said in tears.
Ramos also said her family is not associated with the Mike Ramos Brigade, a group of unidentified individuals who have hosted previous protests outside of APD's headquarters.
Moore called to defund APD, in addition to other policy reforms. "We can't fix a police department that was designed to catch runaway slaves," he said, alluding to law enforcement's origins. "It's operating the way it's supposed to."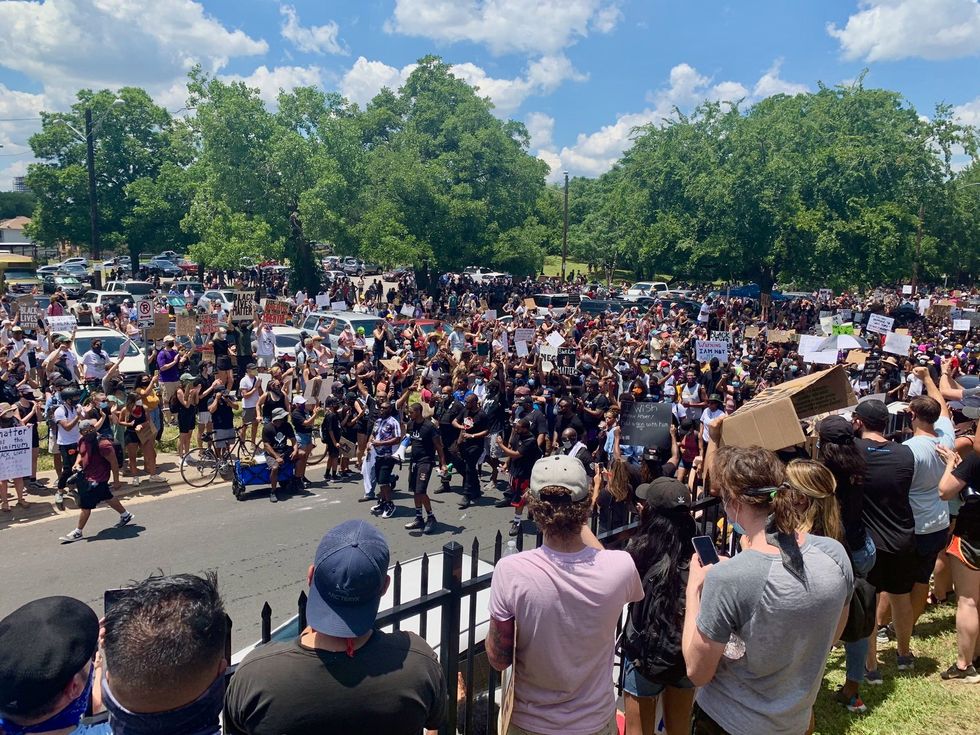 (Emma Freer/Austonia)
In addition to calling for policy changes, Moore also asked white protestors to do more than circulate hashtags and make signs. "Black women, I love you," he said. "White people, I love you too, but you've got to do better."
At the start of the march, Moore asked white protestors to make room for black protestors at the front and to surround them in a show of solidarity.
So many people were waiting to join the march on Chalmers Avenue, outside Huston-Tillotson's gates, that the organizers had to wait for the street to clear before they could start for the Capitol, 1.5 miles away.
Volunteers handed out water bottles, snacks, hand sanitizer and sunscreen. Some protestors stopped for shade or water in the 96-degree heat. Truck drivers on I-35 periodically honked their horns to show their support.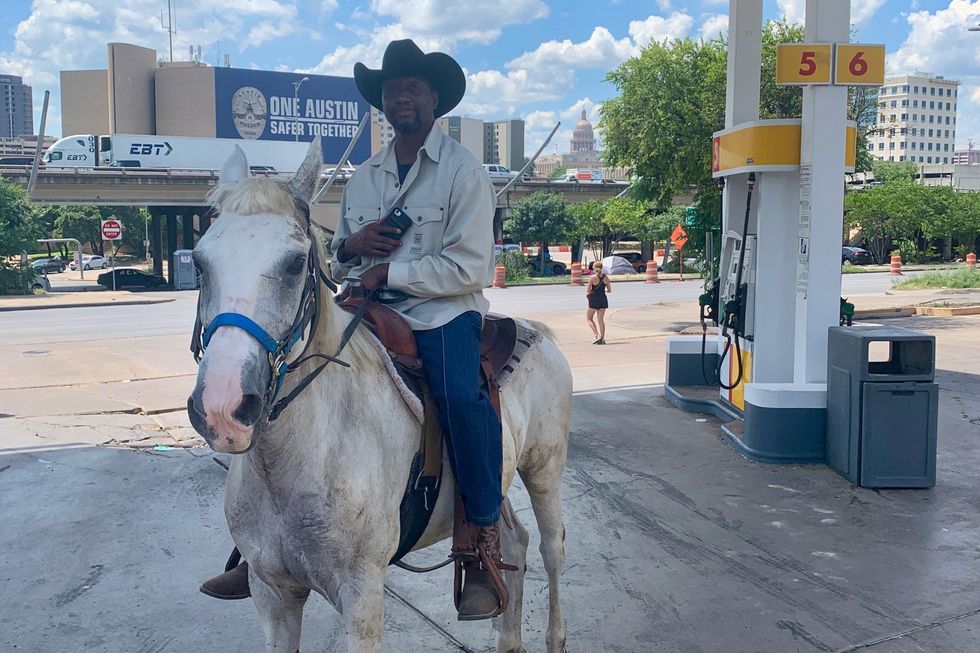 (Emma Freer/Austonia)
A group of black men on horses joined the march, riding through the streets and eventually through a path cleared by protestors in front of the Capitol. One wore a "Black Lives Matter" t-shirt, another one emblazoned with the American flag.
Corey, who declined to give his last name, and his horse Snowball were part of the group, which took a break in the shade at the Shell station on East Seventh Street at I-35. "We all got together and came out here to support," he said.
While the Capitol gates were closed and police guarded the grounds, protestors gathered in the street out front before peacefully dispersing.
Concerning levels of cylindrospermopsin were discovered on Sept. 22 after a person got sick and samples were sent to get tested on Sept. 9. Signs will be posted at access points to Sculpture Falls that people and their pets should not injest or swim in the water.
Unlike the harmful algae making dogs sick in parts of Lake Travis and Lady Bird Lake in past summers, these toxins are found in the water, the city says. Barton Creek visitors are asked to avoid stagnant water especially.
The toxins also result in different health effects than the harmful algae in Lady Bird Lake, including liver and kidney damage. If exposed, people can feel:
Fever
Headache
Vomiting
Bloody diarrhea
If exposed, people should seek medical attention and report it to 311.
TinyFest Texas 2021
When: 10 a.m. Saturday – 5 p.m. Sunday
Where: Jourdan-Bachman Pioneer Farms, 10621 Pioneer Farms Drive
What: Tour tiny houses, van converstions, shipping container homes and more at this year's TinyFest. Grab tickets here for a weekend of speakers, workshops and panel discussions plus live music, food and more!

Fierce Whiskers Grand Opening
When: 12 p.m. Saturday
Where: Fierce Whiskers, 5333 Fleming Court
What: Fan of whiskey? Come along to the free grand opening of Fierce Whiskers Distillery's new tasting room. Enjoy bites from a food truck, oysters, musical performances and a raffle.

Austin Summer Carnival
When: 6 p.m. Saturday – 2 a.m. Sunday
Where: The Venue ATX, 516 East 6th St.
What: Don your dancing outfit for this carnival that celebrates the African heritage with Brazilian, Latin and Caribbean rhythms in Austin. Snag your tickets here.

Beginner's Succulent Arrangement and Planting
When: 3 p.m. – 4 p.m. Sunday
Where: Succulent Native, 5501 North Lamar Blvd.
What: Calling all first-time planters: Get your hands dirty and learn about succulent and cactus arrangement and care. No tools required! Grab your tickets here.