Get connected with our daily update
(Jett Anderson/Hinge)
The coronavirus pandemic has radically changed the way people perform everyday tasks, from buying groceries to getting a haircut. But perhaps no activity looks more different—and in some cases, more challenging—than dating.
---
Looking for love has always come with obstacles, and they've become even greater in an era of mask-wearing, social distancing and quarantining. Nevertheless, many Austinites continue to navigate these uncharted waters. Their stories make one thing clear: Dating during COVID-19 is no walk in the park—except for when it is.
Making it to the next round
Mary Añez is not a big fan of text-based communication. If she matches with somebody on the dating app Hinge, she's quick to invite them to talk via Zoom. The video chatting tool isn't seamless, but it's a good way to gauge chemistry before committing to an in-person date.
"I don't want to use the word interview, but it's kind of like that," Añez says with a laugh.
Añez has maintained a fairly strict quarantine, and she admits the path forward for dating during a pandemic is often unclear. She's gone on a few socially distanced walks and has the option to hang out with dates on her spacious balcony, but even then, she has to trust the other person has been respecting quarantine as well.
"I'm not about to be like, 'You have to only see me,' but there is a virus," she says. "So it's like, kind of, you do only have to see me, although that's not really the emotional terms of engagement that we have."
While COVID-19 presents a unique set of obstacles for dating, the principles are familiar. For Añez, maintaining a strict quarantine or opting to meet up at a spot where both people feel comfortable ultimately boils down to respecting boundaries.
"All I ask is that you respect my time, and you respect me as a person, which makes it sound like the bar's on the floor," Añez says. "But that, I think, is the highest bar that a lot of people never really reach."
"That escalated quickly"
Jett Anderson and Sean Moore couldn't have predicted how momentous their first date would be. Not because sparks flew, but because it took place one week before Austin partially shut down in March.
"That was the last time I went downtown," Moore says. "I was driving down there thinking, 'Why am I going to see a guy in a pandemic? Why am I doing this?' But it worked out, I guess."
Moore and Anderson have been dating for nearly four months now. From their second date onward, they've had to spend virtually all their time together at each other's homes.
"Literally on our second date, I'm inviting a strange man into my home," Moore jokes. "I remember just getting weirdly like, 'OK, I trust you with my family's life. I hope that you're serious.'"
Since then, they've enjoyed many blissful nights watching The Marvelous Mrs. Maisel and What We Do in the Shadows and playing Animal Crossing: New Horizons. (They're keeping an eye on their in-game avatars as they talk to me via Zoom.) They're looking forward to the day they can safely go kayaking or play disc golf again, but they're grateful for the firm foundation they've established during the pandemic.
"I would like to do other things, yeah, but because of how close we've gotten and how hyper-focused we've been, I really enjoy that," Anderson says. "If it ever opens up again—"
"Please don't talk like that!" Moore interrupts.
Anderson tries again: "When it does, eventually, that foundation's there."
Pandemic pro tips
Britny Eubank was arguably better-equipped for pandemic dating than most people. She's been practicing extreme social distancing—about 1,600 miles—for the past eight months with her boyfriend, who lives just outside Philadelphia.
The two last saw each other in February; the pandemic derailed Eubank's plans to fly to Philly in June, and they're not sure when they'll see each other next.
"We have another attempt planned for the fall, but at this point, everything is 'wait and see,'" Eubank says.
In the meantime, they've stuck faithfully to phone and video dates every Thursday night for the last eight months; they boosted it to twice a week after Eubank's June trip got canceled. In that time, Eubank has picked up a few long-distance tips that could make pandemic dating more bearable.
"Do your small talk via text, that way you can find out what you have in common and talk about those more interesting things on actual 'dates,'" she says. "Try to be as patient as possible with technical difficulties. And if your relationship seems like it's going in the long-term direction, definitely be intentional about the time you spend together."
Want to read more stories like this one? Start every day with a quick look at what's happening in Austin. Sign up for Austonia.com's free daily morning email.
The Texas French Bread Bakery, located on 2900 Rio Grande Street, has been completely destroyed after a fire erupted on Monday night.
The Austin Fire Department responded to the fire just before 11 p.m., where they arrived to see flames coming from the roof of the bakery. Firefighters fought the fire for about an hour before the roof collapsed.
While no one was injured in the fire, firefighters say the historic building was completely totaled.
AFD determined that the fire was accidental and caused by mechanical failure. AFD said the damages amounted to $1.6 million total: $1.1 million in structural damage and $500,000 in damage to the contents of the bakery.

This year, Texas French Bread will celebrate 40 years of business. Before the bakery occupied the building, it was the Rome Inn, a music venue that hosted 1970s artists like Stevie Ray Vaughan.
Austin's first major league team is ready to extend its reach with a new collaborative sports complex The Pitch, an Austin FC destination packed with local food, beverages and Verde fervor is set to open in Northeast Austin in February.
The Pitch, a collaboration between Austin FC and Karlin Real Estate, among other entities, will be located in the 50-acre Parmer Pond District, which already hosts the club's practice facility St. David's Performance Center.
Dubbed a "true destination" for both soccer fans and the community, The Pitch will consist of multilevel shipping containers designed by Mark Odom Studio that will carve out into a 1,200-seat stadium complete with a soccer pitch made of turf, food and beverage options and a five-acre "Parmer Pond" featuring jogging trails.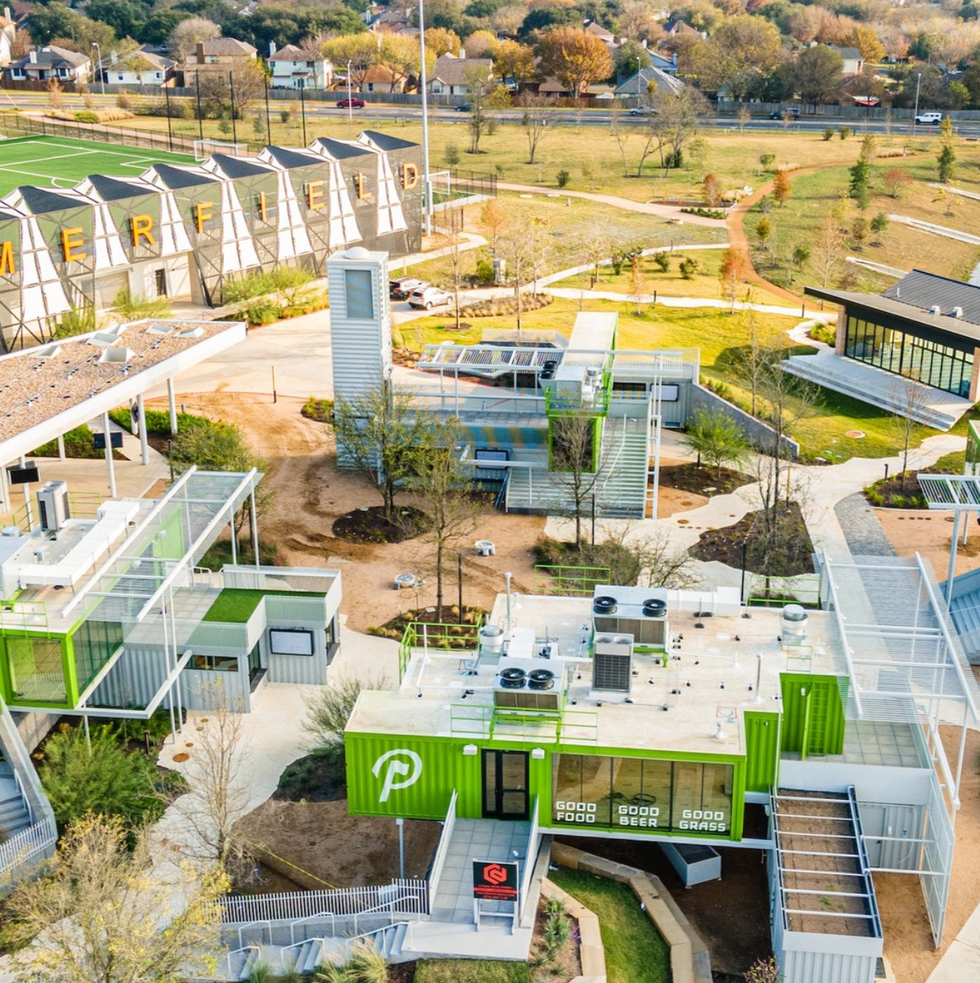 Made from multilevel shipping containers, The Pitch will include food and a 1,200-seat soccer pitch made from artificial turf. (The Pitch)
"The launch of Karlin's new food and entertainment experience will greatly enhance the Parmer development while perfectly complimenting St. David's Performance Center," Austin FC founder Anthony Precourt said. "The Pitch... will offer a strong variety of food options and gathering spaces for guests who will utilize St. David's Performance Center and Parmer Field for a variety of events."
The Pitch project lead Dave Greeley, who helped come up with the concept, is a former president of Austin FC parent company, Two Oak Ventures.
"The vision behind The Pitch at the Parmer Pond District is to be a first-of-its-kind sports, dining and entertainment destination," said Dave Greeley, The Pitch project lead and Team Orbis president. "This will be an unmatched experience for Parmer Austin tenants, Austin FC and club supporters, and the community."
With its proximity to the practice center, the venture hopes to contribute to the growing "soccer city" of Austin during Austin FC matches and youth games with the Austin FC Academy hosted at the St. David's Performance Center.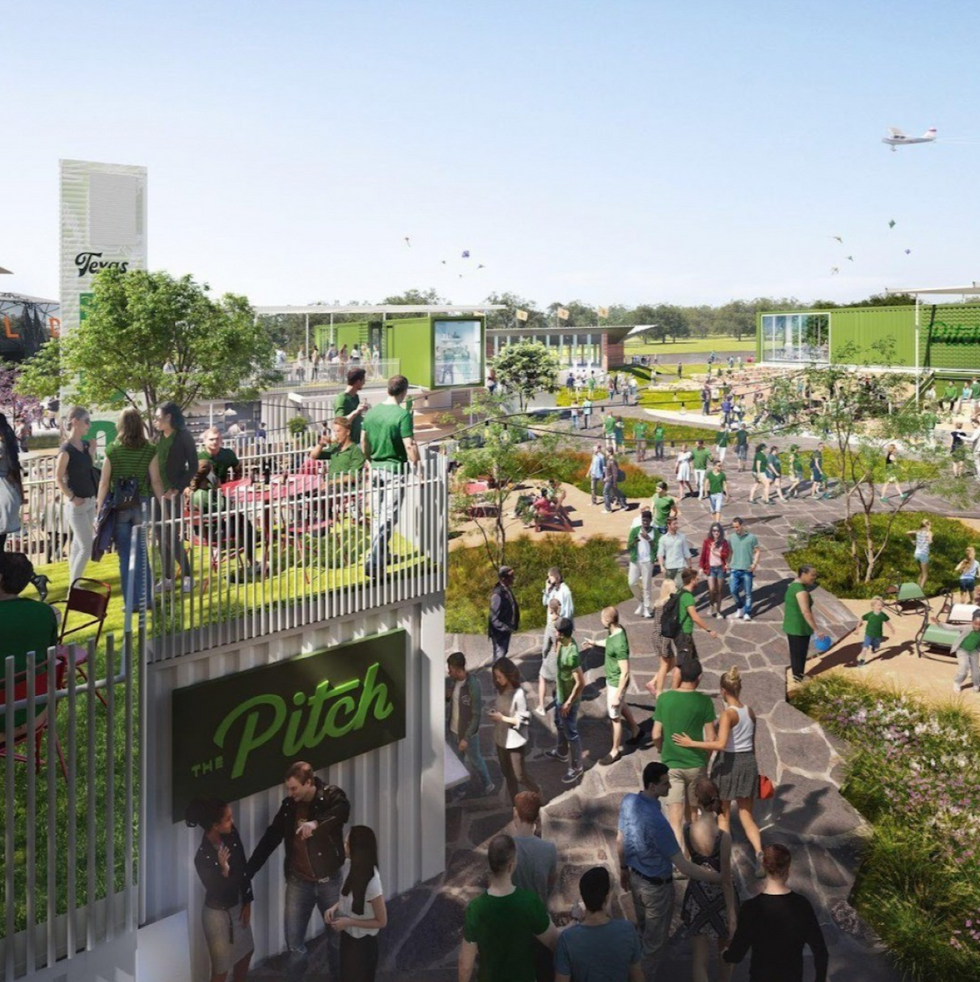 The Pitch hopes to converge both community and club interests with Austin FC. (The Pitch)
In addition to the soccer pitch, stadium and pond, The Pitch will provide a foody experience made by the creative team behind Austin staples like Fareground and Easy Tiger. The complex will offer local bites including:
Ranger Burger, which offers beers and burgers made from highly-coveted Wagyu beef direct from Ranger Cattle in East Austin
Ga Roti, which merges flavors from Northern Vietnam with the culinary techniques of France to create a unique rotisserie chicken joint
Taco Flats, a local taco chain serving Mexico City-style tacos, micheladas and more
Sand Bar, which fulfills its namesake with beauty cocktails, local beers and a sand volleyball court
Coffee Club, a coffee shop and bakery
Corner Kick Bar, the soccer-focused main bar of The Pitch complete with "tunes, TVs and (a) beer garden"
The Pitch will squeeze between St. David's Performance Center and Parmer Pond alongside the southern edge of Parmer Austin, a Karlin Real Estate venture that will eventually include multifamily housing, corporate office space and an aerospace and defense center.