Get connected with our daily update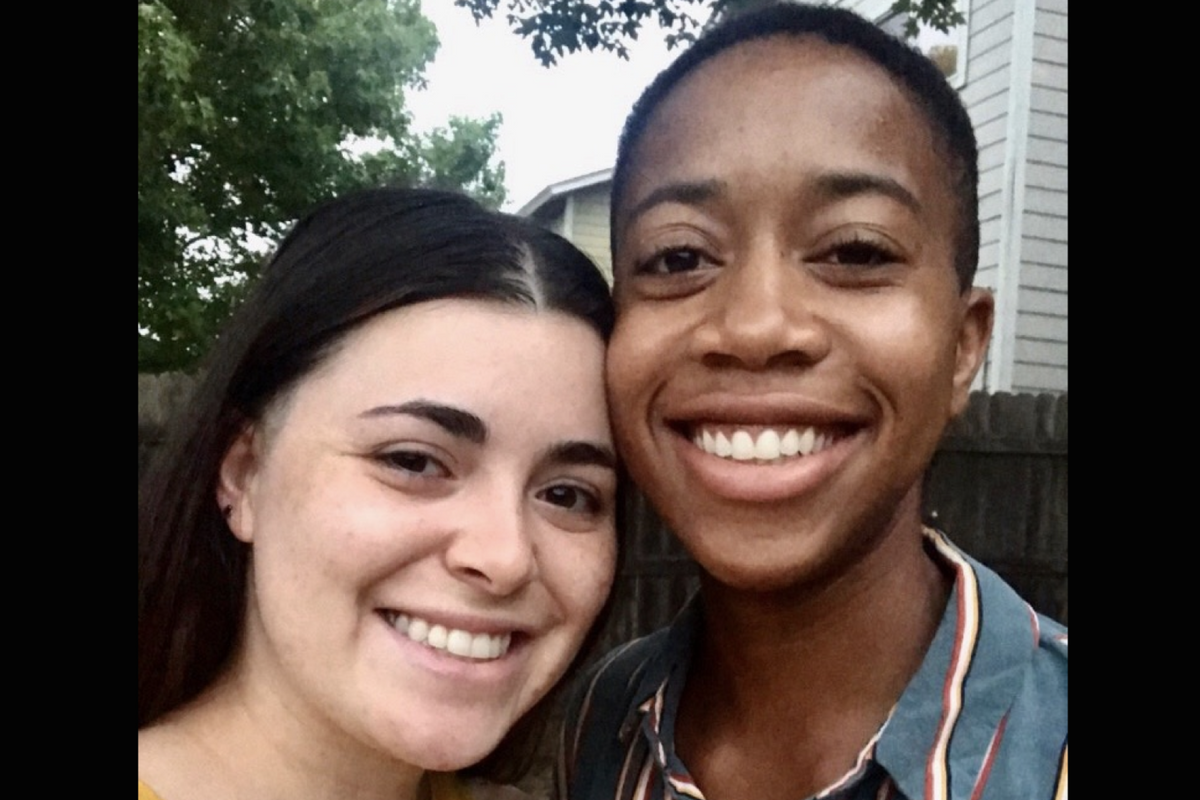 (Mariana Gonzalez/Bri Cheairs)
Looking for love has always come with obstacles, and they've only been magnified by COVID-19. Nevertheless, many Austinites continue to navigate these uncharted waters. We'll be sharing their stories every week right here.
"There weren't many things to distract us"
When Mariana Gonzalez got out of a relationship at the beginning of April, she thought to herself, "I'm probably not going to meet anybody all pandemic. Who knows how long it's gonna last?"
---
She was wrong.

Bored and mildly heartsick, Gonzalez got on Tinder a few weeks later. It didn't take long for her to hit it off with Bri Cheairs. After a successful, hours-long FaceTime date, they met in person on May 15, with the understanding that they were both looking to keep things casual and find somebody to spend time with during the pandemic.
"It was kind of weird because we kind of jumped into that part of a relationship—even though we weren't in a relationship—where you're just comfortable being around the house with each other, because it was really the only option," Gonzalez says.
Gonzalez and Cheairs kept seeing each other throughout the next month. They had an unintentional "first date" in mid-June when they walked to Planet K at 37th and Guadalupe, picked up a pizza from the neighboring Domino's and ate it at a desolate Central Park.
Despite their noblest intentions, they were both catching feelings for each other.
"I think obviously with the pandemic going on, there was less possibility for me to go on half-assed dates," Gonzalez says. "There weren't many things to distract us or pull us away from each other."
On July 11, Gonzalez and Cheairs made their relationship official. In reality, they just put a label to the activities they had already been enjoying together for nearly two months, like watching vintage horror movies at the Blue Starlite Mini Urban Drive-In Theatre and hiking isolated trails around Austin. (They attempted one ill-fated trip to a packed Barton Creek, which Gonzalez describes as a "lawless place.")
"It's been going great so far, and we both are kind of still navigating this world and this landscape," says Gonzalez, who credits the pandemic for accelerating her and Cheairs' emotional connection. "I don't know if I would have ended up in a relationship like this outside of what's going on in society."
They're both looking forward to visiting museums and aquariums when life returns to relative normalcy, and hopefully taking advantage of the flights Gonzalez booked to Cancún for early 2021. Gonzalez is also excited to introduce Cheairs to her friends, though the prospect of going out in a post-social distancing age raises one minor concern for both of them.
"When we first started dating, [Cheairs] said something like, 'How are you supposed to date somebody if you don't even know if they can dance yet?'" Gonzalez jokes. "We're gonna be like six months into this relationship, realizing the other person can't dance."
Want to read more stories like this one? Start every day with a quick look at what's happening in Austin. Sign up for Austonia.com's free daily morning email.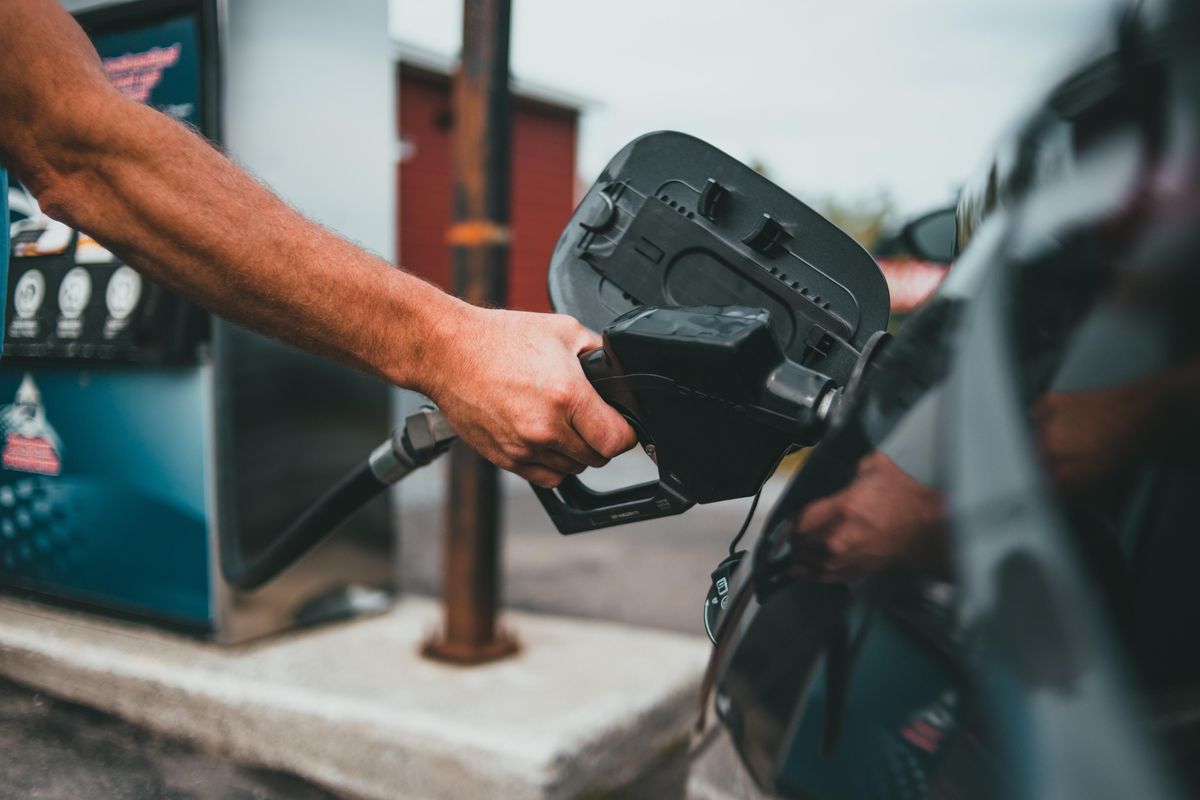 Fuel costs in Austin and across the nation are record high—and they're not going down anytime soon.
Average gas prices in Travis County are sitting a hefty $4.16 per gallon, according to AAA, compared to an average of $2.70 last year. Nationwide, fuel prices are at an average of $4.48 per gallon.
The bill per gallon is the highest ever recorded in Austin but experts don't expect a reprieve anytime soon—GasBuddy head of petroleum analysis Patrick DeHaan said to expect new records on a "near daily" basis.
"There isn't much reason to be optimistic that we'll see a plunge any time soon," DeHaan said, adding to expect prices closer to $5 by the end of the week.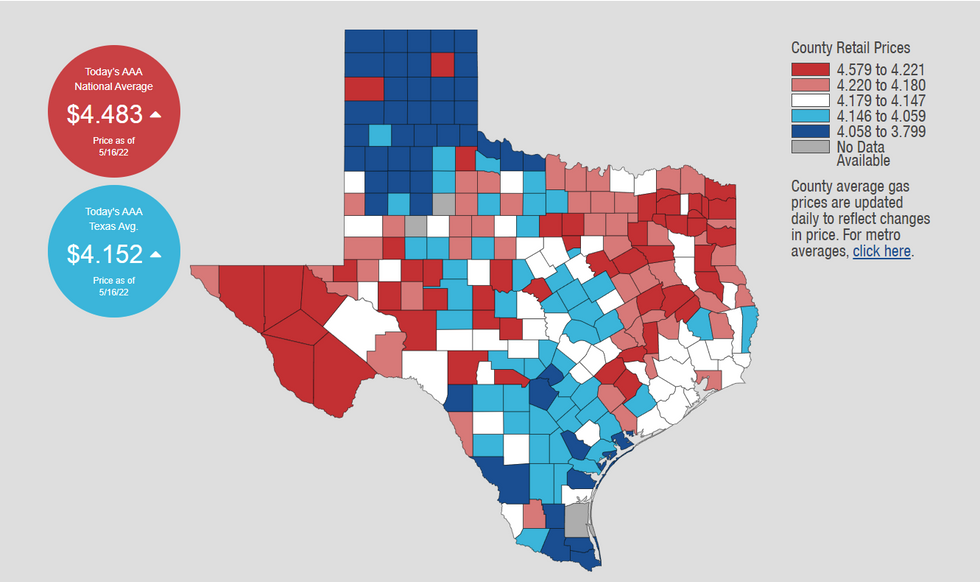 Why are prices climbing? DeHaan says to blame low inventory combined with high demand, more expensive blends and warming temperatures jump-starting "driving season."
While gas prices are marginally cheaper in Williamson and Hays Counties, between $4.12-$4.13, surrounding counties are locked into the same price range.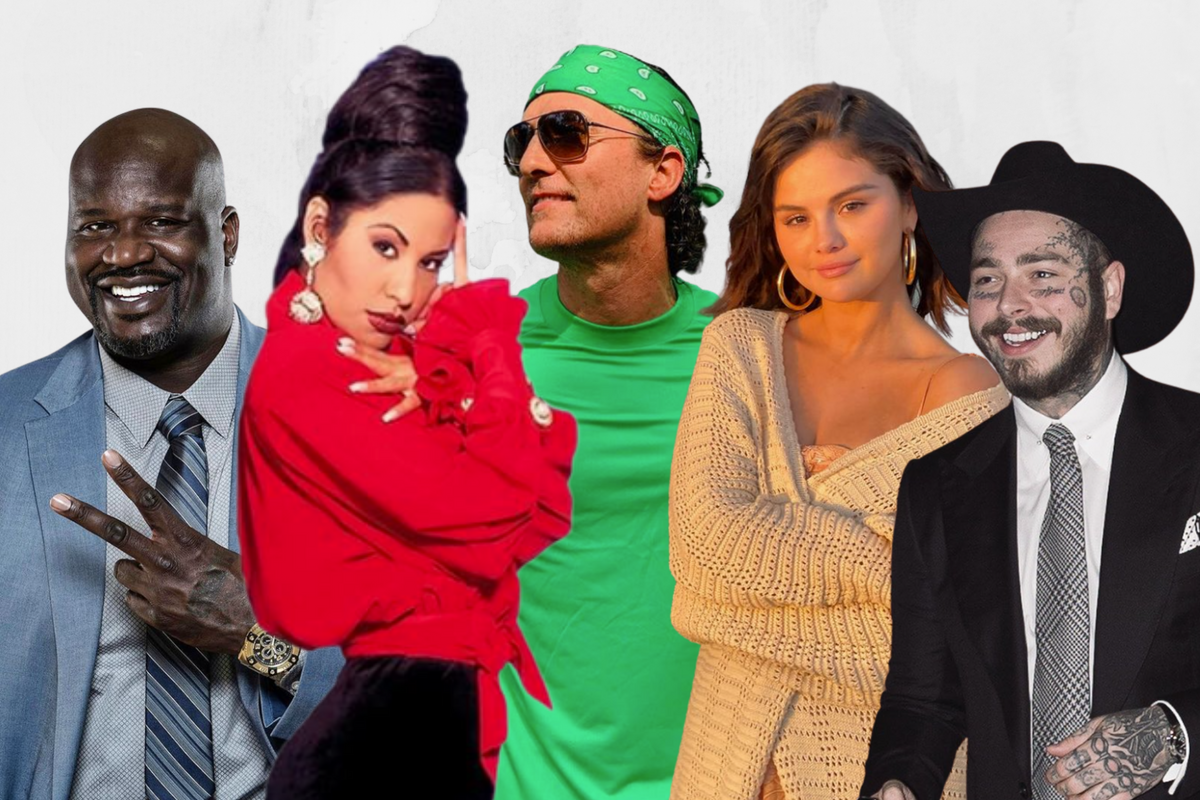 Texas has been home to some of the country's biggest celebrities of all time—think Amarillo resident Georgia O'Keeffe, Lubbock's Buddy Holly and Corpus Christi's famous singer Selena.
The Pudding's People Map of the U.S., which shows each city's "most Wikipedia'ed" resident, placed celebrities from all walks of life on the Texas map. As for Central Texas celebrities, there are some interesting (and not so surprising) names on deck.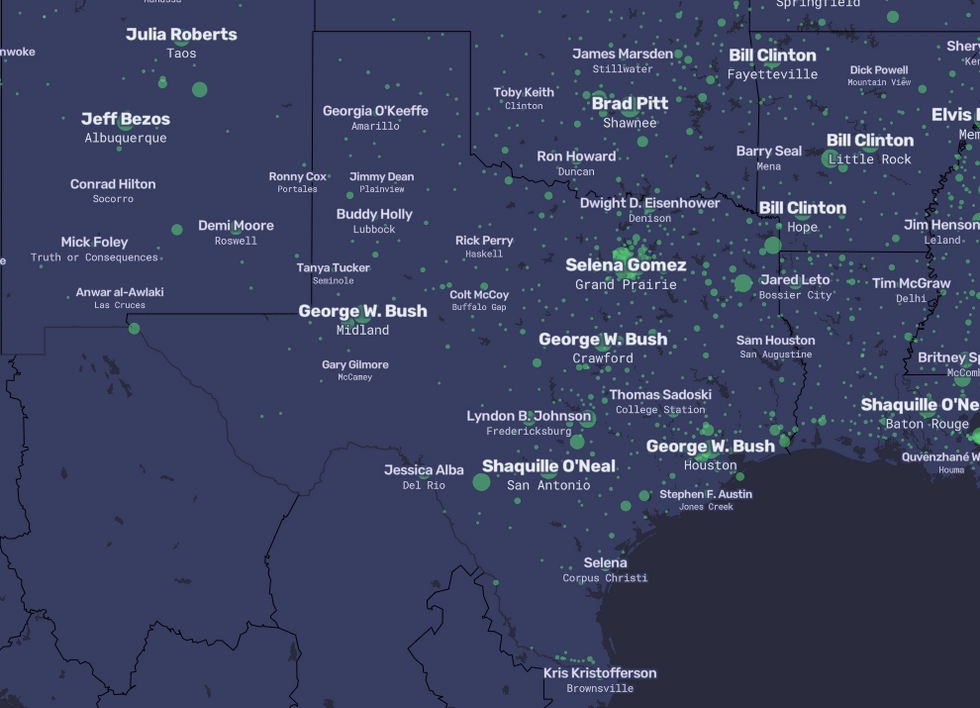 (The Pudding)
Proving that Austin is "alright, alright, alright," Minister of Culture Matthew McConaughey is both Austin's and Uvalde's top Wikipedia'ed resident. McConaughey, who was born in San Antonio adjacent Uvalde, has deeply ingrained himself in Austin by studying Radio-Television-Film at UT Austin, starring in the Austin-filmed movie "Dazed and Confused" and investing in Austin FC.
Heading down just a few miles south, San Marcos claimed former president Lyndon Baines Johnson as Texas State University's most famous alumni, who graduated in 1930, and was also named in Fredericksburg. LBJ wasn't the only ex-president on the map—George W. Bush was listed as the top resident in Dallas, Midland, Houston and Crawford.
You'll see some other names with ties to Austin strewn around the state: Janis Joplin in Beaumont and Port Arthur; Stone Cold Steve Austin in Victoria and Edna; Dan Rather in his hometown of Wharton; and Waylon Jennings in Littlefield.
Venturing outside of the central areas, there are big celebrities who call Texas Home. Actress and artist Selena Gomez dominated search traffic in her hometown of Grand Prairie, musical artist Post Malone was most "Wikipedia'ed" in Grapevine, and Shaquille O'Neal was named in the city where he went to high school, San Antonio.
Plus, Thomas Haden Church, Angela Kinsey, Jessica Simpson, Chuck Norris, Roy Orbison, Ron White, Jessica Alba, Colt McCoy, Jimmy Dean and Johnny Manziel all had at least one city covered on the list.
Where's Texas' newest resident, Elon Musk? You'll find him still in Los Angeles, as his foray into Texas living has just begun.
Click here
to view the full map.