Austonia AM
100% Austin news, info, and entertainment, straight to your inbox at 6 a.m. every morning.
In five minutes, you're fully informed and ready to start another great day in our city.
Get connected with our daily update
(Marshall Tridick/Texas Tribune)
By Meena Venkataramanan, The Texas Tribune
Austin police are investigating the fatal shooting of an armed 28-year-old man who was killed during an encounter with an armed motorist while protesting against police brutality. But whether the unnamed driver faces criminal charges in Garrett Foster's death could hinge on which man police, prosecutors or a grand jury believes first provoked the other.
---
Foster was visibly carrying an AK-47 rifle — which is legal in Texas — as he pushed his fiancée in her wheelchair across an intersection in downtown Austin during Saturday's protest, according to The New York Times.
A motorist was attempting to turn his vehicle onto Congress Avenue and honked at protesters, who were in the crosswalk, according to a video of the incident filmed by independent journalist Hiram Gilberto. Michael Capochiano, a demonstrator at the scene, told The Texas Tribune that protesters including Foster surrounded the car after it hit a traffic cone and the driver stopped.
"What [the driver] did was he intentionally, aggressively accelerated into a crowd of people. ... He threw his turn into a bunch of people and almost ran a bunch of people over," said James Sasinowski, another protester who was at the scene.
There are conflicting accounts about whether Foster raised his gun at the motorist, who was also legally armed. Police said the driver shot at Foster, fled the scene, called 911 and told police he opened fire because Foster pointed his rifle at the car first.
Texas' so-called "stand-your-ground" law allows people to use deadly force against someone else if they feel they are in danger. Conversely, it prohibits an individual from arguing self-defense if they provoked a threat from someone else, said Sam Bassett, an attorney and the president of the Texas Criminal Defense Lawyers Association.
Detectives need to consider whether Foster could have perceived the motorist's actions as a threat, Bassett told The Texas Tribune.
"I would consider them to not be doing a good investigation if they did not consider that," he said. "I do think the self-defense claim could be negated if, for instance, if the driver was there to provoke a reaction or to argue or attempt to harm the pedestrians," he added.
Sasinowski said he could not see if Foster pointed his gun toward the car. Capochiano, though, does not think Foster did. "My recollection was that [Foster] had the gun in his hands, with the muzzle pointing toward the ground and not pointing to the side, not even pointing toward the car," Capochiano said.
Both witnesses interviewed by The Texas Tribune said they believed the driver's behavior to be threatening and intentional.
"He incited the violence, it was intentional, he knew what he was doing," Sasinowski said. "He was driving into a crowd of protesters. No way that that was just like a traffic thing. There's 100 people in front of you, you don't drive into them."
Austin police said earlier this year that a police officer's killing of an unarmed Black and Latino man was justified because his attempt at driving away from police who had just shot him with a lead pellet-filled bag constituted using the car as a deadly weapon against law enforcement.
The death of Mike Ramos, the driver in that April case, along with the death of George Floyd in Minneapolis, prompted weeks of anti-police brutality protests in Austin and across the state. In early June, four City Council members said they had lost faith in Austin Police Chief Brian Manley after his handling of those protests. At least one member called on him to resign.
In a video about Foster's death, Manley said Sunday that he was grateful to the officers who responded to the driver's 911 call.
"Regardless of the topic of the protest — whether the protest is geared at these officers, whether they were earlier in the evening taking insults from these protesters — these officers put all of that aside, as they do every single day, and ran toward the danger and helped this individual but were unfortunately unable to save his life," Manley said.
Natasha Harper-Madison, an Austin City Council member, wrote in a Facebook post Monday that she was in "utter disbelief" while listening to Manley's comments, which she called "tone-deaf."
"There's no protest that's against the Austin Police Department, the protest is against the culture of police departments across the country," Harper-Madison told The Texas Tribune.
She said it is "absolutely possible" that the police department is biased against Foster in its investigation because he was an anti-police brutality protester.
Austin police spokesperson Tara Long told The Texas Tribune that "the ongoing investigation into Mr. Foster's death is being conducted with the same amount of commitment as other deaths."
"To say otherwise is a disservice to his family," Long said.
Austin Police Association President Ken Casaday shared a video clip Sunday of Foster explaining why he brought his gun to protests, which included explicit language about "all the people that hate us" and are too cowardly to "stop and actually do anything about it."
"This is the guy that lost his life last night. He was looking for confrontation and he found it," Casaday wrote in his tweet of the video, which has since been deleted.
Casaday also told FOX 7 News on Monday that Foster was already on the police department's radar because he brought firearms to protests. "Garrett Foster was on the radar because he would commonly come to the rallies with the AK-47. Our individuals who were responsible to monitor people with firearms, he was on the radar already," he said. Texas is an open-carry state.
That notion drew ire from Chas Moore, the founder and executive director of the Austin Justice Coalition.
"The fact that the only reason that Foster was was on their lists or whatever because he was carrying a gun doesn't make any sense because we live in Texas and he wasn't violating any laws or anything like that, and he wasn't ever really physically aggressive towards any police officers or anybody, to my knowledge," Moore said.
On Wednesday, Casaday said via Twitter that he was sorry for his initial tweet about Foster looking for a confrontation and asked the man's family to accept his apology.
"I apologize for my offensive choice of words," he tweeted. "I should have known better. I have responded to dozens of shootings in my law enforcement career and they are all tragic."
Casaday could not be reached for comment this week. Long, the police spokesperson, said the department does not maintain a watchlist of protesters.
Moore said he remains concerned about the integrity of the department's investigation, and he questioned why police released the driver. "I think we all need to keep an eye on this case or this investigation as things come forward," he told The Texas Tribune.
Sheila Foster, Garrett Foster's mother, and Whitney Mitchell, his fiancée, could not be reached for comment this week.
Austin police continue to investigate the incident to develop "the most complete picture" before moving forward, according to a statement from the department's homicide unit.
This story was originally published in The Texas Tribune, a nonpartisan, nonprofit media organization that informs Texans — and engages with them – about public policy, politics, government and statewide issues.
It's that time again! Austin FC is back in Cali to take on the second Los Angeles powerhouse, LA Galaxy, at 2:30 p.m. this Saturday. The match will be shown on Univision and will be live on Twitter, and I'll be documenting the biggest saves and plays that could make you drop your beer right here.
Follow along for a live feed of the Austin FC match.
2:05 p.m.- Austin FC lineup is released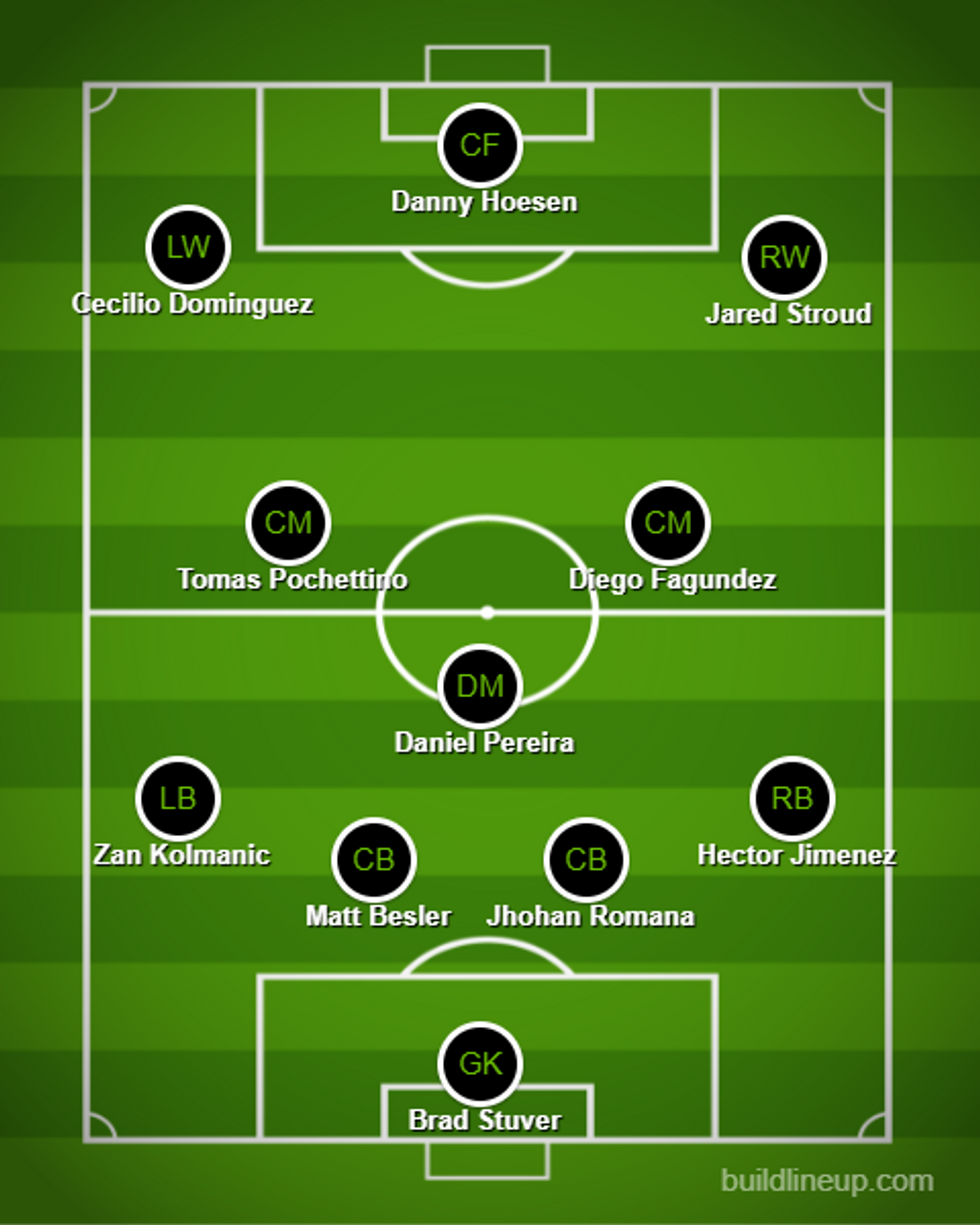 Austin FC has big lineup changes heading into the big match, but the moves were mostly expected. Captain Alex Ring is out due to a second yellow card last match, and the club put standout rookie Daniel Pereira in his stead. Danny Hoesen is back at the crown of the lineup, and there are rumors that fellow striker Jon Gallagher didn't travel with the team due to injury. He's not on the bench this week.
Finally, Hector Jimenez gets his first start with the club at right back in the stead of Nick Lima.
2:00 p.m.- Los Verdes watch party, South-side style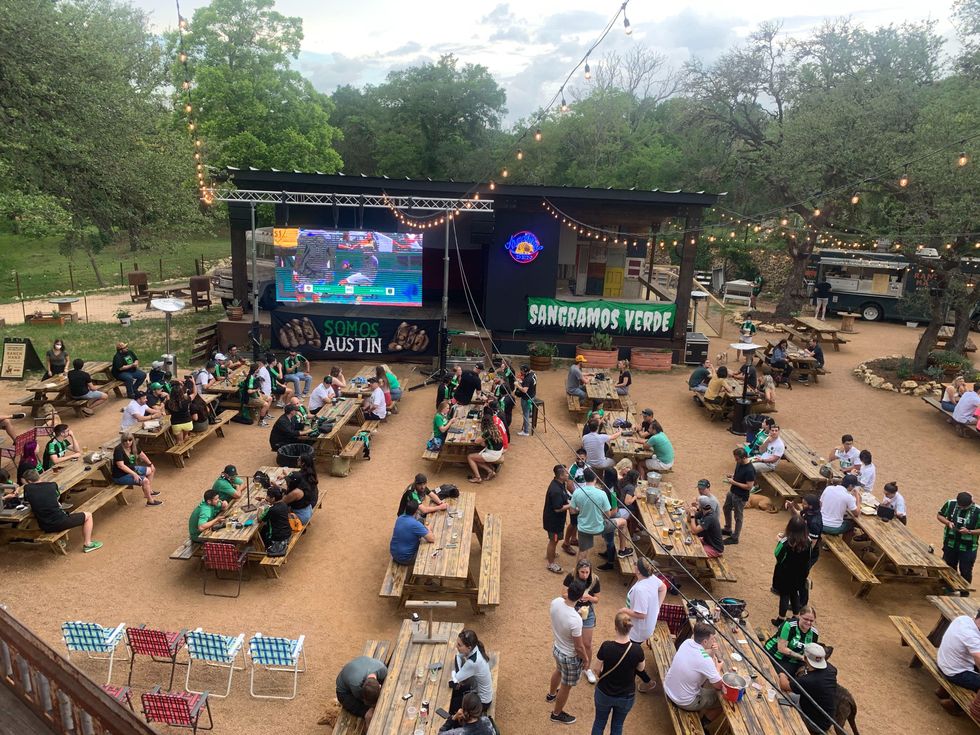 (Claire Partain/Austonia)
Hundreds of people are at the Los Verdes watch party, including myself and a celebrity appearance in La Murga, Austin FC's own fan band.
Cheers can be heard every time an Austin FC player is featured on the screen on the Univision broadcast.
Nearly half of Travis County residents 16 and older are fully vaccinated, as of Friday afternoon, according to the Texas Department of State Health Services. And an even greater portion likely have immunity.
Austin-Travis County Interim Health Authority Dr. Mark Escott estimates that around 70% of local residents have some form of immunity to COVID-19, either because they have recovered from the disease or are vaccinated. This is approaching the threshold for herd immunity.
"We're starting to approach that 70% mark of combined disease and vaccination, so we may start to see some significant changes when it comes to disease trends," he told council members and county commissioners on Tuesday.
Escott arrived at this percentage by assuming that there is no overlap between those who have had COVID and those who have been vaccinated. "While there's certainly some overlap … there does not seem to be a lot of overlap between those two," he said.
Herd immunity occurs when enough people are immune to a disease that it is unlikely for someone who contracts the disease to spread it. With no one to infect, the disease dies out.

Public health experts have said herd immunity for COVID will require around 80% of the population to be immune based on its relative infectiousness.
Although natural immunity contributes to herd immunity and is partially responsible for the sharp downturn in the number of new COVID infections in recent months, vaccination is the gold standard among experts because of the increased security it offers.
Austin Mayor Steve Adler celebrated the new CDC guidance as proof of vaccines' efficacy. "Since more people will not be wearing masks, it makes it even more important to get vaccinated," he said in a statement Friday.

The U.S. Food and Drug Administration issued an emergency use authorization for Pfizer's vaccine among children 12 to 15
on Monday
, further expanding eligibility.