Get connected with our daily update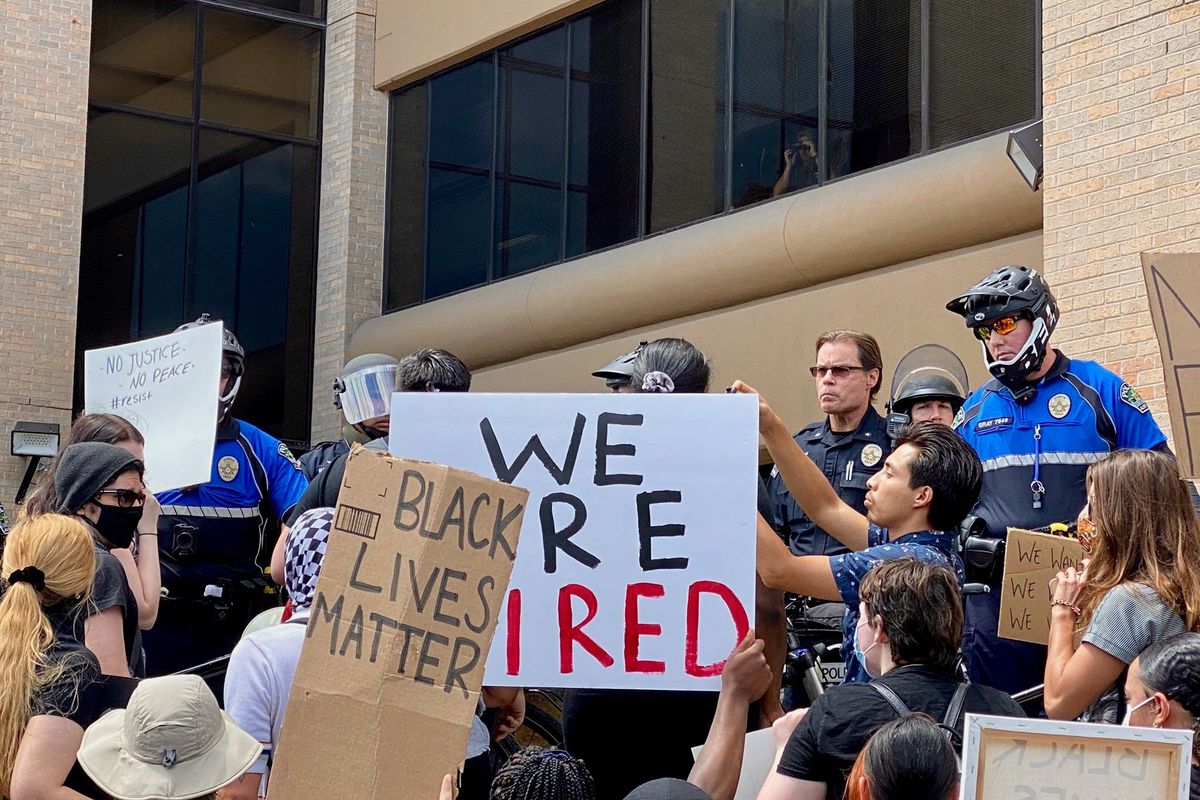 (Austonia staff)
A special grand jury will be convened to investigate whether Austin police officer Christopher Taylor was justified in the April 24 shooting death of Michael Ramos, but it's not clear when. Lockdown orders have barred jury selection during the pandemic, Travis County District Attorney Margaret Moore said Monday.
---
Moore's office announced Friday that prosecutors would be convening a special grand jury to decide whether to indict Taylor, who is currently on administrative leave. The news came just before weekend protests over police brutality lit up metro areas across the nation, including Austin.
Because the DA's office won't allow regular grand juries to investigate police shootings, a special grand jury is convened in cases where the evidence is unclear on whether the officer or officers in question were justified in using force.
Prosecutors will have to find a way to convene and question 75 to 80 people in order to cull 12 jurors and up to three alternates to decide if Taylor should face charges, Moore said.
Social-distancing guidelines make jury selection a particularly risky challenge, and juries have not been empaneled since the orders went into place in March, she said.
As is common in officer-involved shootings, no charges have been filed pending the outcome of the grand jury investigation. If an indictment goes forward, Taylor would either be arrested or allowed to turn himself in.
The DA has not announced yet whether prosecutors will pursue charges in the 2019 shooting of 46-year-old Mauris Nishanga DeSilva, who was wielding a knife when he was killed during a confrontation in a downtown apartment building with three officers, including Taylor.
In the death of Ramos, 42, a caller had reported to police that he was doing drugs in his car and had a gun. After a confrontation outside his car, Ramos got back into his car and was fatally shot by Taylor after he started driving.
Texas Rangers, after an investigation, told Moore's office a week ago that he was unarmed, prompting her decision to pursue the case.
"It has been one of our rules of thumb that we would present [to the grand jury] on a case when the deceased was unarmed," she said.
By law in Texas, all felony charges must come through a grand jury indictment, but it is up to the DA to decide if evidence in any case—including cases involving police use of force—merits a grand jury hearing. Travis County grand juries typically convene several times per week for terms lasting about three months, Moore said.
Three years ago, with the support of criminal justice advocates, the DA's office began calling special grand juries for cases involving police use of force. The panelists are put through a three-day orientation on the issue before taking up the assigned case.
Moore has taken criticism from her political opponents over her decision not to automatically send every police-involved shooting to the grand jury. She says it allows her to release information and evidence on justified use-of-force cases that would otherwise be sealed in grand jury files that are not subject to open records.
"The point of doing that is to put as much information into the public domain as possible," Moore said.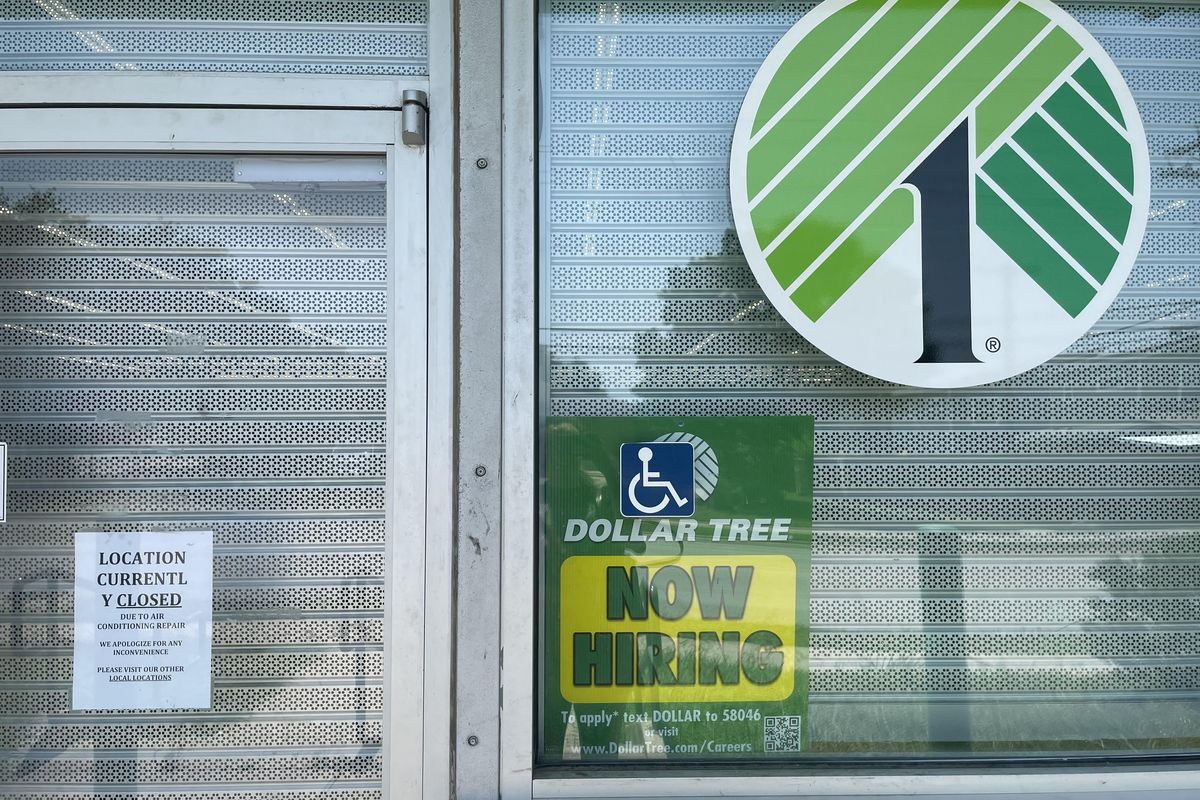 It's been a few weeks since a viral TikTok revealed poor working conditions at the Montopolis Dollar Tree in southeast Austin, and employee Maggie Lopez is still feeling its effects.
Lopez was filmed working alone at the location May 1 in a since-deleted video that saw 2.9 million views and over 450,000 likes.
In the video, stacked boxes littered the floor, shelves were left unstocked and a leaky, broken air conditioning unit welcomed customers into the understaffed storefront.
Lopez, who now works at the dollar store's Springdale location, says she was left with the aftermath of a 90-hour workweek, lost wages and a mystery illness after the store closed a few days later.
"Nobody ever told me... that there was no air conditioning. They didn't tell me there was danger of getting robbed," Lopez told Austonia. "Nobody said anything... they didn't care."
The location didn't shut its doors because of the TikTok exposure: instead, an AC unit specialist doing routine maintenance found employees working in extreme heat and said it was too hot for employees to continue working.
"To operate a business, you have to have your temperature within a certain parameter," Ikaika, the specialist who didn't disclose his full name to protect his job, told Austonia. "As soon as you walk in, you start sweating... it's not good at all."
Lopez said working in 90+ degree heat became the norm in her two months at the location as air conditioning units remained broken for months before the closure. She added some employees, including her former manager and several customers, passed out in the store due to the heat. But she said company leadership remained unresponsive.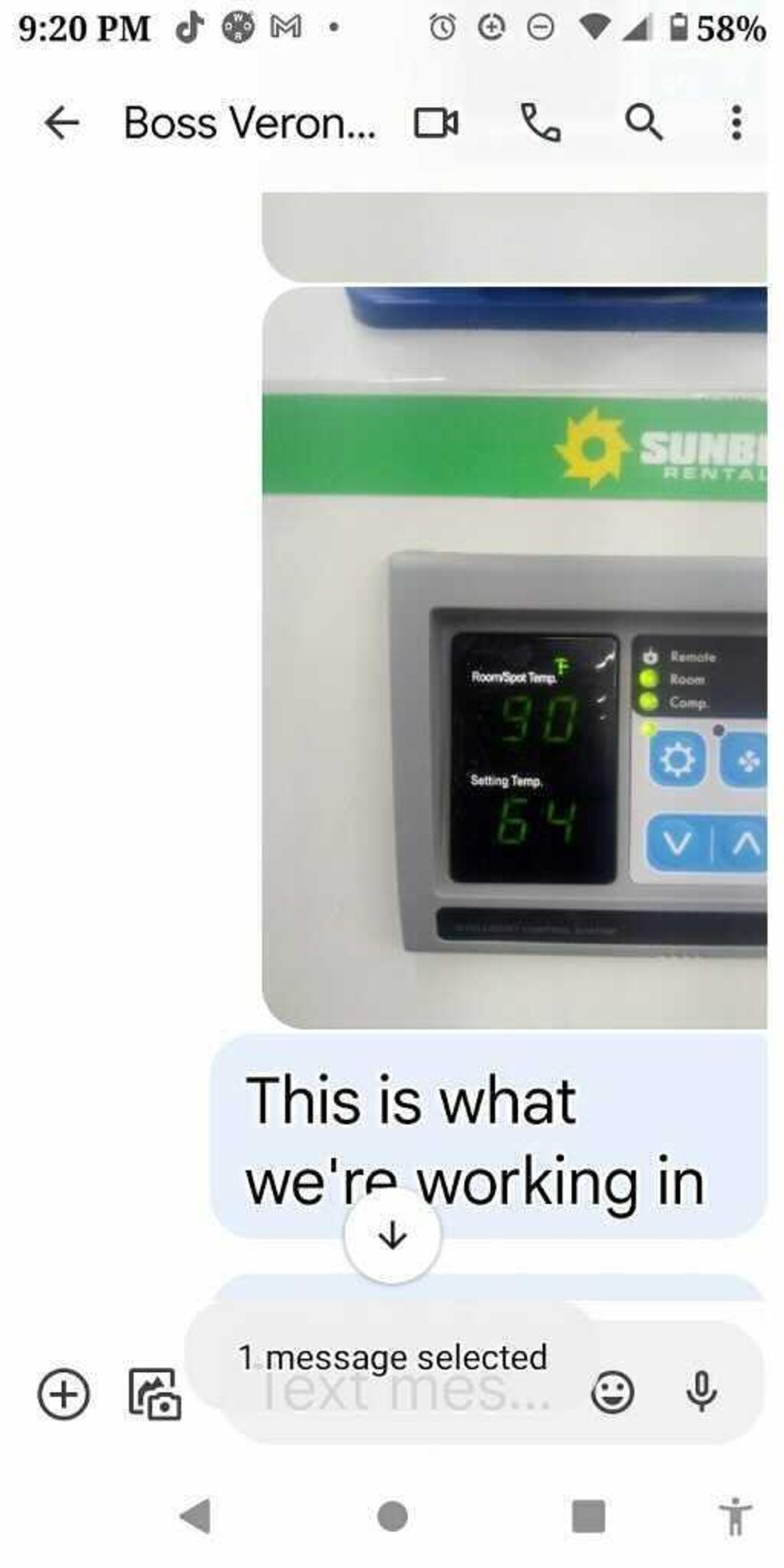 Lopez said she sent her district manager, Veronica Oyervides, screenshots of 90+ degree temperatures inside the store. (Maggie Lopez)
Four days after the air conditioning repairman told employees they should no longer keep working at the store, Lopez said her district manager, Veronica Oyervides, was asking her to come back in to prep the location for reopening. Lopez worked May 8 in the shuttered store prepping it for a reopening, which has yet to happen. Oyervides has declined to comment.
Ever since she started working in the deteriorating Dollar Tree, Lopez said she often wakes up with nosebleeds. She said she's constantly thirsty, her hands shake, and she's experiencing headaches and mood swings—symptoms she believes are due to long-term exposure to mold.
Former assistant manager Linnea Bradley told Austonia she has been hospitalized with symptoms linked to heat and stress after working at the store.
"We are sick and corporate does not give a shit," Lopez said. "What kind of damage did these stupid units do to our bodies?"
Lopez hasn't sought care for her symptoms. She says she makes $13.50 an hour and doesn't have health insurance.
Former employees have more complaints than just the heat: Lopez said that personal safety became a concern in the understaffed store. Catherine, a former employee who wished to only reveal her first name, said she's witnessed large-scale theft and instances of mismanagement in her months as a stocker at the location.

"They have no security, no cameras... they don't want you to have anything in writing," Catherine told Austonia. "It's just complete chaos."
Catherine said that she and other hourly employees were given zero hours for weeks on end as managers, who work on salary, were left to run the store alone from 5 a.m. to 10 p.m. each day. She said some managers became so desperate they were hiring homeless people to help stock shelves in exchange for a drink and a bite to eat.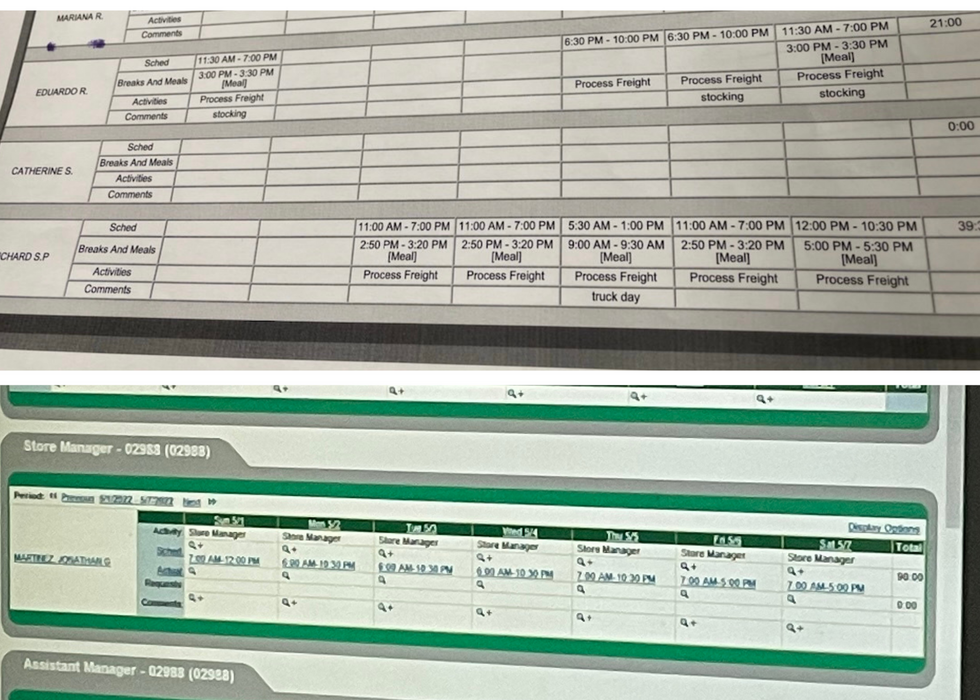 While Catherine (top, middle) often had zero-hour weekly schedules, Martinez, who was paid on salary, worked back-to-back 90-hour workweeks. (Catherine) (Claire Partain)
"They actually did have people willing to work, they just refused to give them hours," Catherine said. "I'm not understanding whether Dollar Tree wants to go under... are they doing this as a tax break?"
Other Austin Dollar Tree locations have reported similar issues. Former manager Jonathan Martinez, who says he was supposed to work 45 hours a week, says he was racking up 90+ hour workweeks and sleeping in the store as he shouldered both the Montopolis and William Cannon locations while his newborn baby was in the ICU in March.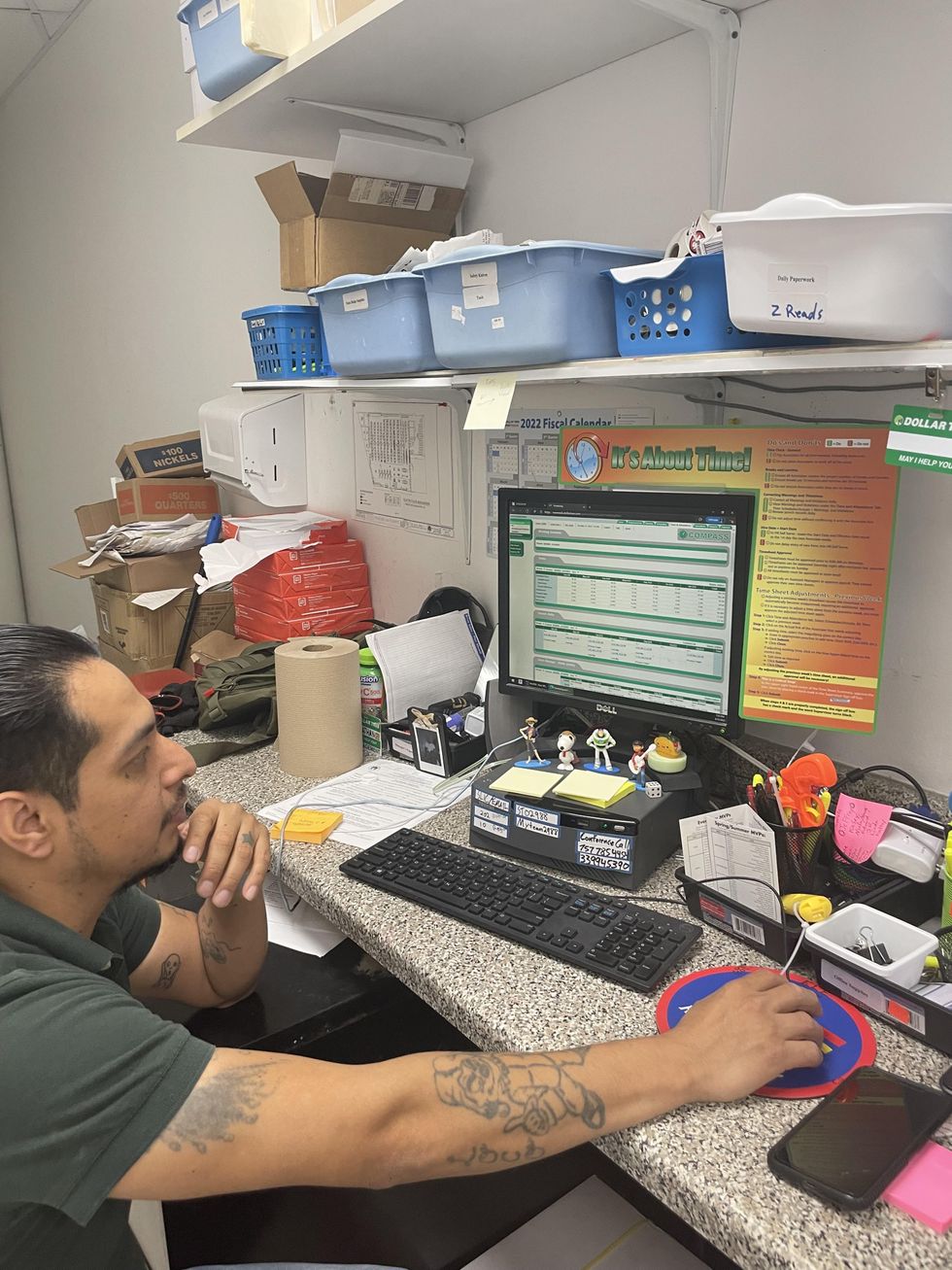 Martinez kept extra clothes in this office after working seven-day weeks at two Dollar Tree locations. (Claire Partain)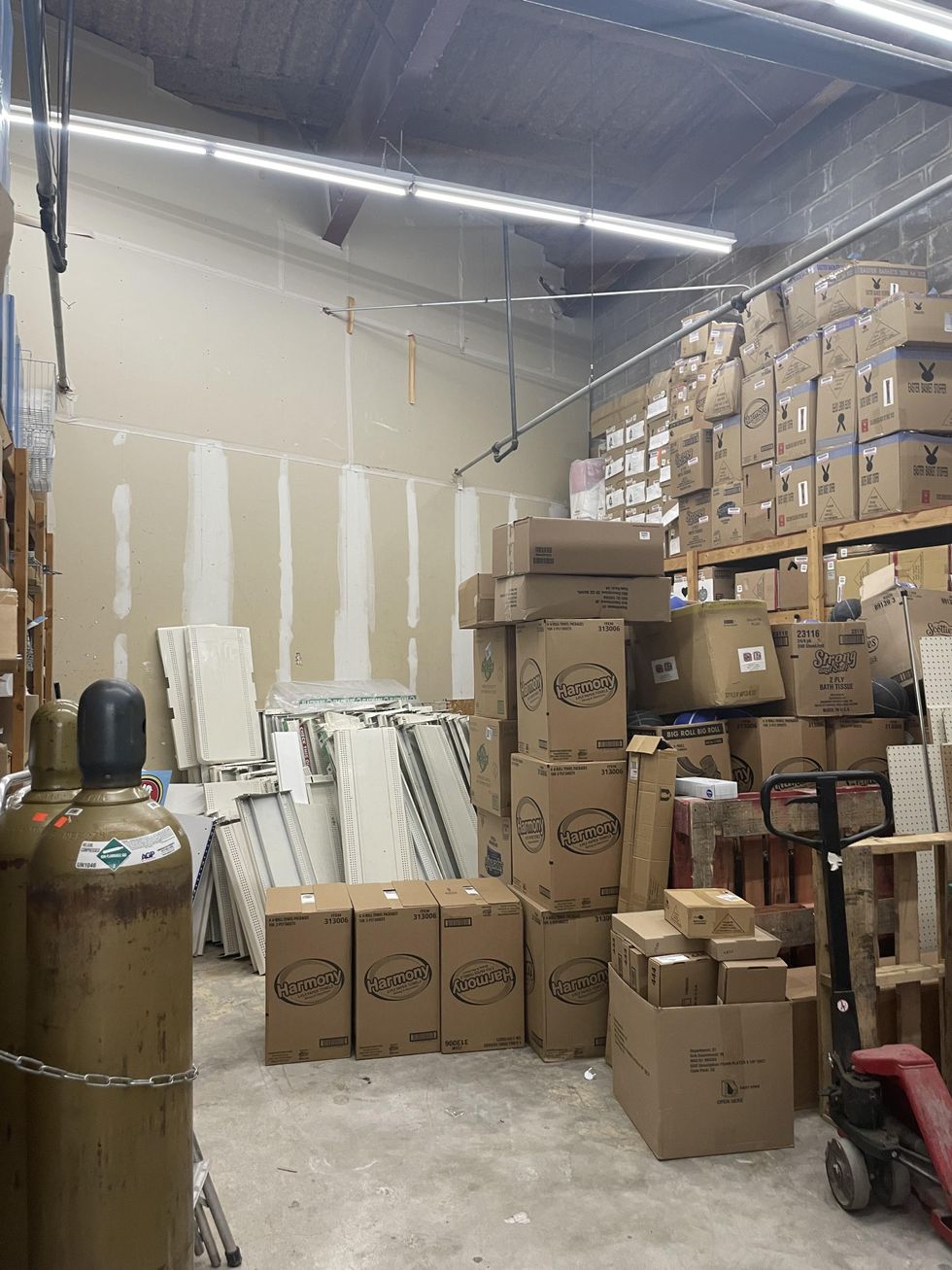 Martinez said he slept on boxes as he juggled the job and visiting his newborn in the ICU. (Claire Partain)
Martinez said he slept on boxes as he juggled the job and visiting his newborn in the ICU. (Claire Partain)
"As long as the store stays open, there are corporate people getting bonuses," Martinez, who quit last week after receiving a $100 annual bonus, told Austonia. "Six months ago, when corporate people had a shitload of bonuses, that's when they upped the price (of everything in the store from $1 to $1.25)."
In the six months since Dollar Tree hiked its prices to $1.25, it's gained plenty of mostly negative national attention. In February, the Food and Drug Administration shut down an Arkansas distribution plant due to a massive rodent infestation, and several lawsuits have ensued. The company has also come under fire for selling allegedly expired over-the-counter medicine and its worker shortage at locations across the country.
One employee, who still works for Dollar Tree and wished to remain anonymous, said that they've seen or heard that many area locations are near their breaking point.
"I've seen the good, the bad, the bad to worse," they said. "And it's always a rinse repeat kind of thing... How many more (stores) will go? And what about the employees?"
"Every time I would tell (Oyervides) 'I'm just going to close, I can't stand it anymore,' she would say, 'No, no, no,'" Lopez said. "And I'd be so upset because why? They have my paycheck. It's just been mortifying... the most horrible year of my life."
Dollar Tree's regional director did not respond to requests for comment from Austonia.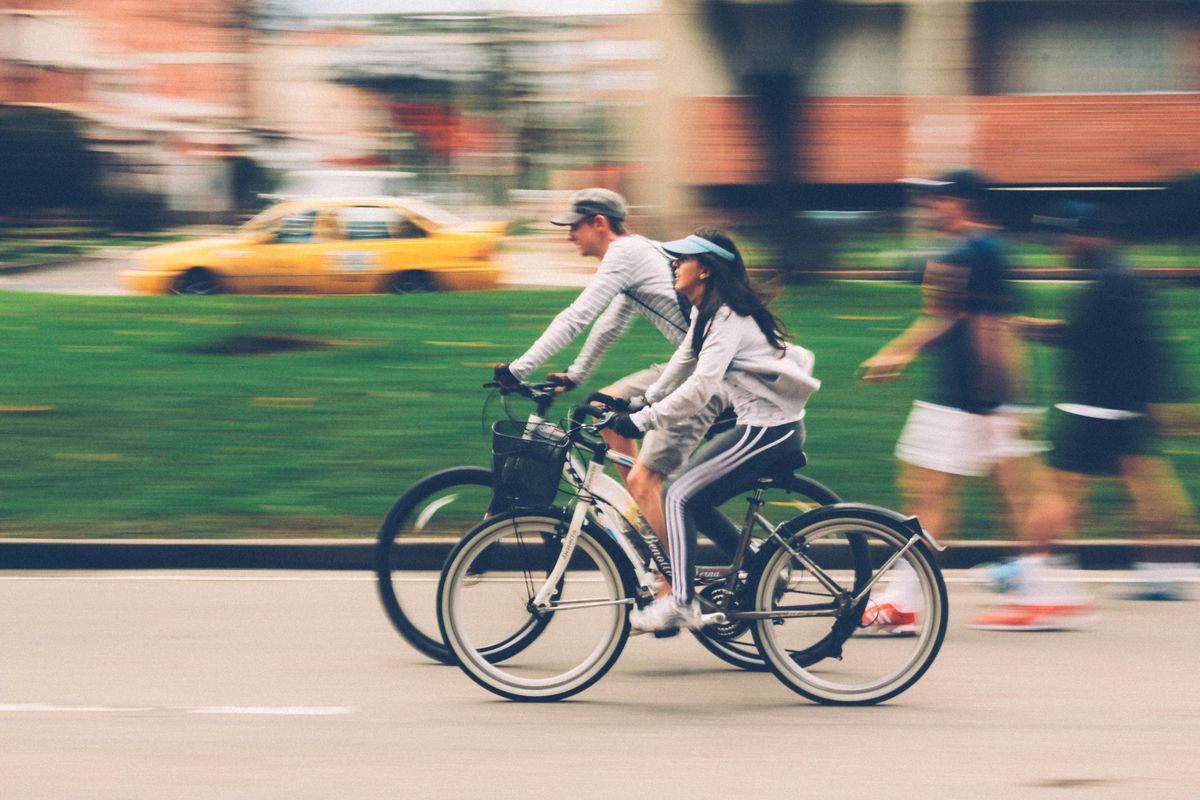 Grab a helmet and get active this morning by celebrating Bike to Work Day alongside the city.
The community will gather for a celebration at Austin City Hall starting at 8 a.m. with free tacos, coffee and giveaways.
A few things to remember around bikes:
Over 80% of bicycle crashes happen at intersections
It's important to wear reflective clothing during dark hours
Drivers should keep a distance—take at least three feet of space when passing.
Residents can find the most comfortable, safe bike routes via the 2022 Austin Bike Map, or rent a MetroBike with the code B2WD2022.