Get connected with our daily update
(Austonia staff)
A special grand jury will be convened to investigate whether Austin police officer Christopher Taylor was justified in the April 24 shooting death of Michael Ramos, but it's not clear when. Lockdown orders have barred jury selection during the pandemic, Travis County District Attorney Margaret Moore said Monday.
---
Moore's office announced Friday that prosecutors would be convening a special grand jury to decide whether to indict Taylor, who is currently on administrative leave. The news came just before weekend protests over police brutality lit up metro areas across the nation, including Austin.
Because the DA's office won't allow regular grand juries to investigate police shootings, a special grand jury is convened in cases where the evidence is unclear on whether the officer or officers in question were justified in using force.
Prosecutors will have to find a way to convene and question 75 to 80 people in order to cull 12 jurors and up to three alternates to decide if Taylor should face charges, Moore said.
Social-distancing guidelines make jury selection a particularly risky challenge, and juries have not been empaneled since the orders went into place in March, she said.
As is common in officer-involved shootings, no charges have been filed pending the outcome of the grand jury investigation. If an indictment goes forward, Taylor would either be arrested or allowed to turn himself in.
The DA has not announced yet whether prosecutors will pursue charges in the 2019 shooting of 46-year-old Mauris Nishanga DeSilva, who was wielding a knife when he was killed during a confrontation in a downtown apartment building with three officers, including Taylor.
In the death of Ramos, 42, a caller had reported to police that he was doing drugs in his car and had a gun. After a confrontation outside his car, Ramos got back into his car and was fatally shot by Taylor after he started driving.
Texas Rangers, after an investigation, told Moore's office a week ago that he was unarmed, prompting her decision to pursue the case.
"It has been one of our rules of thumb that we would present [to the grand jury] on a case when the deceased was unarmed," she said.
By law in Texas, all felony charges must come through a grand jury indictment, but it is up to the DA to decide if evidence in any case—including cases involving police use of force—merits a grand jury hearing. Travis County grand juries typically convene several times per week for terms lasting about three months, Moore said.
Three years ago, with the support of criminal justice advocates, the DA's office began calling special grand juries for cases involving police use of force. The panelists are put through a three-day orientation on the issue before taking up the assigned case.
Moore has taken criticism from her political opponents over her decision not to automatically send every police-involved shooting to the grand jury. She says it allows her to release information and evidence on justified use-of-force cases that would otherwise be sealed in grand jury files that are not subject to open records.
"The point of doing that is to put as much information into the public domain as possible," Moore said.
(Clint Broden)
Daniel Perry, the active-duty Army sergeant who says he shot Black Lives Matter protester Garrett Foster in self-defense, was driving for Uber when he accidentally encountered the demonstration on the night Foster was killed, his attorney said Monday.
Perry, who is stationed in Killeen and only allowed to travel 100 miles from base, was not in Austin that night to attend the demonstration, attorney Clint Broden said, but because it "was the closest location that had significant ridesharing customers."
Broden also shared a redacted version of Perry's bank statement that shows two deposits from Uber that he said correlated to runs in Austin that night. Perry has been ordered to remain on base since the shooting, Broden said.
"We hope this puts to rest the allegations that Sgt. Perry traveled to Austin for any nefarious purpose," he said.
Some, including Foster's mother, have pointed to Perry's since-deleted Twitter account as evidence that he disagreed with BLM protesters and showed up at the rally to cause trouble.
The release was accompanied by six photos showing what the attorney described as the damage inflicted on Perry's car by protesters, including a bullet hole.
After Perry shot Foster, who was carrying an AK-47 and whom Perry claims was raising his rifle "in a direct threat to [his] life," another person in the crowd shot at Perry's vehicle, according to police. That person has not been publicly identified. Like Perry, he or she had a concealed carry license and was questioned and then released by the Austin Police Department.
Protesters arrested

On Saturday, in the wake of Foster's death and the release of Perry's name the day before, protesters and law enforcement clashed in demonstrations near downtown. Austin police on Monday released the names of 40 people arrested at the protests. The most common charge was obstruction of a highway.
Perry's attorney shared photos that he says show damage inflicted by protesters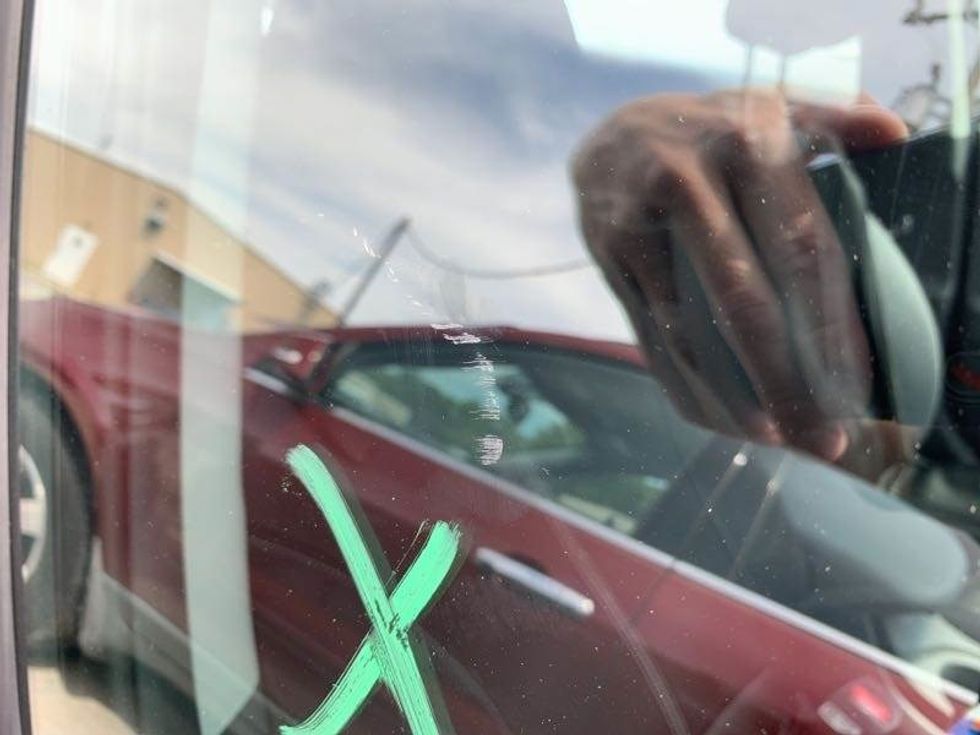 Perry's lawyer claims this photo shows where the vehicle was scraped with a brick.
(Clint Broden)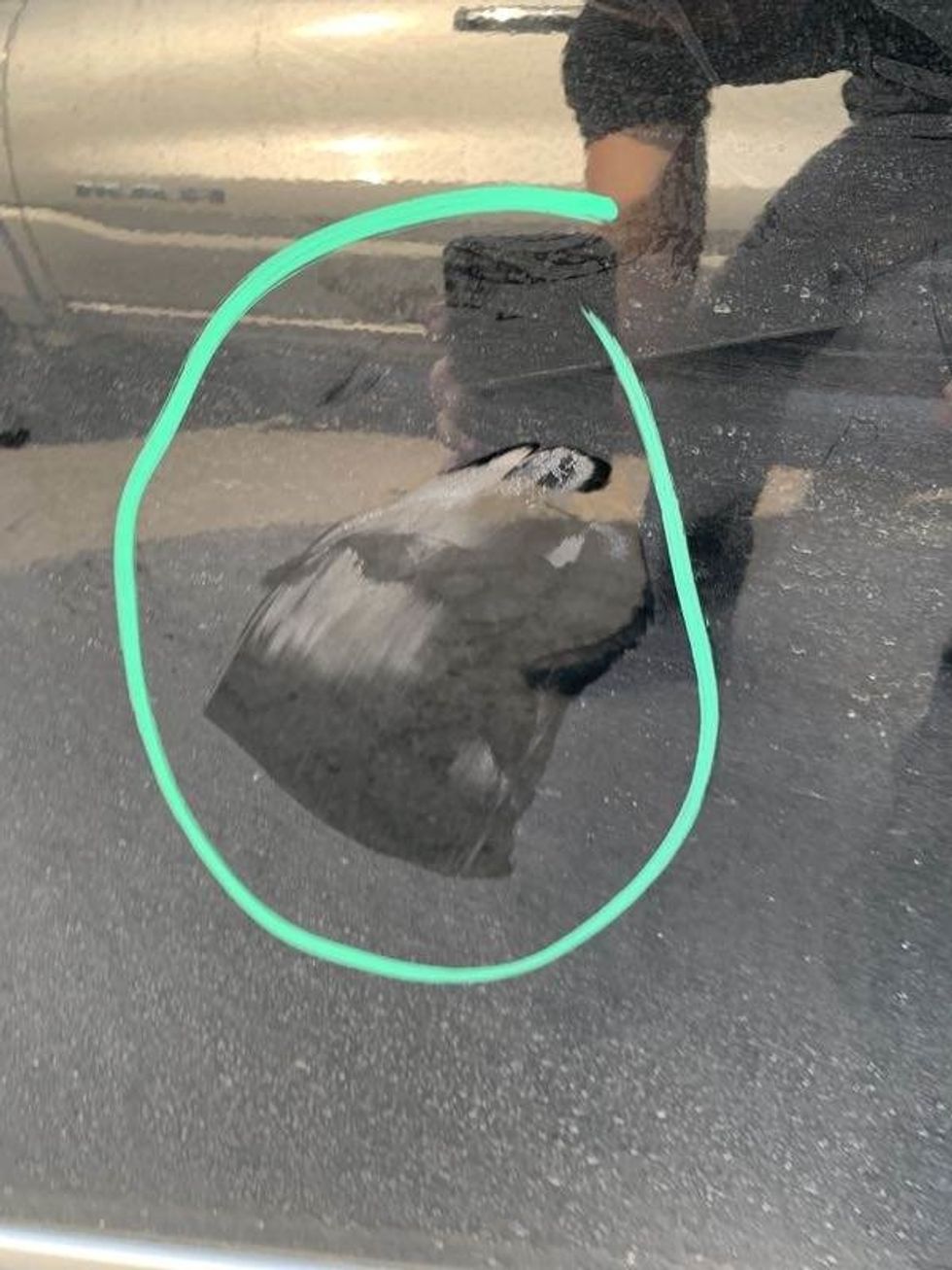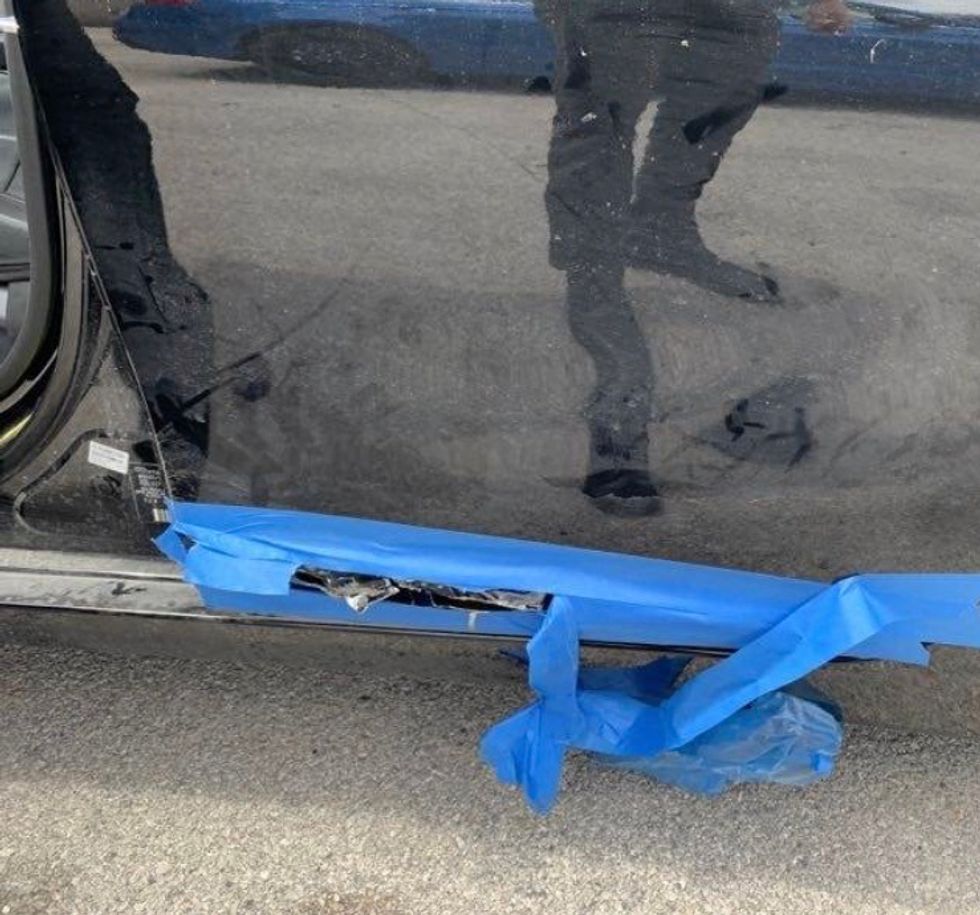 This photo, the lawyer says, depicts bullet holes.
(Clint Broden)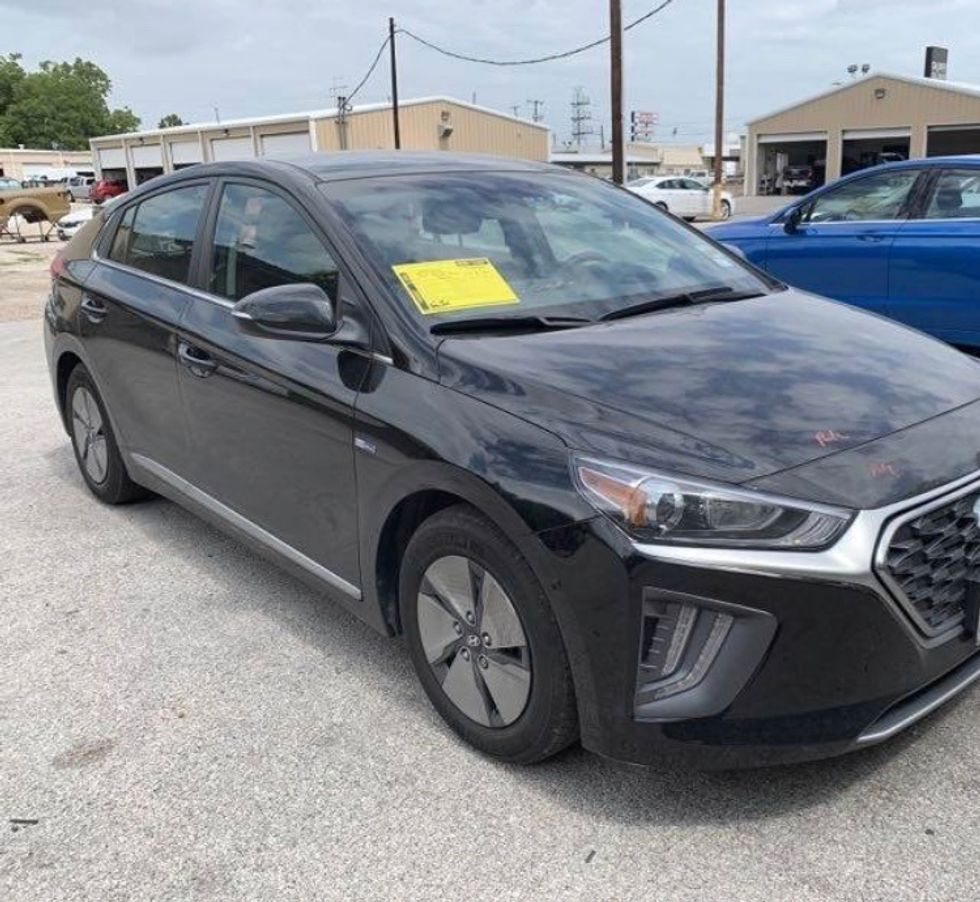 Perry's lawyer claims this photo shows hood damage "identified by auto body shop as a result of banging."
(Clint Broden)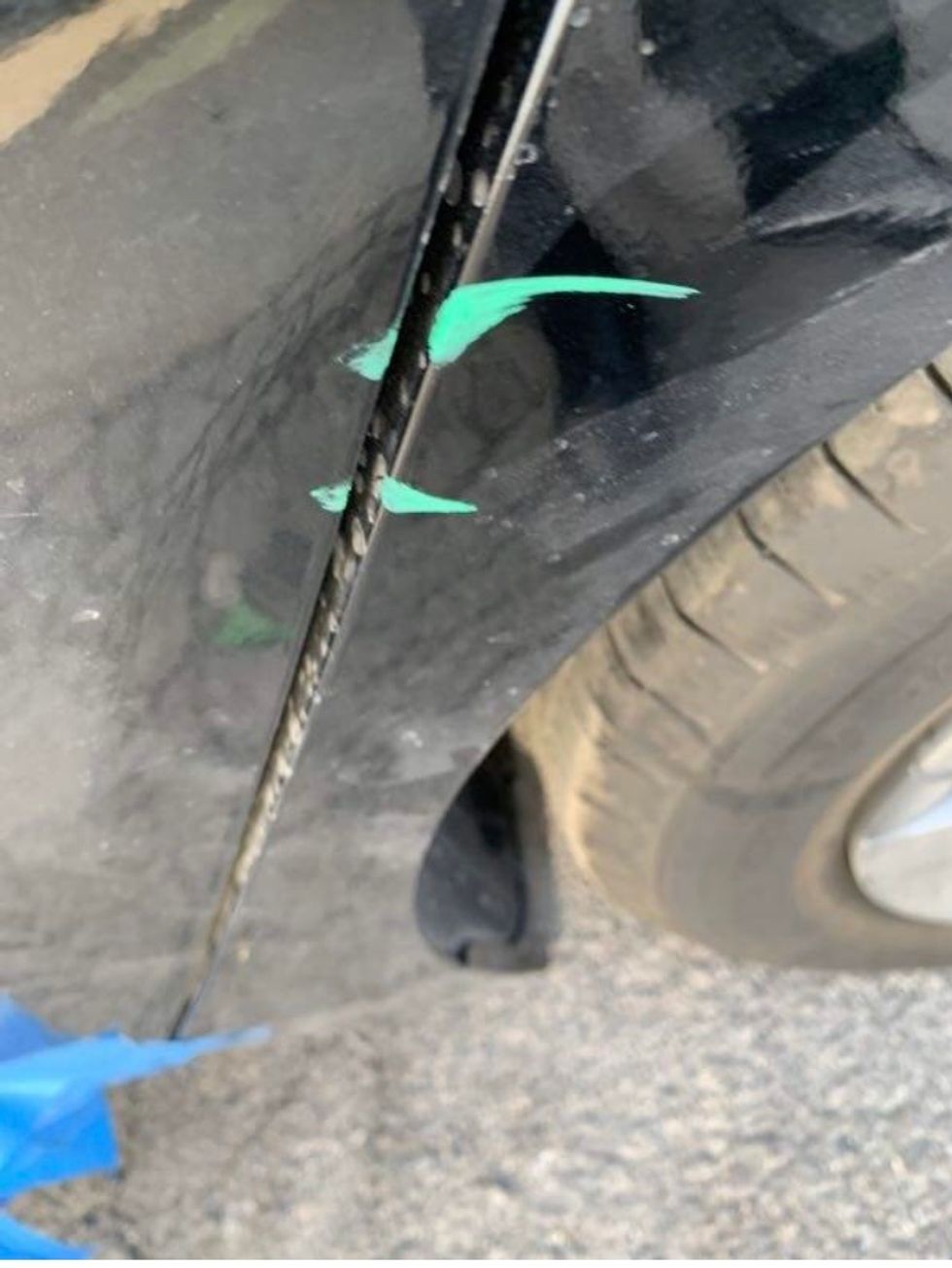 This photo, the attorney claims, shows a misaligned door where people hit the vehicle.
(Clint Broden)
Follow Austonia on Instagram to keep up with what's happening in your city.
Our Instagram page allows you to stay up to date with all things Austin, from coronavirus updates to local personalities. Join our Instagram family to see the faces, events and news that make up the city.
(Apple)
Former Longhorn and NFL star Emmanuel Acho stars in the two-part premiere of "The Oprah Conversation," which hit screens on Apple TV+ over the weekend.
<p>Acho is a natural fit to kick off the new show by Oprah Winfrey. The two are partnering to <a href="https://austonia.com/media/uncomfortable-conversations" target="_blank">publish a book based off his wildly popular social-media series</a>, "Uncomfortable Conversations with a Black Man."</p>In the show's first installment, Winfrey and Acho answer questions by white and Latino guests about race and what it means to be Black in America.<p>"He's answering uncomfortable questions about racism in America and the best ways to keep the conversation going with your family and friends," reads a statement on the show's social media.</p><div class="rm-shortcode" data-rm-shortcode-id="b731717d9d6127f784b0c98ace3bba1a"><div class="fb-video" data-allowfullscreen="true" data-href="https://www.facebook.com/video.php?v=2661048164154842"></div></div><p><br/></p><p>"The Oprah Conversation" is Winfrey's newest series on Apple TV+, following "Oprah Talks COVID-19" and "Oprah's Book Club."</p><p>In future episodes, the show will continue to explore timely topics with leaders from across the globe. <a href="https://tv.apple.com/us/episode/uncomfortable-conversations-with-a-black-man-part-1/umc.cmc.18mbwbiobbhzpxceuzvijsln8?showId=umc.cmc.49yt85r7ow6904u0177r694qy" target="_blank">Watch it here.</a></p>