Get connected with our daily update
Austin Police Department Chief Brian Manley will remain in his position for the moment.
---
At a meeting of the Austin City Council's Public Safety Committee on Thursday, City Manager Spencer Cronk told committee members that he has had "several pointed conversations" with Manley about the need to reverse the types of police procedure and policies that lead to the actions sparking calls for his removal.
"I assure you that both Chief Manley and the entire public safety team are committed to this transformational change," Cronk said.
Cronk's position overseeing the city's 13,000 employees makes him responsible for decisions regarding Manley's job. He remains under pressure to replace Manley after repeated calls for the chief's ouster and after the unanimous council resolutions that included a no-confidence vote.

City spokesman David Green confirmed that although Cronk's statement didn't mention Manley's status specifically, it does mean that Manley is keeping his job, although council members who had called for his ouster did not move off their position that he should be replaced, a decision that could come at any point—or not at all.
"As I have always said, Spencer's job is harder than mine, but council could not be clearer with our perspective on this question, and our belief that the manager's job is to reflect the will of the council," Flannigan said.
Here's Cronk's entire statement the council:

"Thank you, councilmember and committee and council members. I really appreciated the opportunity to get your feedback and the commitment to ensuring that we were moving forward with the transformational changes that we are making for the city and how you will be holding me accountable. So I will in turn hold my entire leadership team accountable, including our leadership. That includes our chief and I've had many pointed conversations with him over the past several weeks. I assure you that both Chief Manley and the entire public safety team are committed to this transformational change and as we move forward we up hold everything that we need to do to move forward in that manner."
(Clint Broden)
Daniel Perry, the active-duty Army sergeant who says he shot Black Lives Matter protester Garrett Foster in self-defense, was driving for Uber when he accidentally encountered the demonstration on the night Foster was killed, his attorney said Monday.
Perry, who is stationed in Killeen and only allowed to travel 100 miles from base, was not in Austin that night to attend the demonstration, attorney Clint Broden said, but because it "was the closest location that had significant ridesharing customers."
Broden also shared a redacted version of Perry's bank statement that shows two deposits from Uber that he said correlated to runs in Austin that night. Perry has been ordered to remain on base since the shooting, Broden said.
"We hope this puts to rest the allegations that Sgt. Perry traveled to Austin for any nefarious purpose," he said.
Some, including Foster's mother, have pointed to Perry's since-deleted Twitter account as evidence that he disagreed with BLM protesters and showed up at the rally to cause trouble.
The release was accompanied by six photos showing what the attorney described as the damage inflicted on Perry's car by protesters, including a bullet hole.
After Perry shot Foster, who was carrying an AK-47 and whom Perry claims was raising his rifle "in a direct threat to [his] life," another person in the crowd shot at Perry's vehicle, according to police. That person has not been publicly identified. Like Perry, he or she had a concealed carry license and was questioned and then released by the Austin Police Department.
Protesters arrested

On Saturday, in the wake of Foster's death and the release of Perry's name the day before, protesters and law enforcement clashed in demonstrations near downtown. Austin police on Monday released the names of 40 people arrested at the protests. The most common charge was obstruction of a highway.
Perry's attorney shared photos that he says show damage inflicted by protesters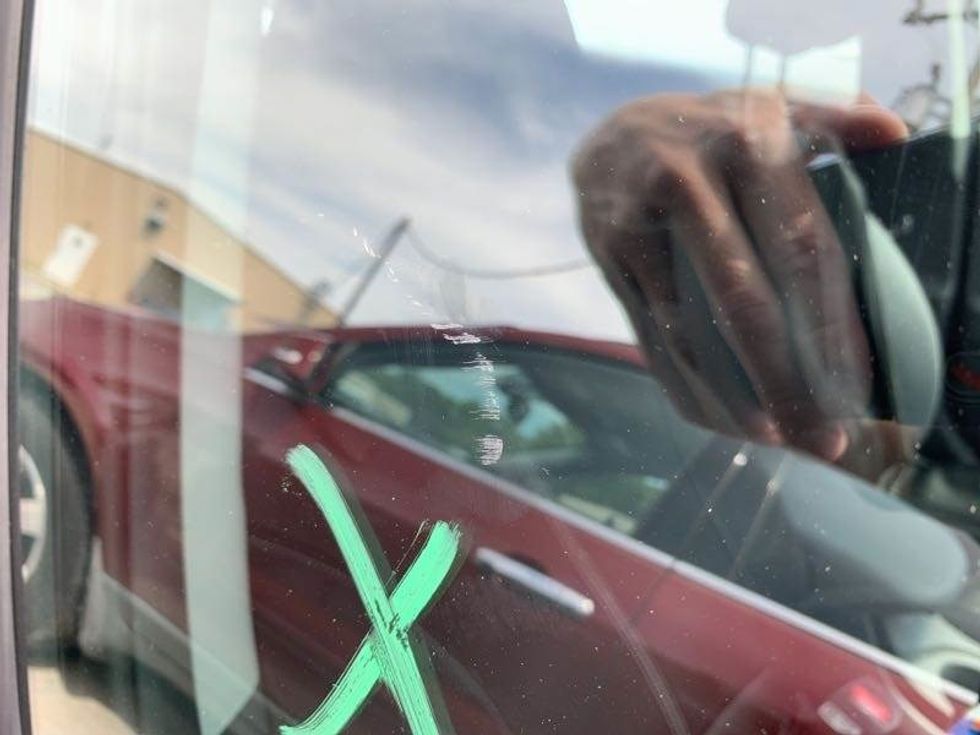 Perry's lawyer claims this photo shows where the vehicle was scraped with a brick.
(Clint Broden)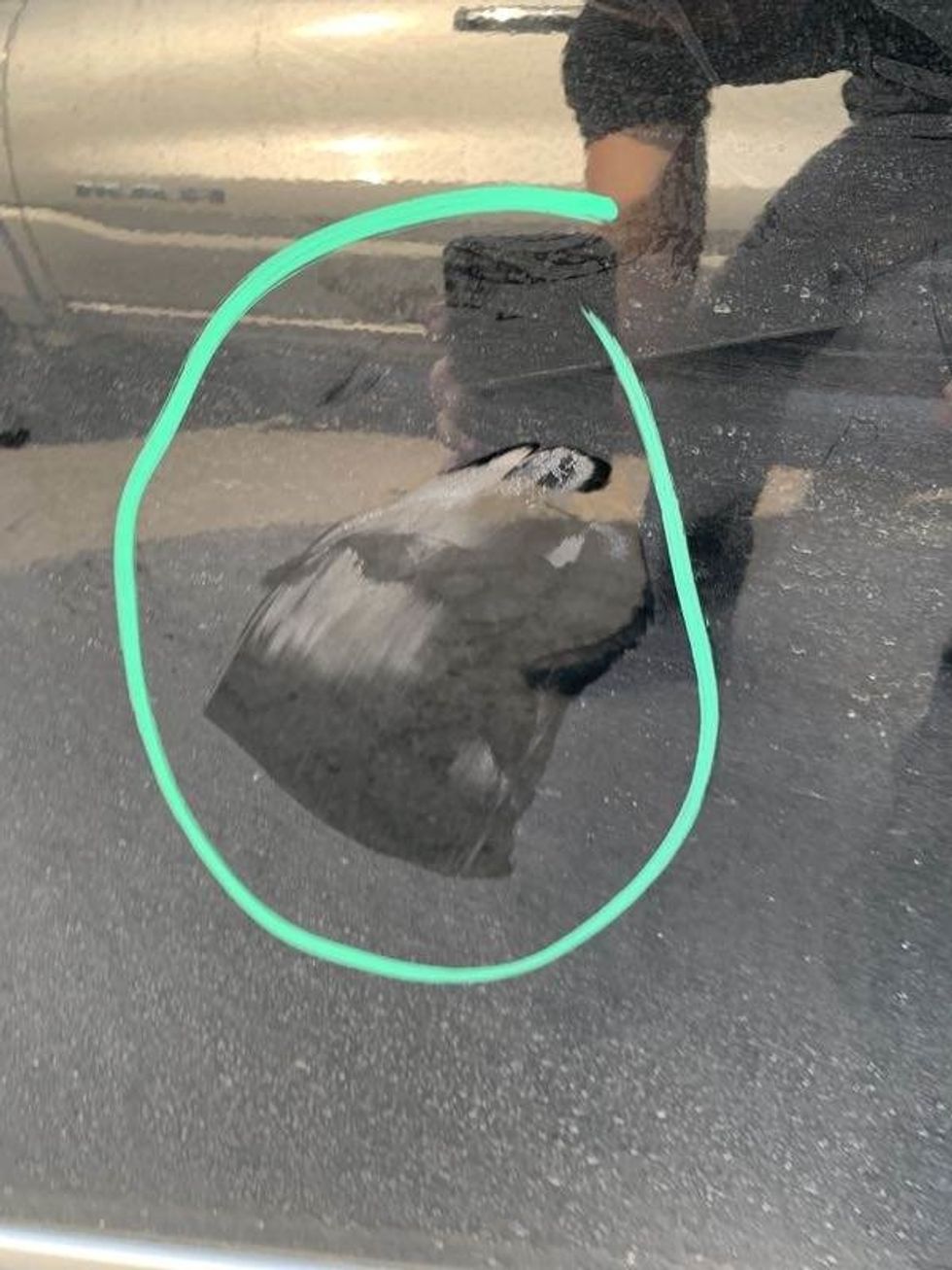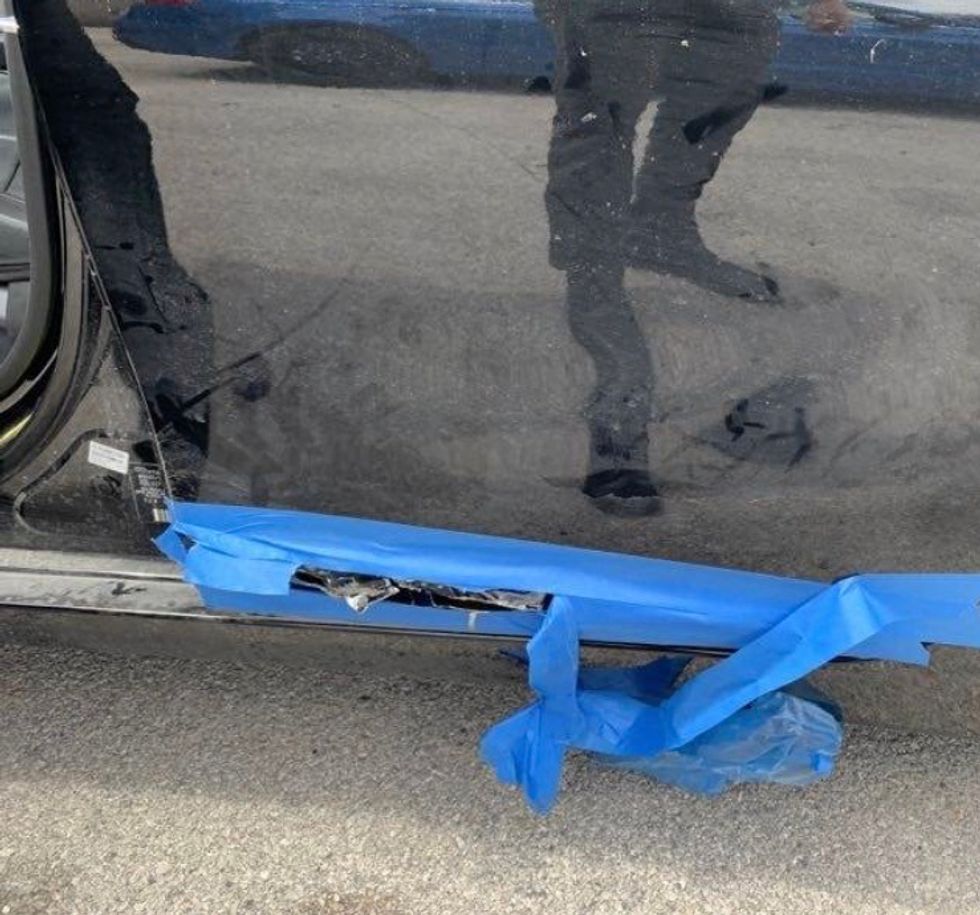 This photo, the lawyer says, depicts bullet holes.
(Clint Broden)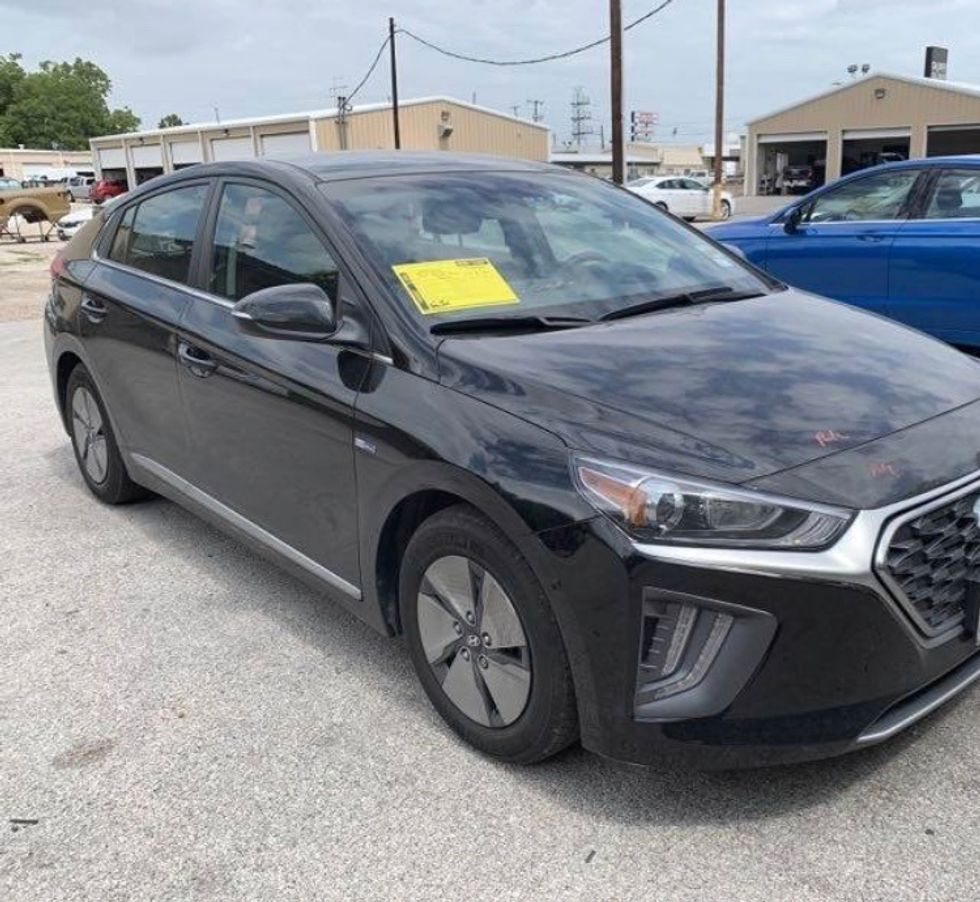 Perry's lawyer claims this photo shows hood damage "identified by auto body shop as a result of banging."
(Clint Broden)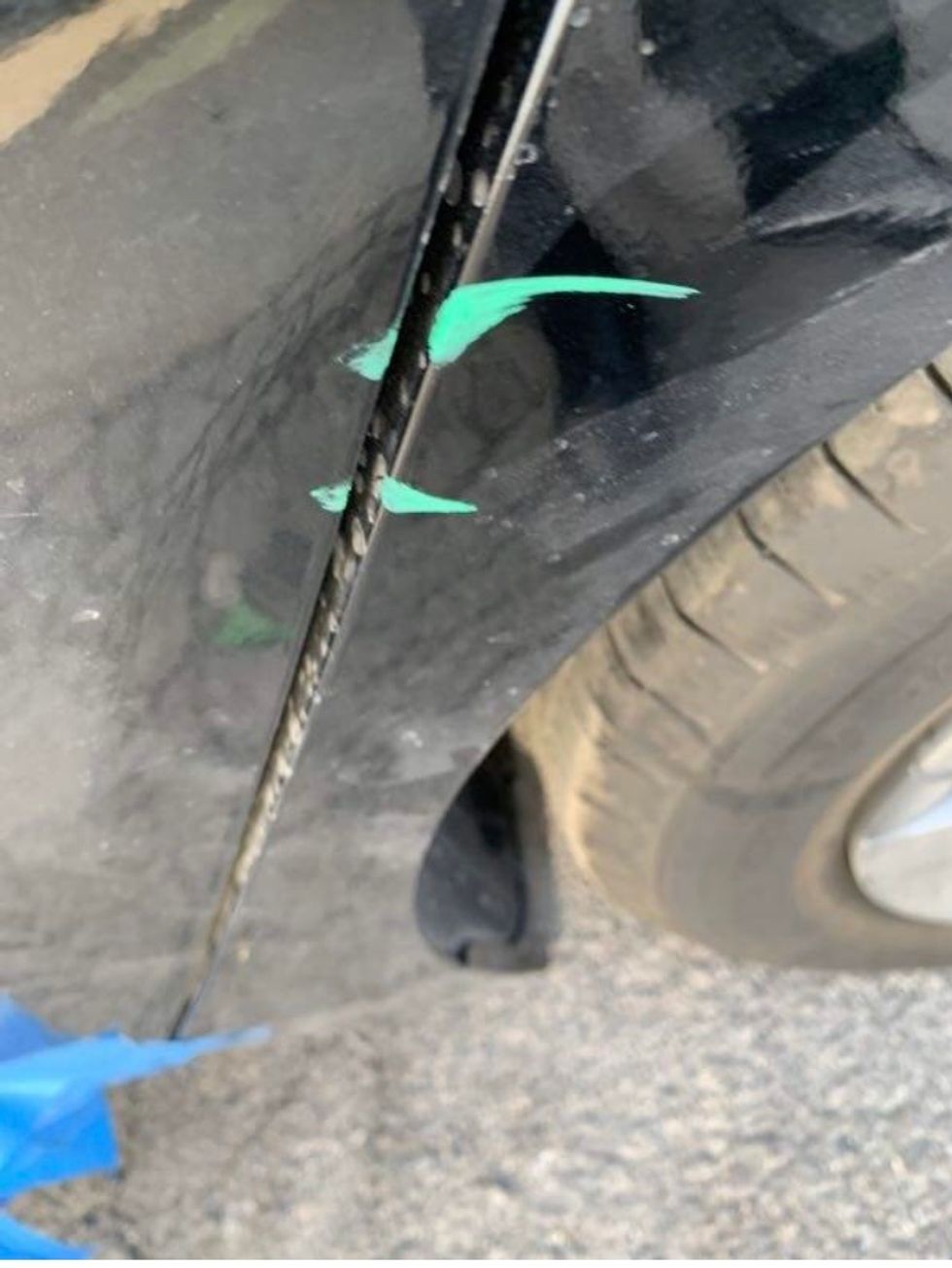 This photo, the attorney claims, shows a misaligned door where people hit the vehicle.
(Clint Broden)
Follow Austonia on Instagram to keep up with what's happening in your city.
Our Instagram page allows you to stay up to date with all things Austin, from coronavirus updates to local personalities. Join our Instagram family to see the faces, events and news that make up the city.
(Apple)
Former Longhorn and NFL star Emmanuel Acho stars in the two-part premiere of "The Oprah Conversation," which hit screens on Apple TV+ over the weekend.
<p>Acho is a natural fit to kick off the new show by Oprah Winfrey. The two are partnering to <a href="https://austonia.com/media/uncomfortable-conversations" target="_blank">publish a book based off his wildly popular social-media series</a>, "Uncomfortable Conversations with a Black Man."</p>In the show's first installment, Winfrey and Acho answer questions by white and Latino guests about race and what it means to be Black in America.<p>"He's answering uncomfortable questions about racism in America and the best ways to keep the conversation going with your family and friends," reads a statement on the show's social media.</p><div class="rm-shortcode" data-rm-shortcode-id="b731717d9d6127f784b0c98ace3bba1a"><div class="fb-video" data-allowfullscreen="true" data-href="https://www.facebook.com/video.php?v=2661048164154842"></div></div><p><br/></p><p>"The Oprah Conversation" is Winfrey's newest series on Apple TV+, following "Oprah Talks COVID-19" and "Oprah's Book Club."</p><p>In future episodes, the show will continue to explore timely topics with leaders from across the globe. <a href="https://tv.apple.com/us/episode/uncomfortable-conversations-with-a-black-man-part-1/umc.cmc.18mbwbiobbhzpxceuzvijsln8?showId=umc.cmc.49yt85r7ow6904u0177r694qy" target="_blank">Watch it here.</a></p>