Never miss a story
Sign up for our free daily morning email...
...and afternoon text update
Get connected with our daily update
photo by Charlie L. Harper III
By Dr. Patrick J. Crocker
The things we worry about. All the what-ifs that haunt our collective minds. Those without anxiety can't always understand the concerns of those who suffer, because those anxious thoughts are only part of our individual psyche. The conundrum is that those things we worry over are not usually in our future, it's the things we never thought of that jump up like a jack-in-the-box to bite us.
Today it's COVID-19, the invisible viral boogey-man raging across the world that fuels the personal and family strain.
---
It's shocking that we have gone from "it's a hoax" from the naysayers to a $2 trillion rescue plan and global spread in just three short weeks. And one of our greatest fears is possibly not being with our loved ones as they fight the disease or die alone. The toll can be tremendous, and long lasting. Relationships can be permanently distorted by worry about things that probably won't happen.
While the viral threat is real, the extent of it remains poorly understood. Testing and data collection of the general population is inadequate to answer our questions. How many of us have the disease already? What is our personal risk? What is the actual fatality rate? The collected world data seems to hover around 2% or so, depending on whether the healthcare system breaks down. But if we understood the actual extent of spread it may actually be less than half that, maybe a lot less. Not knowing the answers makes the stress even worse.
New data from Iceland indicates almost half of their patients who tested positive had no symptoms. The encouraging news here is that maybe the virus may not be a life-threat to as many as we think and those worst-case scenarios will never come to pass. The study also provides important direction for us on the value of distancing. Treat everyone as possibly infected until this mess passes.
Anxiety leads to panic, and panic is contagious. So what is it we should worry about? I believe it is our first responders and hospital medical staffs. The modern day heroes that are placing their own lives on the line trying to save the rest of us. These warriors need to feel protected and be protected. But they are scared and at risk. The lack of personal protective equipment, masks, and gowns are staggering concerns. We are sending our soldiers into battle without their tools and this could spell disaster. What can we do?
Prioritize that supply of personal protective equipment. Email your senator and congressional representative today to push our leadership to supply it. Practice social distancing as described by the CDC. Hands to face may be the greatest threat so hand washing is critical. Do these things and take comfort in knowing you're doing the best you can to protect yourself and others. And that it will likely be enough.
We can also find coping mechanisms for our worries. Social distancing doesn't mean isolation. Call your friends, Facetime and Skype, it is reassuring to see the faces of your loved ones. Staying glued to the TV watching the news isn't. Limit that news time to once a day. Get outside and go for a walk. Exercise. Both help. With your kids at home play some family board games. Try some daily quiet meditation time focusing on inner peace while turning off the viral noise.
The Serenity prayer offers guidance. "God grant us the serenity to accept the things we cannot change, the courage to change the things we can, and the wisdom to know the difference."
(Dr. Patrick J. Crocker is former chief of emergency medicine at Brackenridge Hospital and Dell Children's Medical Center. He also is the author of "Letters from the Pit" and "More Letters from the Pit: Stories of a Physician's Odyssey in Emergency Medicine," coming this spring.)
With a taste of MLS play under their belts, Austin FC is entering the second half of a scoreless inaugural match.
The club has been given some generous breaks from No. 2 LAFC, who had one or both of their star DPs out for the half. While forward Diego Rossi is out for the entire match due to a hamstring injury, Carlos Vela was accidentally pulled too soon on what turned out to be a miscommunication.
He gave us the sign that he needed to come off," LAFC head coach Bob Bradley said on broadcast. "I can't say more than maybe it's my fault."
The two breaks aside, Austin FC has been holding their own against the match favorites. In the signature style of head coach Josh Wolff, the team has been quick and intense, nearly connecting on several fast breaks. ATXFC has also kept about equal possession with LAFC, although their shot attempts haven't been quite as nervewracking as the home team's.
LAFC has given goalkeeper Brad Stuver some scares with 11 shot attempts, four of them on goal. By contrast, Austin FC has had five shots on goal.
LA has pulled some dramatics and slowly gained more possession throughout the half, but ATXFC's defense isn't as shaky as it seemed in preseason. Jhohan Romana has pulled his weight in getting the ball out of goal, and defensive midfielder Alex Ring has shown the qualities that make him captain as he leads his teammates through their first ever match.
Will Austin FC win against the odds? t's tough to tell, but Austonia will keep you updated!
It's matchday! Austin FC—Austin's first major league sport team—kicks off its debut season in Los Angeles today after years in the making. We know how much this means to our beloved city and are taking you along with us as we journey to LA!
Austin FC writer Claire Partain and I are excited to bring you game-day coverage straight from the City of Angels. Check back here for updates, and visit our socials: @austonianews for the latest.
5 p.m: Kickoff!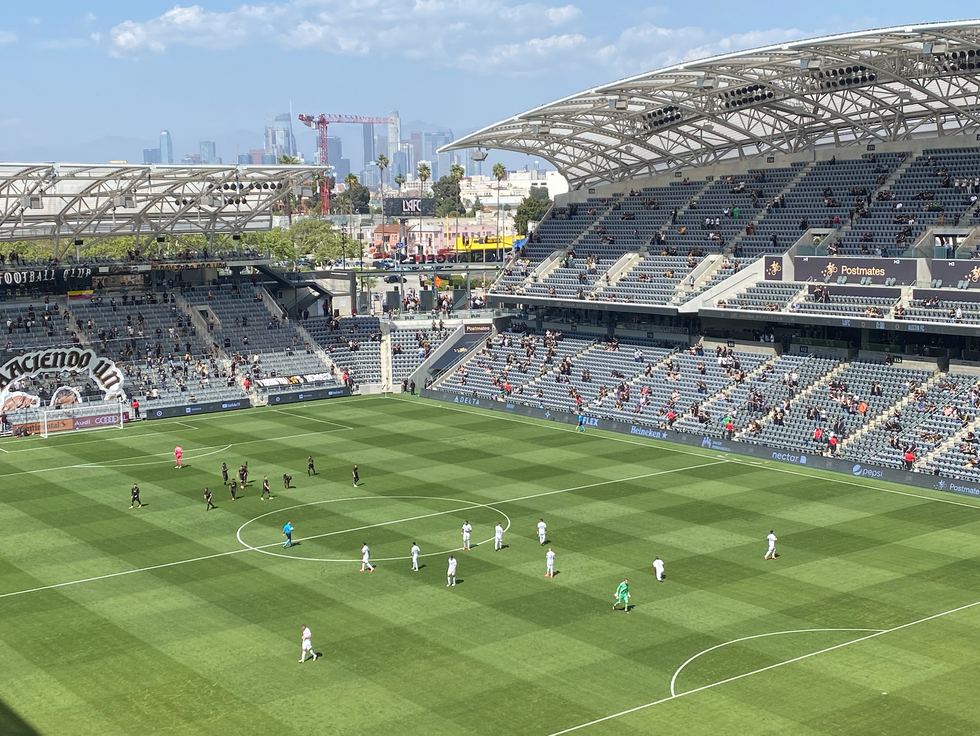 It's finally here! Claire will be updating Austonia's Twitter account live. And we'll post her game recap after the game. Best of luck Verdes!
4:40 p.m: Excitement radiates back home
Watch parties are in plenty supply back home. Austonia's Laura Figi visited Circle Brewing Co. and found a crowd of excited supporters.
4:20 p.m: Austin FC supporters are in the stadium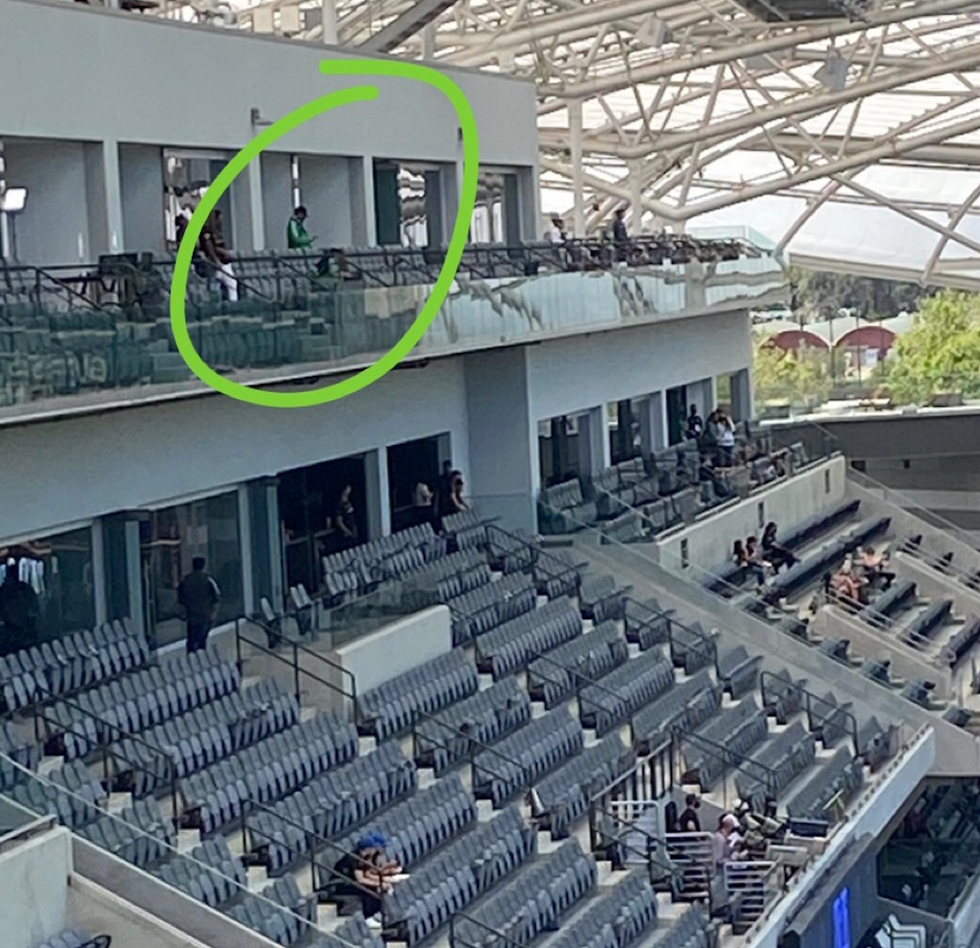 Although the Banc of California Stadium is hosting the match at limited capacity, we see some green in the stands ahead of kickoff. Just moments away from the Austin FC's debut!
~3:20 p.m: Austin FC's team bus enters the stadium grounds
With a warm welcome from Los Verdes, Austin FC players were welcomed into the Banc of California Stadium.
~1 p.m: Los Verdes in LA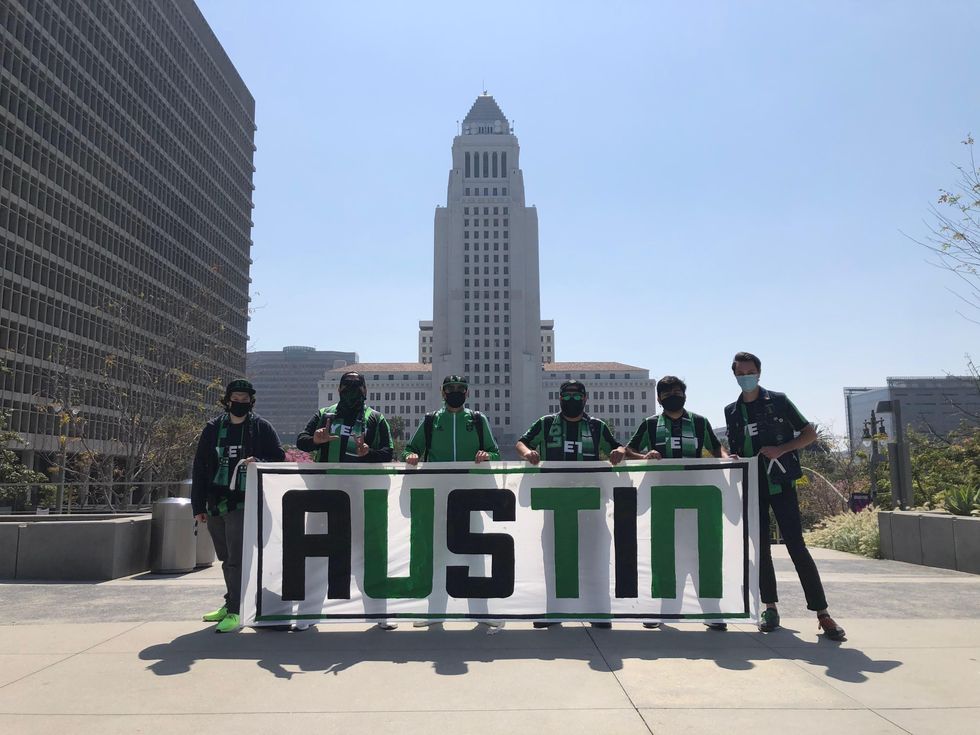 (Rigo Rodriguez/Los Verdes)
Austin FC supporters are making their presence known in LA, including the Los Verdes group.
Los Verdes members started having match-day fun around the area this morning with brunch. We'll be joining them about an hour before the game outside the stadium to share some of their excitement. We'll post immediately to Austonia's Instagram.
11:45 a.m: We landed!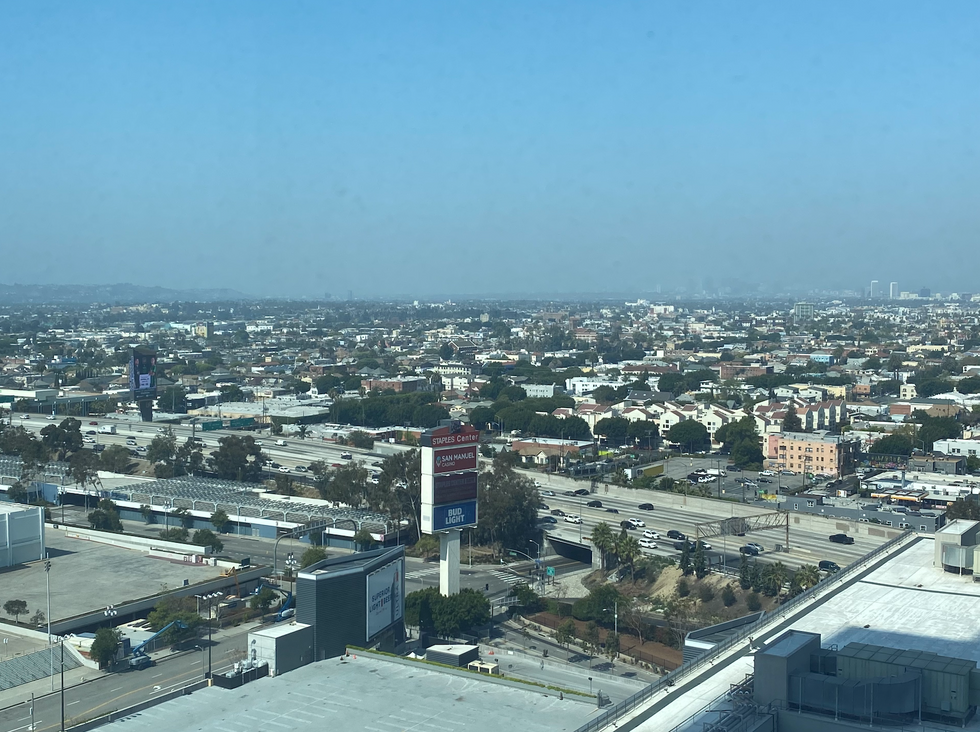 View from hotel room where we're staying; the stadium digital sign can be seen in the right corner. (Sonia Garcia/Austonia)
Switching over to pacific time, we're here and it's almost like no time went by. It's 9:45 a.m. here.
We've been in contact with Los Verdes, an Austin FC supporter group, who is also here in LA counting down to kickoff.
8:20 a.m: LA bound
Like many of you, we've been looking forward to this moment for, let's just say, a very long time. Today, we woke up bright and early, headed to Austin-Bergstrom International Airport and hopped on a flight to LA.
A gloomy day in Austin with a very quiet airport, we're headed to sunny skies in California.
As we wait for the game to start at 4:30 p.m., check out Claire's preview of the game with a predicted lineup and timeline of the long journey to get here.