Austonia AM
100% Austin news, info, and entertainment, straight to your inbox at 6 a.m. every morning.
In five minutes, you're fully informed and ready to start another great day in our city.
Get connected with our daily update
(Austonia staff)
BY RAGA JUSTIN AND REESE OXNER, The Texas Tribune
Local officials and business leaders in some of Texas' college towns are bracing themselves for the possible cancellation of football — a move that could further injure local economies that are still limping from pandemic-related closures and are reliant on game day tourism.
---
This week, decisions are expected to be made about whether the Power 5 conferences will go forward as scheduled with college football, despite early outbreaks across the nation — including at the University of Texas at Austin — that have already infected student athletes and coaches with COVID-19.
Texas' five major conference football teams – Baylor University, Texas Christian University, Texas A&M University, Texas Tech University and the University of Texas at Austin — are massive economic drivers for their cities of Waco, Fort Worth, College Station, Lubbock and Austin, respectively, generating a flood of seasonal business for hotels, restaurants and bars in a typical year.
Economists and city leaders said canceling football would be devastating to local businesses that rely on the huge influxes of cash from home games.
"Forgoing even a single game costs the economy millions. Dealing with the health crisis is essential and must be given paramount priority, but the economic costs of restricting or eliminating college sports are very high," said Ray Perryman, a Waco economist and CEO of The Perryman Group.
Across Texas, university leaders have supported allowing football to move forward if conference division leaders allow it. Student athletes are already training on many campuses and school officials are laying plans to space out fans in their stadiums. At the same time, many faculty and students have expressed trepidation about returning to campus as Texas remains a hot spot in the nation and hospitalizations and deaths related to the virus remain high.
"We want to play football in the fall," said Texas A&M System John Sharp in a statement to The Texas Tribune on Monday. Gov. Greg Abbott has also given his blessing, permitting up to 50% of capacity in college stadiums.
"I support the players. This impacts the players as much as anybody else, and what I am seeing in the Big 12 conference, as well as elsewhere, is that the players really want to play," Abbott said during a televised interview with KWTX on Monday.
College towns
Doug Berg, an economics professor at Sam Houston State University, said towns like Lubbock and College Station would feel the impact of lost game day revenue more than larger cities like Austin with its more diversified business base.
Still, UT-Austin reported in 2015 it had a local economic impact of more than $63 million per home game.
A bigger proportion of municipal budgets in smaller towns is derived from sales and hotel occupancy taxes – both of which typically experience significant hikes during football season. For college towns, "it's like losing Christmas," Berg said.
The toll of losing football is "larger than we care to fathom," said Eddie McBride, president of the Lubbock Chamber of Commerce.
One typical home game at Texas Tech, with an average attendance of about 60,000 people, pours "millions of dollars" back into the city of Lubbock, McBride said.
"We do count a lot on football," McBride said. "It isn't just sold seats…it's going to people's houses and buying food and drinks from the local grocery store and the beer store, and then going to the bars and the restaurants to watch the game."
Many business owners who are living paycheck to paycheck, already hammered by the pandemic, may go out of business without the cash influx they were expecting from football season, McBride said. Lubbock, which has a population of nearly 266,000, is already grappling with a 6.9% unemployment rate — more than twice what it was in January.
Steve Massengale, owner of The Matador in Lubbock, holds the exclusive merchandising rights for Texas Tech's athletic gear. Massengale, a city councilman, said some home games can generate revenue in the six figures.
The store typically hires up to 35 seasonal workers to work game days, many of them students.
"It would be devastating," Massengale said. "There's just so many things that depend on vibrant activity on campus and on game day Saturdays. The negative impact is insurmountable."
In College Station, Mayor Karl Mooney points to a symbiotic relationship between the city of 116,000 and Texas A&M University. By Mooney's estimates, nearly every household has one member who is affiliated with the university. In the 2008 recession, the university was a steady source of employment that kept the town's economy afloat.
And according to a 2011 estimate from the College Station Chamber of Commerce, Texas A&M home games generate $20 million in direct consumer revenue. With a typical run of seven home games, the city's businesses sees upward of $140 million every football season.
"We are impacted dramatically by the university," Mooney said. "We're not an Austin, a Houston, a Waco."
Officials in Waco said they could weather the blow if Baylor's season was canceled.
According to a 2013 study, Baylor Athletics had a $373.3 million impact on Waco's economy. Yet while the food and hospitality industries would be hit hard, their losses wouldn't devastate Waco's $14 billion economy, City Manager Bradley Ford said.
"If we weren't gonna have football this year or had significantly lower attendance, certainly, you'll see some of that ripple through the local economy and tourism and restaurants and things of that nature," he said. "But it won't be what I would deem a 'substantial hit' to the local economy."
Perryman, who helped conduct the 2013 study, said visitor spending leads to "in excess of $25 million in gross product each year in the Waco area and over 337 full-time equivalent jobs when multiplier effects are considered."
Patrick Svitek contributed to this report.
Austin has been on the fast-track to growth for 10 years, according to Census data. (Stuart Seeger/CC)
Austin is on a rollercoaster that only goes up, according to the new U.S. Census Bureau data that says the city has been the fastest-growing large metropolitan area in the U.S. for a full 10 years.
The data, which was released on Tuesday, said the population between the five counties in the Austin metro area—Travis, Williamson, Hays, Bastrop and Caldwell—increased by 3% since 2019 and 34% since 2010.
Austin still isn't the largest metro area but it does have the fastest population growth compared to other U.S. metro areas with over a million people. In the past decade, the metro population has gone from around 1.7 million to 2.3 million people.

The huge increase in Travis County alone is enough to bring the city closer to the leagues of other big cities, jumping above San Francisco and San Jose, California and Jacksonville, Florida in the ranks of most populous.
An increase of more than half a million people in the metro area puts it as the 29th largest, an increase of one spot from last year.
However, in terms of just population growth compared to last July, Austin was beaten by a few other Texas cities: Dallas ranked first in the U.S. with an increase of 119,748 and Houston took third, gaining 91,078. Austin ranked fourth with a growth spurt of 67,197, averaging out to 184 new people per day including natural increase, or the difference caused by births and deaths.

Overall, Texas gained the most residents out of all other U.S. states.
With companies like Tesla, which has promised to hire 10,000 people at the new Gigafactory, Oracle, Samsung and Google putting down roots in Austin and Texas tax breaks and lack of personal income tax, it's no surprise companies and people are flocking to the Lone Star State.
We asked you what you wanted and you told us. More newsletter!
Austonia launched its new and improved newsletter today. You can expect:
100% Austin news, info and entertainment
Sent straight to your inbox at 6 a.m. every morning
In 5 minutes or less, you're fully informed and ready for a great day
Sign up here:
This week, Austin FC Head Coach Josh Wolff returns to a team that has his name plastered on their stadium walls.
Wolff, Sporting Kansas City's fourth-place all-time scorer, is returning home to Kansas City, but this time, he's the opponent as Austin FC looks to up their win streak to three straight games.
The MLS is abuzz with Austin FC's quick rise in the standings—predicted to just maybe crack the playoffs, the club is already ninth in Week 4's MLS Power Rankings and fourth in the West. The club is coming off of a breakout 3-1 win over the Colorado Rapids and a slower-paced, but still decisive, victory over Minnesota United FC.
It's only the start, however. The club is facing a few injuries, and Wolff predicts that clubs are going to try to crack the league's golden team. "We want to play a certain way and some teams want to destroy that," Wolff said.
Here's what to expect for Austin FC's fourth-ever match on the road this weekend.
What to expect
¡Bienvenido de nuevo, @alanpulido! :boom:#RSLvSKC | #SportingKC | #VamosKC pic.twitter.com/Y8BzfVsqKn

— Sporting Kansas City (@SportingKC) May 1, 2021
A founding MLS member, Sporting KC has been around since they were the Sporting KC Wizards in 1995. They're not having the greatest start, however. KC has given up five goals and scored three so far, most notably losing 3-1 to an on-fire Real Salt Lake on Saturday.
The lone goal they scored was a doozy, though. KC's Khiry Shelton sent a smooth cross along the ground to Gianluca Busio, who, in a clever move, faked out on the pass and let it keep rolling. Kansas' leading striker, Alan Pulido, was there to score his first goal, and the play was completed in a matter of seconds.
Austin FC clearly needs to dismantle the chemistry between Pulido and team. Busio, especially, has been trying to create looks for the club. Kansas City is lacking some bite in their defense, however, and it looks like their back end is sometimes hesitant to go after the ball. Good news for Austin.
Could Austin FC get insights from KC vet Matt Besler, who will most likely join Wolff as a hall of famer after 12 seasons with the club? Wolff says maybe.
"I certainly expect Matt to give us some information, an inside scoop," Wolff said.
If the pattern continues, ATX might see more roughing up of Cecilio Dominguez, who has been targeted after his two-goal breakthrough against Colorado. They can also expect Kansas City and other clubs to start pressing higher up the field, bringing in more physicality and disrupting the club's offensive structure.
However, their new strong midfield, headlined by Captain Alex Ring, and a chance at lucky goal No. 3 for Diego Fagundez could propel Austin FC forward if they continue to go full steam ahead.
Projected starting lineup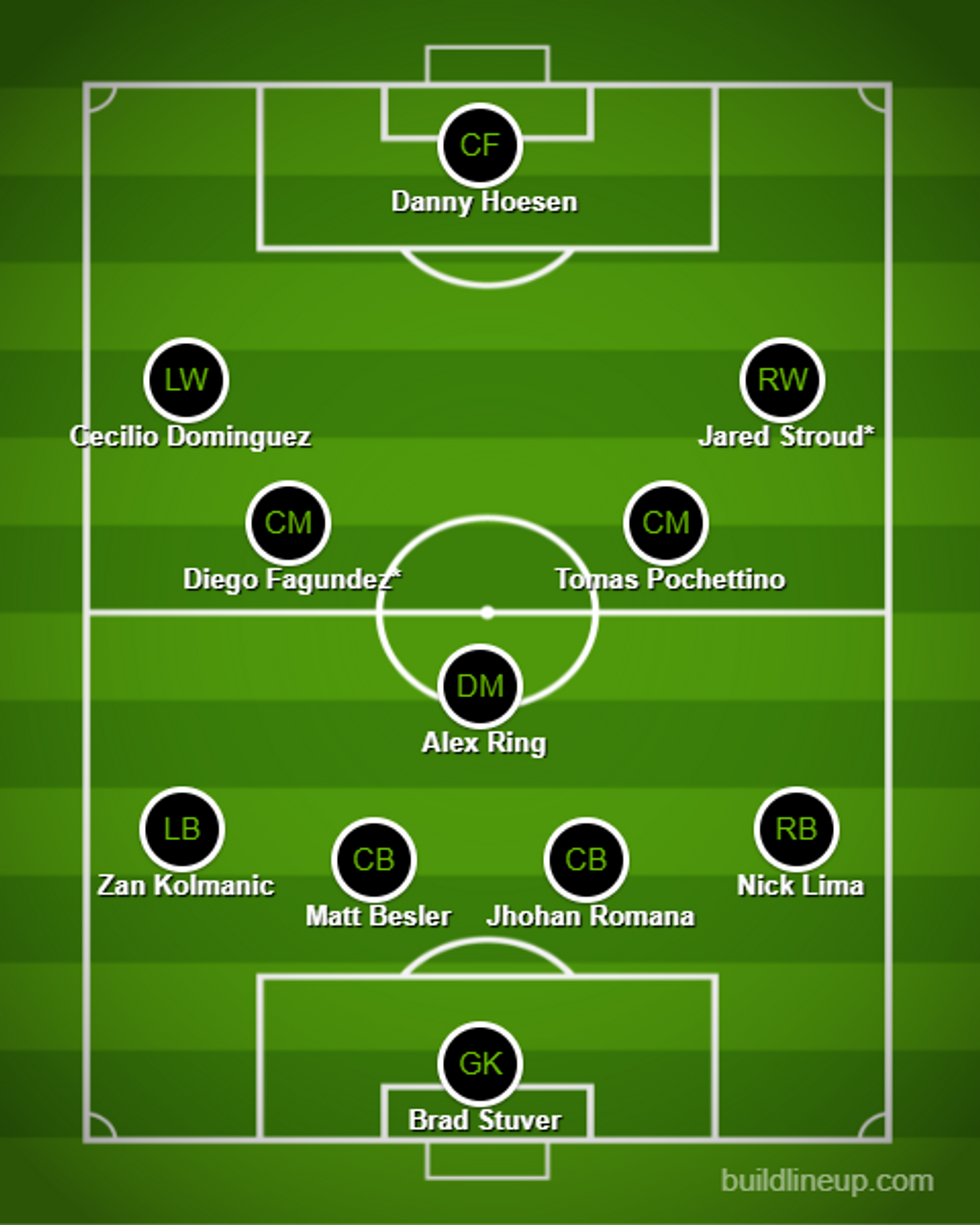 Why fix something that isn't broken? Austin FC finally found their stride in midfield with the Holy Trinity of Alex "ringleader" Ring, repeat goal-scorer Diego Fagundez and Designated Player Toto Pochettino. No hate to Daniel Pereira, however. He could easily start too, but it seems as though the 20-year-old will have to wait for that Fagundez fire to burn out before he sees the starting pitch again.
Same goes for right wing. It's a good thing when a team has multiple players who could be on the starting XI, and Rodney Redes is no exception. He stood out in preseason and against LAFC and very nearly scored against both the Rapids and Minnesota, but Jared Stroud is proving a great strategist at the front of the field. He provided the cross that led to Fagundez' goal, and he's threatened goal with a few shots of his own.
Other than that, we can probably expect more of the same. Matt Besler is going head-to-head against his former teammates, and Zan Kolmanic is adjusting to the MLS after former starting left back Ben Sweat tore his ACL two matches ago.
Austonia FC