Get connected with our daily update
The mighty woolly mammoth may walk again if Austinite, entrepreneur and multi-CEO Ben Lamm has anything to do with it.
---
Outspoken about the effects of climate change and inspired by the idea of the possibility of bringing back the woolly beast by Harvard University's Dr. George Church, Lamm, former CEO of Austin AI company Hypergiant, used his business-building expertise to put the hypothesis to the test.
Thus, the company Colossal Biosciences was born, spearheaded by the entrepreneur and geneticist. After raising $15 million in venture funding and hiring a team of technologists, operations were kept under wraps for the past two years until the company was ready to reveal itself.
The 19-person team is split between three cities: software and hardware in Austin, biology work led by Church based at Harvard in Boston, and commercialization for biomedical industries in Dallas.
Colossal plans to resurrect the mammoth using CRISPR technology "to apply advanced gene-editing techniques" on genomes of existing Asian elephants. According to Lamm, Colossal will birth its first batch of mammoth calfs in four to six years, after an 18-month artificial gestation period. Once Colossal has mastered the mammoth, the company has the potential to pioneer the preservation and de-extinction of other species.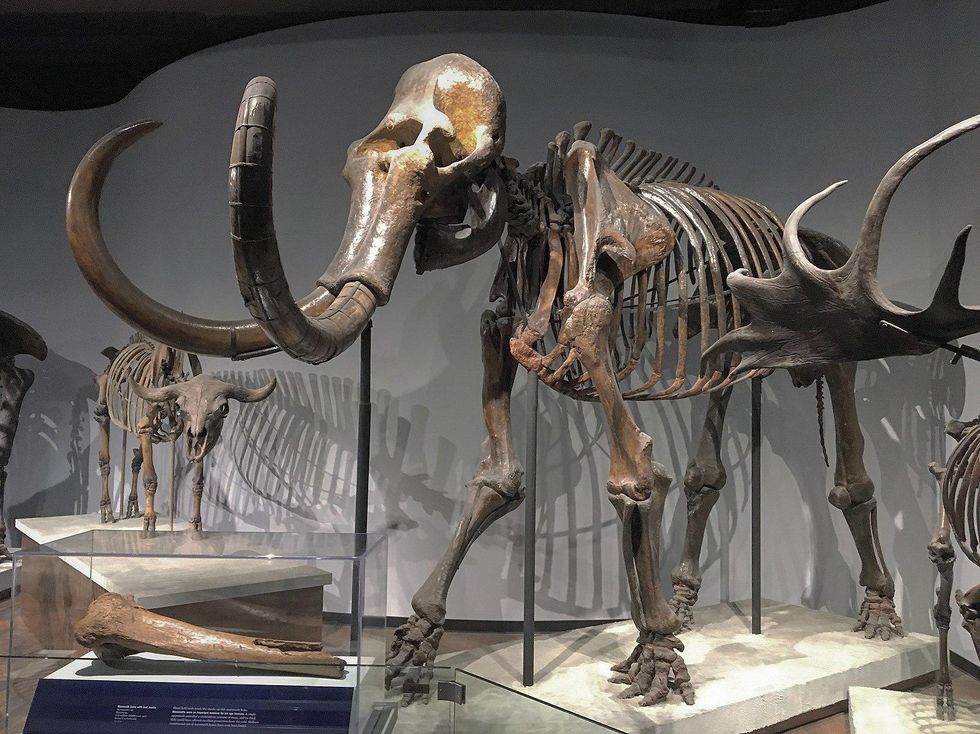 Wooly mammoth fossil skeleton on display at the Field Museum of Natural History in Chicago. (CC)
"Never before has humanity been able to harness the power of this technology to rebuild ecosystems, heal our Earth and preserve its future through the repopulation of extinct animals," Lamm said. "In addition to bringing back ancient extinct species like the woolly mammoth, we will be able to leverage our technologies to help preserve critically endangered species that are on the verge of extinction and restore animals where humankind had a hand in their demise."
More than 1 million animals, plants and fungi are at risk of extinction worldwide, according to a 2019 report from the United Nations. The company says reintroducing previously extinct species will help revitalize and recover lost ecosystems and have the potential to reverse the effects of climate change.
"If you look at the loss of biodiversity in this terrible tragedy that's upon us with man-made climate change, one of the things that sticks out is that between now and 2050 we're gonna lose 50% of biodiversity," Lamm said.
Reintroducing the mammoth will help restore the Arctic grasslands, which have climate change-combatting properties including carbon sequestering, methane suppression and light reflection. The Asian elephant's DNA is 99.96% similar to a mammoth, so the hybrids will be genetically prepared to withstand the cold and likely share the same physical characteristics, like its long coat.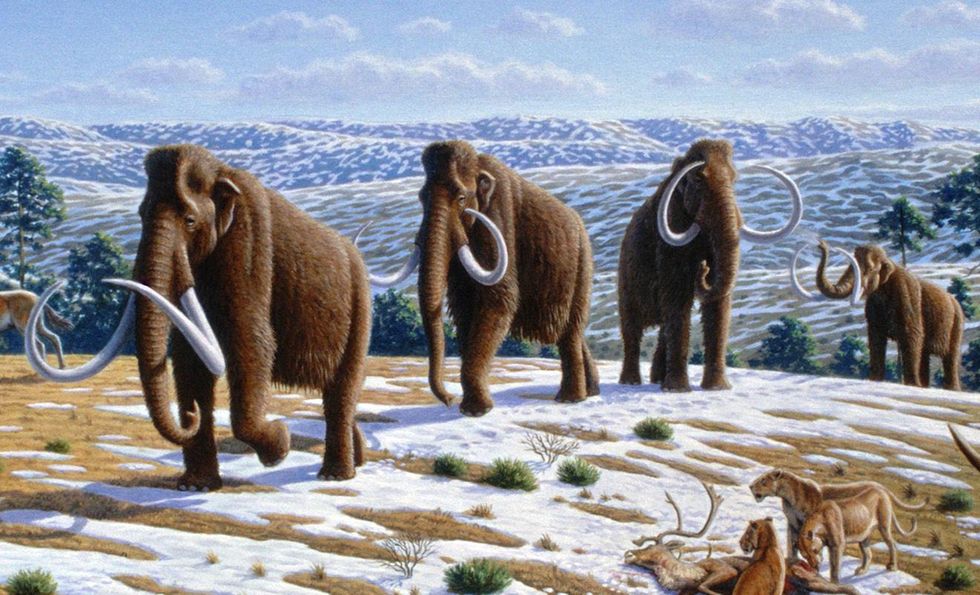 Woolly mammoth's will help restore the Artic grasslands if brought back. (CC)
"Technologies discovered in pursuit of this grand vision–a living, walking proxy of a woolly mammoth–could create very significant opportunities in conservation and beyond, not least of which include inspiring public interest in STEM, prompting timely discussions in bioethics, and raising awareness of the vital importance of biodiversity," Church said.
The mission will be funded by a host of investors including Thomas Tull, the billionaire businessman of Tulco LLC and former CEO of Legendary Entertainment, Breyer Capital, Draper Associates, Animal Capital, At One Ventures, Jazz Ventures, Jeff Wilke, Bold Capital, Global Space Ventures, Climate Capital, Winklevoss Capital, Liquid2 Ventures, Capital Factory, Tony Robbins and First Light Capital.
Five Austin companies joined Google's second Startups Black Founders Fund on Wednesday, earning $100,000 each as part of the $10 million initiative geared toward giving Black entrepreneurs access to funding for their startups.
The fund gave $100,000 to 50 founders nationwide, including Austin companies CustomerX.i, Journey Foods, Sandbox Commerce, The Mentor Method and Tadeblock.
The founders will receive the funding without giving up any ownership of their startups and will gain access to Google technical support including up to $120,000 in donated search Ads from Google.org and up to $100,000 in Google Cloud credits. The Austin companies will also join a select few—the fund is only two years old and last year rewarded 76 Black-led startups with up to $100,000 as well.
Google's Startup funds can be used to boost Black founders' companies into success—last year, founders raised up to $50 million in capital after recieving the funds, and 80% of the companies used their funds to create jobs.
Founders from last year's batch then paid it forward by nominating new companies and announcing the winners via Zoom.
Here's a look at those 5 founders in Austin:
A member of the Independent Citizens Redistricting Commission (ICRC) contacted council members asking for their home addresses despite a charter provision prohibiting the ICRC from considering such information in its mapping process, according to emails obtained by the Bulldog through a public information request.
Four council members or their staffers replied providing home addresses: Alison Alter, Paige Ellis, Mackenzie Kelly, and Leslie Pool, according to the emails dated August 9th to Aug. 17.
Austinites will once again be able to take a nonstop flight to London as Austin-Bergstrom International Airport resumes transatlantic travel this fall.
Starting Oct. 13, British Airways will offer its direct flight from ABIA to London-Heathrow Airport three times a week on Wednesday, Friday and Sunday. The airline, which has been operating in Austin since 2013, had halted service at the start of the pandemic over a year ago.
"We can't wait to welcome our customers back on board our Austin flights and we are honored to be playing our part in reuniting families and friends with their loved ones after such a long time apart," said Marie Hilditch, British Airways' head of North America sales.
Safety protocols the airline is taking include:
social distancing measures
wearing of facemasks
providing hand sanitizer stations
cleaning all surfaces after every flight
fully recycling the air once every two to three minutes through HEPA filters, which remove microscopic bacteria and virus clusters with over 99.9% efficiency
The announcement comes as COVID-19 testing requirements to enter the UK are scheduled to stop on Oct. 4. for vaccinated Americans.
Additionally, a Monday White House announcement allows fully vaccinated international travelers to enter the U.S. starting in early November with proof of a negative COVID-19 test. The ban, which was implemented in 2020, restricted travelers from a number of European countries, Iran and China throughout the pandemic.