Get connected with our daily update
An influx of talent is both creating an Austin comedy renaissance and dividing the local stand-up community.
---
The California migration to Texas is influencing politics, culture and the makeup of the state capitol. With big names like Joe Rogan coming to town, it's also shaking up the entertainment industry, 11-year Austin comedy vet Chris Tellez said. Tellez is co-host of Shit's Golden, Austin's longest-running monthly stand-up show.
"There's no denying it, seems like over 100 comics moved here from New York, L.A., and everywhere in between. It's like a funny science experiment," Tellez said.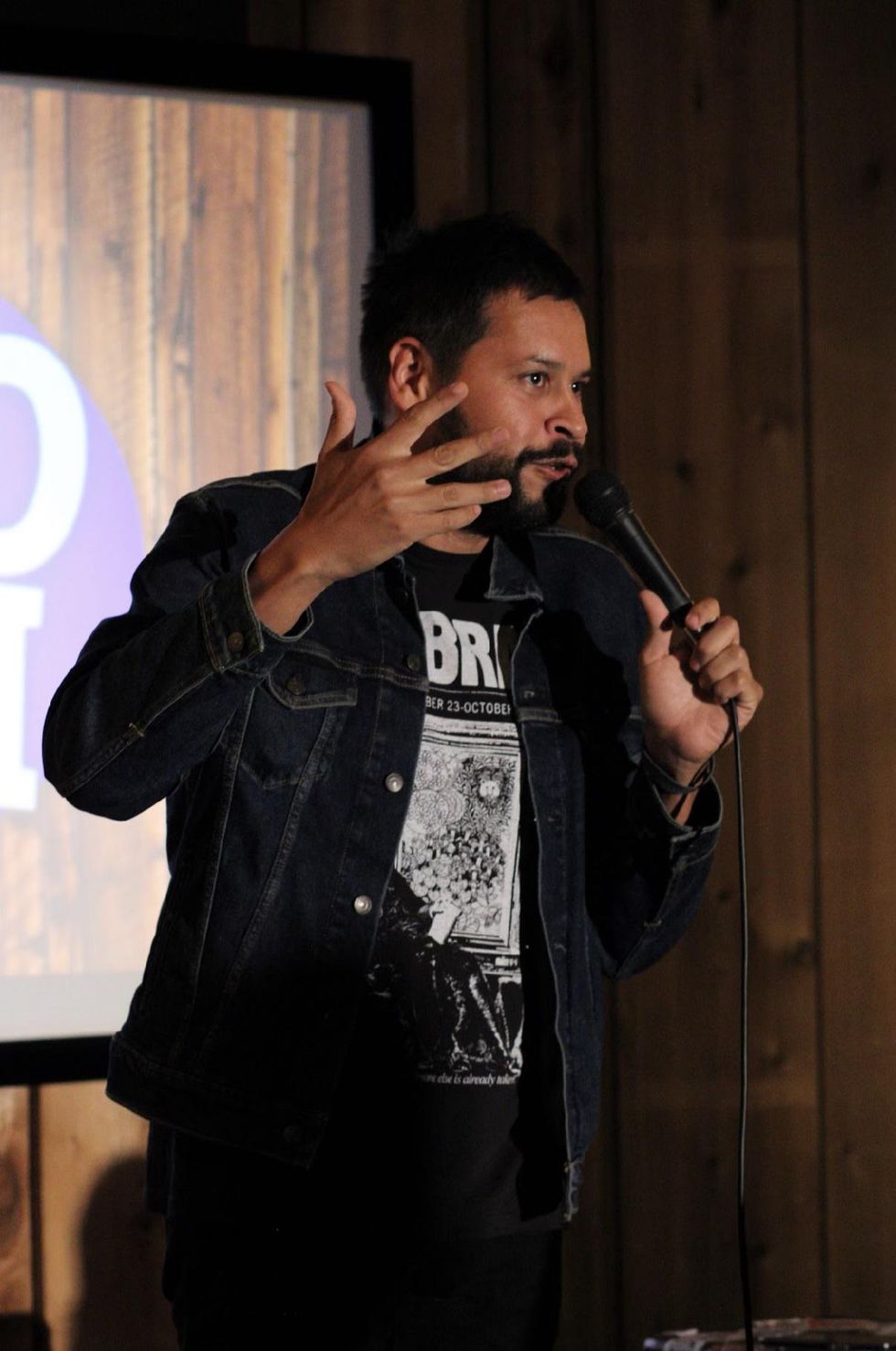 Chis Telles is a co-host of comedy monthly Shit's Golden in Austin. (Chis Tellez)
The new class is enthusiastic. "It's like we're all freshmen in college coming from different cities; making friends and having fun," Adam Hartle, booking manager for Sunset Strip in downtown's Sunset Room, said. Hartle splits time between Florida and Austin and leaned on Los Angeles connections for initial Sunset Strip bookings, he said.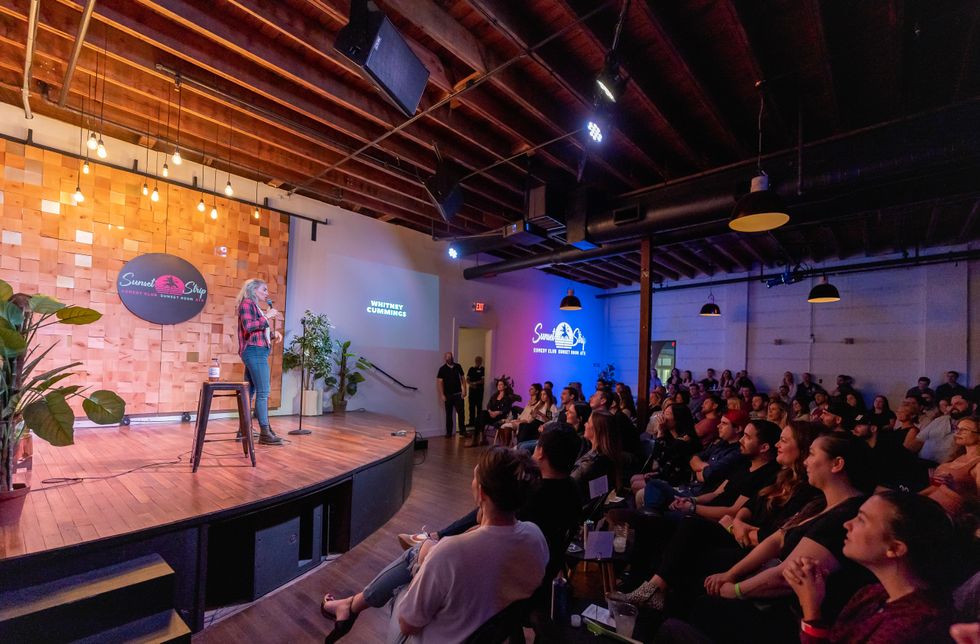 The Sunset Room is host (The Sunset Room)
New-to-Austin comic and Detroit native Genivive Clinton said Austin affords opportunities harder to get in saturated markets. After failing to get on the Kill Tony podcast in L.A. she succeeded on the first attempt in Austin, which led to her being booked for more work with Hinchcliffe and the Death Squad Secret Show. Secret Show was created by Brian Redban, the man also who helped create Kill Tony and The Joe Rogan Experience. "Local shows kept asking me to do sets too," Clinton said.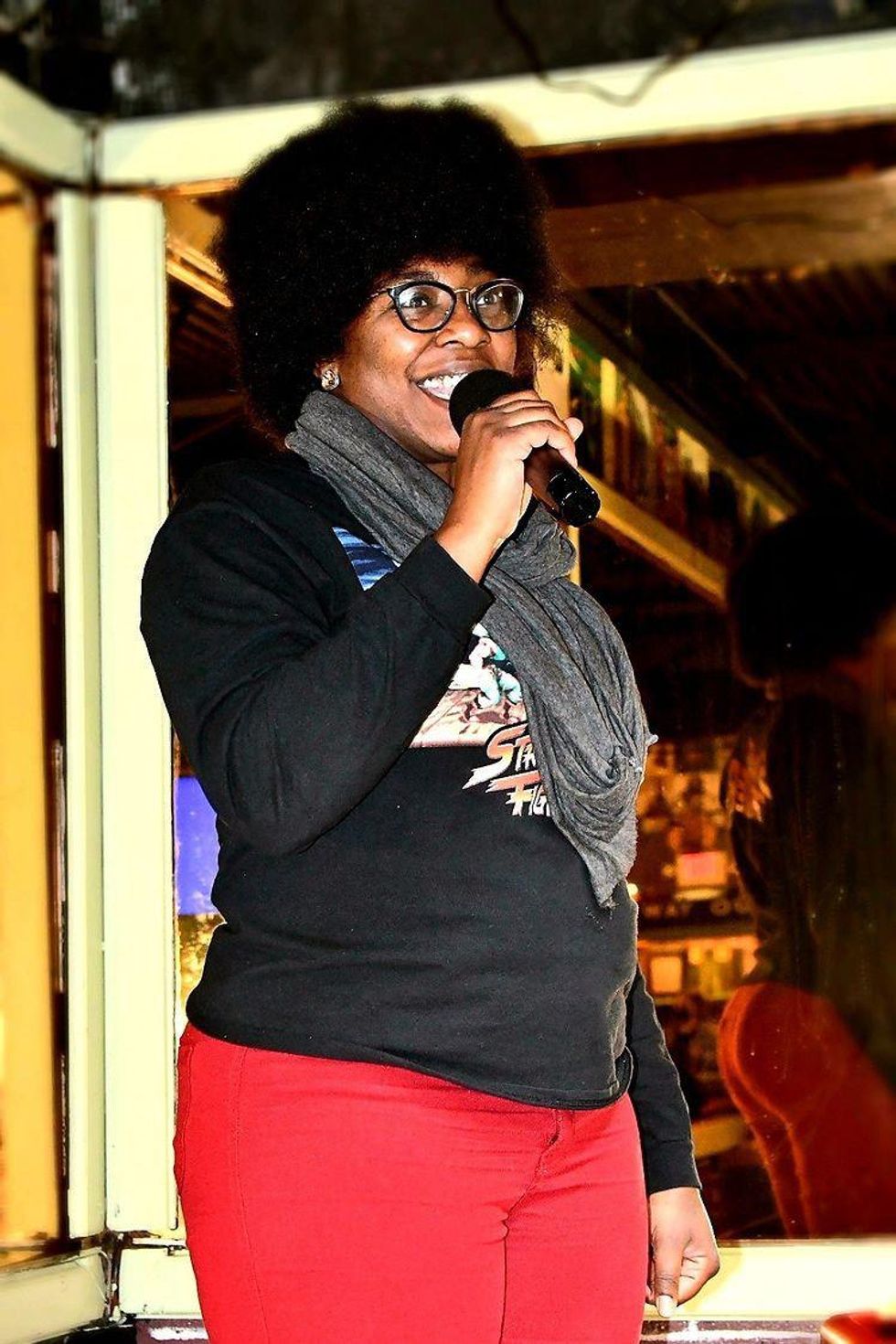 Comic Genivieve Clinton was awarded new opportunities when she moved to Austin. (Genevieve Clinton)
Some Austinites applaud the fresh blood. Round Rock native and three-year comedy vet Allison Wojtowecz says watching experienced new performers is a master class on the art of comedy. The richer landscape also means she can aspire to make sustainable career. "I loved the Austin scene," she said, "but there wasn't an opportunity to make living money here. Now there's four new places and Rogan is opening a room. There's ample stage time that actually can pay you now."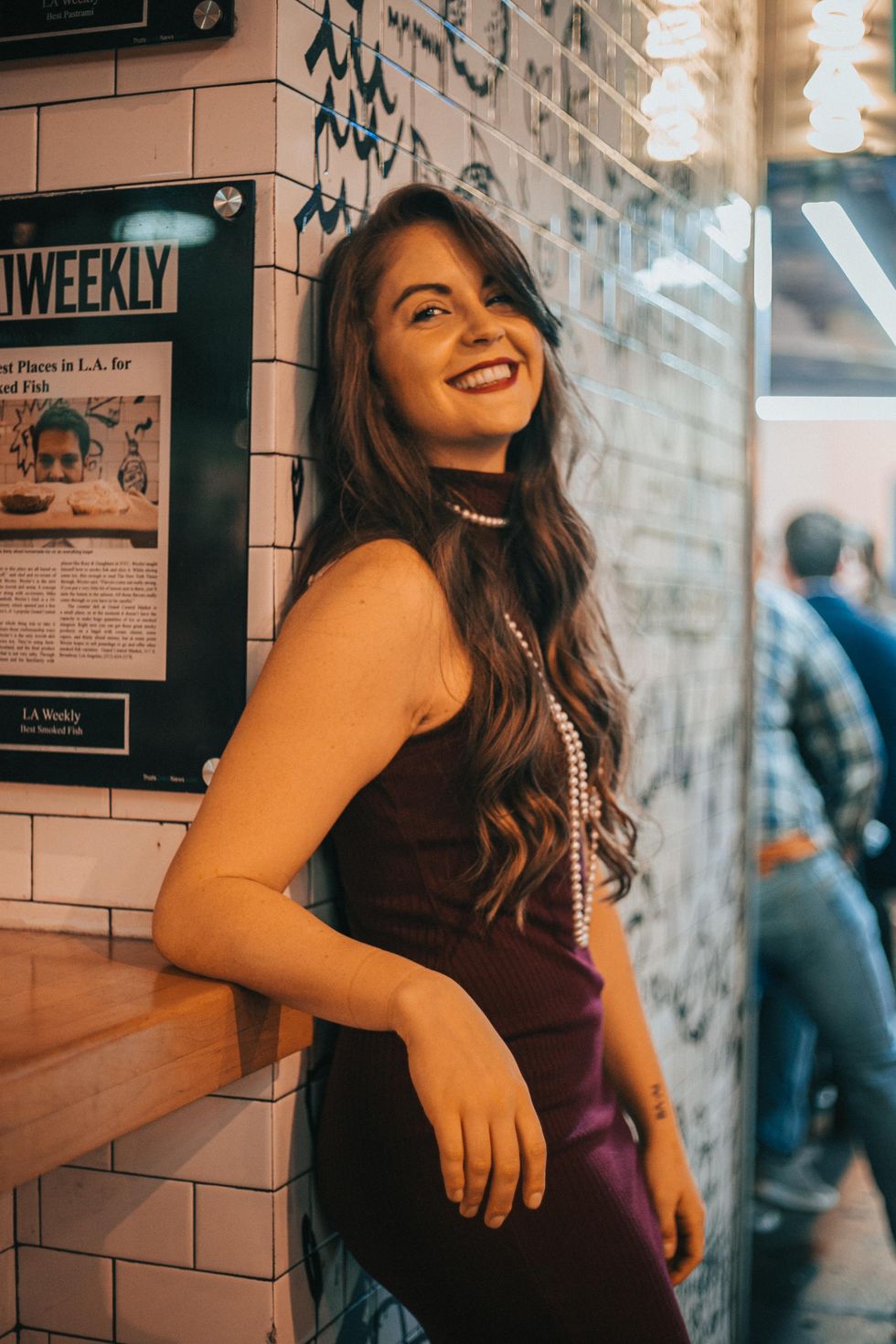 Comic Allison Wojtowecz said she can work towards a sustainable career in Austin after the new comedy boom. (Allison Wojtowecz)
Four venues have been opened or dedicated to comedy in the post-pandemic Austin comedy frenzy: The Creek and the Cave, Vulcan Gas Company, Sunset Strip at the Sunset Room, and The Romo Room in the Domain.
Joe Rogan, whose move to Texas and talk of opening a club has injected new attention to the scene, has also come at a cost. In May, Rogan and his associate Tony Hinchcliffe experienced a culture clash with locals with what critics denounced as anti-trans and racist jokes.
Brandon Lewin, Big Laugh CEO and booking manager at Vulcan, said he doesn't condone the jokes and knows Hinchcliffe learned a lesson. "What he learned from it is if you tell a joke it has to be good," Lewin said.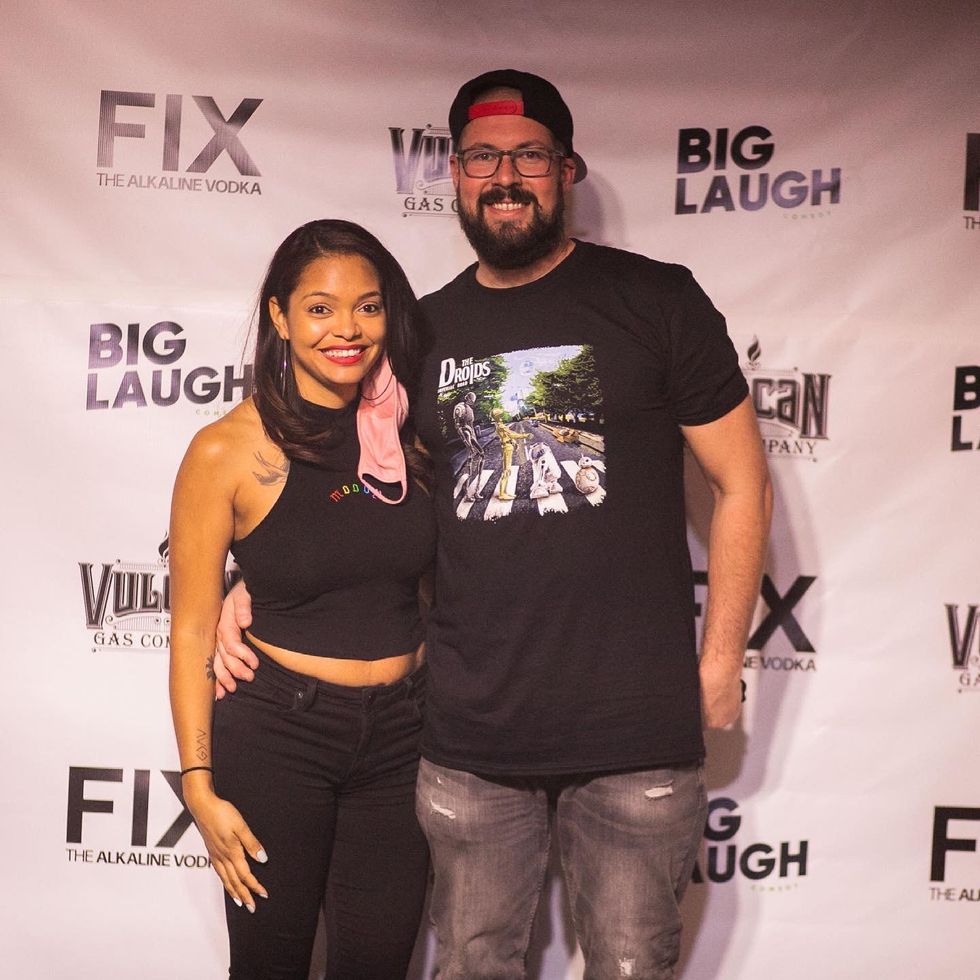 Brandon Lewin is a longtime comedian and CEO of Big Laughs in Austin. (Brandon Lewin)
Some local comedians are not so sure it's all water under the bridge. Pushing political buttons is no substitute for a real act, said Brendan K. O'Grady, co-host of Sure Thing, a weekly comedy showcase running for nine years and counting. Shock jokes are also lazy, said Andrew Murphy, ten-year Austin comedy performer and winner of 2019's Funniest Person in Austin award from Cap City Comedy. "With the comics that I grew up with, no one ever wanted to do normal or generic comedy. If you're not trying new things to be exciting or different, you're not gonna make it here," Murphy said.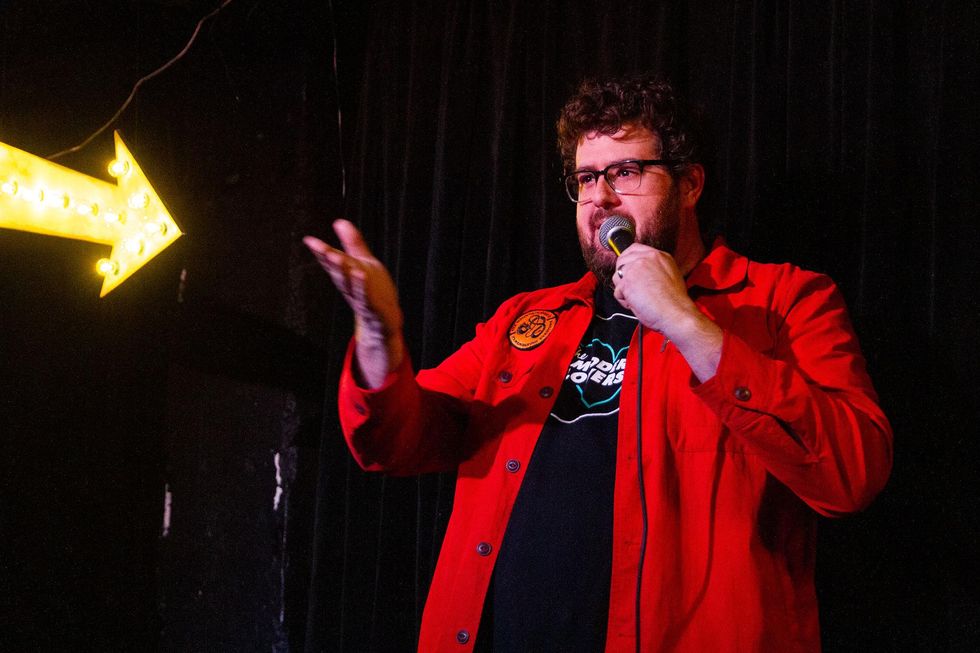 Comic Brendon K O'Grady said shock jokes are lazy and repetitive. (Brendan K O'Grady)
Out-of-town comedians who worked in the early pandemic also raised eyebrows with some locals who felt safety was sacrificed for self-promotion. "We need to have standards for what is acceptable behavior for physical safety in the pandemic and how men treat women," O'Grady said. Fallout Theater, where he co-hosts Sure Thing, plans to cap attendance at half capacity and require proof of vaccination from audiences and performers.
But some locals performed in the early pandemic too, and rule books don't exist for conducting safe pandemic events. "Especially when places were closed, people were opportunistic about doing comedy in bars," Tellez said, including himself among those who worked.
Despite their differences, many believe the two worlds can coexist and find success in the newly-energized scene—so long as they take notes.
Arielle Norman has performed stand-up in Austin since 2015 and co-hosts a monthly heckling-welcome show called Off-Script. Norman is proud to be a woman on too-often male dominated lineups and said her presence means misogynist jokes from unseasoned strangers don't go unchallenged.
She's energized too. "I was so bored here before the pandemic and now with Joe and everyone moving here and all the clubs opening, I don't have to move to L.A. or New York. I can't wait to see what Joe does with the new comedy club."
East Austin restaurant la Barbecue has been robbed a third time in less than three months, according to a post on the restaurant's Instagram.
In the post, the restaurant included photos of what appeared to be a man exiting a minivan from surveillance footage.
"This guy pulled up in a car full of stuff… he ripped our gate open and stole a couple empty kegs," the post said. "The ring system scared him off so he did not venture back into the area. PLEASE EVERYONE ON THE EAST SIDE BE CAREFUL!!! This guy goes back into his car to grab something before he goes in. I am hoping he won't be back!!"
The robbery comes as many restaurant and food truck owners have been on guard from recent break-ins. East Austin cheesesteak truck R&B's Steak and Fries has also been robbed three times in around three months, according to owner Kris Elliott. Elliot said the truck was last robbed around a month and a half ago.
"When the weather gets cold, it seems like these things start to happen more often," Elliott said. "We're just happy no one got hurt."
Additionally, he said all 5 of the food trucks in their lot have experienced burglaries. The landlord of the space is taking action by investing in alarm and camera systems. "Been very tough dealing with this problem as us small business owners are just trying to survive during the pandemic," Elliott said.
And it's not just in East Austin. North Austin restaurants Eldorado Cafe and Chez Zee Bistro were both broken into and robbed on the weekend of Jan. 8, while over a dozen food truck robberies and break-ins were reported in the latter half of 2021.
Some, like Chez Zee's Deborah Velasco, wonder if the understaffed Austin Police Department's decision to no longer respond to non-emergency calls is part of the problem. Xose Velasco, owner of East Austin's Discada, said owners are keeping their guard up in the wake of the robberies as he was robbed twice within a month of reopening in November 2021.
"We try to keep the lights on," Velasco said. "We're a little bit more careful."
After 12 months, the long-anticipated massive Tesla factory in Southeast Travis County is up and operating and everyone wants a look inside.
Phase 1 of Giga Texas appears to be tied up as production of the Model Y Tesla is underway, the electric car company revealed on Wednesday in its fourth-quarter earnings call. The factory, located on the former Harold Green-turned Tesla Road, sits on more than 2,000 acres of land in southeast Travis County.
Here's a glimpse inside the factory.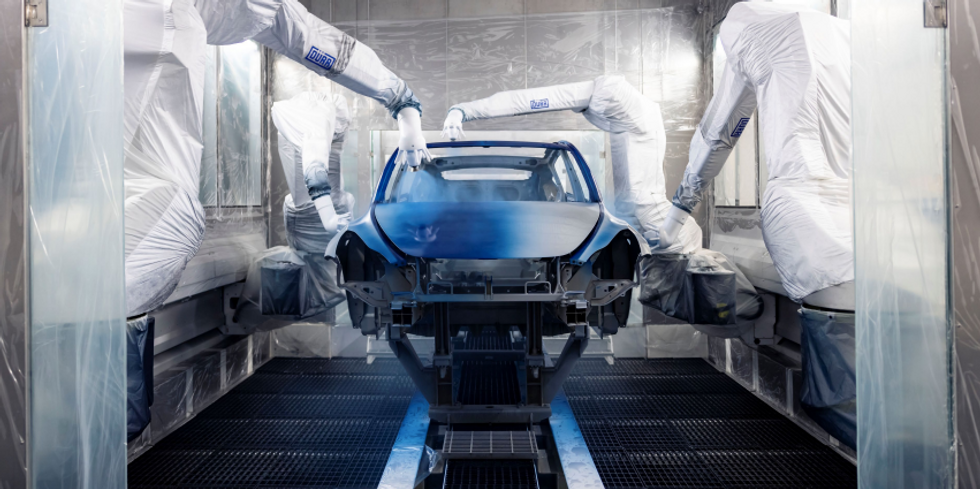 (Tesla)
Model Ys will be the first Teslas to come out of Giga Texas with an estimated delivery of August. The wait estimate comes after Tesla noted supply chain issues have affected their factories, which have been running below capacity for several quarters. A deep blue metallic like this goes for $1,000 more than a white or silver Model Y, totaling $61,990.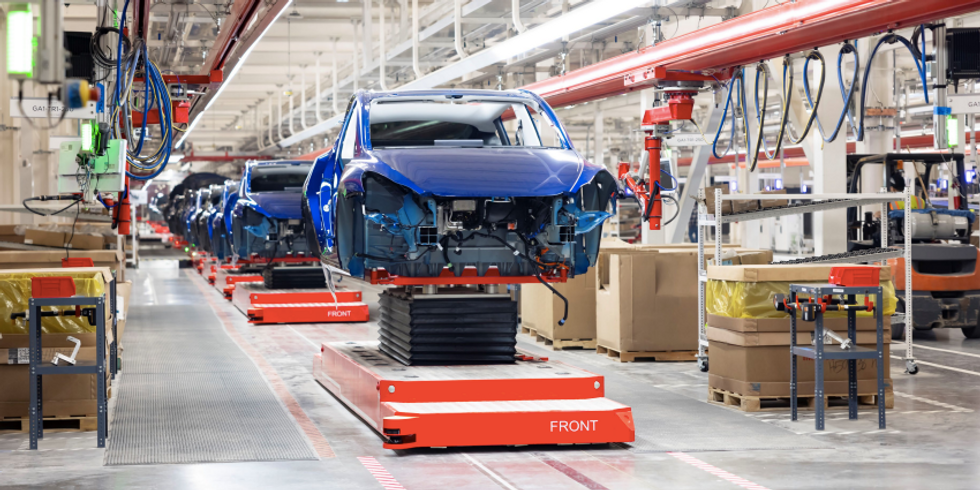 Model Ys began being produced at Giga Texas at the end of 2020. In general assembly at the factory, the Teslas get their major interior components to finish the vehicle.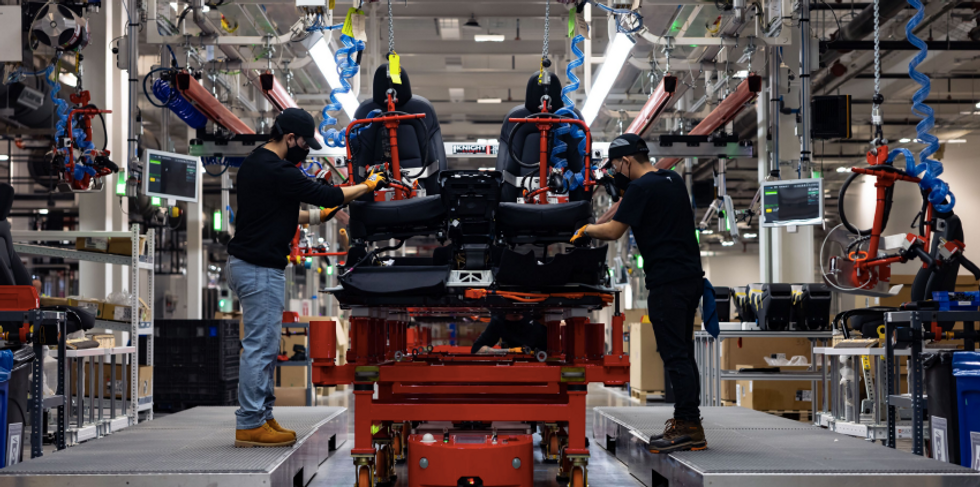 (Tesla)
Workers at Austin's Gigafactory are attaching seats to a structural battery pack. It's been described by some as the biggest difference between Texas-made Model Y's and the current version at the Fremont, California factory. It shouldn't have a major impact on the owner's experience, but Tesla has updated instructions for the jacking procedure, as the lift points are different.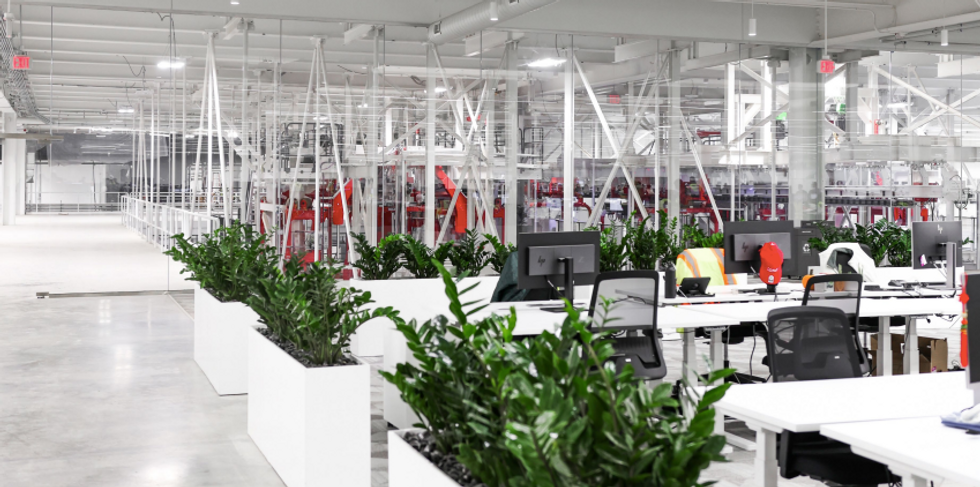 With a sleek, open office setup, workers can take in a view of the factory from their seats. It's a component CEO Elon Musk wanted for what is now the headquarters of Tesla.
On the Austin, Texas public location Snapchat, a photo of inside Giga Texas has appeared. On the left you can see a sneak peek of a Model Y body.pic.twitter.com/N7zliZ5vkL

— Sawyer Merritt (@Sawyer Merritt) 1643081462
With Snapchat's maps, anyone can look at everyday activity happening at the factory. To view these geographically-linked stories, click the bottom left "map" icon and search "Tesla Giga Texas." Once you've found it, you can view the Snapchat story of those in and around the facility. While most stories stay up for only 24 hours, Giga Texas is a designated place on Snapchat, allowing users to view a collection of photos and videos from the inside.
Following Model Ys, Texas-made Teslas will include the Cybertruck, Semi and Model 3. But it might be a while before those other models arrive. EV makers have been hit hard by the chip shortage, and it's thought that changing features are contributing to Cybertruck delays as Tesla works to compete in the electric pickup market.
Joe Rogan paid a visit to buddy Elon Musk this week. The two have been seen around town since both moving to Texas. Naturally, Rogan was impressed with the prototype.
If you're dying to get a closer look at this factory, you just might get to. In December, Musk said the factory would have tours available to the community early this year.