Get connected with our daily update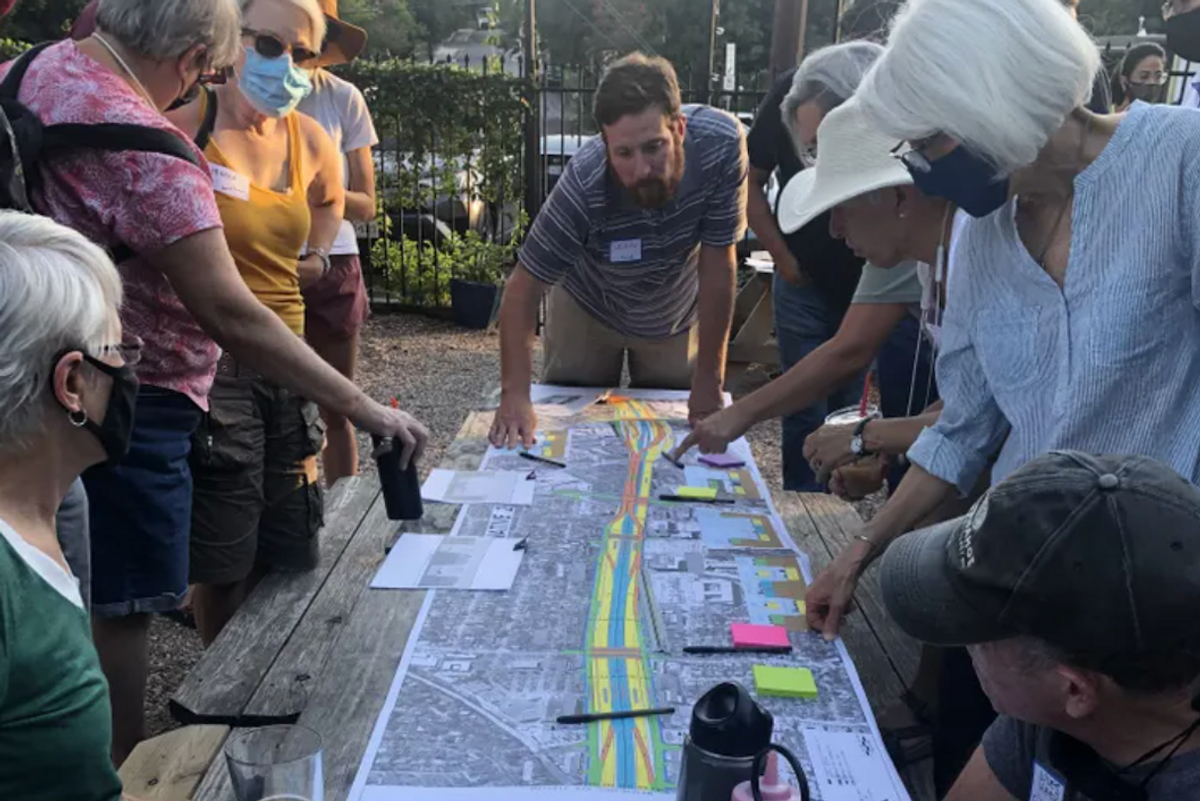 Community opposition to the Texas Department of Transportation's plan to drastically expand Interstate-35 continued this week, with local elected and appointed officials speaking out against the project in droves.
---
The Capital Express Central project, which would widen I-35 in an eight-mile stretch of central Austin from the Manor Expressway to Ben White Boulevard, is designed to improve the highly-trafficked highway as the population of Central Texas continues to grow.
The current proposed plan, which is undergoing an environmental review, would add two lanes in each direction on I-35, significantly widening the highway, as well as adding additional flyovers and improving access for cyclists and pedestrians. TxDOT says that the changes will "creat[e] a more dependable and consistent route for the traveling public."
Some Austinites—particularly those who live close to the highway—are not pleased. Individuals can give their feedback on the project online through Sept. 24.
Community opposition
A bevy of community leaders, including city council members, rallied last week against the proposal. The city's Urban Transportation Commission gave it an official seal of disapproval Tuesday night, voting in favor of a resolution asking TxDOT to abandon the expansion project or asking the city to do its best to stop its implementation.
That frustration with the plan, which opponents argue will increase noise and air pollution while doing nothing to decrease traffic on the already heavily congested stretch of highway, has been echoed at community meetings.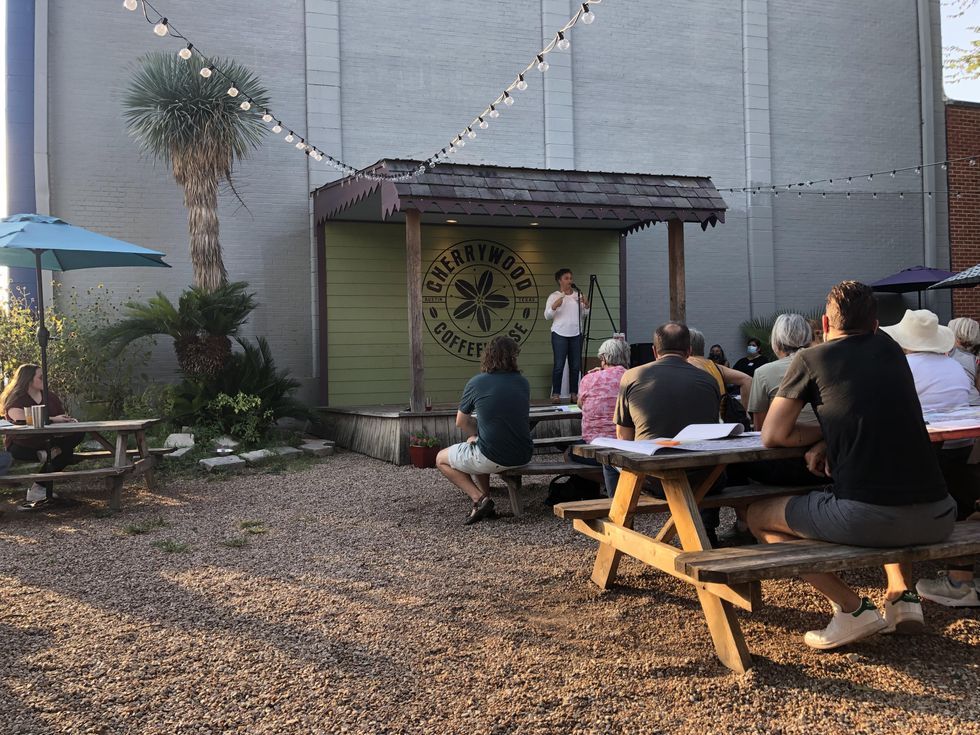 Brandy Savarese of the Cherrywood Neighborhood Association helped host a meeting about the I-35 project at Cherrywood Coffeehouse. (Abe Asher/Austonia)
At Cherrywood Coffeehouse in East Austin on Wednesday night at an event sponsored by the Cherrywood Neighborhood Association steering committee, State Senator Sarah Eckhardt (D-Austin) said that the highway project needs cooperation between city, state and federal officials on how to renovate in a climate-friendly way that combats economic displacement.

State Rep. Sheryl Cole (D-Austin) agreed—arguing that Austin is not getting the input it should have in the process.
"What can we say? The state has done it to us again," she said. "TxDOT has told us what they won't do, but we can't listen to that and stop from making our voices heard. And I really feel like our voices have not been heard and TxDOT has not taken enough of an opportunity to come out."
TxDOT representatives were present at Cherrywood Coffeehouse, answering questions about possible plans. Some of those present supported TxDOT alternatives to the proposed build, while others voiced support for different measures like obtaining new funding for cap-and-stitch measures and other proposals like one from transportation organization Reconnect Austin.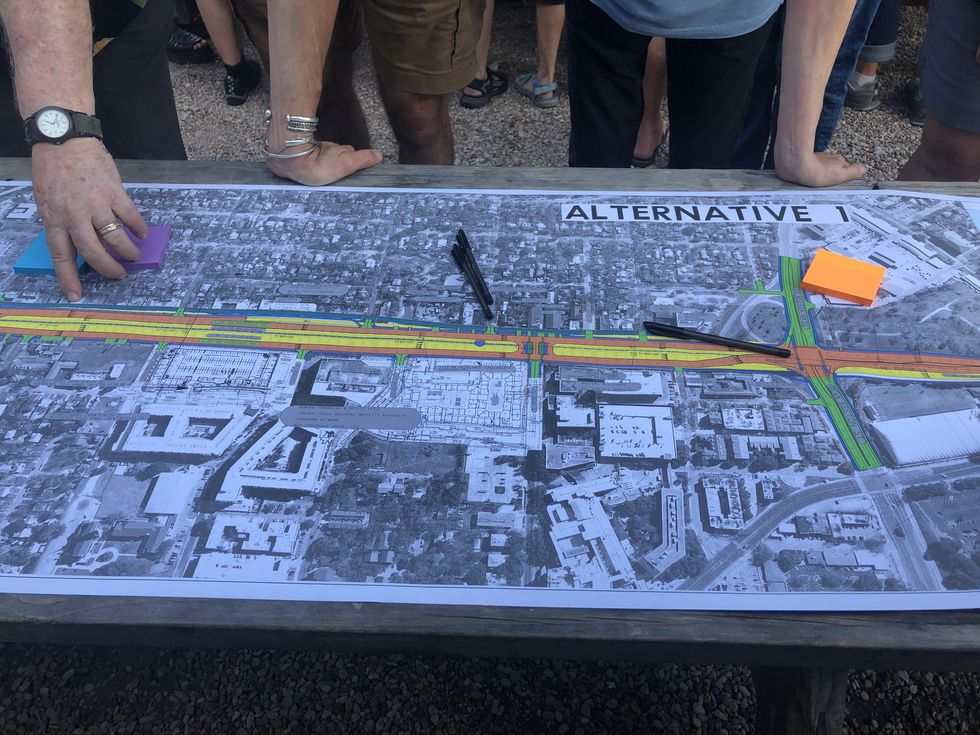 TxDOT provided alternatives to its I-35 plan to those at Cherrywood Coffeehouse. (Abe Asher/Austonia)
The interstate makes up the Cherrywood neighborhood's western edge, and many of the older homes in the neighborhood predate its initial construction.
"If you look anywhere around the United States and the world, you can see a lot of alternatives (to highway expansion)," Cherrywood resident Lamar Vieau said. "It's not like we need to do this again to see that it doesn't work."
The city of Austin does not have any direct ability to stop the project, and may, depending on how TxDOT precedes, be forced to follow an example set earlier this year when Harris County sued in district court to halt the Department of Transportation beginning planned expansion of I-45 and redoing the project's environmental review. The project has since been paused by the Federal Highway Administration, citing civil rights concerns associated with the project.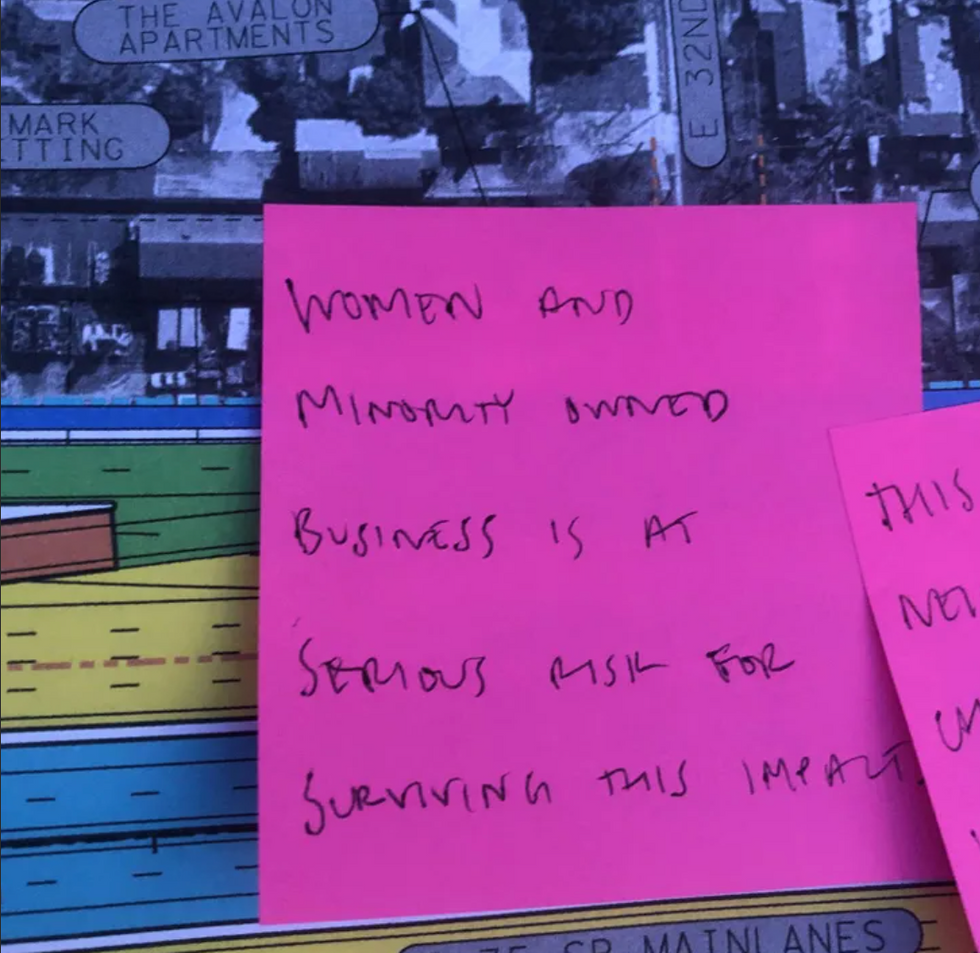 A note on the expansion plan stated the project would hurt minority owned businesses. (Abe Asher/Austonia)
Historical, climate concerns

The current plan appears to be at odds with Austin's stated transportation and livability goals, along with having cultural issues, on a number of levels.
I-35, which was called East Avenue before it was incorporated into the interstate system, seperated the city between the white westside and Black and Hispanic eastside in the first half of the 20th century and has long been seen as a race and class dividing line. Two years ago, State Sen. Kirk Watson (D-Austin) told KVUE that the highway is a "scar on the city."
That aspect was not lost on Vieau. "I think it would be great if we could bury it and stitch it over, or at least look at some other ways of moving some of that traffic," he said.
The proposed expansion would also necessitate that the state claim some 150 properties as eminent domain alongside the current I-35, including a number of houses as well as longstanding businesses like the venerable Stars Cafe and the office of The Austin Chronicle.
With the city's stated goal to reduce single-occupancy vehicle mode share from its current level of 74% to 50% within the next two decades, a major highway expansion designed for cars is not expected to help accomplish that.
"We can't just… do what has always been done," Annette Stachowitz, a 61-year resident of Austin originally from Germany, said. "Lots of traffic, add some more lanes. There will be lots of traffic, add some more lanes. And there will be lots of traffic again, and, you know—somebody has to say, hey, let's find a different way."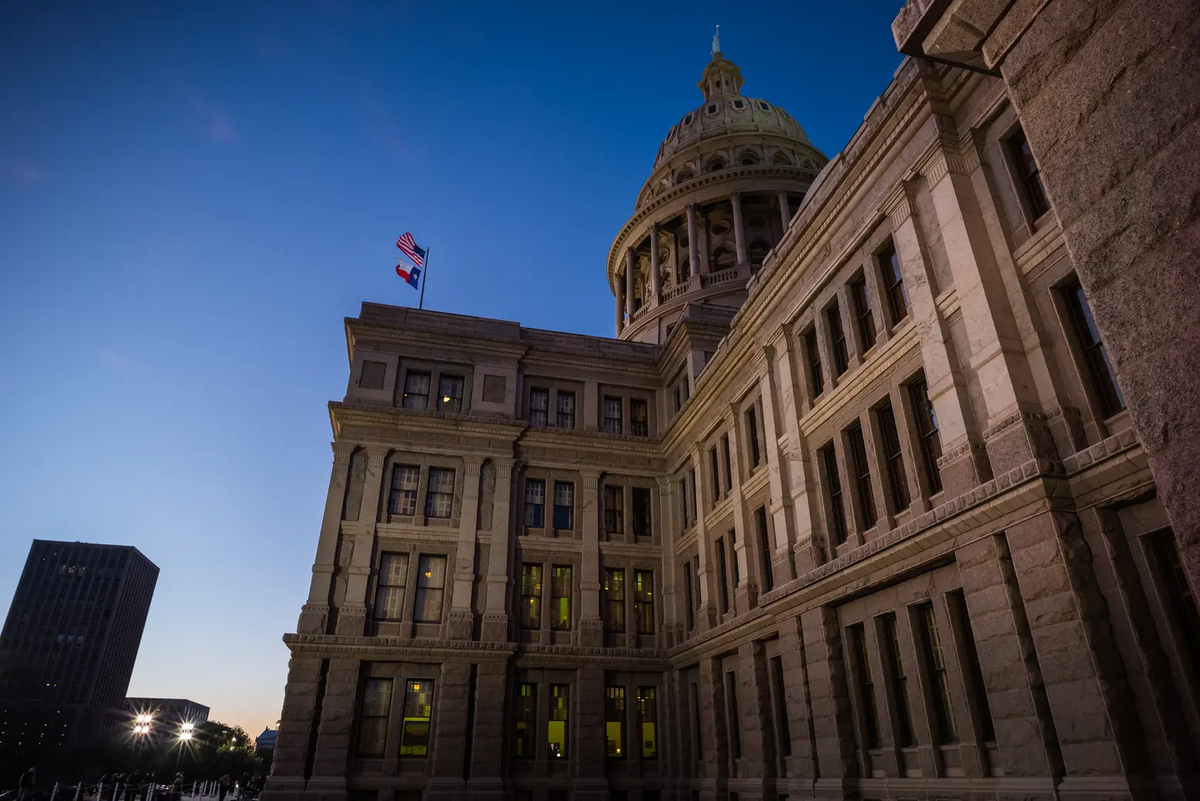 The Texas Senate Democratic Caucus is urging Gov. Greg Abbott to call an emergency special legislative session to consider a variety of gun restrictions and safety measures in the wake of a mass school shooting in Uvalde that left 19 children and two adults dead this week.
In a letter released Saturday morning, all 13 Senate Democrats demanded lawmakers pass legislation that raises the minimum age to purchase a firearm from 18 to 21 years old. The Uvalde gunman was 18 and had purchased two AR-style rifles which he used in the attack.
The caucus is also calling for universal background checks for all firearm sales, "red flag" laws that allow a judge to temporarily remove firearms from people who are considered an imminent threat to themselves or others, a "cooling off period" for the purchase of a firearm and regulations on high capacity magazines for citizens.
"Texas has suffered more mass shootings over the past decade than any other state. In Sutherland Springs, 26 people died. At Santa Fe High School outside Houston, 10 people died. In El Paso, 23 people died at a Walmart. Seven people died in Midland-Odessa," the letter reads. "After each of these mass killings, you have held press conferences and roundtables promising things would change. After the slaughter of 19 children and two teachers in Uvalde, those broken promises have never rung more hollow. The time to take real action is now."
Such laws are unlikely to gain traction in the Republican-controlled Legislature, which has a track record of favoring legislation that loosens gun restrictions. Only the governor has the power to call lawmakers back into a special session for emergency work.
Asked about a special session at a Friday press conference in Uvalde, Abbott said "all options are on the table" adding that he believed laws would ultimately be passed to address this week's horrors. However, he suggested laws would be more tailored toward addressing mental health, rather than gun control.
"You can expect robust discussion and my hope is laws are passed, that I will sign, addressing health care in this state," he said, "That status quo is unacceptable. This crime is unacceptable. We're not going to be here and do nothing about it."
He resisted the idea of increasing the age to purchase a firearm, saying that since Texas became a state, 18-year-olds have been able to buy a gun.
He also dismissed universal background checks saying existing background check policies did not prevent the Santa Fe and Sutherland Springs shootings, which both happened while he has been in office.
"If everyone wants to seize upon a particular strategy and say that's the golden strategy right there, look at what happened in the Santa Fe shooting," he said. "A background check had no relevance because the shooter took the gun from his parents…Anyone who suggests we should focus on background checks as opposed to mental health, I suggest is mistaken."
Since the massacre at Robb Elementary School, the governor's comments about potential solutions have centered around increasing mental health services, rather than restricting access to firearms.
This story has been edited for length.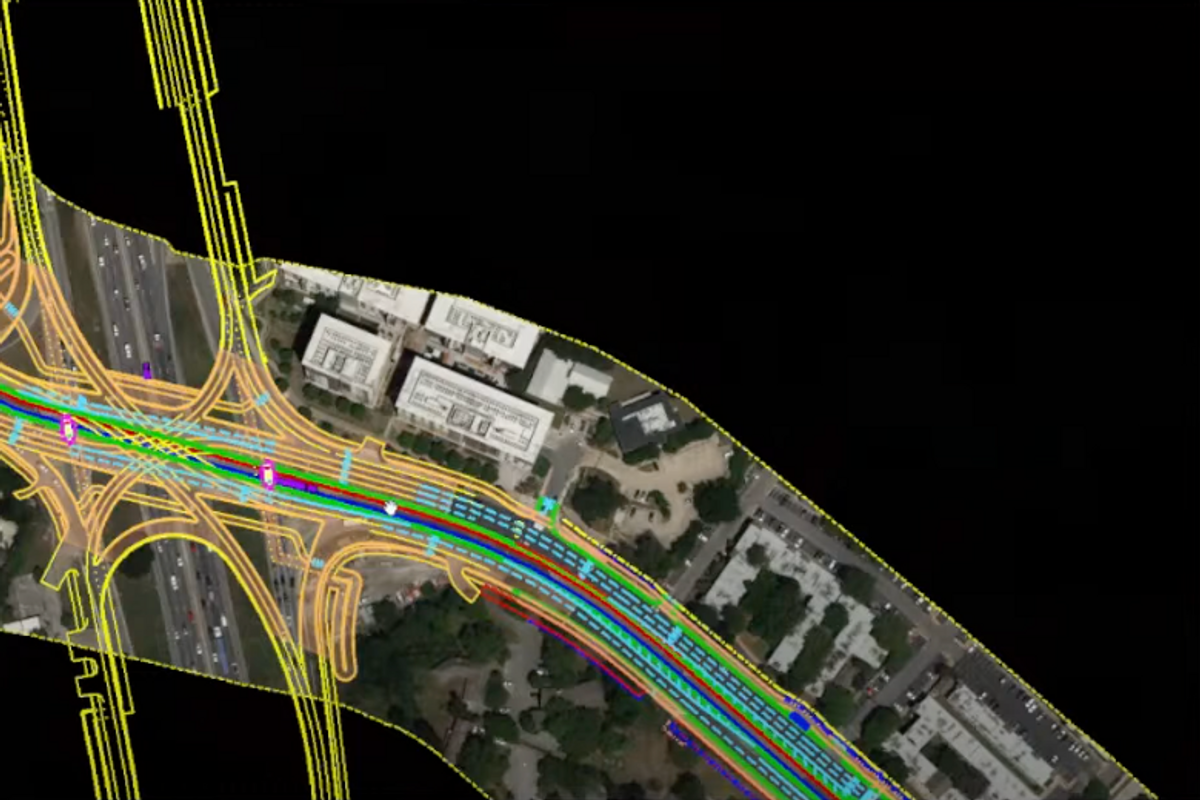 Designs for stations along Project Connect's Blue Line were presented this week, giving a detailed look at what part of the rail system extending from downtown to the airport could look like.
The planned stations that have gotten the latest focus include Waterfront, Travis Heights and Lakeshore stations past Lady Bird Lake.
At the Waterfront station, the preliminary design aims to prevent visual obstructions and save on costs. This is accomplished by a transit guideway that will lower from the bridge to a level station.
Heading onto East Riverside Drive, the light rail faces a curve requiring a slow down to about 10 miles per hour.
The Travis Heights station could involve relocating a pedestrian crosswalk zone at Alameda Drive to Blunn Creek. Since light rails can't effectively operate on a steep grade, this allows the transit guideway to avoid that.
From there, the rail will extend to the Norwood Park area, and though it will reach along the right-of-way zone, the park will be able to remain open.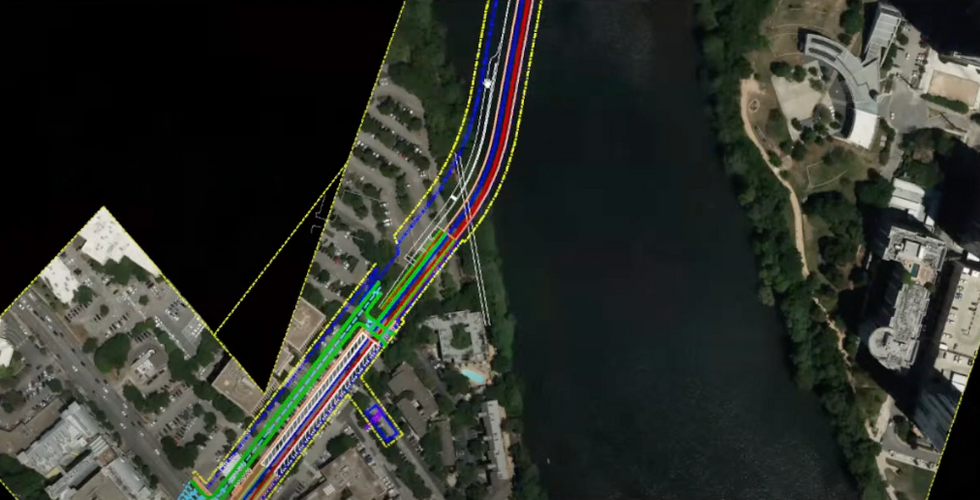 A view of the Blue Line by Lady Bird Lake. (Project Connect)
The line involves some coordination with the Texas Department of Transportation. That's because the department is working on an intersection that will have to be built before the phasing of the section of the Blue Line involving an I-35 crossing.
When it comes to the safety of cyclists and walkers, design ideas include a pedestrian hybrid beacon by East Bouldin Creek that would provide a protected signal to cross. And for the intersection TxDOT is carrying out, Project Connect is working with them on pedestrian access across the intersection. It could involve shared use paths along the street and crossings beneath it.
This summer, the public can expect 30% of design and cost estimates to be released. Though the project was $7.1 billion when voters approved it in November 2020, the latest estimates factoring in inflation and supply chain constraints show it could ultimately be upwards of $10 billion.