Get connected with our daily update
The Austin Fire Department is asking for the public's help in locating the suspect in connection to a potential arson case that started on Halloween night at a synagogue.
---
AFD said investigators and fire crews responded to a passerby's call about a "small exterior fire" at Congregation Beth Israel, 3901 Shoal Creek Blvd., around 9 p.m. on Oct. 31. The fire was extinguished and no injuries were reported.
According to surveillance footage obtained by AFD, a dark SUV, possibly a 2017 Jeep Compass, drove into the synagogue's parking lot. The man inside was described as a slender, white male with brown hair and a face covering. The man wore green pants, shoes, a black T-shirt and a face covering.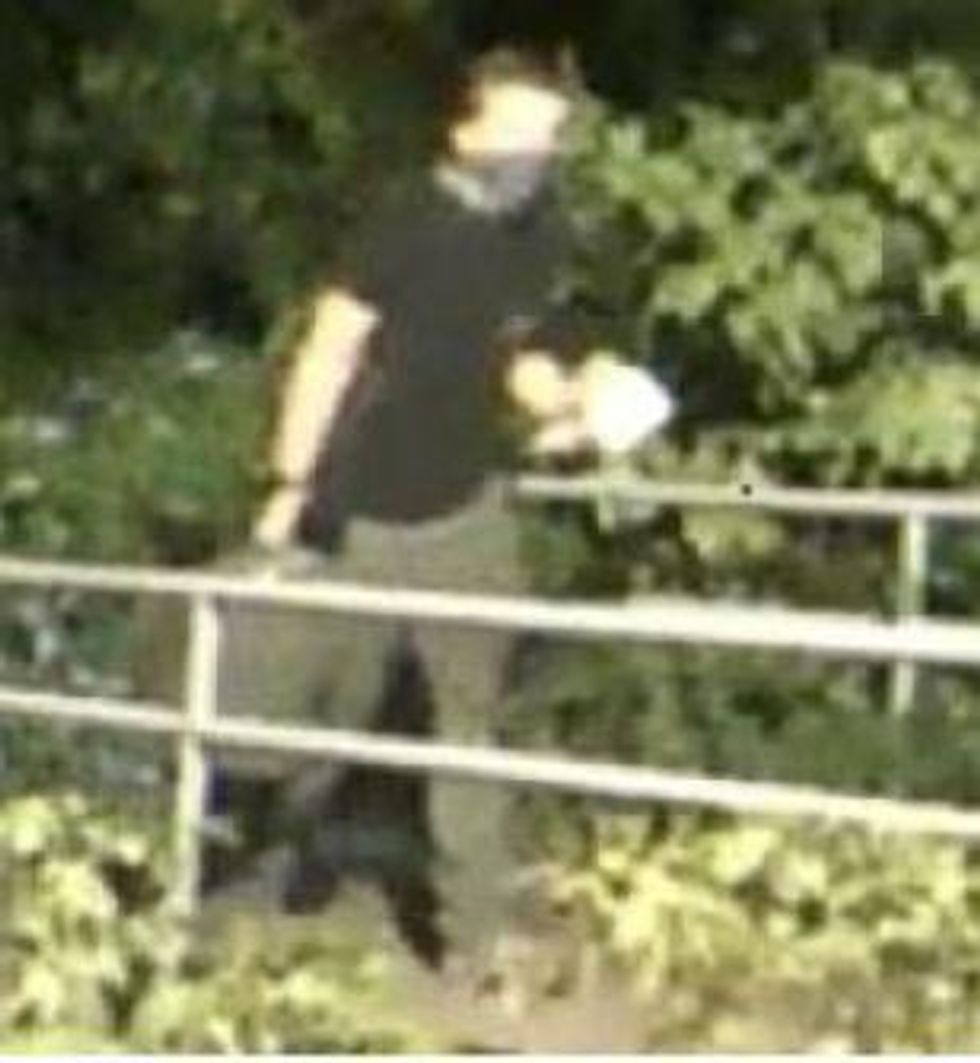 (AFD/Twitter)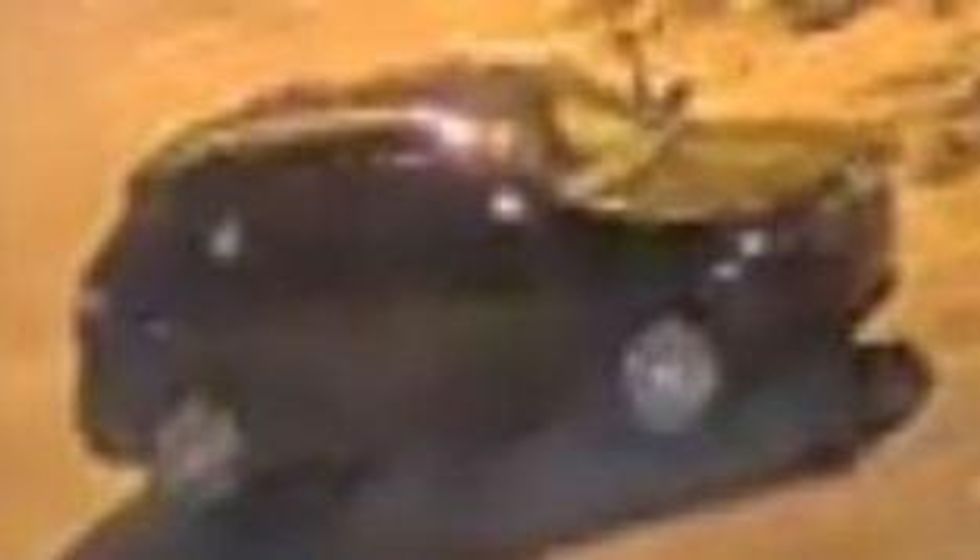 (AFD/Twitter)
The man approached the front doors of the synagogue while carrying an olive green "jerry can" that was used to carry a flammable liquid. There was also broken glass nearby the scene, which AFD said may mean something was thrown at the building.

Congregation leaders sent out an email to detail the damage, which was estimated to be around $25,000, including the synagogue's wooden doors, smoke damage in the sanctuary space and ceiling tile replacement. They said it will take longer than initially expected to reopen.
AFD on scene of a small exterior fire at Congregation Beth Israel 3901 Shoal Creek Blvd. fire is out. No injuries. Arson investigators responding to assist with cause determination. pic.twitter.com/hgMvJNAk5o
— Austin Fire Info (@AustinFireInfo) November 1, 2021
The synagogue's congregation was formed in the late 1870s and moved into that building in 1956. It has since been added onto and remodeled but the bones remain the same.

On Tuesday, the Travis County Commissioners Court and Austin City Council approved separate resolutions condemning antisemitic acts and statements.
Council Member Alison Alter said she and her family attend Congregation Beth Israel and have been alarmed by the increasing hate speech in Austin. For that reason, Alter said she is sponsoring resolution #64 to improve response to acts of racism, hate and antisemitism.
"Fortunately, no one was hurt, and the fire department responded in a matter of minutes, mitigating the structural damage," Alter said. "It is critical that as a city we join in a united front against hate and make clear that these acts do not represent our community values."
The fire comes on the heels of multiple antisemitic events in Austin—antisemitic banners were hung over local overpasses and high school students parking spots were vandalized with antisemitic graffiti.
It is unknown whether or not any of the recent incidents are connected.
If you have any information about the arson case, contact the AFD investigations office at its 24/7 phone number: (512) 974-0240.
An Austin-based firm that's established itself as one of the top Bitcoin miners in North America is set to go public.
On Thursday, the company, known as Core Scientific Inc., announced it's now trading on Nasdaq as $CORZ. The stock opened at $9.74 per share then peaked at $10.48. The company was assigned a $414 million market cap.
"As one of the largest publicly-traded blockchain infrastructure providers and digital asset miners in North America, we are focused on growing our capacity, defending and securing the blockchain ecosystem and building long-term shareholder value," CEO Mike Levitt said.
As reported by Yahoo News, investors approved a plan for a public debut through a $4.3 billion merger with special purpose acquisition company Power & Digital Infrastructure Acquisition Corp. The deal arrives as Austin sees its crypto scene soar, with increased activity in the NFT economy and groups pooling their money together through DAOs.
Core Scientific was established in 2017 and relocated its headquarters from Seattle to Austin last year. It has a site in Downtown Austin on 106 E. 6th St. and data centers in Georgia, Kentucky, North Carolina and North Dakota. More than 100 full-time employees are in the U.S., but it's unclear how many are in Austin.
Now, they say they are the biggest Bitcoin miners based on processing power, with claims that the combined mining capacity on the Bitcoin network exceeds that of competitors. And SEC filings from earlier this month show it's in the process of acquiring Blockcap, Inc., which moved to Austin last year.
The company describes itself as a leader in high-performance, carbon-neutral blockchain infrastructure in an industry that catches flak for its energy use.
Aside from mining, the company provides internet hosting services for other large-scale miners. In fact, it derives about half its revenue by helping big customers mine, a quality seen in what's often referred to as an "institutional-grade" miner.
Looking ahead, Core Scientific seems optimistic about the year ahead even as Bitcoin falls from its all-time high.
"We've worked hard to lay the groundwork that will enable us to achieve our 2022 projections," Levitt told Yahoo News. "Our objective is to be the best. Being the best means doing all that we can for our business, the industry in which we participate and for the Bitcoin network."
Watch some Cricket
When: 5:30-10 p.m. Saturday and Sunday
Where: The Crossover, 1717 Scottsdale Drive
What: Looking for a new sport to obsess over? Attend one of Sports Movement's indoor cricket matches.
Le Garage Sale
When: 11 a.m. Saturday and Sunday
Where: Palmer Events Center, 900 Barton Springs Rd.
What: Find over 100+ boutiques, brands and designers at Le Garage sale. Shop leisurewear, accessories, menswear, children's apparel, home decor and more. Tickets start at $10.
See a movie at the drive-in
When: 6:25-8:45 p.m., 9:15-10:50 p.m. Saturday
Where: The Globe Drive-In Theater, 8017 Cele Rd.
What: This weekend you can see Harry Potter and the Prisoner of Azkaban at 6:25 p.m. or you can see The Cabin in the Woods at 9:15 p.m. at the drive-in. Tickets cost $16 per car.
Museum of Ice Cream
When: 11:30 a.m Saturday and Sunday
Where: Museum of Ice Cream, 11410 Century Oaks Ter.
What: The Museum of Ice Cream is featuring 12 never-before-seen instillations celebrating the enjoyment of ice cream. View tickets here.
The Austin Flea
When: 12 p.m. Sunday
Where: Meanwhile Brewing, 3901 Promontory Point Dr.
What: Find handmade items, vintage wares, food and drink and more at The Austin Flea at Meanwhile Brewing. Vendors are handpicked for each show to guarantee a great selection of items to shop for.