Get connected with our daily update
U.S. Rep. Michael McCaul, R-Austin, spent the afternoon of Jan. 6 barricaded in his office in the Rayburn House Office Building, with a sofa and a baseball bat as protection against what he called the terrorists on the other side of the door.
"It was a really dark day for the United States," he told Austonia.
---
As Congress prepared to vote on whether to certify the results of the November presidential election, former President Donald Trump had spoken that morning to a group of supporters at "Save America" rally at the Ellipse, a 52-acre park south of the White House, where he repeated baseless claims that the election had been "stolen" from him. Afterwards, thousands of attendees marched to the U.S. Capitol, where they breached police lines and scaled the walls of the building itself.
"The members were evacuated off the floor. The alarms went off," McCaul said. "I barricaded myself in my office, which is right off the Capitol. The terrorists, if you will, (we) could hear them outside of my office trying to get in. So we barricaded the office with a sofa, and all I had, really, was a baseball bat to protect myself and my staff."
Capitol police were soon on the scene. "The mob were dressed in kind of paramilitary-style uniforms. The Capitol police came up and there was a big skirmish between the two," McCaul continued. "We want to thank the Capitol police for saving us."
Nearly three hours after rioters began to clash with police on the Capitol steps, the D.C. National Guard was sent in as reinforcement, and congressional leaders were evacuated from the Capitol complex. By 8 p.m. Congress had reconvened—and four people were dead.
McCaul spoke to Austonia about his experience at the Capitol that day, as well as his thoughts on impeachment, the inauguration and border security. His comments have been edited for length and clarity.
After the riot
After the deadly riot, McCaul voted against objecting to the electoral votes of two states: Arizona and Pennsylvania. The majority of House Republicans, however, voted differently. Of the 211 Republican members, 121 objected to Arizona's votes and 138 to Pennsylvania's. But they were outnumbered by Democrats, and by 4 a.m. both the House and Senate had voted to certify the votes of the Electoral College, validating then President-elect Joe Biden's victory.
"It's not our job to overturn or second guess the certificates if they're authentic," McCaul said. "The states have certified. The Founding Fathers gave the states that power, not the federal government or Congress."
Despite breaking with his caucus on certification and condemning Trump's behavior leading up to the riot, McCaul opposed impeachment on the grounds that the process had been rushed. "We have not been given the time to truly look at the facts and the evidence before this impeachment was hurried to the House floor," he said in a Jan. 13 statement. "We haven't been given the opportunity to hear from a single witness, or hold even one hearing."
McCaul did admit to doubt. "I don't know what's out there, what decisions were being made with respect to the use of the National Guard to protect the members of Congress," he told Austonia, adding that the Senate trial may uncover answers to these questions. But he also has reservations about whether the trial should move forward at all. "I think the country, to be quite honest with you, is ready to move forward with the new administration and not live in the past," he said.
It remains to be seen whether Trump will face consequences as a result of the riot, but McCaul is optimistic that some of the rioters will. This session, he reintroduced a bill that would allow the Justice Department to charge individuals with domestic terrorism, which would carry corresponding sentencing of up to life in prison or death. "(The riot) was definitely an act of domestic terrorism, and I think we need to address that," he said, adding that he thinks the bill failed last session because of a focus on international terrorism. "But I think what happened on Jan. 6 has changed everything."
A new administration
McCaul was at the inauguration of President Joe Biden and Vice President Kamala Harris on Jan. 20, one of several he has attended during his 16 years in office. "This one was obviously very different in the sense that we have a global pandemic, and we were at the United States Capitol, which was under attack just a few days ago," he said.
Although there was heavy police presence and no crowd, the ceremony was similar to past inaugurations in other ways. "It's really the day our nation comes together as Americans first to honor the peaceful transition of power that we've done for over 200 years," he said. "So it has a very sacred feeling to it."
McCaul is serving his eighth term as the representative of the 10th District of Texas, which spans from Central Austin to the northwest Houston suburbs. He ranks middle-right in terms of ideology and high in terms of leadership, according to the Congressional tracking site GovTrack. He is married to Linda Mays McCaul, whose father is the billionaire founder and former chairman of Clear Channel Communications, now iHeartMedia. They have five children.
Prior to holding elected office, McCaul served as the chief of counter terrorism and national security in the U.S. Attorney's Office for the Western District of Texas and as a federal prosecutor for the Department of Justice. As a self-described supporter of the DOJ and intelligence communities, he stressed the importance of nonpartisanship in those areas.
"You have political appointees, but you don't want to inject politics in our federal criminal justice system. Our intelligence community should be protected from that as well," he said. "I hope the Biden administration will move forward in that way of thinking."
McCaul has a balanced view on the issues of border security and immigration reform. "Trying to tackle immigration reform is very difficult, and it brings out the best and the worst in people," he said, adding that he believes any policy needs to combine technology, infrastructure and manpower. "We need to know who's coming into this country to be able to control and protect Americans."
Where many Republicans flaunt their ideological rigidity, McCaul believes that the two parties can—and should—work together. He is hardly a centrist, however. A FiveThirtyEight analysis found he voted in line with Trump 93.6% of the time.
"You know, I got ranked by Georgetown University as the most bipartisan lawmaker from Texas—and third most effective," he said. "The way I get things done is I work across the aisle."
In a win that brought on the passion from Formula 1's biggest rivals, 24-year-old Max Verstappen won his first U.S. Grand Prix as he bested seven-time champ Lewis Hamilton by less than a second at Austin's Circuit of the Americas on Sunday.
Hamilton, who has won the USGP for Mercedes seven times before, snuck up on Verstappen's lead for the final 15 laps but was unable to beat the Dutchman as Verstappen took a more decisive lead in the 2021 standings. Verstappen is now 12 points ahead of his veteran foe with just five races to go.
After a weekend of big-name performances, celebrity appearances and wacky entertainment, all eyes were on Austin as the fest came to a dramatic end for the final 2 p.m. race.

The 56-lap Texas showdown saw plenty of lead changes between the two stars.
It was Red Bull Racing's Verstappen who nabbed the pole position in a stormy qualifying race on Saturday, but Hamilton quickly closed the 260-yard-gap to take the first lead of the final race. With a well-timed pit stop from Verstappen, however, the young driver edged out Hamilton by six seconds early in the race.
Hamilton's younger tires won him over for the next several laps as he closed the lead, while a slowing Verstappen opted for a new set of hard tires as he took another pit stop in the 29th lap. Hamilton's brief lead lasted until a pit stop of his own that once again had him trail 7.8 seconds behind his competitor in the 37th lap.
With 15 laps to go, Hamilton had halved his lead and took the fastest lap of the race to earn an extra point in the season's standings. It was anyone's battle as the final five laps saw a bumper-to-bumper showdown between the two as Hamilton cut down to less than within one second behind Verstappen. But with Verstappen's cool head and a gust of dirty air, Hamilton was unable to make a last-ditch effort for another U.S. title as he lost the race by 1.33 seconds.
Despite losing the race, Hamilton fist-bumped Verstappen at the end and said the competition's far from over between the two racing greats.
"What a great race down to Turn 1," Hamilton told reporters. "I thought for a second that we might be out to win the race, but we'll have to win the next one."
Verstappen's teammate Sergio Perez, a Mexico native, saw thousands of supporters from his home country as he landed the third-place title in the race. Meanwhile, Hamilton's teammate Valtteri Bottas edged past Carlos Sainz to win a bumper-to-bumper battle for sixth place in the last lap of the race. Ferrari's Charles Leclerc and Mercedes McLaren's Daniel Ricciardo rounded out the top five in fourth and fifth, respectively.
While the lead has widened between the sports' biggest rivals, there is still plenty of time for either to take the throne as they head into the final five races.
Despite losing a race that they normally win, Mercedes' Toto Wolff said they are very much in the running as they head to Mexico City for another showdown at the Mexican Grand Prix on Sunday, Nov. 7.
"We are right there," Wolff said. "It's just good fun for everybody and there's pressure, but it's positive pressure."
Hamilton and Verstappen will once again face off in North America for the Mexican Grand Prix on Sunday, Nov. 7 in Mexico City.
Here are the biggest highlights and final results for the first U.S. Grand Prix since 2019:
Final standings
Max Verstappen, Red Bull Racing
Lewis Hamilton, Mercedes
Sergio Perez, Red Bull Racing
Charles Leclerc, Ferrari
Daniel Ricciardo, McLaren Mercedes
Valtteri Bottas, Mercedes
Carlos Sainz, Ferrari
Lando Norris, McLaren
Yuki Tsunoda, AlphaTauri
Sebastian Vettel, Aston Martin
Antonio Giovinazzi, Alfa Romeo
Lance Stroll, Aston Martin
Kimi Räikkönen, Alfa Romeo
George Russel, Williams
Nicholas Latifi, Williams
Mick Schumacher, Haas
Nikita Mazepin, Haas
Drivers Fernando Alonso (Alpine), Esteban Ocon (Alpine), and Pierre Gasly (AlphaTauri) did not finish.
Lap 50—1.5 seconds separates the leaders
LAP 50/56

Deep breaths everyone, hold it together 😅

Under 1.7 seconds now between Hamilton and Verstappen ⏰👀#USGP 🇺🇸 #F1 pic.twitter.com/qi0aKnJezT

— Formula 1 (@F1) October 24, 2021
Hamilton has improved a six-point deficit for first as his younger tires take him within 1.5 seconds of Verstappen by the 50th lap. With six laps to go, Hamilton continues to beat out Verstappen in lap times, but some think Verstappen is holding out on speed.
Hamilton will need to bully his way past Verstappen very shortly if he's to take his seventh U.S. Grand Prix title, while Verstappen will need to keep his wits if he's to take his first.
Lap 43—Bumper car battle for fifth
LAP 43/56

It's getting spicy between Sainz and Ricciardo 🔥

The two touch as Sainz tries to move round the outside of the McLaren 👀#USGP 🇺🇸 #F1 pic.twitter.com/Qx1zDAQy7W

— Formula 1 (@F1) October 24, 2021
With just over half of a second between the two, Sainz and Riccardo briefly get a bit too close as both cars make contact in the 43rd lap.
Dirty talk abounds—Sainz says Riccardo drove "a bit dirty" with a wide turn in Lap 10—and a bit of damage to Sainz's left-wing may not bode well for him in the remainder of the race. Meanwhile, Bottas encroaches both drivers with less than a second behind himself and Sainz in seventh place.
Lap 41— Hamilton encroaches Verstappen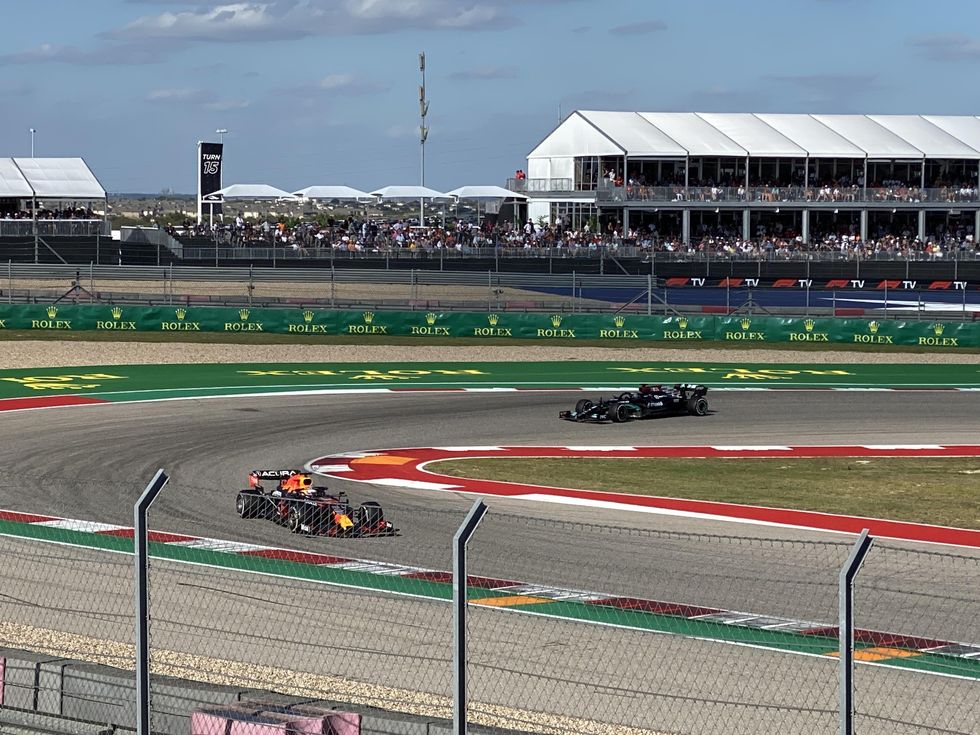 Hamilton charged Verstappen for the final half of the race. (Austonia)
While Verstappen works to weave past the back of the pack as he laps them, Hamilton briskly follows. By Lap 41, he logs the fastest lap of the match, beating Sergio Perez, with a time of 1:39.781. He's now just 3.8 seconds behind a leading Verstappen with less than 15 laps to go.
Lap 37—Hamilton pits, Verstappen takes lead
LAP 37/56

Hamilton comes into the pits

The lead has changed hands once again, with Verstappen back into P1 👀#USGP 🇺🇸 #F1 pic.twitter.com/RCcnpxFR7b

— Formula 1 (@F1) October 24, 2021
Despite a decently quick pit stop—over two seconds shorter than Verstappen's—Hamilton falls 7.8 seconds behind Verstappen as the lead once again switches hands.
Lap 29—Verstappen returns to pit, Hamilton closes lead
LAP 33/56

📻 TOTO: "You're racing for the win Lewis"

📻 LEWIS: "Leave it to me bro, thanks" #USGP 🇺🇸 #F1 pic.twitter.com/uiKgvtKiHH

— Formula 1 (@F1) October 24, 2021
After falling by as many as six seconds near the beginning of the race, Hamilton slowly began encroaching on Verstappen's lead. The Mercedes driver came within three seconds of Verstappen before the leading Dutchman took a pit stop in the 30th lap to opt for a fresh set of hard tires.
Meanwhile, a battle for fifth place has seen both Carlos Sainz, who was less than a second behind Daniel Ricciardo, to take a pit stop. Ricciardo soon followed. Hamilton's teammate Valtteri Bottas earns a temporary fifth place slot, and Ricciardo keeps a lead over Sainz in sixth.
2:25- Verstappen wins over strategy
LAP 14/56

Hamilton comes into the pits

And he comes out behind Verstappen! 😮#USGP 🇺🇸 #F1 pic.twitter.com/7YS4iHz4Sf

— Formula 1 (@F1) October 24, 2021
Hamilton may have grabbed an early lead, but Verstappen's well-timed pit stop in lap 11 put him six seconds ahead of his British foe by lap 14. Verstappen is now comfortable as Red Bull Racing wins the strategy side of the race.
Meanwhile, Red Bull's Perez has reached the No. 3 spot with Hamilton sandwiched in between. The middle race is beginning to expand as Charles Leclerc advances his fourth-place lead over a fifth-place Ricciardo.
2:08 p.m.—Hamilton takes lead, sets fastest lap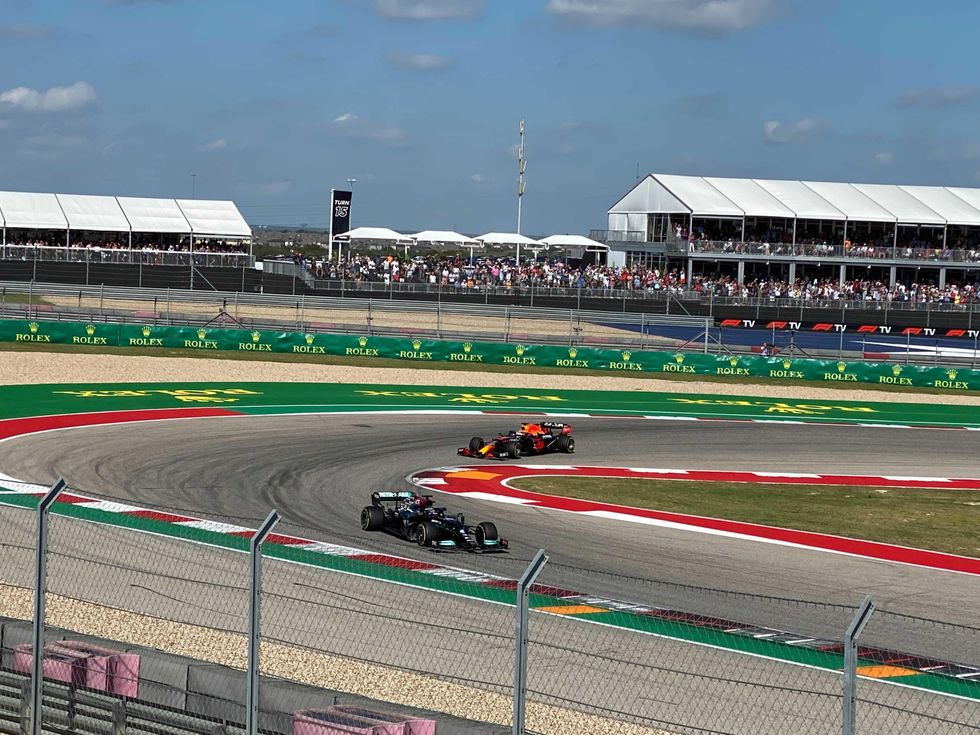 Hamilton is edging out Verstappen in the U.S. Grand Prix race. (Austonia)
Even with a 260-yard deficit, it's Hamilton who edges out Verstappen to take the lead at the start of the race despite being squeezed by Verstappen at the top of the hill. A few minutes later, Hamilton sets a lap-best time at 1:41.071.
Sunday, 1:30—drivers, cars heat up for the big race
Hamilton, Verstappen and the other 20 drivers are warming up their cars and minds as the clock ticks down for the final race.
The starting grid is buzzing with excitement as Verstappen arrives at around 1:15, with Hamilton hitting the grid around 10 minutes later.
The rivals' cars are wheeled just 260 yards apart, a small margin that Hamilton will attempt to close by the end of the first lap on the 20-turn track.
Sunday—Celebrities take COTA as the race heats up
Serena Williams #F1 #USGP pic.twitter.com/jDxSZi40ub

— Bruno HQ (@iPicsHQ) October 24, 2021
As one of the United States' premier racing competitions, it's no surprise that a star-studded cast—and audience—have contributed to the excitement of the race.
Performances from Twenty One Pilots, Billy Joel and Travis Scott have riled up the crowd, while NBA star-turned-DJ Shaquille O'Neal will be performing as DJ Diesel for the race after party.
IndyCar racing great Danica Patrick is commentating nationwide for the race after a decorated career as one of the most prominent female drivers ever in the sport.
The U.S. Grand Prix has seen anyone from former President Bill Clinton to star chef Gordon Ramsey in past crowds, and this year is no different. Shaq's fellow NBA star Chris Bosh has been spotted this weekend as well as tennis star Serena Williams, Texas rapper Megan Thee Stallion and actor William Fichtner.
There's sure to be many more celebs embedded in that thousands-strong crowd, so keep your eyes peeled!
Sunday—Chadwick takes W Series Championship title
A 𝗗𝗢𝗨𝗕𝗟𝗘 @WSeriesRacing champion 🔥 pic.twitter.com/PFr1gSUvY3

— Williams Racing (@WilliamsRacing) October 24, 2021
Formula 1 may be taking the limelight this weekend, but a high-stakes competition took place just before the big race on Sunday morning as the Women's Series' Jamie Chadwick took her second consecutive championship title in Austin.
The 2021 W Series champ took her crown after winning both races this weekend. After taking the Saturday race, Chadwick cruised to victory with a five-second lead over a second-place Abbi Pulling to win the championship over rival Alice Powell.
Chadwick defeated Powell for her second U.S. Grand Prix win since the last race in 2019, earning $500,000 in the process. The W Series, which is free-to-enter unlike Formula 1 and hopes to level out the financial playing field for men and women, is a developmental league that also provides 15 FIA super licence points to season winners. With enough super licence points, W Series drivers can level up to Formula 3 competitions and eventually beyond as they begin to compete against male drivers.
Saturday, 4 p.m.—Verstappen wins first, Hamilton takes second in qualifiers
It's @Max33Verstappen's ninth pole of 2021!#USGP 🇺🇸 #F1 pic.twitter.com/gp7RIlrOaf

— Formula 1 (@F1) October 23, 2021
In a three-round battle on Saturday, Verstappen flipped the switch from the day's practice rounds as he took a last-second lead over Hamilton to win the pole position, or first slot, in Sunday's starting grid on Saturday's qualifiers.
But it wasn't an easy battle. Verstappen's teammate Perez, a Mexico native, earned cheers from plenty of fans from his neighboring home country as he held the lead through the 10-minute round. Hamilton, who had been flanked behind both Red Bull foes, pulled a last-second lead to finish the finals and looked to take the pole position.
As rain began to fall, however, Verstappen pumped the gas for one final lap and won the pole position from his Team Mercedes foe.
It's Verstappen's first pole position on U.S. soil as he looks to take his first U.S. Grand Prix.
Click here for more information on the qualifiers.
Saturday morning—Ricciardo drives Earnhardt's 1984 car
Think @DanielRicciardo might have enjoyed that. 😅 #USGP 🇺🇸 pic.twitter.com/qfkGnEl0sO

— McLaren (@McLarenF1) October 23, 2021
Just as early fans began to trickle in, McLaren Mercedes' Daniel Ricciardo broke the crisp morning air with a roar as he drove some donuts in Dale Earnhardt's 1984 Wrangler car.
Ricciardo fulfilled his childhood dream—unlike many of his competitors his racing heroes growing up were his dad and Earnhardt, a seven-time NASCAR champion. Ricciardo collected many of Earnhardt's model cars growing up, but he never got his hands on this one until now, according to a report from ESPN.
After the exhibition laps, a breathless Ricciardo told reporters about the exhilarating experience.
"I can't speak," Ricciardo said. "That was fun, I think I'm still a little bit high right now."
Ricciardo's joyride caught the attention of Dale Earnhardt's son, NASCAR driver Dale Earnhardt, Jr, who responded with a tweet that gave Ricciardo "goosebumps."
"I'm happy for Daniel," Earnhardt Jr. said. "I'm also appreciative for how he celebrates my father. That makes a lot of dads family members and fans smile."
Austin FC defeated its fellow Texas MLS team, Houston Dynamo FC, 2-1 on Sunday afternoon at Q2 Stadium, marking the club's eighth win of its inaugural season.
It was an unusual match from a scoring perspective, more own goals—when the opposing team inadvertently scores on their own net—were scored than honest ones.
The Verde and Black came out of the gates strong in the first half, dictating the possession and pace from the outset. Austin FC drew two fouls, was awarded two corner kicks and got off three shots all in the first five minutes of action. Austin was rewarded for its effort with a penalty in the sixth minute.

Austin midfielder Cecilio Domínguez drew the penalty by driving up the left wing before being tackled from behind by Houston defender Zarek Valentin just inside the area. It was then Domínguez who stepped up to take the shot. Taking aim with his right foot, the shot bounced off the left post, then the right before bouncing off goalkeeper Marko Maric of the Dynamo and into the goal. Maric was credited with an own goal and Austin found itself ahead 1-0 early on.
Well...you don't see that very often. #VERDE https://t.co/JwBNVKqCxD

— Major League Soccer (@Major League Soccer) 1635111133.0
Following the defensive mistake, the Dynamo played with a heightened sense of urgency for the remainder of the half.
And just as the action seemed to be winding down before halftime, Austin launched one last-ditch attack in the final minute of stoppage time. Team captain Alex Ring got the ball in a dangerous position just outside of the box and after dodging several Houston defenders, got the ball to the open Sebastián Driussi. Driussi fired off a right-footed shot into the bottom left corner to take Austin FC up 2-0 going into the break.
Besides a two-goal advantage for Austin, the stats were fairly even in the first half. Both teams committed six fouls and had a player booked for a yellow card. Houston had a slight advantage shooting the ball, getting off eight shots and three on target while Austin had seven shots and two on target.
Austin once again came out quick to start the second half, getting off two shots in the first minute followed by two more in the 53rd minute. All were handled by the Dynamo defense.
As the final whistle neared, the Dynamo ramped up its aggression in an attempt to squeak by with a draw. Just as it seemed that Austin FC would walk away with the clean sheet, defender Julio Cascante sent the ball into his own net after it was cleared by his teammate and ricocheted off of his body.
Now only trailing 2-1, Houston tried desperately to even the score and was awarded two corners in the final minute of stoppage. Alas, the Dynamo could not get off a shot and Austin FC walked away with the win.
With the win, Austin now holds a 2-1 all-time record against the neighboring Houston. Austin remains at the bottom of the Western Conference in 13th place with a record of 8-19-4 while Houston is in 11th place.
Austin FC's next match will be away against FC Dallas on Oct. 30. Dallas FC joins them at the bottom in 12th place.
In a one-hour sprint that may be nearly as dramatic as the big race itself, Red Bull Racing's Max Verstappen won the top starting position for Sunday's U.S. Grand Prix in the race qualifiers on Saturday.
The three-day Formula 1 event, which has brought hundreds of thousands to Austin's Circuit of the Americas to see a historic neck-and-neck rivalry between Verstappen and Mercedes' Lewis Hamilton, will culminate in the final U.S. Grand Prix competition at 2 p.m. on Sunday.
And the duo didn't disappoint in the qualifying round. Just as rain began to fall, Verstappen edged out the seven-time champ in a crowd-pleasing qualifying round that saw the Dutchman take the pole position from Hamilton just after the checkered flag waved on Saturday afternoon.
Hamilton took second as he fell behind his younger competitor, while Verstappen's teammate Sergio Perez took the third position in the starting grid.
The world's best drivers first competed in a 20-, minute trial as they looked to grab the fastest lap times.
In Formula 1 qualifiers, each driver can attempt as many flying laps as they desire in F1's qualifiers until the flag is waved and the bottom five are taken out of the running for the best racing spots. The top 15 drivers then continue to Round 2, with the bottom five in that race taking the 11th through 15th spots in Sunday's race.
Finally, a hotly-contested 10-minute battle determines the top 10 spots for the final competition, with the fastest driver taking the pole position and winning a big advantage in the big race.
Final starting grid
Here's how that starting grid will look come Sunday afternoon:
Max Verstappen, Red Bull Racing
Lewis Hamilton, Mercedes
Sergio Perez, Red Bull Racing
Valtteri Bottas, Mercedes (will start ninth due to a penalty)
Charles Leclerc, Ferrari
Carlos Sainz, Ferrari
Daniel Riccardo, McClaren Mercedes
Lando Norris, McClaren Mercedes
Pierre Gasly, Alphatauri Honda
Yuki Tsunoda, Alphatauri Honda
Esteban Ocon, Alpine Renault
Sebastian Vettel, Aston Martin Mercedes
Antonio Giovinazzi, Alfa Romeo Racing Ferrari
Fernando Alonso, Alpine Renault
George Russell, Williams Mercedes
Lance Stroll, Aston Martin Mercedes
Nicholas Latifi, Williams Mercedes
Kimi Räikkönen, Alfa Romeo Racing Ferrari
Mick Schumacher, Haas Ferrari
Nikita Mazepin, Haas Ferrari
Here's how those three rounds played out:
Round One- Leclerc takes surprise lead
#Charles16 closing the lap in 1:34.153 😍 P1!

Both drivers are qualified for #Q2 💪#USGP #Quali pic.twitter.com/WV4ZsTlBbv

— Scuderia Ferrari (@ScuderiaFerrari) October 23, 2021
With Verstappen and Hamilton just six points apart, it may seem like the qualifiers would stay a Red Bull vs. Mercedes battle. But even after a standout practice session from Hamilton earlier in the day, it was Ferrari's Charles Leclerc who took Round One.
The Mercedes two took second and third, while drivers Nikita Mazepin, Mick Schumacher, Kimi Raikkonen, Nicholas Latifi and Lance Stroll were knocked out of the running. They'll take the last five spots in tomorrow's starting grid.
Round Two- Verstappen bests Hamilton
Kicking off Q2 on the Mediums. Lewis and Valtteri slot into P2 and P3 after the first runs. 👊 pic.twitter.com/Qla3O8ujl6

— Mercedes-AMG PETRONAS F1 Team (@MercedesAMGF1) October 23, 2021
Round Two proved more predictable as Hamilton and Verstappen duked it out for the first two slots. Daniel Riccardo, a fan favorite and member of McClaren Mercedes, just scraped by with a ninth place finish. Drivers Fernando Alonso, George Russell, Antonio Giovinazzi, Sebastian Vettel and Esteban Ocon were eliminated from the final round.
Round Three- Verstappen takes down teammate and Hamilton for pole position
It's @Max33Verstappen's ninth pole of 2021!#USGP 🇺🇸 #F1 pic.twitter.com/gp7RIlrOaf

— Formula 1 (@F1) October 23, 2021
A gust of wind began as the final qualifying round commenced, and Red Bull took advantage of the breeze as Sergio Perez bested teammate Verstappen to take the provisional pole less than four minutes in. A Mexico native, he was met with plenty of cheers from admiring fans as he crossed that first finish.
But Verstappen wasn't finished. The Dutchman held second place over Mercedes' Valtteri Bottas and Hamilton until the clock ran out, when Hamilton pulled an upset for his final round to momentarily take first place.
Braving the rain, Verstappen pumped the gas for a final effort to finish with a race-best 1:32.91 lap time to take his seventh pole in the last ten races.