Never miss a story
Sign up for our free daily morning email...
...and afternoon text update
Get connected with our daily update
Scott David Gordon/Johnson's Backyard Garden
About two years ago, Sam Lillie studied his neighbors' backyards on Google Maps, looking for signs that they were growing food. If he could see planting rows in the image, he would knock on the neighbor's door and ask whether they were interested in selling some of their crop.
Not long before, Lillie had attended a town hall meeting in his small Washington State community and learned that residents were having trouble obtaining local food. He figured there was a way to fix this, and he set about connecting buyers with small local growers. He says that within three months, he had delivered about 300 pounds of food on his bicycle.
He then set out to create a digital platform. Austin's MassChallenge startup accelerator accepted him, so he moved to Texas and created Vinder, an app that connects individuals who want to buy produce with local farmers in Austin and about 100 other cities.
---
In recent weeks, as anxious Austin customers have been emptying grocery store shelves, demand for produce through Vinder has skyrocketed. In response to the coronavirus crisis, Lillie and his team have taken over delivery service, which used to be a transaction solely between the buyer and the seller, and worked to reduce all delivery fees to $1.
"The response has been massive," he says. Orders began to spike last Monday and over the following 72 hours, they matched what the app would usually handle in three months.
Vinder is one of many channels that were either smaller or nonexistent before the current crisis, and are now transforming the way Austinites get their food.

Johnson's Backyard Garden is an organic farm that began in East Austin, then moved to 186 acres in Garfield, Texas. The farm has a Community Supported Agriculture (CSA) program, and members receive a box of seasonal fruits and vegetables every week. Over the past weeks, demand for the boxes has increased so rapidly that the farm had to stop accepting new members and create a waiting list, which now contains hundreds of names.
"This is something that we've never had to do in the history of the farm," says marketing manager Ada Broussard. "The size of the CSA doubled in a two-and-a-half week span."
She says that in order to deliver more food, several logistical elements must be sorted out, such as adding routes and hiring new drivers. Being able to ship more produce also means hiring more farm workers, which has classically been tough to do. This is a tough time of the year for small farmers to be adjusting to new demands.

"Farmers are already working 70-plus hours to get things in the ground to accommodate their current production model," she says.

On the other side of the spectrum, some distributors and restaurants have inventories of produce they are scrambling to sell before the food goes bad. The regional distributor Brothers Produce of Austin was fully stocked, with more produce on the way to them, when Travis County ordered restaurants to close dine-in service beginning March 17th. The distributor has begun selling fruit and vegetable boxes through Vinder, as well as setting up box drop-off points around the city and selling produce from its warehouse.
"It's an experiment," says James Bos, CEO and co-owner of Brothers Produce of Austin. "We're just trying everything we can to move product, keep people fed and keep our employees."

The company is expanding its box delivery system, Bos says, choosing sites almost at random or reacting to customers who organize a site in their neighborhood. The warehouse retail hours are evolving and best viewed on Facebook. It is a process of constant change and adjustment at a company that has had very established systems.

"We have an assembly line set up," says Bos. "We are rolling boxes down the line and packing them up. Who would think we would get to that?"

Last week, Brothers also began selling fruit and vegetable boxes through Vinder. The connection between the two companies was made through the friend of a friend.

"I like that everything is becoming creative—looking for new ways to move produce and help people," says Bos, who adds that he hopes some of the new sales channels remain a part of his business. "We don't know what the normal will be."
Austin FC couldn't find the stamina to fight off a 2-0 loss against LAFC for their inaugural match on Saturday.
The match, which saw No. 21 Austin FC go head-to-head with No. 2 LAFC in Los Angeles, was broadcast nationally on FOX and FOX Deportes.
Eleven players took the stage as Austin FC players for the first time, with five starters making their MLS debut. "Ringleader" Alex Ring took the captain's armband and wore it well. The defensive midfielder could be seen leading his teammates through their first ever match, but it wasn't enough to stage an Austin takeover in LA.
As Austin FC took the stage for their first-ever match, they appeared more experienced than their track record. The club held LAFC to a scoreless first half, keeping about equal possession of the ball.
In the signature style of Head Coach Josh Wolff, the team played with quickness and intensity, nearly connecting on several fast breaks.
The club was given some generous breaks from No. 2 LAFC, who had one or both of their star DPs out for the half. While forward Diego Rossi is out for the entire match due to a hamstring injury, Carlos Vela was accidentally pulled too soon on what turned out to be a miscommunication.
"He gave us the sign that he needed to come off," LAFC Head Coach Bob Bradley said on broadcast. "I can't say more than maybe it's my fault."
LA pulled some dramatics and slowly gained more possession throughout the half, but ATXFC's defense wasn't initially as shaky as it seemed in preseason. Jhohan Romana has pulled his weight in getting the ball out of goal, and a 34-year old Matt Besler held his own in center back.
As the second half commenced, however, it became clear that LAFC had the advantage over Austin's first major league team.
Goalkeeper Brad Stuver had his work cut out for him, fending off 24 shot attempts, 11 of which were on goal.
LAFC finally connected in the 61st minute of play as Corey Baird shot one in to the bottom right corner. The team capitalized off their momentum and put one past Stuver a second time, drawing roars of approval from the LAFC crowd.
While some last minute attempts from Jon Gallagher and others were made, Austin FC didn't have the endurance to bring a tie. After seven additional minutes of stoppage time, the club lost their first match 2-0.
It's matchday! Austin FC—Austin's first major league sport team—kicks off its debut season in Los Angeles today after years in the making. We know how much this means to our beloved city and are taking you along with us as we journey to LA!
Austin FC writer Claire Partain and I are excited to bring you game-day coverage straight from the City of Angels. Check back here for updates, and visit our socials: @austonianews for the latest.
5 p.m: Kickoff!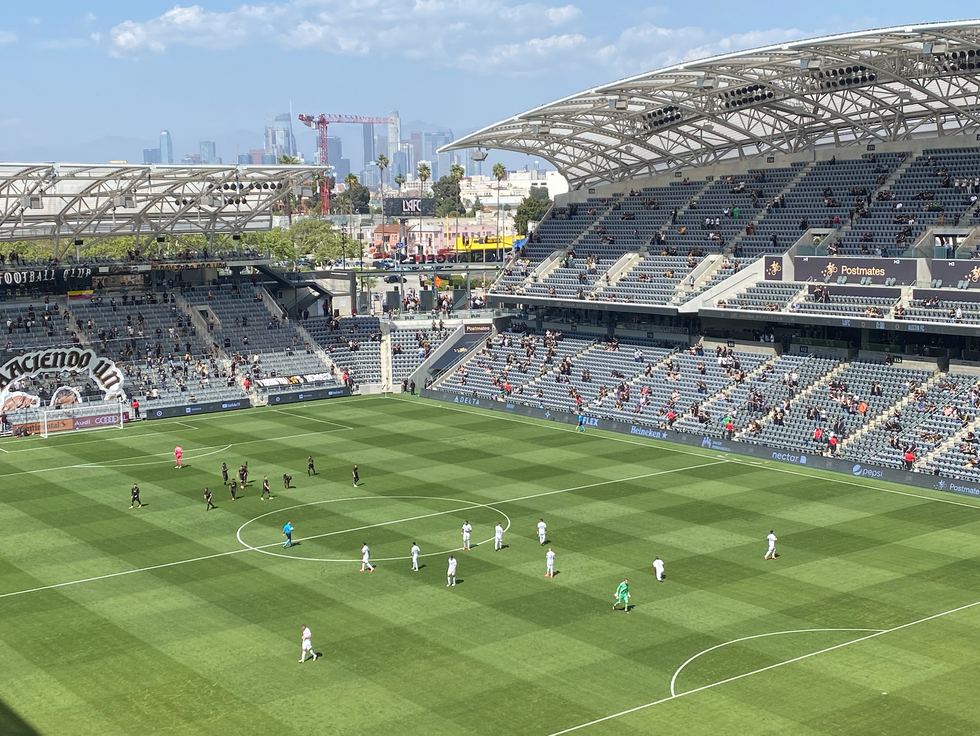 It's finally here! Claire will be updating Austonia's Twitter account live. And we'll post her game recap after the game. Best of luck Verdes!
4:40 p.m: Excitement radiates back home
Watch parties are in plenty supply back home. Austonia's Laura Figi visited Circle Brewing Co. and found a crowd of excited supporters.
4:20 p.m: Austin FC supporters are in the stadium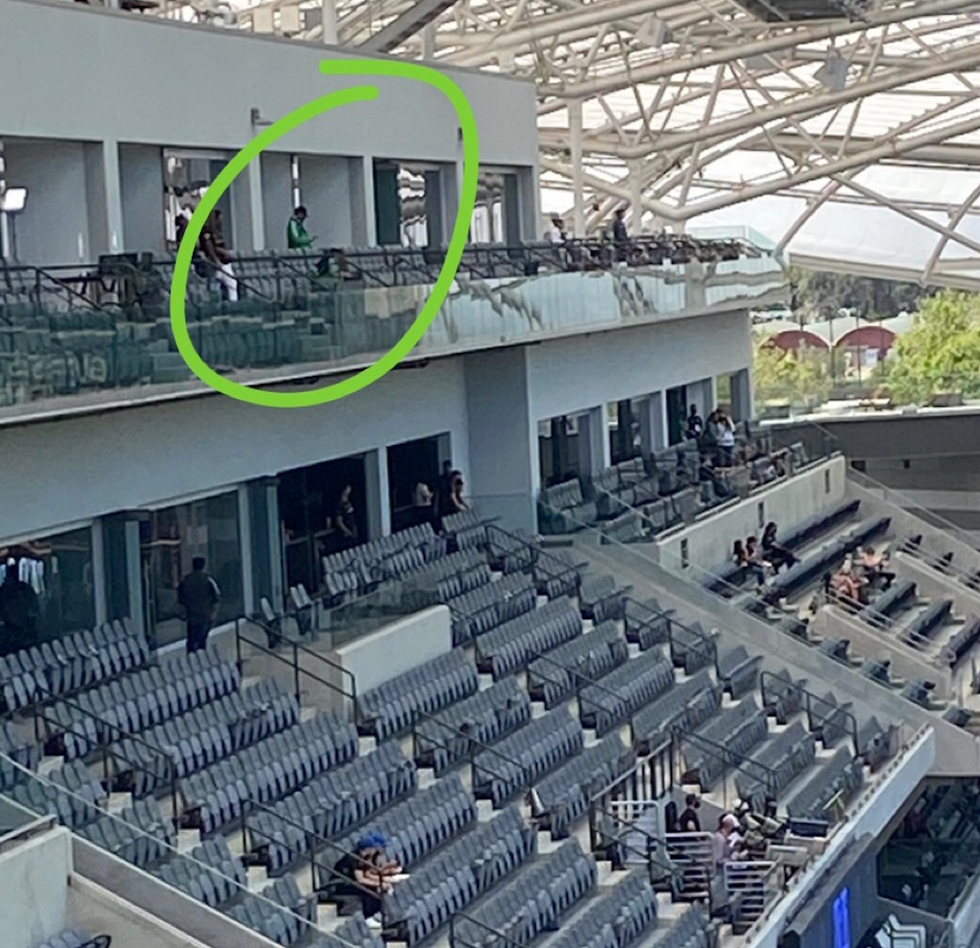 Although the Banc of California Stadium is hosting the match at limited capacity, we see some green in the stands ahead of kickoff. Just moments away from the Austin FC's debut!
~3:20 p.m: Austin FC's team bus enters the stadium grounds
With a warm welcome from Los Verdes, Austin FC players were welcomed into the Banc of California Stadium.
~1 p.m: Los Verdes in LA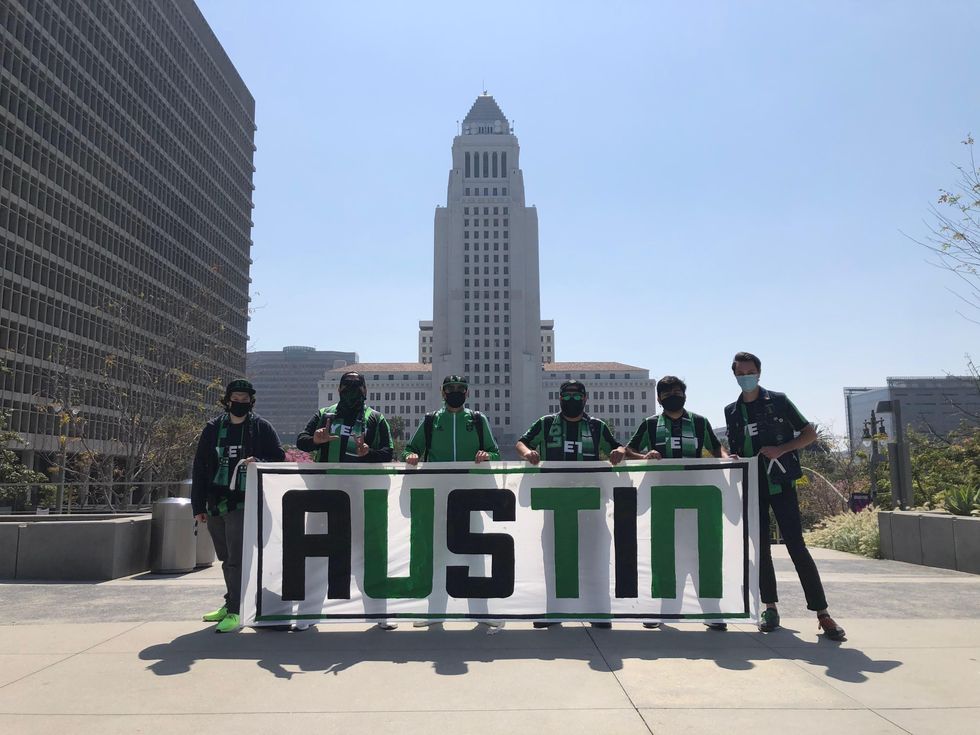 (Rigo Rodriguez/Los Verdes)
Austin FC supporters are making their presence known in LA, including the Los Verdes group.
Los Verdes members started having match-day fun around the area this morning with brunch. We'll be joining them about an hour before the game outside the stadium to share some of their excitement. We'll post immediately to Austonia's Instagram.
11:45 a.m: We landed!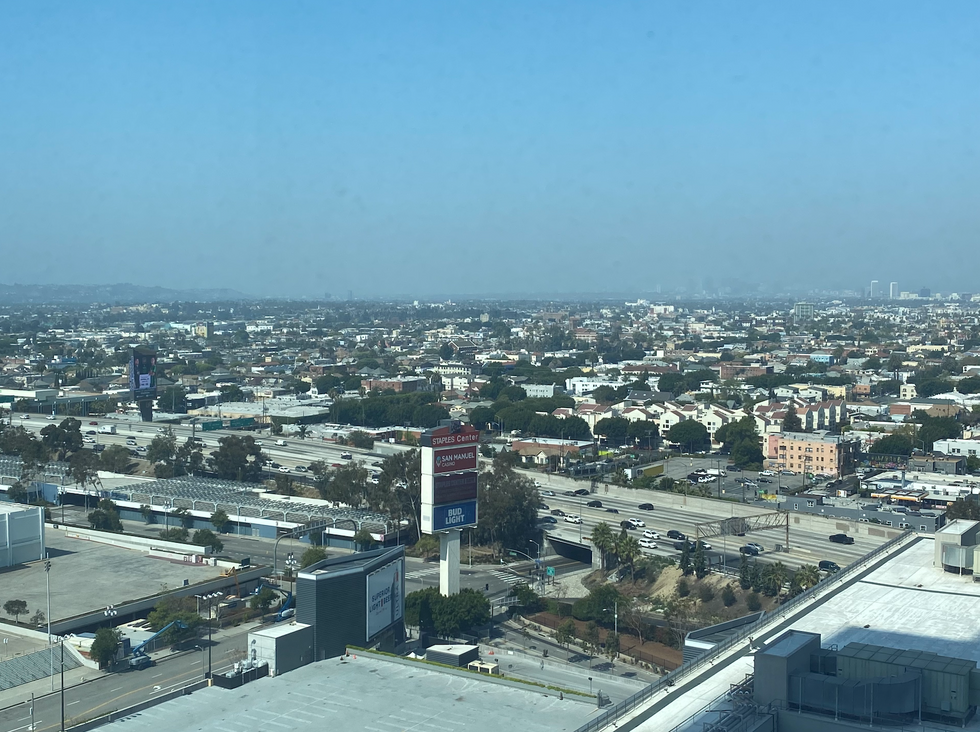 View from hotel room where we're staying; the stadium digital sign can be seen in the right corner. (Sonia Garcia/Austonia)
Switching over to pacific time, we're here and it's almost like no time went by. It's 9:45 a.m. here.
We've been in contact with Los Verdes, an Austin FC supporter group, who is also here in LA counting down to kickoff.
8:20 a.m: LA bound
Like many of you, we've been looking forward to this moment for, let's just say, a very long time. Today, we woke up bright and early, headed to Austin-Bergstrom International Airport and hopped on a flight to LA.
A gloomy day in Austin with a very quiet airport, we're headed to sunny skies in California.
As we wait for the game to start at 4:30 p.m., check out Claire's preview of the game with a predicted lineup and timeline of the long journey to get here.