Get connected with our daily update
For the first time since July 30, the seven-day moving average for COVID hospitalizations dropped below 50 on Tuesday, reaching the Stage 4 threshold.
At 49, the number is low enough to lower guidelines, but the city has not yet changed its Stage 5 status.
Austin has been in Stage 5, the highest level of Austin Public Health's COVID risk-based guidelines, for over a month as case rates and hospitalizations surpassed last summer's surge, the Delta variant targeted the unvaccinated and a younger demographic and ICUs surpassed capacity in the Austin metro. But with the seven-day moving average at 49 on Tuesday, it may be a sign that the third surge is beginning to end.
On Tuesday, 515 new cases were reported, down from a third-surge peak of 1,261 on Thursday, Sept. 7. Two days after the peak, Austin reported 1,000 COVID deaths and broke a daily death toll record with 23 deaths in a single day.
But while cases and hospitalizations are dipping, the city still has many factors to consider before dropping safety guidelines. Austin Public Health told KXAN Wednesday that key indicators including "positivity rate, the doubling time of new cases, and current ICU and ventilator patients" will need to be evaluated first.
The metro continues to have no ICU beds available as Austin-Travis County Health Authority Dr. Desmar Walkes says patients from other counties come into the area to seek care. Travis County saw 35 COVID deaths for the week of Sept. 17, slightly down from a peak of 36 for two weeks prior.
The lower hospitalization rate comes as Austin reaches a 70% vaccinated population, a number once thought to be needed to reach herd immunity. With the highly contagious Delta variant, however, many think that the new herd immunity rate is closer to 80%. But Austin officials have reported being "cautiously optimistic" as the moving average for hospital admissions slowly declined from their peak of 83.6 on Aug. 11.
"We're starting to see our case numbers decrease over time, and that is an exceptional thing to say at this point, but we're still cautiously optimistic," Walkes said.
Under Stage 4 guidelines with the Delta variant, APH continues to recommend limiting dining to takeout/curbside for unvaccinated or partially vaccinated individuals and slightly lifts shopping and travel guidelines to "only if essential." Stage 4 continues to recommend masks for vaccinated individuals in social and public settings but now includes high-risk vaccinated individuals that were recommended to stay home unless essential in Stage 5.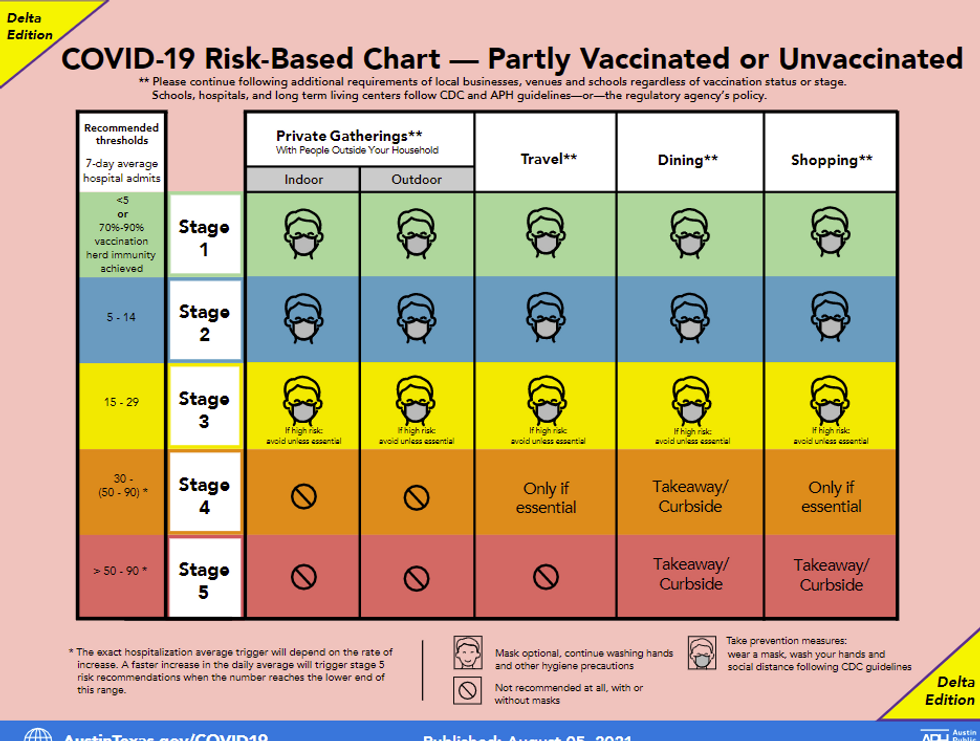 (Austin Public Health)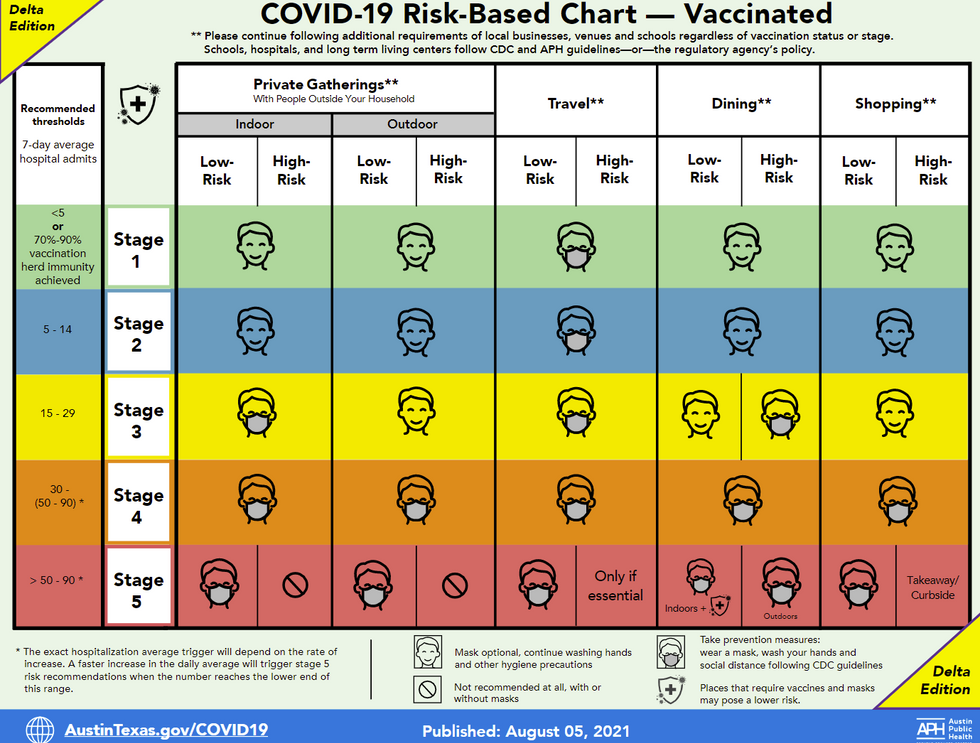 (Austin Public Health)
Outpacing the percentage vaccinated in Texas—61% fully vaccinated—the city is closer to reaching herd immunity, which was once thought to be a 70%, but has since increased to a higher vaccinated population. Of those 12 and older, 80% have received at least one dose in Austin.
Local officials hoped to reach the 70% mark by Labor Day weekend, but vaccinations were conducted at a slower rate as most who were eager to get it, got it as they became widely available. The challenge then turned to vaccinating those that are hesitant for a number of reasons including ideology, health concerns or distrust of the government, which APH has focused outreach efforts toward.
Those efforts have been focused on the Black and Hispanic populations that have fallen behind in getting vaccinated with 34% and 47% fully vaccinated, respectively.
Despite the milestone, it might not mean COVID-19 will be less prevalent. The Delta variant's virality has led health officials to believe the herd immunity threshold should be 80% instead of the originally stated 70%. The Centers for Disease Control and Prevention last month revealed the Delta variant was as contagious as chickenpox, which has a herd immunity threshold of at least 90% vaccinated.
Additionally, a portion of the population—kids under 12—are unable to even get the vaccine, setting back further progress toward herd immunity. But Pfizer announced Monday its vaccine works for children ages 5 to 11 and will seek FDA approval soon.

Local health officials are encouraging everyone eligible to get the COVID vaccine to help relieve hospitals. While COVID hospitalizations have been declining in recent weeks, ICUs continue to be majorly impacted with unvaccinated individuals, who are staying sick longer, according to Austin Public Health.
Austin Public Health announced that Austin City Limits Festival's COVID-19 Health and Safety plan was approved, though final approval of the event is still up in the air.
APH announced the news via press release on Tuesday morning, saying the event's final approval is subject to "the ability to support the healthcare and safety system."
ACL, festival producer C3 Presents and the City of Austin have approved the following criteria for festival safety:
All attendees must show a negative COVID-19 test obtained within 72 hours of entering the festival.
Fully vaccinated attendees may show proof of vaccination instead of a negative test. Such patrons do not need to be tested to enter the festival.
ACL organizers must develop strategies for social distancing and include outdoor "mask zones" where distancing is not possible, including on festival shuttle buses, entrance lines, areas closest to the stages and the on-site merch store. Free masks will be available upon entry.
On ACL's end, organizers are asking patrons compley with "fan health pledge," asking fans don't attend if:
You have tested positive for or been exposed to COVID-19 in the past 14 days
You experience symptoms of the virus (a fever of 100.4F or higher, cough, shortness of breath or difficulty breathing, chills, repeated shaking muscle pain/achiness, headache, sore throat, loss of taste or smell, nasal congestion, runny nose, vomiting, diarrhea, fatigue, or any other symptoms associated with COVID-19 identified by the Centers for Disease Control and Prevention) within 48 hours of the festival.
You traveled internationally or to an area subject to quarantine within two weeks of the festival
Approving the Health and Safety plan is just one step of the special events application process—events became required to submit a plan as of April 2021.
Just months after the pandemic saw airport traffic reach record lows, Austin-Bergstrom International Airport bounced back with its fifth-busiest month on record in July 2021.
Passenger traffic growth was up 279.6% in July 2021 when compared to July 2020, and the first seven months of 2021 (January-July) was up 54.9% when compared to the same time last year, according to the latest report from ABIA.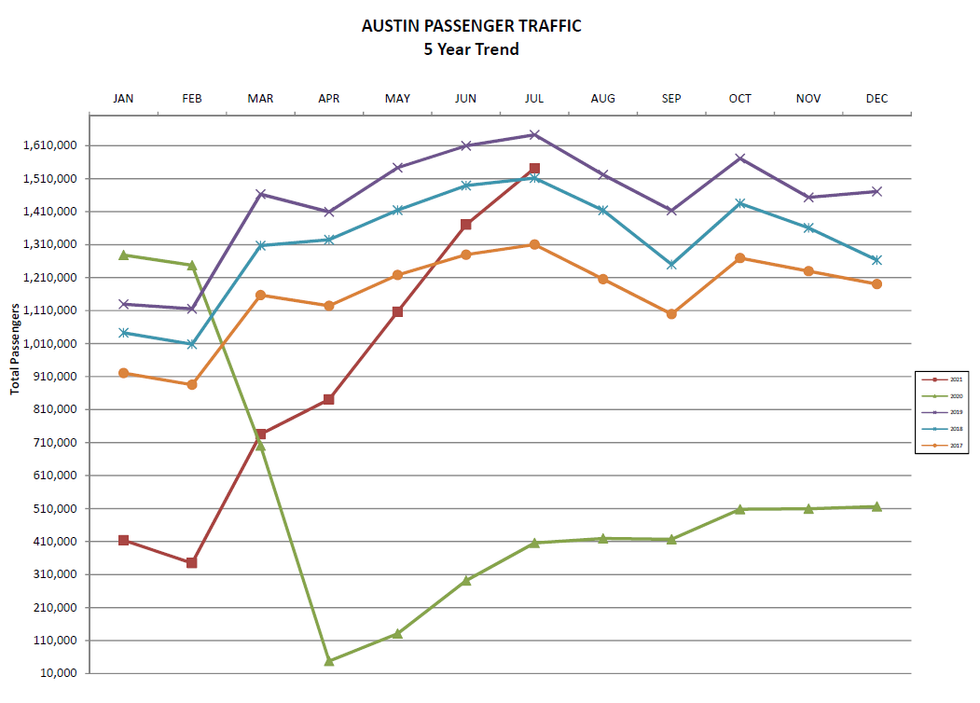 Austin saw it's fifth-busiest month on record in July 2021. (Austin-Bergstrom International Airport)
Although the airport hasn't quite recovered to record-setting 2019 levels after decades of growth, it is reaching 2018's traffic levels, according to ABIA's public information officer Bryce Dubee. "The trend this summer has been a very strong recovery," he said.
While July 2021 seems unscathed from the impact of the third COVID surge, August 2021 could see a dip as cases rose higher than the first surge in summer 2020 and some may cut back on their travels. On the week of Aug. 18, the Transportation Security Administration saw a 10-week low of traffic at airport security checkpoints, and Aug. 17 saw a 28% decrease in air passenger screenings when compared to Aug. 1.
But Dubee said there are no signs that travel dropped with the rise of the Delta variant. By at least Labor Day weekend, any dip in numbers had clearly recovered: on that Friday, traditionally the busiest day of Labor Day weekend-related travel, more travelers flew out of Austin than did on the same day in 2019. From Thursday through Monday of that weekend, the airport hosted some 110,000 outbound travelers.
The new report comes as the U.S. reversed its pandemic-long travel ban.
On Monday, White House COVID-19 Response Coordinator Jeff Zients announced that all fully vaccinated international travelers will be able to enter the U.S. starting in early November with proof of a negative COVID-19 test. The ban, which was implemented in 2020, restricted travelers from a number of European countries, Iran and China throughout the pandemic.
Per the announcement, unvaccinated Americans reentering the U.S. will need to clear tighter restrictions, including a negative test before departing and after arrival.
However, the announcement may not mean the airport is flooded with travelers; as kids return to school, the city could see a pause from the summer travel frenzy.
"We're anticipating that there will be a slowdown that happens every calendar year—summer is over, kids go back to school—and with that continued slower recovery on the business traveler front, we do anticipate that the September slowdown might be a bit more significant than it would be if it was a non-COVID year," Dubee said.