Get connected with our daily update
Dr. Colette Pierce Burnette, Huston-Tillotson University's first female CEO who oversaw the school's COVID response and helped grow its endowment by 55%, has announced that she will retire on June 30, 2022.
Burnette has been president of the private university since 2015. She is the first woman to have led the university since the merger of Tillotson and Samuel Huston Colleges in 1875, which created Huston-Tillotson as the first institute of higher learning in Austin.
In a letter, Burnette credited the "genius generation" and the university's faculty and staff for teaching her more than she taught them during her seven years of leadership.
"I am eternally grateful and humbled by the grace, love, commitment, encouragement and willingness to embrace change and innovation you gave me during my tenure," Burnette said.
In her tenure, Burnette helped expand the university's endowment and STEM programs, oversaw her "passion project" to partner with Apple and create the African American Male Teacher Initiative, and partnered with Tesla in their manufacturing engineering curriculum. HT also started both a Master of Business Administration program for working professionals and opened the Center for Entrepreneurship and Innovation Center in East Austin in her time as president.
Burnette was also tasked with shifting the university to online learning as the pandemic began and COVID-related policies since then, including a Friday announcement encouraging all students to be vaccinated, with the ability to apply for exemptions, for the Spring semester.
As the president of Austin's sole HBCU, Burnette is a strong advocate for historically Black colleges, is the co-chair of Mayor Steve Adler's Task Force on Institutional Racism and Systemic Inequities and serves on the Greater Austin Area Black Chamber. Also a proponent for community engagement, Burnette is Treasurer of the Independent Colleges and Universities of Texas and serves on local boards and committees including the Austin Community Foundation, Austin UrbanLeague, Big Brothers Big Sisters of Central Texas Advisory Council, Urban Roots Advisory Council and Waterloo Greenway Board.
Burnette said she hopes to see the university continue to be "securely pointing in a positive direction" in her absence.
"My greatest hopes for the university's future are to maintain forward momentum, continue to radiate as a jewel in the violet crown of Austin and to continue transforming the lives of thousands of students and their families as they steadfastly persist toward the great equalizer—their education–earning their degree," Burnette said. "I look forward to seeing Huston-Tillotson University continue to prosper."
The university will soon begin a national search to find its next president after Burnette steps down next summer.
Downtown may be recovering from the pandemic but the priorities residents want in their city center are changing, according to the City Pulse Survey done by design firm Gensler.
After studying 7,500 people in 15 global markets, including Austin, Gensler found that life in COVID has pushed city-dwellers to want more outdoor activities, social spaces and entertainment venues in bustling business districts.
Post-pandemic, the highest-rated downtown activities were shopping, visiting parks and just "hanging out." The need for more public spaces like parks jumped from sixth on the list to second this year.
Although globally people view downtown as a business district for task-based activities, across the U.S., downtown districts are viewed more as a vehicle for entertainment. This is especially true for Austinites, where people surveyed said they would rather see more entertainment and cultural venues than shopping or public transit downtown.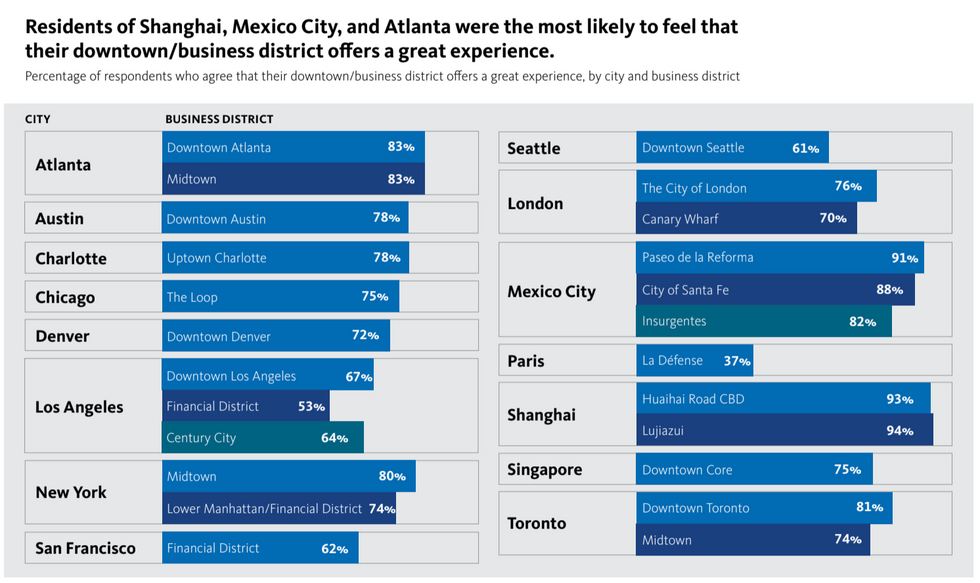 (Gensler)
For Melanie Gartman, a manager at construction software company Levelset who has been living in Austin for most of her life, the needs and wants of the average resident closely align with her own.
Austin clocked in second-most desirable downtown, tied with Charlotte, North Carolina. Like the 78% of Austinites in the survey, Gartman said she thinks Downtown Austin is hanging on to its lovable charm.
"Even now with fewer people out and about it's still very vibrant and lively. I feel like I saw life come back to downtown a lot sooner than I expected it to," Gartman said. "It's still holding on a bit that Austin vibe and with the high rises coming in, it's scary that we could lose that. I think it's holding on better than I would have expected, especially within the last two years of everything that happened."
As Austinites eased back into downtown, the first stop Gartman made was to go see music again. Since venues opened back up, Gartman and her loved ones have seen live music at their favorite venues: Moody Amphitheatre, Mohawk, The Parish and Empire Control Room.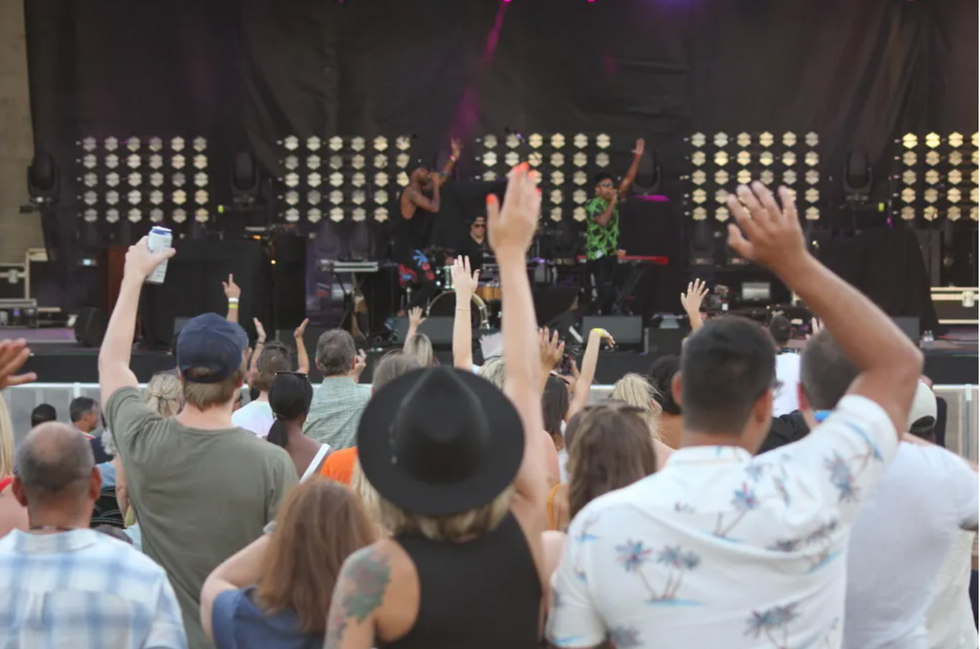 Blackillac opened for Gary Clark Jr. at the Moody Amphitheater's first show back in August. (Laura Figi/Austonia)
Entertainment is most important for Gartman's life in Austin—seeing Gary Clark Jr. in August brought normalcy back into her routine—and said our local downtown is the ideal out of other cities in Texas.
"I've always noticed that between Houston's downtown and Austin's, Houston's is so Monday to Friday, eight to five, maybe a post-work happy hour," Gartman said. "Growing up, downtown (Austin) was always the place to go. It has always been the hub and I think Austin is unique in that way."
Traffic in downtown areas is way down overall, even though concern over pandemic safety has taken a backseat. Shopping traffic has decreased by 28%, dining out and entertainment attendance dropped by 33% in the post-pandemic sphere.
Even though her office is located downtown, Gartman usually works from home. Her downtown visits tend to be for the purpose of entertainment and she said the lack of parking sometimes becomes problematic.
"I feel like all these high rises are taking over all the parking," Gartman said. "It used to be for go-to parking, I would just park under I-35. No big deal. But now, that's kind of scary, especially if you're by yourself. The party parking is a barrier to actually making it down there."
But with the rise of the hybrid work model, it's likely that the downtown sphere is going to change all across the U.S. For now, survey participants said they would like to see their downtown reduce traffic, add more green space, improve the cityscape and increase parking capacity as we shape the future of cities.
Just as the world takes a breath from the Delta variant-induced third COVID surge that pushed hospitals past capacity this summer, a new variant—the omicron—is forcing countries around the world to once again consider shutting their doors.
It's too early to tell whether the variant will have the devastating effects of the Delta variant, the Mu variant—which accounted for 3% of U.S. cases before dropping off almost entirely by October—or somewhere in between. But as omicron continues to rise sharply in all provinces of South Africa, the Biden administration is reintroducing some travel restrictions that went into effect Monday.
As the variant spreads to countries around the world, including Canada, the Netherlands and Hong Kong, the World Health Organization declared omicron a "variant of concern"—though some are calling the move premature.
What is omicron?
The omicron variant, B.1.1.529, is now under strict watch from the WHO after quickly spreading throughout Southern Africa.
It's genetically different from the Alpha and Delta variants and has up to 30 mutations in its genetic code, leading some to worry that the risk of retransmission from those who have already had COVID could be high. The strain's mutations could also aid omicron in beating out other strains and spreading more quickly to hosts.
Omicron is the latest version of the coronavirus to cause concern. Here's what we know about where it's spread so far and what makes it different than other variants that came before. https://t.co/ncciXnIuw9
— The New York Times (@nytimes) November 29, 2021
It appears to be doing the trick. While an Associated Press report found that case numbers in South Africa are still well below other pandemic peaks—3,220 new cases were reported in South Africa on Saturday— up to 90% of new cases in the South African province of Gauteng are omicron.
The strain's effects seem to be mild so far, and hospitals haven't been overburdened yet, though hospitalizations are rising.
And doctors worry that the full extent of the variant hasn't been realized. Vaccine hesitancy is strong among South Africa's youngest population—22% of those aged 18 to 34 are vaccinated—and most of those infected with COVID have been in those younger age groups. Doctors worry that older age groups will be more adversely affected.
And while experts in the country expected a fourth surge and possible variant, the omicron still came as a "shock" as it quickly spread to all nine South African provinces and other continents. It's now the first strain labeled as a "variant of concern" since the Delta variant.
It's unclear if the variant is more immune to vaccines, although some signs indicate that it's a possibility.
Where has it been detected?
The omicron strain still hasn't been detected in dozens of countries, and it's far from the first strain to make a mark since Delta. But it's coincided with a quick uptick in cases in South Africa, where it was originally found, and became the dominant strain in Pretoria, a city of around 750,000, in just a few weeks.
Omicron is now present in nearby Botswana and has jumped on board flights to Europe, Asia, Australia and North America. Hong Kong has detected three cases, while 10 European nations including the Netherlands, the United Kingdom, Portugal and Germany have found a total of 45 cases. Canada has detected three cases, and none have yet been found in the United States.
What has been done?
Against the wishes of both South Africa and the WHO, several countries have decided to once again shut their doors.
After detecting an omicron case, Israel decided to bar entry to foreigners, while Morocco suspended incoming international air travel for two weeks. Dozens of countries are restricting travel from Southern Africa to South Africa's chagrin—the government said travel restrictions are "akin to punishing South Africa for its advanced genomic sequencing and the ability to detect new variants quicker."
The WHO also called for borders to remain open as closing borders appears to have a limited effect on the spread of variants, and many countries are hesitant to clamp down on restrictions that have limited its citizens for so long.
The United States said in a statement Friday that it would restrict travel from eight southern African countries except for citizens and permanent U.S. residents who test negative for the virus.
White House Chief Medical Adviser Dr. Anthony Fauci said Sunday that it's "too early to say" whether tightened COVID restrictions will be needed to combat omicron but that citizens must be ready to do "anything and everything" to prevent its spread.
When will we know more?
The WHO said it will take around two weeks to gauge the full effects of omicron, from its ability to evade vaccines to its contagiousness.
For now, countries have once again urged their citizens to get vaccinated. Some vaccine companies have already spoken about the strain, including Moderna, which said Sunday that a new vaccine that protects against the variant could be released in early 2022 if needed.
For now, Fauci said that the country must "prepare for the worst" just in case omicron becomes the culprit of yet another surge.
"Inevitably, it will be here. The question is will we be prepared for it? If and when, and it's going to be when, it comes here hopefully we will be ready for it," Fauci said.
Austin-Bergstrom International Airport saw 284,198 passengers checked through TSA security over the Thanksgiving holiday, marking the busiest Thanksgiving travel season on record.
The airport saw around 40,000 more passengers than its peak holiday week in 2019 and nearly triple the traffic of 2020 as the airport continues to bounce back much more quickly than was originally projected.
Those numbers weren't quite reflected nationwide—air travel on the Wednesday before Thanksgiving more than doubled when compared to the same 2020, with 2.3 million people passing through TSA checkpoints on that day. That's higher than any other pandemic day but about 88% of the levels from that day in 2019.
But the record numbers, which ABIA public information officer Bryce Dubee said are usually reserved for Formula 1's U.S. Grand Prix and both weekends of ACL fest, indicate that travel in Austin may have done more than just recover from the pandemic.

Dubee said the airport's crew was already gearing up for several 30,000+ passenger days by Friday, Nov. 19. Then the first Sunday of the holiday alone saw 32,175 passengers, the second-busiest day on record after this year's USGP race weekend.
Travel from Friday through Wednesday saw 188,168 passengers during the holiday week, already passing the threshold for the busiest Thanksgiving travel season on record.
Since last Friday, 188,168 passengers have chosen to #FlyAUStin, making this our busiest Thanksgiving travel season on record.

As we pause today to give thanks, we're grateful for all those who fly with us, as well as our incredible staff and partners who make this all possible. pic.twitter.com/kqgtV7Ypp1
— Austin-Bergstrom International Airport (AUS) (@AUStinAirport) November 25, 2021
And as travelers returned home with full bellies and weeklong visits behind them, the airport saw 96,030 passengers from Thanksgiving through Sunday. The final Sunday saw just over 30,000 passengers—which still broke 2019 records and obliterated 2020's numbers—but notably, the Sunday before Thanksgiving was the busiest travel day of the period, something that hasn't been seen in years past.
ABIA recommended that travelers arrive three hours early for their flights and find other ways to make the screening process easier as record numbers piled into the airport. But after a record-breaking F1 weekend and other high-traffic days serving as "stress tests" this October, Dubee said the team was prepared for the unprecedented weekend as travelers went to see their family, some for the first time since an 18-month travel ban was lifted.
And the airport is prepping for even more foot traffic in the future with its 2040 master plan. Even as travel dwindled and fewer passengers than ever crossed through TSA checkpoints in peak pandemic times, the airport saw significant expansion: American Airlines added 10 flights to the airport in March, Southwest Airlines announced in September that it would add nine flights in March 2022, and Allegiant, Delta and Hawaiian all tacked on new flights in 2020-21.
While this Thanksgiving week, which normally just scrapes the top ten busiest travel times of the year, saw an unusual year, Dubee said it's too soon to see whether this represents a long-term trend. And especially as the omicron COVID variant sends the world into a frenzy, the winter holidays may not see the fervor of Thanksgiving travel—the holiday season rarely makes a dent on ABIA's high-traffic fall events.
From Your Site Articles
Related Articles Around the Web