Austonia AM
100% Austin news, info, and entertainment, straight to your inbox at 6 a.m. every morning.
In five minutes, you're fully informed and ready to start another great day in our city.
Get connected with our daily update
More than 55% of Travis County residents 12 and older are fully vaccinated, compared to less than 45% of Texas residents 12 and older, according to the Texas Department of State Health Services. Despite outperforming the state in terms of overall vaccination rates, the county is reporting starker disparities across its demographic groups.
Black residents, who make up nearly 9% of the Travis County population, account for only 3.6% of Travis County residents who are fully vaccinated. Black residents make up 12.9% of the Texas population and 7.55% of fully vaccinated Texans.
Latino residents, who make up around one-third of the Travis County population, account for only one-fifth of Travis County residents who are fully vaccinated. The difference is less stark statewide: Latino residents make up 39.7% of the Texas population and 30.94% of fully vaccinated Texans.
Asian residents make up roughly equal shares of the county population and those vaccinated: 7.4% and 8%, respectively. The same is true for white residents, who make up 49% of the county population and 46% of those vaccinated.
Community leaders in the Black and Latino communities have been advocating for more equitable access to vaccines since before the rollout began last December. Austin Public Health has been offering pop-up community vaccine clinics and working with local business partners to make sure the hardest-hit communities can get time off to go get vaccinated.
But still, it's been a lasting issue. "We were 1st to be infected & last to receive equitable access to vaccines," Austin Latino Coalition member Paul Saldaña tweeted Tuesday in reference to the county's disparate vaccine rates. He has criticized Austin Public Health and local elected officials for not doing enough throughout the pandemic to address these inequities.
Similar issues arose during the testing rollout earlier in the pandemic, and Black and Latino residents have been disproportionately likely to be hospitalized with or die from COVID, according to Austin Public Health data.

"At this point in the fight against COVID we are using a very intentional outreach strategy to make sure that our communities of color, who have been hardest hit by this disease, but still have the lowest rates of vaccine uptake, are not only getting equitable access to vaccine … but also we are working in a way that supports and incentivizes them to get vaccine," Austin-Travis County Health Authority Dr. Desmar Walkes said during a press conference last week.

The census occurs every 10 years and determines how trillions of dollars of federal funds are allocated to state and local governments and where district lines are drawn at the local, state and federal levels. "This data is important," Travis County Intergovernmental Relations Officer Julie Wheeler told local elected officials on Tuesday. "It touches every area of our lives."
Although more granular census data won't be available until later this year, the 2020 census is already having an impact on Austinites, from how they will be represented in Congress to confirming its status as a perpetual boomtown.
1. There may have been an undercount. 
Texas gained two congressional seats as a result of population growth tallied during the 2020 census, more than any other state in the country, but the state was widely projected to gain a third.
Along with the pandemic and a lack of state investment in census outreach, the former Trump administration's attempt to add a citizenship question may have contributed to an undercount. "There was a lot of damage done with just that early confusion," Wheeler said.
Regional data will be released in late September, which will provide more insight into where an undercount may have occurred. But there are already indications that a gap occurred. The census tracts with the lowest self-response rate in the city of Austin are mostly concentrated on the East side.
Additionally, nearly 0.9% of Texas addresses remained unresolved—meaning members of those households did not respond to the questionnaire or census takers who followed up in person, according to the U.S. Census Bureau. This is a 71% increase compared to the 2010 census, when 0.52% of Texas addresses remained unresolved.
2. Even a small undercount could have large financial repercussions for Austin.
The city of Austin 2020 population estimate is 995,484. Assuming this is an undercount of 0.9%—which would be at the low-risk end of the spectrum, according to a 2019 report by the Urban Institute—it would leave 9,041 Austin residents uncounted.
For every person uncounted, the community loses $1,500 in annual federal funding, Wheeler said. So this gap would cost the community $135.6 million—in Medicaid funding, Title I school grants and public transit programming—over the next decade.
Although such federal funding has constraints in terms of what it can be used for, such dollars could help offset the costs of programs like:
The $3.85 billion in local funding required over the next 15 years for Project Connect.
The $168 million estimated investment required to fund a new city plan to house 3,000 homeless people in three years.
A $12 million proposal to transform the local early childcare system.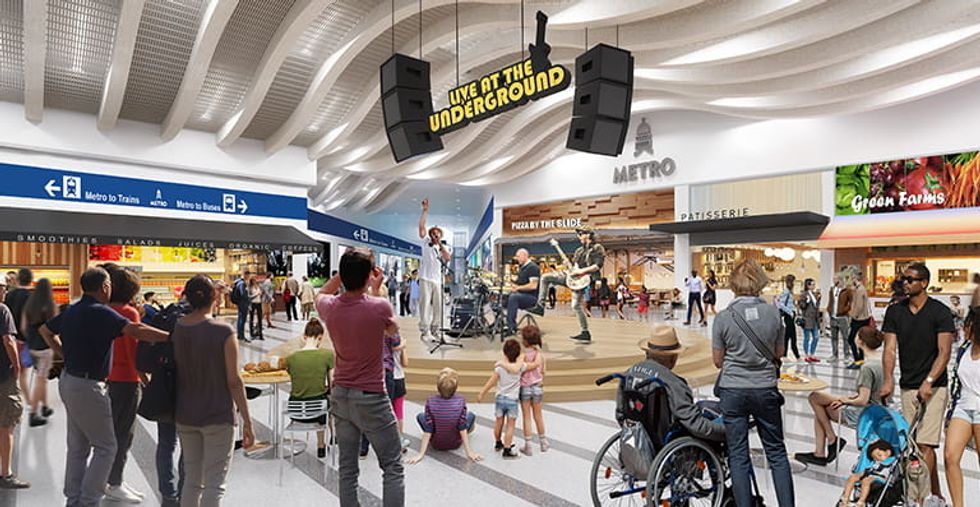 (Capital Metro)
3. Austin's racial and ethnic groups are growing at unequal rates. 
Between 2010 and 2020, the city of Austin's overall population grew by nearly 26%, according to census data. But this growth varied across racial and ethnic groups.
The city's Black or African American population grew at about the same rate between 2010 and 2019, the latest year for which such data is available. The non-Hispanic White and Hispanic or Latino populations grew at slightly lower rates—22.8% and 19.5%, respectively—over the same period. But the city's Asian population skyrocketed, growing by more than 50% over the last decade.
4. Austin outperformed other large Texas cities in counting its population.
Although the state of Texas saw its self-response rate ranking fall to 39th place in 2020 from 25th in 2010, Austin-Travis County improved its performance over the same period. In fact, it was the only large city-county pair in Texas to beat its 2010 self-response rate, City Demographer Lila Valencia said Tuesday. "I'm really optimistic for Travis County and Austin," she said, attributing the improvement to local investment in the counting process.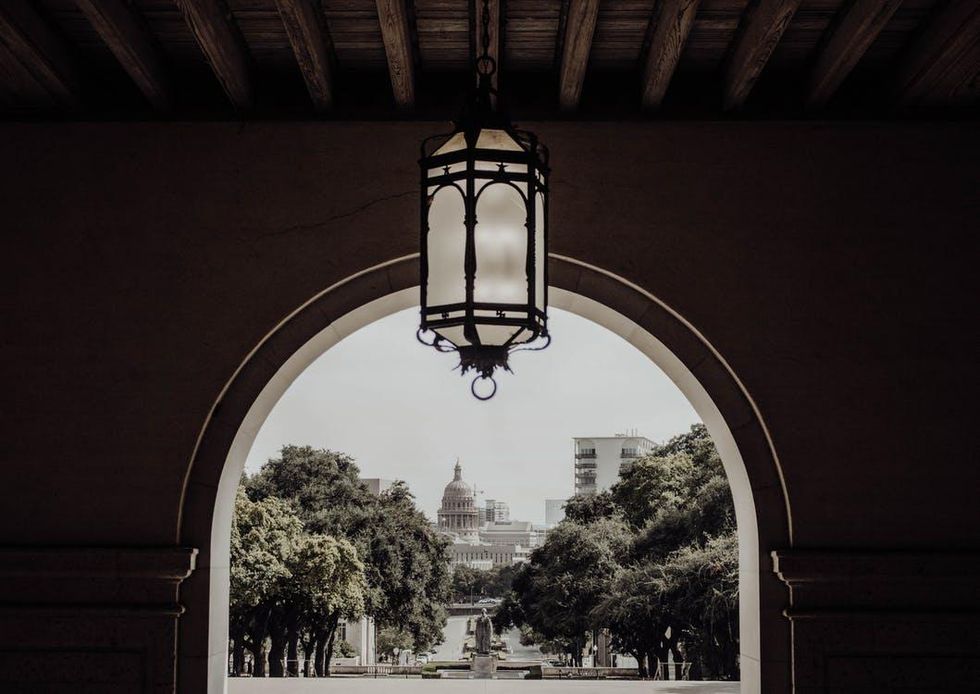 (Pexels)
5. It's not too soon to start thinking about the 2030 census. 
John Lawler, 2020 census program manager for Austin-Travis County, laid out a number of things the city and county could do in the meantime to improve accuracy, including:
Staffing up earlier to improve local outreach efforts
Building on relationships with grassroots community organizations, which proved critical in reaching hard-to-count populations
Jointly funding an organizing entity that improves civic participation overall, and not just during census years
"Frankly, we should start tomorrow planning for the census in 2030," he said.
Austin's big tech offices are starting to open up—to varying degrees.
Over a year of remote work later, some companies found it to be the perfect fit, while others experienced less productive employees. Overheard on Conference Calls, a workplace reviews site, ranked Austin as the third best city for remote work last year based on a variety of factors, including cost of living, average WiFi speed, commute time savings and coffee shops per capita.
Nevertheless, most tech companies are adopting a hybrid model, allowing more remote options than they did pre-pandemic but reinstating in-office minimums at the same time. Here's how six Austin offices are handling the transition. (Oracle declined to comment.)
Amazon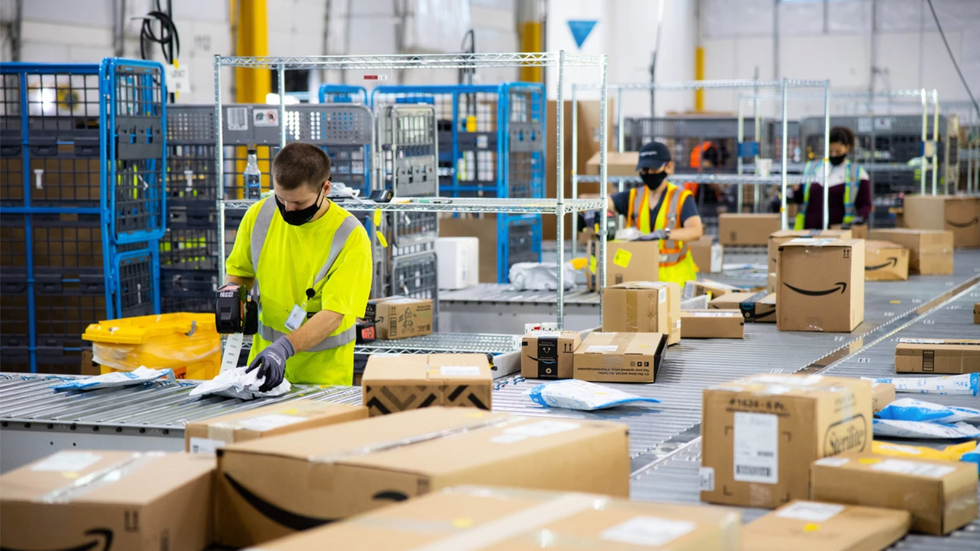 In addition to its corporate office at the Domain, Amazon is also planning to open fulfillment centers in Kyle, San Marcos and Pflugerville. (Amazon)
Office: The Domain
Approximately 1,000 corporate employees
Amazon expects its U.S. office employees will return to the office through the summer, with most back in the office by early fall, according to companywide guidance issued March 30. At that time, about 10% of the company's corporate employees were working from the office full-time.
Apple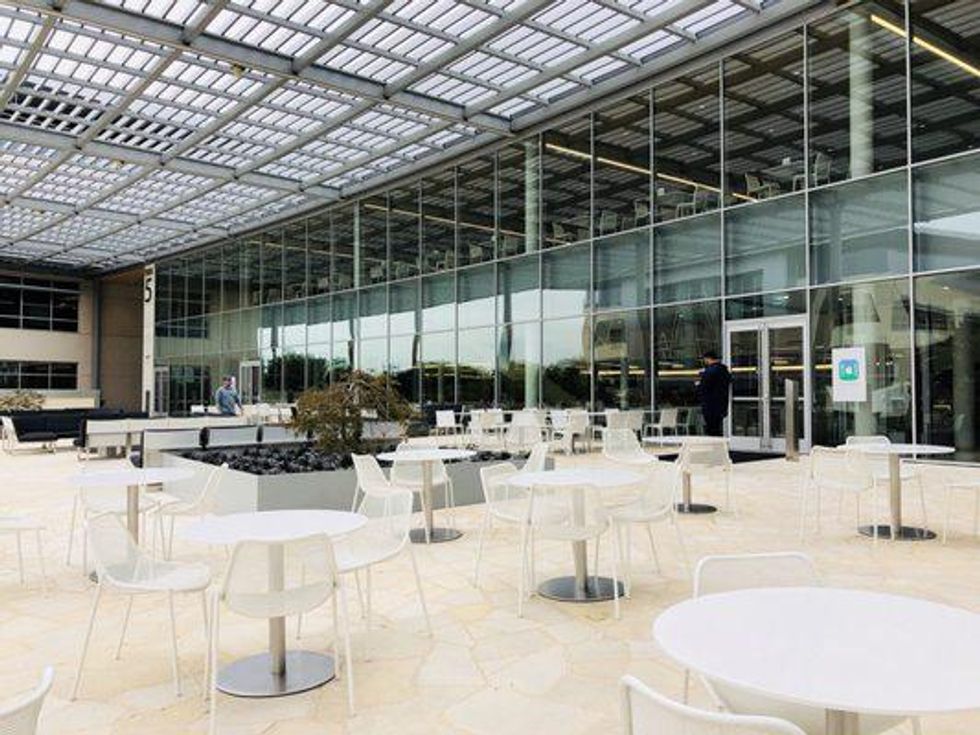 Office: Riata Vista Circle
Approximately 7,000 employees
Apple CEO Tim Cook sent out an email last week informing employees that they will return to the office three days a week starting in early September, according to multiple reports. Employees will be able to work remotely for up to two weeks a year, so long as management approves their requests.
Dell Technologies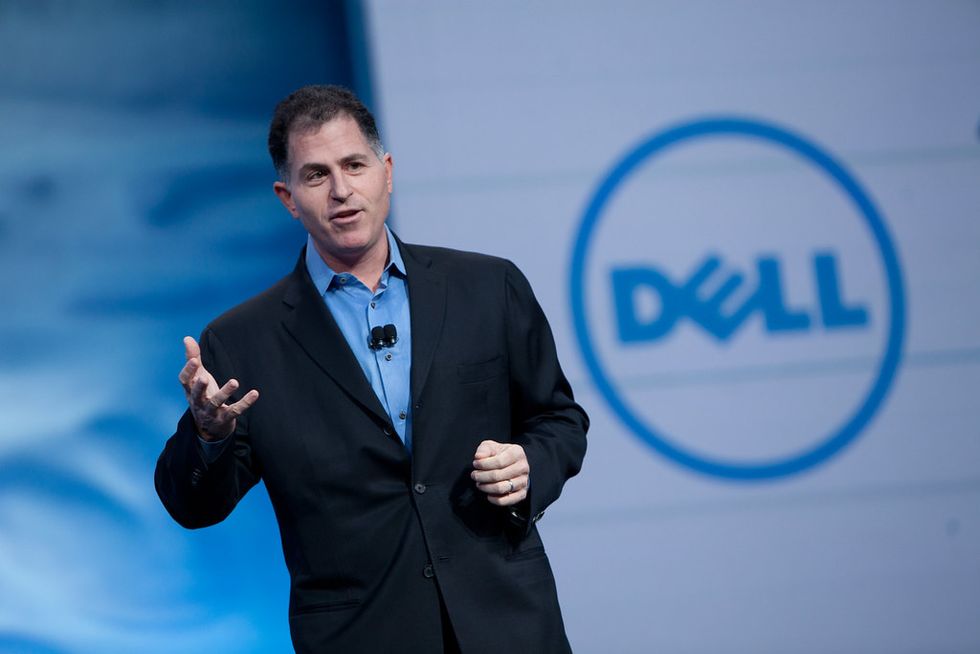 Dell Technologies CEO Michael Dell believes remote working will be the new normal. (Stock photo)
Multiple offices
Approximately 13,000 employees in Central Texas
Most Dell employees continue to work remotely, Senior Vice President Mark Pringe said in a statement to Austonia. Before the pandemic, 65% of the company's employees worked flexibly and 30% worked remotely on any given day. Last March, the company transitioned 90% of its team to remote work, and the majority are still remote today.
Moving forward, the company will continue to encourage flexibility and anticipates a hybrid model will emerge. "If employees can successfully do their job from home, they can work with their manager to make the choice to do so," Pringle said."
CEO and founder Michael Dell told the technology news site CRN in March that "remote working is absolutely here to stay," explaining that a company that offers flexibility will be more attractive to potential hires than one that doesn't.
Facebook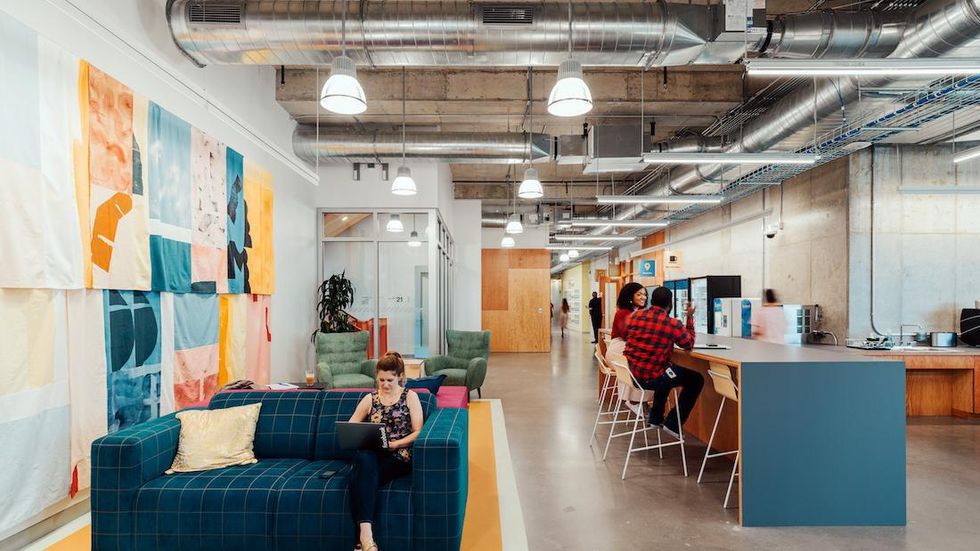 Facebook's downtown office opened at Third + Shoal in September 2019. (Facebook)
Offices: The Domain, Parmer Innovation Center, West Sixth Street
Approximately 1,200 employees
Facebook's Austin employees have not yet returned to local offices, and the company is still developing its return-to-office plan, Head of Local Communications Tracy Clayton wrote in an email to Austonia.
The plan will likely include increased flexibility, with both in-office and remote options. "We believe people and teams will be increasingly distributed in the future, and we're committed to building an experience that helps everyone be successful, no matter where they're working," Clayton said.
Google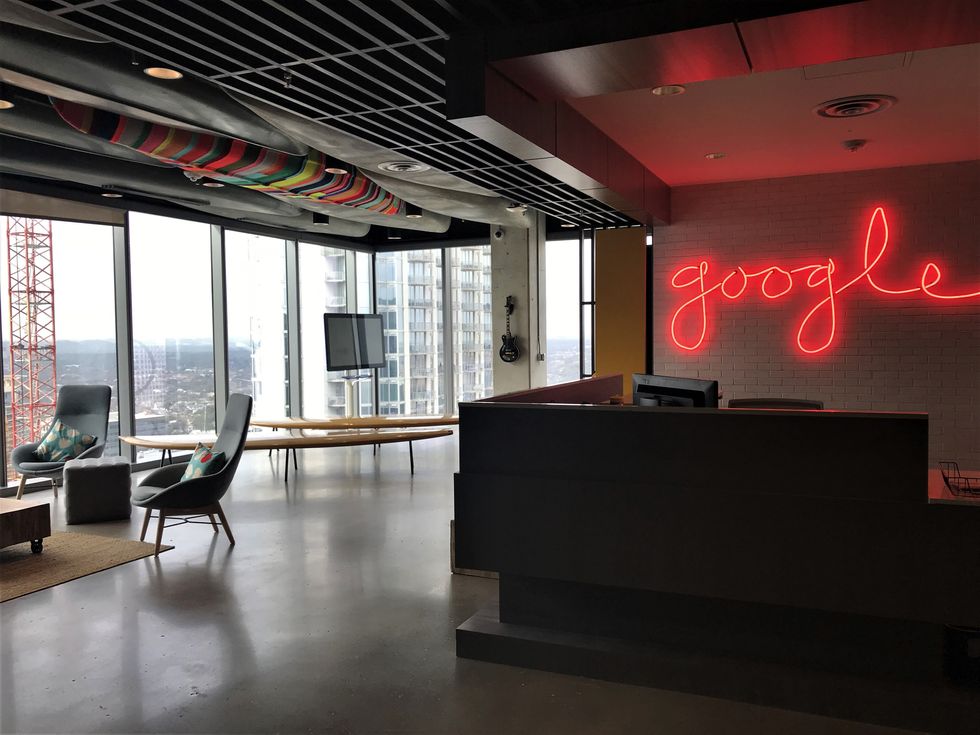 (Shutterstock)
Offices: West Second Street, Saltillo
Approximately 1,100 employees
Google declined to share Austin-specific return-to-office details through a spokesperson but referred to a recent blog post from CEO Sundar Pichai, which lays out a plan for all offices. It includes:

A hybrid work week where most employees spend three days in the office and two where they work best, with in-office time focused on collaboration
Employees will be able to apply to move to another office or to full-time remote work (compensation will reflect the base location)
Pichai "fully expects" the share of employees working remotely to increase in the coming months, according to the post. He estimates 60% will fall into a hybrid schedule, 20% will switch offices and 20% will work remotely.
An internal survey conducted by Google last June found that engineers reported feeling less productive than they did pre-pandemic, according to reports.
IBM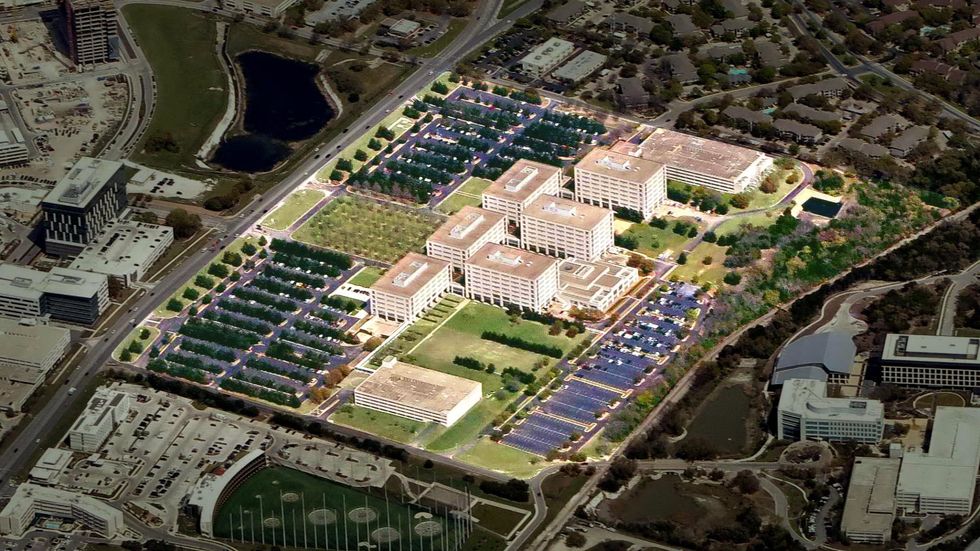 (Brandywine Realty Trust)
Office: Burnet Road
Approximately 6,000 employees
Around 90% of IBM's Austin employees are still working remotely as the company moves toward a hybrid office model similar to its pre-pandemic norm, according to a spokesperson.
CEO Arvind Krishna told Bloomberg in March that he expects 80% of employees to work in a hybrid model post-pandemic, with the remainder staying entirely remote. But he raised concerns about the impact such a split would have on the company's culture. "When people are remote I worry about, 'What's their career trajectory going to be?'" he told the business news site.
Hot Girl Summer, a term popularized by Texas-raised rapper Megan Thee Stallion in the summer of 2019, is back as vaccinated Austinites take to their newfound freedom and return to the dating scene in what is being called Shot or Vaxxed Girl Summer.
For context on the cultural phenomenon of "Hot/Shot/Vaxxed Girl Summer," Megan explains it herself: "It's just basically about women—and men—just being unapologetically them, just having a good-ass time, hyping up your friends, doing you, not giving a damn about what nobody got to say about it," she has said.
That's exactly the energy that Austin will embody as things continue to open up, says 26-year-old North Austinite Aysia Jackson.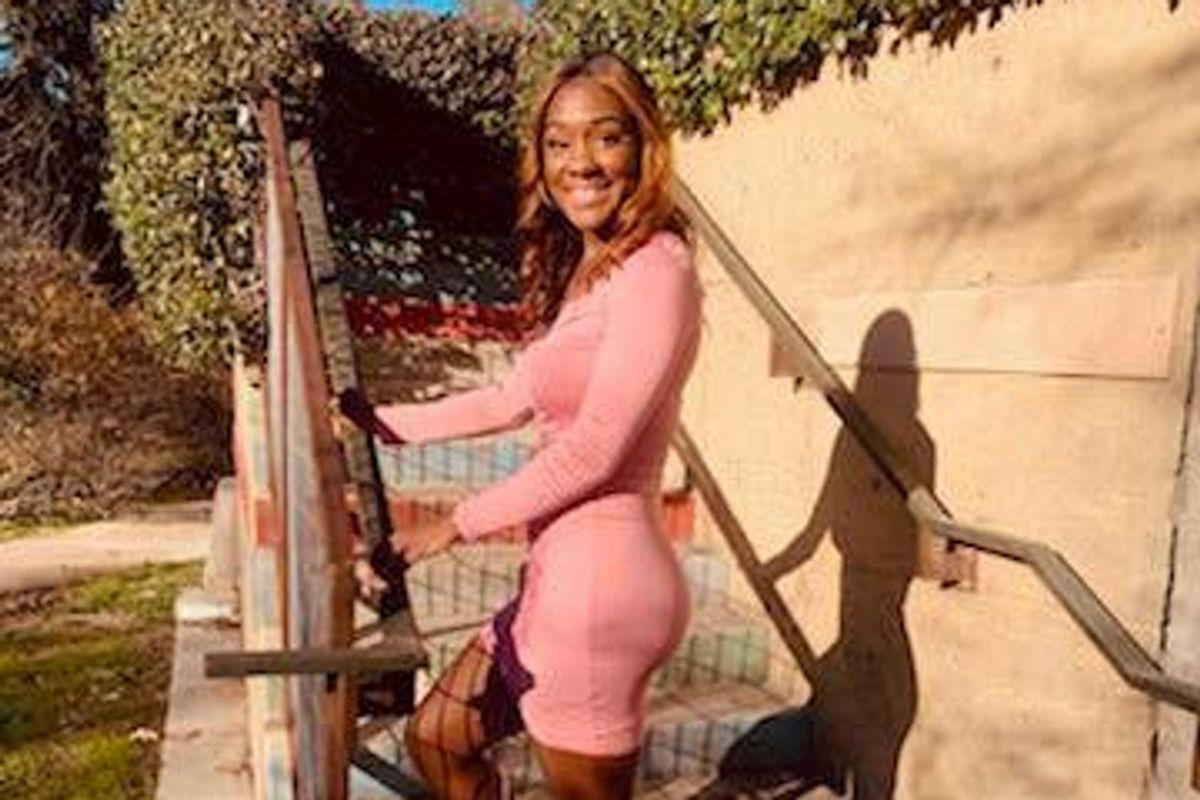 Ayshia Jackson is looking to casually date in-person after trying dating apps. (Ayshia Jackson)
Like many other Austinites with Zoom PTSD, Jackson is eager for more in-person connections instead of online dating. Jackson tried her fair share of dating apps, including Bumble, during the pandemic, but quickly lost interest when she realized they weren't giving her an in-person connection.
"I'm wanting to see something more natural, like if I'm out with the girls or out with some people from work and come across somebody nice," Jackson said. "I want somebody who can match my energy... (so) we'll see where things lead."
Jackson also has to think about her four-year-old son when she's dating. "Being a mom dating is definitely different because I'm not only dating for myself... but also thinking of my son," Jackson said. "Since he is going with his dad for the summer... that opens up a lot of opportunities."
While Jackson is keeping it casual—she's coming off of a not-so-great experience rekindling romance with a college sweetheart— in-person dating is expected to benefit those on the other end of the dating spectrum as well.
Sway, a 32-year-old Faculty Fellow in Nanotechnology at the University of Texas, hasn't had much luck with online dating either after moving from Dallas last year. The social isolation of the pandemic paired with the pressure of his career made it difficult to navigate the minefield of Austin's dating scene, especially when trying to find someone to eventually marry.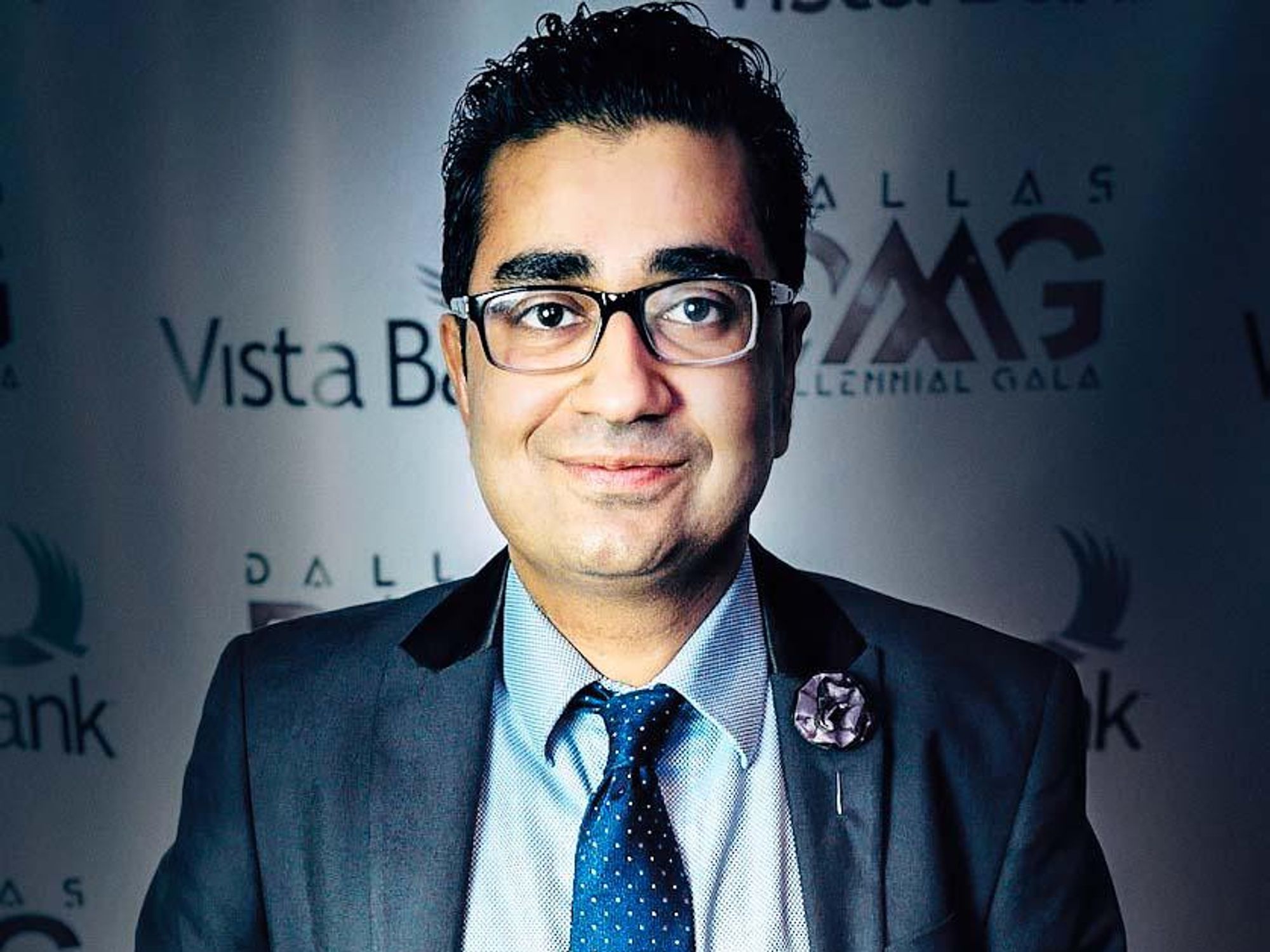 Sway is looking forward to more in-person connections this summer after not-so-great experiences online during the pandemic. (Sway)
"I don't really want to go on useless dates," Sway, who asked his last name not be used, said. "That's not fun anymore. I'd rather focus on quality... where I have this intuitive sense that it might lead to something right."

Sway thought he might have found a solution back in February when he attended an event by Mixmosa, a new Austin-based app that offers seven-minute speed dating rounds located at venues around Austin. The company cites 84% of users who attended an event have given it five stars, which they attribute to Austinites having a "hunger to see people face-to-face."
Although Sway has met many "wonderful women" online dating, he said no resource compares to old-fashioned social interaction.

Like Jackson, he's putting online dating behind him, and he's ready to make new friends and romances alike at events from Austin Anthem watch parties to the city's vibrant art scene.
"Lately I've been trying to do more organic stuff," Sway said. "I've been actually talking to lots of young people and not just exclusively looking for romance. If I meet somebody interesting... we can kind of organically figure out that we might want to go out."
Jackson and Sway may have different goals, but they're both joining the melting pot of Austin dating culture at a time when tickets are selling out everywhere, vaccinated Austinites are peeling off their masks and residents around the city are getting back out there. Let "Shot Girl Summer" begin.