Get connected with our daily update
In May, Circuit of the Americas chairman Bobby Epstein looked back on 10 years of Formula 1's U.S. Grand Prix at COTA confident that the race would be here to stay in Texas. But sources tell Austonia that securing another contract may be in jeopardy.
---
Some insiders worry that COTA's 2021 Grand Prix race might be its last.
The multi-day fest from Oct. 22-24 will include a 56-lap race over the 3.3-mile track, food and musical performances from two acts, including Billy Joel at COTA's 1,500-acre facility in Southeast Austin. But after this year, the U.S.' first F1-specific track could lose its headline event.
The facility's inability to secure a contract thus far comes down to the Texas Legislature, a new threat in Miami, and, most importantly, money.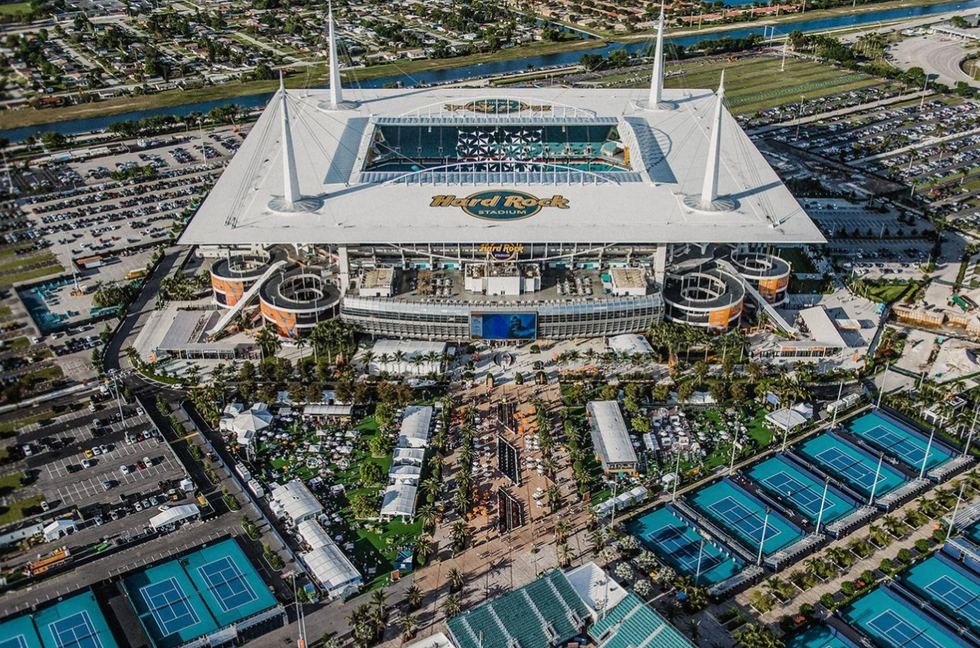 The first F 1 race will take place in Miami next year. (Hard Rock Stadium)
Every year, Formula 1 receives roughly $25 million from Texas' Major Events Reimbursement Program, a taxpayer-funded initiative that helps bring big sporting events like 2017's Houston Super Bowl to the state. A 2019 report by the Reimbursements Program on that year's race said the "data is inconclusive" on if the event has a positive or negative economic impact on the state with the resources given. In 2018, the Austin-American Statesman reported that COTA had brought back a total of $75.7 million between 2015 and 2017 for hosting the U.S. Grand Prix.
Legal issues have also barred Epstein and Co. from securing another 10-year contract earlier: in 2018, the company lost its yearly $25 million bid after failing to submit a human trafficking prevention plan as part of its yearly application.
That same year, F1 managing director of commercial operations Sean Bratches told the Associated Press that the organization hopes to stay at COTA "for many years to come."
However, in May, the racing league announced that it had secured a 10-year contract to hold the Miami Grand Prix as American interest in the sport soared following the three-season "Drive to Survive" documentary, which gives behind-the-scenes looks at drivers and races of the Formula One World Championship.
Epstein is optimistic about the new U.S. location and told Autoweek in May that "more races in our time zones are good for the sport."
"I think we're getting double the impact this way," Epstein said. "Miami should sell out huge the first year and maybe the second year and then after that, I think we'd be spitting audience if we were around the same time on the calendar. So the spread is fantastic."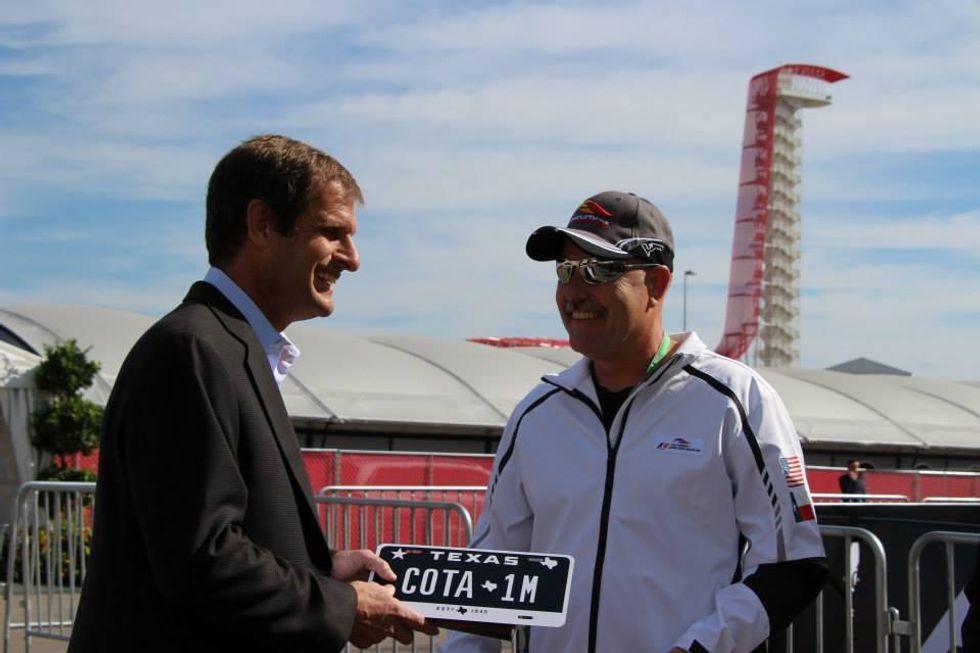 Bobby Epstein recognizes the 1 millionth customer of COTA in 2013. (COTA/Facebook)
The new F1 venture may impact COTA's contract, however: in an opinion piece for the Fort Worth Star-Telegram, writer Mac Engel said Texas is unlikely to fork over taxpayer money if the facility is no longer the only F1 track in the U.S.
According to Engel, the Major Events Reimbursements Program agrees to provide funding only "if Austin holds the only F1 race in the country."
Epstein hasn't addressed such claims; by contrast, he feels as though there's room for a third race in the U.S. as ticket sales rebound after COVID.
"In the first week, we sold pretty much all the tickets we put up for sale and we plan to break the 2019 attendance record," Epstein told Autoweek. "Texas was the first place to lift COVID-19 restrictions (in the U.S.) and put on sporting events, and we're full. We're at 100% capacity.
Despite ventures to diversify revenue at COTA—Epstein's USL soccer team Austin Bold has seen its own share of troubles, and the facility plans to develop into a multi-faceted entertainment arena complete with music venues, a waterpark, condominiums and an 11-story hotel—a loss of its primary event could be devastating for the $300 million complex.
F1 has rarely lasted more than a decade at venues in the U.S. over the last century; let's hope Austin breaks that curse.
COTA's media relations team did not immediately get back to Austonia for comment.
Reverie Books opened just in time.

Sure, the supply chain is out of whack and a global pandemic has been raging for 18 months, but bookstore owner Thaïs Perkins says a queer, feminist and social justice-centered store couldn't have happened without all the changes that the coronavirus pandemic brought and a chance run-in with a used bookstore owner who was ready to retire.
First, a little about Perkins. She's the former executive director of TreeFolks who left that job in 2019 without knowing that a year later, she would be running a pod school for the neighborhood kids. (Her children are 11 and 16.)
"It was Looney Tunes."
This wasn't her first stint as a teacher.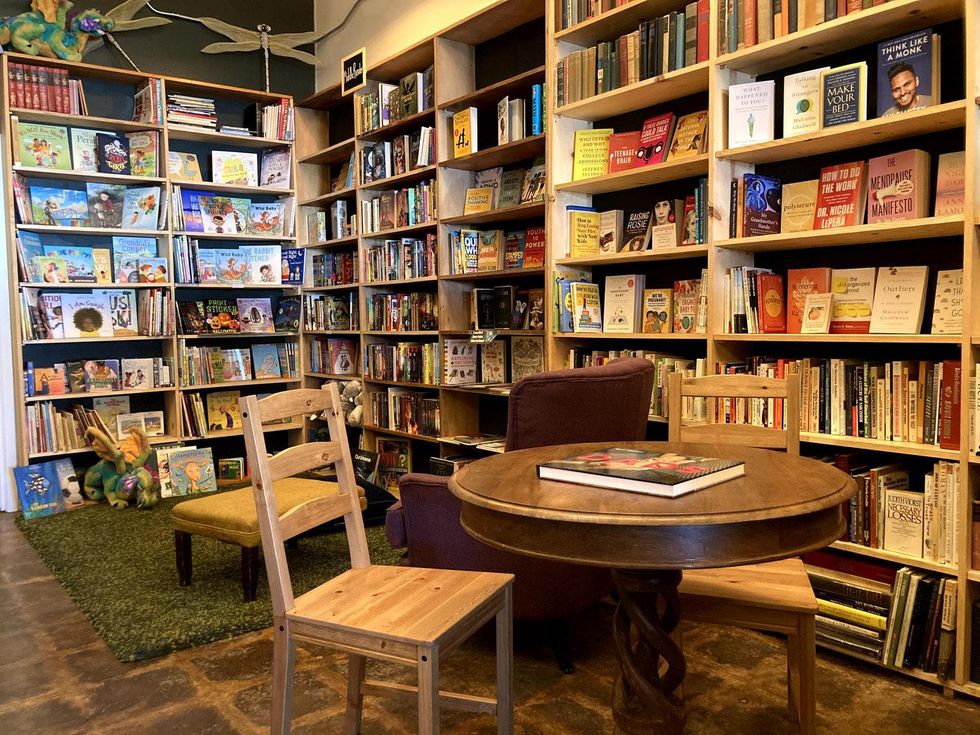 Reverie Books in South Austin has a reading area and a children's area. Owner Thais Perkins says she wants to host indoor events as soon as it's COVID safe. (Addie Broyles)
Perkins has a masters degree in forestry and grew up in the "middle of nowhere Louisiana." By 17, she'd graduated from high school and was living in Oregon, working as a singer-songwriter. "I lived on the road for years and got real broke and sick and tired," she says.
She eventually went back to school and became a university instructor and researcher, focusing first on swamplands and then on watersheds. After working in environmental regulation at a water treatment plant in Austin, Perkins became the executive director of TreeFolks in 2014.
During all these life and career changes, Perkins was making an annual pilgrimage to the Kerrville Folk Festival.
"It is a Mecca for American songwriters," she says. "It was legendary, you know you could just show up. It used to be where you'd show up with your CD, and they'd put you on staff."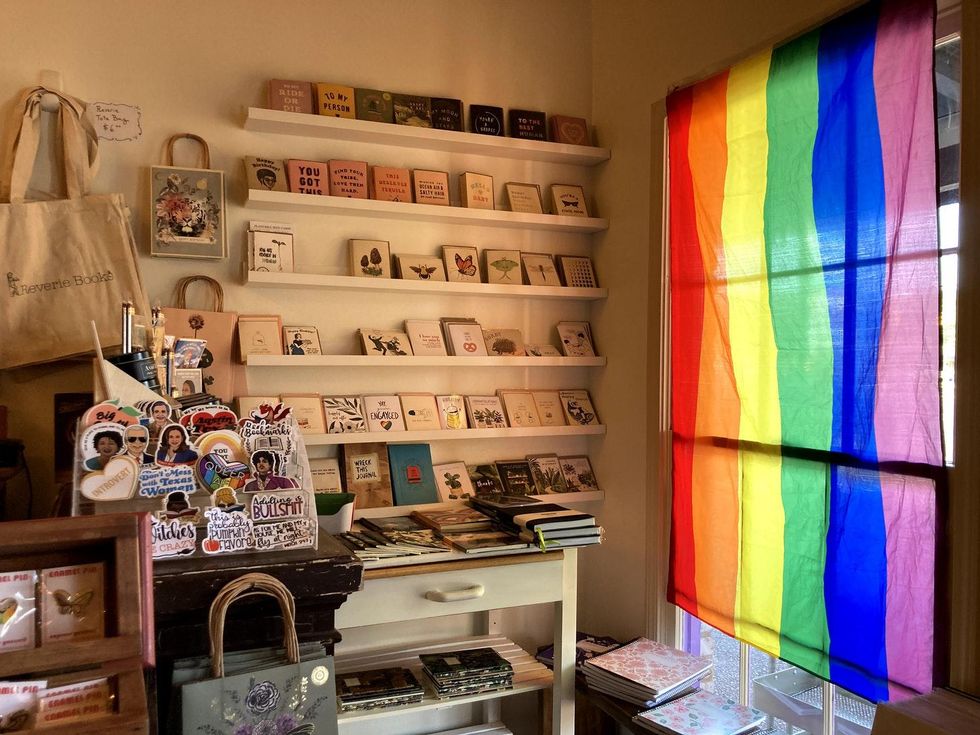 Reverie Books sells a variety of notebooks, notecards, stickers, magnets and other items that aren't books, but most of the store is dedicated to books. (Addie Broyles)
That's where she met David Schunck, a Vietnam war vet turned "peace-loving hippie" who ran Good Buy Books for decades. "He wanted to retire, but he didn't fully want to let go, and I was looking for my next gig," she says.
Why a bookstore?
"I have always loved bookstores as community places, places of healing. When I grew up as a troubled teen in Louisiana, bookstores are where I would go to feel solace and to explore what it meant to be me. I'd find the feminist bookstores with Ms. magazine on the shelf, it was a place where I could kind of hide out."
A 70-year-old Vietnam vet and a 40-something lesbian, it turns out they have quite a lot to say to each other. They are both songwriters who see books as a way of building community. Schunck still has some shelves of used books in the back of the store, and the rest of the shelves are filled with contemporary and classic books, zines and non-traditional titles, puzzles, a few well-curated toys, notecards, magnets and other gifts.
Reverie means "a state of being pleasantly lost in one's thoughts; a daydream."
"That was my dream for this: I wanted something for everybody, but I especially wanted kids who felt marginalized and not represented to be able to come in and feel like they have a place. And it's working."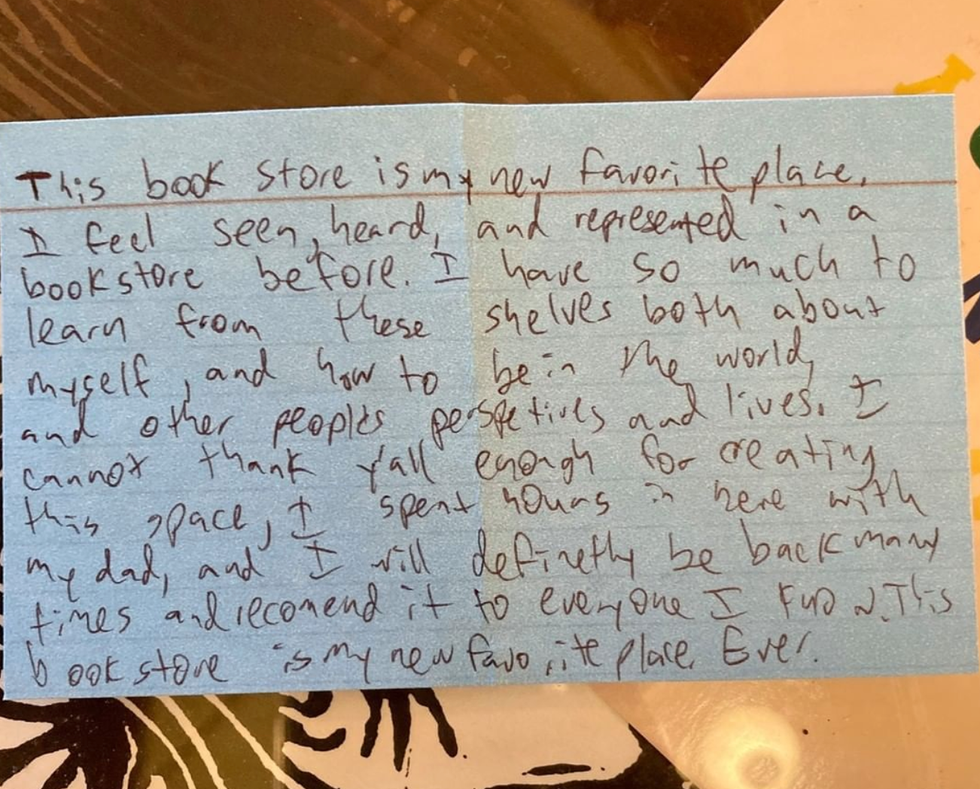 A customer left this note in Perkins' suggestion box. (Addie Broyles)
Perkins reaches over to the wall by her computer to peel off a handwritten note on a blue notecard. "This bookstore is my new favorite place. I feel seen, heard and represented," the patron wrote.
She keeps this reminder by her desk so she can remember why she opened the store in the first place.
"You know, this is risky. It's not nothing," she says. "I've had a lot of professional positions and made decent money for my family, but this isn't that and it may never be that. My wife is the breadwinner, and I'm not used to being someone who doesn't."
Perkins points out the connection between starting a bookstore and spending all those years on the road as a singer-songwriter. "There's always a balance between how much of what I want to achieve in the world and how much I want to sacrifice for a salary versus what I want to get out of this life."
She says the whole family has been on board with the project, especially now that the sense of community is building.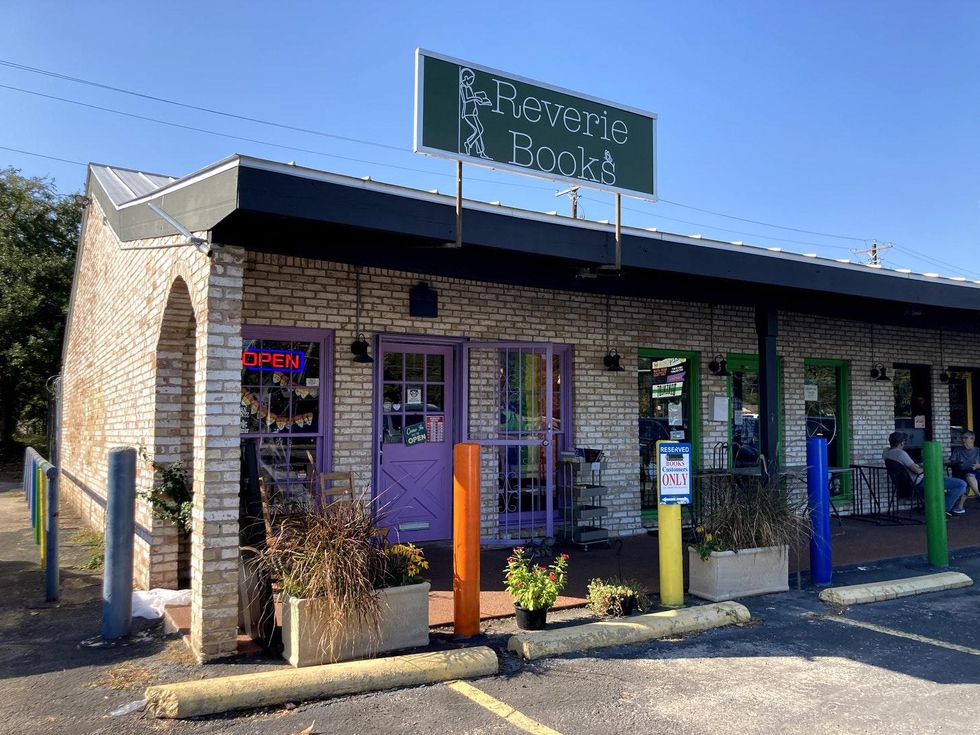 Reverie Books is at 5330 Menchaca Road in South Austin. (Addie Broyles)
Having just come from the non-profit world, Perkins is constantly thinking about giving back to the community. She makes donations to non-profits, including Planned Parenthood and the Gay Straight Alliance at the nearby Crockett High School. "It's hard to sustain but it's an important part of what we're doing."
In her little corner of the parking lot in front, she's hosting some outdoor events that will eventually move indoors once COVID-19 subsides, where the rolling bookshelves can make way for chairs. Her neighbors at Captain Quackenbush's Coffeehouse next door have brought her pie, and Austin author Lauren Hough is hosting a presentation there on Friday night.
Customers can also rent out the space for a private shopping session or a date night, including cheese, wine and charcuterie.
Perkins says that hers is one of many indie bookstores that have opened during the pandemic, which from a commercial perspective seems counter-intuitive.
But when thinking from the point of view of what's best for the community, it's exactly what we needed.
Addie Broyles is a longtime food writer, who wrote for the Austin American-Statesman for 13 years. This piece was published in her weekly newsletter, "The Feminist Kitchen," where she shares stories about parenthood, grief, ancestry, self-healing and creativity. Check it out here.
More from Addie Broyles: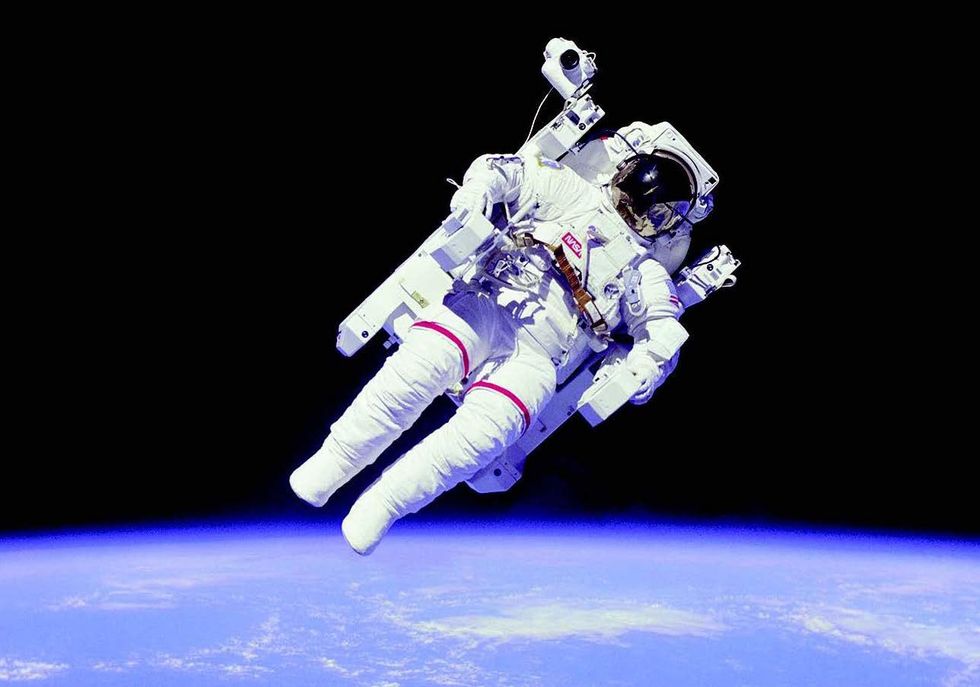 New book by the son of an astronaut in Austin chronicles the first untethered spacewalk
Shalom Austin and city leaders have vocalized concerns after an anti-Semitic banner reading "Vax the Jews" was placed over Mopac Saturday afternoon.
The sign, which is believed to be the work of Jon Minadeo II of the neo-nazi group labeled the "Goyim Defense League," was flanked by a small group of protestors above the Far West overpass in Central Austin. The display was located near Shalom Austin, a community center that says it is a "hub for Jewish life in Central Texas."
"We understand this is extremely upsetting and unsettling," Shalom Austin said in a letter Saturday. "We are always vigilant in monitoring anti-Semitic groups and work closely with law enforcement to share information about their activities."
Austin police officers were made aware of the sign and reported to the scene Saturday afternoon. The department came under fire after photos circulated of an APD officer fist-bumping a protester. Austin Police Chief Joseph Chacon released a statement that the photos were taken out of context and that the officer got a protester to comply with his requests to ensure the scene remained safe. The protester then requested a handshake to which the officer opted for a fist bump citing COVID-19 safety protocols.
"After enduring a barrage of hate speech and personal insults being hurled at them, officers who responded to the scene calmly and professionally carried out their duty to keep drivers on MoPac, bystanders and protesters safe while ensuring that the incident did not escalate and no laws were being broken."
The sign is not believed to be connected to racist and Anti-Semitic vandalism that was painted on student parking spaces at Anderson High School, according to the group.
Shalom Austin said that the "Goyim Defense League" appears to have plans for more activities in the area in the coming days. The neo-nazi group is known for conducting anti-Semitic protests, harassing Jewish organizations and spreading anti-Semitic propaganda on social media. In 2019, the group dressed as Hasidic Jews and said "they were 'sorry' that Jews lied about the Holocaust and were responsible for the 9/11 terrorist attacks," according to The Jerusalem Post. They have been linked to similar signs above overpasses in California, Colorado and Florida.
City leaders, including Chacon, Mayor Steve Adler and City Council members Greg Casar and Alison Alter spoke out about the attacks.
"Let's be clear. Hate and bigotry have absolutely no place in our community and certainly are not welcome in our police department," Chacon said. "Views shared by demonstrators during a protest action over the weekend were abhorrent and do not reflect our values."
"I am heartbroken to see antisemitic hatred in Austin, a welcoming and respectful place. Hatred of any kind has no place in our city. If you see or hear it, you should report it to ADL," Adler said on Twitter.
I am heartbroken to see antisemitic hatred in Austin, a welcoming and respectful place. Hatred of any kind has no place in our city. If you see or hear it, you should report it to @ADL at https://t.co/baFmvEIpjD
— Mayor Adler | Get vaccinated! (@MayorAdler) October 24, 2021
Shalom Austin said that the Austin Police Department will continue to monitor the situation and advise those who may see the group to not interact with protestors.
Austin FC defeated its fellow Texas MLS team, Houston Dynamo FC, 2-1 on Sunday afternoon at Q2 Stadium, marking the club's eighth win of its inaugural season.
It was an unusual match from a scoring perspective, more own goals—when the opposing team inadvertently scores on their own net—were scored than honest ones.
The Verde and Black came out of the gates strong in the first half, dictating the possession and pace from the outset. Austin FC drew two fouls, was awarded two corner kicks and got off three shots all in the first five minutes of action. Austin was rewarded for its effort with a penalty in the sixth minute.

Austin midfielder Cecilio Domínguez drew the penalty by driving up the left wing before being tackled from behind by Houston defender Zarek Valentin just inside the area. It was then Domínguez who stepped up to take the shot. Taking aim with his right foot, the shot bounced off the left post, then the right before bouncing off goalkeeper Marko Maric of the Dynamo and into the goal. Maric was credited with an own goal and Austin found itself ahead 1-0 early on.
Well...you don't see that very often. #VERDE https://t.co/JwBNVKqCxD

— Major League Soccer (@Major League Soccer) 1635111133.0
Following the defensive mistake, the Dynamo played with a heightened sense of urgency for the remainder of the half.
And just as the action seemed to be winding down before halftime, Austin launched one last-ditch attack in the final minute of stoppage time. Team captain Alex Ring got the ball in a dangerous position just outside of the box and after dodging several Houston defenders, got the ball to the open Sebastián Driussi. Driussi fired off a right-footed shot into the bottom left corner to take Austin FC up 2-0 going into the break.
Besides a two-goal advantage for Austin, the stats were fairly even in the first half. Both teams committed six fouls and had a player booked for a yellow card. Houston had a slight advantage shooting the ball, getting off eight shots and three on target while Austin had seven shots and two on target.
Austin once again came out quick to start the second half, getting off two shots in the first minute followed by two more in the 53rd minute. All were handled by the Dynamo defense.
As the final whistle neared, the Dynamo ramped up its aggression in an attempt to squeak by with a draw. Just as it seemed that Austin FC would walk away with the clean sheet, defender Julio Cascante sent the ball into his own net after it was cleared by his teammate and ricocheted off of his body.
Now only trailing 2-1, Houston tried desperately to even the score and was awarded two corners in the final minute of stoppage. Alas, the Dynamo could not get off a shot and Austin FC walked away with the win.
With the win, Austin now holds a 2-1 all-time record against the neighboring Houston. Austin remains at the bottom of the Western Conference in 13th place with a record of 8-19-4 while Houston is in 11th place.
Austin FC's next match will be away against FC Dallas on Oct. 30. Dallas FC joins them at the bottom in 12th place.
Enjoying Austonia? Signup for our newsletter to get daily Austin news, straight to your morning inbox!