Get connected with our daily update
Austin public health officials expressed concern about the death of COVID-19 vaccines seven weeks into the national rollout. They also confirmed a slight downturn in the number of confirmed COVID cases and related hospital admissions following the massive surge that emerged around the holiday season.
---
A vaccine update
Since being designated a hub provider for Travis County earlier this month, Austin Public Health has received three weekly allotments of 12,000 doses. Local public health officials said Tuesday that they expect to receive another 12,000 doses next week as well. However, APH Director Stephanie Hayden-Howard continued to ask residents to manage their expectations, adding that the department wouldn't know for sure what their next shipment will be until later this week.
If APH receives additional doses, they will administer them Wednesday through Sunday of next week, continuing to prioritize frontline workers and residents 65 years of age and older.
At this stage of the rollout, vaccine supply remains extremely limited, with only 2% of the Travis County population receiving shots, Hayden-Howard said. This is far cry from the 70% to 75% threshold needed to achieve herd immunity.
Of the 333,650 vaccines allocated by the state last week, Travis County received 4.4%. Travis County has administered 65,050 of the vaccine so far, according the State Health Department.
Although these numbers may be proportional to the doses received elsewhere in the state, Texas remains at the end of the line when receiving the doses. Anaylis last week found that Texas was close to last in how many vaccines it was getting per capita.
Travis County officials said they are doing what they can to get the most people vaccinated as soon as possible, despite this shortage. APH is working with outside consultants to find areas for mass vaccinations, including drive-through options and implementing at-home vaccines for seniors, for whom APH is putting together a call center, Hayden-Howard said.
COVID on the decline
Despite the significant challenges with vaccine availability, there is some good news.
The daily average numbers of confirmed COVID cases and related hospital admissions are both on the decline after flattening last week. The average number of cases confirmed each day is 577, down from 680 last week, and the average number of related hospital admissions each day is 81, down from 87.8 last week.
"All the measures this week showed significant improvements in our COVID-19 situation in Travis County," Austin-Travis County Interim Health Authority Dr. Mark Escott said.
Travis County remains squarely in Stage 5, the highest according to APH's risk-based guidelines, but for the first time since late December the trend line is clearly moving down from the peak.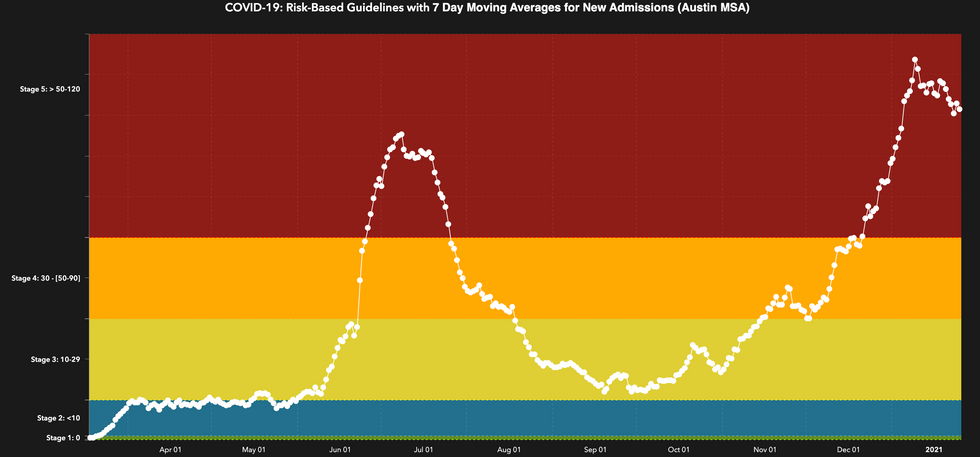 City of Austin
Another positive sign arrived yesterday from hospitals in Trauma Service O, an 11-county region that includes the Austin area, Escott said. COVID patients now account for fewer than 15% of hospitalizations in the area, which is the threshold the state has set as an indicator of surge. TSA O now has a lower rate of COVID hospitalizations than the trauma services areas for every other major metro city in Texas. Those that include Houston, El Paso, Dallas-Forth Worth and San Antonio are all reporting that at least 18% of their hospitalizations are due to COVID.
Dr. Mark Escott attributed the long-awaited dip to people in Austin changing their behavior.
"We've got to continue that effort, we've got to push it down further," he said. "But we are doing an excellent job and, and I'm proud of this community for the work."
Expect some whiplash this week, Austinites: with an expected high of 103 degrees, Monday is predicted to be the hottest day of the year, but a midweek cold front is on the way to bring that first glimpse of fall.
Austin-Bergstrom International Airport could see its first 100-degree temperature this year on Monday as temperatures citywide are expected to exceed this year's record of 102 degrees.
After a typical summery Tuesday with highs in the mid-90s, Wednesday will welcome the first signs of fall as a cold front drops lows into the 50s.
Expect more wind and a chance of rain come Tuesday with a 40% chance of scattered storms. The cold front, which should last through Friday, will bring drier, crisper air that could cause fire hazards on Wednesday.
Highs will be in the upper 80s and lows in the 50s and lower 60s for the front's final two mornings.
Around 75 dogs died in a fire Saturday night at Ponderosa Pet Resort in Georgetown, according to the Georgetown Fire Department, leaving dozens of owners to mourn the losses of their furry companions.
The fire department arrived on the scene less than five minutes after 911 calls started flooding in at 10:56 p.m. At their arrival, they found flames and clouds of smoke, according to GFD Chief John Sullivan.
Twenty-five firefighters were on the scene, hoping to save as many lives as possible, initially trying to open some ventilation and control the smoke, though they were unable to save any dogs. Sullivan said his heart goes out to the families of the victims of the fire.
"I've been doing this for 29 years and this is the first incident that I've had where we've lost so many pets," Sullivan said. "I hate to use that term because, to me, a pet is a lot more than a pet—it is the closest friend. I wish I could convey my internal emotions adequately. I just wish I could go back in time to make it better."
Families of the fallen pets, who are believed to have died from smoke inhalation, have created a memorial outside the pet resort's fence complete with flowers, photos, notes and beloved toys of their friends.
No people were discovered at the scene—Ponderosa's boarding policies state that the staff feels that pets sleep better at night when no employees are there, so the pets are left unattended at night.
The fire department is still working to discover what caused the fire. Despite fire and smoke damage to the inside, the outer metal exterior survived the blaze. Based on the type of construction and occupancy type, the building was not required to have a sprinkler system.
"Quite frankly, I view my personal pet as probably my closest confidant, friend and the one that doesn't judge, so my heart just breaks," Sullivan said.
The fire claimed the lives of dog duo Bunny and Clyde, leaving owners and newlywed couple Don and Pam Richard devastated and angry KXAN reports, saying they wouldn't have left the dogs had they known they would be left unattended at night.
The Richard family is planning to petition the city of Georgetown, making it so that animals in professional care are never left unattended again.
After months of speculation, a new report says political personality Beto O'Rourke is mulling a run for Texas governor that he will announce later this year.
Sources tell Axios the former congressman is preparing his campaign for the 2022 election, where he will likely vie for the position against incumbent Gov. Greg Abbott. The only other candidate that has announced he will take on Abbott for governor is former Texas GOP Chairman Allen West—no Democrats have announced they are running as of yet.
"No decision has been made," Axios reports David Wysong, O'Rourke's former House chief of staff and a longtime adviser, said. "He has been making and receiving calls with people from all over the state."
A new poll from The Dallas Morning News and University of Texas at Tyler shows O'Rourke is narrowing the gap between himself and Abbott's prospects for governor. In the poll, 37% said they'd vote for O'Rourke over Abbott, while 42% said they'd vote for Abbott.
Abbott has been in the hot seat due to his handling of COVID-19 and the signing of landmark legislation into law, including new abortion and voting rights laws; 54% of poll respondents voted they think the state is headed in the "wrong direction." Still, Texas hasn't had a Democrat as governor since the 90s.
O'Rourke's people-focused approach to the 2018 Senator race, which he lost to Sen. Ted Cruz, gave him a widespread following and many hoped he'd throw his hat into the ring since he said he was considering it earlier this year.
"We hope that he's going to run," Gilberto Hinojosa, the state chair of the Democratic Party, told Axios. "We think he'll be our strongest candidate. We think he can beat Abbott because he's vulnerable."