Never miss a story
Sign up for our free daily morning email...
...and afternoon text update
Get connected with our daily update
(Austin Public Health)
Fourth-generation East Austinite and community advocate Paul Saldaña is frustrated.
He has heard from many Latino residents that they are washing disposable face masks and bathing in their backyards to avoid exposing their family members to COVID-19, which they fear exposure to while working essential jobs.
As a member of Austin Latino Coalition, Saldaña has lobbied city officials to respond, but he feels there is still more they could be doing.
"At times, I feel like I live in a third-world country," he told Austonia.
---
Same storm, different boats
While Austin has seen its mid-summer surge deflate, the Latino community continues to be disproportionately impacted by the pandemic.
Latino residents, who make up 34% of the Travis County population, account for 52% of cases, nearly 60% of hospitalizations and 50% of deaths, according to Austin Public Health data. At one point, in late May, seven out of 10 hospital patients with COVID were Latino. The positivity rate among Latino residents who were tested last week is nearly 15%, compared to around 9% for the overall population.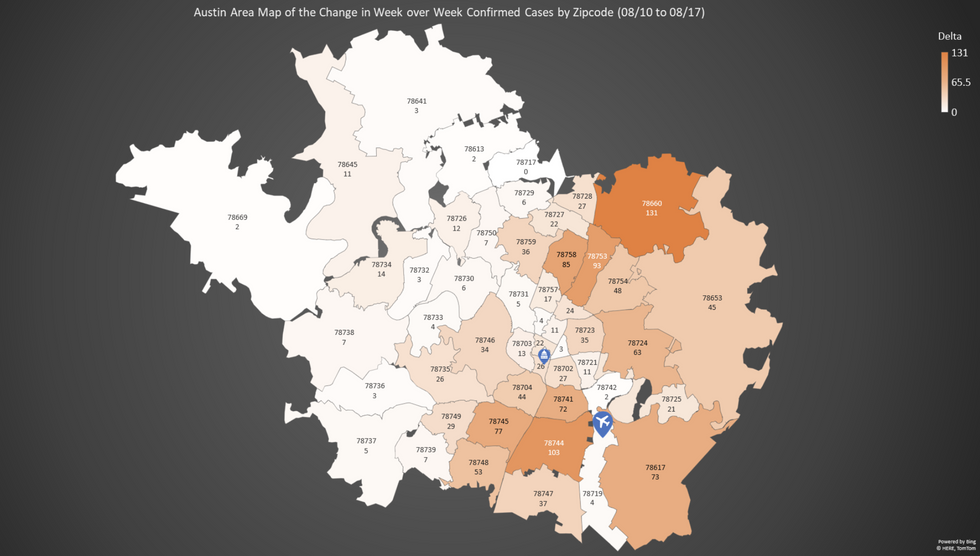 Austin's confirmed COVID cases are more concentrated on its east side, with the highest number of cases in the 78744 ZIP code, where a majority of residents are Latino.
These disparities are not unique to Austin. But while the outcomes for Black residents have improved in recent weeks, the city has had little success closing the gap for Latino residents, who make up more than a third of its population.
"It's hard for us to correct decades of disparities that these communities [of color] have faced," Austin-Travis County Interim Health Authority Dr. Mark Escott said on Wednesday.
Many reasons
There are a number of reasons Latino residents are more at risk of contracting COVID—and suffering worse outcomes—said Dr. Rene Salazar, assistant dean for diversity and a professor of medical education at Dell Medical School.
They are more likely to lack access to care, whether because they are uninsured or cannot afford monthly premiums and copayments; be undocumented and avoid seeking out care for fear of legal consequnces; face language and other cultural barriers that make getting care more difficult and less satisfying; and live in multigeneration households.
"Coming through the door, you're not able to social distance potentially," CommUnity Care CEO Jaeson Fournier told Austin Mayor Steve Adler during a Facebook live on Thursday. "And then there's a higher rate of transmission that occurs."
Latino residents are also overrepresented among essential workers, Salazar said, and undocumented residents do not qualify for stimulus funds or unemployment benefits, which further tilt the playing field.
"They really don't have an option [not to work]," he said. "It becomes a question of survival."
Other communities of color also struggle with historical and present inequities. But while Black Austinitess faced worse outcomes earlier in the pandemic, recently their share of the confirmed caseload and the hospitalized population has fallen. Disparities among Latino patients, however, remain.
"The biggest differences between the two communities are around language and immigration status," Salazar said.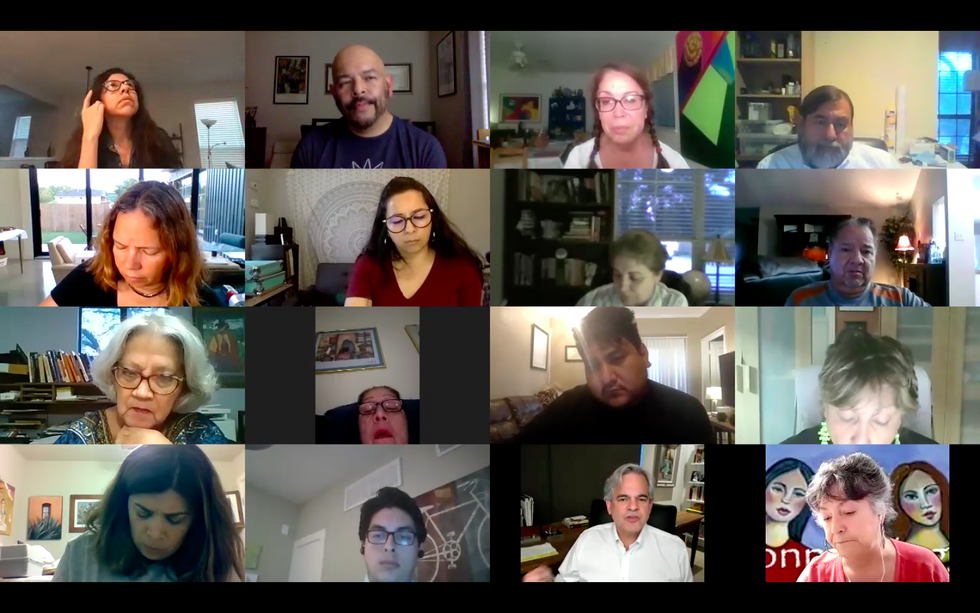 Paul Saldaña—top row, second from left—and other members of the Austin Latino Coalition have met virtually with city leaders, including Mayor Steve Adler, to discuss how to address COVID-19 outcome disparities.
(Paul Saldaña)
What is being done
To address these disparities, the city has made funding available for rental assistance and other basic needs, introduced bilingual media briefings in June, hosted mobile testing events in hard-hit communities and convened a volunteer task force.

But Saldaña, who is a member of the task force, feels this is not enough, especially six months into the pandemic.
To address the disparities in COVID outcomes for Latino patients, he said the city needs to expand access to testing, so that residents without email addresses are still able to register for a free appointment and those who are unable to take time off work during the day are not shut out. Other priorities include increasing distribution of masks and financial assistance for those communities that are hardest hit.
"This is not just a Latino issue," Saldaña said. "When you buy your groceries, who's checking you out? Who's putting the produce [out] and who's restocking all the shelves? It's probably someone from our community, because we're overrepresented [among essential workers]. So you should be concerned."
Want to read more stories like this one? Start every day with a quick look at what's happening in Austin. Sign up for Austonia.com's free daily morning email.
(Never Settle Media/Shutterstock)
Beloved movie chain, Alamo Drafthouse Cinema has filed for bankruptcy after a tough year for the film industry as theaters remained closed for months.
The filing comes as an asset purchase agreement with Altamon Capitol Partners and Fortress Investment Group, which is the financial backer of Gannett, the parent company of the Austin American Statesman.
The theater has said that operations will remain normal, however, some locations are closing down including Austin's Ritz location in Downtown.
(AUSTIN, TEXAS) Austonia has hired Claire Partain as a reporter covering Austin FC, the MLS expansion team that will be Austin's first major league sports franchise.
Partain is a former sports editor for the The University Star, Texas State University's daily newspaper. She edited, covered sports, produced podcasts, and hosted a pre-game TXST football tailgate live series. Partain has been freelancing with the company since January, prior to accepting a staff position.
A native of Fairfield, Texas, Partain grew up playing youth soccer. In her high school years, she played alongside her mother in what was then called the Freestone County Hispanic Women's Soccer League.
Claire's coverage philosophy: "I like to bring out the humanity of sports, and I want to make this the most accessible sports coverage possible."
She notes that soccer is the predominant sport for young people. "It's a global sport, and we're more connected to the world than older generations."
That approach fits the team's already visible presence in Austin, says Austonia CEO Mark Dewey. "Austin FC has established itself as a leading Austin brand, one that stands for a more unified Austin community, a bigger global presence for Austin and fun. Austonia shares those values."
Partain's soccer coverage begins immediately, with her free, hosted text service—Austonia FC. For updates, special access and inside info, all moderated by Claire, sign up below.
Austonia is the city's independent, free, locally-owned and all-digital source for Austin news, information and entertainment.

Connect with Austonia through its daily email newsletter and text updates, @austonianews Instagram feed, @austonianews and @austinist Twitter feeds, @austonianews Facebook page and its website austonia.com.
Two days shy of the one-year anniversary of Texas' first confirmed case of COVID-19, Gov. Greg Abbott announced Tuesday that he will rescind statewide pandemic restrictions, including business capacity limits and mask mandates, next week. Although businesses—especially those tied to the hospitality industry—have suffered financially over the last year, many Austin establishments are rejecting Abbott's order.
<p>Red River music venue Mohawk tweeted shortly after Abbott's announcement, racking up hundreds of likes and retweets.</p><div class="rm-embed embed-media"><blockquote class="twitter-tweet">Thanks bro but we ain't gonna do it till it's safe<br/>— Mohawk Austin (@mohawkaustin) <a href="https://twitter.com/mohawkaustin/status/1366851834078515202?ref_src=twsrc%5Etfw">March 2, 2021</a></blockquote> <script async="" charset="utf-8" src="https://platform.twitter.com/widgets.js"></script></div><p>North Austin brewery 4th Tap Brewing Coop "will continue to operate at a limited capacity for the time being with social distancing measures in place," according to a recent tweet. "And as part of our dress code, we will require that you continue to wear a mask while not seated. Our staff will continue wearing masks as well."</p><div class="rm-embed embed-media"><blockquote class="twitter-tweet">In light of today's announcement ⬇️ <a href="https://t.co/9uiErF3Wm7">pic.twitter.com/9uiErF3Wm7</a><br/>— 4th Tap Brewing Coop (@4thtap) <a href="https://twitter.com/4thtap/status/1366852623551365120?ref_src=twsrc%5Etfw">March 2, 2021</a></blockquote> <script async="" charset="utf-8" src="https://platform.twitter.com/widgets.js"></script></div><p>East Austin's Yellow Jacket Social Club posted on Instagram, saying it will continue to enforce masking for all patrons and staff. The bar also quoted Abbott, who said "businesses don't need the state to tell them how to operate" as part of his announcement.</p><div class="rm-embed embed-media"><blockquote class="instagram-media" data-instgrm-captioned="" data-instgrm-permalink="https://www.instagram.com/p/CL7jbsVFHMC/?utm_source=ig_embed&amp;utm_campaign=loading" data-instgrm-version="13" style=" background:#FFF; border:0; border-radius:3px; box-shadow:0 0 1px 0 rgba(0,0,0,0.5),0 1px 10px 0 rgba(0,0,0,0.15); margin: 1px; max-width:540px; min-width:326px; padding:0; width:99.375%; width:-webkit-calc(100% - 2px); width:calc(100% - 2px);"><div style="padding:16px;"> <a href="https://www.instagram.com/p/CL7jbsVFHMC/?utm_source=ig_embed&amp;utm_campaign=loading" style=" background:#FFFFFF; line-height:0; padding:0 0; text-align:center; text-decoration:none; width:100%;" target="_blank"> <div style=" display: flex; flex-direction: row; align-items: center;"> <div style="background-color: #F4F4F4; border-radius: 50%; flex-grow: 0; height: 40px; margin-right: 14px; width: 40px;"></div> <div style="display: flex; flex-direction: column; flex-grow: 1; justify-content: center;"> <div style=" background-color: #F4F4F4; border-radius: 4px; flex-grow: 0; height: 14px; margin-bottom: 6px; width: 100px;"></div> <div style=" background-color: #F4F4F4; border-radius: 4px; flex-grow: 0; height: 14px; width: 60px;"></div></div></div><div style="padding: 19% 0;"></div> <div style="display:block; height:50px; margin:0 auto 12px; width:50px;"></div><div style="padding-top: 8px;"> <div style=" color:#3897f0; font-family:Arial,sans-serif; font-size:14px; font-style:normal; font-weight:550; line-height:18px;"> View this post on Instagram</div></div><div style="padding: 12.5% 0;"></div> <div style="display: flex; flex-direction: row; margin-bottom: 14px; align-items: center;"><div> <div style="background-color: #F4F4F4; border-radius: 50%; height: 12.5px; width: 12.5px; transform: translateX(0px) translateY(7px);"></div> <div style="background-color: #F4F4F4; height: 12.5px; transform: rotate(-45deg) translateX(3px) translateY(1px); width: 12.5px; flex-grow: 0; margin-right: 14px; margin-left: 2px;"></div> <div style="background-color: #F4F4F4; border-radius: 50%; height: 12.5px; width: 12.5px; transform: translateX(9px) translateY(-18px);"></div></div><div style="margin-left: 8px;"> <div style=" background-color: #F4F4F4; border-radius: 50%; flex-grow: 0; height: 20px; width: 20px;"></div> <div style=" width: 0; height: 0; border-top: 2px solid transparent; border-left: 6px solid #f4f4f4; border-bottom: 2px solid transparent; transform: translateX(16px) translateY(-4px) rotate(30deg)"></div></div><div style="margin-left: auto;"> <div style=" width: 0px; border-top: 8px solid #F4F4F4; border-right: 8px solid transparent; transform: translateY(16px);"></div> <div style=" background-color: #F4F4F4; flex-grow: 0; height: 12px; width: 16px; transform: translateY(-4px);"></div> <div style=" width: 0; height: 0; border-top: 8px solid #F4F4F4; border-left: 8px solid transparent; transform: translateY(-4px) translateX(8px);"></div></div></div> <div style="display: flex; flex-direction: column; flex-grow: 1; justify-content: center; margin-bottom: 24px;"> <div style=" background-color: #F4F4F4; border-radius: 4px; flex-grow: 0; height: 14px; margin-bottom: 6px; width: 224px;"></div> <div style=" background-color: #F4F4F4; border-radius: 4px; flex-grow: 0; height: 14px; width: 144px;"></div></div></a><a href="https://www.instagram.com/p/CL7jbsVFHMC/?utm_source=ig_embed&amp;utm_campaign=loading" style=" color:#c9c8cd; font-family:Arial,sans-serif; font-size:14px; font-style:normal; font-weight:normal; line-height:17px; text-decoration:none;" target="_blank">A post shared by Yellow Jacket Social Club (@yellowjacketsocialclub)</a><br/></div></blockquote> <script async="" src="//www.instagram.com/embed.js"></script></div><p>Better Half Coffee &amp; Cocktails, near Clarksville, also took to social media to reiterate its masking mandate. "CANT BELIEVE I AM POSTING THIS A YEAR IN GIVE US A BREAK," the business wrote, adding in response to a comment about capacity limits that its indoor dining space will remain closed.</p><div class="rm-embed embed-media"><blockquote class="instagram-media" data-instgrm-captioned="" data-instgrm-permalink="https://www.instagram.com/p/CL7e76klIbE/?utm_source=ig_embed&amp;utm_campaign=loading" data-instgrm-version="13" style=" background:#FFF; border:0; border-radius:3px; box-shadow:0 0 1px 0 rgba(0,0,0,0.5),0 1px 10px 0 rgba(0,0,0,0.15); margin: 1px; max-width:540px; min-width:326px; padding:0; width:99.375%; width:-webkit-calc(100% - 2px); width:calc(100% - 2px);"><div style="padding:16px;"> <a href="https://www.instagram.com/p/CL7e76klIbE/?utm_source=ig_embed&amp;utm_campaign=loading" style=" background:#FFFFFF; line-height:0; padding:0 0; text-align:center; text-decoration:none; width:100%;" target="_blank"> <div style=" display: flex; flex-direction: row; align-items: center;"> <div style="background-color: #F4F4F4; border-radius: 50%; flex-grow: 0; height: 40px; margin-right: 14px; width: 40px;"></div> <div style="display: flex; flex-direction: column; flex-grow: 1; justify-content: center;"> <div style=" background-color: #F4F4F4; border-radius: 4px; flex-grow: 0; height: 14px; margin-bottom: 6px; width: 100px;"></div> <div style=" background-color: #F4F4F4; border-radius: 4px; flex-grow: 0; height: 14px; width: 60px;"></div></div></div><div style="padding: 19% 0;"></div> <div style="display:block; height:50px; margin:0 auto 12px; width:50px;"></div><div style="padding-top: 8px;"> <div style=" color:#3897f0; font-family:Arial,sans-serif; font-size:14px; font-style:normal; font-weight:550; line-height:18px;"> View this post on Instagram</div></div><div style="padding: 12.5% 0;"></div> <div style="display: flex; flex-direction: row; margin-bottom: 14px; align-items: center;"><div> <div style="background-color: #F4F4F4; border-radius: 50%; height: 12.5px; width: 12.5px; transform: translateX(0px) translateY(7px);"></div> <div style="background-color: #F4F4F4; height: 12.5px; transform: rotate(-45deg) translateX(3px) translateY(1px); width: 12.5px; flex-grow: 0; margin-right: 14px; margin-left: 2px;"></div> <div style="background-color: #F4F4F4; border-radius: 50%; height: 12.5px; width: 12.5px; transform: translateX(9px) translateY(-18px);"></div></div><div style="margin-left: 8px;"> <div style=" background-color: #F4F4F4; border-radius: 50%; flex-grow: 0; height: 20px; width: 20px;"></div> <div style=" width: 0; height: 0; border-top: 2px solid transparent; border-left: 6px solid #f4f4f4; border-bottom: 2px solid transparent; transform: translateX(16px) translateY(-4px) rotate(30deg)"></div></div><div style="margin-left: auto;"> <div style=" width: 0px; border-top: 8px solid #F4F4F4; border-right: 8px solid transparent; transform: translateY(16px);"></div> <div style=" background-color: #F4F4F4; flex-grow: 0; height: 12px; width: 16px; transform: translateY(-4px);"></div> <div style=" width: 0; height: 0; border-top: 8px solid #F4F4F4; border-left: 8px solid transparent; transform: translateY(-4px) translateX(8px);"></div></div></div> <div style="display: flex; flex-direction: column; flex-grow: 1; justify-content: center; margin-bottom: 24px;"> <div style=" background-color: #F4F4F4; border-radius: 4px; flex-grow: 0; height: 14px; margin-bottom: 6px; width: 224px;"></div> <div style=" background-color: #F4F4F4; border-radius: 4px; flex-grow: 0; height: 14px; width: 144px;"></div></div></a><a href="https://www.instagram.com/p/CL7e76klIbE/?utm_source=ig_embed&amp;utm_campaign=loading" style=" color:#c9c8cd; font-family:Arial,sans-serif; font-size:14px; font-style:normal; font-weight:normal; line-height:17px; text-decoration:none;" target="_blank">A post shared by Better Half (@betterhalfbar)</a><br/></div></blockquote> <script async="" src="//www.instagram.com/embed.js"></script></div><p>Better Half's sibling business and Rainey Street food truck Bummer Burrito had a similar response: "FYI WE ARE STILL IN A BIG OL PANDI K THX."</p><div class="rm-embed embed-media"><blockquote class="instagram-media" data-instgrm-captioned="" data-instgrm-permalink="https://www.instagram.com/p/CL7hpwtlRrM/?utm_source=ig_embed&amp;utm_campaign=loading" data-instgrm-version="13" style=" background:#FFF; border:0; border-radius:3px; box-shadow:0 0 1px 0 rgba(0,0,0,0.5),0 1px 10px 0 rgba(0,0,0,0.15); margin: 1px; max-width:540px; min-width:326px; padding:0; width:99.375%; width:-webkit-calc(100% - 2px); width:calc(100% - 2px);"><div style="padding:16px;"> <a href="https://www.instagram.com/p/CL7hpwtlRrM/?utm_source=ig_embed&amp;utm_campaign=loading" style=" background:#FFFFFF; line-height:0; padding:0 0; text-align:center; text-decoration:none; width:100%;" target="_blank"> <div style=" display: flex; flex-direction: row; align-items: center;"> <div style="background-color: #F4F4F4; border-radius: 50%; flex-grow: 0; height: 40px; margin-right: 14px; width: 40px;"></div> <div style="display: flex; flex-direction: column; flex-grow: 1; justify-content: center;"> <div style=" background-color: #F4F4F4; border-radius: 4px; flex-grow: 0; height: 14px; margin-bottom: 6px; width: 100px;"></div> <div style=" background-color: #F4F4F4; border-radius: 4px; flex-grow: 0; height: 14px; width: 60px;"></div></div></div><div style="padding: 19% 0;"></div> <div style="display:block; height:50px; margin:0 auto 12px; width:50px;"></div><div style="padding-top: 8px;"> <div style=" color:#3897f0; font-family:Arial,sans-serif; font-size:14px; font-style:normal; font-weight:550; line-height:18px;"> View this post on Instagram</div></div><div style="padding: 12.5% 0;"></div> <div style="display: flex; flex-direction: row; margin-bottom: 14px; align-items: center;"><div> <div style="background-color: #F4F4F4; border-radius: 50%; height: 12.5px; width: 12.5px; transform: translateX(0px) translateY(7px);"></div> <div style="background-color: #F4F4F4; height: 12.5px; transform: rotate(-45deg) translateX(3px) translateY(1px); width: 12.5px; flex-grow: 0; margin-right: 14px; margin-left: 2px;"></div> <div style="background-color: #F4F4F4; border-radius: 50%; height: 12.5px; width: 12.5px; transform: translateX(9px) translateY(-18px);"></div></div><div style="margin-left: 8px;"> <div style=" background-color: #F4F4F4; border-radius: 50%; flex-grow: 0; height: 20px; width: 20px;"></div> <div style=" width: 0; height: 0; border-top: 2px solid transparent; border-left: 6px solid #f4f4f4; border-bottom: 2px solid transparent; transform: translateX(16px) translateY(-4px) rotate(30deg)"></div></div><div style="margin-left: auto;"> <div style=" width: 0px; border-top: 8px solid #F4F4F4; border-right: 8px solid transparent; transform: translateY(16px);"></div> <div style=" background-color: #F4F4F4; flex-grow: 0; height: 12px; width: 16px; transform: translateY(-4px);"></div> <div style=" width: 0; height: 0; border-top: 8px solid #F4F4F4; border-left: 8px solid transparent; transform: translateY(-4px) translateX(8px);"></div></div></div> <div style="display: flex; flex-direction: column; flex-grow: 1; justify-content: center; margin-bottom: 24px;"> <div style=" background-color: #F4F4F4; border-radius: 4px; flex-grow: 0; height: 14px; margin-bottom: 6px; width: 224px;"></div> <div style=" background-color: #F4F4F4; border-radius: 4px; flex-grow: 0; height: 14px; width: 144px;"></div></div></a><a href="https://www.instagram.com/p/CL7hpwtlRrM/?utm_source=ig_embed&amp;utm_campaign=loading" style=" color:#c9c8cd; font-family:Arial,sans-serif; font-size:14px; font-style:normal; font-weight:normal; line-height:17px; text-decoration:none;" target="_blank">A post shared by BUMMER BURRITO (@bummerburrito)</a><br/></div></blockquote> <script async="" src="//www.instagram.com/embed.js"></script></div><p>Southern Heights Brewing Co. chimed in, too.</p><div class="rm-embed embed-media"><blockquote class="instagram-media" data-instgrm-captioned="" data-instgrm-permalink="https://www.instagram.com/p/CL7hXVOFELy/?utm_source=ig_embed&amp;utm_campaign=loading" data-instgrm-version="13" style=" background:#FFF; border:0; border-radius:3px; box-shadow:0 0 1px 0 rgba(0,0,0,0.5),0 1px 10px 0 rgba(0,0,0,0.15); margin: 1px; max-width:540px; min-width:326px; padding:0; width:99.375%; width:-webkit-calc(100% - 2px); width:calc(100% - 2px);"><div style="padding:16px;"> <a href="https://www.instagram.com/p/CL7hXVOFELy/?utm_source=ig_embed&amp;utm_campaign=loading" style=" background:#FFFFFF; line-height:0; padding:0 0; text-align:center; text-decoration:none; width:100%;" target="_blank"> <div style=" display: flex; flex-direction: row; align-items: center;"> <div style="background-color: #F4F4F4; border-radius: 50%; flex-grow: 0; height: 40px; margin-right: 14px; width: 40px;"></div> <div style="display: flex; flex-direction: column; flex-grow: 1; justify-content: center;"> <div style=" background-color: #F4F4F4; border-radius: 4px; flex-grow: 0; height: 14px; margin-bottom: 6px; width: 100px;"></div> <div style=" background-color: #F4F4F4; border-radius: 4px; flex-grow: 0; height: 14px; width: 60px;"></div></div></div><div style="padding: 19% 0;"></div> <div style="display:block; height:50px; margin:0 auto 12px; width:50px;"></div><div style="padding-top: 8px;"> <div style=" color:#3897f0; font-family:Arial,sans-serif; font-size:14px; font-style:normal; font-weight:550; line-height:18px;"> View this post on Instagram</div></div><div style="padding: 12.5% 0;"></div> <div style="display: flex; flex-direction: row; margin-bottom: 14px; align-items: center;"><div> <div style="background-color: #F4F4F4; border-radius: 50%; height: 12.5px; width: 12.5px; transform: translateX(0px) translateY(7px);"></div> <div style="background-color: #F4F4F4; height: 12.5px; transform: rotate(-45deg) translateX(3px) translateY(1px); width: 12.5px; flex-grow: 0; margin-right: 14px; margin-left: 2px;"></div> <div style="background-color: #F4F4F4; border-radius: 50%; height: 12.5px; width: 12.5px; transform: translateX(9px) translateY(-18px);"></div></div><div style="margin-left: 8px;"> <div style=" background-color: #F4F4F4; border-radius: 50%; flex-grow: 0; height: 20px; width: 20px;"></div> <div style=" width: 0; height: 0; border-top: 2px solid transparent; border-left: 6px solid #f4f4f4; border-bottom: 2px solid transparent; transform: translateX(16px) translateY(-4px) rotate(30deg)"></div></div><div style="margin-left: auto;"> <div style=" width: 0px; border-top: 8px solid #F4F4F4; border-right: 8px solid transparent; transform: translateY(16px);"></div> <div style=" background-color: #F4F4F4; flex-grow: 0; height: 12px; width: 16px; transform: translateY(-4px);"></div> <div style=" width: 0; height: 0; border-top: 8px solid #F4F4F4; border-left: 8px solid transparent; transform: translateY(-4px) translateX(8px);"></div></div></div> <div style="display: flex; flex-direction: column; flex-grow: 1; justify-content: center; margin-bottom: 24px;"> <div style=" background-color: #F4F4F4; border-radius: 4px; flex-grow: 0; height: 14px; margin-bottom: 6px; width: 224px;"></div> <div style=" background-color: #F4F4F4; border-radius: 4px; flex-grow: 0; height: 14px; width: 144px;"></div></div></a><a href="https://www.instagram.com/p/CL7hXVOFELy/?utm_source=ig_embed&amp;utm_campaign=loading" style=" color:#c9c8cd; font-family:Arial,sans-serif; font-size:14px; font-style:normal; font-weight:normal; line-height:17px; text-decoration:none;" target="_blank">A post shared by Southern Heights Brewing Co. (@southernheightsbrewing)</a><br/></div></blockquote> <script async="" src="//www.instagram.com/embed.js"></script></div><p>Austin Beerworks said in a tweet that the governor's announcement will not impact its taproom policies—including outdoor-only service and required masking for all customers when not at their tables—which have been in place since late July.</p><div class="rm-embed embed-media"><blockquote class="twitter-tweet">Although Texas has eased restrictions on masks and indoor seating, our taproom policies will not change until further notice. The safety of our staff and customers is still our top priority.<br/><br/>For more information on those policies, please visit: <a href="https://t.co/L3kO36D8sg">https://t.co/L3kO36D8sg</a><br/>— Austin Beerworks (@AustinBeerworks) <a href="https://twitter.com/AustinBeerworks/status/1366867392392028163?ref_src=twsrc%5Etfw">March 2, 2021</a></blockquote> <script async="" charset="utf-8" src="https://platform.twitter.com/widgets.js"></script></div><p>Epoch Coffee, which has four locations around Austin, will continue to require people be masked when ordering and picking up their coffee.</p><div class="rm-embed embed-media"><blockquote class="instagram-media" data-instgrm-captioned="" data-instgrm-permalink="https://www.instagram.com/p/CL7m31dFFa5/?utm_source=ig_embed&amp;utm_campaign=loading" data-instgrm-version="13" style=" background:#FFF; border:0; border-radius:3px; box-shadow:0 0 1px 0 rgba(0,0,0,0.5),0 1px 10px 0 rgba(0,0,0,0.15); margin: 1px; max-width:540px; min-width:326px; padding:0; width:99.375%; width:-webkit-calc(100% - 2px); width:calc(100% - 2px);"><div style="padding:16px;"> <a href="https://www.instagram.com/p/CL7m31dFFa5/?utm_source=ig_embed&amp;utm_campaign=loading" style=" background:#FFFFFF; line-height:0; padding:0 0; text-align:center; text-decoration:none; width:100%;" target="_blank"> <div style=" display: flex; flex-direction: row; align-items: center;"> <div style="background-color: #F4F4F4; border-radius: 50%; flex-grow: 0; height: 40px; margin-right: 14px; width: 40px;"></div> <div style="display: flex; flex-direction: column; flex-grow: 1; justify-content: center;"> <div style=" background-color: #F4F4F4; border-radius: 4px; flex-grow: 0; height: 14px; margin-bottom: 6px; width: 100px;"></div> <div style=" background-color: #F4F4F4; border-radius: 4px; flex-grow: 0; height: 14px; width: 60px;"></div></div></div><div style="padding: 19% 0;"></div> <div style="display:block; height:50px; margin:0 auto 12px; width:50px;"></div><div style="padding-top: 8px;"> <div style=" color:#3897f0; font-family:Arial,sans-serif; font-size:14px; font-style:normal; font-weight:550; line-height:18px;"> View this post on Instagram</div></div><div style="padding: 12.5% 0;"></div> <div style="display: flex; flex-direction: row; margin-bottom: 14px; align-items: center;"><div> <div style="background-color: #F4F4F4; border-radius: 50%; height: 12.5px; width: 12.5px; transform: translateX(0px) translateY(7px);"></div> <div style="background-color: #F4F4F4; height: 12.5px; transform: rotate(-45deg) translateX(3px) translateY(1px); width: 12.5px; flex-grow: 0; margin-right: 14px; margin-left: 2px;"></div> <div style="background-color: #F4F4F4; border-radius: 50%; height: 12.5px; width: 12.5px; transform: translateX(9px) translateY(-18px);"></div></div><div style="margin-left: 8px;"> <div style=" background-color: #F4F4F4; border-radius: 50%; flex-grow: 0; height: 20px; width: 20px;"></div> <div style=" width: 0; height: 0; border-top: 2px solid transparent; border-left: 6px solid #f4f4f4; border-bottom: 2px solid transparent; transform: translateX(16px) translateY(-4px) rotate(30deg)"></div></div><div style="margin-left: auto;"> <div style=" width: 0px; border-top: 8px solid #F4F4F4; border-right: 8px solid transparent; transform: translateY(16px);"></div> <div style=" background-color: #F4F4F4; flex-grow: 0; height: 12px; width: 16px; transform: translateY(-4px);"></div> <div style=" width: 0; height: 0; border-top: 8px solid #F4F4F4; border-left: 8px solid transparent; transform: translateY(-4px) translateX(8px);"></div></div></div> <div style="display: flex; flex-direction: column; flex-grow: 1; justify-content: center; margin-bottom: 24px;"> <div style=" background-color: #F4F4F4; border-radius: 4px; flex-grow: 0; height: 14px; margin-bottom: 6px; width: 224px;"></div> <div style=" background-color: #F4F4F4; border-radius: 4px; flex-grow: 0; height: 14px; width: 144px;"></div></div></a><a href="https://www.instagram.com/p/CL7m31dFFa5/?utm_source=ig_embed&amp;utm_campaign=loading" style=" color:#c9c8cd; font-family:Arial,sans-serif; font-size:14px; font-style:normal; font-weight:normal; line-height:17px; text-decoration:none;" target="_blank">A post shared by Epoch Coffee (@epochcoffee)</a><br/></div></blockquote> <script async="" src="//www.instagram.com/embed.js"></script></div><p>Local businesses weren't the only ones to take issue with Abbott's announcement. Although new COVID cases and related hospitalizations continue to trend downwards locally, Austin-Travis County Interim Health Authority Dr. Mark Escott said lifting the mask mandate too soon could lead to another surge. "My hope is that the mask mandate will continue at least through the end of April to allow us to ride this curve down," he told Austin City Council members and Travis County commissioners Tuesday morning.<br/></p>