Austonia AM
100% Austin news, info, and entertainment, straight to your inbox at 6 a.m. every morning.
In five minutes, you're fully informed and ready to start another great day in our city.
Get connected with our daily update
(Austin Public Health)
Fourth-generation East Austinite and community advocate Paul Saldaña is frustrated.
He has heard from many Latino residents that they are washing disposable face masks and bathing in their backyards to avoid exposing their family members to COVID-19, which they fear exposure to while working essential jobs.
As a member of Austin Latino Coalition, Saldaña has lobbied city officials to respond, but he feels there is still more they could be doing.
"At times, I feel like I live in a third-world country," he told Austonia.
---
Same storm, different boats
While Austin has seen its mid-summer surge deflate, the Latino community continues to be disproportionately impacted by the pandemic.
Latino residents, who make up 34% of the Travis County population, account for 52% of cases, nearly 60% of hospitalizations and 50% of deaths, according to Austin Public Health data. At one point, in late May, seven out of 10 hospital patients with COVID were Latino. The positivity rate among Latino residents who were tested last week is nearly 15%, compared to around 9% for the overall population.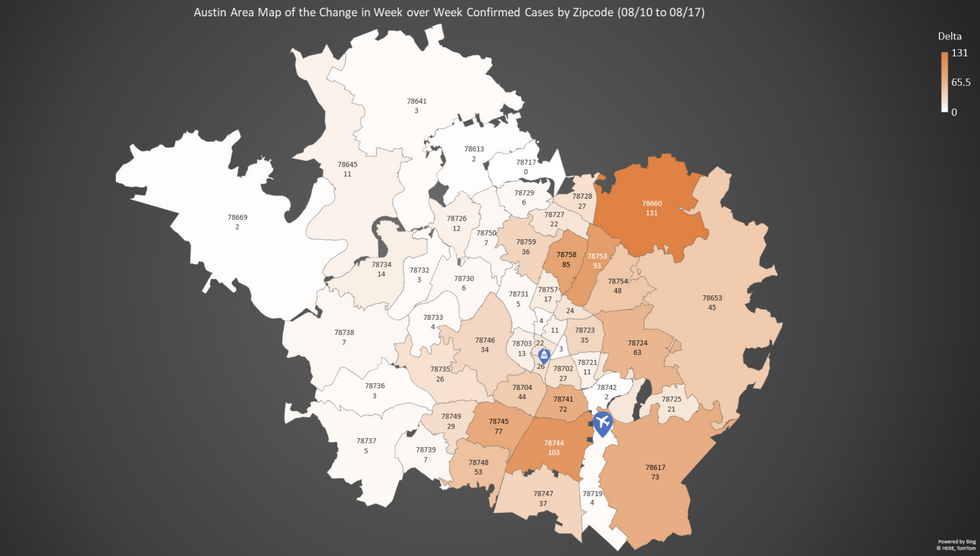 Austin's confirmed COVID cases are more concentrated on its east side, with the highest number of cases in the 78744 ZIP code, where a majority of residents are Latino.
These disparities are not unique to Austin. But while the outcomes for Black residents have improved in recent weeks, the city has had little success closing the gap for Latino residents, who make up more than a third of its population.
"It's hard for us to correct decades of disparities that these communities [of color] have faced," Austin-Travis County Interim Health Authority Dr. Mark Escott said on Wednesday.
Many reasons
There are a number of reasons Latino residents are more at risk of contracting COVID—and suffering worse outcomes—said Dr. Rene Salazar, assistant dean for diversity and a professor of medical education at Dell Medical School.
They are more likely to lack access to care, whether because they are uninsured or cannot afford monthly premiums and copayments; be undocumented and avoid seeking out care for fear of legal consequnces; face language and other cultural barriers that make getting care more difficult and less satisfying; and live in multigeneration households.
"Coming through the door, you're not able to social distance potentially," CommUnity Care CEO Jaeson Fournier told Austin Mayor Steve Adler during a Facebook live on Thursday. "And then there's a higher rate of transmission that occurs."
Latino residents are also overrepresented among essential workers, Salazar said, and undocumented residents do not qualify for stimulus funds or unemployment benefits, which further tilt the playing field.
"They really don't have an option [not to work]," he said. "It becomes a question of survival."
Other communities of color also struggle with historical and present inequities. But while Black Austinitess faced worse outcomes earlier in the pandemic, recently their share of the confirmed caseload and the hospitalized population has fallen. Disparities among Latino patients, however, remain.
"The biggest differences between the two communities are around language and immigration status," Salazar said.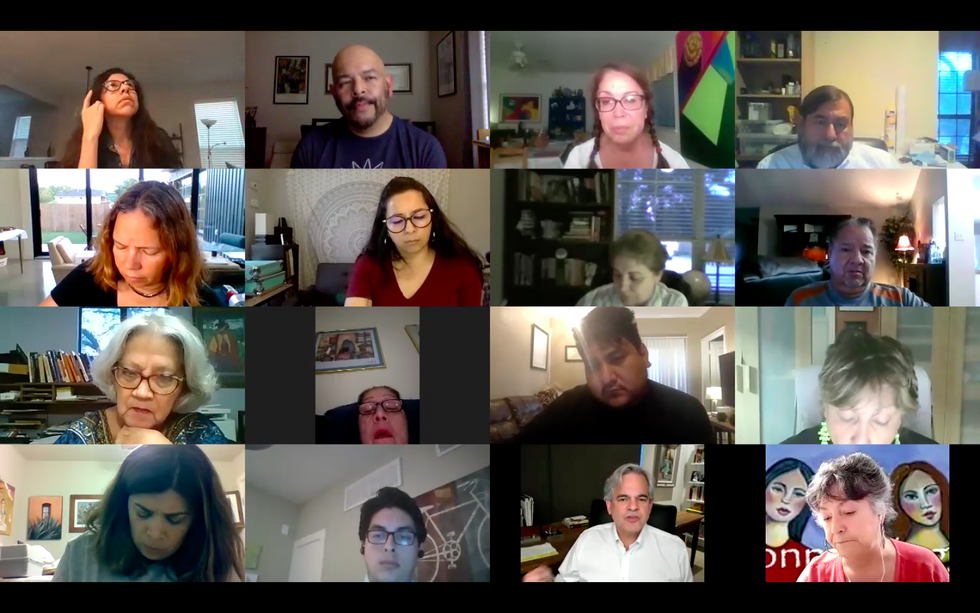 Paul Saldaña—top row, second from left—and other members of the Austin Latino Coalition have met virtually with city leaders, including Mayor Steve Adler, to discuss how to address COVID-19 outcome disparities.
(Paul Saldaña)
What is being done
To address these disparities, the city has made funding available for rental assistance and other basic needs, introduced bilingual media briefings in June, hosted mobile testing events in hard-hit communities and convened a volunteer task force.

But Saldaña, who is a member of the task force, feels this is not enough, especially six months into the pandemic.
To address the disparities in COVID outcomes for Latino patients, he said the city needs to expand access to testing, so that residents without email addresses are still able to register for a free appointment and those who are unable to take time off work during the day are not shut out. Other priorities include increasing distribution of masks and financial assistance for those communities that are hardest hit.
"This is not just a Latino issue," Saldaña said. "When you buy your groceries, who's checking you out? Who's putting the produce [out] and who's restocking all the shelves? It's probably someone from our community, because we're overrepresented [among essential workers]. So you should be concerned."
Want to read more stories like this one? Start every day with a quick look at what's happening in Austin. Sign up for Austonia.com's free daily morning email.
Matthew McConaughey is reportedly weighing a run for Texas governor in 2022.
The Austin resident and Oscar winner has been "quietly making calls to influential people in Texas political circles, including a deep-pocketed moderate Republican and energy CEO" as he decides whether to run, according to Politico.
McConaughey said a gubernatorial run is "a true consideration" while on a March episode of Houston's "The Balanced Voice" podcast.
Although most political strategists doubt McConaughey's commitment and viability as a candidate, some are still intrigued by the possibility.
"I find it improbable, but it's not out of the question," Karl Rove, a top Republican strategist with a long history in Austin, told the political news site. He added that the big question is whether McConaughey would run as a Republican, a Democrat or an independent.
Brendan Steinhauser, an Austin-based GOP strategist, told Politico he's surprised McConaughey isn't being taken more seriously. "Celebrity in this country counts for a lot," he said. "It's not like some C-list actor no one likes. He has an appeal."

Texas Gov. Greg Abbott plans to run for a third term and remains popular among Republican voters, 77% of whom approve of his performance as of April, according to the Texas Politics Project.
Some strategists believe an independent McConaughey run would benefit Abbott. But a recent poll from The Dallas Morning News and the University of Texas at Tyler found that McConaughey would beat Abbott, 45% to 33%, with 22% opting for someone else.
Mimi Swartz, an executive editor at Texas Monthly, mulled a McConaughey run in a recent opinion essay from the New York Times. "Texas may not be ready for a philosopher king as a candidate, much less governor," she wrote. "May the best man win, man."
Some JuiceLand production facility workers and storefront employees are organizing to demand wage increases, better working conditions (including air conditioning in the warehouse) and pay transparency, among other asks. They are also calling on staff to strike and customers to boycott the Austin-based company until their demands are met.
JuiceLand responded on Saturday. "We are listening," the company wrote on their Instagram story. "JuiceLand crew now makes guaranteed $15 an hour or more companywide."
JuiceLand, which was founded in 2001 by Matt Shook and now has 35 locations in Austin, Houston and Dallas, acknowledged the rising cost of living across Texas and the added stress of the pandemic in an email to employees on Saturday, part of which @juicelandworkersrights shared on social media. "There's no denying that times are tough and financial security means more now than ever," the company wrote.
Organized JuiceLand workers rejected this proposal, according to a recent post on the @juicelandworkersrights Instagram account, and reiterated their demands.
"Cost of living in Austin is rising exponentially and will only continue to get worse with the tech boom," the post read. "$15 is barely a sustainable living."

Related Articles Around the Web