Austonia AM
100% Austin news, info, and entertainment, straight to your inbox at 6 a.m. every morning.
In five minutes, you're fully informed and ready to start another great day in our city.
Get connected with our daily update
(Pexels)
After raising concerns of a second surge last month, local health officials reported that the spread of COVID-19 in Austin is relatively flat—for now.
---
"Last week we were in about the same position we're in this week," Austin-Travis County Interim Health Authority Dr. Mark Escott said on Monday.
The seven-day moving average number of daily new COVID cases reported in Travis County is around 96, as of Sunday evening, and has remained steady since mid-October.
The seven-day moving average number of daily new hospital admissions reported in the Austin metro is 17.4, down from 22.6 on Oct. 17, which was the highest it had been since late August.
"We saw a substantial increase for a while," Escott said. "That has dropped back down, and now we're holding steady."
Researchers at the COVID-19 Modeling Consortium at the University of Texas at Austin estimate there is a 45% chance the pandemic is growing locally.
Although the projections have improved significantly from last week, when researchers projected as many as 700 hospital beds would be needed for COVID patients by Thanksgiving, the model still suggests a slight surge in COVID hospitalizations later this month, with around 150 new daily admissions by Nov. 30.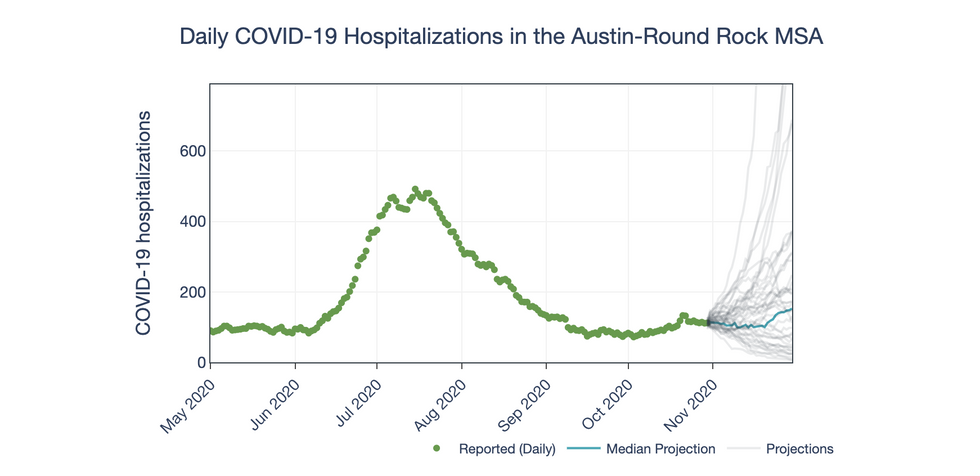 (COVID-19 Modeling Consortium at the University of Texas at Austin)
Escott attributed the drop to continued vigilance among Austines and encouraged residents to keep up with protective behaviors, such as masking, social distancing and hand washing.

This trend bears out in campus environments, such as at the University of Texas at Austin.
"Like the number of cases in Austin, the numbers on campus are almost unchanged," according to a Faculty Council update on Monday.
However, given the worsening projections outside of Austin and the ongoing wait for a vaccine, the council announced that the university will not increase density on campus and in the classroom until fall 2021, at the earliest.
Fall 2021 is the earliest @UTAustin will increase density on campus and in the classroom given the current progress… https://t.co/hgyI1uCzJt

— Andrew Zhang (@Andrew Zhang)1604339976.0
Bars stay closed

Escott also responded to a query from Travis County Commissioner Gerald Daugherty about the prospect of reopening bars, amid the rosier forecast.
Texas Gov. Greg Abbott announced last month that bars could reopen at 50% capacity in counties that choose to opt in and where COVID patients account for no more than 15% of hospitalizations.
Travis County Judge Sam Biscoe chose to keep bars closed for at least two weeks, given the COVID trends at the time and the increasing number of Austin students returning to schools. On Tuesday, he announced a two-week extension.
Escott is hopeful this may change, if current trends continue, but pointed to cautionary tales in other jurisdictions, such as El Paso, where hospitals are at capacity, and in European countries, such as France and the U.K., which recently reentered lockdown due to rising case numbers.
"It is important that we … learn what has happened in other cities across our state and in other countries," he told Daugherty. "And the lesson learned is that when things start to look better, then we want to celebrate, and we want to change and open things up aggressively."
If bars are allowed to reopen in Travis County, then they will be required to make modifications to ensure the safety of their staff and customers, Escott added.
"We don't want the reopenings to be short-lived," he said.
In a match marred by injuries and key player absences, Austin FC lost 2-0 in Los Angeles for the second time on Saturday to West Division titan LA Galaxy.
Austin FC goalkeeper Brad Stuver was tasked with the near-insurmountable task of holding back the LA Galaxy's Chicharito, who is now the league's top scorer this season, and he nearly succeeded.
The club saw its first major threat from the formidable Chicharito when a penalty was drawn on Jhohan Romana. In his usual game-saving fashion, Stuver leapt to the right to kept the scoreboard empty and block what many thought would be the league leader's first goal of the match.
With a Hector Jimenez injury midway through play, a Jon Gallagher absence due to injury and a man down as Captain Alex Ring sat the bench, however, the team was unable to get a win in their second trip to Los Angeles.
Austin FC was slated to play against the odds after Ring was benched due to a second yellow card last week. To cover the wound, the club put standout rookie Daniel Pereira in his stead and placed Danny Hoesen back at the crown of the lineup after fellow striker Gallagher stayed home.
Hector Jimenez got his first start with the club at right back in the stead of Nick Lima, but the run was short-lived. The 32-year-old suffered an injury after attempting to save the first LA Galaxy goal, but Galaxy midfielder Sebastian Lletget still scored the match opener after popping a shot over Stuver to make the match 1-0.
Austin FC plateaued through much of the first half, and the forces of the universe were in the Galaxy's favor as they encroached on Austin's defense.
The club found new stamina, as they usually do, when a set of subs were brought in to up the club's tempo, and ten minutes of the match were entirely Kekuta Manneh's. Manneh, the club's only player with Austin ties, subbed in the 60th minute of play and immediately made an attempt on goal. The winger would make three more attempts, one of which just missed the top right corner of goal, before LA made its next advances on Austin's defense.
Head coach Josh Wolff said he hoped for a goal for Manneh, who doesn't often get to hit the pitch.
"His contributions were obvious, and I would have liked to see him get a goal there," Wolff said.
It looked like Austin might tie it up during the "Kekuta Era," but Chicharito played true to his stats. Stuver went head-to-head with Chicharrito once again and lost as he scored his seventh goal in five matches in the 77th minute of play.
Matt Besler said he was up for a challenge as the club's central defender and he's unsurprised at Chicharito's success. Besler also said and he respects Chicharito on and off the pitch becuase of his openness about mental illness.
"I was looking forward to the challenge," Besler said. "His recognition of where the space is world class, and it's no surprise that he's scored goals everywhere that he's gone. I respect him as a player and I also respect him off the field."
Another attempt on goal was made by the Galaxy's Kevin Cabral, who sunk one in past Stuver just minutes later, but the goal was called offsides. Still, the match came to an anticlimactic end as Austin FC was unable to get one in goal and lost 2-0.
Besler, who has seen the ebbs and flows of his Sporting Kansas City, his club of 12 years, said that it takes patience to be a successful team. Still, he's impressed that Austin FC has made as much ground as they have in their expansion year.
"I understand that it's going to be a process, and we are in our fifth game of our existence, but the fact that we're at where we are at isa good sign," Besler said. "Towards the last third of the season, that's when hopefully we can peak and look a lot like our final product."
Austin FC will have a chance to snap their two-match losing streak as they head to Nashville SC for their sixth-straight road match at 8 p.m.on Sunday.