Austonia AM
100% Austin news, info, and entertainment, straight to your inbox at 6 a.m. every morning.
In five minutes, you're fully informed and ready to start another great day in our city.
Get connected with our daily update
(Pexels)
On the last night of 2020 Stanley Adams, owner of Siena Ristorante Toscana, prepared for a scaled-back salute to the end of a very bad business year.
---
"We are doing a relatively full, normal New Year's Eve but, you know, with the required spacing and with less capacity than in a normal year," Adams says. "Of course, we've added a lot of outside seats at Siena; none of that's going to be very useful tonight."
December—which is normally Siena's best month—was a bust.
"We will struggle to just break even this month because our sales are much reduced," says Adams, who has recently closed several of his Brick Oven restaurants.
Atop of the already-in-place limitations to Austin dining, Mayor Steve Adler issued a statement announcing that restaurant and beverage operations would be expected to close their dining rooms between 10:30 p.m. and 6 a.m. for a three-day curfew from Dec. 31 to Jan. 3. Disobeying this order could result in a citation and a fine of up to $1,000.

Adams, an Austin restaurateur for over 30 years, modified his establishment's usual New Year's Eve plans to comply with Adler's order. "We didn't have any reservations after 9:30 p.m. and we didn't do the usual sort of midnight toast for those who stuck around for that."
Not only did the curfew hurt his business but shooing patrons out the door killed the convivial end-of-the-year atmosphere of the upscale eatery. In past years, Siena would have 20 or 25 people that hung out until midnight but that wasn't the case this year.
On Tuesday, Gov. Greg Abbott tweeted: "This shutdown order by Austin isn't allowed. Period," adding: "The city has a responsibility to enforce existing orders, not make new ones." Then the next day Texas Attorney General Ken Paxton sued Austin and Travis County.
This shutdown order by Austin isn't allowed. Period. My executive order stops cities like Austin from arbitrarily… https://t.co/HCvHLZA8Uy

— Greg Abbott (@Greg Abbott)1609304025.0
The complaints on the city's curfew continued into New Year's Eve when bar and restaurant owners, including Ellis Winstanley (El Arroyo) and Ben Davis (Come and Take it Live), joined First Assistant Attorney General Brent Webster, for a press conference regarding the new orders placing temporary restrictions on restaurant hours of operations. They said restaurants are not the problem because they are doing everything they can to ensure the safety of their customers and the food industry needs all the business they can get in a tough year.

Kelsey Erickson Streufert, vice president of government relations and advocacy for the Texas Restaurant Association, linked the ability of bars and restaurants to stay open late to a kind of social contract of coolness. "We like to say 'keep Austin weird'; well, Austin is not going to be very weird if we keep going down our current path," she said.
Less than five hours before 2021, Gov. Abbott released a statement: "The Governor's statewide executive order allows food establishments to be open for in-person dining on New Year's Eve as authorized by the Texas Alcoholic Beverage Commission. They should remain open. Happy New Year!"
An hour after that, Mayor Adler released his own statement appealing to common sense and decency, saying: "We are trying to save as many lives as we can, guided by the doctors and the data. We're encouraged the District Court agreed that cities have the authority to react to local conditions and protect their residents when the state won't. This is not a drill—Austin is experiencing uncontrolled spread of the virus."
The political ping-pong more or less came to an end an hour before midnight when a Travis County District judge upheld Austin's curfew restricting when restaurants and bars could serve customers during the New Year's weekend.
But even with that, multiple bars and venues along 6th street remained open past curfew, The Austin American-Statesman reported.
Across Austin, food and beverage venues have had to make difficult decisions when it comes to how they operate. Some have opted to stay close entirely during the COVID surge.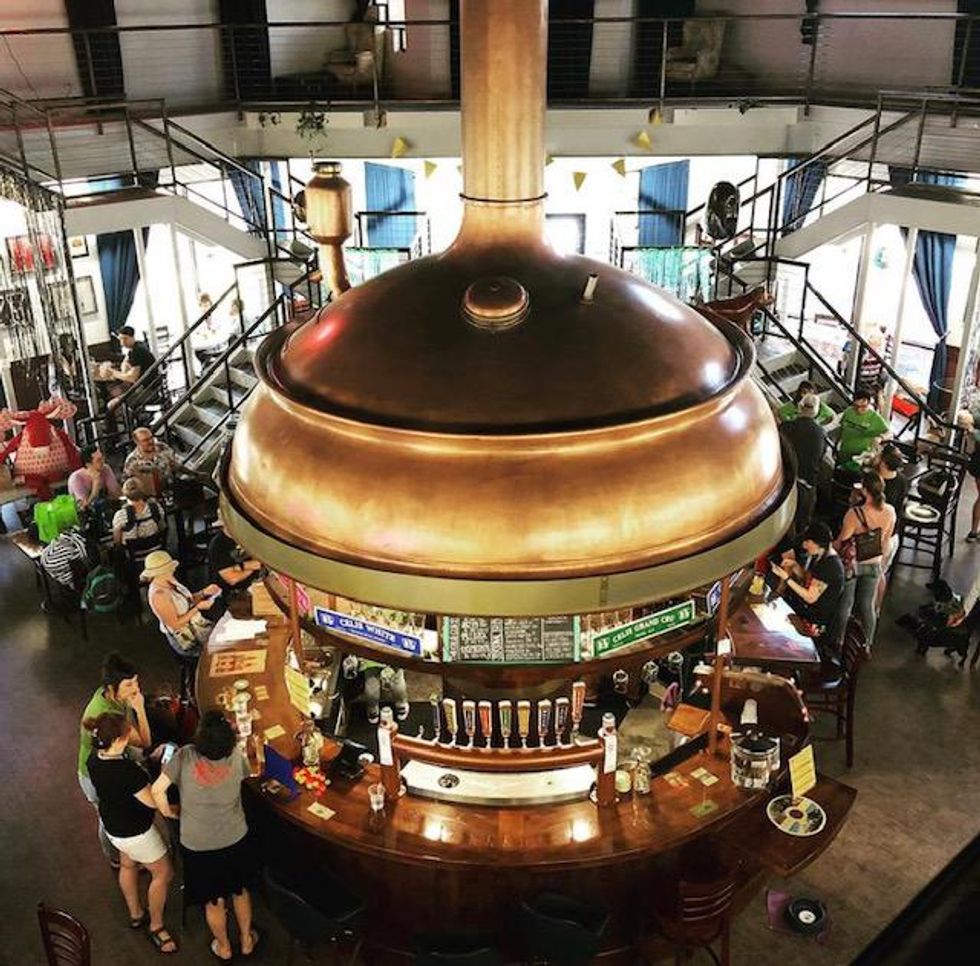 Celis Brewery(Teresa Mikulastik)
Teresa Mikulastik, taproom manager/event coordinator at Celis Brewery, said that this year the brewery elected to stay closed on New Year's Eve for the first time since opening in 2017. She said the decision was made before the curfew was put in place.

Celis Brewery, which briefly switched to to-go only service in an effort to provide craft beer during the strictest stages of the pandemic, is focused on providing peace of mind along with its pints.
"Breweries and brewpubs are about fellowship and camaraderie: sitting with your friends and family at the bar, drinking your favorite beers, and sharing your day," says Mikulastik. "To have that experience taken away is very difficult."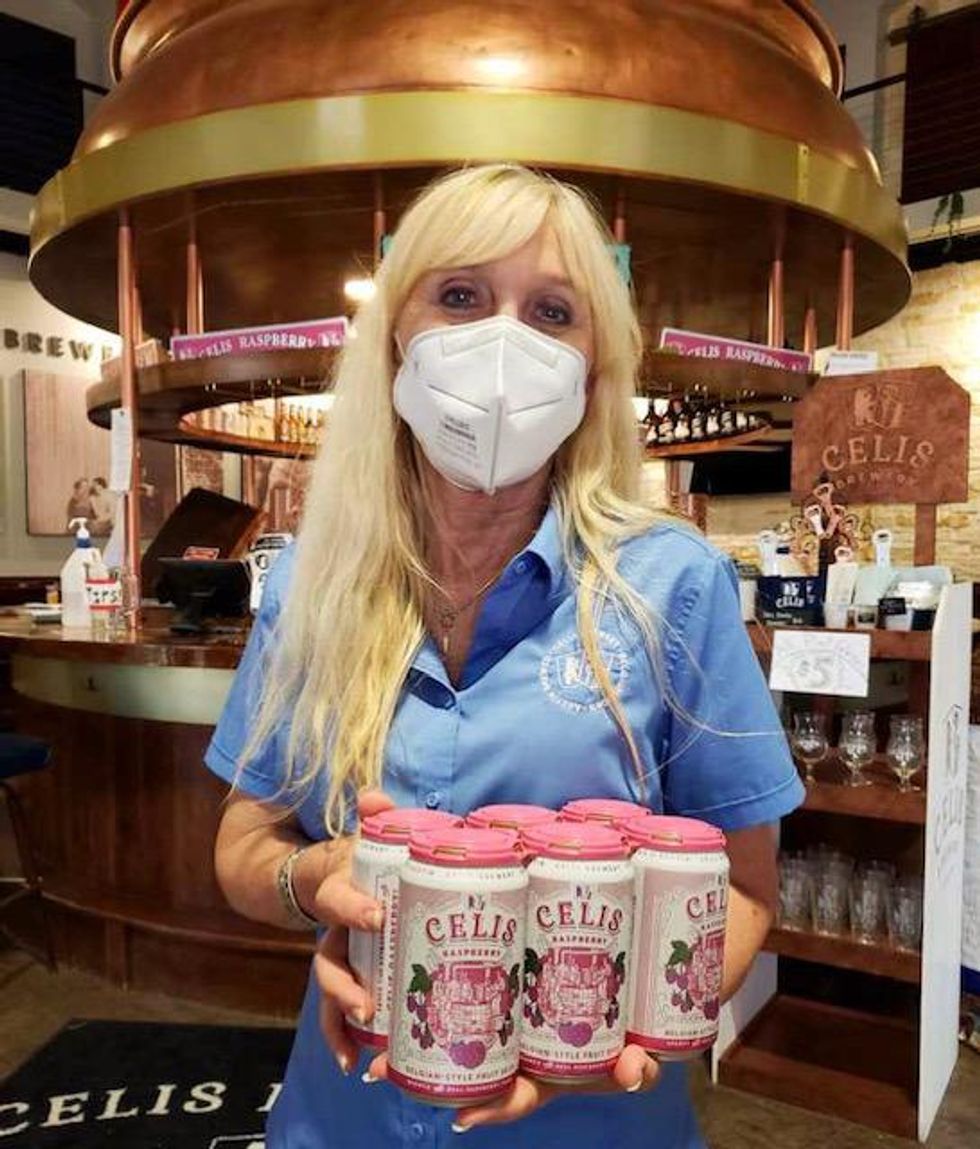 Christine Celis, owner of Celis Brewery(Teresa Mikulastik)
Austin Kalman, owner of the Aristocrat Lounge, had planned on reopening at the end of November but, when he saw the spike of COVID coming, decided that postponing would be the wiser thing to do.

Kalman feels bothered by what he views as the reckless attitude of some bars regarding COVID-19 restrictions.
"It is frustrating because I know a bunch of people that are doing a really good job of running their establishment as safely as they can and trying, even going beyond, you know, whatever the governor's recommendations are," he says, adding, "then to see other places, you know, like a lot of places downtown that are basically just letting people do whatever they want … yeah, it is pretty frustrating."
Kalman plans on reopening the Aristocrat Lounge the second or third week of January.
"They always used to joke in the bar business that we were in a recession-proof industry," he says. "People are broke and out of work, they want to go have a drink, and when people are happy and things are good they want to go out and celebrate ...which is actually true. But not in the pandemic," he says.
After reaching Stage 4 last week of Austin Public Health's risk-based guidelines, Austin-Travis County is now at the Stage 5 threshold with a seven-day average of 50 hospitalizations and dwindling ICU capacity.
While unenforceable under Gov. Greg's Abbott order against local mandates, vaccinated individuals are asked to choose drive-through and curbside options, outdoor activities, social interactions with limited group sizes, as well as social distance and wearing masks indoors. Partially or unvaccinated individuals are asked to avoid gatherings, travel, dining and shopping, choose curbside and delivery options, as well as wear a mask on essential trips.
Flashing back to early-pandemic times, hospitals are at critical capacity—the 11 county Trauma Service Region of 2.3 million people is fluctuating at 16 staffed beds, according to APH.
In a statement on behalf of Ascension Seton, Baylor Scott & White Health and St. David's Healthcare, a spokesperson said that hospitals are asking residents to "help us and each other" by getting vaccinated and continuing to utilize safety practices to slow the spread of the virus.
According to the statement, a "longstanding" nurse staffing challenge combined with the recent COVID-19 spike is putting "extraordinary pressure" on hospital systems.
Along with the unmitigated spread of the virus in unvaccinated, the more contagious Delta variant is also to blame for the spike in cases. The seven-day moving average of COVID hospitalizations in the Austin area reached the Stage 5 threshold of 50 on Friday, triggering local health officials to ask residents to take action.
Local hospitals have a "surge plan" that includes utilization of "all available patient care space and employees within our hospitals and in other settings" that will go into effect when capacity is hit, according to the statement.
The hospitals are working on sourcing supplemental staff and emphasized that emergency care will still be available but it may involve patient transfers "in order to provide the most appropriate care."
Healthcare systems have hit this threshold previously during the pandemic: the city held an alternate care site at the Austin Convention Center from January to March of this year.
"Our responsibility during this pandemic continues to be balancing our readiness to care for patients with COVID-19, while making sure patients who depend on our hospitals receive needed and timely care," the statement said. "We do not want to see necessary non-COVID care delayed as it was during the early stages of the pandemic."
This story has been updated to after publication to include that Austin has reached the Stage 5 threshold.
Ingredients:
1 1/12 oz sweet pepper-infused Tito's Handmade Vodka
3 oz soda water
1 oz grapefruit juice
1/2 oz lime juice
1/4 oz simple syrup
Directions: Add all ingredients, except soda water, to a shaker with ice. Shake and strain into a glass over fresh ice. Top with soda water and garnish with a mint sprig.
Austin legend Willie Nelson will perform at the Texas Capitol today, his first large performance since the pandemic began, closing out a four-day long march across Central Texas to build support for federal voting protections.
Organized by The Poor People's Campaign, the march began in Georgetown on Wednesday and will end with a 10 a.m. rally at the Capitol featuring appearances from former U.S. Congressman Beto O'Rourke and Rev. Dr. William Barber.
Willie Nelson (with Charlie Sexton & friends) will play a free concert at the Poor People's Campaign march for democracy & justice in Austin this Saturday! https://t.co/zZSA0BpbWA

Sign up to join us and see Willie at 10am Saturday: https://t.co/KrDPIFIvST
— Beto O'Rourke (@BetoORourke) July 29, 2021
The rally calls on Congress to "stop attacks on democracy" by ending the filibuster, pass all provisions of the For the People Act, restore the 1965 Voting Rights Act, raise the federal minimum wage to $15 per hour and pass permanent protections for all 11 million undocumented immigrants.

Nelson denounced election law proposals gaining traction in red states, such as Senate Bill 1 and House Bill 3 in Texas, which 55 House Democrats foiled by fleeing to Washington, D.C., on July 12.
The bills would require additional ID verifications for mail-in ballots, allow partisan poll watchers "free movement" and prohibit elections officials from sending absentee ballot applications to voters who didn't request one.
"Laws making it more difficult for people to vote are unAmerican and are intended to punish people of color, the elderly and disabled," Nelson said. "If you can't win by playing the rules, then it's you and your platform–not everyone else's ability to vote."
The march is in the spirit of the Selma to Montgomery March of 1965, led by Dr. Martin Luther King Jr., which protested the blocking of Black Americans' right to vote by Jim Crow laws.