Get connected with our daily update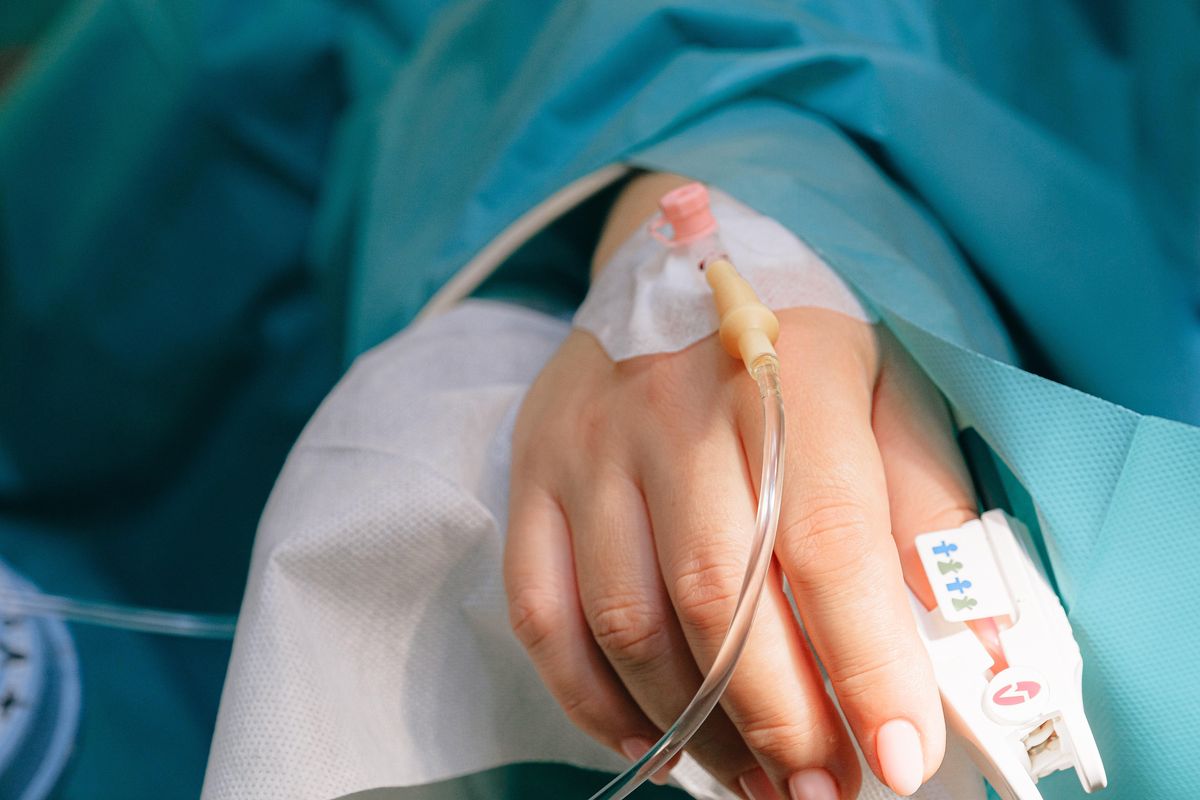 (Pexels)
The COVID-19 situation continues to worsen in the Austin metro, and models show that area hospitals could exceed their ICU capacity by Jan. 15.
"What we experienced over the summer is nothing compared to what we will experience over the next two months if we don't change things very quickly," Austin-Travis County Interim Health Authority Dr. Mark Escott said Tuesday. "The strategy is not working. The state strategy is not working."
---
Over the last month, the average number of new COVID cases confirmed in Travis County has increased 98% to 537. The average number of daily COVID-related hospital admissions has grown even more quickly, increasing by 140% to 77 over the same time period.
The positivity rate in Travis County is 15.5%, up from 12.7% last week and on track to exceed 20% if residents don't change their behavior.
Because of Christmas and New Year's festivities, Escott anticipates that the county will "break many new records" over the next few weeks as cases related to such gatherings develop.
The COVID-19 Modeling Consortium at the University of Texas at Austin projects that the metro will exceed its ICU capacity by Jan. 15, if transmission continues at its current rate.
"My expectation is that it may happen before that," Escott said.
This is particularly concerning giving the concurrent surges happening across Texas, which means that there are fewer healthcare workers available to provide additional support in Austin should the need arise.
"The entire state is in surge," Escott said. "The entire state is in a state of emergency."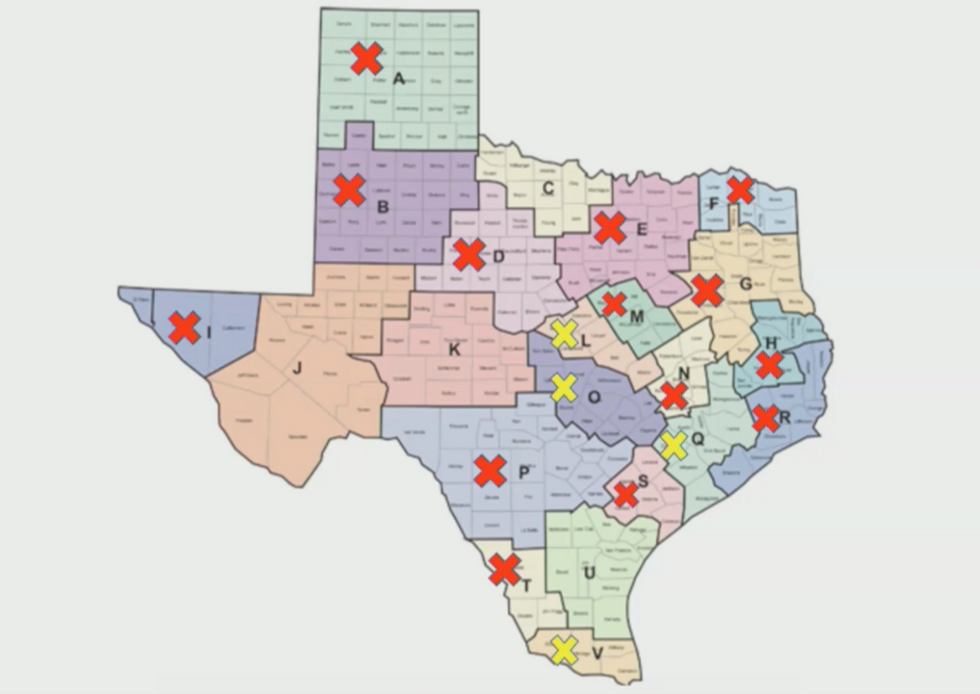 This map shows the state's trauma service areas. Those with red marks have seen at least 15% of their hospital capacity taken up by COVID patients for at least seven consecutive days. Those with yellow marks, including area O, which includes Travis County, are approaching that threshold. (Austin Public Health)
If Austinites do not heed his and other public health officials' advice, they could end up in a similar situation as is unfolding in Los Angeles County, where the local emergency medical services agency directed ambulance crews not to transport patients with little chance of survival to hospitals because of oxygen supply issues. Other patients are spending hours in ambulances outside of hospitals, waiting for a bed to open.

"It's important for folks to understand that the same thing will happen here … unless we make substantial change right now," Escott said.
What Austinites can do
In the midst of this surge, Escott pleaded with Austinites to help carve out a path toward a peak, from which point things could start to improve.
To do this, residents should follow the Stage 5 recommendations issued by Austin Public Health:
Not gathering with individuals outside on your own household
Limiting dining and shopping to essential trips only
Avoiding non-essential travel
Because the Texas Education Agency has tied state funding of public schools to in-person operations, local officials have avoided ordering a school shutdown. Instead, Escott strongly urged Austin parents to opt into virtual learning for the next two weeks, at least, in an effort to curb transmission. He said his own teenage son was learning from home this week.
The state of Texas Supreme Court recently blocked Austin-area orders that restricting dining in and drinking at restaurants over the New Year's weekend.
Within the ability to mandate such restrictions, Escott recommended that businesses operate through contactless options, such as curbside delivery, as a way to mitigate longer-term damage.
"If we had the ability, this would be the time where we would want to restrict activities," he said, alluding to state orders prohibiting such local policies. "I know that lots of folks are concerned about the impact on our businesses. I'm concerned about the impact on lives … and the consequences of having a community that faces a surge that lasts for months."
A vaccine update
In late December, state officials mandated that vaccine providers expand access to members of Group 1B, which includes people age 65 and older as well as those with a chronic illness, in addition to Group 1A, which includes frontline healthcare workers and first responders.
As a result, many local hospitals, pharmacies and other vaccine providers were caught with more demand than supply and are only vaccinating members of the 1A group.
"The problem is we have a shortage of vaccine," APH Director Stephanie Hayden said Tuesday.
Until the vaccine supply increases, APH is focused on setting up a preregistration portal and increasing the number of local providers enrolled in the state's vaccine distribution system. The department is also working to identify large-scale distribution sites, such as the Travis County Expo Center, that could be used for mass vaccination events.
County Commissioner Jeff Travillion, Council Member Natasha Harper-Madison and Council Member-elect Vanessa Fuentes expressed support for this idea.
I third that motion. https://t.co/8oLXeA3NpQ

— Natasha Harper-Madison (@Natasha Harper-Madison) 1609867205.0
"Everyone wants a vaccine," Hayden said. "It's a great problem for us to have."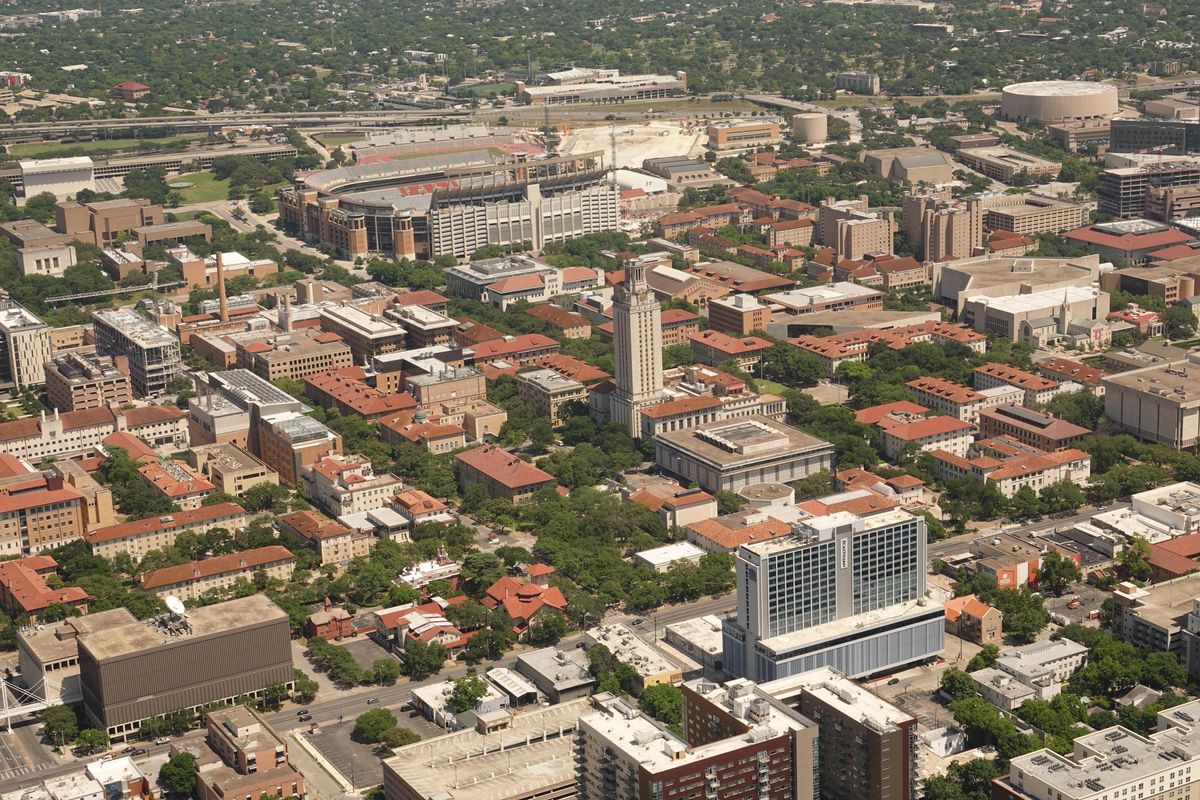 austonia
College ratings site Niche.com has released its 2023 Top Party School rankings.
One Texas college made the list: the University of Texas at Austin.
Longhorns know how to party with the best, apparently. But anyone who's spent time on the Forty Acres may wonder why the ranking was so low.
Here's the complete list:
Univ. of California - Santa Barbara
Tulane University
Florida State University
The University of Alabama
Howard University
University of Wisconsin
University of Georgia
Syracuse University
University of Southern California ✌️
University of Illinois Urbana-Champaign
West Virgina University
Penn State
University of Mississippi
Ohio University
Miami University
Indiana University - Bloomington
University of Iowa
San Diego State University
Florida A&M University
Michigan State University
University of Texas - Austin
The Ohio State University
University of Virginia
Rutgers University - New Brunswick
University of Colorado Boulder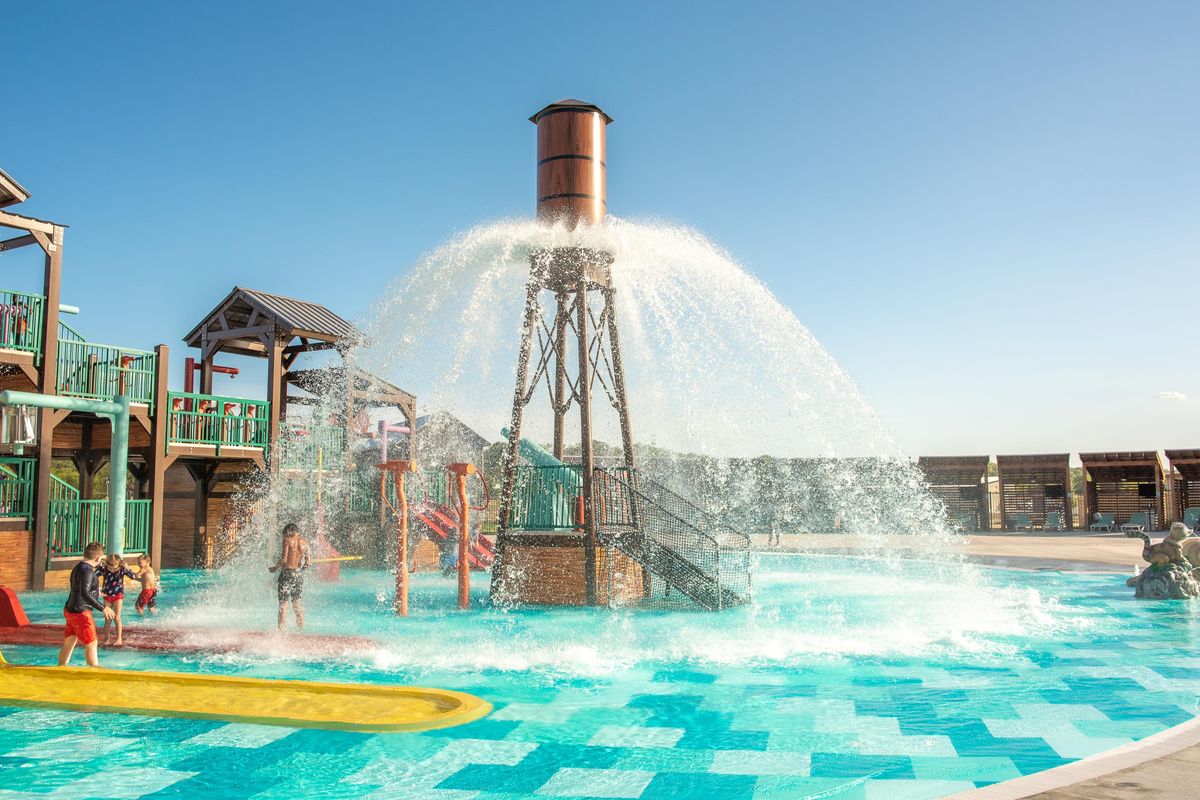 Camp Fimfo Waco
Camp Fimfo Waco, a brand new camping resort, is kicking off football and fall camping season in style! With top-notch amenities, premium accommodations, and 10 weekends of fall fun, there's no better place to have a fall camping getaway, especially if you're a Baylor football fan!
Fall promises to be a one-of-a-kind camping experience. From Sept. 16 to Nov. 24, weekends will be packed with fall-themed activities, including special Halloween weekends in October. Campers can enjoy activities like fall crafts, campground trick-or-treating, costume contests, site decorating, outdoor movie nights, and more!