Get connected with our daily update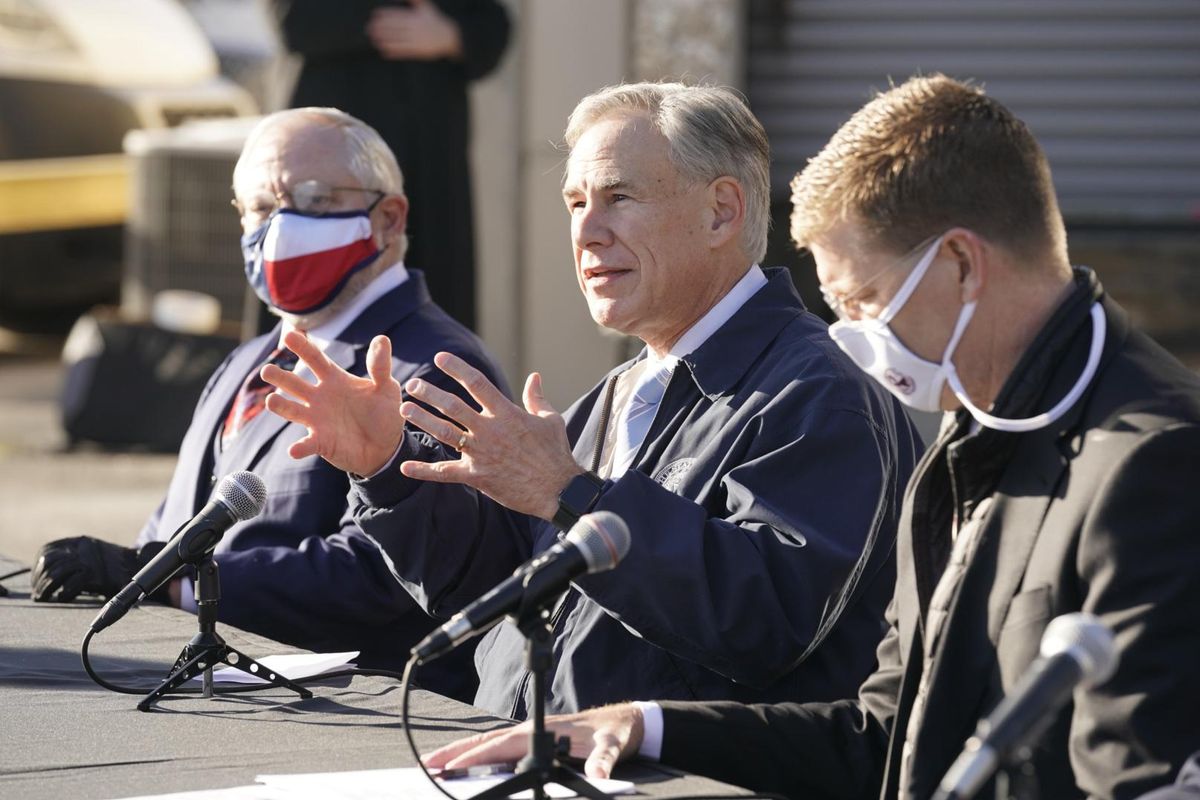 (Bob Daemmrich)
Texas Gov. Greg Abbott celebrated the arrival of Pfizer's COVID-19 vaccine in Texas and promised expanded access by March as other pharmaceutical companies get approval to distribute their own versions. He also declared an end to shutdowns.
"There will be widespread distribution," he said during a press conference at an Austin UPS facility on Thursday.
---
Around 95,000 doses of the Pfizer vaccine have already been distributed across Texas, with an additional 129,000 on their way. Eleven facilities in Hays, Travis and Williamson counties receives doses this week, in deliveries made by 10 UPS drivers.
The U.S. Food and Drug Administration is expected to approve a similar vaccine from Moderna on Friday, which will allow for increased distribution. With the two vaccines in circulation, Texas officials have said 1.4 million residents will receive doses by the end of the month.
Other candidates, from the pharmaceutical companies Johnson & Johnson and AstraZeneca, are also due to be approved by March, Abbott said.
More tools in the toolbox
Texas Department of State Health Services Commissioner Dr. John Hellerstedt stressed that the vaccines are "proven safe and effective" and explained that, although pharmaceutical companies produced their vaccines en masse earlier than is typical, they will not distribute them until all the usual precautions are taken.
"This is a ray of hope at the end of the tunnel," he said. "But we're not done yet."
In the coming months, as the vaccines are distributed more widely, it will be important for Texans to keep up pandemic safety measures, such as wearing masks and social distancing.
State officials also encouraged the use of monoclonal antibodies in treating COVID patients—and as a way to reduce the number of hospitalizations, which are steadily rising across the state.
Monoclonal antibodies are lab-made proteins that mimic the immune system's ability to defend against viruses and other pathogens. The FDA issued an emergency use authorization for this treatment last month.
"We should be very hopeful, but we should also be very patient," Hellerstedt said.
The distribution process
The Pfizer vaccines are currently being delivered to hospitals across Texas. Next week, as access widens, they will begin to go out to healthcare clinics, urgent care centers, pharmacies, free-standing emergency rooms and other facilities.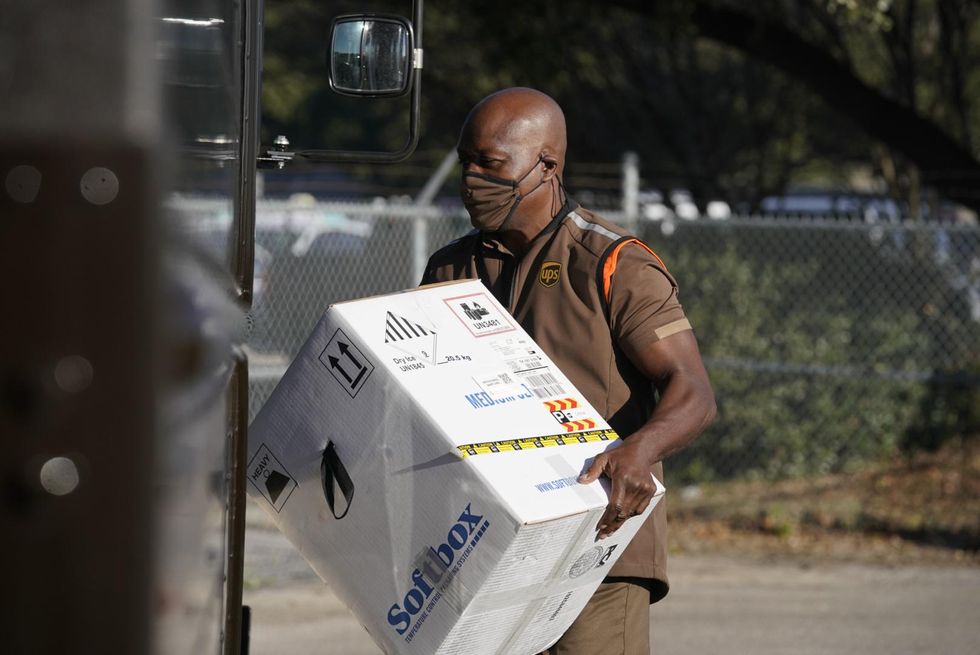 UPS driver Cornelius Littlejohn carries a box with about 5,000 doses of the vaccine on dry ice. (Bob Daemmrich)
The federal government is also debuting a program that will get vaccines into long-term care facilities, such as nursing homes, with doses expected to arrive on site on Dec. 28.

Front-line healthcare workers and nursing home residents are considered top priority recipients. After those who want the vaccine receive it, Abbott said it is important for teachers and other school staff to get vaccinated to ensure in-person learning can continue.
"I urge and hope that teachers will be near the front of the line in receiving this vaccine," he said.
This is a departure from what local health officials said Wednesday.
Austin-Travis County Interim Health Authority Dr. Mark Escott explained that senior citizens, people with underlying health conditions and communities of color—all of whom have been disproportionately impacted by COVID—will be next in line.
"A young, healthy 25-year-old teacher has a quite different risk profile than a 45-year-old teacher with diabetes," Escott said.
'No more shutdowns'
Although the number of COVID cases and hospitalizations is rising across the state of Texas—and has reached catastrophic levels in counties such as El Paso and Lubbock—Abbot foreswore any future shutdowns.
"It's time to put shutdowns behind us," he said. "No more shutdowns."
Abbott disputed the efficacy of shutdowns, pointing to the state of California, which had some of the stringent restrictions in the country and still saw COVID cases rise, and said that recent spread has largely been due to social gatherings in people's homes.
"Every adult in Texas has the responsibility to follow safe practices," he said.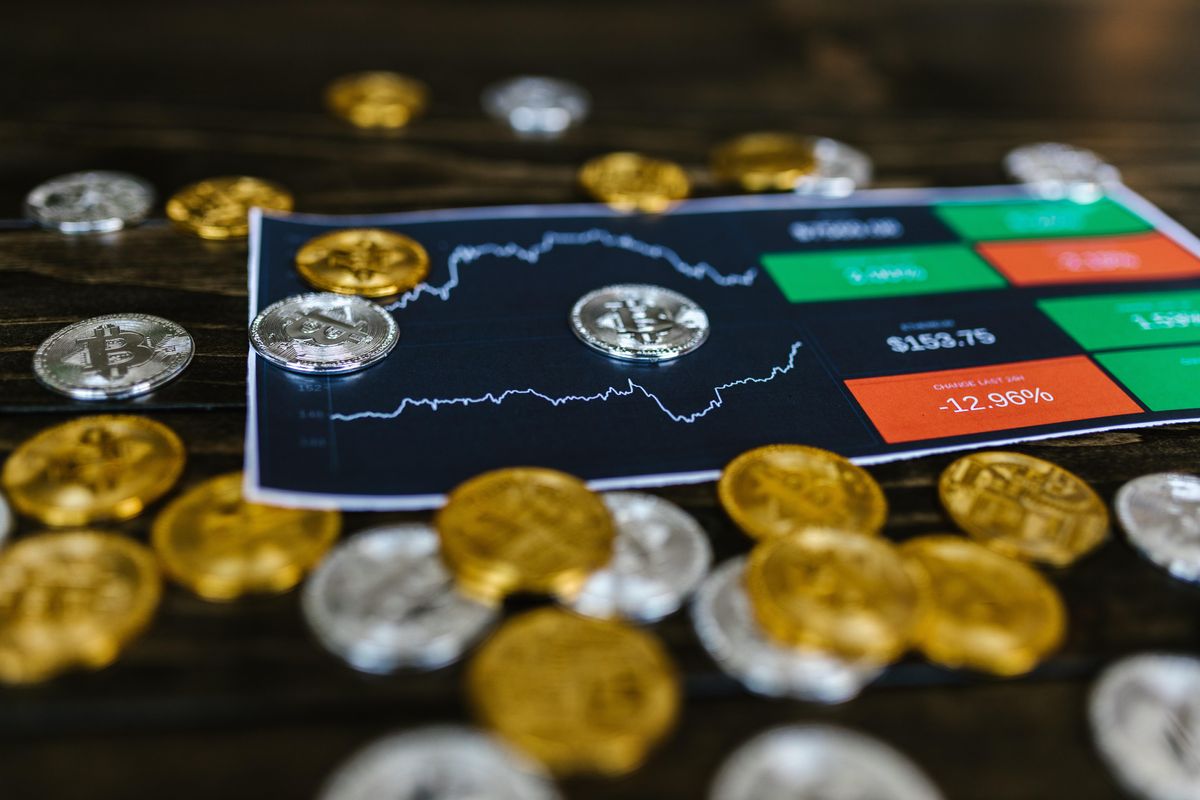 Lately, the crypto market is looking shaky.
The price of bitcoin fell by more than half from its high, the digital currency luna crashed to $0 and a type of so-called stablecoin TerraUSD has been described as dead.
Reporting from the LA Times notes that experts seeing a correlation between traditional markets and the cryptocurrency market is high right now, with plunges in one being followed by a plunge in the other. On Wednesday, stocks had their worst day in more than two years with the Dow Jones Industrial Average falling 1,164 points.
Crypto's volatility has long been questioned, especially after SXSW this year was filled with Web3 enthusiasts and displays.
With 8% of Texans owning Bitcoin and many others involved in the local crypto and Web3 scene, what are they feeling amid the crash?
In a written comment to Austonia, ATX DAO said a positive with the downturn is that "most of the speculative moneygrab type projects get washed out of the market, and the quality projects that deliver real value remain and gather more attention."
The group went on to say it could work to their advantage as they carry out their latest project: a mural at Native Hostel that will have an NFT version. They'll use sales toward donations to HOPE Outdoor Gallery, a local nonprofit that supports artists and creatives.
Meanwhile, Yagub Rahimov, a founder of an Austin-based Web3 company explains that they aren't really impacted by the crash.
Since the company known as Tested Web functions as a Web3 online reputation marketplace, it is utilizing blockchain technology without tokenizing.
"We are a share to earn marketplace. That means that any activity that users have on tested web.com, we will be rewarding," Rahimov said. "Those rewards are coming in the form of rewards points. And every quarter they can opt in to receive either a gift card or a check. We are not issuing any cryptocurrency. That's one of the important elements that I believe we got it right that way."
With recent developments at Tested Web, Rahimov says he "couldn't be happier." After struggling to find tech talent in early spring, he's had a hiring spree in the last 10 days and received a $1 million grant and partnership with Silent Notary, a blockchain-powered validation provider.
But his recent business success aside, Rahimov is noticing what's happening in the markets and predicts that the correlation between the crypto market and traditional one will be broken.
"The way Bitcoin was introduced back in 2009, it was as a reply or response to the 2008 market crash," Rahimov said. "And it really feels like we are in 2007, 2008, actually, early, early days of the market crash. And if it becomes that way, very likely that the winner is going to be those of decentralized parties."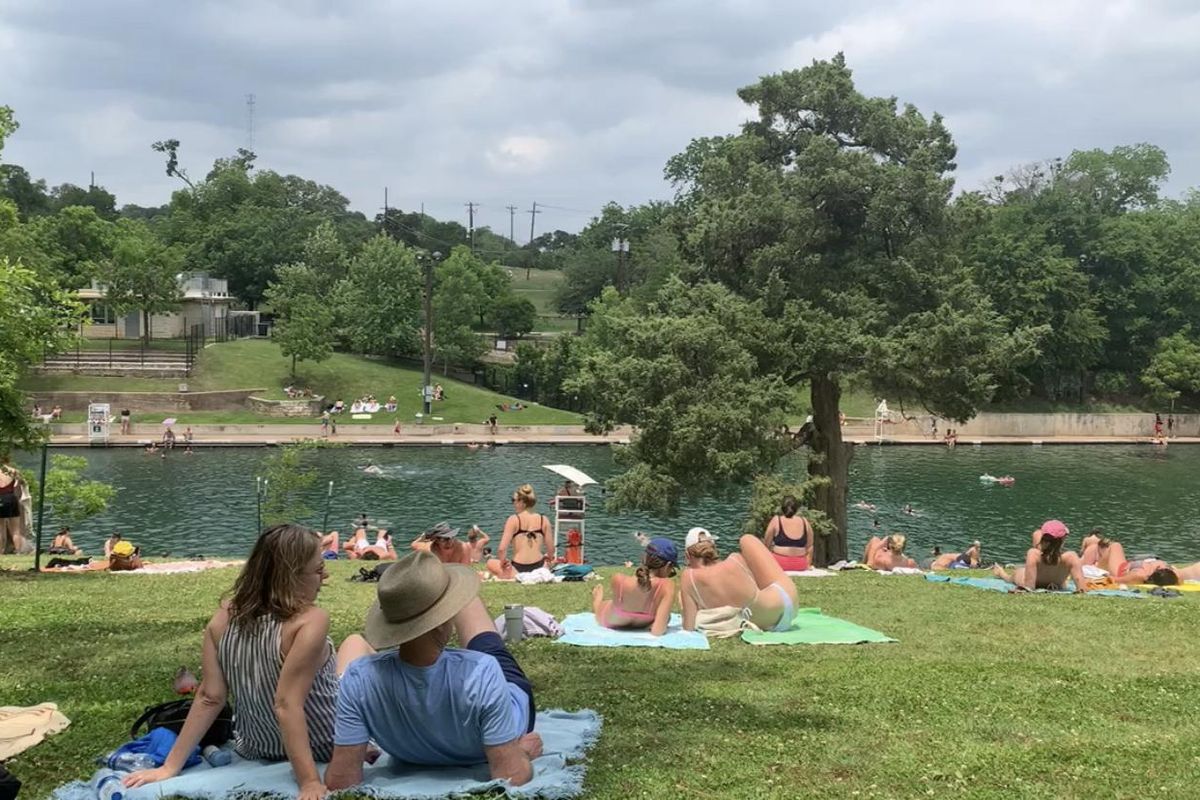 Barton Springs Pool is on a condensed schedule while the city tries to fill out its lifeguard roster.
The popular pool is currently closed on Mondays, Wednesdays and Thursdays while it navigates a lifeguard shortage. The city is offering bonuses to new applicants who can start by early June.
Austin Parks and Recreation Assistant Director Jodi Jay said there are 207 lifeguards ready to work and 100 incoming but the department needs 750 to be fully staffed.
Zoom out: The pandemic has had a lasting impact on hiring—in 2019, the city was able to hire 850 lifeguards. The Aquatic Department has been unable to match those numbers since it reopened training classes in spring of 2021.
Why it matters: The city needs at least 400 lifeguards, plus 30 with open water certification, to open pools on a modified schedule by June 4. Without hitting that mark, some facilities could limit hours or close.
The job pays between $16-19 an hour, anyone over 15 can get certified and there are bonuses on the table:
$500 bonus if you get certified and start working by June 6.
$500 bonus if you work through August 14.
$250 bonus if you get advanced certification.
Austin Parks and Rec's Aquatic Division serves 45 public aquatic facilities—including Barton Springs pool and a number of regional pools.
Find the full list here.