Get connected with our daily update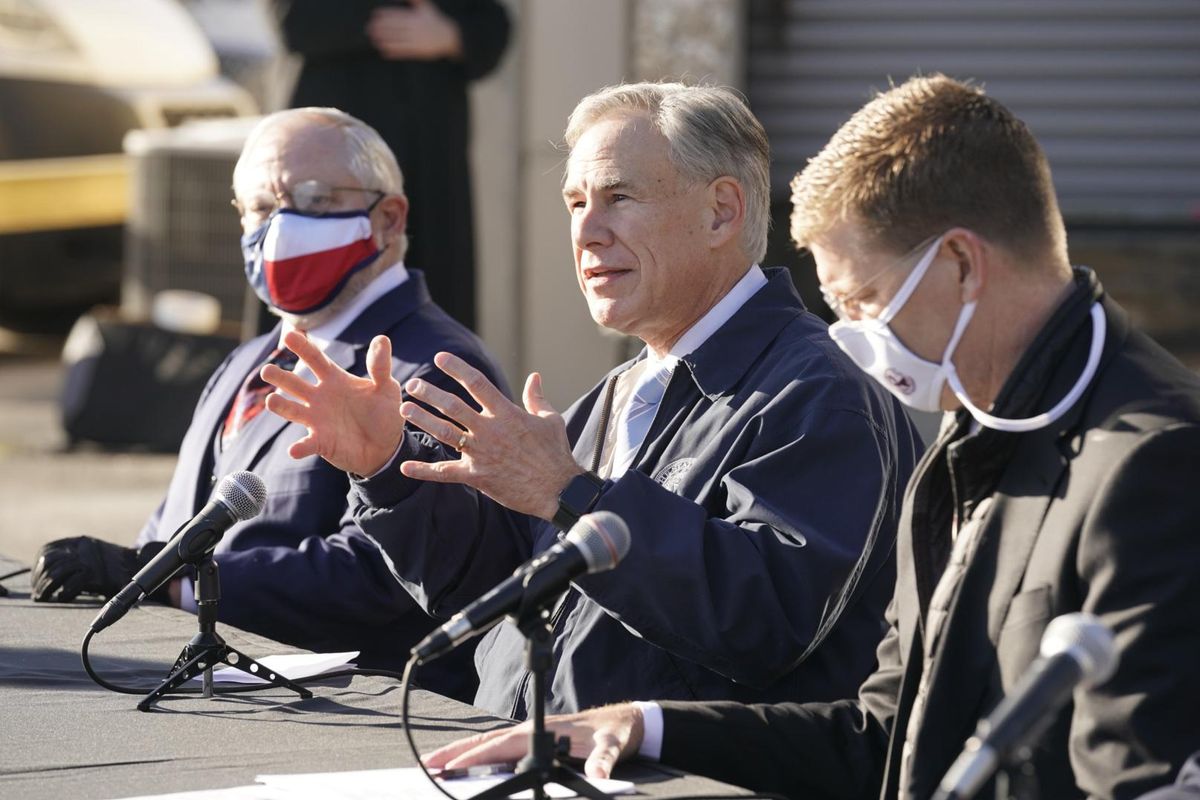 (Bob Daemmrich)
Texas Gov. Greg Abbott celebrated the arrival of Pfizer's COVID-19 vaccine in Texas and promised expanded access by March as other pharmaceutical companies get approval to distribute their own versions. He also declared an end to shutdowns.
"There will be widespread distribution," he said during a press conference at an Austin UPS facility on Thursday.
---
Around 95,000 doses of the Pfizer vaccine have already been distributed across Texas, with an additional 129,000 on their way. Eleven facilities in Hays, Travis and Williamson counties receives doses this week, in deliveries made by 10 UPS drivers.
The U.S. Food and Drug Administration is expected to approve a similar vaccine from Moderna on Friday, which will allow for increased distribution. With the two vaccines in circulation, Texas officials have said 1.4 million residents will receive doses by the end of the month.
Other candidates, from the pharmaceutical companies Johnson & Johnson and AstraZeneca, are also due to be approved by March, Abbott said.
More tools in the toolbox
Texas Department of State Health Services Commissioner Dr. John Hellerstedt stressed that the vaccines are "proven safe and effective" and explained that, although pharmaceutical companies produced their vaccines en masse earlier than is typical, they will not distribute them until all the usual precautions are taken.
"This is a ray of hope at the end of the tunnel," he said. "But we're not done yet."
In the coming months, as the vaccines are distributed more widely, it will be important for Texans to keep up pandemic safety measures, such as wearing masks and social distancing.
State officials also encouraged the use of monoclonal antibodies in treating COVID patients—and as a way to reduce the number of hospitalizations, which are steadily rising across the state.
Monoclonal antibodies are lab-made proteins that mimic the immune system's ability to defend against viruses and other pathogens. The FDA issued an emergency use authorization for this treatment last month.
"We should be very hopeful, but we should also be very patient," Hellerstedt said.
The distribution process
The Pfizer vaccines are currently being delivered to hospitals across Texas. Next week, as access widens, they will begin to go out to healthcare clinics, urgent care centers, pharmacies, free-standing emergency rooms and other facilities.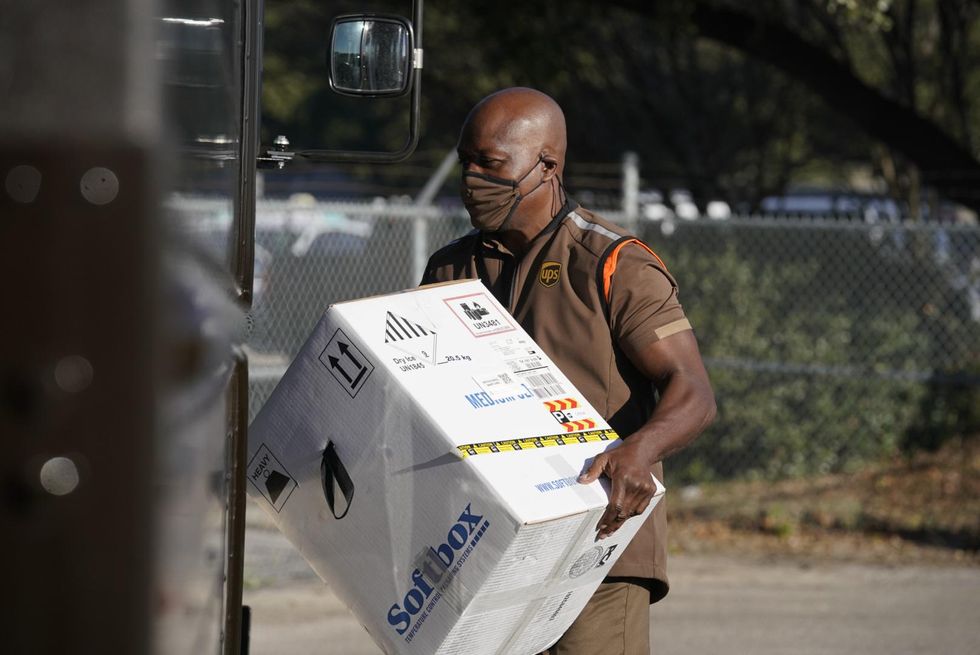 UPS driver Cornelius Littlejohn carries a box with about 5,000 doses of the vaccine on dry ice. (Bob Daemmrich)
The federal government is also debuting a program that will get vaccines into long-term care facilities, such as nursing homes, with doses expected to arrive on site on Dec. 28.

Front-line healthcare workers and nursing home residents are considered top priority recipients. After those who want the vaccine receive it, Abbott said it is important for teachers and other school staff to get vaccinated to ensure in-person learning can continue.
"I urge and hope that teachers will be near the front of the line in receiving this vaccine," he said.
This is a departure from what local health officials said Wednesday.
Austin-Travis County Interim Health Authority Dr. Mark Escott explained that senior citizens, people with underlying health conditions and communities of color—all of whom have been disproportionately impacted by COVID—will be next in line.
"A young, healthy 25-year-old teacher has a quite different risk profile than a 45-year-old teacher with diabetes," Escott said.
'No more shutdowns'
Although the number of COVID cases and hospitalizations is rising across the state of Texas—and has reached catastrophic levels in counties such as El Paso and Lubbock—Abbot foreswore any future shutdowns.
"It's time to put shutdowns behind us," he said. "No more shutdowns."
Abbott disputed the efficacy of shutdowns, pointing to the state of California, which had some of the stringent restrictions in the country and still saw COVID cases rise, and said that recent spread has largely been due to social gatherings in people's homes.
"Every adult in Texas has the responsibility to follow safe practices," he said.
Help us find our editor!
Austonia, a for-profit Austin digital media company, is looking for the right person for a new position as newsletter editor.
Are you an innovator who wants to work exclusively in digital media and push the boundaries? Do you have 3+ years in digital, broadcast, print or agency work? This could be the opportunity for you.
In two years we've created a place in the Austin media landscape, and we're looking for people who can move us toward the front.
AM email newsletter, 22,500+ daily subscribers
Austonia.com, reaching 250,000+ users/month
Social media, 50,000+ followers
Success in this role is based on skills: an excellent writer, editor, visual communicator and storyteller who builds compelling stories with digital and classic elements, who can recruit and mentor contributors in doing the same.
Austin is the most interesting city in the world, and we want to cover it that way. The people, issues, opportunities, challenges, companies and cultures that make Austin dynamic and successful.
Compensation depends on experience. Benefits include PTO and employee Blue Cross Blue Shield "Silver" health coverage, with 100% of the monthly premium paid by the company.
This is a hybrid, mostly remote position. Must live in Austin.
The position reports to Austonia's CEO.
To apply, follow this link to become a candidate immediately:
https://hu9c8d8pxw6.typeform.com/to/JMkTWPwG
Or send your contact info and a link to your LinkedIn profile to hr@austonia.com.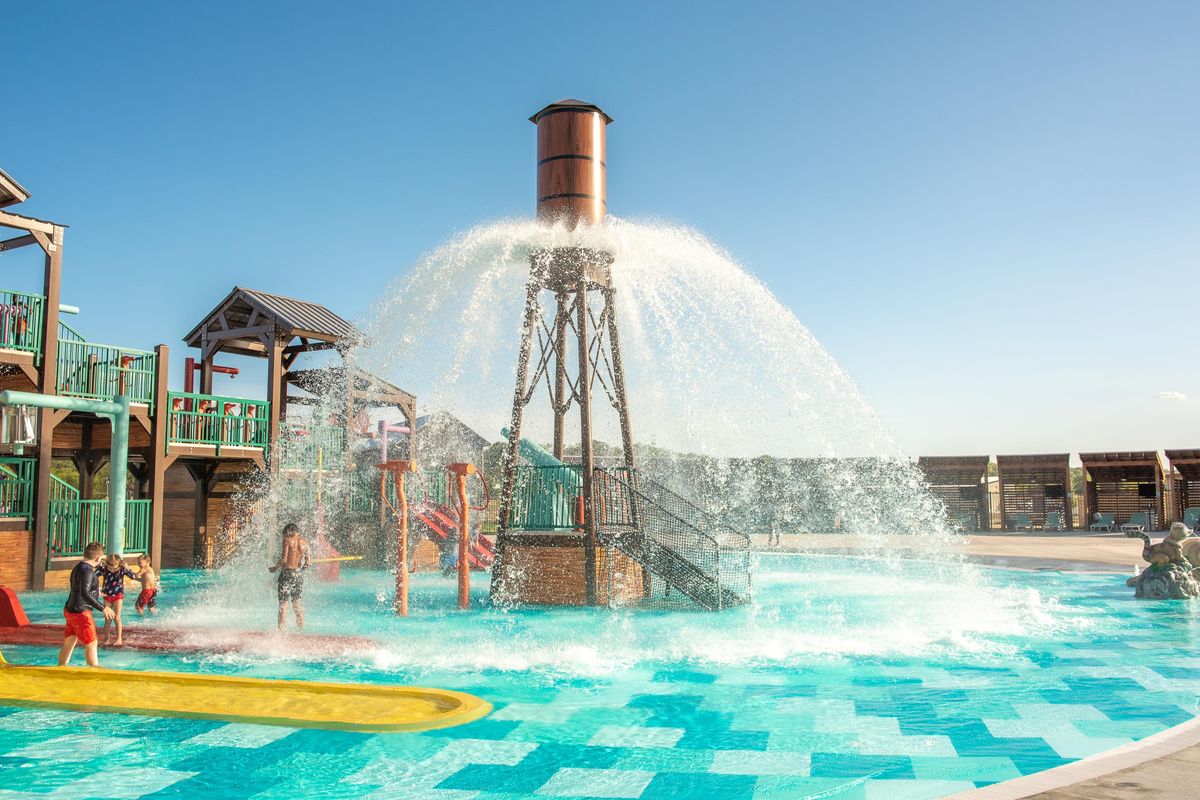 Camp Fimfo Waco
Camp Fimfo Waco, a brand new camping resort, is kicking off football and fall camping season in style! With top-notch amenities, premium accommodations, and 10 weekends of fall fun, there's no better place to have a fall camping getaway, especially if you're a Baylor football fan!
Fall promises to be a one-of-a-kind camping experience. From Sept. 16 to Nov. 24, weekends will be packed with fall-themed activities, including special Halloween weekends in October. Campers can enjoy activities like fall crafts, campground trick-or-treating, costume contests, site decorating, outdoor movie nights, and more!