Get connected with our daily update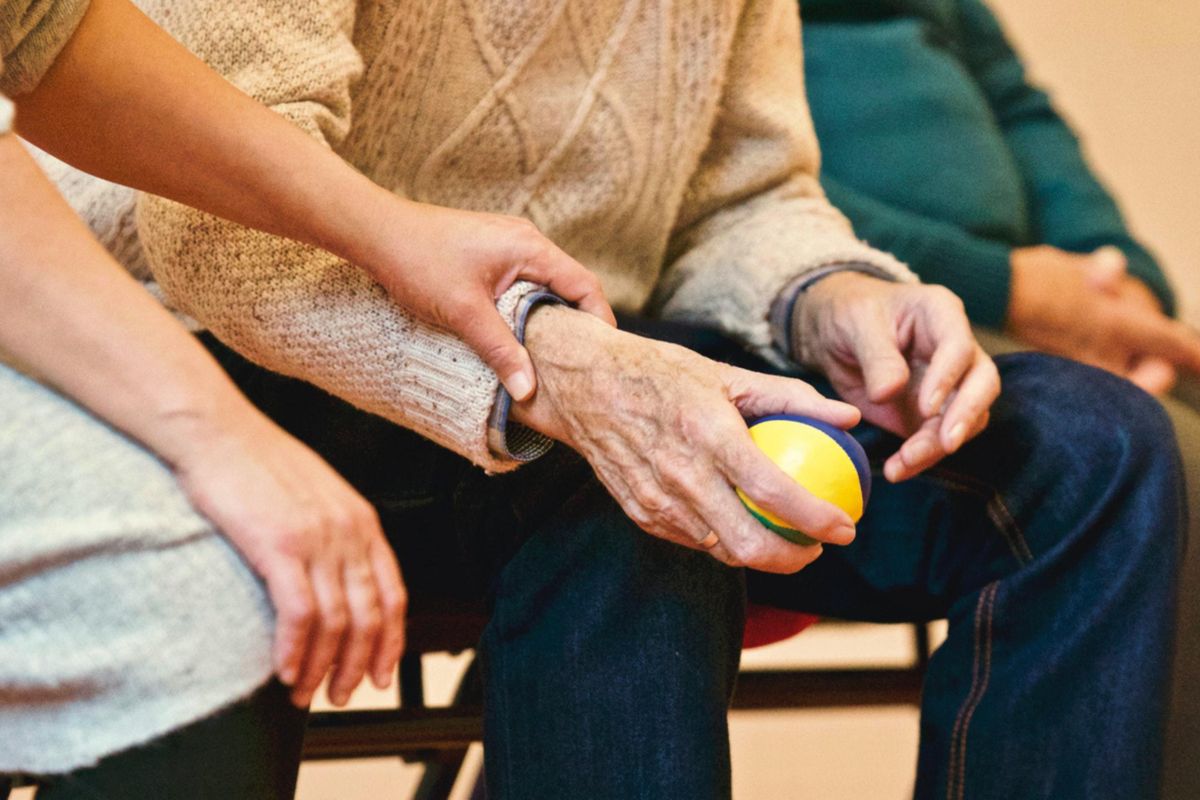 (Pexels)
On Thursday, the U.S. Food and Drug Administration will review an emergency use authorization application from Pfizer regarding its COVID-19 vaccine. If approved, the pharmaceutical company could begin distributing doses as early as next week, with an initial allotment of 13,650 slated for the Austin area.

---
Long-term care facility residents and staff, front-line healthcare workers and first responders are first in line to receive the vaccine in Austin. Industry representatives welcomed the news but told Austonia that challenges remain, including convincing vaccine skeptics.
At highest risk
Long-term care facilities will be among the first to administer the vaccine, according to the Centers for Disease Control and Prevention and state distribution guidelines.
In Travis County, staff and residents at long-term care facilities account for more than 42% of the 495 COVID-19 deaths reported as of Monday.
"This is such a vulnerable population that it's important that we target them first," said Kevin Warren, president and CEO of the Texas Health Care Association, which represents long-term care facility staff.
But there are still logistical challenges to work through.
The federal government announced in October that it had partnered with CVS and Walgreens to distribute COVID vaccines to long-term care facility residents. Many Texas facilities have registered to be a part of this program, Warren said, which will likely involve drug stores setting up inside individual facilities to help get vaccines in arms.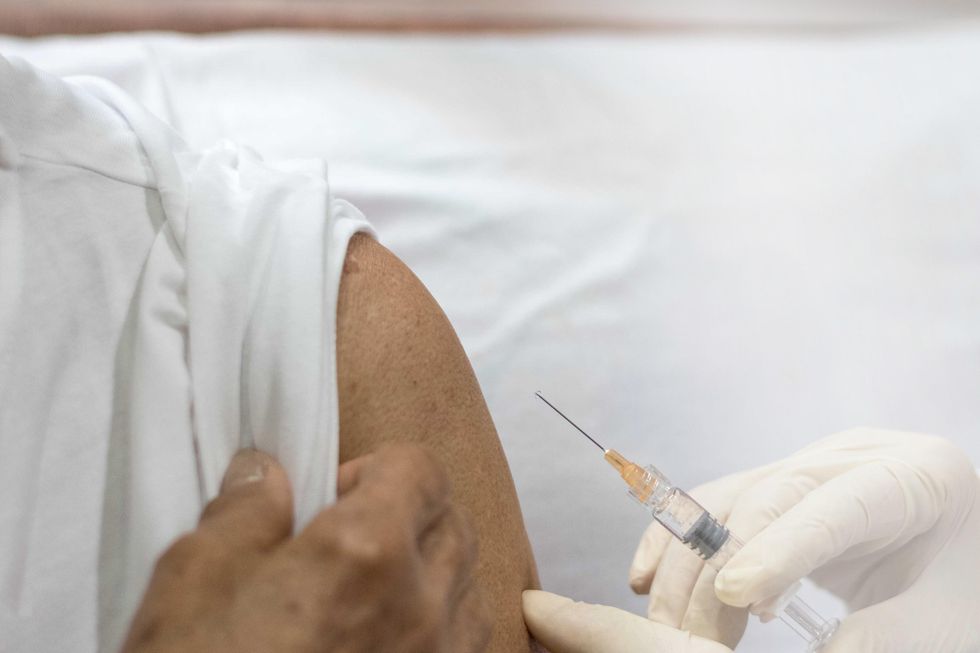 (shutterstock)
This will likely account for many of the Austin area's initial vaccine allotment as there are 139 long-term care facilities registered in Travis County, with a total of 8,419 residents, according to Texas Health and Human Services.
Another challenge will be convincing skeptical residents and staff who may be unsure of the vaccine.
Patty Ducayet has served as the state's long-term care ombudsman—an independent resident advocacy role—for 15 years. Based on conversations she has had with residents' family members, there is "diversity of opinion" regarding a vaccine.
Some want their loved ones to be first in line to receive the vaccine, given their disproportionate risk of death from the disease.
"(But) there's another side of that coin, which is people being skeptical of this vaccine," she said. "I think we have a bit of a battle ahead of us."
Although the state is still developing its guidance on the topic, Ducayet expects that the vaccine will remain optional for long-term care facility residents, similar to the current flu vaccine protocol. But she hopes residents will opt in.
"I see this as such an important tool for us to move forward and out of this crisis period with very limited visitation and other kinds of restraints on residents' rights," she said.
On the front lines
Outside of nursing homes and other long-term care facilities, front-line healthcare workers and first responders will be the first to receive a COVID vaccine.
This is welcome news to a beleaguered workforce.
"Our medics are definitely very, very exhausted," Austin EMS Association President Selena Xie said.
In addition to facing exposure to COVID at work, where they wear multiple layers of personal protective equipment, and worrying about the risk of spreading the virus to their loved ones, Austin medics have also faced staffing issues.
Any time a member of the 500-person force is experiencing COVID symptoms, they are asked to self-quarantine, Xie said. As a result, the department is in emergency staffing mode, which essentially means it is understaffed. This, combined with the other pressures of the job, has led to some medics needing time off for mental health reasons, further straining staffing levels.
So the news of an imminent vaccine has been welcomed. "It definitely takes weight off of our shoulders," she said.
The Austin EMS Association is "anxiously awaiting" more information about how the initial vaccine allotment will be administered, Xie added. "We absolutely want to receive it as soon as possible."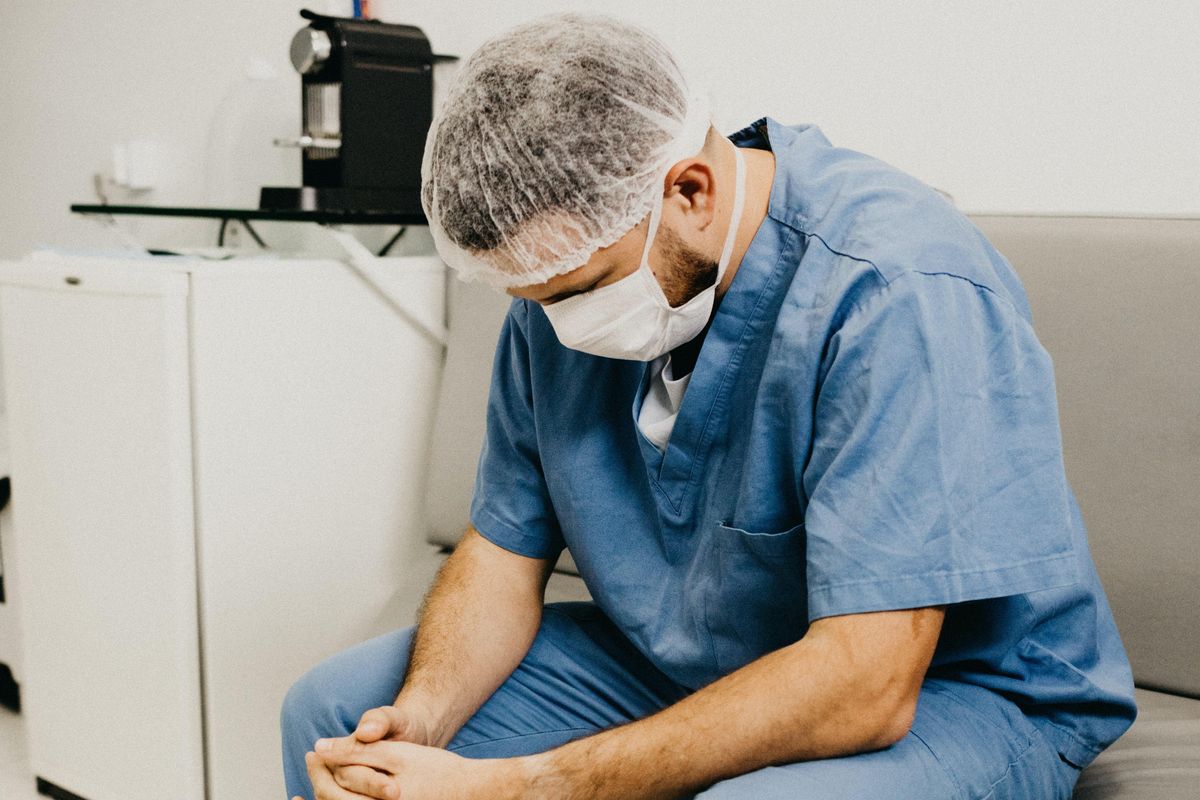 (Pexels)
Nurses at hospitals and in other front-line positions feel similarly.
"The level of burnout is pretty high," said Serena Bumpus, director of practice for the Texas Nurses Association.
Although many nurses are ready to be vaccinated, some are skeptical.
As a result, TNA is working to provide educational materials so that those members can make informed decisions based on science. "We're hopeful that the majority will receive the vaccine," Bumpus said.
The educational materials TNA develops may also prove helpful down the line, as the vaccine becomes more widely available to the general public. The optics of front-line healthcare workers choosing to be vaccinated may also prove encouraging.
"If we trust the vaccine, then others will trust it as well," she said.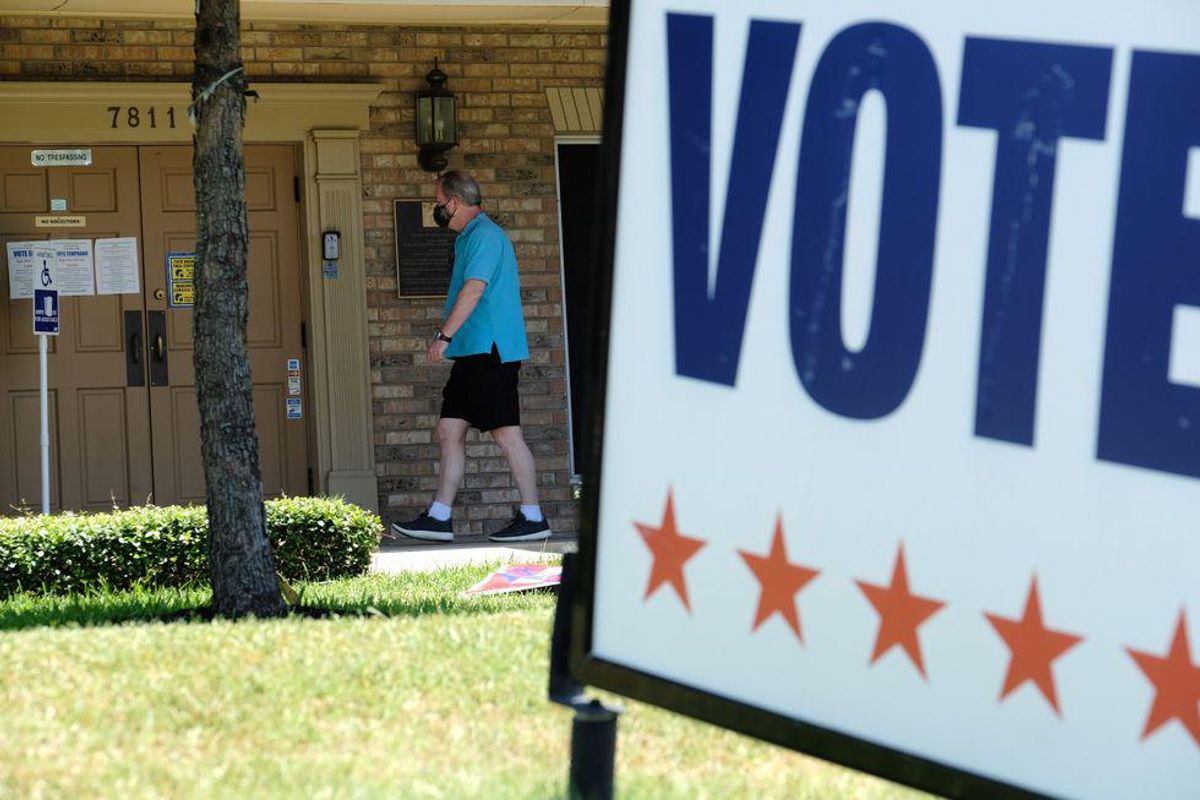 May's second election is here, in which voters will decide on the candidates to represent their party in the November general election after the winner in some March primary races was unclear.
Just like the March primaries, voters will choose which party they choose to vote in. Then based on location, each ballot will show which races are in a runoff.
In Texas, candidates must win at least 50% of the vote to be elected. In the races where the top candidate only received a plurality of votes, a runoff is being held.
Here's everything you need to know before heading to the polls.
Know before you go
Early voting for the Texas primary runoff election begins Monday and will last through May 20; Election Day is May 24.
The registration period for this election has passed; check if you're registered to vote here.
The polls are open from 7 a.m. to 7 p.m. daily. As long as you're in line by 7 p.m., you can vote.
You'll need a valid photo ID to present once you're at a polling location.
Here are the early voting locations in Travis County.
View wait times at polling locations here.
Races to watch in Travis County:
Statewide
Lieutenant Governor
Republican: Incumbent Lt. Gov. Dan Patrick won his primary in March.
Democratic: Mike Collier and Michelle Beckley are vying to be the Democrat candidate on the ballot.
Attorney General
Republican: Incumbent AG Ken Paxton is fighting for his seat against George P. Bush.
Democratic: Rochelle Garza and Joe Jaworski will face off to be the Democratic candidate in this race.
View all the statewide races on the ballot here.
U.S. House of Representatives

View the district you live in here.
District 21
Republican: Incumbent Chip Roy won his primary in March.
Democratic: Claudia Andreana Zapata and Ricardo Villarreal are hoping to secure this vote.
District 35
Republican: Dan McQueen and Michael Rodriguez are going head to head to be the Republican candidate in this race.
Democratic: Former Austin council member Greg Casar won this race in March.
Texas House
District 19
Republican: Ellen Troxclair and Justin Berry are vying to be the Republican candidate in this race.
Democratic: Pam Baggett won her primary in March.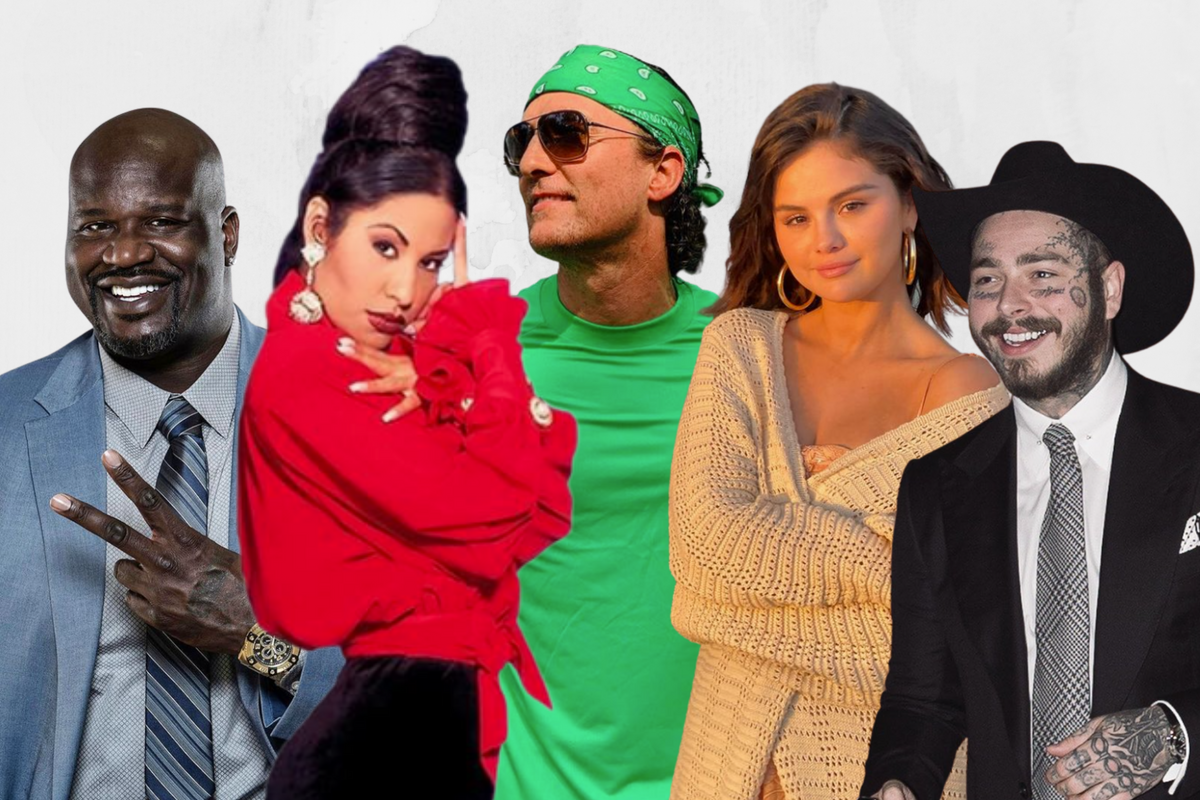 Texas has been home to some of the country's biggest celebrities of all time—think Amarillo resident Georgia O'Keeffe, Lubbock's Buddy Holly and Corpus Christi's famous singer Selena.
The Pudding's People Map of the U.S., which shows each city's "most Wikipedia'ed" resident, placed celebrities from all walks of life on the Texas map. As for Central Texas celebrities, there are some interesting (and not so surprising) names on deck.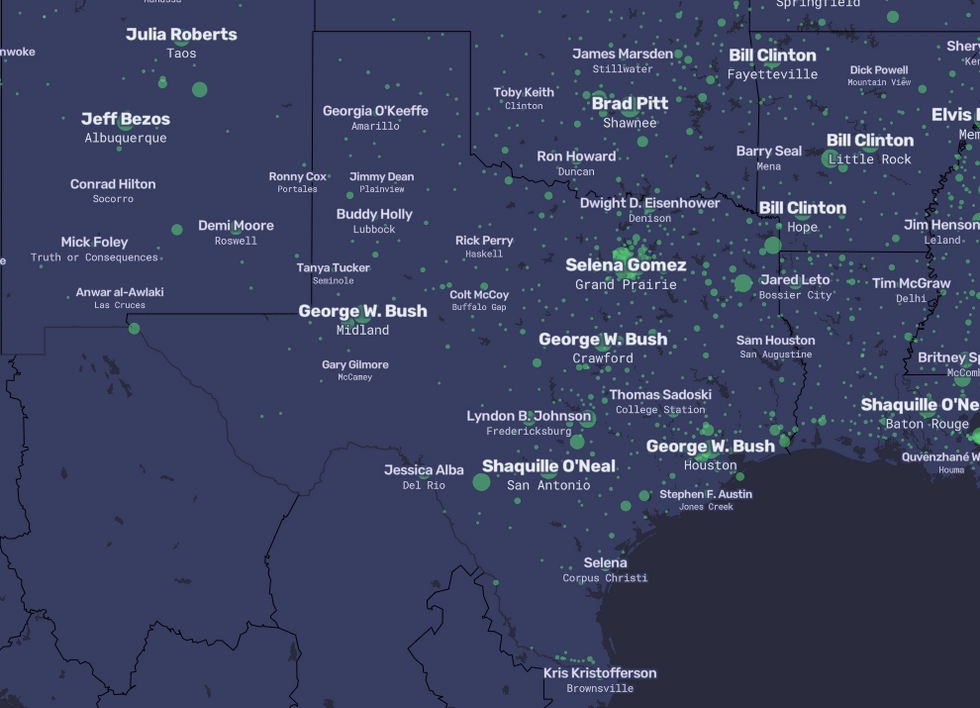 (The Pudding)
Proving that Austin is "alright, alright, alright," Minister of Culture Matthew McConaughey is both Austin's and Uvalde's top Wikipedia'ed resident. McConaughey, who was born in San Antonio adjacent Uvalde, has deeply ingrained himself in Austin by studying Radio-Television-Film at UT Austin, starring in the Austin-filmed movie "Dazed and Confused" and investing in Austin FC.
Heading down just a few miles south, San Marcos claimed former president Lyndon Baines Johnson as Texas State University's most famous alumni, who graduated in 1930, and was also named in Fredericksburg. LBJ wasn't the only ex-president on the map—George W. Bush was listed as the top resident in Dallas, Midland, Houston and Crawford.
You'll see some other names with ties to Austin strewn around the state: Janis Joplin in Beaumont and Port Arthur; Stone Cold Steve Austin in Victoria and Edna; Dan Rather in his hometown of Wharton; and Waylon Jennings in Littlefield.
Venturing outside of the central areas, there are big celebrities who call Texas Home. Actress and artist Selena Gomez dominated search traffic in her hometown of Grand Prairie, musical artist Post Malone was most "Wikipedia'ed" in Grapevine, and Shaquille O'Neal was named in the city where he went to high school, San Antonio.
Plus, Thomas Haden Church, Angela Kinsey, Jessica Simpson, Chuck Norris, Roy Orbison, Ron White, Jessica Alba, Colt McCoy, Jimmy Dean and Johnny Manziel all had at least one city covered on the list.
Where's Texas' newest resident, Elon Musk? You'll find him still in Los Angeles, as his foray into Texas living has just begun.
Click here
to view the full map.