Austonia AM
100% Austin news, info, and entertainment, straight to your inbox at 6 a.m. every morning.
In five minutes, you're fully informed and ready to start another great day in our city.
Get connected with our daily update
Eileen Artigas, who lives in the Clarksville neighborhood, has a master's degree in public health with a focus on physical activity, and she's also a fitness instructor.
Still, she found herself gaining weight when the world shut down due to the coronavirus pandemic.
---
"At the very beginning, for somebody who's very active all the time, it was really shocking to not be able to go to the gym or be able to do that kind of regular activity," Artigas said. "So I definitely gained a lot of weight during the pandemic."
Artigas is not alone: in a survey by the American Psychology Association, 61% of participants reported undesired weight changes since the onset of the pandemic.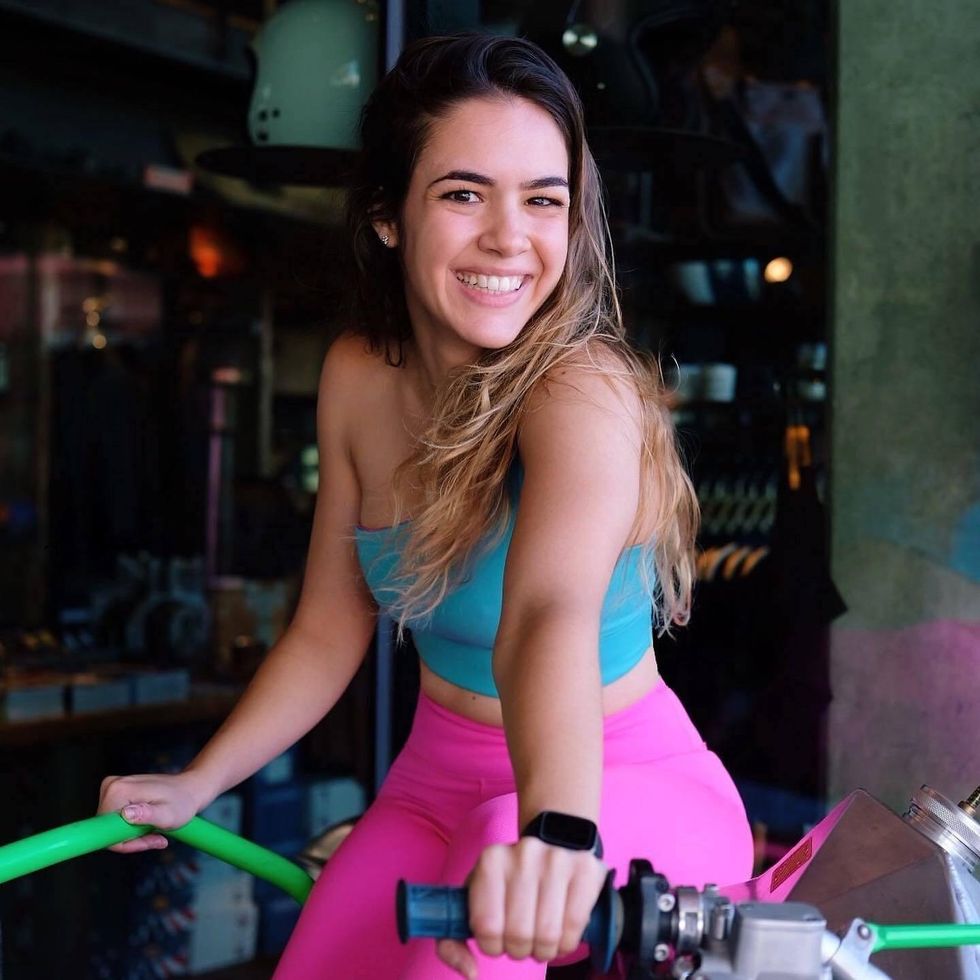 Eileen Artigas is a fitness instructor at pop-up studio Fitcidence in Austin. (Eileen Artigas)
Gayle Timmerman, Ph.D., a professor at the University of Texas at Austin who specializes in eating patterns and weight, said that added stress and loss of routine can lead to drastic physical health changes.
"A lot of us are more stressed than we were, whether it's from anxiety from a pandemic or sitting in front of the Zoom meeting all day long," Timmerman said. "And so for many people eating is one way of coping with some of that anxiety."
With more stress, more time to stress-eat and the reality of being stuck at home, many people also developed less healthy habits. According to APA, 67% of those surveyed said they are sleeping more or less than they wanted to since the pandemic started, while nearly 1 in 4 adults (23%) reported drinking more alcohol to cope with the added stress.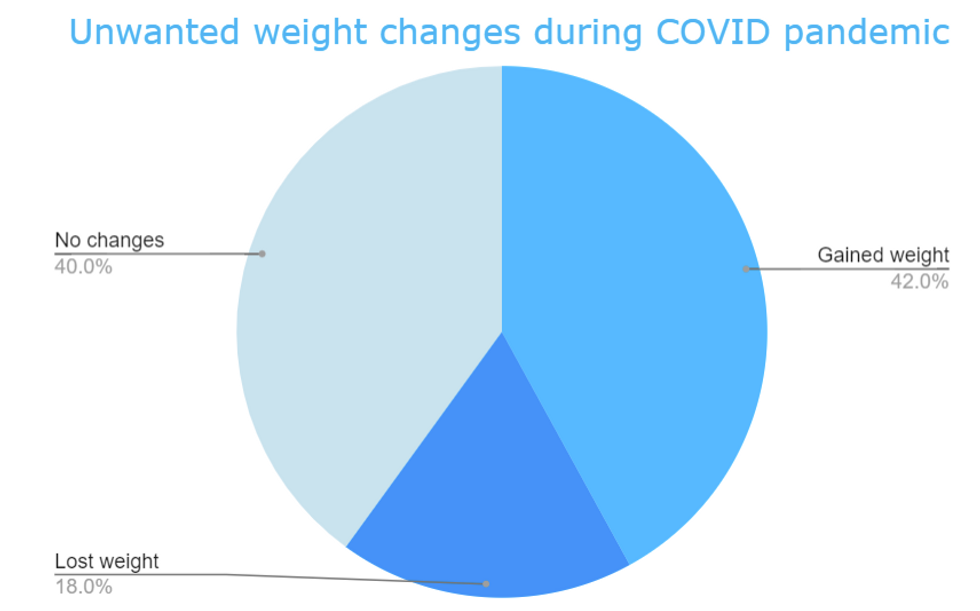 (Source: American Psychology Association)
For those whose fitness schedule was upended last March, it can be hard to get back into the swing of things. Artigas, who instructs fitness classes for her pop-up studio Fitcidence, said interest was slow at first; there was a lot of trepidation about COVID protocol and many had lost the level of fitness they had reached prior to March 2020.
"For a lot of people, our class was the first class that they took after stopping because of the pandemic... so it's not just weight gain, it's also the loss of fitness," she said.
This crop of New Year's Resolutions might be over, but it's made way for a wave of post-COVID resolutions. Now that over one-third of American adults are fully vaccinated, Rebecca Hutnak, a personal trainer at a local Gold's Gym, said that droves of new signees are coming in to join the gym.

"I think we are going to see a big rise in clients because we already are seeing a big rise of people just signing up for the gym in general," Hutnak said. "We have maybe thousands of people joining every month."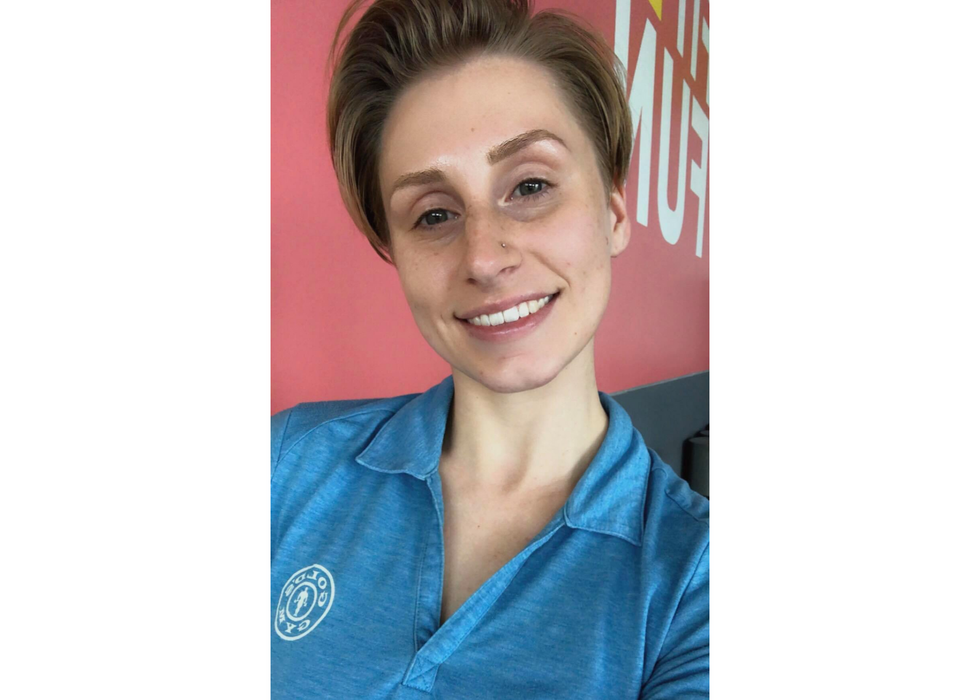 Rebecca Hutnak is a personal trainer at a local Gold's Gym. (Rebecca Hutnak)
COVID fear is certainly waning, aided by Texas' full reopening, but Timmerman said it's going to be hard to know when the pandemic is actually over. In-person life could pose new challenges. Some became fitter during the pandemic due to extra time, but it could soon become scarce as the hustle and bustle of daily life returns.
"If you ask people, 'What is your biggest barrier to making a healthy change?,' nine times out of 10, it's time," Timmerman said. "If we go back to sitting in traffic for an hour, that's the hour that people were using to walk or to be outside."
COVID may be a nightmarishly long vacation for many, but things could be different this time around. Artigas hopes for more offices to adopt a hybrid schedule, and Timmerman recommends working on time management and cooking skills to keep up once "normal" life returns.
Ingredients:
1 1/2 oz of hibiscus-infused Tito's Handmade Vodka
2 oz sparkling water
1 oz fresh lime juice
3/4 oz simple syrup
1 tsp allspice dram
Directions: Add infused Tito's Handmade Vodka, lime juice, and simple syrup to a shaker with ice. Shake and strain into a glass over fresh ice. Top with sparkling water, and garnish with a lime slice. Enjoy!
A week after Texas added two congressional seats and California lost one, state officials reported a population decline in 2020 for the first time in the Golden State's history.
California fell by over 182,000 people from January 2020 to January 2021, dropping almost 0.5% to cap out at around 39.5 million people. It is still the nation's most populous state.
For over thirty years, California has seen more people leave than move in from other states, state officials said, with 6.1 million people moving out and 4.9 million coming in last year. Immigration and births kept California growing, but the state saw a shrink in international migration in 2020 due to COVID and the White House's hold on visas.
Of the steady flow of ex-Californians moving to other states, more are moving to Texas than any other state. Many are relocating to Austin, which has been labeled a "little California" by billionaire resident Elon Musk and continues to grow astronomically.
Meanwhile, California cities including Los Angeles, San Diego, San Jose and San Francisco saw a population decline.
With immigration and state migration on the decline, the Golden State was also hit with a spike in deaths- 51,000 people died from COVID in 2020, and all but seven of the state's counties saw death rates higher than the three-year average.
Still, the California Department of Finance said a "slightly positive annual growth" can be expected next year as the state recovers from COVID deaths and political repercussions.