Austonia AM
100% Austin news, info, and entertainment, straight to your inbox at 6 a.m. every morning.
In five minutes, you're fully informed and ready to start another great day in our city.
Get connected with our daily update
(The Creek & The Cave)
No city is immune to the struggle that the pandemic has put on the entertainment industry but Austin is giving a New York City transplant a second chance.
---
Taking over what used to be Barracuda on 7th Street in Downtown, The Creek & The Cave will be reborn on April 1 as the newest comedy club in Austin. Austin's comedy scene has suffered with the loss of iconic Austin establishment Cap City Comedy to the pandemic.
The Creek & The Cave spent 14 years entertaining New Yorkers and giving comedians like Donald Glover and Sara Benincasa a stage until COVID-19 hit, forcing the venue to permanently close in late December.
After Austin-based Rough Cut Comedy Producer Marty Clarke heard about the closure on The Comedy Cellar, he reached out to former owner Rebecca Trent. As a comedian and producer for eight years, Clarke said he thought The Creek & Cave could fill a newly-opened spot in Austin's comedy market.
"With our shows going so well, and there being no comedy clubs in town, I reached out to Rebecca and we found an amazing spot that we can turn into something really special for the Austin comedy scene," Clarke said. "The stars aligned for us to build something cool and supportive that the whole community can feel a part of, continuing the legacy of The Creek & The Cave."
Once the club is up and running it will host shows most days of the week from 6 p.m.-12 a.m. On weekdays, you can expect to see local Austin comedians, themed shows, regional acts and interactive acts, while Thursday-Saturday will be reserved for headlining acts. Some shows will be free, though most weekday shows will cost $5 and most weekend shows will start at $20 tickets.
With an indoor and outdoor stage, open mics every night, light vittles and a full drink menu Trent said the new club will become a platform for all comedians, big or small.
"The Austin comedy scene has always been a wonderful and magical place to hone the craft and, as the scene grows and becomes more robust, we want to build a true clubhouse to serve as a place all comics can call home," Trent said. "We will be providing a platform for the up and coming local comedians, as well as exposing them to big-name headliners. Part Master Class, part Dojo, part club, and all funny."
Tickets will be available for purchase on creekandcaveatx.com and you can find the new venue on Instagram.

More on Austin comedy: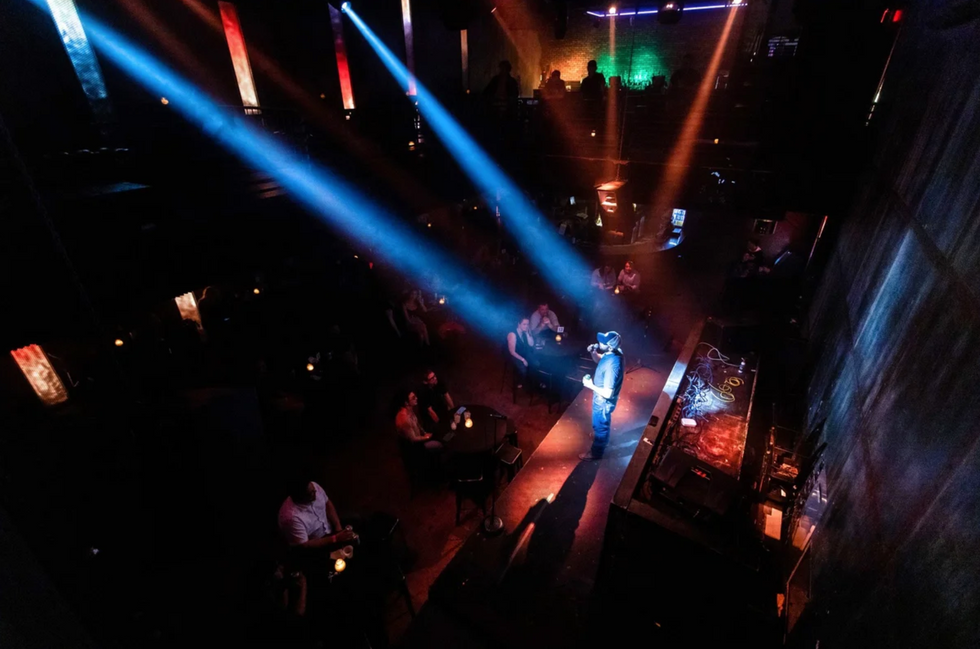 Matthew McConaughey is reportedly weighing a run for Texas governor in 2022.
The Austin resident and Oscar winner has been "quietly making calls to influential people in Texas political circles, including a deep-pocketed moderate Republican and energy CEO" as he decides whether to run, according to Politico.
McConaughey said a gubernatorial run is "a true consideration" while on a March episode of Houston's "The Balanced Voice" podcast.
Although most political strategists doubt McConaughey's commitment and viability as a candidate, some are still intrigued by the possibility.
"I find it improbable, but it's not out of the question," Karl Rove, a top Republican strategist with a long history in Austin, told the political news site. He added that the big question is whether McConaughey would run as a Republican, a Democrat or an independent.
Brendan Steinhauser, an Austin-based GOP strategist, told Politico he's surprised McConaughey isn't being taken more seriously. "Celebrity in this country counts for a lot," he said. "It's not like some C-list actor no one likes. He has an appeal."

Texas Gov. Greg Abbott plans to run for a third term and remains popular among Republican voters, 77% of whom approve of his performance as of April, according to the Texas Politics Project.
Some strategists believe an independent McConaughey run would benefit Abbott. But a recent poll from The Dallas Morning News and the University of Texas at Tyler found that McConaughey would beat Abbott, 45% to 33%, with 22% opting for someone else.
Mimi Swartz, an executive editor at Texas Monthly, mulled a McConaughey run in a recent opinion essay from the New York Times. "Texas may not be ready for a philosopher king as a candidate, much less governor," she wrote. "May the best man win, man."
Some JuiceLand production facility workers and storefront employees are organizing to demand wage increases, better working conditions (including air conditioning in the warehouse) and pay transparency, among other asks. They are also calling on staff to strike and customers to boycott the Austin-based company until their demands are met.
JuiceLand responded on Saturday. "We are listening," the company wrote on their Instagram story. "JuiceLand crew now makes guaranteed $15 an hour or more companywide."
JuiceLand, which was founded in 2001 by Matt Shook and now has 35 locations in Austin, Houston and Dallas, acknowledged the rising cost of living across Texas and the added stress of the pandemic in an email to employees on Saturday, part of which @juicelandworkersrights shared on social media. "There's no denying that times are tough and financial security means more now than ever," the company wrote.
Organized JuiceLand workers rejected this proposal, according to a recent post on the @juicelandworkersrights Instagram account, and reiterated their demands.
"Cost of living in Austin is rising exponentially and will only continue to get worse with the tech boom," the post read. "$15 is barely a sustainable living."

Related Articles Around the Web